10 Best Chili Crisps to Try Right Now
With a perfect spicy to crunchy ratio, chili crisp is a must-try condiment.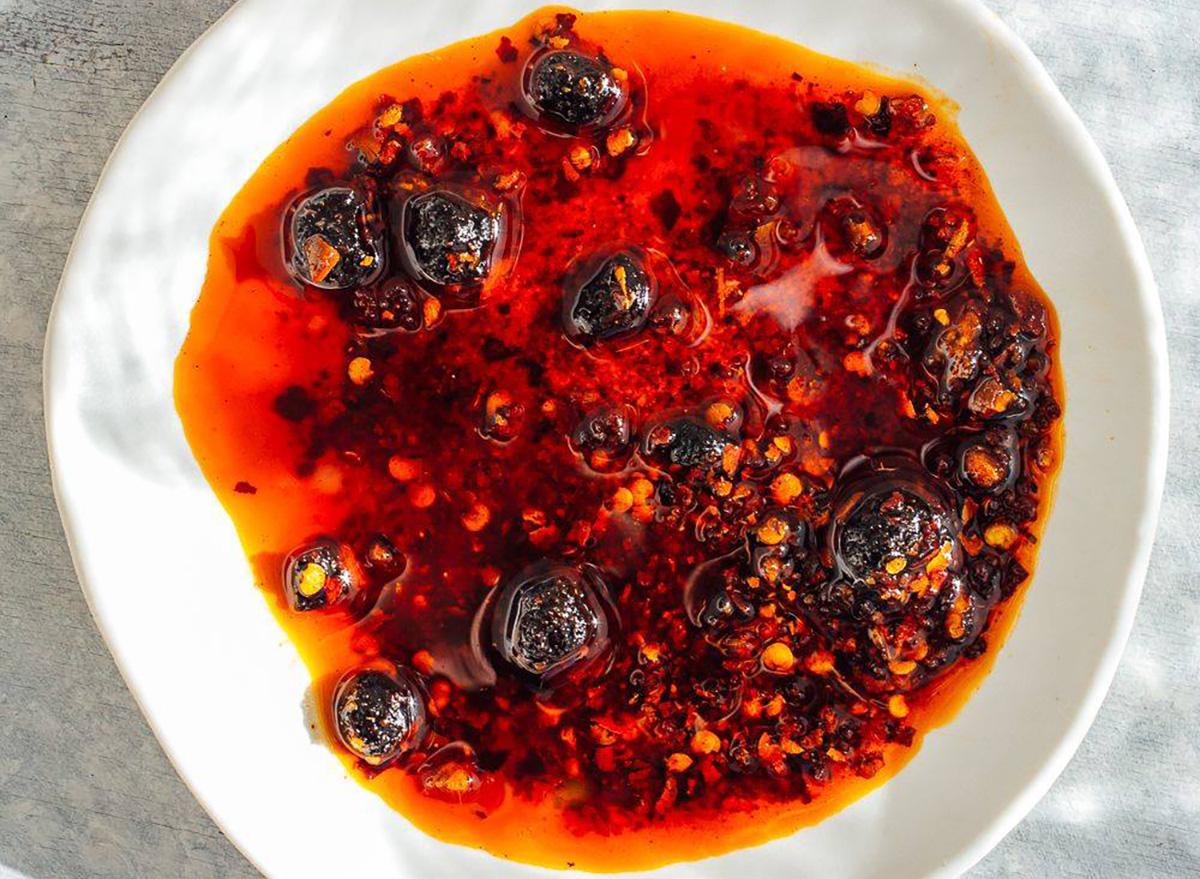 The product recommendations in this post are recommendations by the writer and/or expert(s) interviewed and do not contain affiliate links. Meaning: If you use these links to buy something, we will not earn a commission.
Packed with savory umami flavor, chili crisp is an oily sauce brimming with crispy bits of garlic, shallots, chiles, and other spices. Traditionally, the blend has roots in Chinese cuisine and is made with chiles, Sichuan peppercorns, and aromatics. The result is a crunchy, oily sauce chock full of flavor, and a surefire way to add a tangy and umami flavor to any meal.
And while the condiment may be new to Western palates, chili crisp has been drizzled on dishes in China for centuries in some capacity. But in the West, its recent rise in popularity can be owed to the pandemic, the Economist reports.  Stuck at home and bent over their stoves, many homecooks discovered this age-old Chinese condiment as they expanded their cooking repertoires and experimented with new recipes. (Remember the days of sourdough starter and kombucha?)
Chili crisp, sometimes dubbed the "new Sriracha," is an easy way to add much-needed flavor to a routine egg and toast. Part of the draw is the versatility. Douse your noodles with it, add a teaspoon to fried eggs, or top your pizza with a splash. It's no wonder the condiment has earned a cult-like following worldwide. Curious? Here are 10 of the best chili crisps to try right now.
LaoGanMa Spicy Chili Crisp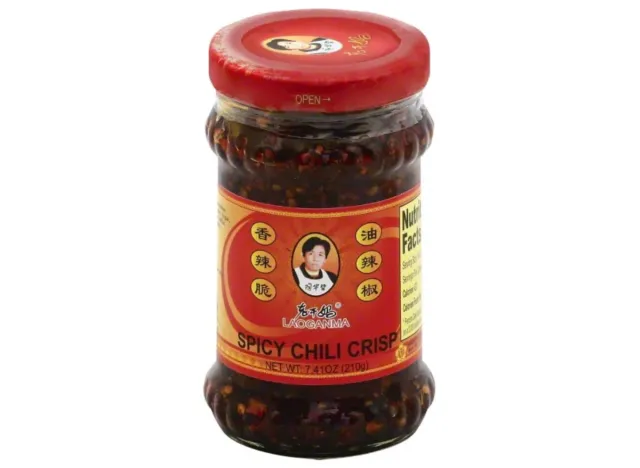 The chili crisp that started it all. First bottled by Lan Gao Ma in China's Guizhou province in 1997, this is a classic recipe made with soybean oil, chili, onion, fermented soybeans, prickly ash powder, and MSG. Because it's distributed far and wide, it quickly became a staple on kitchen shelves outside of China. If a bottle of this stuff isn't already sitting on your refrigerator door, pick it up next time you're at the grocery store. It's a classic for a reason—food writers often credit this texture-heavy sauce for kicking off the chili crisp boom in the United States.
Fly By Jing Sichuan Chili Crisp
In 2018, chef and Chinese cuisine expert Jing Gao founded Fly By Jing, the first premium Chinese food company to bring pantry staples to modern kitchens. Gao's take on the chili crisp is personal: her recipes are inspired by her hometown of Chengdu, China. Her chili crisp boasts loads of pleasantly tingly Sichuan peppercorns, explosive flavor, and a mouth-watering combination of fermented black beans, mushroom powder, and seaweed.6254a4d1642c605c54bf1cab17d50f1e
It's spicy, so expect that signature mouth-numbing sensation Sichuan cuisine is known for. (For chili crisp superfans: keep an eye out for Gao's forthcoming cookbook, "The Book of Sichuan Chili Crisp," with 85 recipes for dumplings, cocktails, and desserts.)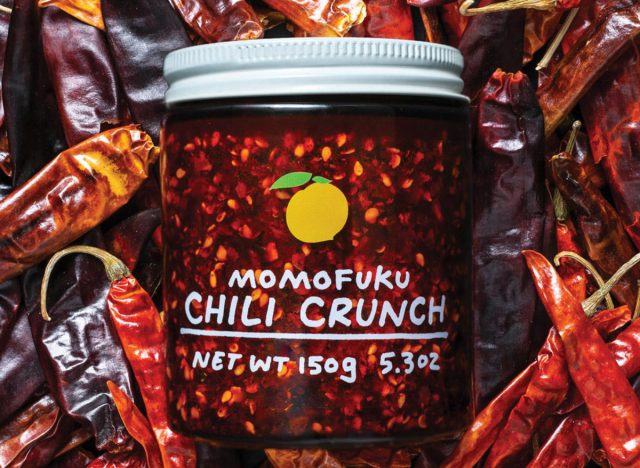 Momofuku founder David Chang and his culinary team developed this chili "crunch" recipe after a decade of research, opting for three types of Mexican chilis and crunchy garlic and shallots. This jar is swimming with heaps of sesame seeds that offer a noticeable sweetness and crispy goodness.
Garlicky at first, the taste is layered and complex, giving way to floral notes and then a warm, savory finish. Expect medium-hot heat, a natural umami from shiitake powder, and a decadent seaweed moment. Momofuku also offers different versions of this original chili crunch, including extra spicy and black truffle.
S&B Umami Topping Crunchy Garlic with Chili oil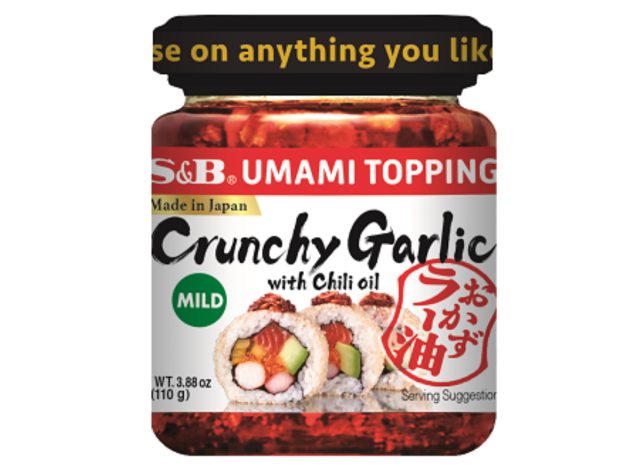 For those who prefer crispy over spicy heat, S&B's Crunchy Garlic with Chili oil is a safe bet. This is a Japanese version of the Chinese chili crisp, and it's widely sold in supermarkets. It features fried garlic, onion, sesame oil and seeds, soy sauce powder, and almonds for extra crunch. While it's not very spicy, reviewers like the complex flavor, sesame-forward taste, and super crunchy texture. It's a great option to add a ton of flavor without too much heat!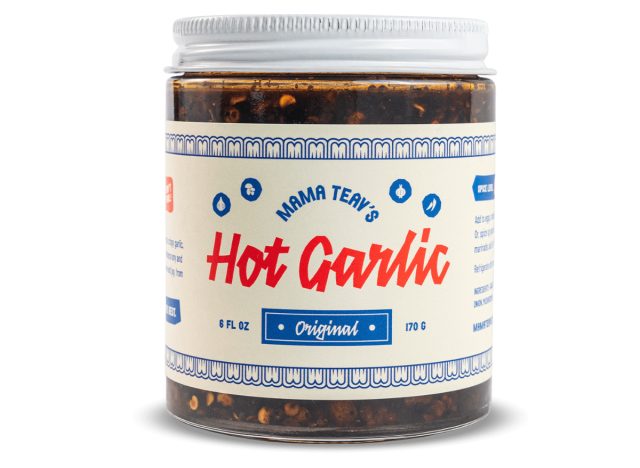 Are you the type to triple the amount of garlic required in any given recipe? Try Mama Teav's hot garlic. Created by siblings Chrstina and Anthony Teav, this hot garlic condiment is a take on their mother's recipe. It's heavy on crispy fried garlic and heaps of chiles, resulting in a textural sauce that leans more savory than sweet. Expect a blend of fire-roasted, sun-dried Cambodian chilis and California garlic soaked in cold-pressed grapeseed oil. Already a fan? It now comes in a huge Costco-sized 16 ounce jar.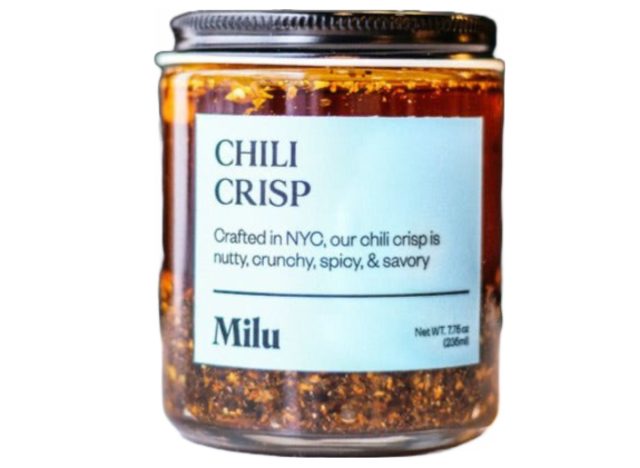 Not a spicy food fanatic? No problem. Milu, a fast-casual Chinese restaurant in New York City, created this chili crisp blend with Sichuan and cobanero chiles, and spices not typically found in traditional chili crisps, like cumin, coriander and cardamom. It does, however, lean more oily than picante, so if you're looking for a spicy condiment that will make your eyes leak, this won't be it. But it's a solid option for those who want flavor but not too much heat; Allrecipes named it the best mild chili crisp in a taste test.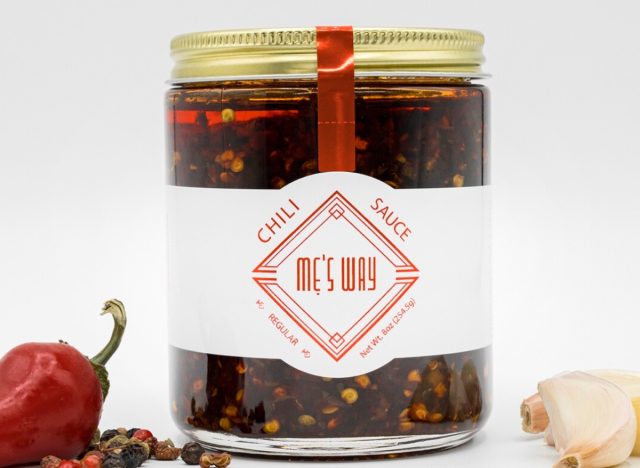 There's a secret ingredient that makes Mẹ's Way chili crisp stand out from the rest: anchovies. This Vietnamese-style chili crisp packs a spicy punch, while the funky fish flavor adds interest. With an earthy balance of spices, you can easily transform a boring noodle dish or add a tasty bite to salty snacks like popcorn. The same producer also puts out a vegan option, if you're not into anchovies.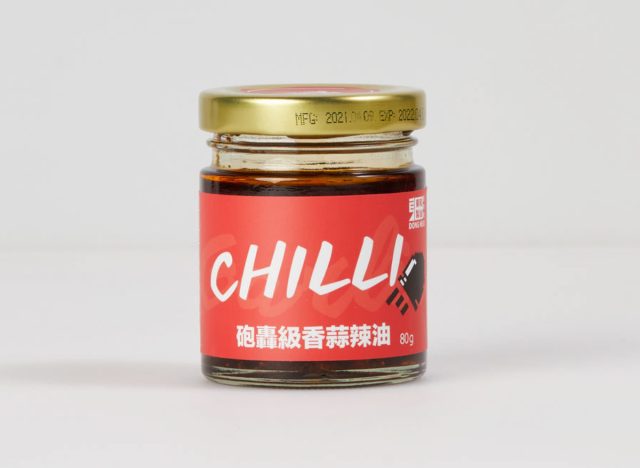 If you're a sesame lover, you're going to want to add this to your pantry. While other chili crisps tend to use vegetable oil, Bullet instead opts for 100% cold-pressed sesame oil which lends a nice touch of nutty flavor. Expect toasted sesame oil that's been heated low and slow, a healthy dose of garlic, and a touch of numbness. It's worth a try if you're looking for a chili crisp with high-quality ingredients: in a taste test of 15 chili crisps, Tasting Table crowned it the winner!
Su Chili Crisp Five Spice
Made in small batches in Taipei, Taiwan, Su Chili crisps follow a traditional technique that's been passed down through generations. Expect flavors of five spice, anise, cinnamon, allium, and chilies. This chili crisp features only six ingredients, with a bright chili flavor and a hint of Sichuan peppercorns shining at center stage. Spice-wise, it's not ripping hot, so it's easy to drizzle on savory dishes like beef noodle soup, or kick up frozen dumplings a notch.
Oo'mämē Chile Crisp Sampler Pack
If you feel like you've tried all the classic chili crisps, Oo'mämē's sampler pack of four global varieties inspired by China, Morocco, India, and Mexico, may satisfy your desire to explore. Each blend uses unique spice and flavors from distinct regions for a twist on the original chili crisp.
While the Chinese variety features classic Sichuan peppercorns, fermented black beans, peanuts, and crystallized ginger, the Indian version incorporates fragrant spices of turmeric, fennel, Kashmiri chiles, and grated coconut. Smoky chipotles, sweet mango, and orange zest define the Mexican take on the chili crisp, and the Morocco-inspired variety has spices like nutmeg and cinnamon to complement jammy figs, roasted almonds, and crunchy sesame seeds.