6 Hottest New Food Trends You'll Be Seeing Everywhere This Year
A few compelling things stood out from the countless items at this year's Summer Fancy Food Show.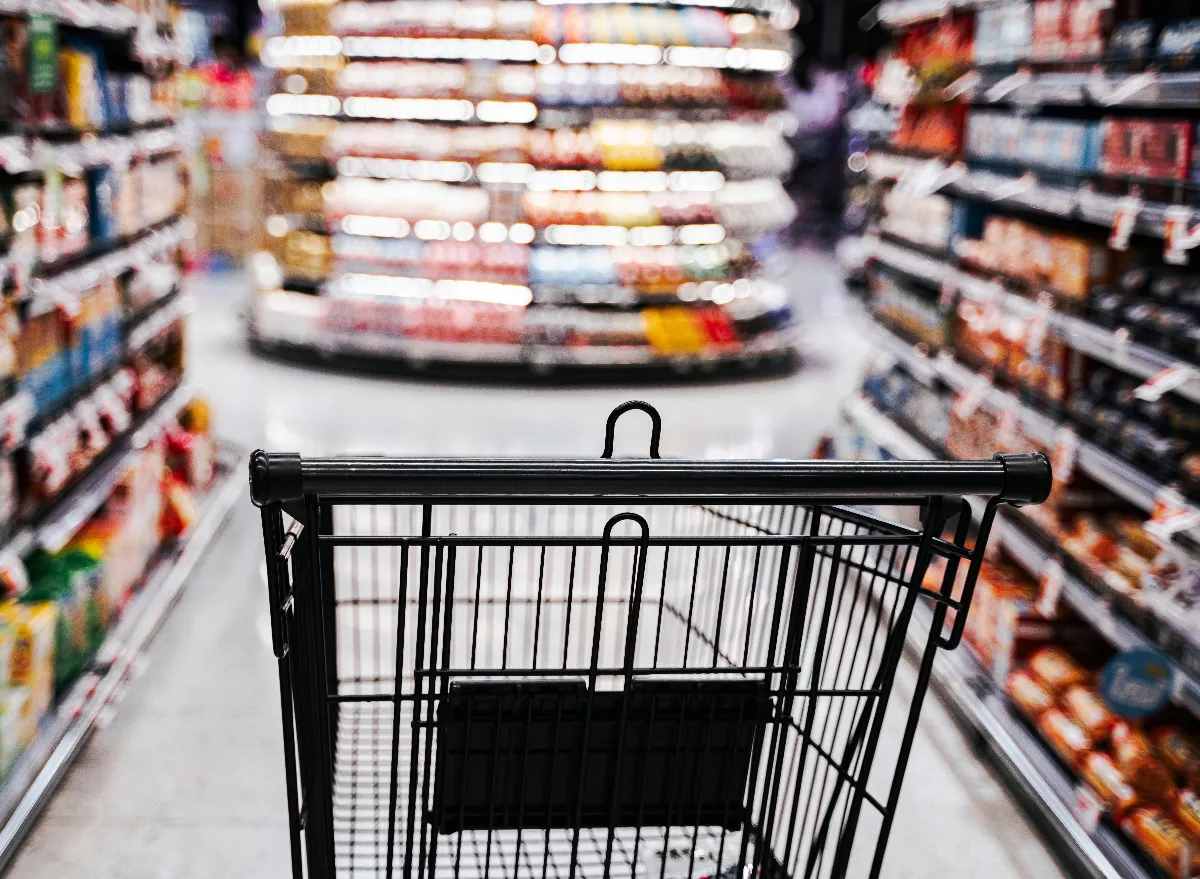 The product recommendations in this post are recommendations by the writer and/or expert(s) interviewed and do not contain affiliate links. Meaning: If you use these links to buy something, we will not earn a commission.
For a sprawling look at new trends and other developments in the wide world of food, the annual Summer Fancy Food Show is a good place to be.
Sponsored by the nonprofit Specialty Foods Association, the annual event brings food and drink producers from all over the world to the Javitz Center in New York City. This year's show, spanning three days in June, included over 2,000 different exhibitors, all dishing out samples and sales pitches. From honey to hot sauce—not to mention multiple brands of hot honey—the event spotlights everything from traditional eats to innovative new products.
It would be virtually impossible to cover everything displayed across the 300,000 square feet of exhibition space. But here are some of the prevailing trends that stood out from the crowd.
New Spins on Tinned Fish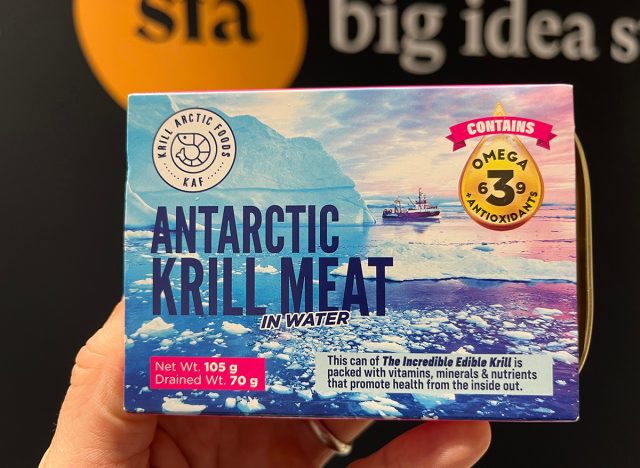 Remember the old expression "packed like sardines?" It used to mean "overcrowded." Nowadays, it could also mean "trending," amid America's newfound fascination with tinned fish. "Tinned fish is very culturally popular right now," said Brooklyn caterer and recipe developer Jenn de la Vega, pointing to a recent cookbook on the subject during a discussion by the show's Trendspotter Panel. Another panelist noted that even some seafood restaurants are now serving tinned fish alongside the usual fresh catch.
New York-based Sea Tales previewed four new tinned products for 2023, including jazzed-up varieties like Sardines With Pickles and spicy Sardine Roes With Condiments. But unquestionably the most unique aquatic meat in a can on the showroom floor this year was krill—yes, the stuff that whales eat. It's actually a delicacy in parts of Eastern Europe, often called the "commoner's caviar," according to exhibitor Alfredo Nasti of Krill Arctic Foods. Nasti is now marketing it as "America's newest superfood," citing the nutritional benefits, including Omega-3 fatty acids.
For the uninitiated, krill meat looks like tiny shrimp and tastes sort of like crab. During the show, Nasti served it on crackers, but he also pointed to other preparations. Combined with avocado, garlic, and veggies, and served on bread, he noted, "it looks like a beautiful lobster roll."
Spray Can Specialties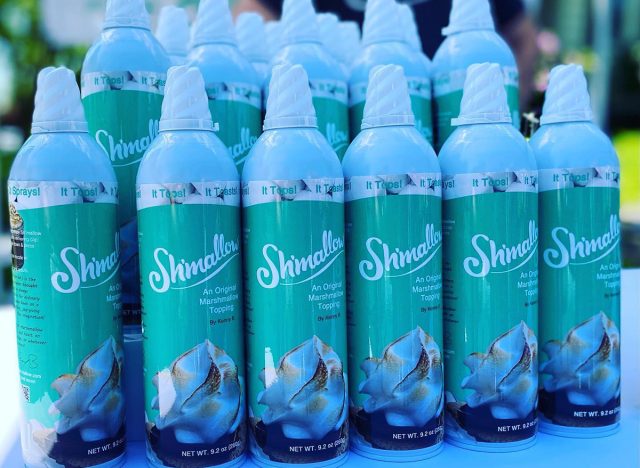 Street artists have long embraced the convenient spray can. Culinary innovators are finding new uses for aerosols as well. Members of the show's Trendspotter Panel were blown away by the Duck Fat Cooking Spray from Nebraska's Cornhusker Kitchen. This easy-to-use version of a tricky ingredient is already a popular item in the grilling section of many hardware stores and it's finally catching on in the wider world of cooking. "I've had duck fat before—scoop it out, it's a mess," said Melanie Bartelme, a global food analyst at Mintel. "This just makes that so much more accessible to the consumer."
Another spray product that generated attention is Sh'mallow, the first-of-its-kind marshmallow fluff in a can. Founder Kenny Baker, a former barista, came up with the idea after serving countless cups of hot chocolate topped with whipped cream instead of marshmallows. Many coffee shops eschew the traditional topping because it quickly goes stale, Baker explained. "This is like instant s'mores," he said as he fired up a blowtorch to brown a sample of the sweet foam.
Chili Crisp Galore
A fast-growing subset in the ever-expanding universe of hot sauces, chili crisp is taking up an increasing amount of shelf space in the condiment aisle, with an endless parade of new producers putting out their own versions. This year's show included several new releases, including a Thai Chili Crunch from Mike's Organic Foods of Idaho and a pair of Mayalasian-style Sambal Chili Crunch varieties from New York's Homiah (one made with shrimp paste, another with seaweed).6254a4d1642c605c54bf1cab17d50f1e
The most unique spin, though, was a Mexican-style chili crunch from Connecticut's Capitana by Lorenza, made with dried morita peppers and olive oil. It comes in three varieties, including one with cherries and another with figs.
Plant-Based Everything
To say that plant-based foods are trending is a tremendous understatement. This year's show included a whole "Plant-Packing District," dedicated to veg-forward innovations. Mushrooms factored into many products, including crunchy shiitake snack chips called Popadelics and a first-of-its-kind mushroom broth in a ready-to-drink, pop-top can from New Jersey's Two River Mushrooms. "You can drink it cold or hot—you can add it to anything," said chef Marilyn Schlossbach, who created the savory recipe.
There were various non-dairy cheese products on display, too, such as Armored Fresh's melty American-style cheese slices made from almond milk and Foodie Farmer's shelf-stable Cashew Parm, which founder Alison Elliott whipped into a queso dip for attendees to sample.
California's Prime Roots may have upstaged them all, with its line of sliceable deli meats made from koji, an Asian fungus commonly used in producing soy sauce and miso. The group put out an impressive spread of faux salami, pepperoni, turkey, ham, and pâté. Many of these products are already available at delis in California and bodegas in New York City, as the company looks to expand its presence nationwide.
Primo Pasta Sauce
Spicy vodka rigatoni is a signature dish at Carbone, arguably the most highfalutin Italian-American restaurant in all of New York City. But, until now, a bottled version of the house's specialty sauce did not exist. Chefs Mario Carbone and Rich Torrisi already sell other jarred sauces, but this one took extra time to get it right. "They're award-winning chefs for a reason—if it's not the best, it does not go in a jar," said Eric Skae, CEO of Carbone Fine Food. Made with Italian-grown tomatoes, Calabrian chilis, and slow-cooked onions, the new packaged product provides just the base for making the restaurant's famous dish at home, Skae noted. "You have to add your own cream and butter to finish it."
Another venerable NYC restaurant, Enzo's of Arthur Avenue, also rolled out its own line of premium bottled sauces at this year's show. These include a vodka sauce, which notably includes cream—plus, prosciutto and a dash of sambuca. Among many other saucy debuts on display—including a new low-sodium Organic Simply Red Sauce from Dave's Gourmet and a deceptively vegetable-laden marinara from Hidden Foods Co.—Pomi Passata Tomato Puree won the award for best new product in the sauce category, with its simple ingredient list of only strained tomatoes and salt.
Gourmet Pasta In Ornate Packaging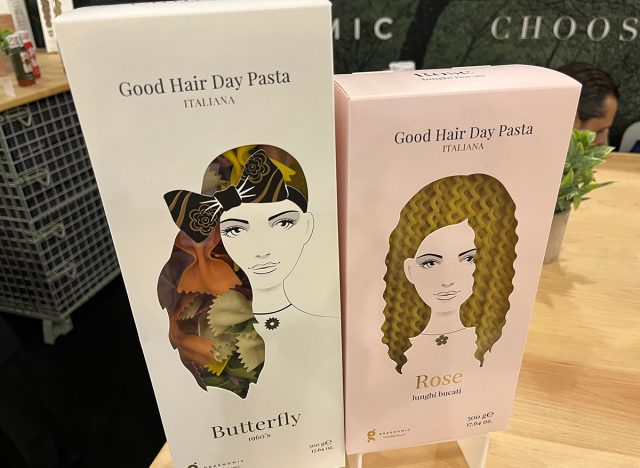 Perhaps the show's splashiest premiere came from celebrity chef and keynote speaker Giada De Laurentiis, who unveiled her new line of Giadzy-brand organic pasta, made in Italy and packaged in eye-popping red and gold boxes. "We spent a lot of time designing it," said De Laurentiis during her remarks on stage, noting the importance of standing out in a crowded field of pasta makers. "For me, the aesthetics of things are really important. People eat with their eyes first, and it has to look a certain way to bring people in."
Another dazzling design came from Pennsylvania's Greenomic Delicatessen, producer of the brand-new Good Hair Day Pasta. Its luxe packaging features the usual pasta-box plastic window but in the unique shape of various hairstyles. Russian designer Nikita Conkin created the look. "We like to differentiate ourselves from all the other pasta that's out there," said Greenomic COO Billy Stroumbaras, adding that the gourmet pasta inside the box—made in Umbria, using all-natural ingredients (even the colorful noodles get their pigmentation from real vegetables)—is equally impressive. "We use the real stuff," he said.
Chris Shott
Chris Shott is the Deputy Editor covering restaurants and groceries for Eat This, Not That!
Read more about Chris