We Tasted 6 Doritos Chips and This Is the Best Flavor
With so many options, it isn't always easy to spot the one flavor worth snacking on. So we're here to help you out.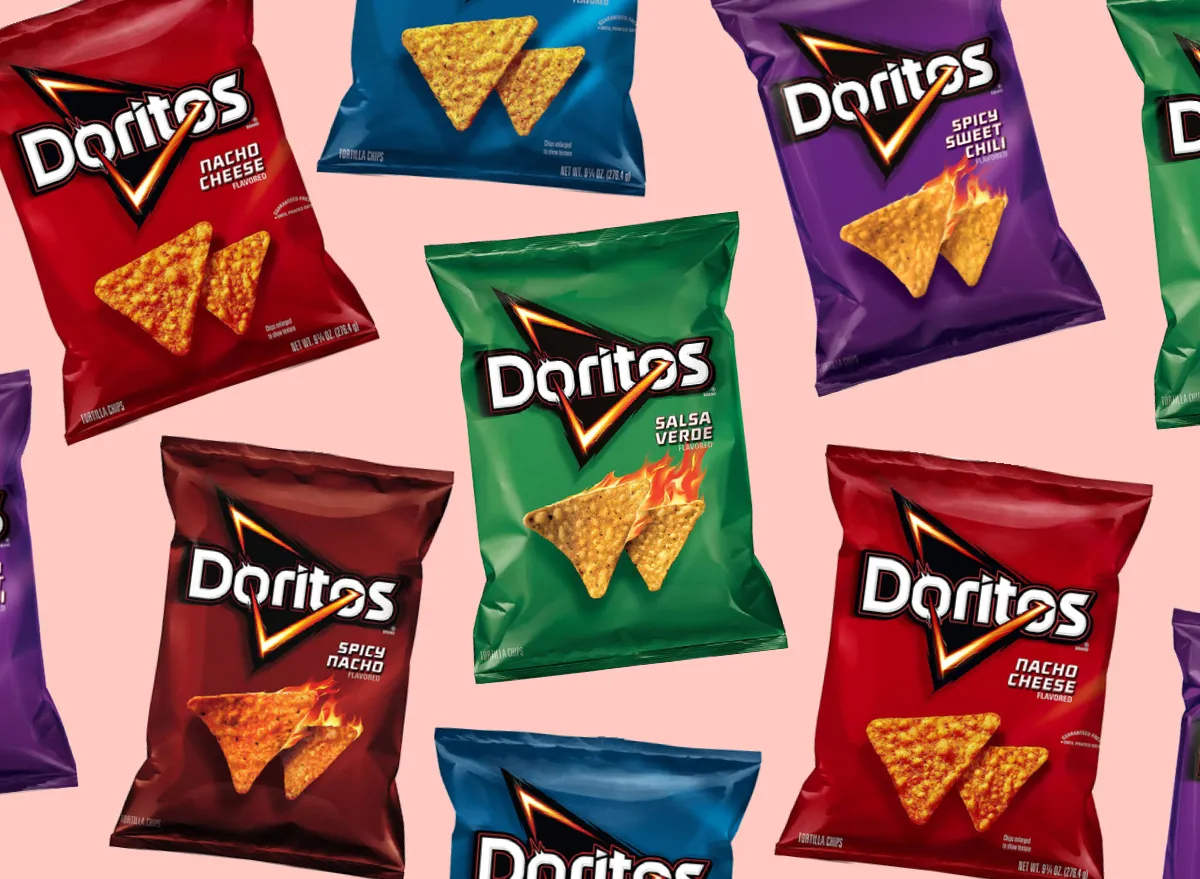 Reaching into your favorite bag of chips can feel somewhat comforting. You dive in to get the right crunch from your beloved snack and it takes a lot of self-control not to lick the lingering dust off your fingertips. That's especially true when it comes to Doritos. The chips have been such a grocery store staple for what seems like forever. But which flavor really is the best?
If you're a Doritos fan, we're here to point you down the road of deliciousness, as there are tons of flavors. While they're not the healthiest snack option, when you are looking to indulge, you want to make sure you're splurging on the best option. So, in a classic taste test fashion, we scored the core flavors of Doritos chips. We based our ranking on their crispy crunch, the ratio of seasoning, and ability to satisfy that snack craving. Take a seat, take a bite and find out just how these chips taste. Here are six Doritos flavors, ranked from the just OK to the best of the bunch. And for more, check out these 15 Classic American Desserts That Deserve a Comeback.
The taco flavor chips taste exactly as you would imagine. Yes, that means all the flavors of a crunchy beef taco are wrapped into a single chip. While these chips weren't necessarily bad taste-wise, overall, they just didn't give the impression of a quality snack you would enjoy between meals. They're more along the line of a "wannabe meal." When you're eating chips, you would hope for something light!
This flavor may not have been our favorite, but the balance of seasoning to chip was pretty equal compared to others. When in doubt, you can add a side of guac and the result is something quick and easy to eat on a summer day.
Following the trend of America's obsession with ranch, Doritos has indeed mastered the Cool Ranch flavor to please the masses. The seasoning is refreshing and turns your average dressing into a fantastic topping on the tortilla chips. These chips tend to taste more on the artificial side, but they have a great punch of flavor. The only critique we have is that after too many, they can become overall quite chalky Not ideal!6254a4d1642c605c54bf1cab17d50f1e
If you're a big fan of green salsa, these chips are soon to be your go-to bag to munch on. There's no need for an actual side of salsa with these chips too, as they taste just like the real thing. The salsa verde seasoning isn't extremely spicy, but there is a definite little kick at the end of every bite. The overall flavors of these chips are bold. In fact, they may be the strongest of all the Doritos flavors we tried.
Looking for more helpful tips? Sign up for our newsletter to get daily recipes and food news in your inbox!
Who knew you could have tang and spice all in one chip? Doritos got really creative with the Spicy Sweet Chili flavor, by adding notes of chili peppers and soy sauce. The blend of these two flavors brings a zesty edge to this bag of chips. Our only wish is that these chips could have more of these flavors! There wasn't enough seasoning for these chips to reach their full potential, sadly. But for those moments when you can't decide between sweet and savory, this flavor certainly makes sure you won't have to.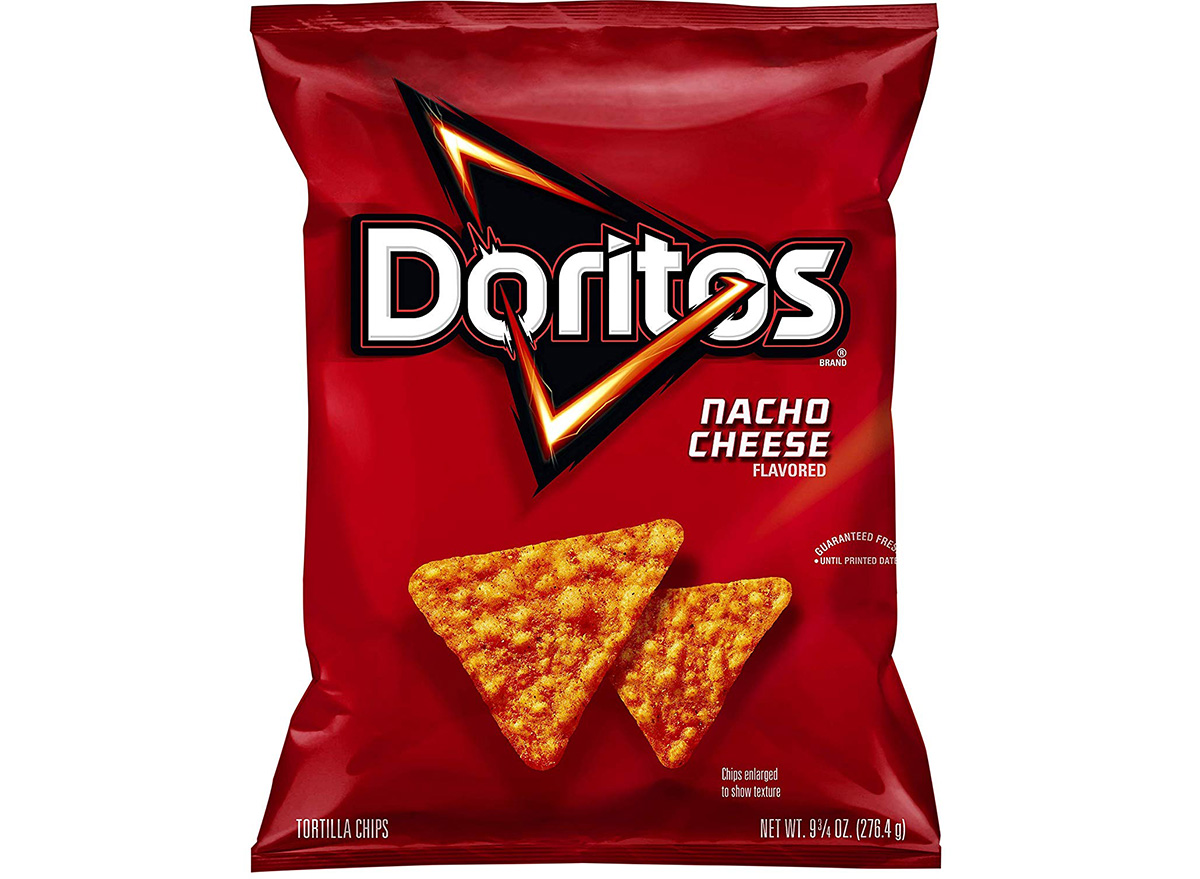 As one of the original Doritos flavors, Nacho Cheese is never one to let you down. It's a truly classic flavor! Plus, the cheesy seasoning is off the charts! You get the perfect taste of eating nachos, but you never have to worry about the gooey mess of melted cheese. It's no wonder it's still to this day one of the most addicting chips flavors.
Now, this is how you upgrade the standard bag of chips. The Spicy Nacho flavor is a surprisingly fun twist of the classic Nacho Cheese flavor, and it exceeded expectations. For those who love a spicy touch to the tongue, this flavor will be the perfect match for you. However, if you tend to snack right out of the bag, be very careful. These chips have a lot of seasoning and can get a bit overwhelming. Moderation is key, after all. But with this flavor, you don't have to worry about eating bland tortilla chips ever again.
Jordan Summers-Marcouillier
Jordan Summers-Marcouillier was born and raised in San Jose, California and now works as a writer in New York, NY.
Read more about Jordan