The Most Popular Chips You've Got to Try at Least Once
When the time comes to indulge, you want to do it right!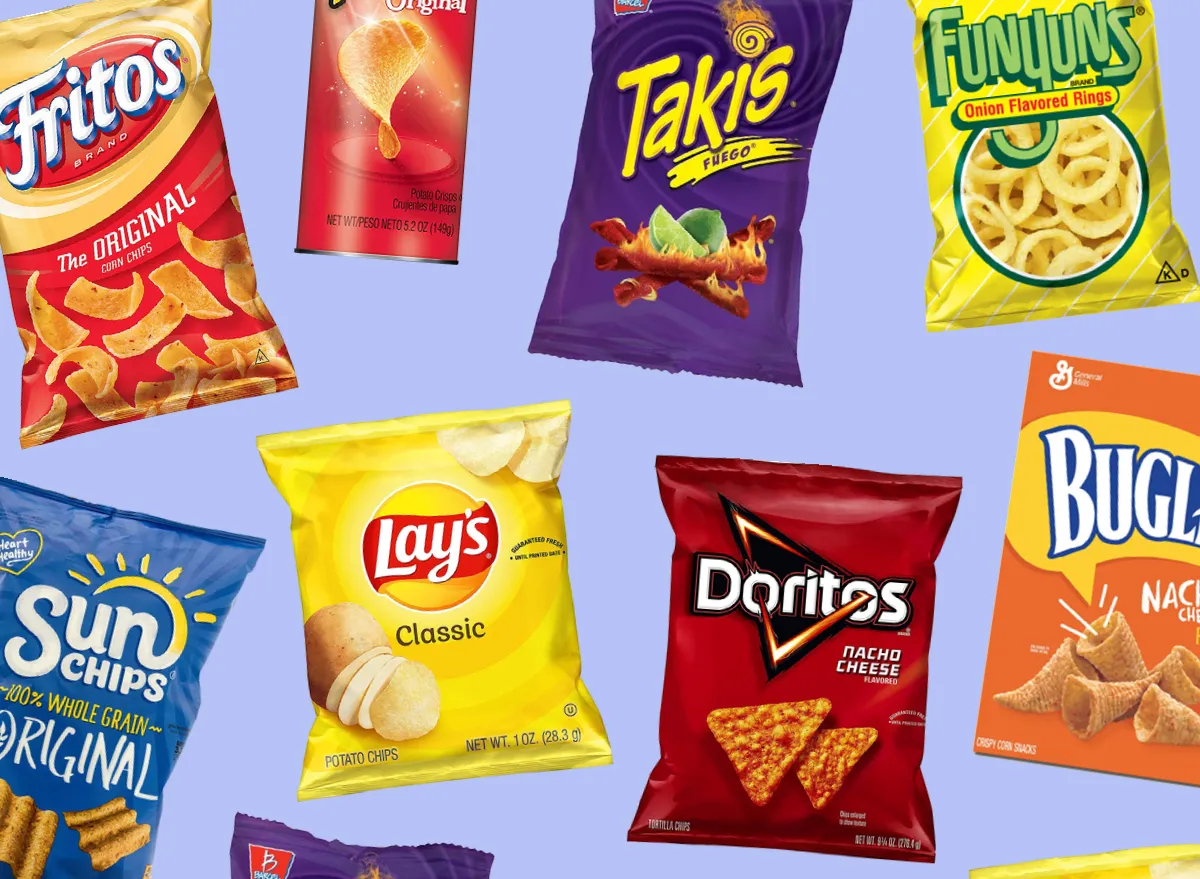 Potato chips are a classic snack that most people just can't seem to get enough of. In fact, the average American eats more than four pounds of potato chips in a year. That's a lot of fried spuds!
Potato chips seem to be the perfect vehicle for trying inventive flavors. And there does always seem to be a new bag on the shelf every time you go to the grocery store. While potato chips are not the healthiest snack option by a long shot, they're fine to enjoy every once in a while. You want to make sure when you do indulge, you are choosing the best flavor, though!
So, if you think you've tried the most popular chips in almost every flavor imaginable, keep reading. We've rounded up the 12 most popular potato chip brands you have to try at least once, and included a few flavor variations that you might not have enjoyed yet. And for more, check out these 15 Classic American Desserts That Deserve a Comeback.
Lay's potato chips are likely what comes to mind when you think of classic chips. The super-light, kind of greasy, but oh so munchable chips are usually served up at parties with some type of dip, or with hot dogs at a family cookout. These chips come in dozens of flavors from the iconic yellow bagged classic variation, to flamin' hot dill pickle and original honey bbq.
If you're like us then every time you hear the word "Ruffles," you think of the commercials from the early '90s that proclaimed, "Ruffles have ridges." Yes, the chips are known for their ridges, which is why these are the superior dip chip compared to classic potato chips. Ruffles come in quite a few flavors like jalapeño lime to the more traditional sour cream and onion.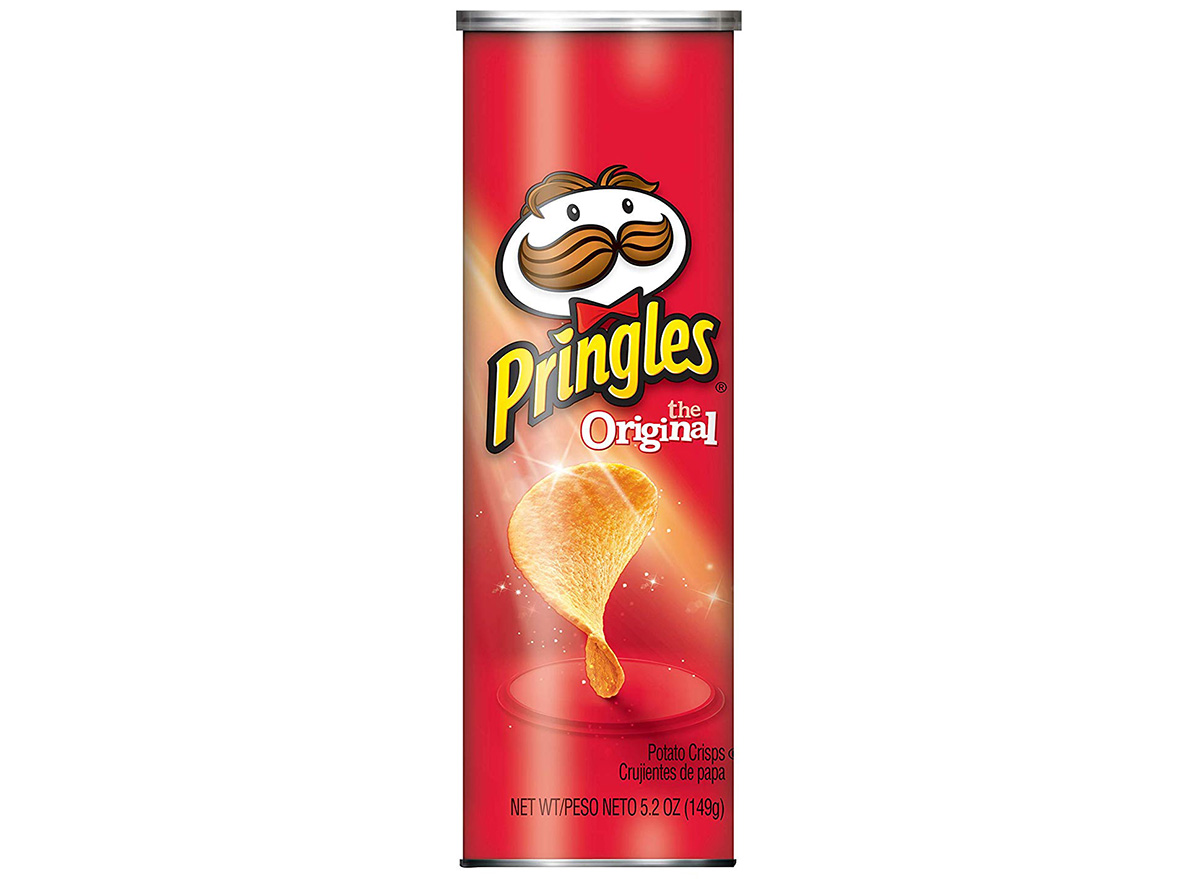 Once you pop, the fun don't stop, right? Well, we have to agree that once we open a tube of perfectly stacked Pringles, it's nearly impossible to eat just one. While the original Pringles are perfectly crispy and addictive, the pizza and parmesan and roasted garlic flavor are a must. For those who are really creative, Pringles are the perfect chip to stack multiple flavors to create a chip flavor bomb!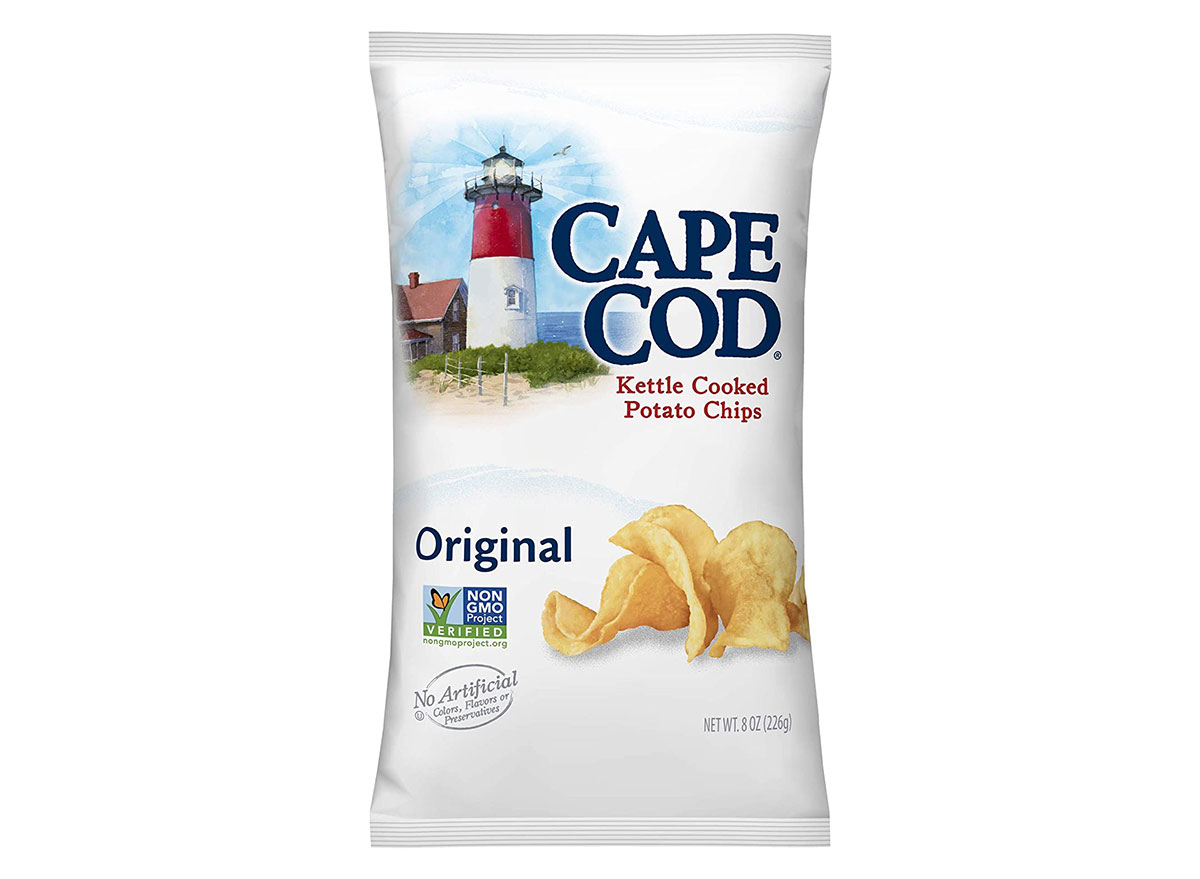 There's just something really good about eating a super crunchy, kettle fried chip with a sandwich. Makes for the perfect pair! Cape Cod chips have the ultimate crunch factor that can also stand up to heavy dips like the classic that is French onion dip. When you're ready to up the flavor factor, try the brand's sweet mesquite barbecue or salt and vinegar varieties, too.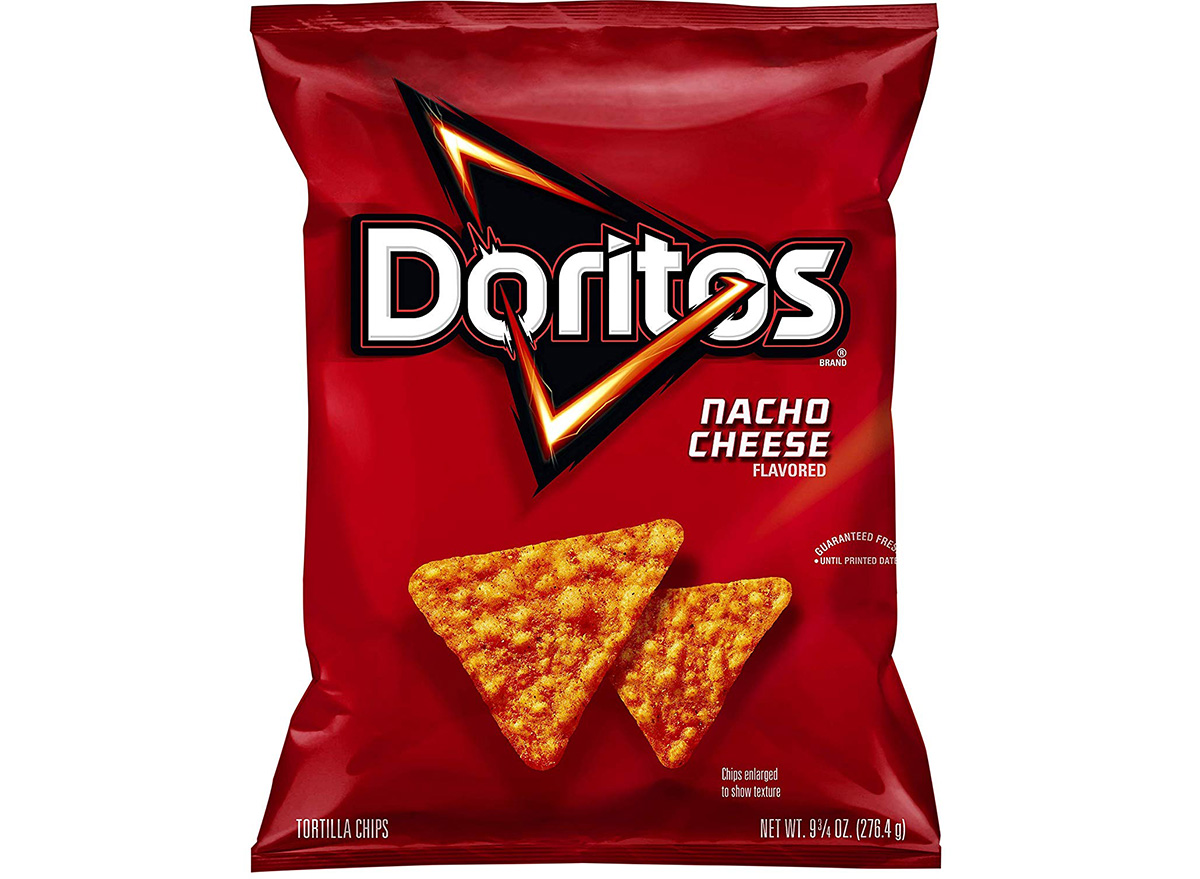 Doritos are forever and always a true school lunch staple and a Super Bowl icon, too, thanks to those funny commercials. Cool ranch and nacho cheese-flavored Doritos are obvious favorites, but there is much more to the brand than just two flavors, or even shapes. The 3-d puff-like version of the snack is back, so it's a must-try, along with the chile limón rolled tortilla chips.
Everyone knows the joy of eating Cheetos is licking the excess cheese dust off your fingers when you're done. Gross, kind of. Totally appropriate when eating Cheetos? Absolutely. Cheeto fans are still debating about whether or not crunchy or puffs are the best version of the chip, but either snack you go with, they both taste pretty darn good. The brand is also known for its Flamin' Hot Cheetos, which people put on everything from grilled corn and pizza to corn dogs and macaroni and cheese.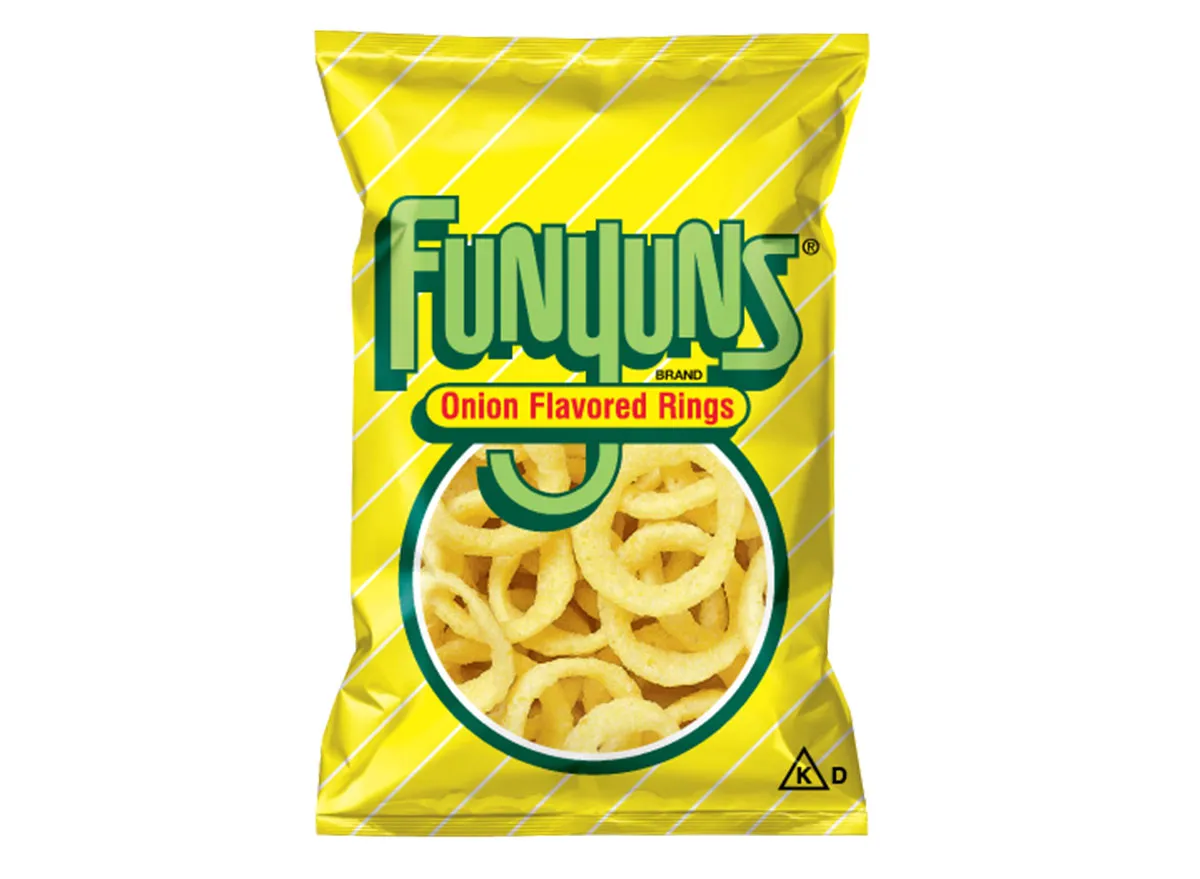 6254a4d1642c605c54bf1cab17d50f1e
Funyuns are the ultimate when it comes to onion-flavored chips. Not only are they shaped like actual onion rings, but they really do have a distinct onion taste that other "sour cream and onion" flavored chips have yet to achieve. Funyuns only come in two flavors, original and flamin' hot, but why mess with the recipe when it's already great?
Sun Chips are the semi-healthy version of chips that most people try to reach for when the afternoon munchies . The wavy, crispy chips come in a variety of flavors like harvest cheddar and French onion, and most are really good. Sun Chips are considered heart-healthy, so if you're looking for that classic chip experience while trying to keep your diet in check, these are the chips for you.
If you're on the market for a super crunchy chip that packs a kick, it's time you consider Takis. The rolled tortilla chips are fun to eat, are extremely crunchy, and are available in some interesting flavors. The newest creation? It's called "Blue Heat" and is a blue, rolled tortilla chip that's labeled as a fireball for your mouth. Eat at your own risk here.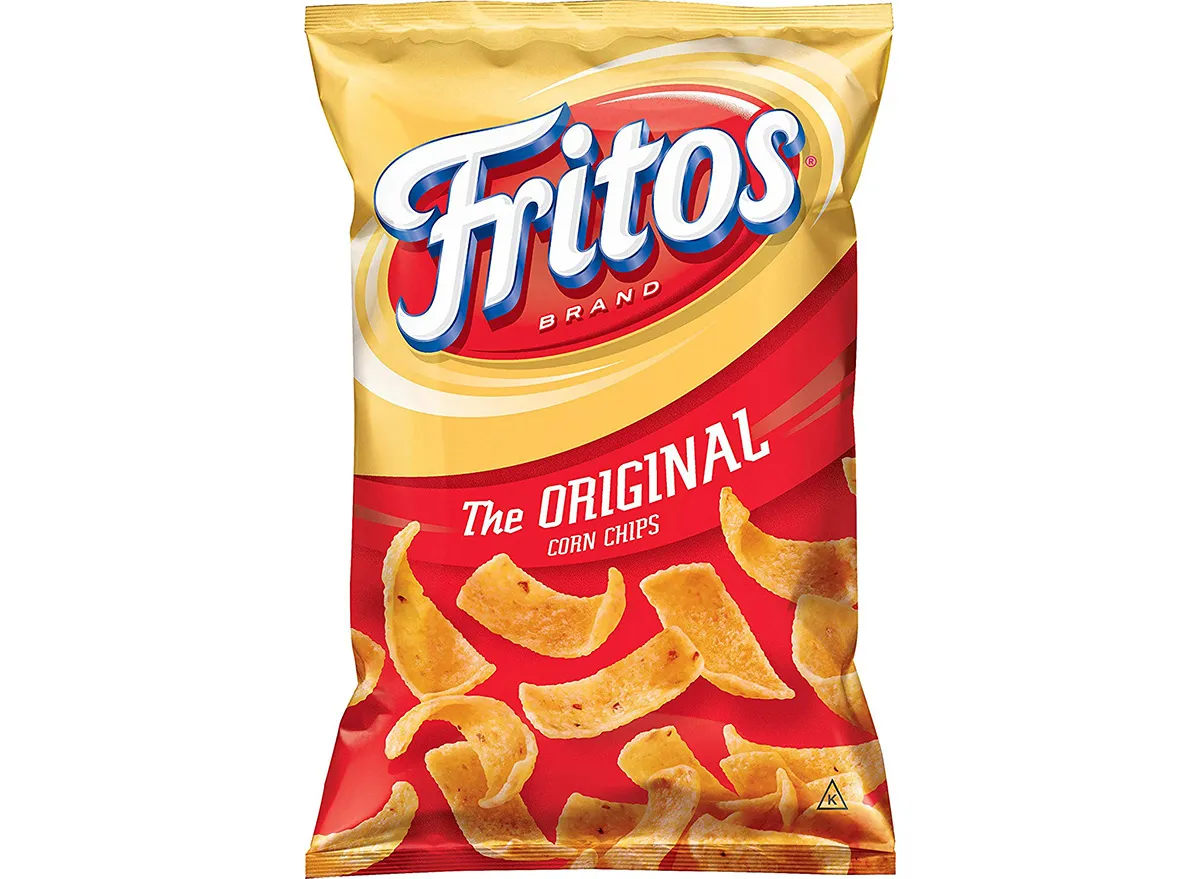 The only corn chips worth trying are Fritos. The classic chips are perfect as a Frito pie topped with cheese, chili, and sour cream, as a vehicle for dips, or just by themselves. While they are a bit salty, a bottle of ice-cold water goes perfectly with these. Something about Friots just screams road trip vibes, don't they? If you can find them, be sure to try the honey BBQ or chili cheese flavors.
New Orleans is known as a culinary destination. One item that has made its way out of the Big Easy and throughout the country? Zapp's chips. The bayou favorite has been kettle-cooked one batch at a time since launching. You'll definitely find some interesting flavors from Zapp's like cajun dill gator-tator, and spicy cajun craw-taters.
If you've ever had Bugles, you know the joy of putting a cone-shaped chip on each finger and pretending you have witch fingers. (Especially if you did this as a kid at the lunch table with your friends!) Bugles come in sweet and savory flavors like caramel and nacho cheese to satisfy any craving you might be having. The poppable chips are fun to eat and still after all of these years, are a favorite.
Megan duBois
Megan duBois is a travel and lifestyle journalist with bylines across the internet and in print at Delish, Conde Nast Traveler, Travel + Leisure, Yahoo Lifestyle, and more.
Read more about Megan