8 Fast-Food Chains That Serve the Best Donuts
Here are the places to get your sugar fix on National Donut Day.
The donut—a simple deep-fried ring of dough dripping in colorful frosting or showered with sugar—seems like a quintessentially American treat. In fact, its history can be traced all the way back to Medieval Europe. According to Smithsonian Magazine, they first made their way to America care of 17th- and 18th-century Dutch immigrants who called them olykoeks, or "oily cakes."
Today, rebranded from olykoek to donut and found in many forms such as bite-size Munchkins, crullers, cream-filled rounds, fritters—and many more—the pastries are indeed a mainstay of American culture. They even get their own national holiday (kind of) on June 2.
But National Donut Day isn't the only time people are packing in the sweet treat. According to data from Statista, some 201 million Americans report having eaten one or more donuts in any given year. In fact, Americans consume roughly 10 billion each year. Chances are many of those 10 billion donuts come from these eight fast-food chains which are known for their decadent options. Here are the best donut spots to visit right now to get your fix.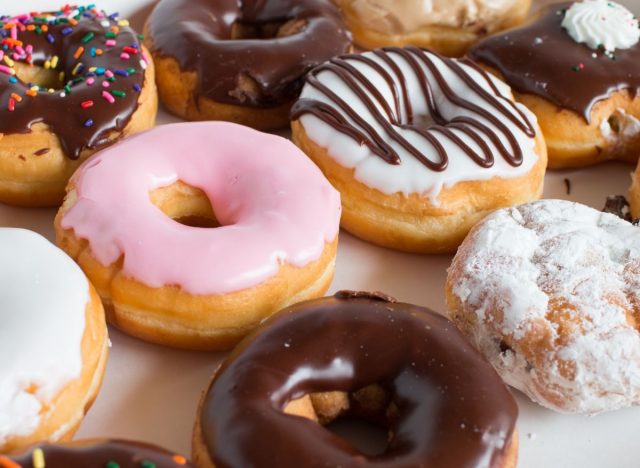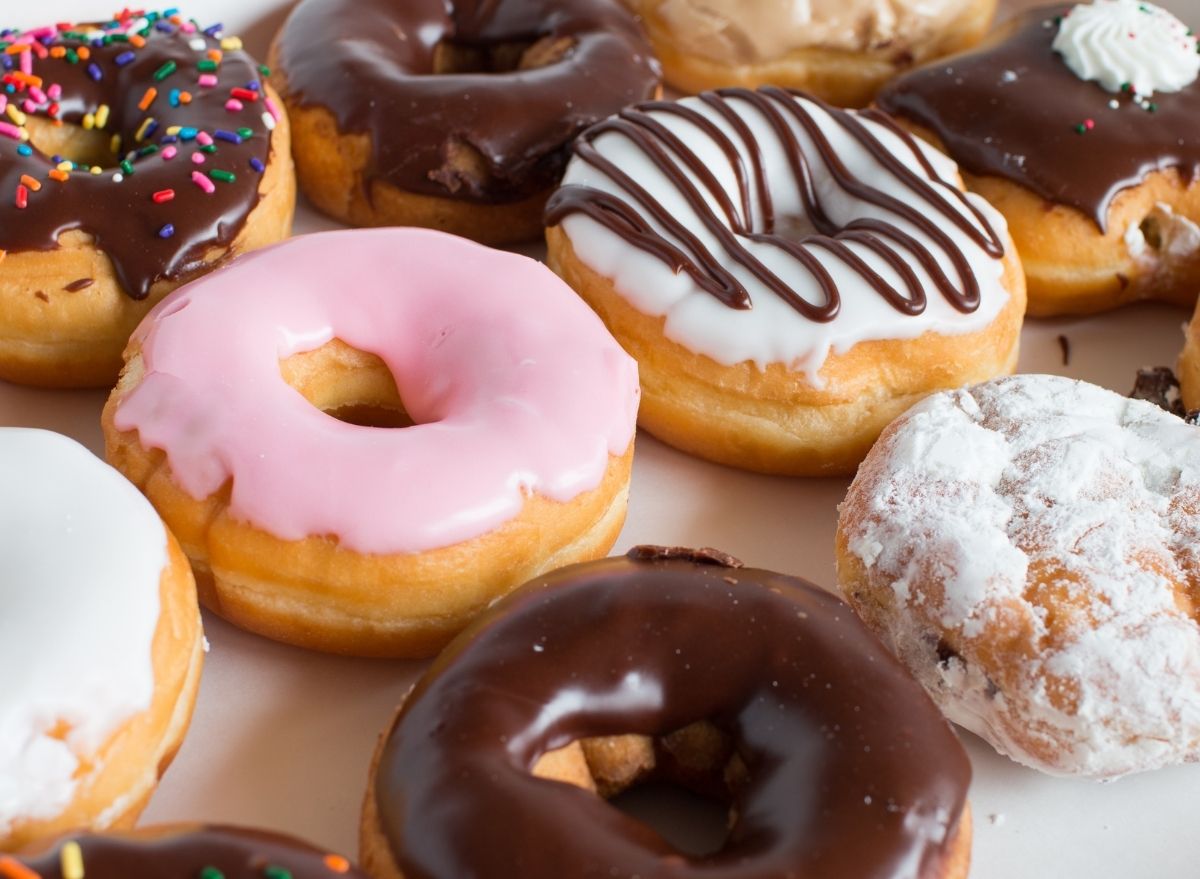 While Dunkin' may not offer the hippest donuts on the block—and it may be pretty hard to argue the place makes the best ones in America—clearly the chain is doing something right. There are some 9,433 Dunkin' locations in America at present, making it the most prolific donut-centric fast-food chain in America.
That means a lot of Americans have access to some truly great donuts. Dunkin' has a wide variety of classic options from plain glazed to chocolate with sprinkles and several jelly- and cream-filled varieties. Plus, the chain regularly puts out special seasonal menus featuring new donuts, treats, drinks, and more. The most recent is the summer menu which features a new Butter Pecan Donut to go along with the Butter Pecan Crunch Frozen Coffee. Head to Dunkin' on June 2 and get a free donut with any drink purchase.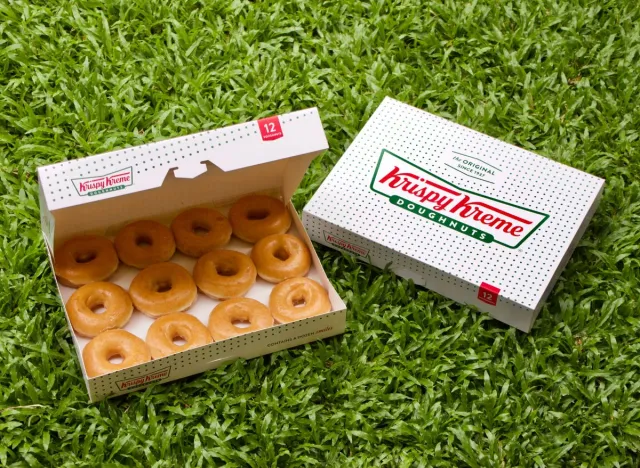 To many people, Krispy Kreme seems like a bedrock fixture of the American food industry. But, surprisingly, there are only 358 Krispy Kreme locations in America as of spring, 2023.
The chain, though well known, pales in size in comparison to Dunkin', but all that is slated to change. Last year, Krispy Kreme adopted a so-called hub-and-spoke business model wherein, larger production centers will be used for the production of the famed donuts, which will then be sent to point-of-sale locations rather than always being prepared on the premises.
This new distribution model is going to make Krispy Kreme donuts more widely available, as they will be for sale not only at branded donut shops but at convenience marts, grocery stores, and even McDonald's restaurants. Krispy Kreme serves all the classic varieties, just like Dunkin', with seasonal and holiday favorites. On National Donut Day you can get a free donut just for stopping in or a dozen Original Glazed for $2 for buying a dozen.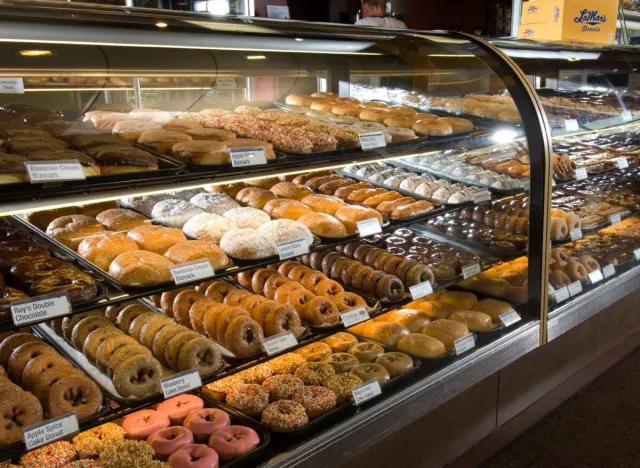 LaMar's is found in five states: Arizona, Colorado, Kansas, Missouri, and Nebraska. That's not a huge spread, to be sure, but where there are LaMar's locations, they tend to stick around. In fact, the first shop opened in Kansas City, Missouri back in the year 1960.
The chain was a family-run business for many years, though it has operated as a franchise model since the early 1990s. The donuts served today are similar to those the founder first started making in the 1930s. Word is he worked on the recipe for decades before opening his store.
Today, there are dozens of different kinds of treats offered at Lamar's including cake donuts, French cruellers, knots, buttermilk bars, and fritters. Plus, there's delicious coffee.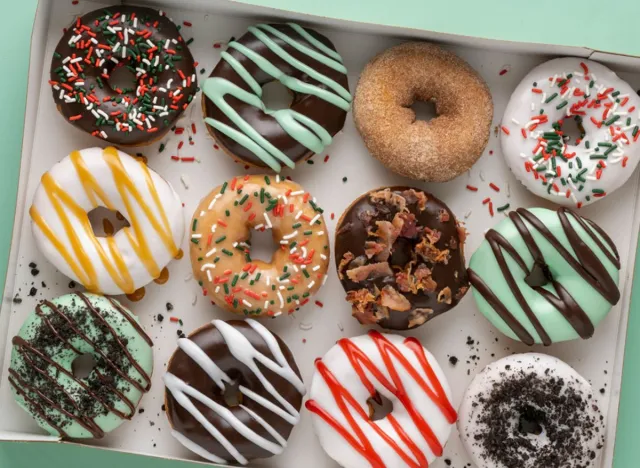 This chain, which has only been around since 2007, has grown to more than 100 locations spread across the country. The secret to Duck Donuts's success is a robust menu of freshly-made donuts that includes many seasonal offerings.
Duck Donuts also releases curated donut boxes based on holidays like Father's Day and the Fourth of July. Plus, if you want, you can start with a basic donut and make your own with your favorite toppings. But if you want to try the best the chain has to offer, people all over rave about Bacon in the Sun which features maple icing topped with chopped bacon and a salted caramel drizzle.6254a4d1642c605c54bf1cab17d50f1e
And Duck Donuts' offerings hardly stop at sweet treats; the restaurants also offer hearty breakfast sandwiches on donuts, coffee, soft drinks, and more.
There are seven Doughnuttery locations. Four of them are in New York City. One is about 15 miles east of New York City in a shopping mall on Long Island. Another is about 900 miles west of New York in Milwaukee, Wisconsin. And the seventh is 5,125 miles due south of New York in Santiago, Chile. And many more South American locations are on the way.
Why the spread of this NY-centric donut shop to such unexpected places? Perhaps because the unusually small donuts the chain makes are also unusually good. All Doughnuttery donuts are quite small, only about two inches across, but they come in big flavors like Flower Power, featuring hibiscus, honey, and rose petals, Purple Pig, made with maple, purple potatoes, and bacon, and Chai Me to the Moon, made with chai masala and black tea.
And by the way, this chain caters for events, so if you want a truly tasty and memorable party, fundraiser, or corporate retreat, have the Doughnuttery team make some donuts fresh on location.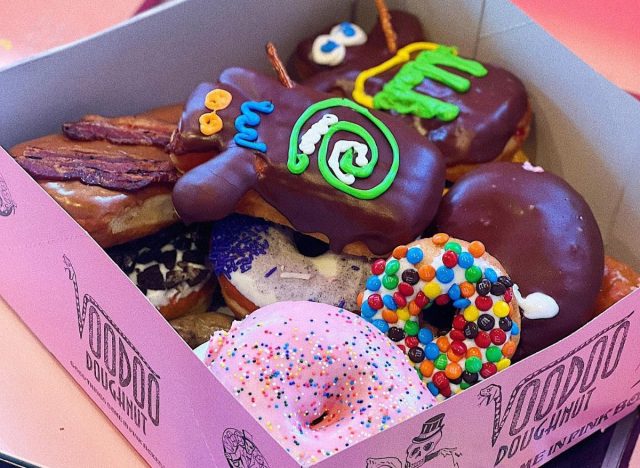 Since its launch in 2003, this Portland-based donut shop has become something of a cult fan sensation. The company now has locations in six states and it is still expanding.
The success of Voodoo Doughnut is not hard to grasp when you see the variety it offers. Many items are veritable works of edible art, rich with detailed decorations using candy, like M&Ms, swirls of icing, or crispy pieces of bacon.
Do note that for these striking donuts, you will pay a pretty penny—many are priced at $4.50 apiece. But you can also get much simpler creations, like a Cinnamon Sugar Cake donut, for a buck.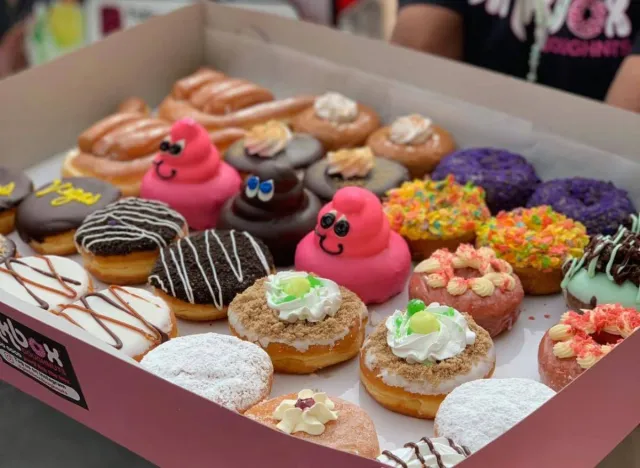 Pinkbox Doughnuts is another donut chain that isn't very large in terms of actual units. There are but nine locations total, with eight of them in southern Nevada and one in Utah. However, like Duck Donuts and Doughnuttery, this chain has some truly unique offerings. For example, the chain's signature Doughsicles are served on sticks and feature wild flavor combos like Tutti Frutti, which is a frosted and glazed donut coated in Fruity Pebbles cereal. Plus, it carries all the classics.
Customers rave about the creations on Yelp. "I have never had a bad doughnut from them," says one. Plus, many people claim that Pinkbox has the best donuts they have ever tasted.
If you haven't heard of Shipley Do-Nuts, then you probably don't live in Texas, and you definitely don't live in Houston, home to an astounding 73 Shipley Do-Nuts locations. There are 367 locations in total and they are almost all in the South, though the chain does have a bit of presence in Maryland and Colorado.
At a Shipley Do-Nuts location you can enjoy a lot of great classic donuts, beignets, and donut holes—not to mention some good coffee. The chain claims it has 60 varieties of donuts. It even has savory kolaches, which are sausages encased in dough. If you stop in on June 2, you can enjoy a free glazed donut with any purchase.
Also popular are its catering services. Shipley Do-Nuts can easily assemble donut-and-coffee packages suitable for serving parties of 50 or more.
Steven John
Steven John is a freelancer writer for
Eat This, Not That!
based just outside New York City.
Read more about Steven