We Tasted 8 Types of Fast-Food Fried Chicken & This Is the Best
This is what crispy, on-the-bone fried chicken is supposed to taste like.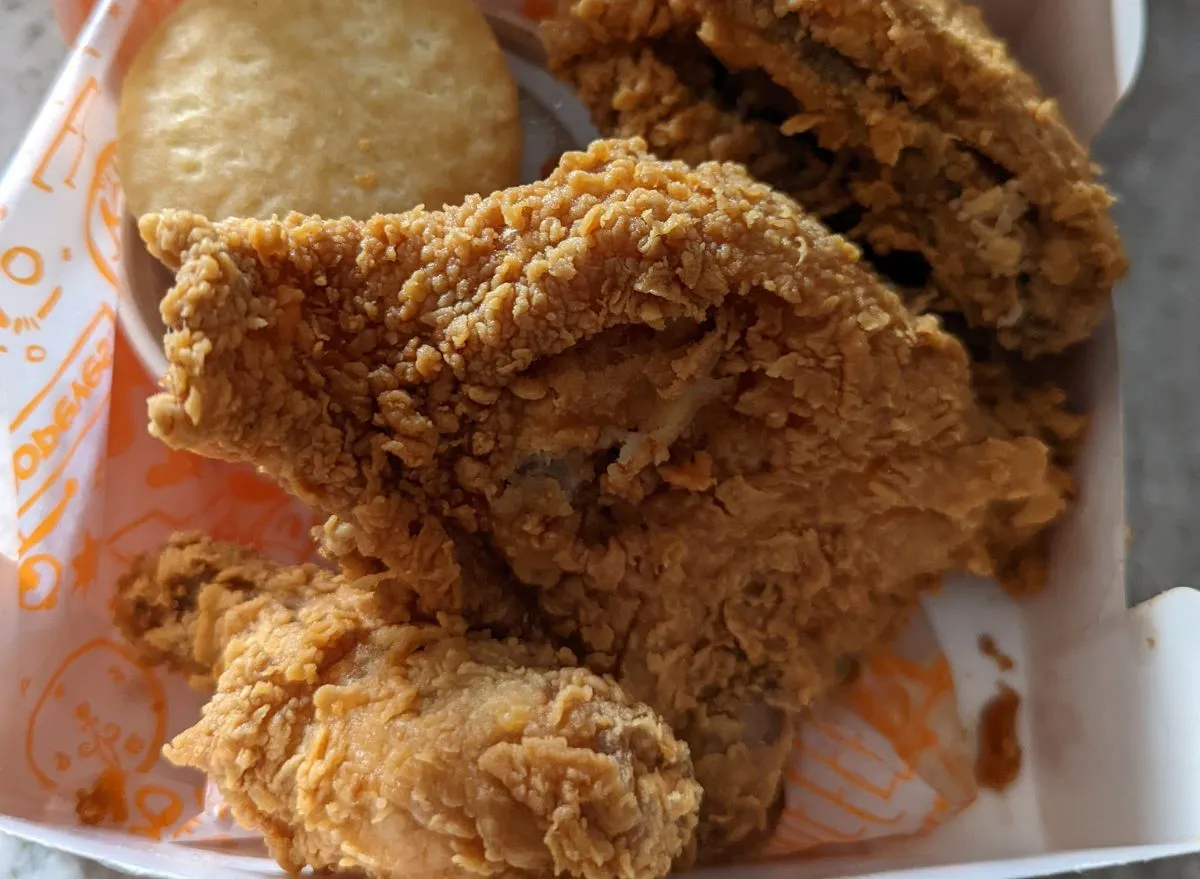 Supply chain issues and product and labor shortages notwithstanding, the Chicken Sandwich Wars continue to rage on. Demand for America's favorite bird has not diminished, and new variations on the ever-popular spicy chicken sandwich are still actively entering the fray.
But as we embrace the boneless breast, it seems we've been neglecting the O.G.—aka, fried chicken on the bone. That's what we're shining our high-wattage heat lamp on today.
In the South, especially, the cooking methodology varies, and seasoning blends are highly guarded. What constitutes excellent fried chicken is a topic that's debated as hotly as the oil it's cooked in. But the fast-food fried chicken chains that have truly mastered the dish appear to have at least one thing in common: they all prepare it "the hard way."
Marinated, seasoned, hand-breaded, secret recipes—these are some of the buzzwords you'll find in the descriptions of the fried chicken offerings at your favorite go-to spots. But which ones really deliver? Is it better to go with spicy or original? These are some of the questions I sought to answer when I took on the delicious challenge of trying every big-name national chain serving chicken on the bone in metro Atlanta. Read on to find out once and for all which fried chicken dish rules the roost.
METHODOLOGY
Due to the aforementioned shortages, a side-by-side comparison—sometimes even within the same restaurant—was challenging. Instead of a side-by-side taste test, I took detailed notes for scoring the rankings. At each of the chains, I ordered a leg, a thigh, and a breast, and judged the chicken based on taste, texture, and overall quality. These are the five brands and eight variations I tried:
Bojangles
Church's: Original and Spicy
KFC: Original and Extra Crispy
Pollo Campero: Fried
Popeyes: Mild and Spicy
KFC: Original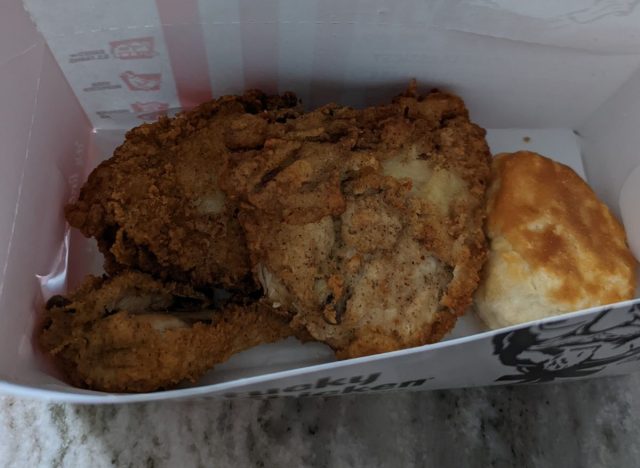 Bourbon, horses, and fried chicken—these are the things I most strongly associate with the state of Kentucky. But alas, KFC isn't doing KY's reputation for chicken any favors with its Original Recipe.
I generally prefer crunchy things, and therefore tend to opt for the extra crispy version of anything if it's available. So it had been a lifetime since I'd had the original fried chicken that laid the foundation for KFC's fried chicken empire. This taste test, however, led me to question how an entire empire was built on this recipe in the first place.
Those famous 11 herbs and spices were present, but overshadowed by an excess of salt. Even if the proportions were better balanced, it couldn't have made up for the wet, loose skin of the chicken. Unevenly breaded, slimy-looking, and shedding chunks of the gray flour it's rocked and rolled in seven times, I was initially worried that it wasn't cooked all the way through. Because it's prepared in a pressure cooker, it was moist and served at a safe temperature. However, the low-temperature cook is likely what causes it to retain so much oil, leading to a soggy experience. While the leftovers were definitely improved by reheating in a toaster oven, ultimately, I found that the Colonel's original is, unfortunately, not worth saluting.
Church's Chicken: Original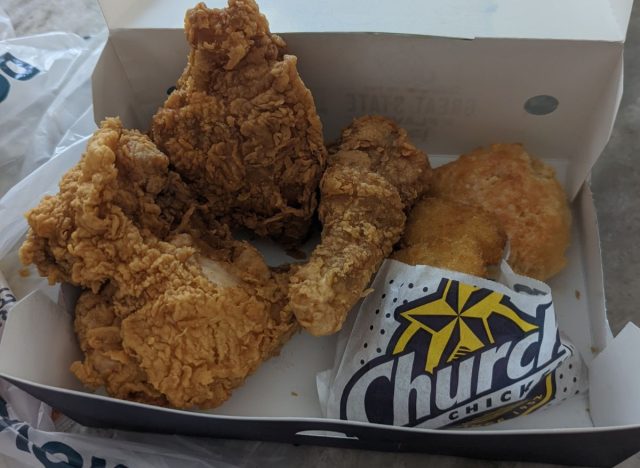 Founded in San Antonio and headquartered in Atlanta, I had high hopes for Church's Southern-fried goodness. What a blow to the heart that my home city's chain proved itself to be a church that didn't inspire worship.
The predominant flavor in this inconsistently seasoned chicken was oil. There was slight rancidity to the crunchy batter, giving it a subtle burnt, acrid flavor. This bit of smokiness would have been forgivable if the ratio of chicken to coating had been 1:1, but alas, not a single cut of this chicken was Texas-sized. The drumstick was a little bigger than a wing's drumette, but most egregiously, the breast seemed to have been cut in half or even thirds, dwarfed even by the thigh.
Of course, quantity isn't everything, but sometimes it can make up for a lack of quality. This time, neither came through. The white meat was bland beyond the skin, which had a simple home-fried taste to it—there wasn't much depth even in the surface seasoning. The dark meat was juicier and saltier, but also stringy. The one saving grace of this meal was the excellent honey butter biscuit, which was crumbly and well-baked on the outside and tasted like real honey.
Church's Chicken: Spicy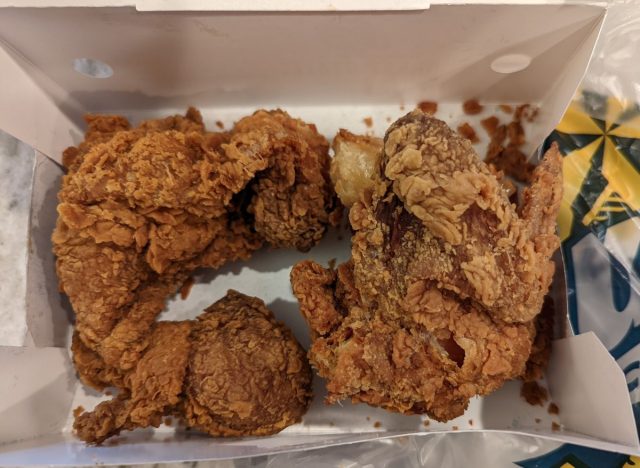 I returned to Church's on another day to try the spicy version, and thankfully, found it was much better. While it still had the slightly scorched harshness of poorly drained, much-abused frying oil, it got points for flavor thanks to an assertive, sharp blast of pepper that announced itself right away. The heat is in the marinade, and the subtle smokiness of the forward-facing capsicum makes the burnt taste of the oil seem a bit more intentional.
But it was far from perfect. The amount of meat was so minuscule as to be almost laughable, and again, there was more breading than chicken. The fraction of chicken breast that was in my box was drier than the bone it was on, and so was the wing (they were out of thighs on my visit). This was more of a shame, since the spicy marinade was deeper sunk in the dark meat of the small leg.
Then again, it's probably not the worst that the portions are restrained. Between the grease and the spice, it's wise to have your antacid of choice ready for this one.
Bojangles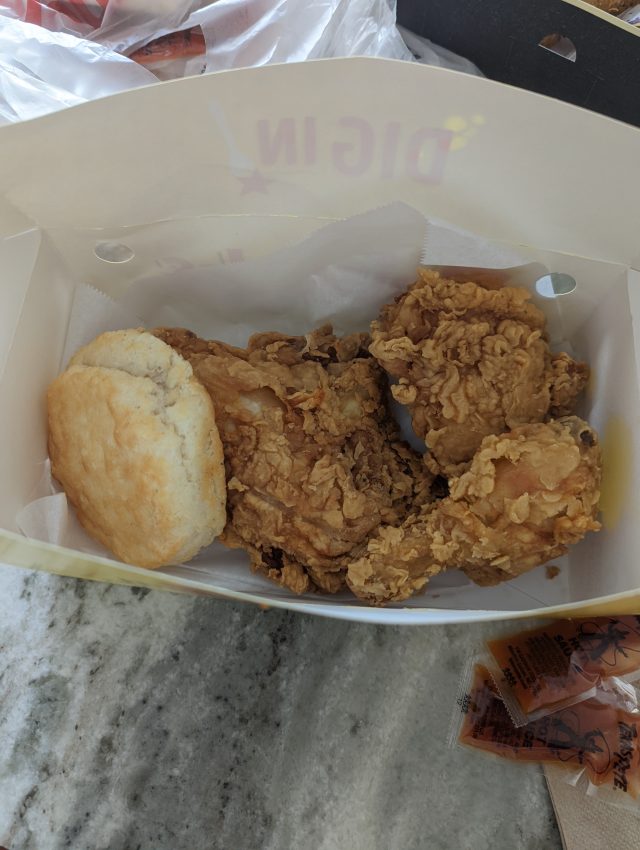 A less prominent name than Popeyes (aka, the reigning chicken sandwich champ), Bojangles' similarly "Cajun-seasoned" fried chicken had my hopes up. I'd seen it in airports, and the big pieces of chicken and hockey puck-sized biscuits had always piqued my interest. Was it as bold of a flavor as the other Louisiana brand, though?6254a4d1642c605c54bf1cab17d50f1e
The short answer is: nope. While you can taste a bit of the marinated spices in the thick, substantial cuts of good-quality meat, I found every piece to be underseasoned—which may be the reason that every order comes with a handful of Texas Pete's hot sauce.
The toned-down flavor could be due to size; the marinade certainly had a lot more density to permeate than many competitors. It was nearly triple the size of Church's breasts and included rib meat. Adding onto that was a much heavier, harder flour crust—the thickest, crunchiest, and largest-flaked coating of all tasted. Evenly coated, every bite came with a solid crunch that was unadulterated by grease. So while the flavors were not assertive, the texture—from the silky chicken itself to the chunky shards covering it—was as big as its physical dimensions.
Pollo Campero: Fried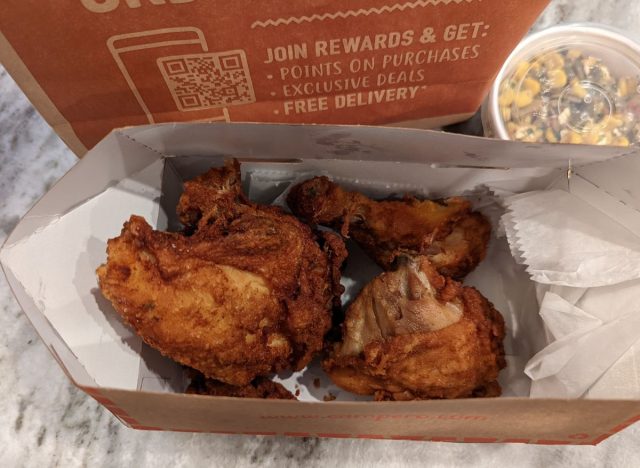 While this Guatemalan-founded, Texas-based chain's chicken was thinly breaded and limply fried, it comes at you with an exciting, zesty flavor profile that starts at the surface and goes bone-deep.
This contender was unapologetically unique in every sense. The marinated chicken popped with a definitively Latin style, all smoky, peppery with chilis, and garlicky, with clear hints of celery- or seasoned salt, curry, and ginger. It laid itself bare, too, with no extra coatings of flour to fill in for any illusion of bonus size. Instead, it was directly applied with a light hand to the seemingly undredged chicken pieces before being given a light fry.
This restraint with the coating led to an inconsistent crunch that got soggy quickly, falling into the trap of KFC's Original. A lack of buffer also caused the white meat to be a little dry, especially since it required more time to cook through due to its proper and satisfying size. The dark meat remained juicy. If only it were crunchier, it would have broken the tie. However, the seasoning being as solid as it was, plus the Latin-inspired sides (hello, yuca fries and platanos!) has convinced me that Pollo Campero's citrus grilled chicken on the bone may be worth another trip.
Popeyes: Mild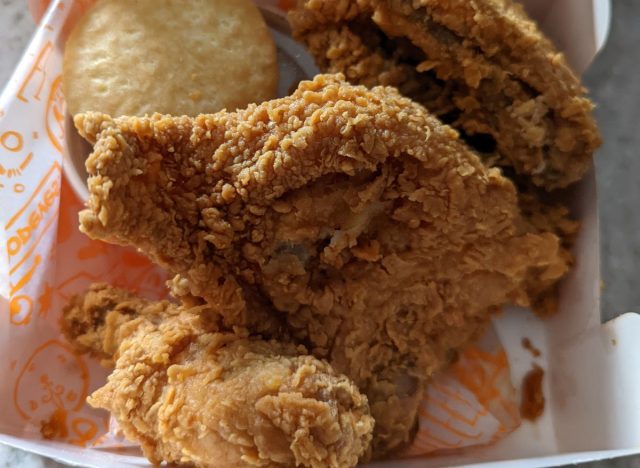 Popeyes has it down. While I find the brand's chicken to be a bit oversalted, it's consistent and seasoned most of the way through. Every piece is savory and crunchy and good. The batter holds tightly onto the chicken with tenacity and the crunch of the skin is pure perfection.
In fact, this brand is the crunchiest of them all, with the best batter-to-chicken ratio. Its high peaks were perfect for reserving for the depths of the chicken breast—the spots where the marinade couldn't penetrate. It may be because of its aggressive frying that the large-cut chicken breasts veer slightly on the dry side. The craggy crust retains little ponds of oil in its valleys, making it much greasier than its geographic cousin Bojangles.
If we're being really nitpicky here (which is the point, right?), it loses points for this minor infraction. I'm also subtracting for the fact that the sitting oil has its own distinct flavor that comes through stronger than the chicken, whose strongest note is salt. Yet despite having greater surface area than Church's, with more gradation, it remains less oily-tasting than its Texas rival.
KFC: Extra Crispy
Where KFC's Original had failed, its Extra Crispy chicken excelled. While it's not actually the crispiest of the bunch, it certainly meets the threshold, putting it toward the top of the list.
These bigger, browner, bolder pieces are double-breaded by hand and open-fried, not pressure-cooked, which creates the ridges I love in a good fried chicken. However, the different cooking methods also have a chemical effect on spice, which is part of why the spice blend is noticeably different from the classic—albeit just as secret, and perhaps even tastier, as it held vestiges of my memories of my much-missed Roy Roger's.
The flavored flour batter is well-seasoned, and the chicken follows suit. Where the chicken was too thick to absorb the marinade, like in the substantial breast, the crunchies made up for it. And those are plentiful, as the one flaw of this chicken is that the batter flakes off entirely too easily. I found myself eating gingerly, protective of its fragile shards and fearful of losing these tasty bits. I resorted to stealing from the leg and thigh, which were hot, silky, and savory enough to withstand the loss.
In all, this is a crowd-pleasing chicken that's well-balanced and neutral, featuring many positive points from competing brands without losing its own distinctions.
Popeyes: Spicy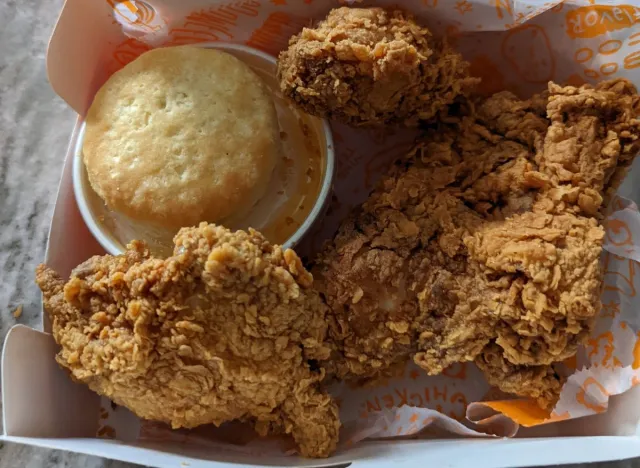 Once again, Popeyes takes the fried chicken crown, even when it's not in sandwich form.
Beneath an armor of jagged, crackling breading that is generous without being excessive, and a bonus layer of red-tinged, unabashedly Cajun spice with a quick-building heat, these big, moist pieces of chicken were simply a joy to eat.
The 12-hour marinade and peppery spark that put Arabi, Louisiana—Popeyes' original location—on the map back in 1972 shines through in nearly every bite. However, on the immediate surface, the crunchy batter is so thoroughly seasoned, that it doesn't even matter if the meat doesn't pop. It doesn't have to.
While it's not the most absolutely perfect fried chicken I've ever had in my life, it was a definitive standout in the fast-food fried chicken market. The top three choices were hard to narrow down, but in the end, the deep flavor, the super-crispy texture, the consistency and quantity of the batter, and the quality of the chicken itself were enough to make this my top pick—despite that characteristic oily taste and residual grease.
After all, it's fried chicken. What would you expect?
Su-Jit Lin
Su-Jit Lin is a food and lifestyle writer whose work has been featured in Real Simple, HuffPost, and more.
Read more about Su-Jit