The Best Fried Chicken in Every State
Here's where to find the best fried chicken wherever you are.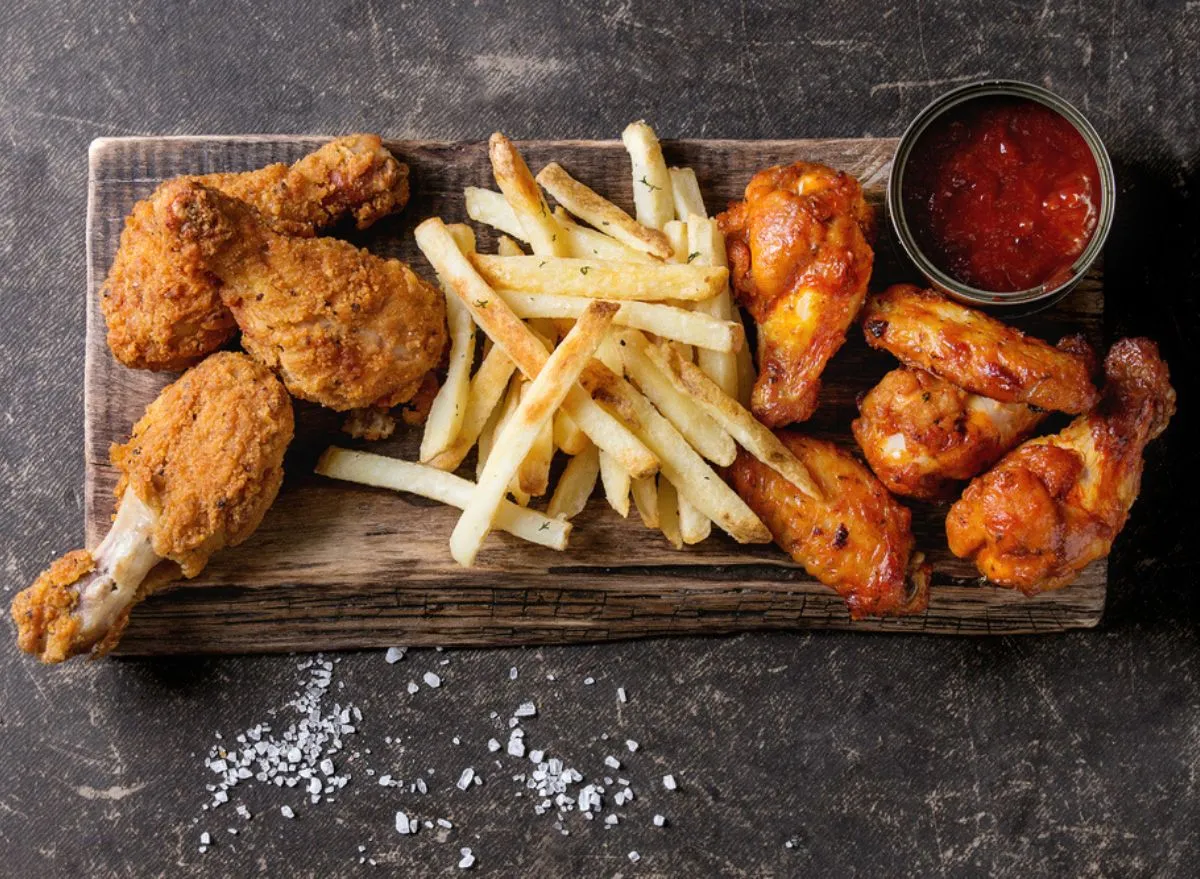 Sure, you know you can get great fried chicken in the South or in Harlem. But what if you're in, say, the Midwest, or California? Not to worry—there's plenty of fried chicken your way, too. Our friends at Yelp have created a list of the best fried chicken in every state, so you'll never have to go without that salty, crunchy goodness.
To come up with the list, Yelp looked at restaurant reviews that mentioned fried chicken, then chose the best spot in each state using "a number of factors including the total volume and ratings of reviews mentioning 'fried chicken.'" So you can rest assured that each spot on this list comes with reviews from real people. And almost every spot on this list is open for either dine-in or carryout options, so you can enjoy your food any way you like. Your dinner plans are solved! (And if you're planning to cook instead, here are 73 Healthy Chicken Recipes for Weight Loss)
ALABAMA: Saw's Soul Kitchen in Birmingham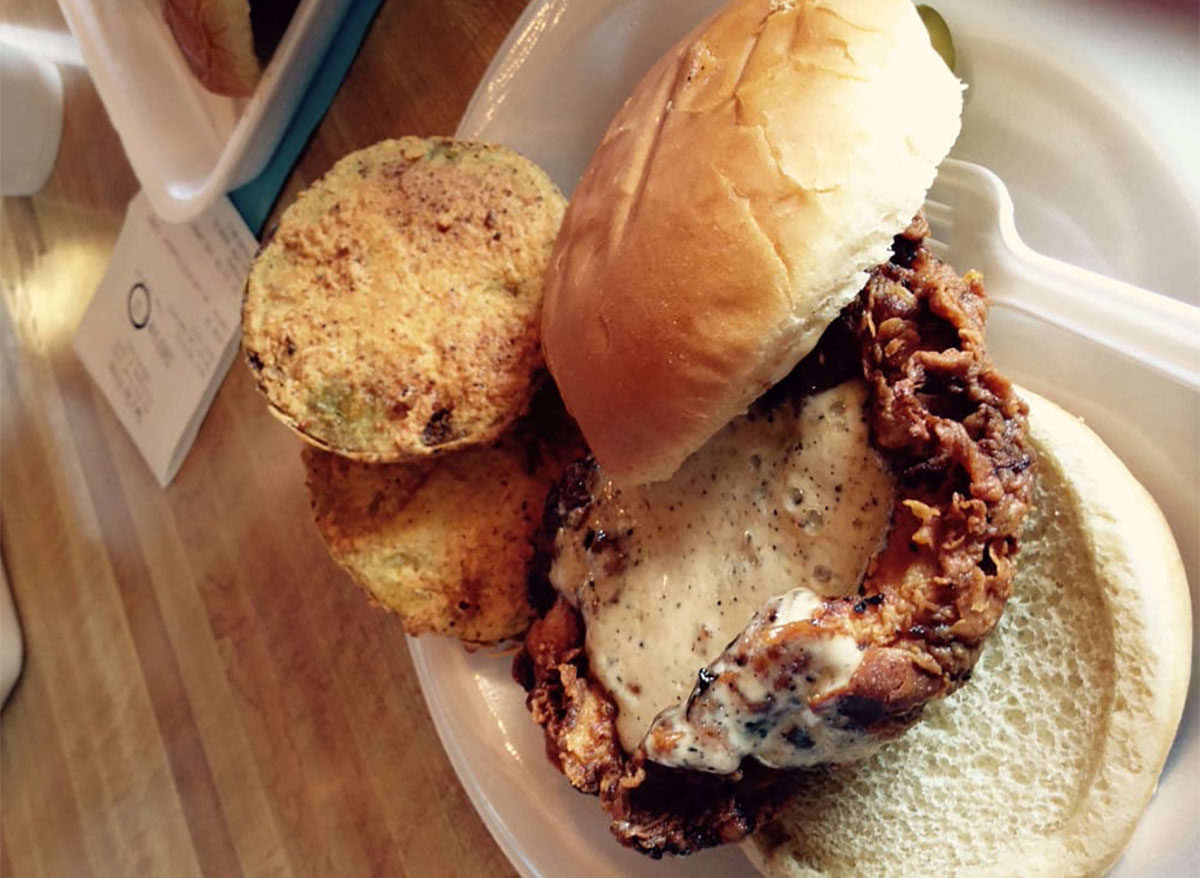 This isn't just any fried chicken sandwich—it's a sweet tea fried chicken sandwich. And if you're bringing the kids along, there are even sweet tea chicken tenders on the kids' menu. Yum.
ALASKA: Roscoe's Catfish & BBQ in Anchorage
At Roscoe's, you can get a delicious plate of ribs or a crispy order of fried chicken. "Best fried chicken in town, hands down," one Yelp reviewer wrote. We're sold.
ARKANSAS: Monte Ne Inn Chicken in Rogers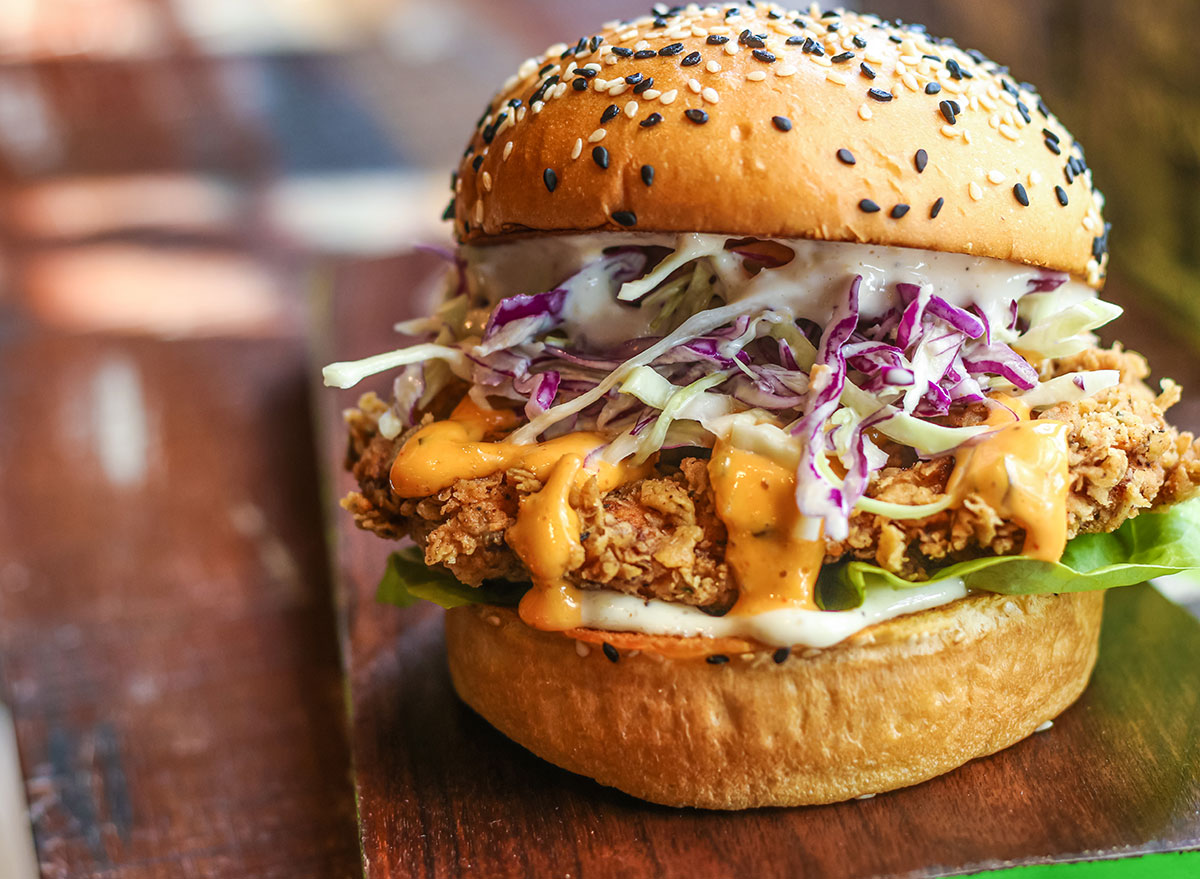 Yelp's top chicken restaurant in Arkansas, Cathead's Diner in Little Rock, has closed. But we think Monte Ne Inn Chicken looks just as delicious.
Want to make healthier homemade fried chicken? Try our Oven-Fried Chicken Recipe.
ARIZONA: BirdHouse in Page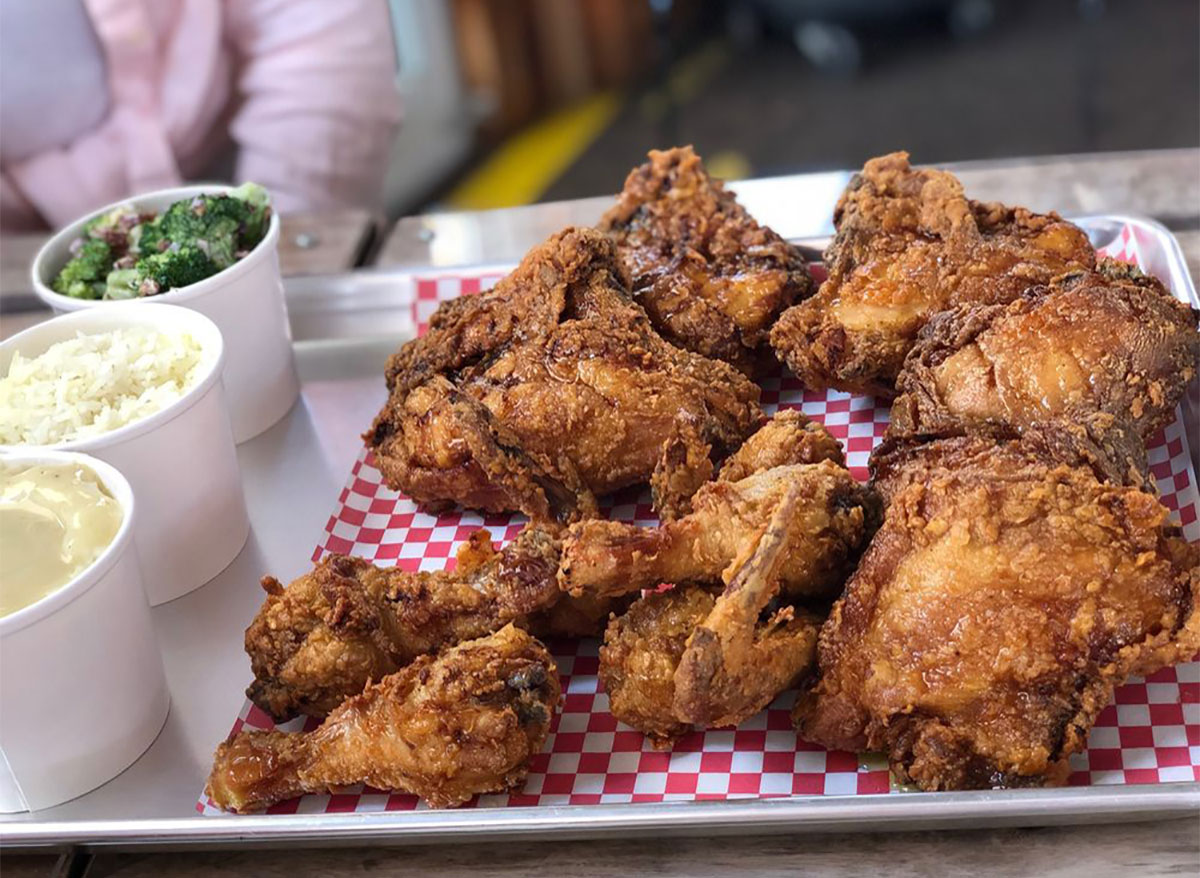 "This spot should be in every travel guide," wrote one enthusiastic Yelp reviewer. "Best fried chicken I ever had. So juicy, crispy & delicious."
CALIFORNIA: Annie's Soul Delicious in Los Angeles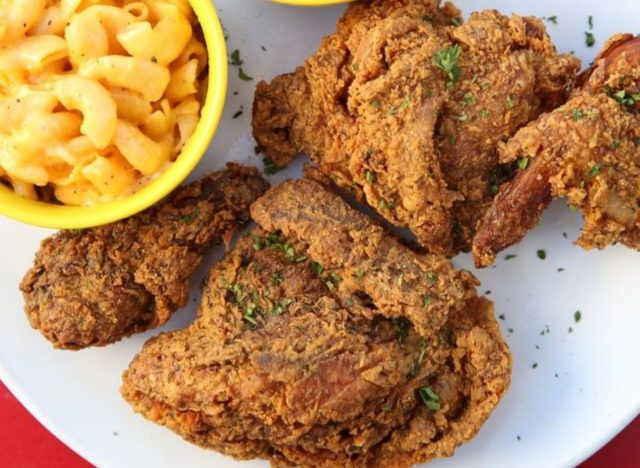 This restaurant started out as a boutique catering company at found its niche as a soul food spot. Diners rave about the fried chicken, with one saying, "It was the best fried chicken I've had in a long time. And, I don't know what wizardry they use but even after being in the fridge and microwaved, the chicken was still crispy and juicy."
COLORADO: Denver Biscuit Co. in Denver
Fried chicken and biscuits sound like the perfect combination to us! You can even order a biscuit sandwich for the best of both worlds.
CONNECTICUT: Sandra's Next Generation in New Haven
The fried chicken sandwich is the thing to get here! Or, go for the "church plate," which features classic Southern sides. You'll leave full and happy, no matter what you order.
DELAWARE: Lettie's Kitchen in Hockessin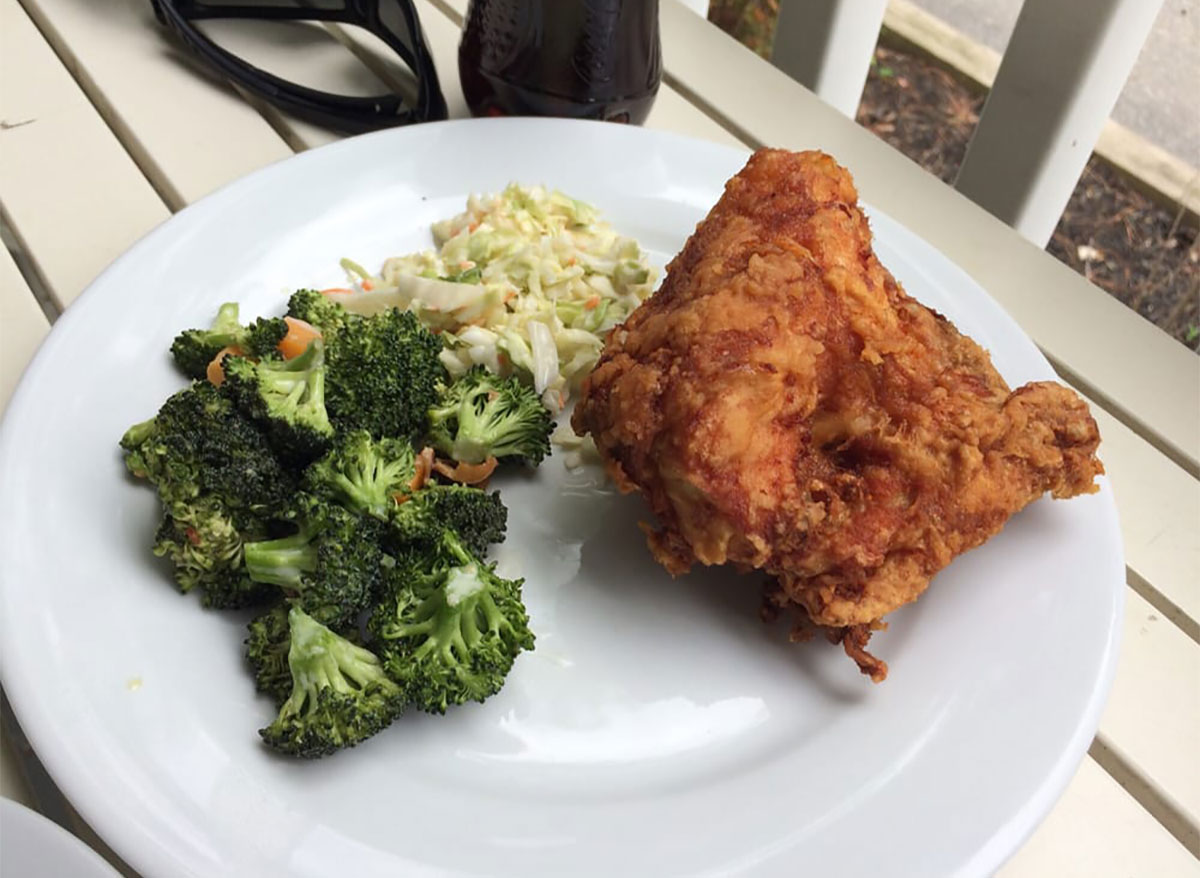 "The best fried chicken—so juicy and crispy," one Yelp reviewer wrote of this Delaware spot. "The biscuits were incredible, the coleslaw and potato salad were delicious. Friendly staff and great service." Now, that's what we like to hear!
FLORIDA: The Hangar Bay Cafe & Gallery in Jacksonville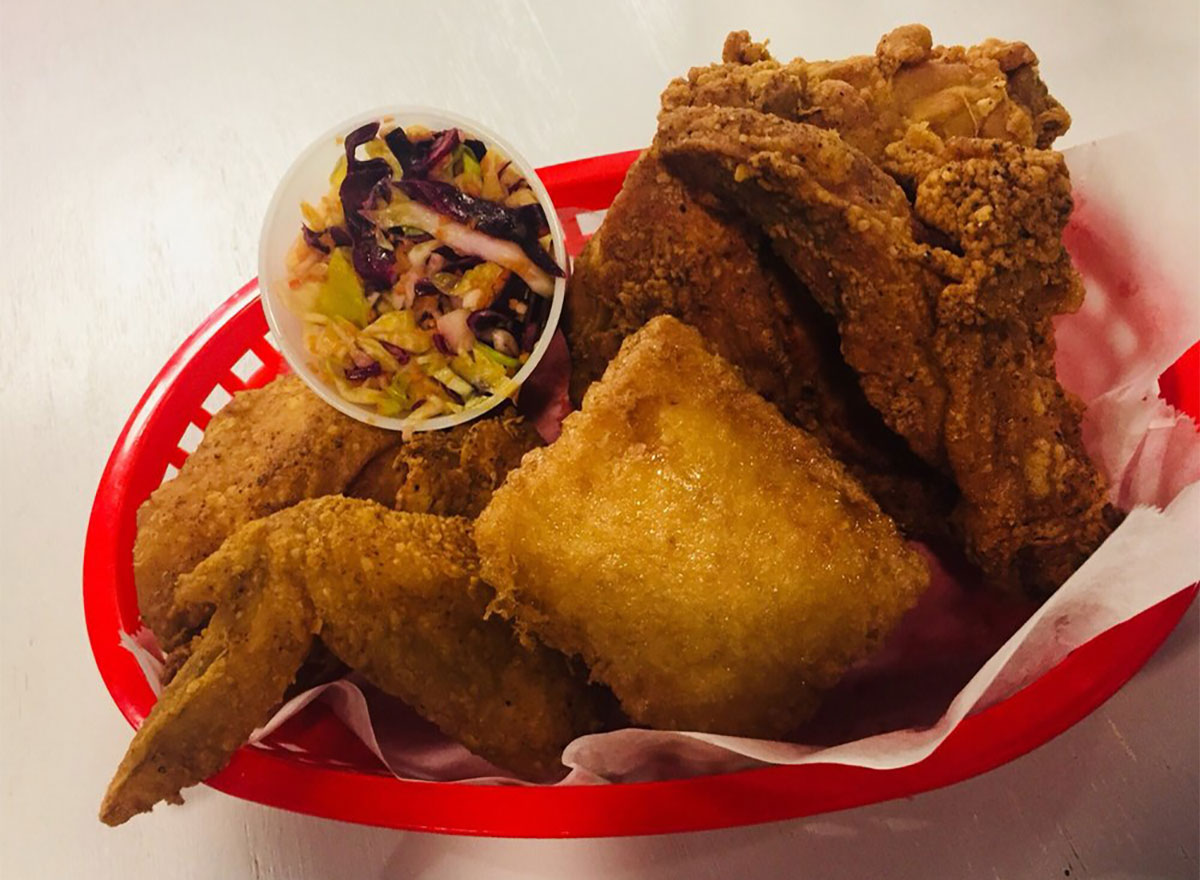 Unlike many of the other places on this list, The Hangar Bay Cafe & Gallery isn't a Southern restaurant. Instead, it's a Japanese ramen spot; both the noodles and the fried chicken will rock your world.
GEORGIA: Mrs. Wilkes' Dining Room in Savannah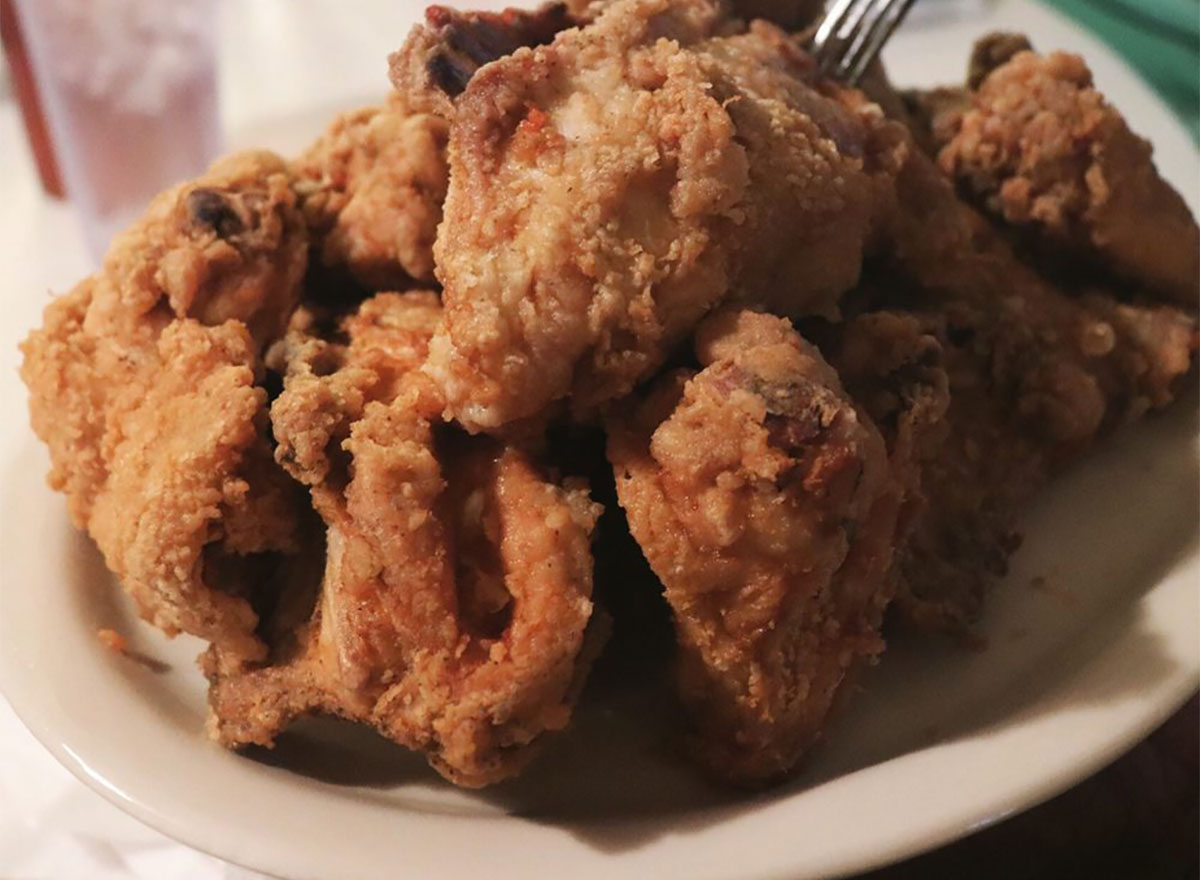 "Mrs. Wilkes' Dining Room is the exact definition of Southern Hospitality," one Yelp reviewer wrote. "Aside from the wonderful customer service, the food was spectacular." You can't beat a restaurant that has true Southern charm!
HAWAII: Adela's Country Eatery in Kaneohe
This spot is known for its unique, colorful pasta flavors (avocado pasta, anyone), as well as for its short ribs and fried chicken. There's something for everyone on this menu!
IDAHO: Republic Kitchen + Taphouse in Post Falls
If you're in the Post Falls area, check out the Twice-Fried Chicken Sandwich at this casual spot. You can order your chicken Southern or Korean-style—it's the best of both worlds!
ILLINOIS: S.K.Y. in Chicago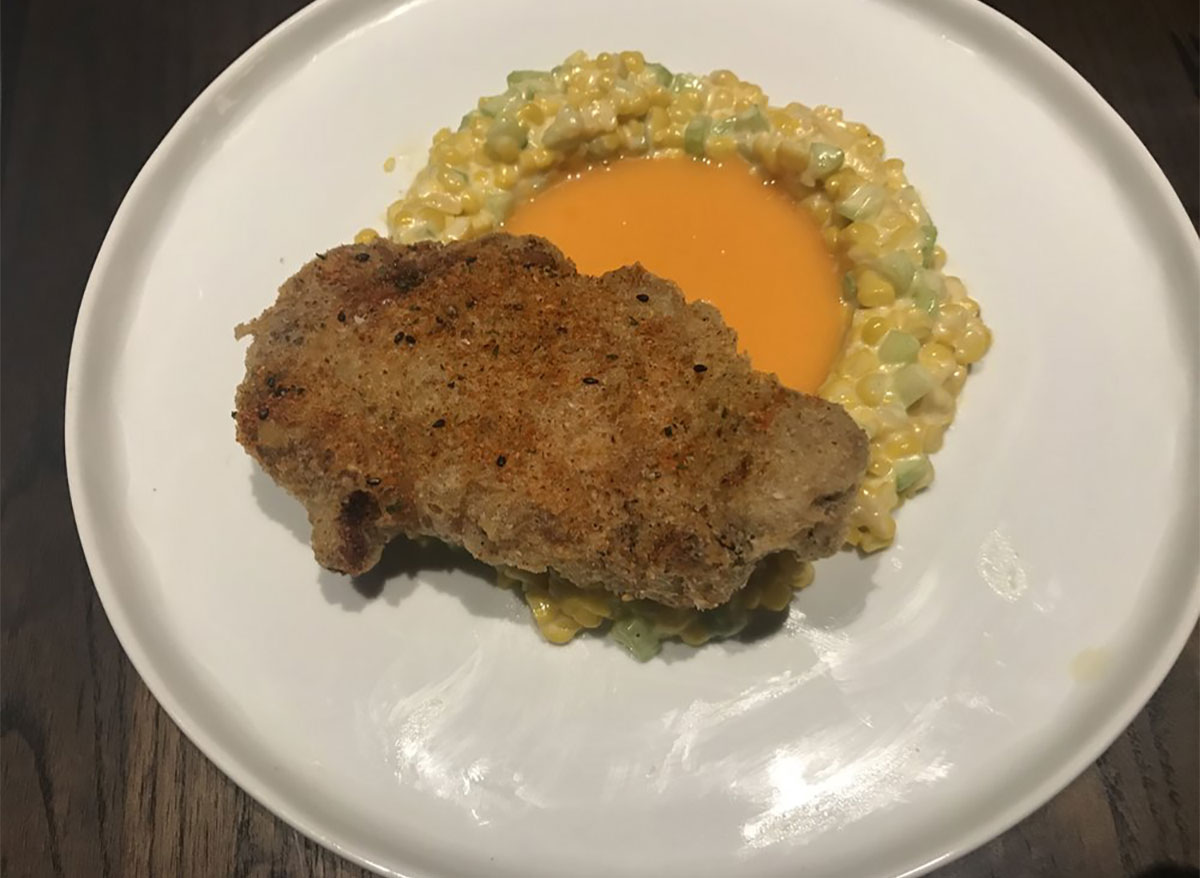 You might not expect to find great fried chicken at this trendy, new American spot, but prepare to be surprised! Plus, the fried chicken is served with creamed corn, and many Yelpers rave about the side dish, too.
INDIANA: Shani's Secret Chicken in Indianapolis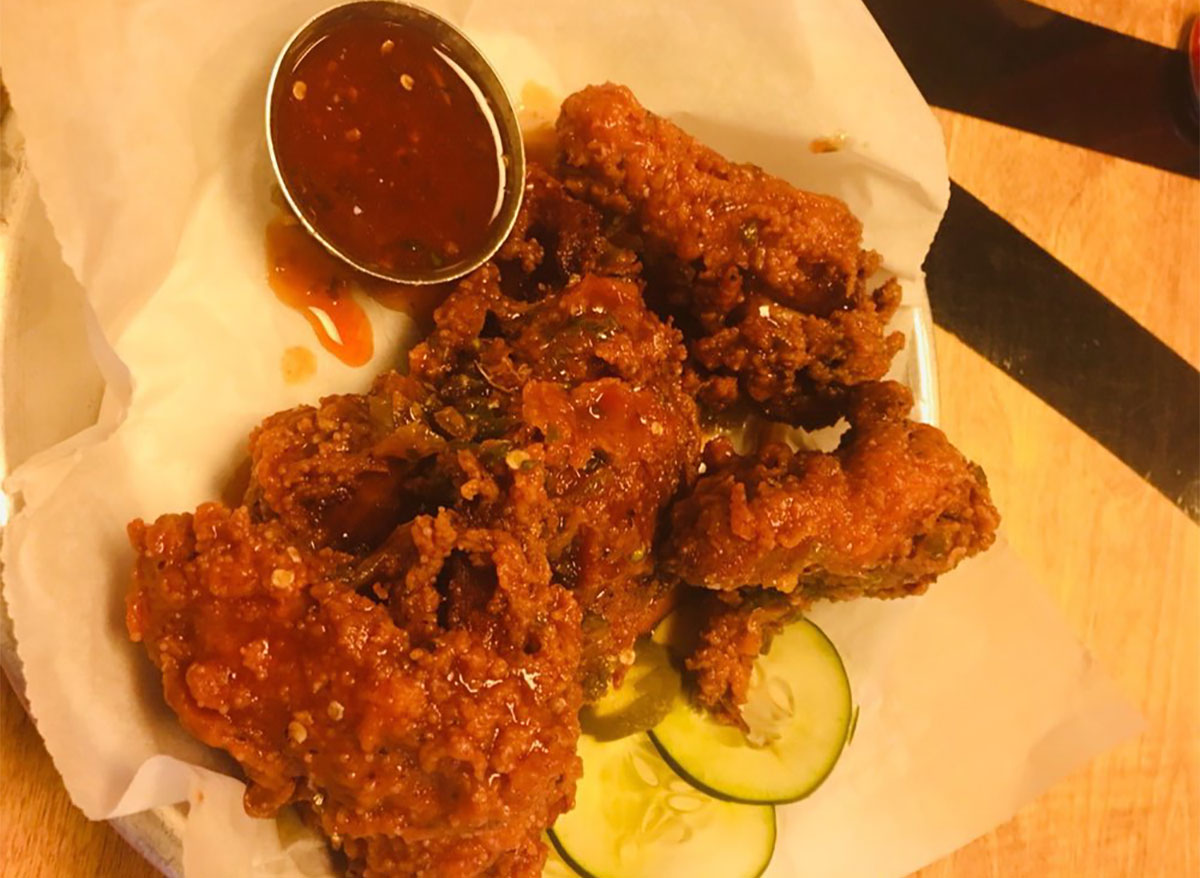 The fried chicken and tandoori chicken tenders are the things to try at this halal spot. Don't forget to add on a side of garlic naan, too!
IOWA: Bubba in Des Moines
Everything at this Southern spot is delicious—don't miss the homemade desserts! Try the chicken and waffles, and if you're feeling decadent, add on a side of pimento mac and cheese.
KANSAS: BBQ Chicken in Overland Park
If you're looking for Korean fried chicken, you need to check this place out. "If you've never tried Korean fried chicken, this is a great place to start to understand the love for this crispy and saucy dish," one Yelp reviewer wrote. We're in!
KENTUCKY: Biscuit Belly—Nulu in Louisville
Southern biscuits and spicy pickles to go along with your fried chicken? Biscuit Belly has all the comfort food you could ask for!
LOUISIANA: Heard Dat Kitchen in New Orleans
You can't go wrong with anything at this Cajun restaurant (and if you don't eat chicken, the blackened fish is to-die-for, too). Don't forget to add on a side of red beans and rice to complete your meal!
MAINE: N to Tail in Portland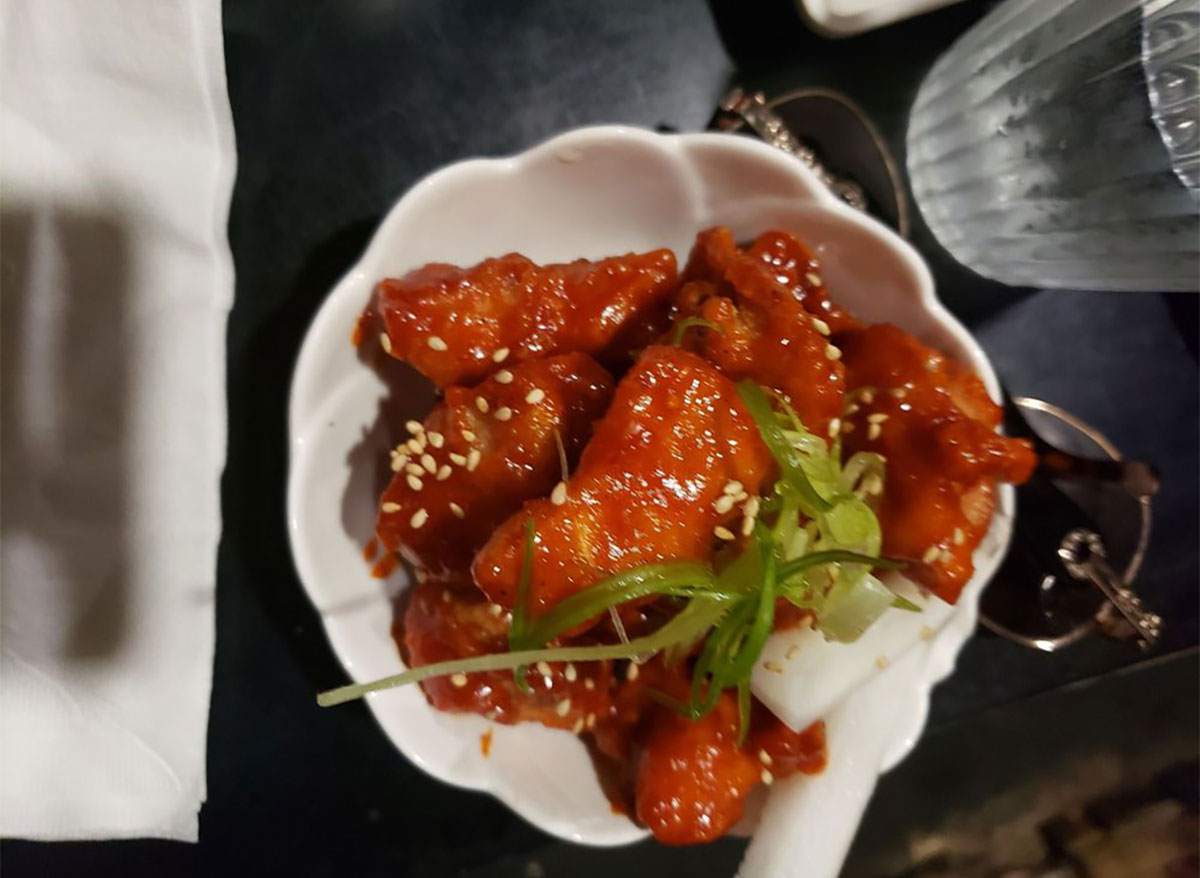 At this Korean BBQ spot, you can enjoy a nice order of Korean fried chicken, too. Don't miss the spicy cucumber salad to punch up your meal.
MARYLAND: Ekiben in Baltimore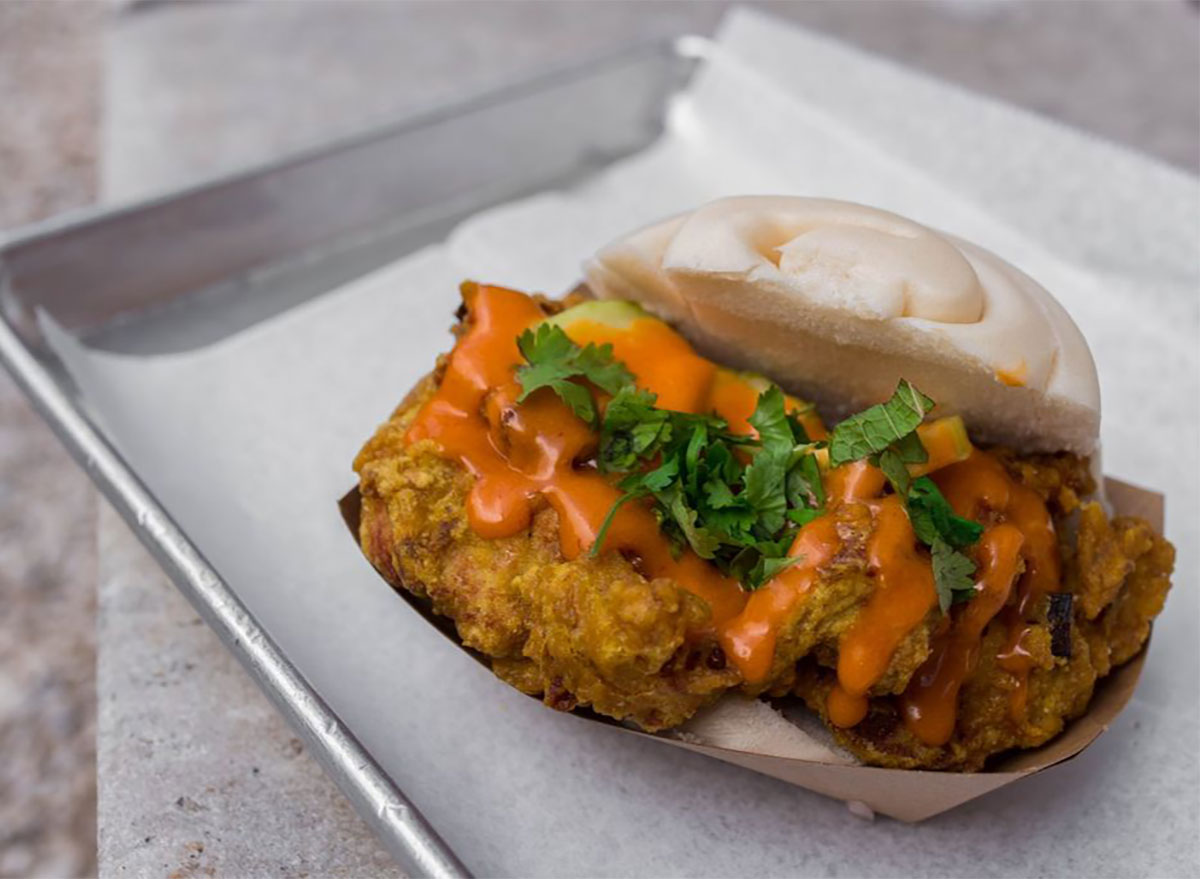 This Asian fusion spot has delicious steamed buns. And for any vegetarian pals who might be tagging along on your visit, there are tofu nuggets, too.
MASSACHUSETTS: Underdog Fried Chicken in Allston
Fans rave about the fried chicken at this location that sells sandwiches, chicken tenders, and pieces of fried chicken. "Fried chicken here is juicy, flavorful, just spicy enough, and crispy," said one reviewer. Another raved about the crispness, "The chicken is always well cooked, super crispy (we actually ended up eating our sandwich about two hours after ordering it and it was still crispy)"
MICHIGAN: The Southerner in Saugatuck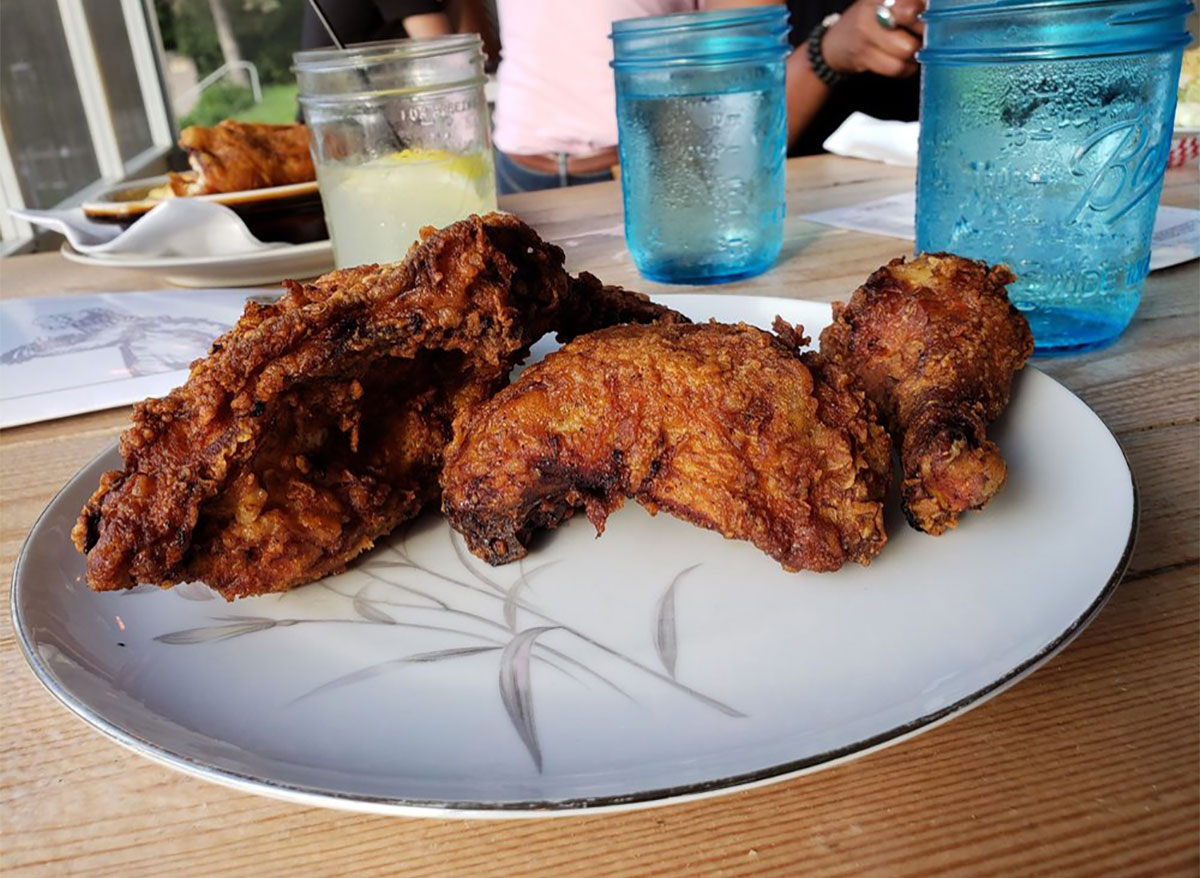 With a dish called "Nana's Fried Chicken," can you really go wrong? This eatery lives up to its name, with all the juicy, crispy fried chicken you can handle.
MINNESOTA: Revival in Saint Paul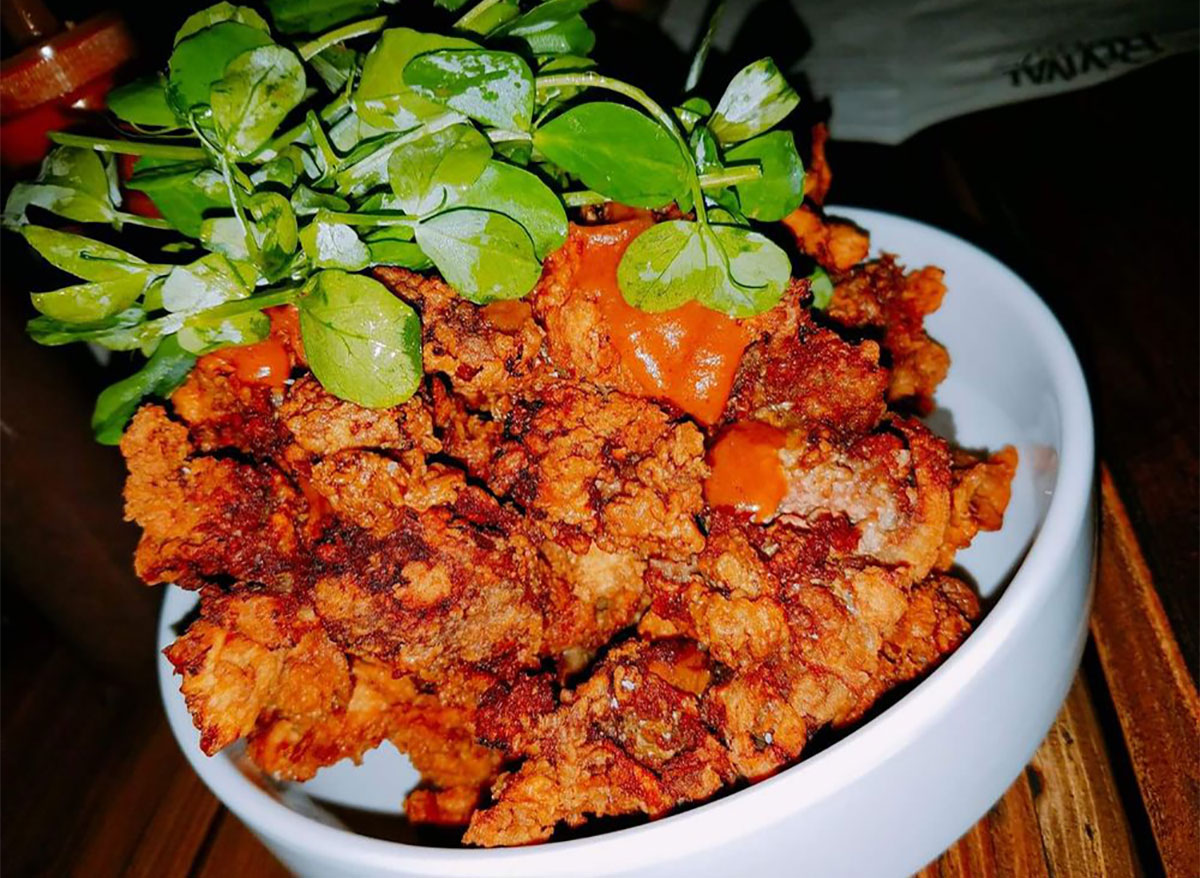 You've had fried chicken, but have you had fried chicken livers? Don't shy away from trying this Southern delicacy at Revival. Your taste buds will thank you.
MISSOURI: Southern in Saint Louis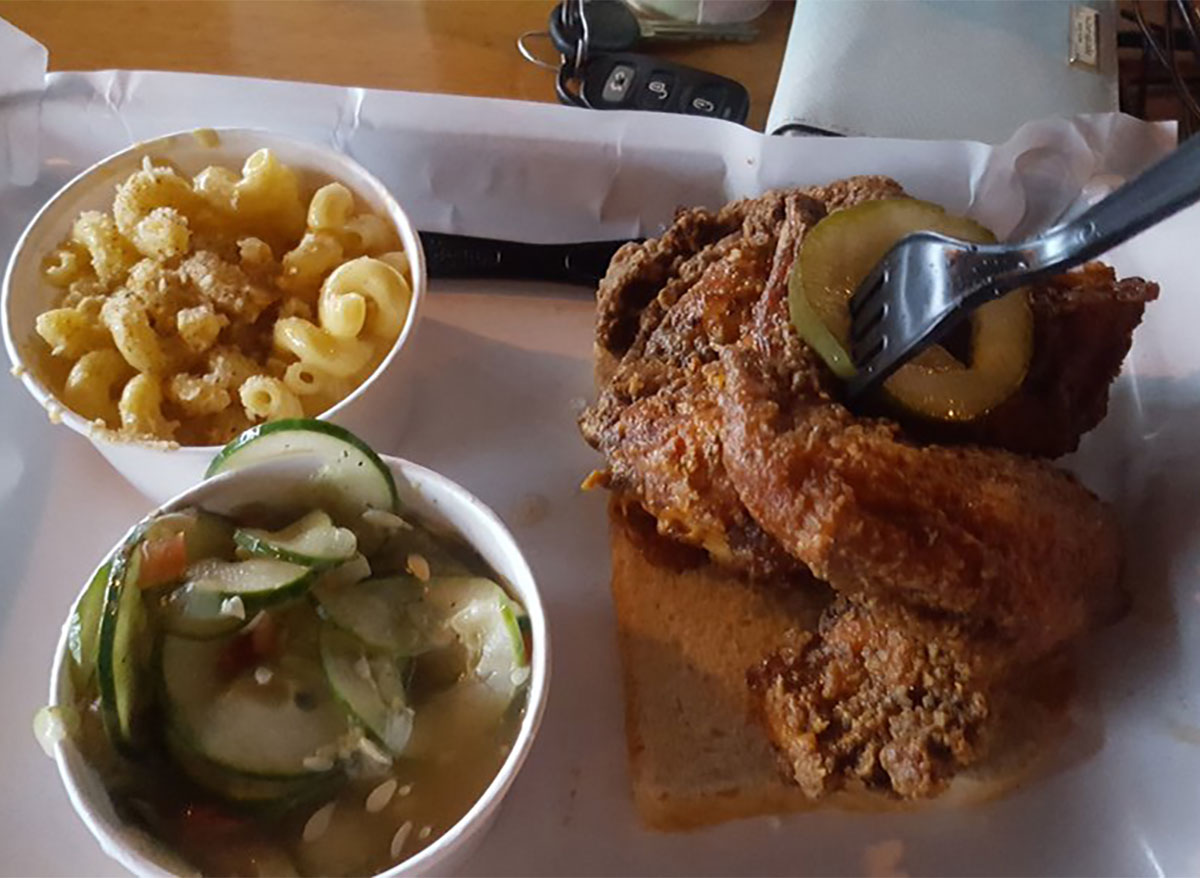 The name of this restaurant is straightforward, and so are the comfort food eats you'll find on the menu.
MISSISSIPPI: Pearl's Diner in Laurel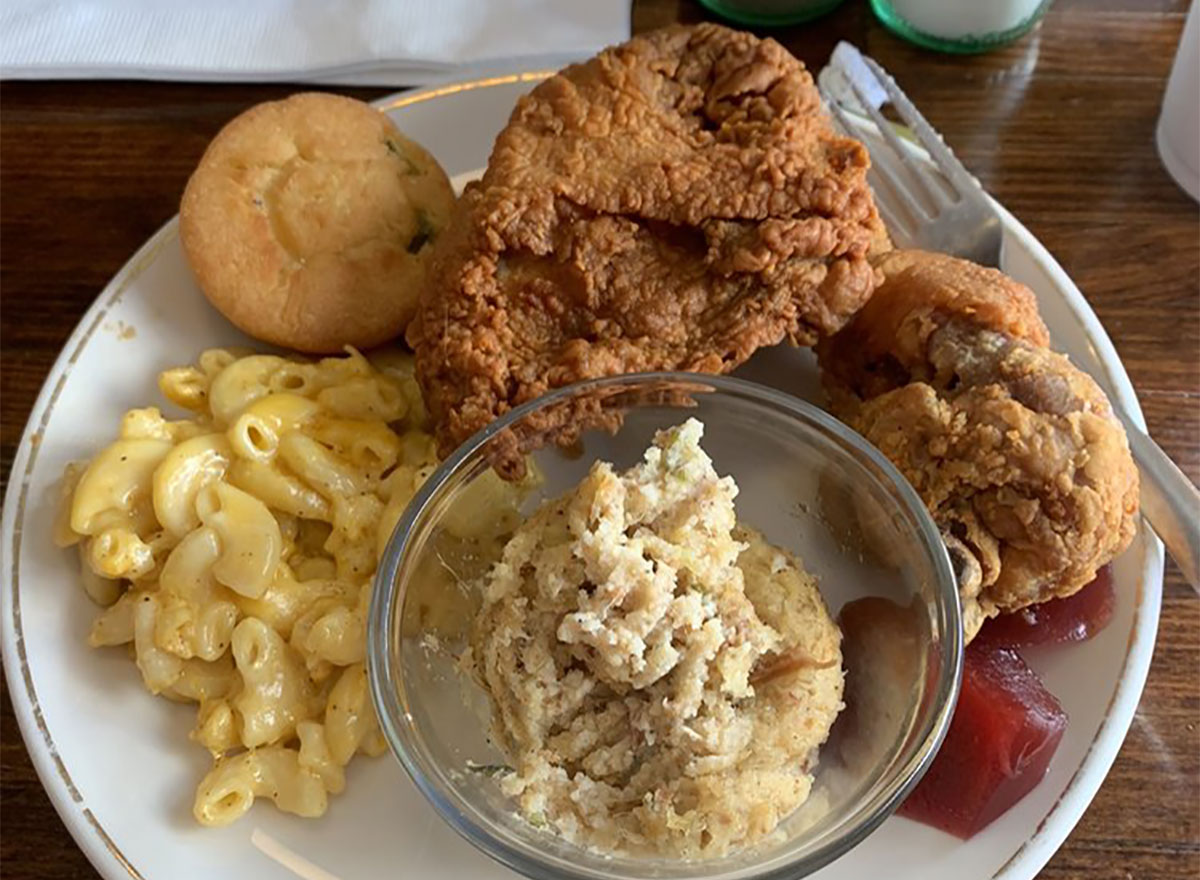 Sit down and get comfortable at this laid-back diner! Expect to order classic sides like cornbread and mac and cheese to go with your fried chicken.
MONTANA: Roost Fried Chicken in Boseman
"Hands down, best fried chicken I've ever had in my entire life. This place unseated my last number one by a country mile," wrote one Yelp reviewer. Sounds perfect to us!
NEBRASKA: Block 16 in Omaha
In addition to serving incredible fried chicken, Block 16 serves poutine and even poutine burritos. How many places in America can say that?
NEVADA: Mama Bird in Las Vegas
Planning a visit to Las Vegas? Don't miss this Southern restaurant! The smoked pork belly is legendary, as are the chicken and waffles.
NEW HAMPSHIRE: Farr's Famous Chicken in Hampton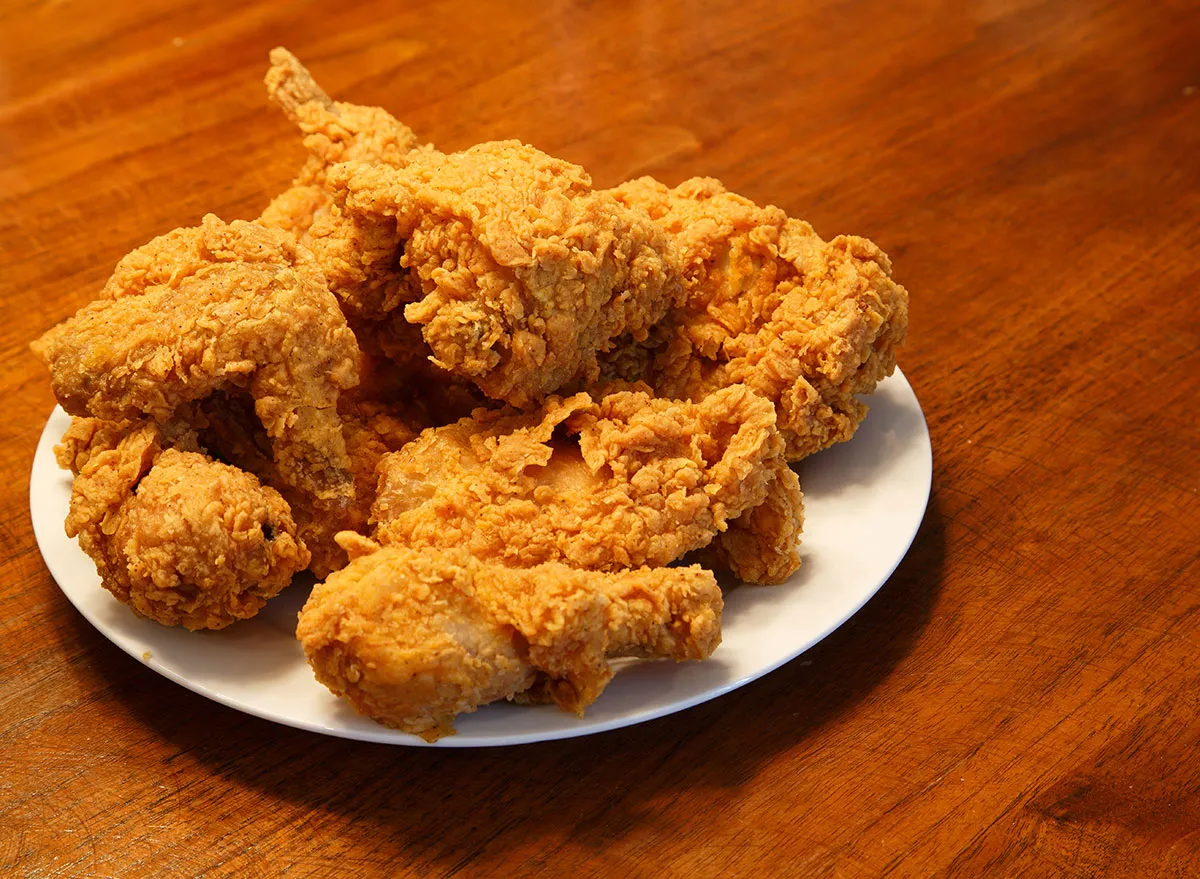 Yelp didn't include an entry for New Hampshire in its list, but we think this Farr's Famous Chicken in Hampton spot looks like the perfect place to grab some fried chicken. Enjoy a plate of chicken and waffles for breakfast, or order a "chicken plate dinner" for the perfect end to your day.
NEW JERSEY: Kelsey & Kim's Southern Cafe in Atlantic City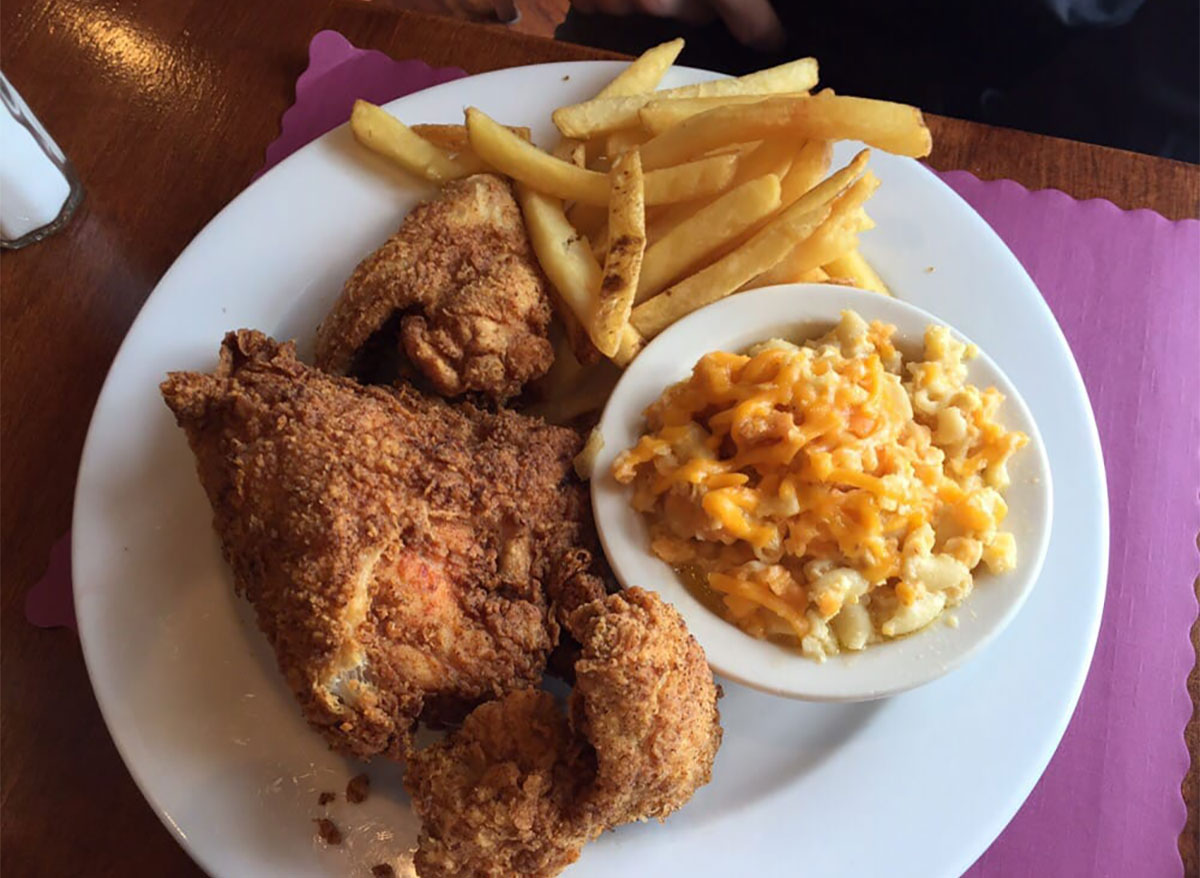 This homey Atlantic City restaurant lives up to its name. "Talk about comfort food, this place will transport your tastebuds to the South," wrote one Yelp reviewer.
NEW MEXICO: Nexus Brewery in Albuquerque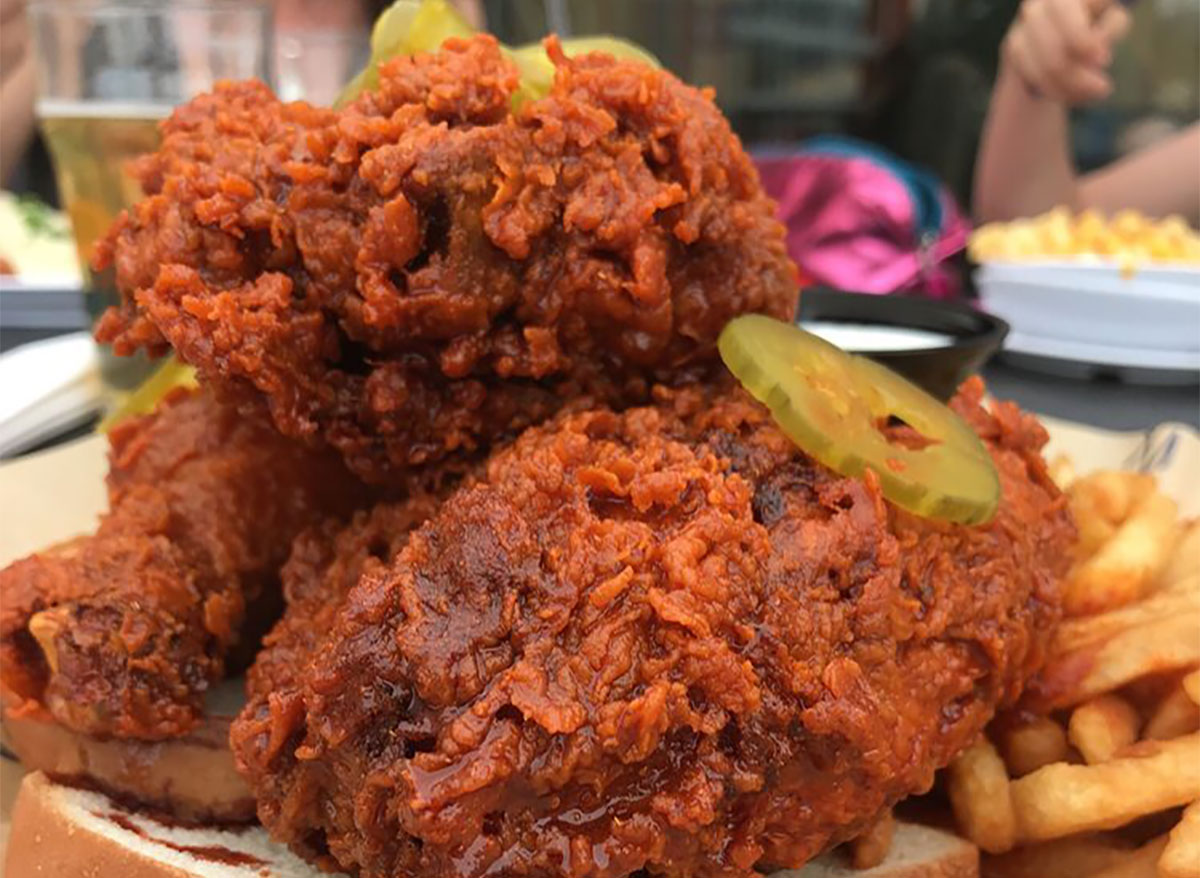 "This place has nailed down the magic process to produce the perfect fried chicken. Add a red chile-infused oil and it's beyond amazing," one Yelp reviewer wrote. If you're a fan of spicy chicken, Nexus Brewery is a must-visit.
NEW YORK: Mad for Chicken in Flushing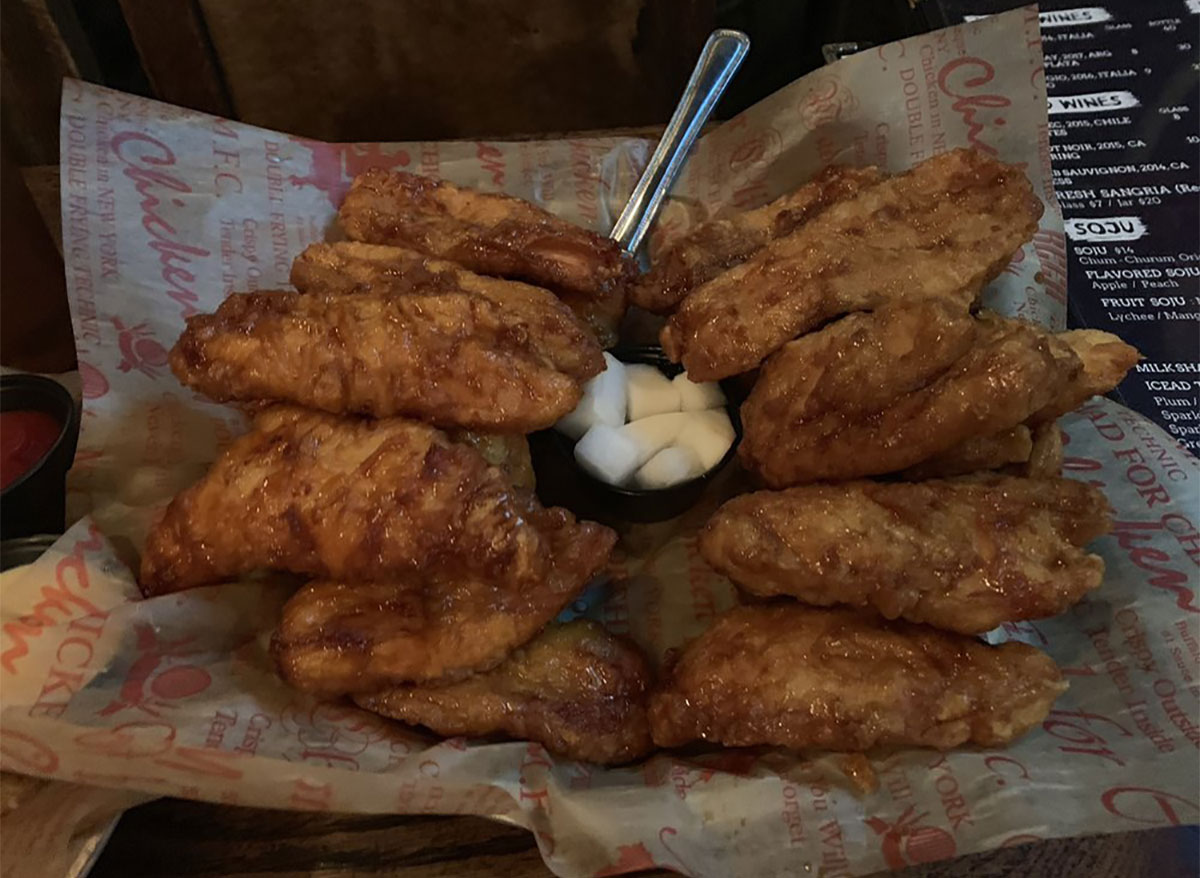 This Korean spot has delicious fried chicken and kimchi fried rice to go with it. "I'm wiping my eyes from the spice and then going in for another bite. I was experiencing that next level where all the cars on the street were gone, like in The Devil's Advocate. It was just me & the chicken," wrote one Yelper. Now that's an informative review!
NORTH CAROLINA: HomeGrown in Asheville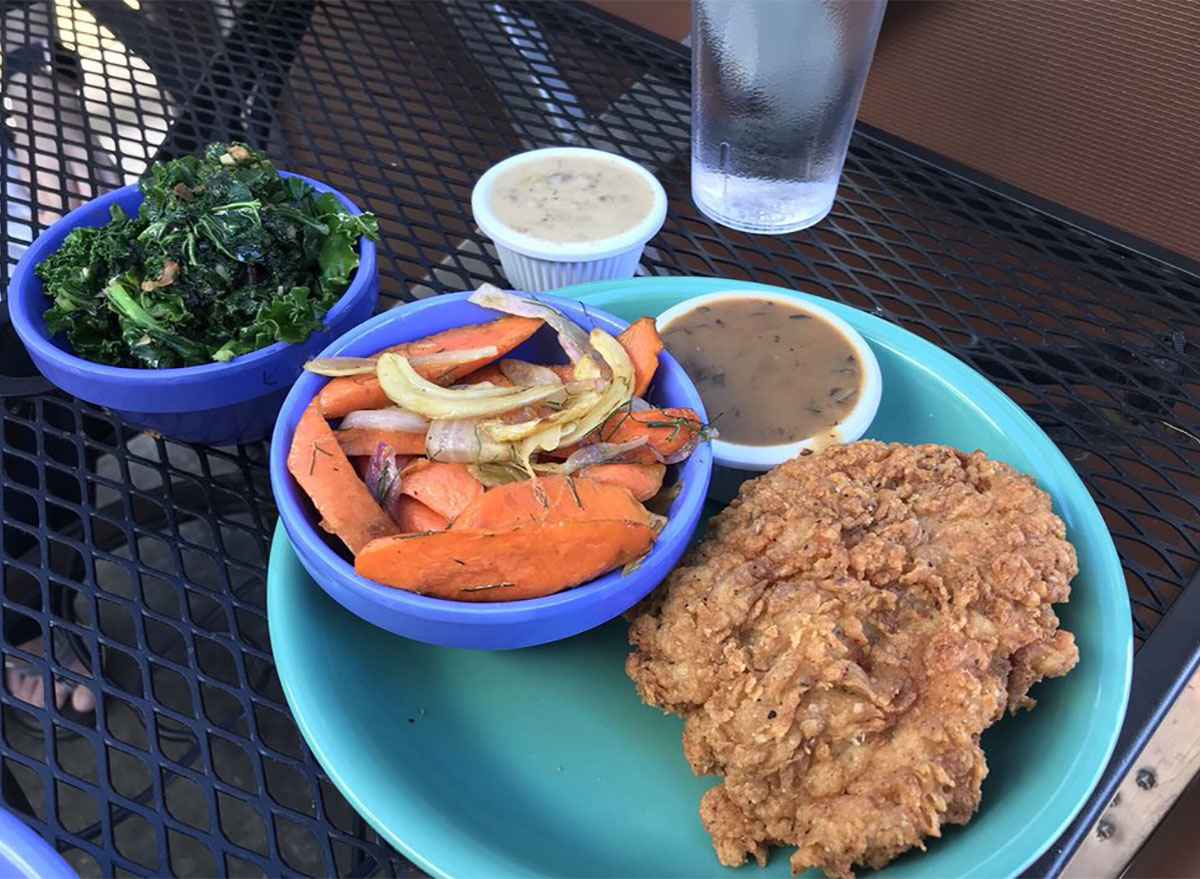 "Loved it! Best fried chicken ever!" one Yelp reviewer wrote. You can't argue with that!
NORTH DAKOTA: Brew Bird in North River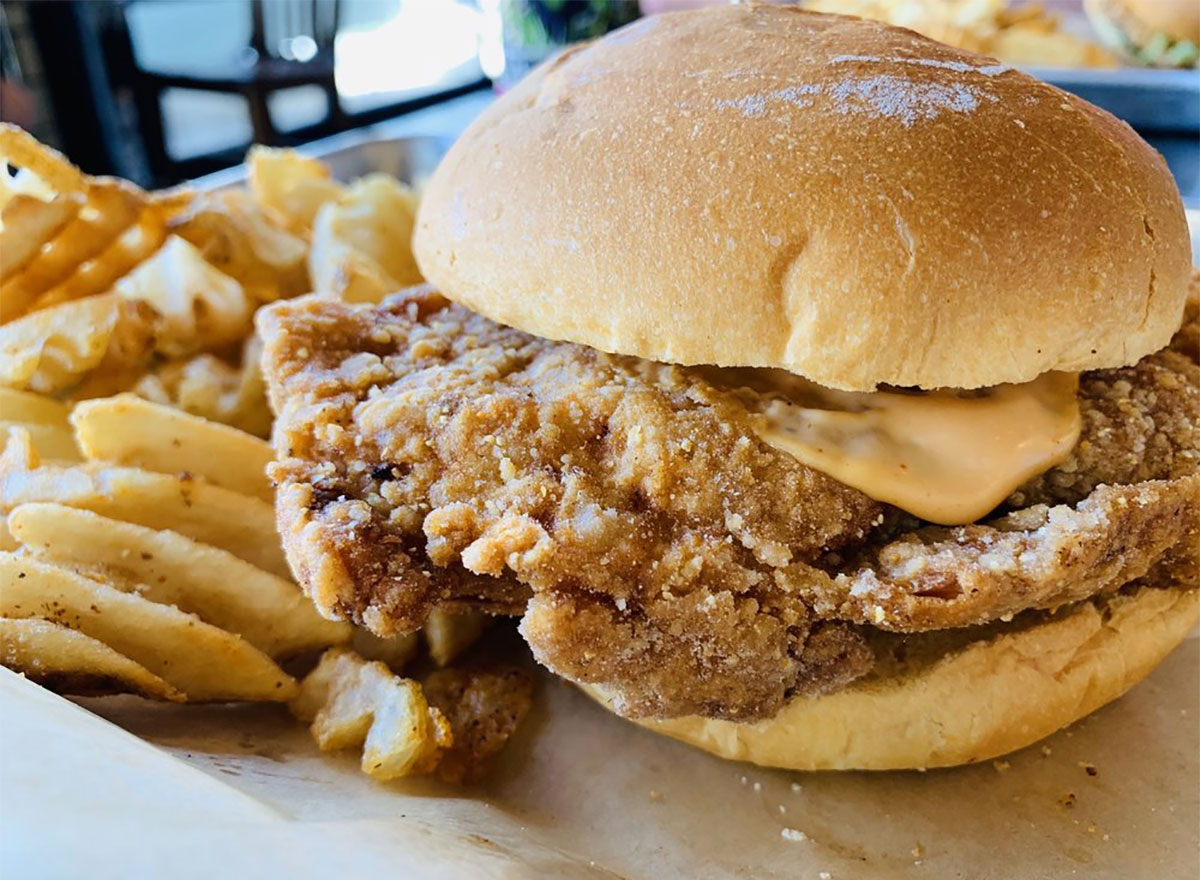 Try the Buff Bird sandwich at this spot. Expect to leave full!
OHIO: Boomtown Biscuits & Whiskey in Cincinnati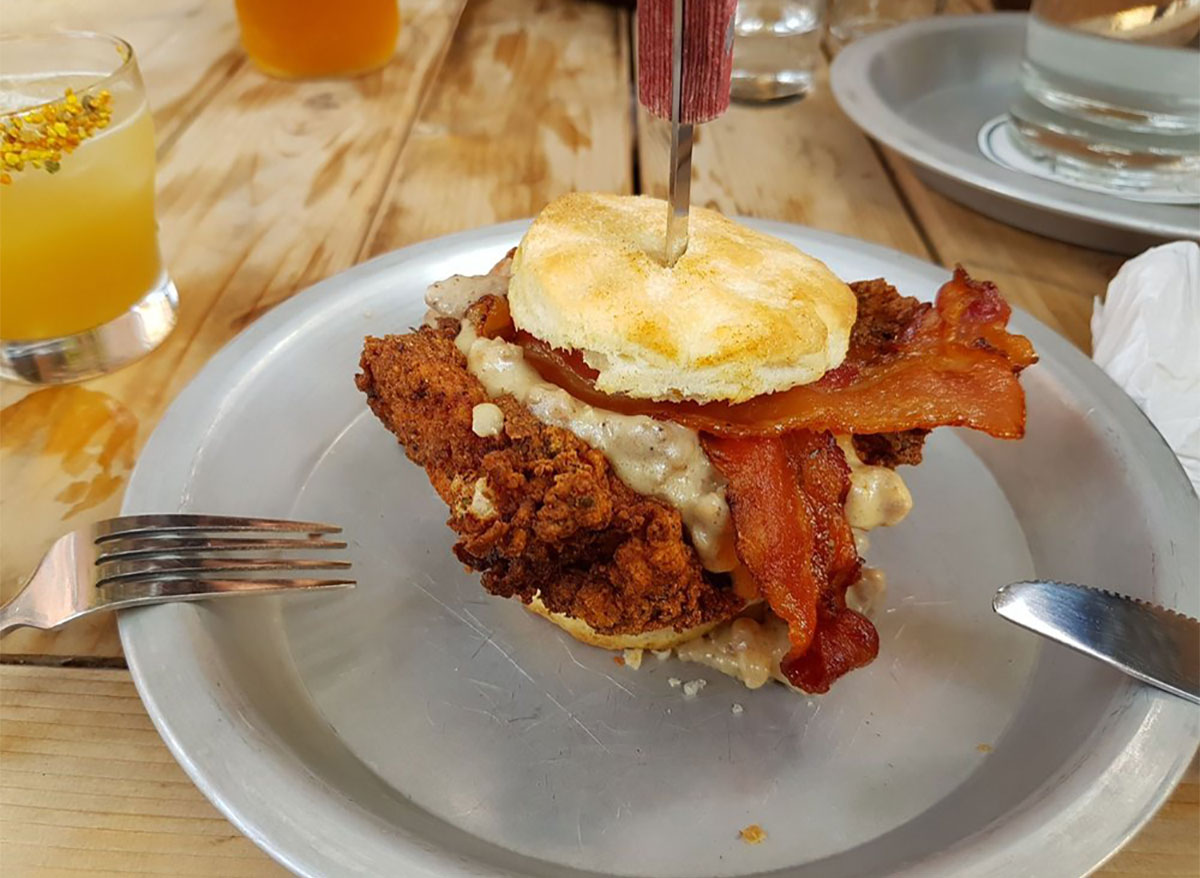 If you love biscuit sandwiches, you need to visit this Ohio spot. Try the fried chicken sandwich, topped with bacon and gravy, for a truly decadent meal.6254a4d1642c605c54bf1cab17d50f1e
OKLAHOMA: Nashbird in Oklahoma City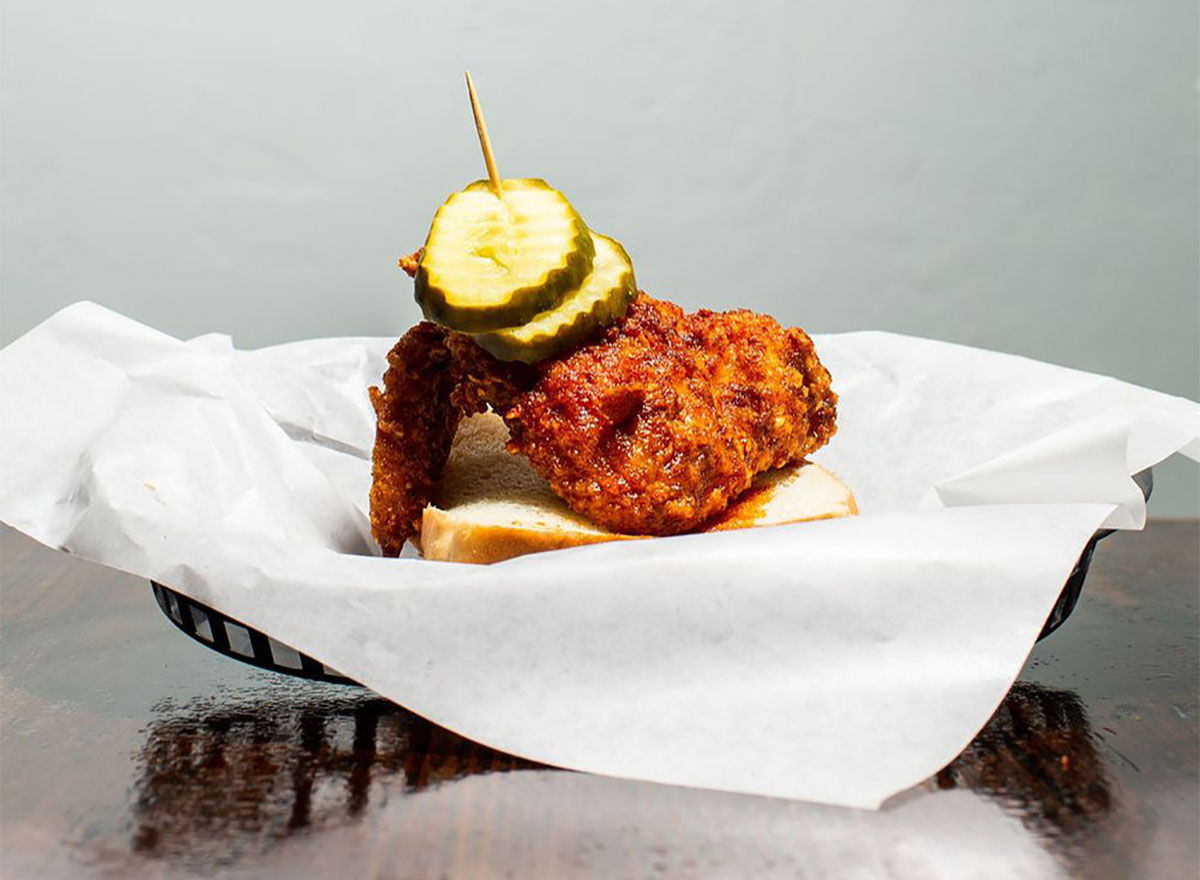 As the restaurant name suggests, Nashbird specializes in hot chicken. Add on a side of hot mac and cheese for extra spice.
OREGON: Screen Door in Portland
Stop by this Southern spot for fried chicken, and make sure to grab a side of praline bacon, too.
PENNSYLVANIA: Bae Bae's Kitchen in Pittsburgh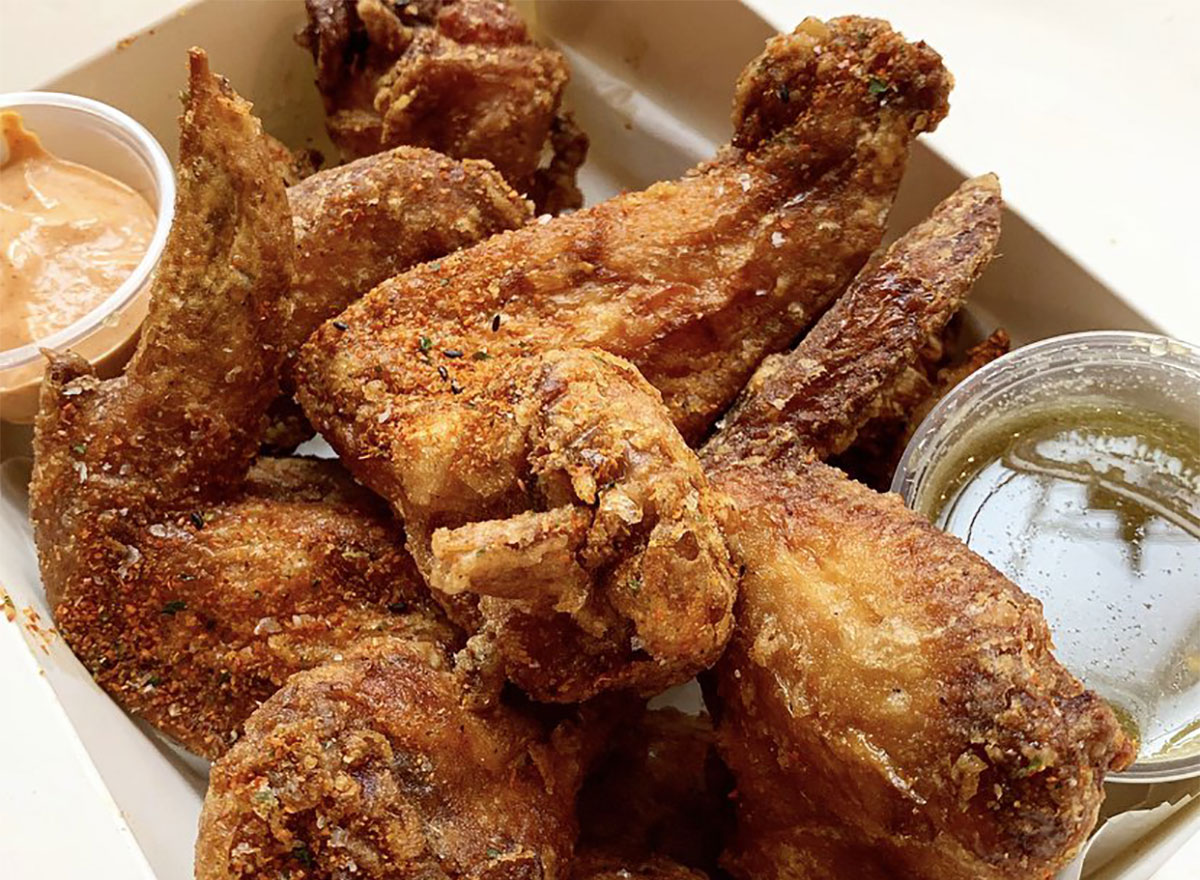 Korean fried chicken is the name of the game at this Pittsburgh spot. Don't miss the cheese wontons, too.
RHODE ISLAND: Kin Southern Table + Bar in Providence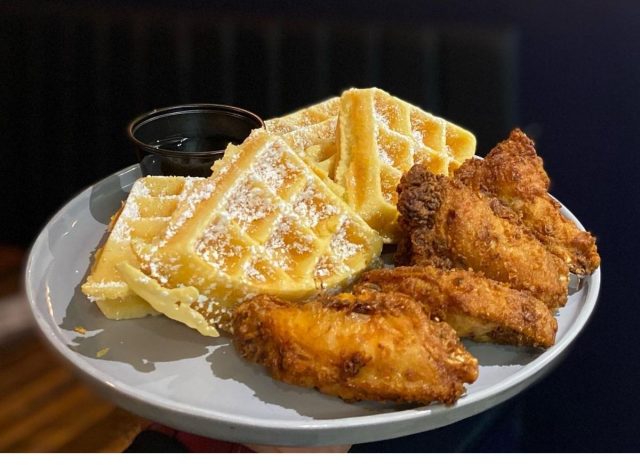 Reviews of this Southern spot in Providence rave about the fried chicken. One called it, "Best fried chicken I've had in the northeast."  
SOUTH CAROLINA: Boxcar Betty's in Charleston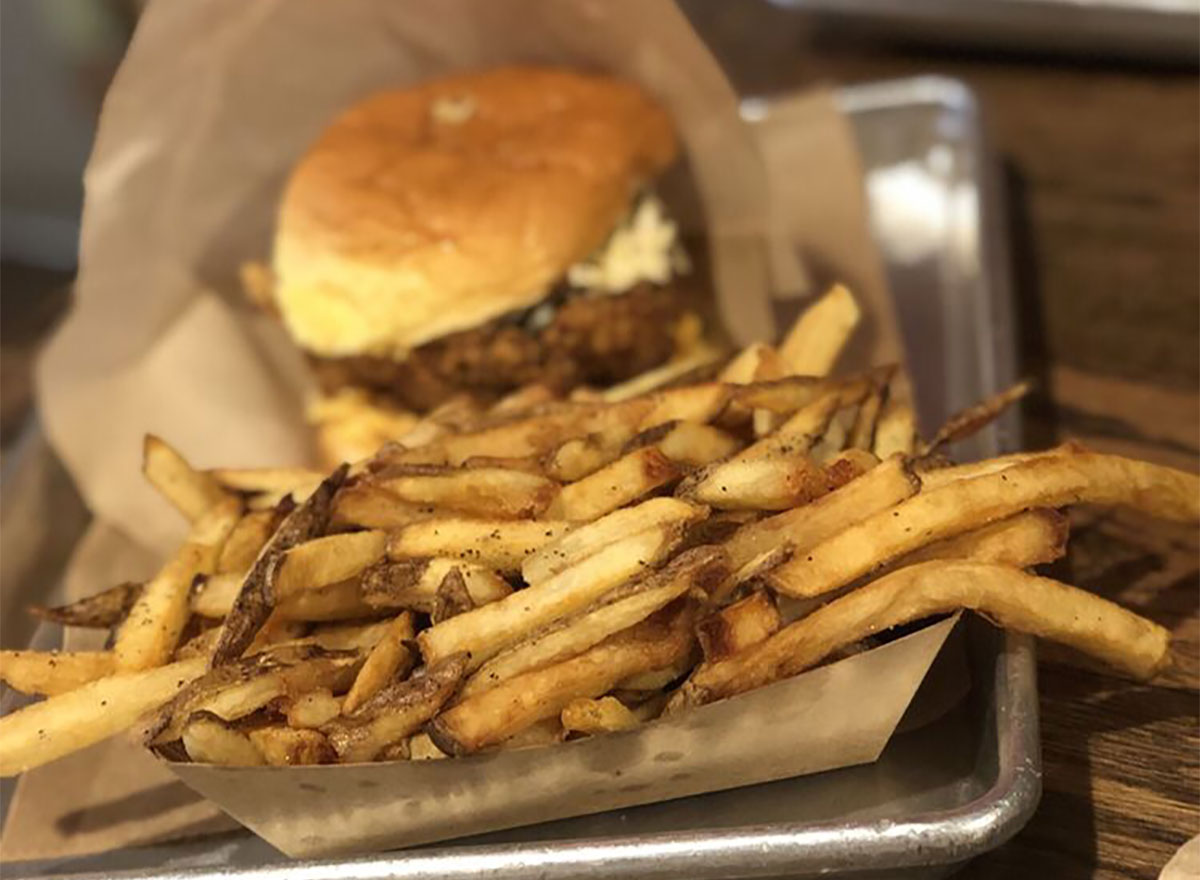 You need to get a chicken sandwich (try the Boxcar Sandwich with pimiento cheese!) at this casual sandwich spot, but don't miss the Pecan Pie in a Cup, either.
SOUTH DAKOTA: Bread & Circus Sandwich Kitchen in Sioux Falls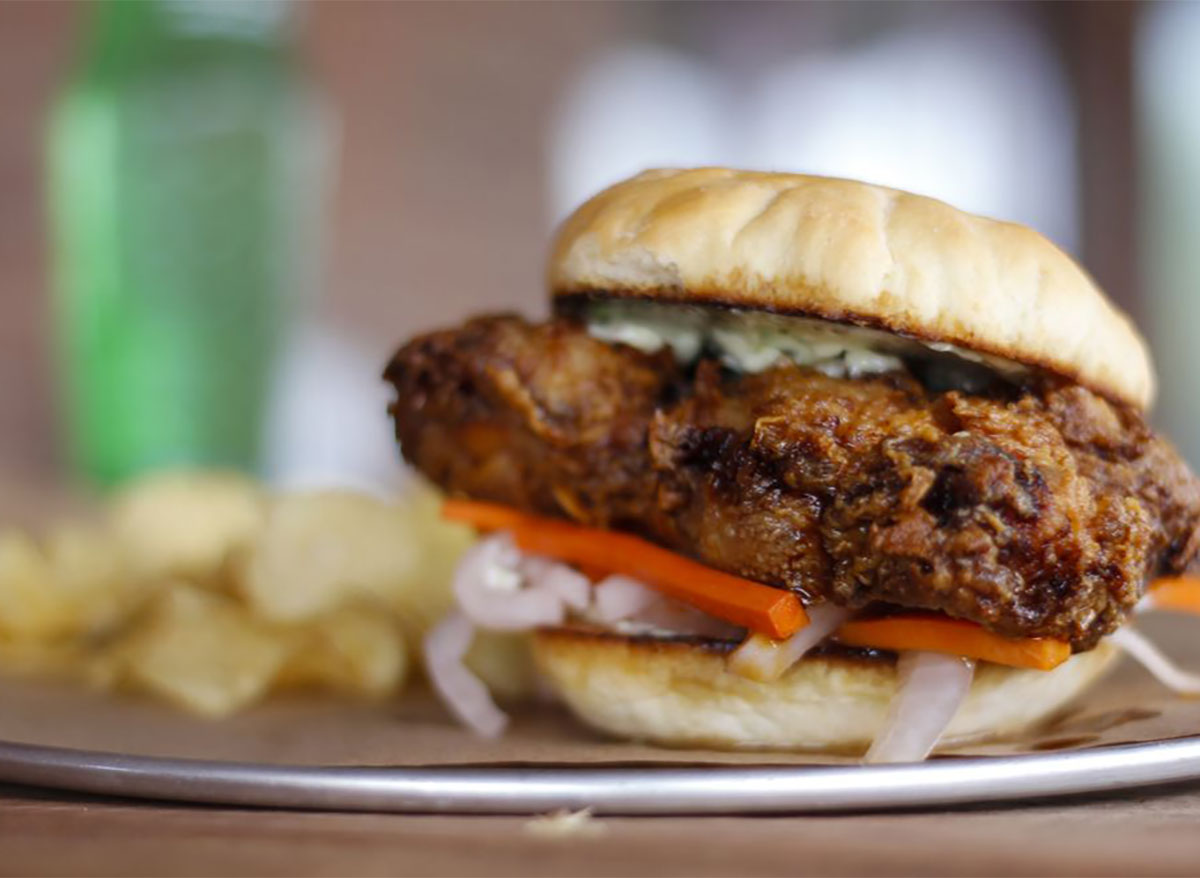 Vietnamese fried chicken and curried cauliflower are just two of the things you'll find on the menu at this Sioux Falls spot. There's a beer bar, too!
TENNESSEE: Monell's Dining & Catering in Nashville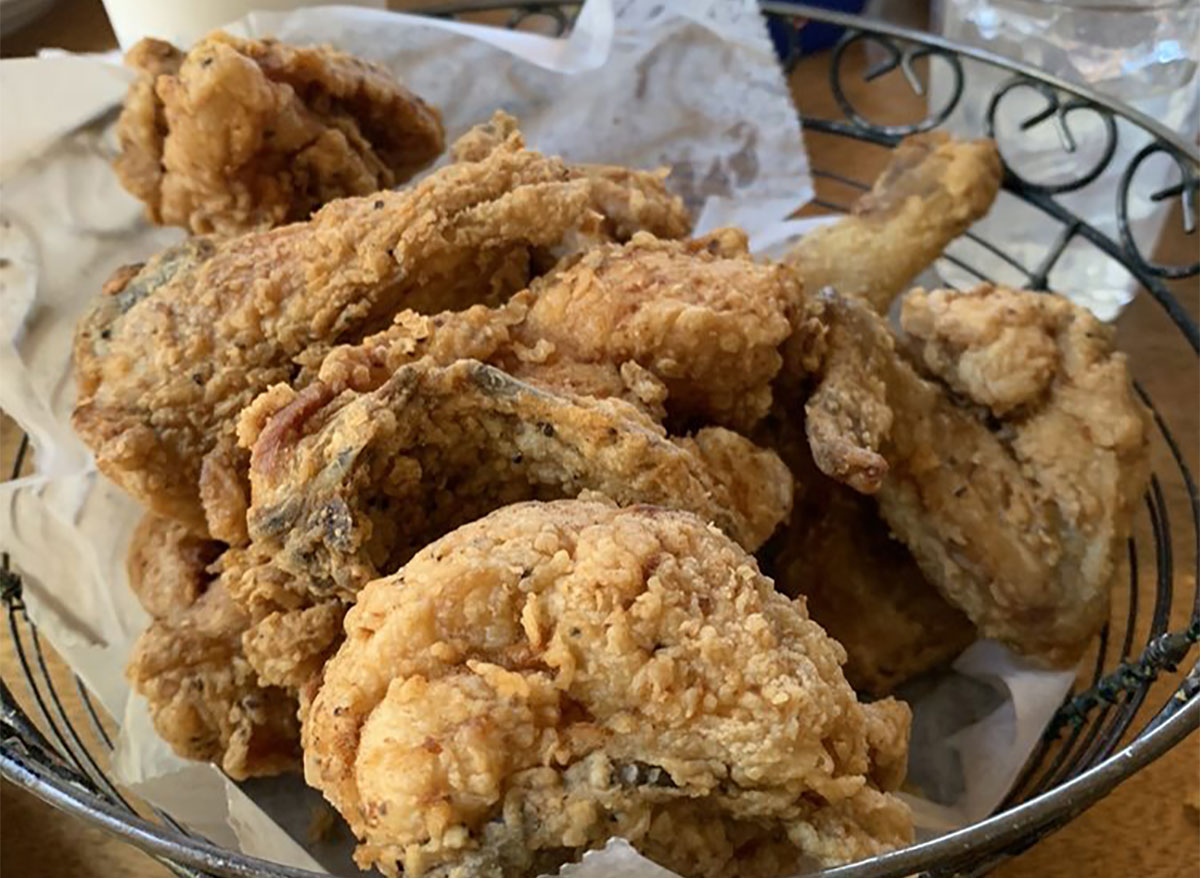 Fried chicken and cinnamon apples sound like the perfect meal from this Southern spot.
TEXAS: Mike's Chicken in Dallas
Fans on Yelp rave about this spot in Dallas. "Great chicken, awesome cheesy corn. I'm from Missouri and we know chicken," said one reviewer. "I'm from Missouri and we know chicken. I'm a former caterer and award-winning contest bbq cook. This place is the real deal, styrofoam containers and all. Eat here."
UTAH: Chickqueen in South Salt Lake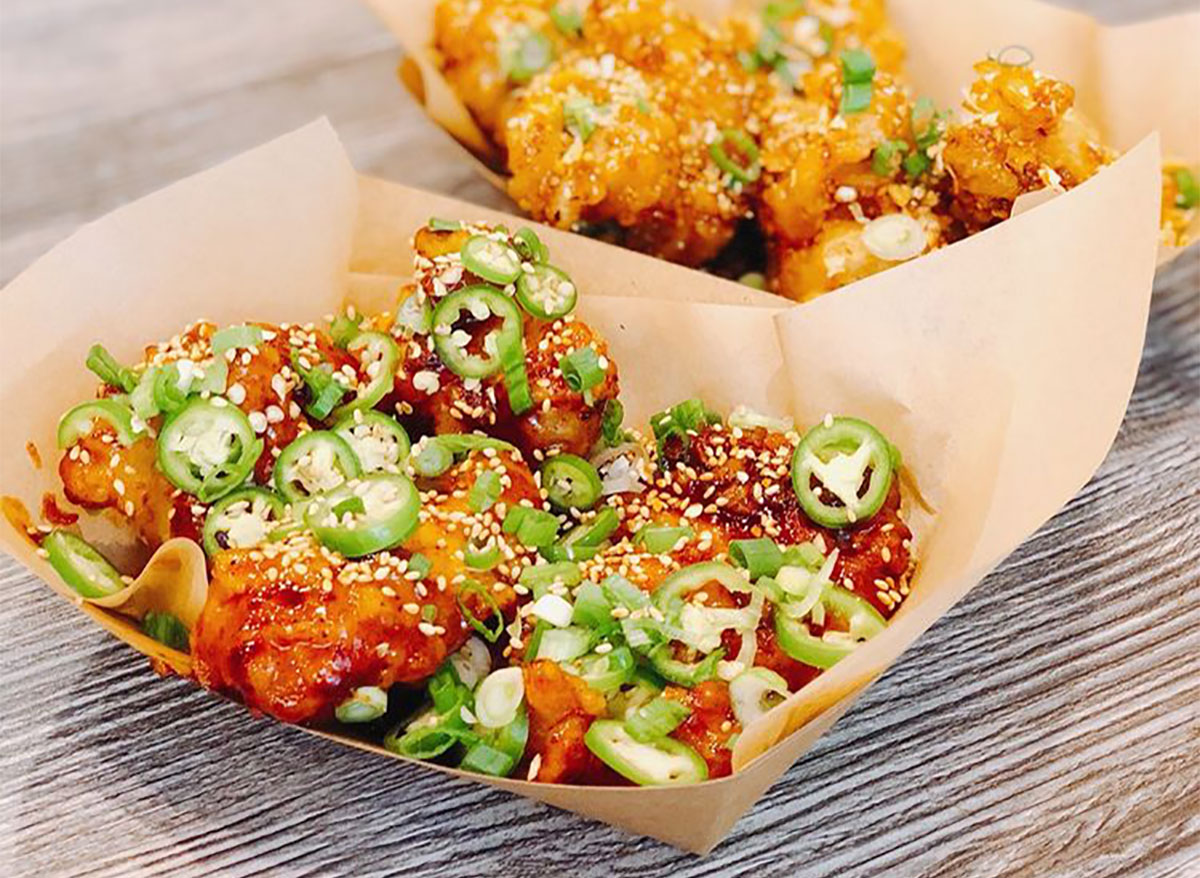 Chickqueen is another Korean fried chicken spot. You can't go wrong with the honey garlic chicken wings.
VERMONT: Worthy Kitchen in Woodstock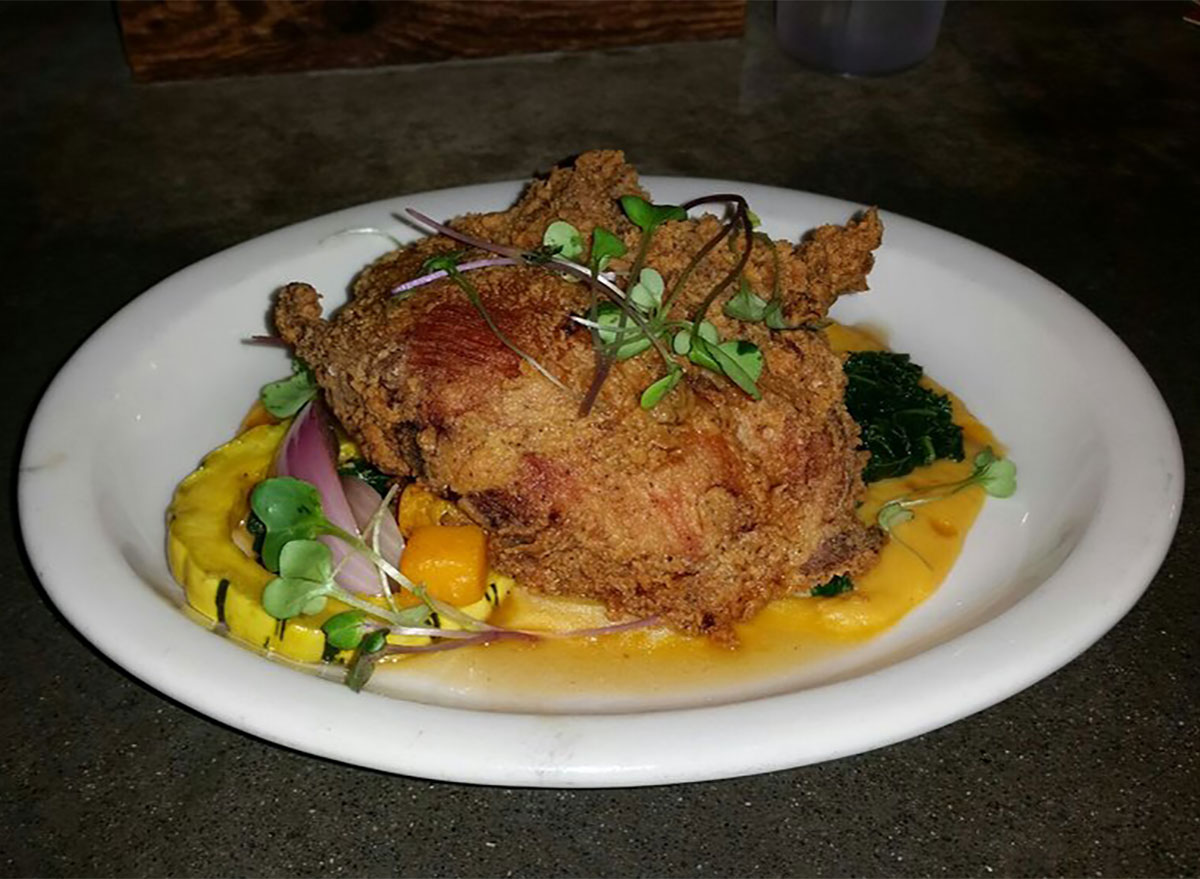 "Killer beer selection, killer burgers, killer fried chicken," one Yelp reviewer wrote about this restaurant. It sounds like whatever you order will be delicious!
VIRGINIA: Choong Man Chicken in Fairfax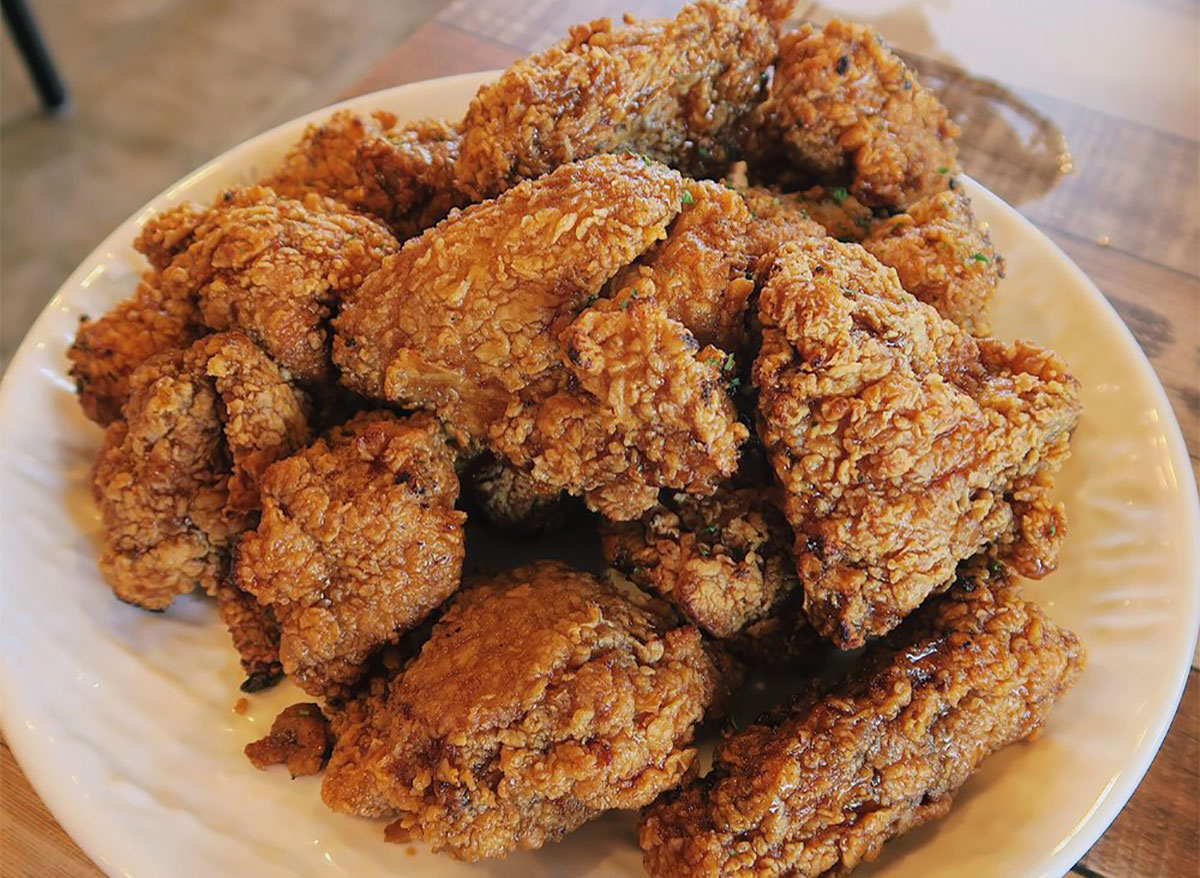 Try the fried chicken wings or curry chicken wings at this Korean spot! You can't go wrong with anything on the menu.
WASHINGTON: S/T Hooligans in Seattle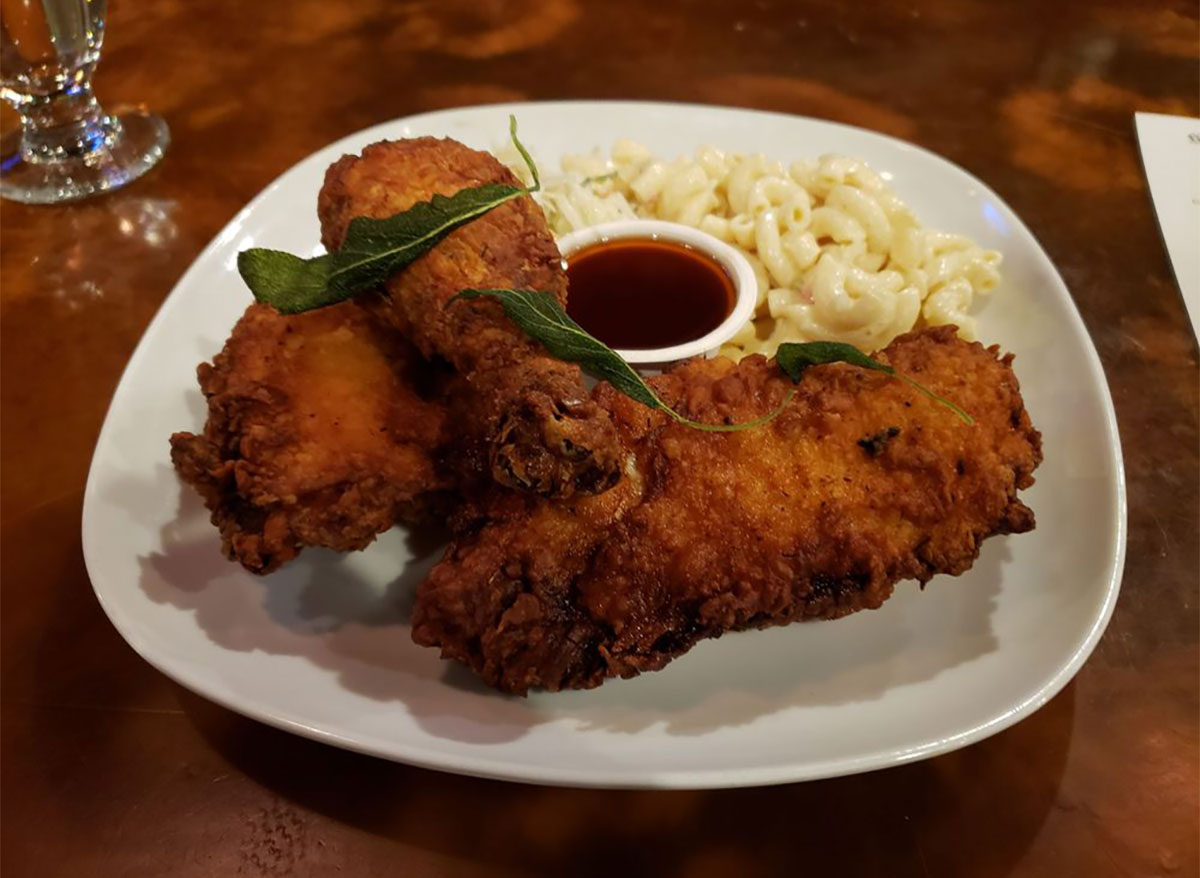 This Cajun spot is the perfect place to pick up a brisket sandwich or a plate of fried chicken. Finish off your meal with coconut tiramisu!
WEST VIRGINIA: Rossy's Place in Charles Town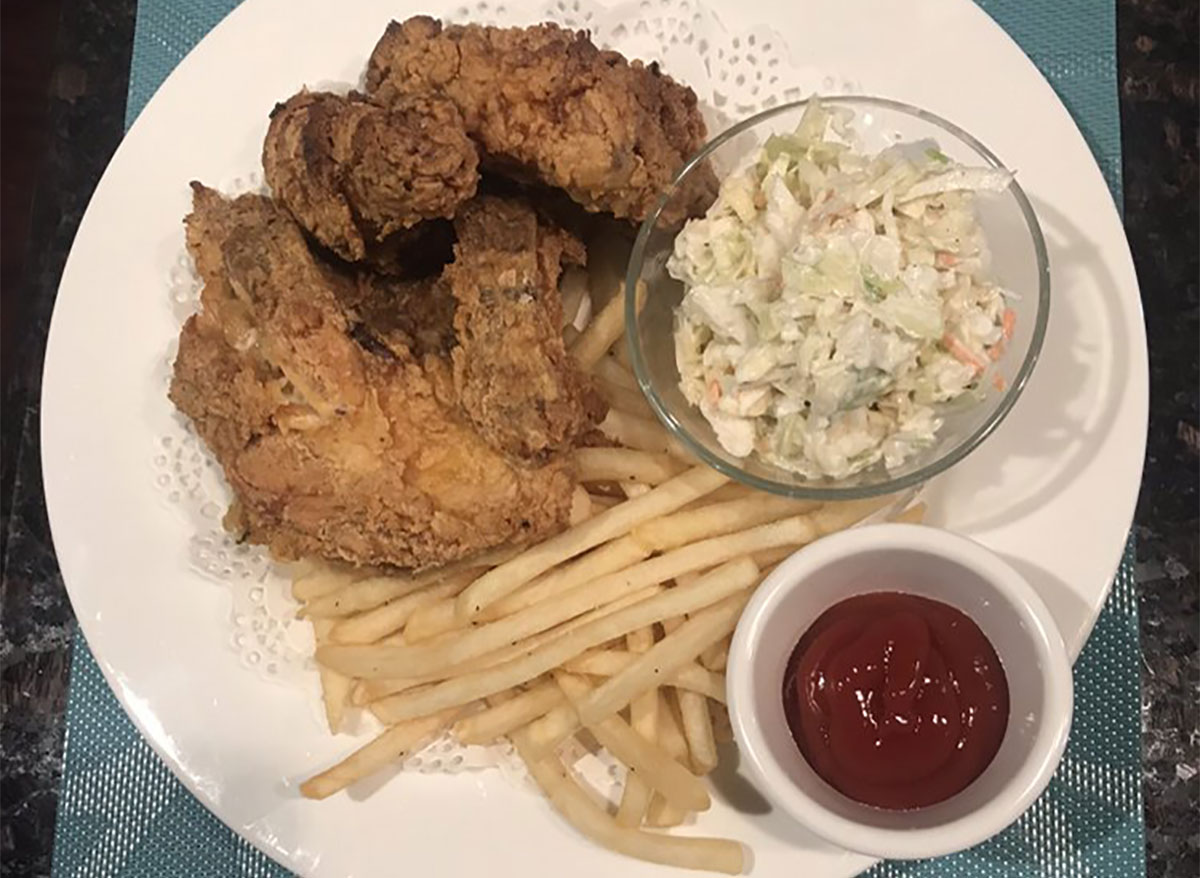 This casual brunch spot is the perfect place to get classics like fried chicken or blackened salmon.
"We always look for new quality restaurants, and we hit the jackpot with Rossy's," wrote one Yelp reviewer. "It is right off the main road, Rolling Springs Road, and quaint-looking from outside. However, when you walk in, it is sparkling clean, beautiful, warm, and welcoming!" An ambiance that matches the delicious food? We're sold.
WISCONSIN: Tofte's Table in Waukesha
This trendy, new American spot serves an upscale take on fried chicken. Try one of the restaurant's signature cocktails, too.
WYOMING: The Handle Bar in Teton Village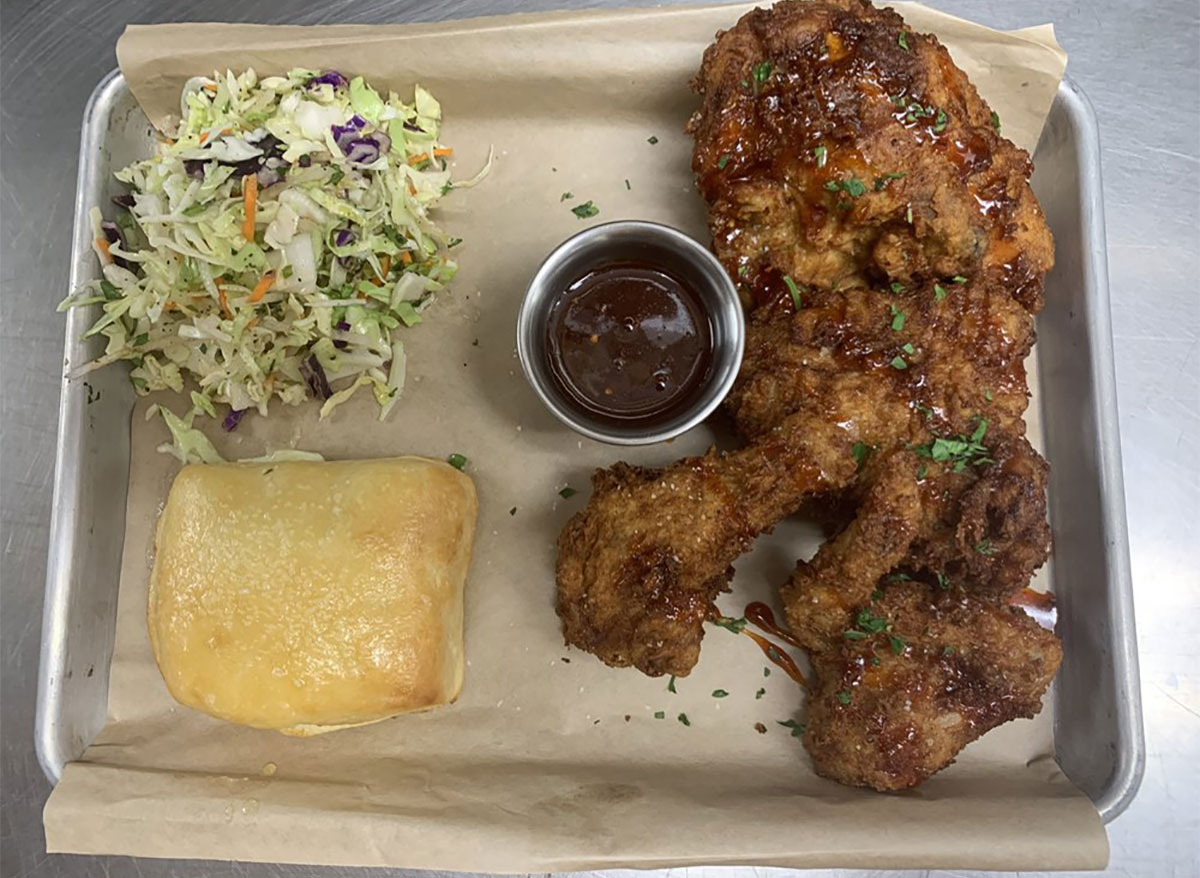 "Really great nachos, and absolutely amazing fried chicken," one Yelp reviewer wrote. Customers rave about the fish and chips, too.
Fried chicken, when done right, can serve you one of the crunchiest, juiciest, and mouthwatering meals you may ever eat. Try out one of these restaurants and you can be sure that you won't be disappointed, whatsoever. Major plus–you can find a place in your own state!
Eat This, Not That!
Inspired by The New York Times best-selling book series, Eat This, Not That! is a brand that's comprised of an award-winning team of journalists and board-certified experts, doctors, nutritionists, chefs, personal trainers, and dietitians who work together to bring you accurate, timely, informative, and actionable content on food, nutrition, dieting, weight loss, health, wellness, and more.
Read more about Eat This