We Tried 11 Fast-Food Chicken Sandwiches & This Is the Best
This chicken sandwich is #1 for a reason.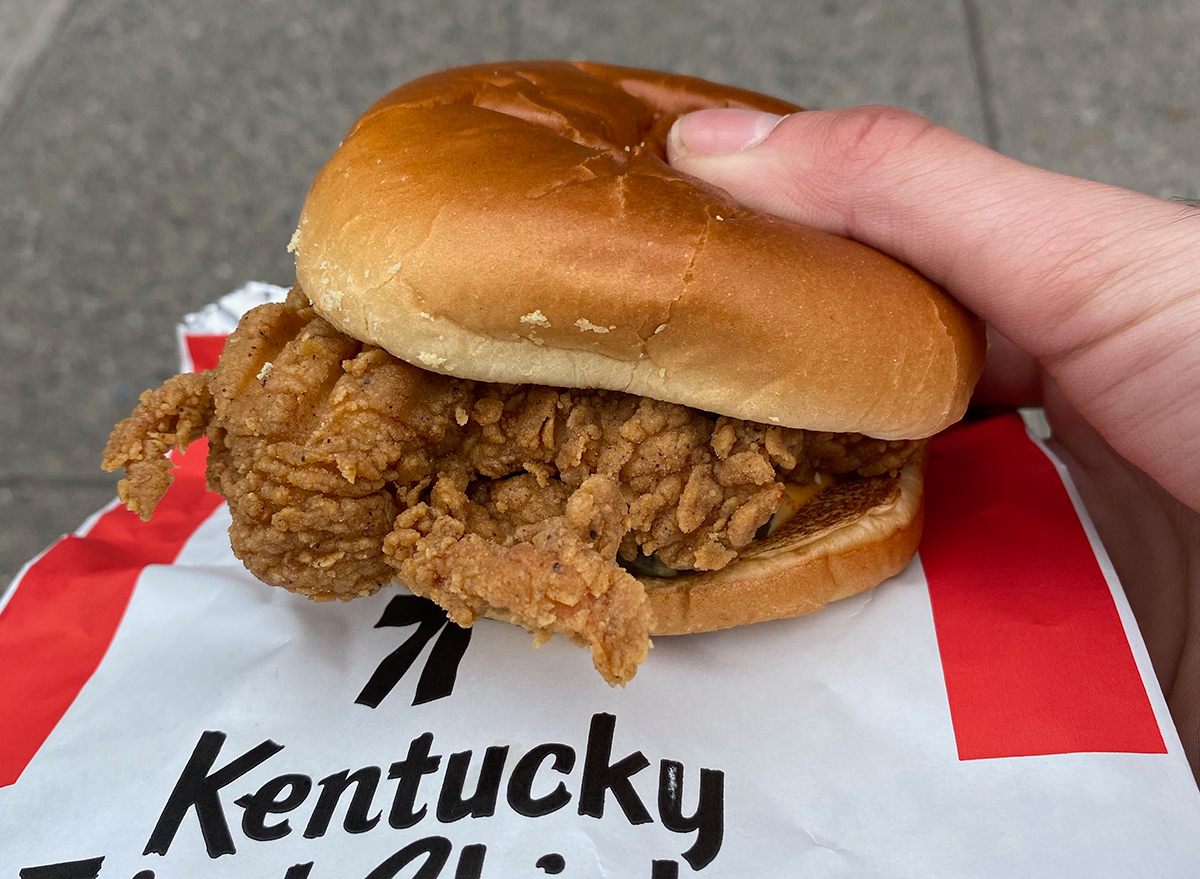 Back in 2019,  Popeyes debuted its chicken sandwich, setting off a fast-food frenzy. People waited in line. People got shot. The chicken sandwich wars had officially begun.
Now it seems like everyone is trying to replicate their success, launching a crispy (NOT fried) chicken sandwich in the vein of Popeyes and Chick-Fil-A. But are any of them good enough to dethrone the almighty? Keep reading to find out!
For this test, I tried the newly launched chicken sandwiches as well as the classic ones, a la the McChicken. I opted for a spicy sandwich when available, because who doesn't like an extra bit of flavor? No grilled sandwiches are in this test either—crispy (NOT fried) chicken sandwiches only.
Need something to pair with that chicken sandwich? We Tasted the Fries at 7 Major Fast-Food Chains. This Was the Clear Winner.
Shake Shack's Chick'n Shack
I've always found Shake Shack's burgers and fries overrated, so I didn't exactly have high expectations for their chicken. Sadly, I was right. Aside from the fact that they tried to make me wait for it in the rain (I declined; it became a whole thing), the chicken patty was small and sad-looking, especially for an $8 sandwich. It also had way too much herb mayo—almost as much as it had chicken. A few hours later, I got a bad stomach ache that lasted the rest of the day. This was the most expensive sandwich on the list, and I have nothing positive to say about it.
Burger King's Original Chicken Sandwich
This is Burger King's basic chicken sandwich. But it manages to differentiate itself from the pack in one area: length. This sandwich is long, more resembling a hero (or hoagie or sub … you get it) than a burger. Like all the basic offerings, it comes with lettuce and mayo—very light mayo on this sandwich though. I had to look to see if it actually had any. The seasoning on the chicken was pretty good, but it still tasted processed. And with its price point of $5.29 (!), there is no logical reason to ever order this.
McDonald's Spicy Crispy Chicken Sandwich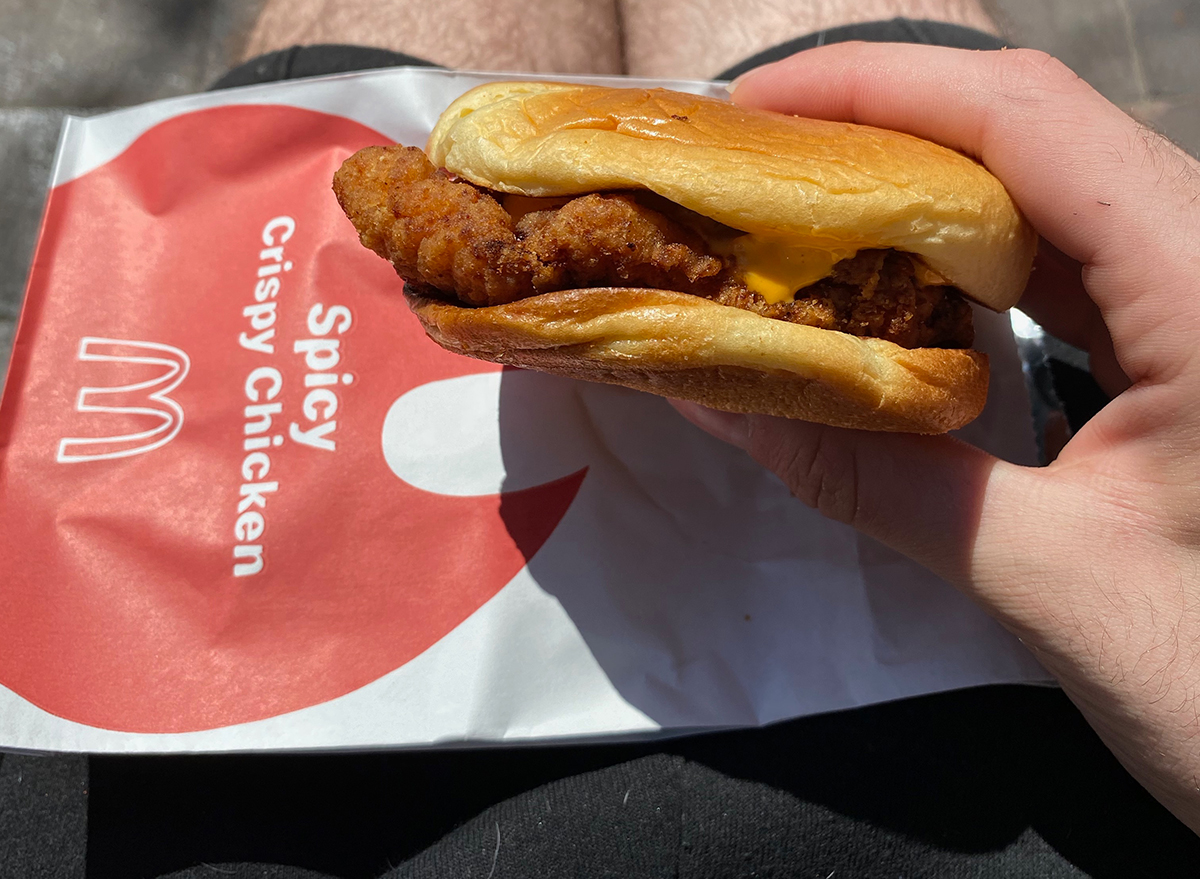 McDonald's latest offering is on the more expensive side at $5.79, compared to $3.99 at KFC and Popeyes. The chicken patty is a little thin, and I got a weird taste in the batter that I couldn't quite identify. This sandwich wasn't particularly enjoyable.
Wendy's Crispy Chicken Sandwich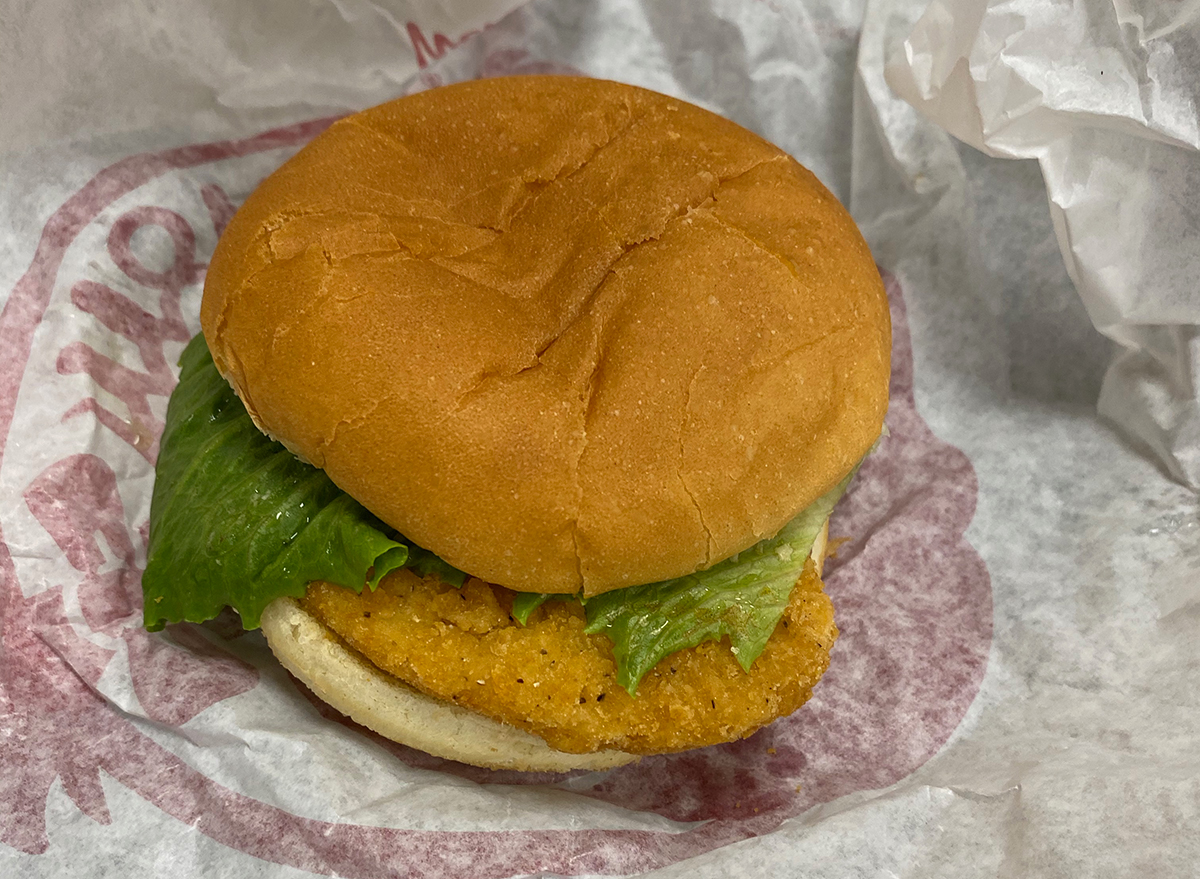 Wendy's basic chicken sandwich was the cheapest one on the list, coming in at just $1.59, and in Midtown Manhattan, no less. Like the others, it's got mayo and lettuce. This one was pretty good but also pretty forgettable.
Burger King's Spicy Crispy Chicken Sandwich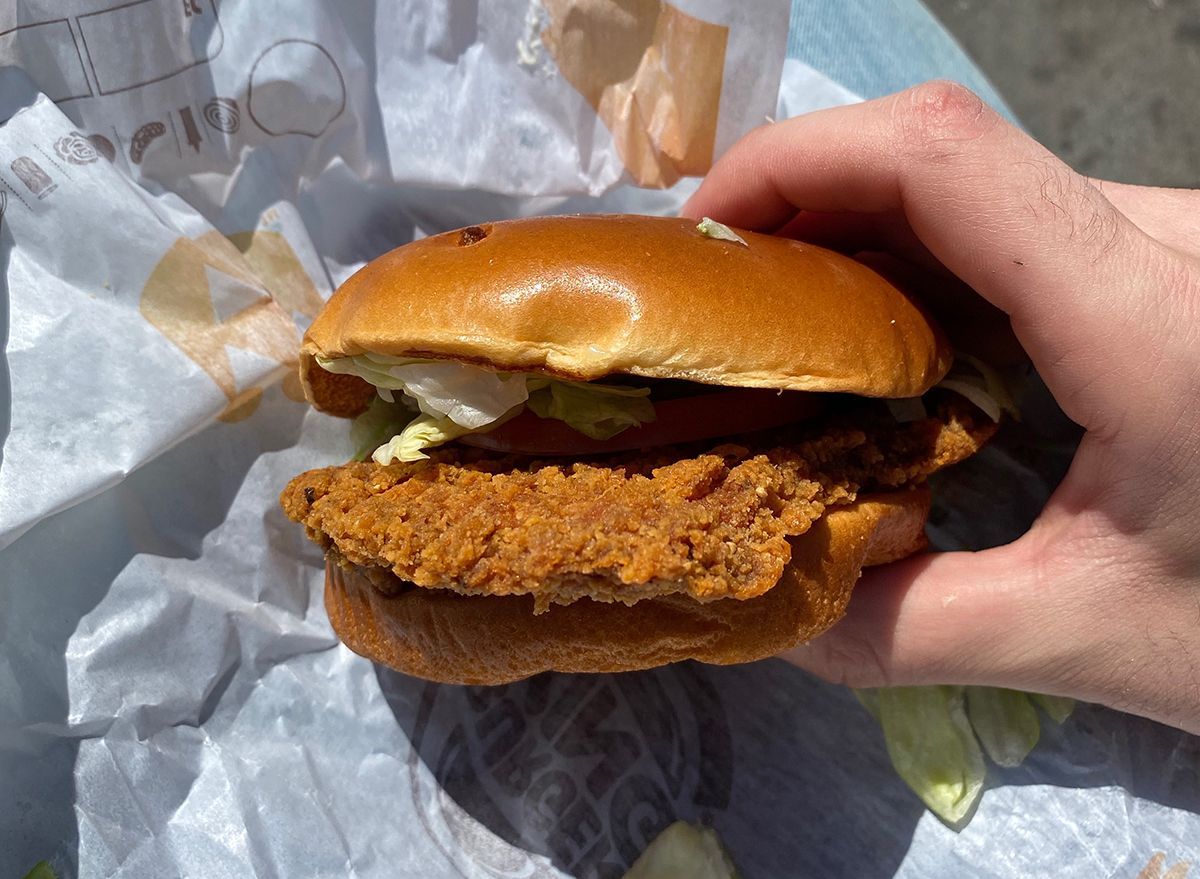 Burger King's latest chicken creation is pretty similar to McDonald's. This was the only spicy sandwich without spicy mayo, but it did have a noticeable and enjoyable spicy seasoning on the chicken. It didn't have pickles either, instead opting for lettuce and tomato. While this didn't taste processed like BK's other sandwich, I still wouldn't opt for it over a Whopper.
Wendy's Classic Chicken Sandwich
This sandwich was overflowing with toppings, stacked with lettuce, tomato, and pickles. The chicken patty was a bit larger than the one at McDonald's and Burger King, and the chicken was nicely moist and tender. The toppings gave it a nice, diverse flavor profile. Of the three fast-food giants, this one was my favorite.
(There is also a spicy version available, but for some reason, I didn't order it. I must have missed it on the menu.)
Surprisingly high, right? I was surprised, too. (I was also high.) But the McChicken was honestly enjoyable to eat. Perhaps it's the nostalgia factor, as this sandwich is nearly identical to the one you got in your high school's cafeteria, except this one doesn't taste like lemon Pledge. It may not be the prettiest to look at, but it's cheap, accessible, and pretty damn decent.
KFC's Spicy Chicken Sandwich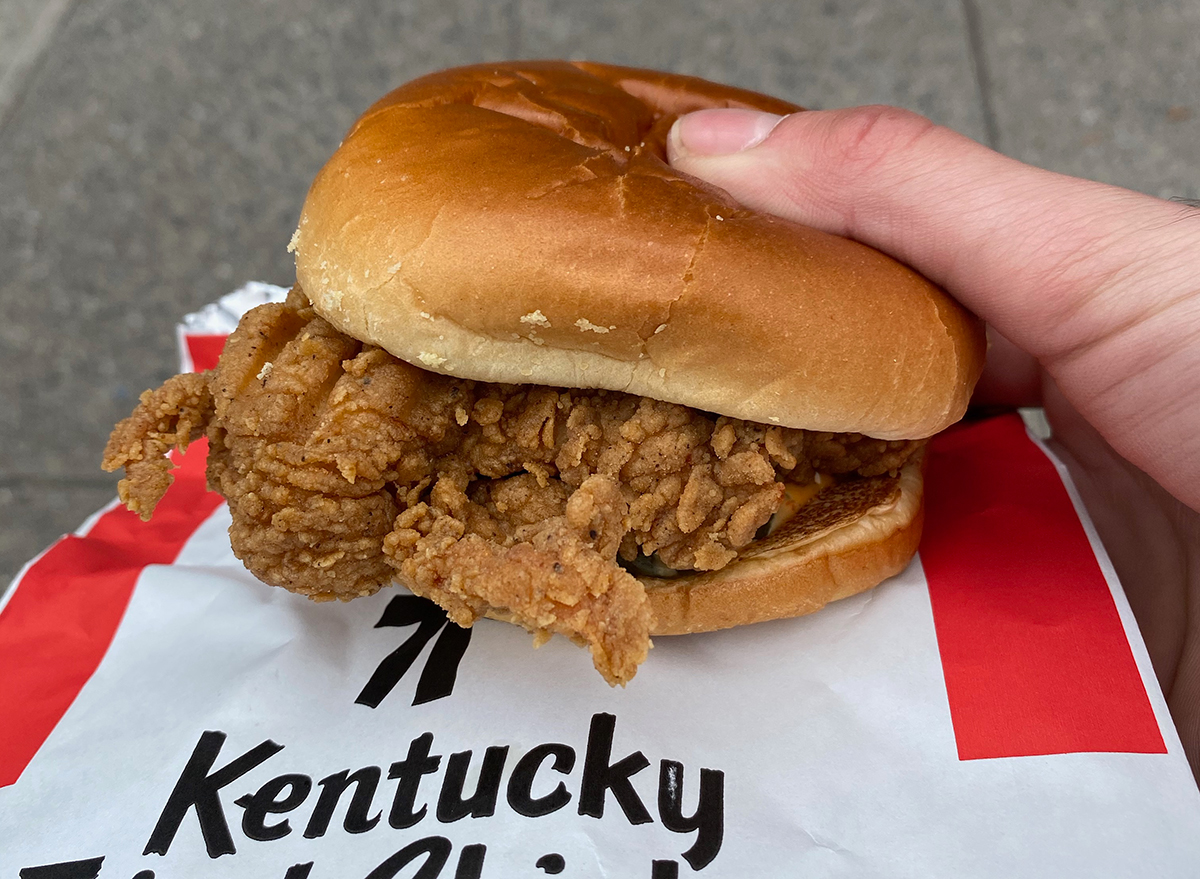 KFC is very clearly trying to replicate Popeyes' sandwich, from the chicken to the sauce. KFC's chicken patty is noticeably smaller and flatter than Popeyes', but it's still bigger than most of the others (and cheaper too). The 11 herbs and spices are very present here, giving the chicken that unmistakable KFC taste. I'm not the biggest fan of KFC's chicken, but nonetheless, this is a pretty good sandwich.
Chick-Fil-A Spicy Chicken Sandwich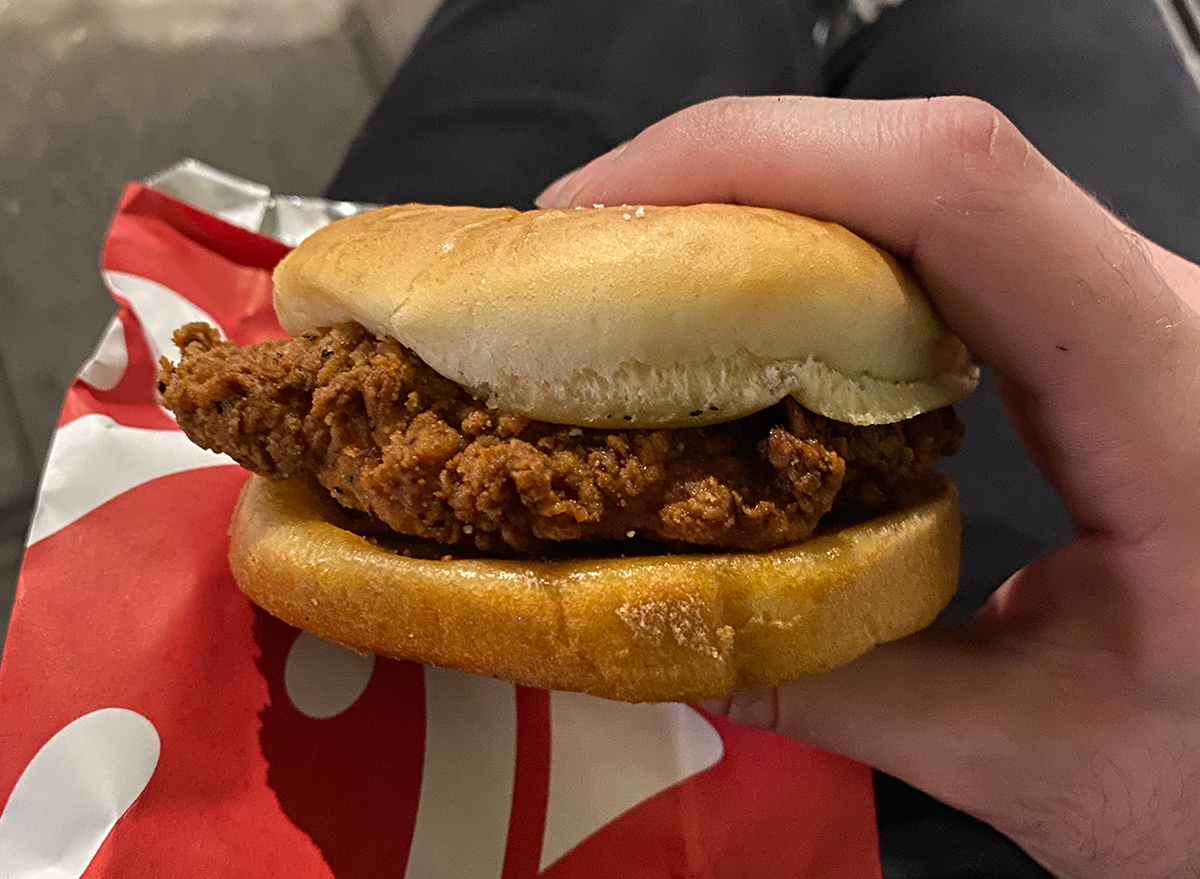 The self-proclaimed original chicken sandwich still has magic the others have been unable to capture. Although the patty was a little smaller than KFC's, it was undeniably better. The seasoning had a nice kick of spice, and the chicken was so moist it broke apart like butter. There's no mayo on this sandwich, so it's a little dry, but I didn't mind it.6254a4d1642c605c54bf1cab17d50f1e
Chick-Fil-A Spicy Deluxe Sandwich
If you're going to Chick-Fil-A, this is the sandwich to get. It has the most complex flavor profile on our list thanks to its load of toppings: lettuce, tomato, pickles, and pepper jack cheese. I was surprised by how much the cheese added to the sandwich, and the lettuce made me feel like I was getting a marginal amount of nutrition. The tomatoes were a little under-ripe, but I'm willing to overlook that because the chicken patty was so long it was hanging off the bun. I would definitely order this again.
Popeyes' Spicy Chicken Sandwich
This is hands-down not just the best chicken sandwich, but the best fast-food item available right now. The chicken patty on this guy is massive—the largest of any sandwich on our list. It's so plump! These chickens are either taking steroids, or their mothers all had affairs with Arnold Schwarzenegger. The seasoning and the spicy mayo give the sandwich lots of heat, and the sweetness of the chewy bun delightfully complements the kick. This is the kind of sandwich I would expect to pay $18 for at a restaurant. You could serve it Gordon Ramsay and he might not spit it out. It's that good. I can't believe it only costs $4. Legendary.
Check out more of our exclusive taste tests:
We Tried Every Burger at McDonald's & This Is the Best
We Tasted 8 Hot Dog Brands & This Is the Best
Luke Gralia
Luke Gralia is a food and lifestyle writer by day and a stand-up comedian by night in New York City.
Read more about Luke