14 Best Fast-Food Chicken Sandwiches In America
A round of applause for these chicken sandwiches, they deserve it.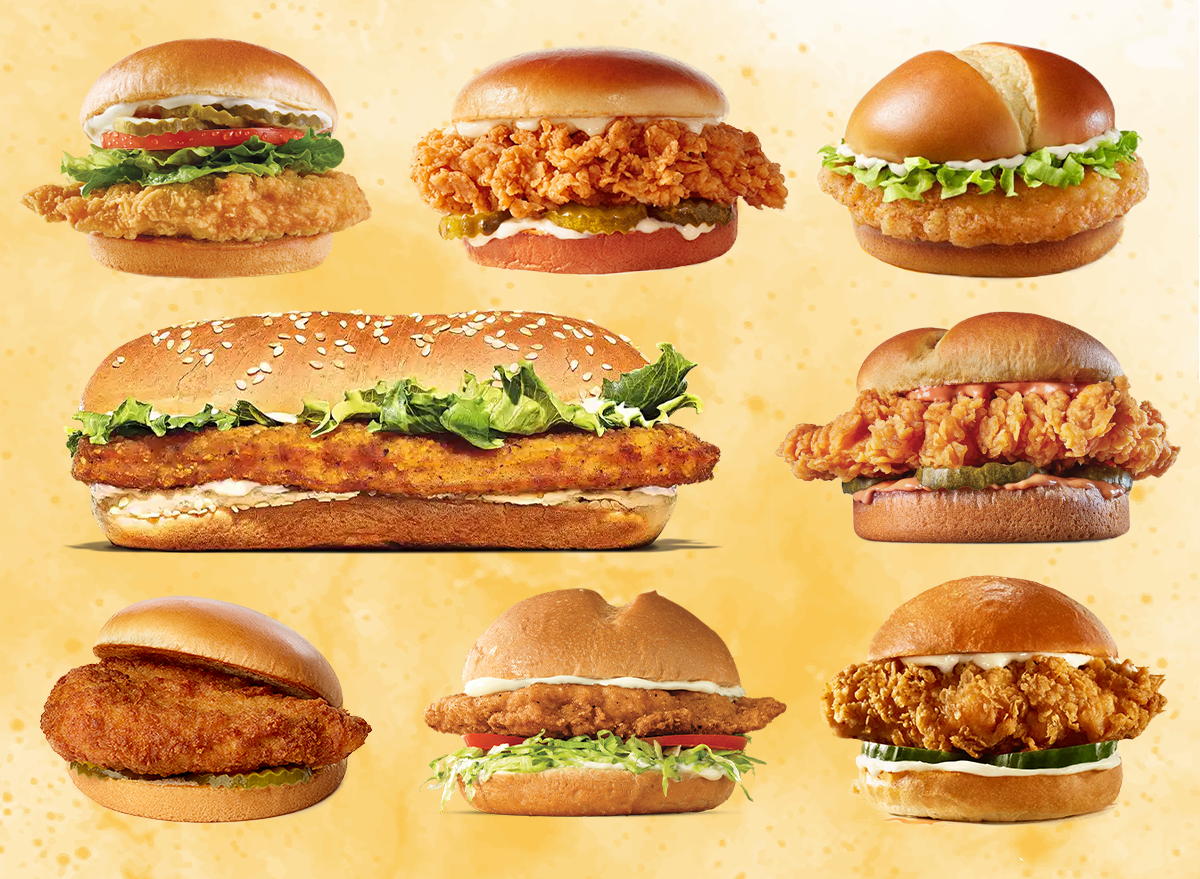 Although the fast-food chicken sandwich market can sometimes feel crowded (it seems that there's a new chicken sandwich announced every other week), there's still a long list of sandwiches that stand out from the crowd for their incredible flavor and texture. McDonald's, Popeyes, Burger King, Chick-fil-A, KFC, and many more, make memorable chicken sandwiches that people come back to again and again.
Some have become cemented in the fast food zeitgeist because of their long history. For instance, Chick-fil-A's famous signature sandwich dates back to the 1960s. Others are recent newcomers that quickly made their mark on fast food culture. It's hard to believe that Popeyes' already legendary chicken sandwich only appeared in 2019.
What makes the best chicken sandwich? For Chef Jennifer Hill Booker everything needs to be balanced. In her perfect chicken sandwich, "The chicken to bun ratio is happily more chicken than bun. But most importantly, the chicken is moist, its breading crisp, the buns are warm." We agree. First, a well-seasoned marinated chicken breast or seasoned chicken patty has to take center stage. Crispness is important as is the blend of spices. Most have something fresh like crunchy pickles, ripe tomatoes, or shredded lettuce and, typically, a flavorful spread or a quality mayo brings everything together on a soft bun. In the end, most of these chicken sandwiches are similar, and the accompanying twists are what make them unique.
From chicken sandwiches that have been gracing fast-food chain menus for decades to newfangled creations that have become viral sensations, here are the 14 best fast-food chicken sandwiches in America.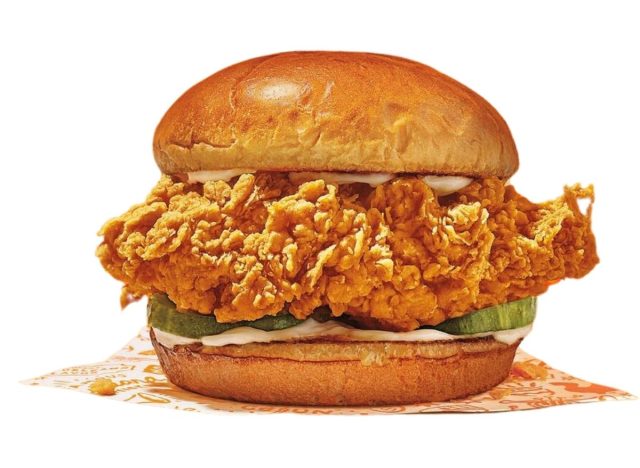 It is safe to say that no other fast-food chicken sandwich in history has achieved the heights of popularity that Popeyes' chicken sandwich has reached, especially in so short of an amount of time. This Popeyes menu item is often considered the "end all, be all" for fast food chicken sandwiches. And if you've ever been lucky enough to get your hands on this tasty sandwich, then you know why.
Made with juicy breaded chicken breast, a toasted brioche bun, barrel-cured pickle slices, and classic mayo, this delectable sandwich has become somewhat of a blueprint. Chains such as McDonald's, Wingstop, and KFC have all (seemingly) tried to replicate it. But just as lightning never strikes the same place twice, no one has been able to recreate this sandwich's magic.
Even better, Popeyes also offers it in a spicy version. Released at the same time as the classic chicken sandwich, this epic menu item includes all of the same trimmings but has a twist—its bun is slathered in a tangy, spicy mayo.
The spicy chicken sandwich is also one for the books and is perfect for Popeyes purists who like a little zing. "Popeyes' spicy chicken sandwich is my favorite by far," shares professional chef and recipe developer Gen La Rocca, "It has a bigger, more juicy chicken patty than any other fast food sandwich, a creamy, spicy mayo that packs a punch, and pickles to cut through the richness of the sandwich—it's balanced, crispy, and reliably delicious."
Chick-Fil-A Original Chicken Sandwich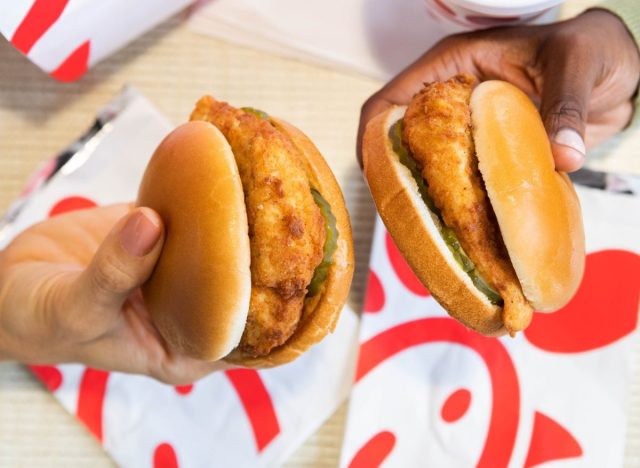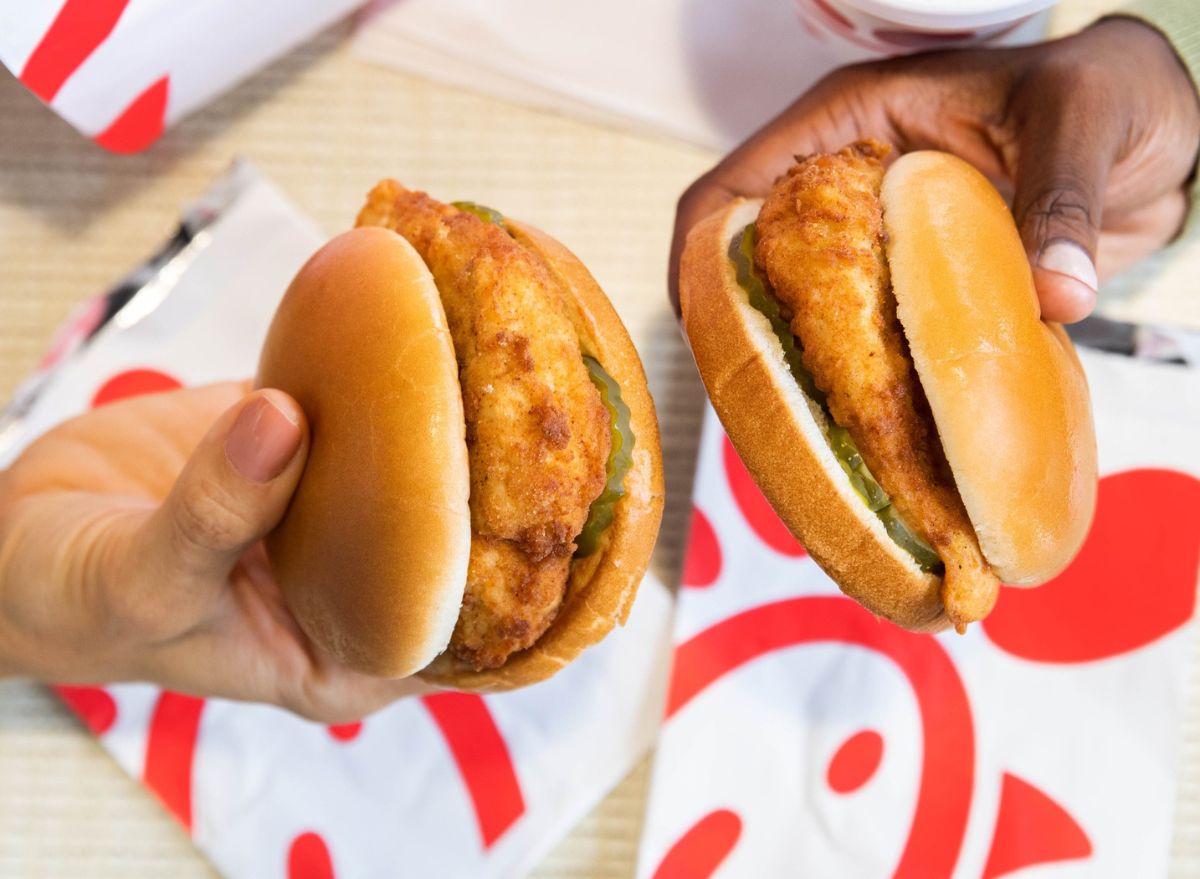 Since coming onto the scene in the 1960s, Chick-Fil-A's original chicken sandwich has been extremely popular—and for a good reason. It features a boneless chicken breast that is breaded, seasoned, and then pressure cooked (in peanut oil) to perfection. Tangy dill pickle chips help the sandwich achieve the perfect amount of bite, and its buttered bun adds a nice touch.
Chef and restaurateur K.C. Gulbro calls it "flavorful, moist, nicely seasoned, and consistent… You can always count on this chicken sandwich no matter what Chick-Fil-A spot you visit," he adds.
Created by Chick-Fil-A founder Truett Cathy, it's hard to believe that this masterpiece was thought up kind of, well, randomly. As the story goes, a local poultry supplier had extra chicken lying around and asked Cathy if he wanted it for his then-restaurant, The Dwarf Grill. Cathy said yes and began toying around with chicken sandwich ideas, which is how the iconic sandwich was born. The recipe remains unchanged to this day and is locked up in a vault at the Chick-fil-A Corporate Support Center in Atlanta, Georgia. Yes, it's that good.
Shake Shack Chick'n Shack
Although Shake Shack is famous for its burgers, people simply cannot get enough of its Chick'n Shack sandwiches too. After the fast-casual restaurant chain filed a trademark application for the phrase "chicken shack" in 2015, people began to speculate that it would be launching a chicken-centric sandwich soon after, and, well, they were right.
Released in the winter of 2016, this sandwich is loved for its unique flavor. It features 100% all-natural and antibiotic-free chicken that is slow-cooked in a buttermilk marinade, hand-dipped in homemade batter, covered in seasoned flour, and then crisp-fried. Layered with pickles and shredded lettuce, its piece-de-resistance is the undeniably delicious buttermilk herb mayo crafted with parsley, thyme, and chives.
Wendy's Classic Crispy Chicken Sandwich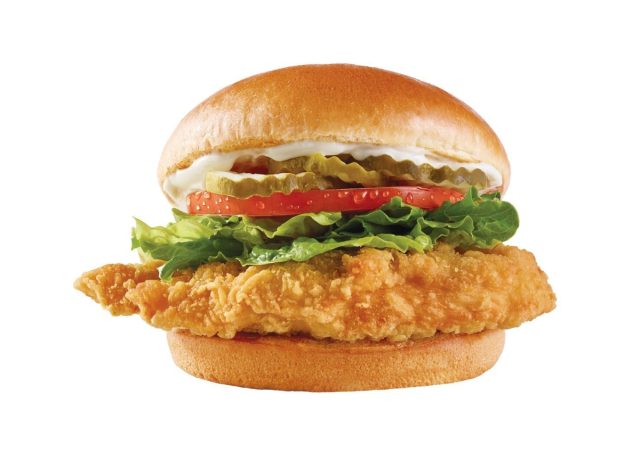 Wendy's may be known for its Jr. Bacon Cheeseburgers, Whoppers, and chicken nuggets (how good is their sweet and sour sauce, though?), but what has people hooked is their Crispy Chicken Sandwich. Made using lightly breaded chicken breast, crisp lettuce, thinly-cut tomatoes, and pickles, all piled on a toasted bun, this sandwich which has been on Wendy's menu for years got a recent upgrade in 2020. The result? A crispier, juicier, more tasty chicken sandwich that definitely doesn't hold back on flavor.
Wendy's Spicy Chicken Sandwich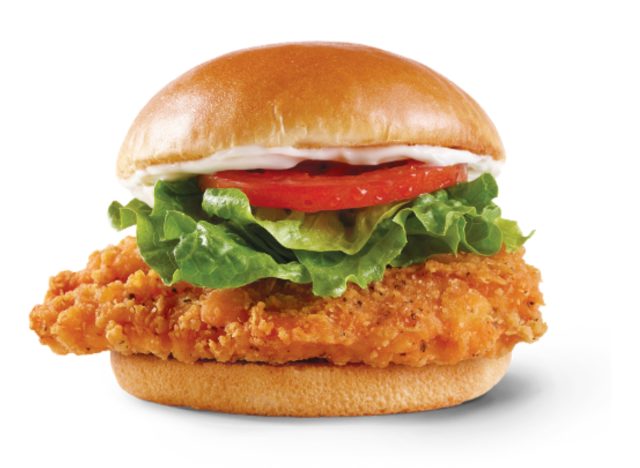 Don't get it twisted—although plenty of spicy chicken sandwiches are on the market today, Wendy's was the first to do it. In 1995, the famous restaurant chain dreamed up a spicy chicken sandwich as part of a promotion. The chain soon learned that they had to give this sandwich a permanent spot on the menu—it was that popular.
Wendy's Spicy Chicken sandwich is different than the uber-popular Popeyes Spicy Chicken sandwich because peppery spices are used in both the marinade and the breading; Popeyes uses a mayo to add spice. If you haven't tried this one, what are you waiting for?
KFC Classic Chicken Sandwich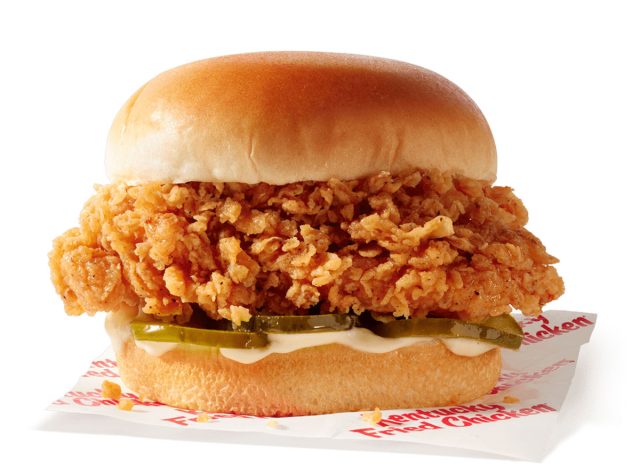 Since the 1930s, KFC has been making some of the best fried chicken on the planet, so it's no surprise that their classic chicken sandwich is considered one of the greatest out there. KFC's must-try chicken sandwiches emerged in the 1980s when the restaurant began experimenting with variations, such as its classic chicken sandwich.
Made using crispy, double-breaded chicken breast, tangy pickles, a brioche bun, and either mayo or spicy sauce, this sandwich tastes wonderfully on its own or pairs well with one of the chain's delicious sides, like mashed potatoes or corn. Besides a classic chicken option, KFC also offers the Chicken Little, a slider version of its classic chicken sandwich, and the limited-time Double Down sandwich, a sandwich made sans bun with twice the amount of crispy chicken.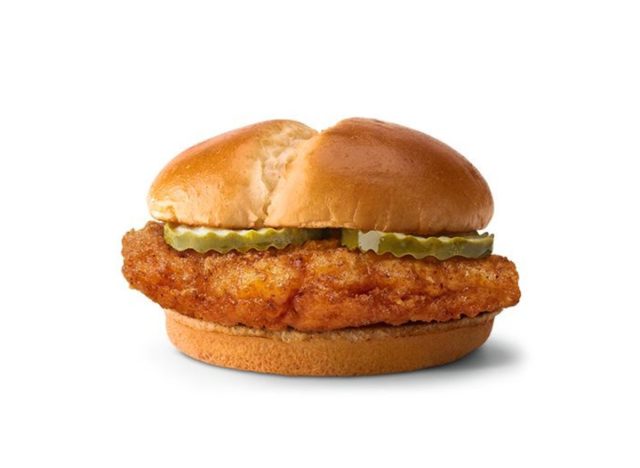 No list is complete without the incomparable McCrispy from McDonald's. This top-tier sandwich is made using a juicy, all-white chicken filet, crinkle-cut pickles, and a potato roll slathered in salted butter and is available in classic, spicy, and deluxe options. Its deluxe version comes filled with sliced Roma tomatoes and mayo, which is a nice touch. Although it's only been on the menu since 2021, it instantly became a hit upon its release and has already joined the ranks of some of McDonald's other iconic menu offerings.
In fact, the chain just gave this sandwich the respect it deserved when it changed its name in the U.S. at the beginning of the year. The chain honored the fan-favorite sandwich by changing its name to the "McCrispy," elevating it to the heights of iconic menu items like Chicken McNuggets and the McFlurry that bear the "Mc" stamp of honor. 
Burger King Classic Chicken Sandwich
Don't let this chain's name fool you—it makes fantastic chicken sandwiches, too. Although BK has had many chicken sandwiches come and go throughout the years (we're still baffled as to why they thought it was a good idea to discontinue the insanely popular Ch'King), one that has withstood the test of time is its classic chicken sandwich. Made with lightly breaded chicken, fresh lettuce, and creamy mayo, all stuffed inside a sesame seed bun, this sandwich may have fewer frills than the chain's more highly promoted sandwiches (BK Royal Crispy Sandwich, anyone?), but since it was added to the menu in the 1970s, it's always been dependably delicious.
Culver's Crispy Chicken Sandwich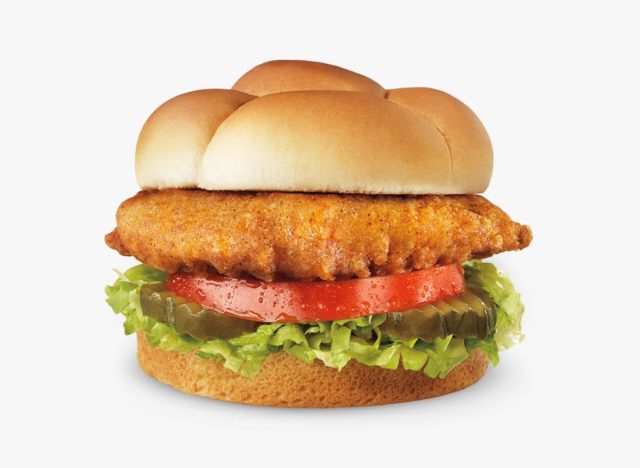 Founded in Sauk City, Wisconsin, in the 1980s as a frozen yogurt and burger joint, Culver's has grown into a nationwide chain with nearly 1,000 locations in the United States. Although many of its restaurants are found in the Midwest, the deliciousness of its crispy chicken sandwich transcends state lines.
Crafted with Southern-style fried chicken with hints of garlic, onion, and cayenne in its breading, sliced ripe tomatoes, and zesty pickles, on a Kaiser bun, this sandwich achieves the perfect balance of taste and texture. "The crispy exterior has the perfect bite and mouthfeel, while the chicken itself tastes fresh and is always succulent," says Bryan Q. Le, Ph.D, a food scientist and food industry consultant. "My favorite part is how well the buttery buns pair with the flavor of the crispy chicken patty, with the perfect amount of pickles to relieve the savoriness of the chicken."
Zaxby's Signature Chicken Sandwich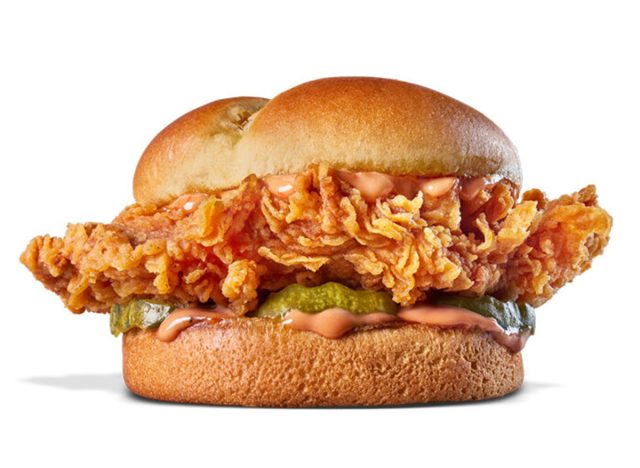 Two words: Zax. Sauce. Zaxby's, the Georgia-founded chain, is not only famous for its burgers, sandwiches, and chicken wings but also its incredible Zax sauce, which, as you probably guessed, is found all over its signature chicken sandwich. This sandwich, which was added to each location's menu in 2021, is made using double-breaded white breast meat, thick pickle chips, a split-top potato bun, and plenty of this homemade garlicky sauce.
Arby's Classic Crispy Chicken Sandwich
Roast beef, curly fries, and…top-tier chicken sandwiches. Arby's, the fast food sandwich chain with thousands of locations nationwide, has become synonymous with roast beef sandwiches, but its classic crispy chicken sandwich does not disappoint. Introduced in 2016, this tasty sandwich is crafted with breaded buttermilk chicken, shredded lettuce, tomato, mayo, and a toasted bun. Enjoyed with a side of curly fries or a chocolate shake, this menu item is a must-try if you haven't given it a go already.
Jack In The Box Homestyle Ranch Chicken Club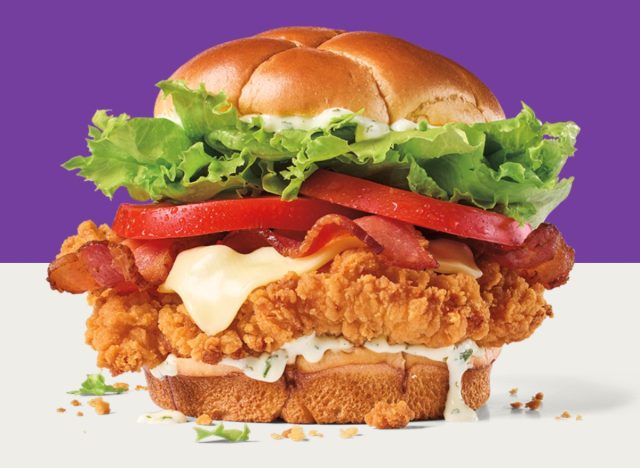 What's so great about Jack in the Box's Homestyle Ranch Chicken Club is not that it tastes delectable but that it's also highly customizable. Its base ingredients include a crispy chicken filet, warm bacon, Swiss cheese, ranch sauce, lettuce, and tomato, but American cheese, pickles, sliced onion, ketchup, mustard, jalapenos, and sriracha sauce can all be added or subbed in for a small fee.
Raising Cane's Chicken Sandwich Combo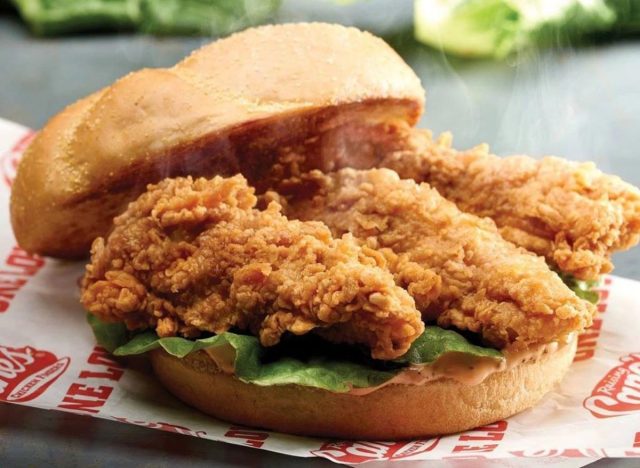 If you're a chicken sandwich enthusiast but haven't ordered Raising Cane's chicken sandwich combo yet, you're missing out. The chain, which appeared on the scene in 1996, offers a build-your-own sandwich combo with three crispy breaded chicken fingers, a soft toasted bun, crunchy lettuce, fresh tomato, crinkle-cut fries, and a choice of drink. Although the Louisiana-founded chain has fewer locations compared to other spots on the list, some reviewers say that Raising Cane's chicken is so good that they actually prefer it over Chick-fil-A's.6254a4d1642c605c54bf1cab17d50f1e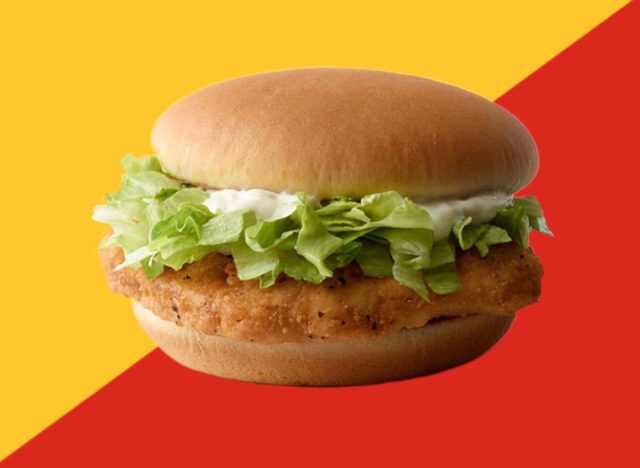 Although McDonald's has come out with its share of chicken sandwich variations through the years (they even sold a mozzarella-stuffed sandwich at one point), one tried, and true classic has been the McChicken. Made with a perfectly seasoned chicken patty, shredded lettuce, creamy herb mayo, and a soft toasted bun, this handheld dish clocks in at 400 calories per serving, also making it a good choice for those looking for an option with fewer calories.
The sandwich was first introduced in 1980, then again in 1988, then finally for good in 1997—after it was discontinued in 1996, people began petitioning for its return. Now it has a permanent spot on McDonald's menus and in our hearts. Both reliably delicious and easy to find, this timeless sandwich is the pinnacle of delectable, fast-food dining, and proof that sometimes classic is the only way to go.