7 Fast-Food Restaurants That Serve the Best Mac & Cheese
These bowls deliver a homestyle taste, but with restaurant convenience.
The product recommendations in this post are recommendations by the writer and/or expert(s) interviewed and do not contain affiliate links. Meaning: If you use these links to buy something, we will not earn a commission.
When you pull up to a drive-thru, you are generally seeking a juicy cheeseburger or nuggets and salty fries. But these days, fast food restaurants have more expansive menus than ever, and can be a great choice for a lot more than just the standard burgers and fries. In fact, there are some that are known to have pretty incredible mac and cheese.
Whether you grew up loving your mom's baked mac and cheese or preferred a stove-top version from a box, mac and cheese is the ultimate comfort food. The best fast food mac and cheese deliver that homestyle-taste but with restaurant convenience.
"For fast-food mac and cheese, I would say my top three favorites are Popeyes, KFC, and Boston Market in that order," said Adam Richman, TV food personality and host of History Channel's "The Food That Built America" and "Modern Marvels. " Adam was all about doing some research to this end, too. "Naturally, I had to order a few of these to do research! Popeyes has a really great consistency, the noodles are not-at-all mush, and there's an intricate flavor that leads me to believe there is more than one cheese used, which typically makes for a great macaroni and cheese," said Richman.
Here's some history about his three faves and some other fast-food chains where you can get the ultimate comforting bowl of mac and cheese.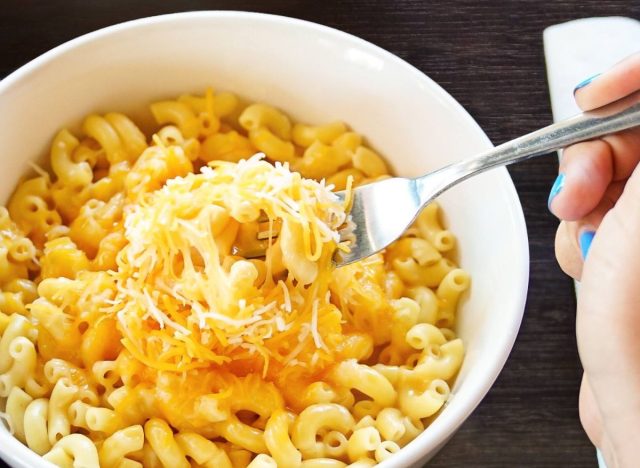 There's no surprise that fast-casual chain Noodles & Company, a restaurant that is devoted to all things noodles, would have a pretty great mac and cheese. Its Wisconsin Mac & Cheese dish is nearly legendary, and has been a bestseller on their menu for decades. This dish is a magical blend of elbow pasta and a mix of aged cheddar cheese and Jack cheese topped with a creamy cheese sauce. It's proven so popular the chain now offers a Buffalo Chicken Mac & Cheese and BBQ Chicken Mac & Cheese version as well.
"For more than 28 years since Noodles & Company was founded, Wisconsin Mac & Cheese has been our number best-selling and most-ordered dish across our menu nationwide. We sell 10 million bowls of Wisconsin Mac & Cheese per year and go through more than 2 million pounds of cheese sauce per year to make this fan-favorite dish," said Nick Graft, executive chef and VP of culinary at Noodles & Company.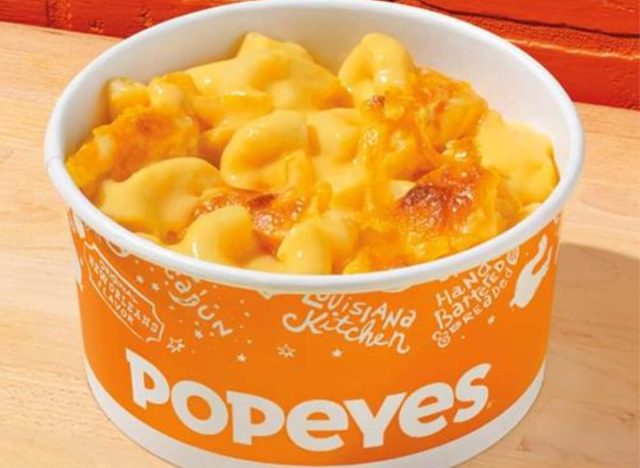 You know a mac and cheese is special if the legendary Anthony Bourdain once referred to it as one of his comfort foods. He's not alone, as many chefs and customers alike turn to Popeyes for this homestyle cheesy and creamy side when ordering the famous fried chicken.
"My favorite fast-food mac and cheese is hands down from Popeyes—it's rich, creamy and seasoned just like I enjoyed it as a kid. It's also got a crunchy cheddar crust on top so when you break into it the steam and smell of cheese is released—it's really the perfect comfort food. I actually order this often!" said Chef Kevin Malone of Proudly Serving in Los Angeles.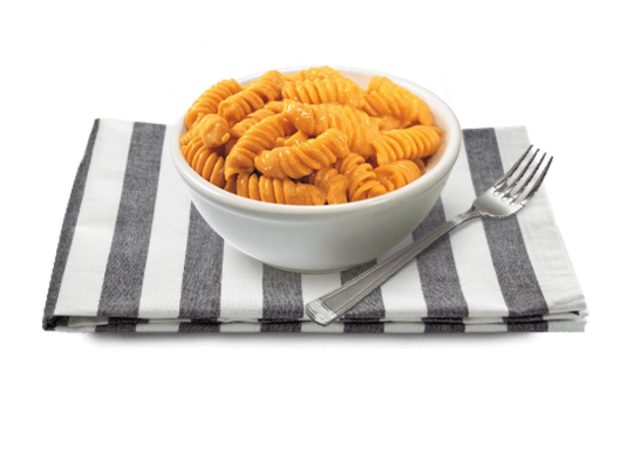 Boston Market is the home of great rotisserie chicken, but a big part of any chicken dinner is the side dishes. At Boston Market, that includes a mac and cheese that is absolutely crave-worthy.
"A great choice is Boston Market's Mac & Cheese, which boasts a creamy, home-style recipe featuring cheddar and American cheeses with a subtle, garlicky undertone," said Norah Clark, a pastry chef. The Boston Market mac and cheese is unique in that it is made with a spiral-shaped noodle, which is a really good choice for picking up tons of rich, creamy cheese.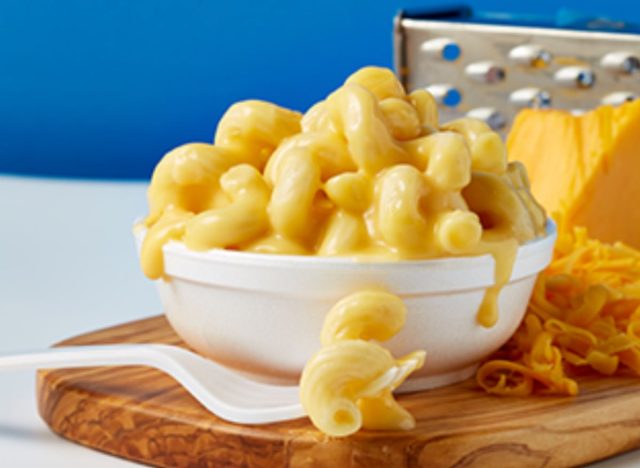 Chester's Chicken launched a new mac & cheese recipe in 2021 made with creamy cheddar cheese and cavatappi (corkscrew) noodles, and it shot to popularity. Twitter fans love how "bold and cheesy" it is. In fact, it was named the best side dish last year by Convenience Store News for its annual Best New Products Awards. It's not hard to see why, as this side dish is so popular, it was spun off into a spicy Cheetos collab that Reddit users describe as "awesome."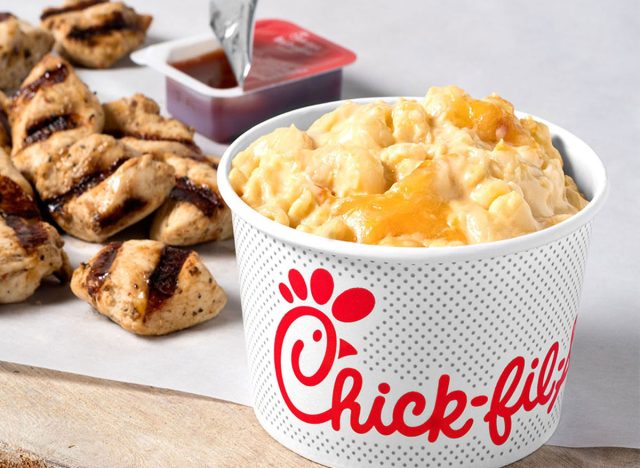 When it comes to mac and cheese, it's all about the cheese sauce, and this one has a beautiful three-cheese blend of parmesan, cheddar, and romano with a crispy, golden topping that offers a great texture to play off against the rich, creamy noodles. This popular side dish is referred to by Twitter users as "scrumptious" and so good, one fan wishes they could have "like five tubs."
KFC knows a lot about fried chicken, but those buckets usually come accompanied by exciting sides. While you may have in the past gone for the mashed potatoes, the mac and cheese is another really strong option, with a decadent creamy cheese sauce.
"Growing up, I loved KFC macaroni because the texture and creaminess was the best thing ever. When creating my SoulFly menu, I knew I had to make sure I created a mac & cheese recipe so good it could compete with my favorite KFC dish," said Chef Troy Tingling, founder of Soulfly Chicken in Miami. Plus, for those of us who appreciate layers of flavor and texture, how fun is it to top some mac with some crunchy chicken nuggets? A can't-miss opportunity, clearly.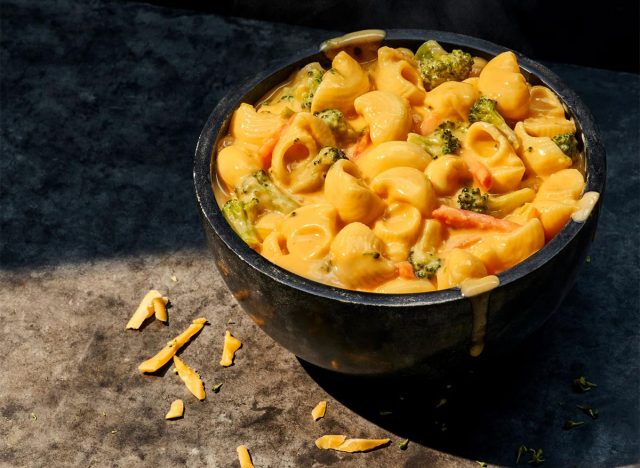 Panera's mac and cheese is rich, creamy, and absolutely delicious. In fact, it's so delicious, Panera has released a grocery store version so you can stock up on this side dish to have in your fridge on demand. If you are looking to shake things up, Panera also makes a broccoli cheddar version of its mac and cheese, inspired by their famous broccoli cheddar soup–and, hey, veggies are involved!