6 Best New Fast-Food Burgers To Try Right Now
Get 'em while they're hot!
Nothing beats a classic fast-food burger, especially one that is made with quality ingredients like never-frozen beef and hand-smashed patties. But while we could all go for an old-fashioned cheeseburger with lettuce, tomato, and onion, fast food chains also know the importance of keeping the menu fresh over time. And with the sandwiches getting larger and more complex over the years, fast food chains seem to be rolling out new menu items on a constant basis, making it difficult to keep up.
We have compiled a list of some of the newest fast-food burgers to hit the market that you will want to try in the coming months. Many of these burgers feature unique ingredients and toppings, from truffles to bacon jam to peanut butter and jelly.
If you have been looking to try something new or discover your next go-to fast food lunch order at your favorite burger chain, keep reading to learn more about what's new. Be aware that some are only here for a limited time so be sure to run out and try the one that sounds the best!
BurgerFi: BBQ Rodeo Burger
In February, BurgerFi launched its award-winning BBQ Rodeo Burger. That's right; the BBQ Rodeo Burger is already making headlines by being named Winner of the Schweid & Sons The Very Best Burger Award, according to BurgerFi's website. According to Fast Food Post, the champion burger is piled high with an Angus beef patty with charred jalapeños, melted Pepper Jack cheese, homemade crispy onions, and a tangy Memphis Sweet BBQ sauce. To top it all off, the limited-time sandwich is served on a potato bun that has been branded with the BurgerFi logo, in case you are so overwhelmed by the incredible flavor that you forgot where you were. You're going to have to go today to get this one though because it's only available through April 17!
Mooyah: Hot Bacon Jam Burger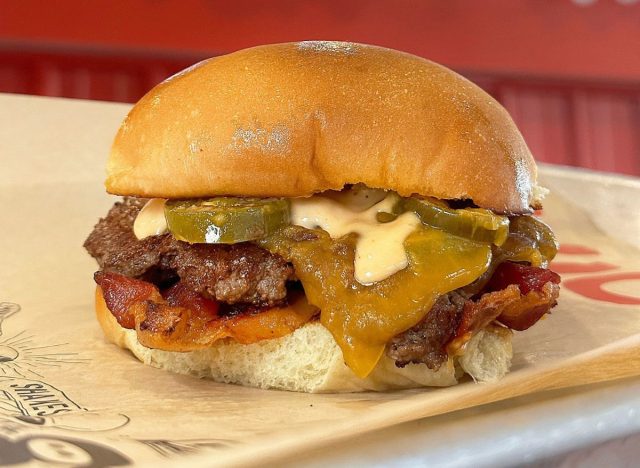 Mooyah is a relatively new and growing chain on the fast food burger scene, founded in 2007 with locations across the United States. The burger chain serves up fresh Angus beef patties in all of its sandwiches, earning high marks from customers. Fans have more to be excited about this year with the launch of its new Hot Bacon Jam Burger, joining the lineup of signature Hall of "Dang" hamburgers. The sandwich includes an Angus patty smashed together with grilled jalapeños and topped with cheddar cheese and a double dose of bacon with crispy applewood-smoke bacon and a hot bacon jam spread, according to Chew Boom.
Dairy Queen: Bacon Queso Cheeseburger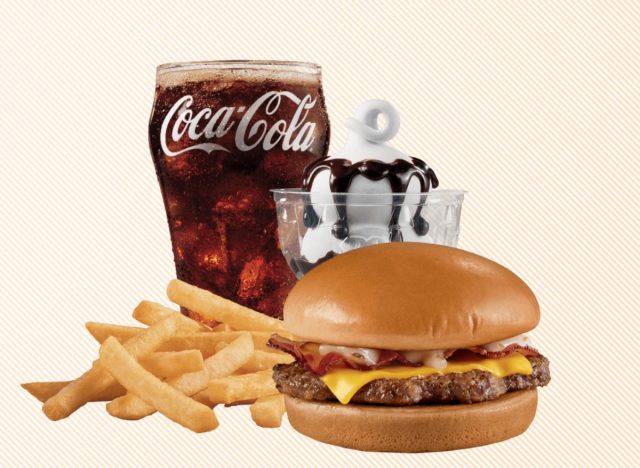 The classic ice cream shop Dairy Queen has expanded its menu beyond frozen desserts over the years to include savory lunch and dinner options as well. If you happen to love a Dairy Queen hamburger as much as you love its Blizzards, then you will want to know about its newest addition: the Bacon Queso Cheeseburger. According to Fast Food Post, the new sandwich comes with a beef patty topped with zesty queso and thick-cut applewood-smoked bacon. Pair it with its new churro-dipped ice cream cone for an entire meal start to finish of new menu items.
Shake Shack: White Truffle Burger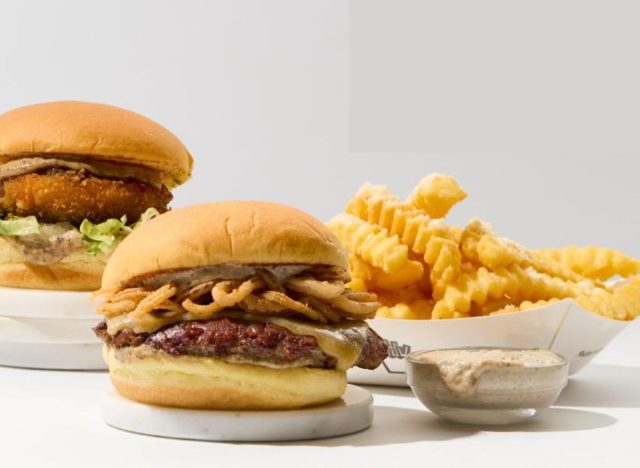 With the rise in popularity of all things truffle, Shake Shack launched a slew of new menu products entirely devoted to the subterranean fungus. The new options include the White Truffle Burger, featuring real white truffle sauce made with Regalis organic white truffle oil. The truffle sauce comes on top of a Fontina cheeseburger with crispy sweet onions, all on a toasted potato bun according to Chew Boom. For double the fungus, you can also order the new White Truffle 'Shroom Burger, which comes with a crisp-fried portobello mushroom filled with melted muenster and cheddar cheeses and the same signature white truffle sauce.
Culvers: Smokehouse BBQ Cheddar Pub Burger
Culvers is doubling down on keeping its menu fresh and interesting by offering two new burgers. The first one is a Smokehouse BBQ Cheddar Pub Burger, which according to Chew Boom can be served with either a beef or chicken patty. It is then topped with an all-new sweet and smoky BBQ sauce, sharp cheddar cheese, crispy onion rings, pickles, and Culvers' signature mayo. The sandwich will only be around for a limited time, so grab one while you can because it will be gone after June 11.6254a4d1642c605c54bf1cab17d50f1e
Culvers: PBB&J Pub Burger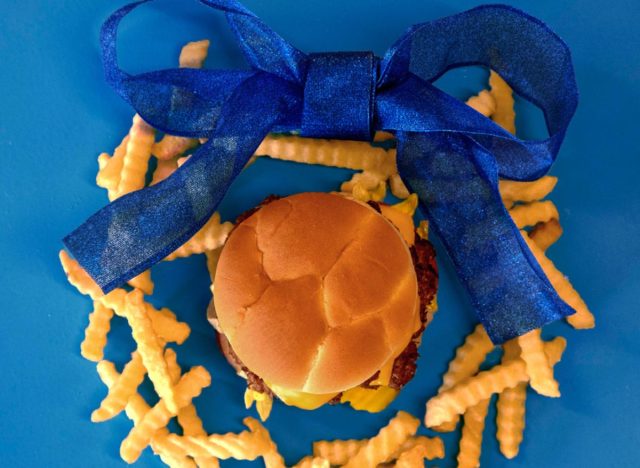 The second new burger offering at Culver's is a bit more unconventional than your BBQ Cheddar Burger. Also available is the new PBB&J Pub Burger, which began a rollout at select Culver's locations this spring. According to Chew Boom, the burger is made with a fresh beef patty and bacon (hence the two B's) along with peanut butter, jelly, and Wisconsin cheese on a pretzel bun. The flavor combo may seem a bit out of left field, but if you are curious, check to see if your local Culvers has added it to its menu. (Images for this burger have not yet been released.)
Carly Neil
Carly Neil is a freelance writer specializing in all things food, travel, Disney, and theme parks.
Read more about Carly