I Tried McDonald's, Burger King, & Wendy's Chicken Nuggets—and The Winner Will Surprise You
These chicken nuggets got high marks for crunch and flavor.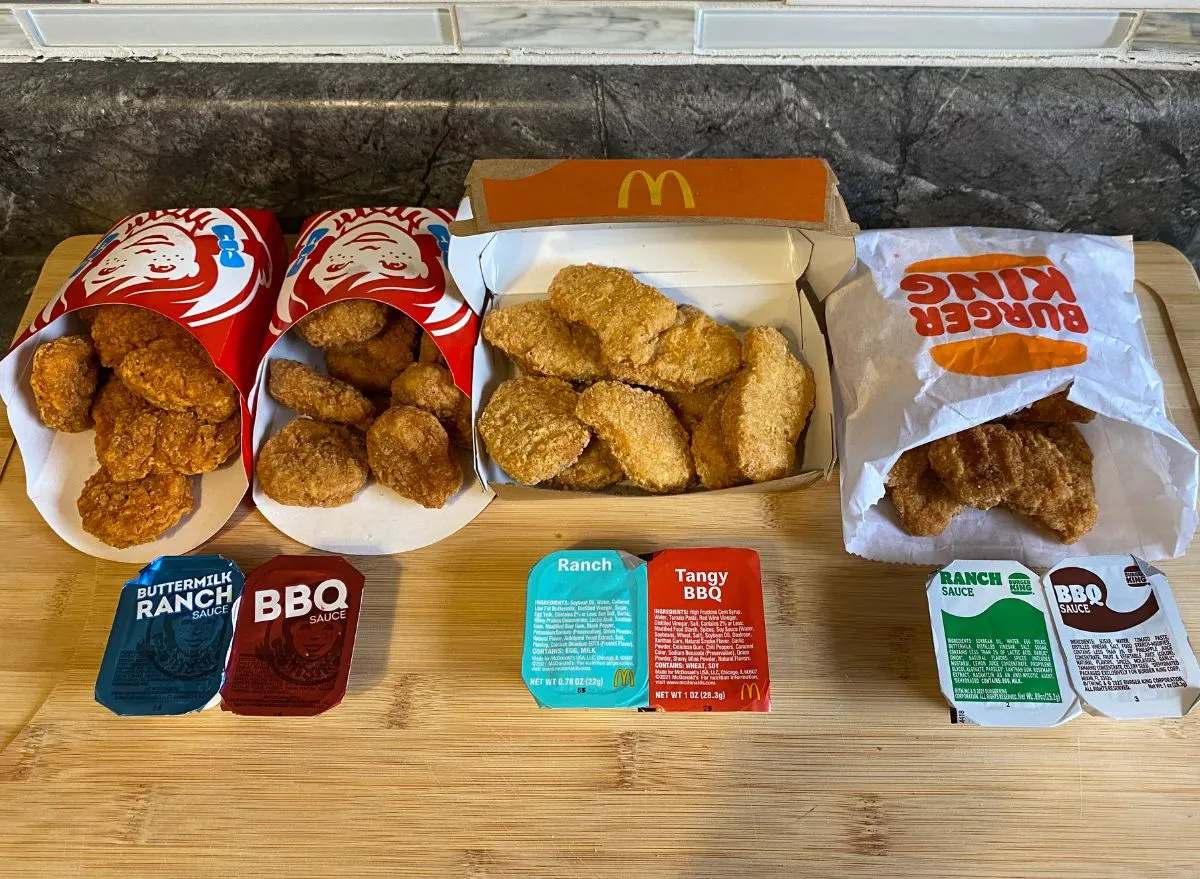 The product recommendations in this post are recommendations by the writer and/or expert(s) interviewed and do not contain affiliate links. Meaning: If you use these links to buy something, we will not earn a commission.
Though many of the biggest fast-food chains built their businesses around slinging burgers, where would they be today without chicken nuggets? These deep-fried, meaty morsels are the perfect option for customers who aren't big on beef, or want something that scratches the fast-food itch without being overly heavy.
As a lifelong nugget lover, I get nuggets over a burger or chicken sandwich nine in 10 times. I'm far from picky when it comes to nuggets, but I also know that not all are created equal. So, I set out to try the chicken nuggets at the three biggest fast-food names in the game: McDonald's, Burger King, and Wendy's.
I've eaten each of their nuggets individually over the years and tend to prefer one over the others, but I've never tried all three at the same time to see how they stack up. I picked up an order of McDonald's and Burger King's classic nuggets, plus both the regular and spicy versions of Wendy's nuggets. I would have loved to expand this test even more with the limited edition spicy nuggets that McDonald's and Burger King have offered in the past, but unfortunately, they're not currently available.
Nuggets are even better when paired with dipping sauces, so I also snagged the ranch and barbecue sauces from each chain to see which one is the condiment king.
Here's what I thought about each option, ranked from my least favorite to best!
Burger King's Chicken Nuggets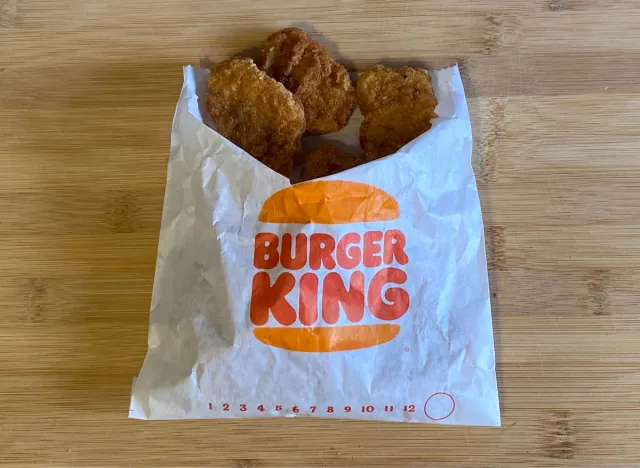 Burger King's bite-sized nuggets are white meat chicken coated in a "crispy homestyle seasoned breading" and fried. I got an eight-piece order for $2.69.
The look: No nugget will look like a Michelin Star-worthy dish, but these were a little sad compared to the rest. They were the thinnest out of all the options, and when I bit into one of the nuggets, I noticed that the actual "chicken" portion was just as thick as the breading. Two of the nuggets in my order were also glued together, leaving an unpleasant layer of undercooked breading between them.
The taste: Burger King's nuggets are somewhat notorious for being less desirable than other fast-food nuggets, and unfortunately, I have to admit I agree. They're not necessarily bad. The breading has a nice peppery and salty quality, and in those (frequent) instances where I'm craving nuggets, I'd have no issue polishing off an eight-piece order of these if they were placed in front of me. 
But if I'm going to expend effort and calories to eat fast food, I would never go out of my way for these nuggets. If I was to rank their crispiness on a scale of 1-5, I'd give them a negative 3. They do get the job done at the end of the day, but they were my least favorite because they just felt low effort for a chain that has some genuinely good fast food items.
Burger King's ranch and barbecue dipping sauces didn't offer much redemption. The barbecue wasn't terrible, but it was too sweet for my taste and the ranch was very bland. My final note is that while Burger King was the best deal financially out of the bunch, my experience in eating them gave me the impression that you get what you pay for. 
Wendy's Crispy Chicken Nuggets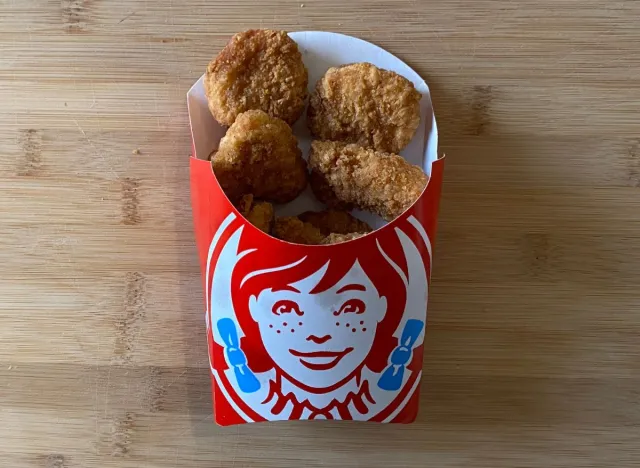 Wendy's regular chicken nuggets are made with white meat chicken that's breaded and fried, plus served with your choice of dipping sauce. A 10-piece order was $3.59.
The look: These were the same width as the Burger King nuggets but noticeably thicker. They also had a touch more of that golden-brown color that makes a chicken nugget all the more tempting.
The taste: Wendy's regular nuggets were a 30% upgrade on the Burger King nuggets in terms of the look, and the same goes for the taste. These had a similar hit of that peppery saltiness I appreciated in Burger King's nuggets, but they won more points for the texture. I would have liked them better if they were crispier, but the breading still had a decent bite. 
All in all, I wouldn't seek out Wendy's nuggets over the first- and second-place options in this ranking, but they're still a really solid choice. These are majorly upgraded when you pair them with Wendy's spectacular dipping sauces. Both the barbecue and the ranch from Wendy's were my favorite out of all the options. The barbecue was pleasantly sweet and a little smokey, while the ranch hit all the right notes with its tangy and herby flavors. These sauces were so good, in fact, that I found myself dipping Burger King's and McDonald's nuggets in them as well. 
McDonald's Chicken McNuggets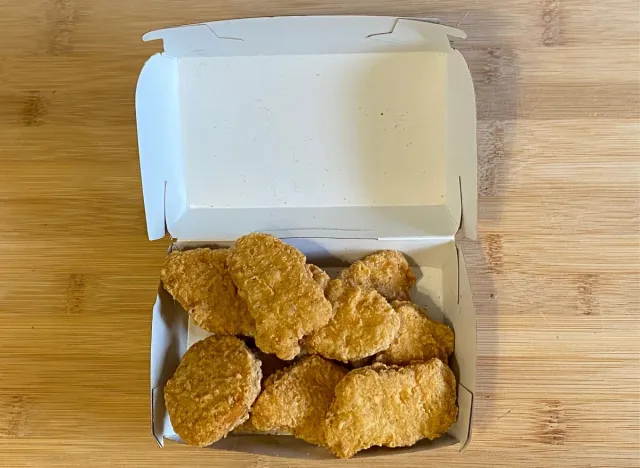 McDonald's Chicken McNuggets are made with white meat chicken that's dipped in a light tempura batter and fried. I got a 10-piece order for $4.99.
The look: These were the most attractive-looking nuggets out of the bunch and hands-down the biggest. While McDonald's nuggets look incredibly manufactured, I appreciate the devotion to consistency and the nostalgia in the recognizable bell, boot, and ball shapes. The battered outside was speckled light golden brown with tiny air bubbles and crispy bits.
The taste:  I bet most fast-food fans would have bet on McDonald's coming in first instead of second in this ranking. The crown very nearly went to the iconic Golden Arches. These nuggets had an audible and satisfying crunch when I bit into them, and even though some nostalgic foods taste a little disappointing when you grow up, these are just as good now as they were when I was in elementary school.
McDonald's truly does it better than all the others except on one front: the seasoning. If these had that hit of peppery seasoning I found in the Burger King and Wendy's nuggets, they would have been close to perfection. At the very least, I would have liked a little more salt.
McDonald's barbecue dipping sauce was a close second behind Wendy's version. It was a little less sweet and perfect for anyone who likes their barbecue sauce more on the tangy side. The ranch, unfortunately, was almost as flavorless as Burger King's. 
Wendy's Spicy Chicken Nuggets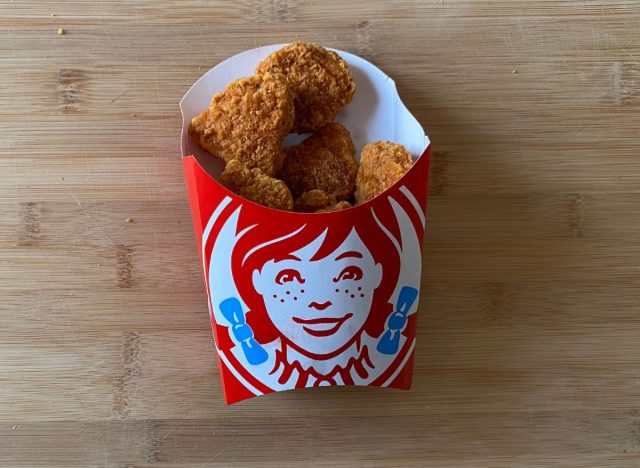 Wendy's Spicy Chicken Nuggets are made with white meat chicken that's breaded and marinated in the chain's "fiery blend" of peppers and spices. Like the regular nuggets, these cost $3.59.
The look: There is a definite visual difference between the spicy and regular nuggets at Wendy's. While the regular nuggets were more golden brown, these had a red hue that was eye-catching but not intimidating. 
The taste: Wendy's spicy nuggets had all the best qualities of the other nuggets, plus more flavor. They were the only option aside from McDonald's with an audible and satisfying crunch, something even the regular Wendy's nuggets didn't offer. 
The flavor of these nuggets was what blew me away the most. They had that elevated level of seasoning I missed in the McDonald's nuggets, plus a nice little hit of heat from the extra peppers and spices. The spice levels weren't overwhelming, but they were strong enough to provide a pleasant tingle.
Between the crunch and taste, these were the undeniable winner of this ranking—and my heart. Wendy's spicy nuggets have been my go-to for years and this experiment only reaffirmed how much I love them. You don't really need a dipping sauce for these, but you'll regret passing up on the chain's top-notch barbecue and ranch.
Zoe Strozewski
Zoe Strozewski is a News Writer for Eat This, Not That! A Chicago native who now lives in New Jersey, she graduated from Kean University in 2020 with a bachelor's degree in journalism.
Read more about Zoe