17 Best Fast-Food Cheeseburgers In America
Here are the absolute best spots for this classic combo.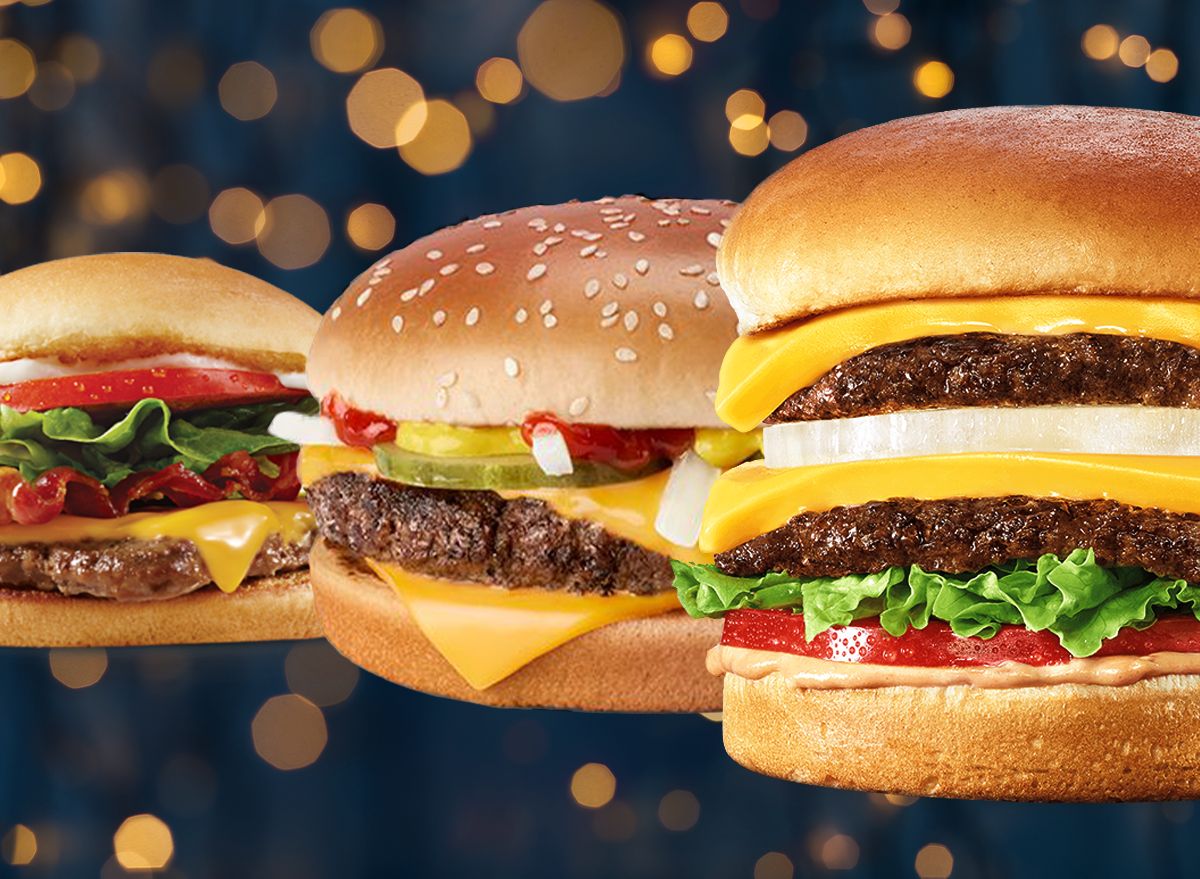 Is there a more classic American meal than a cheeseburger—ideally with a soda and french fries? Whether you like to grab cheeseburgers from a fast food chain, casual restaurant, or high-end steakhouse, the fact is that Americans eat a lot of cheeseburgers, and there are many different spots to grab one. 
According to a recent poll, the average American eats about five burgers per month, which works out to about 60 burgers per year. Plus, while some respondents would be open to trying something new, over half were driven by nostalgia when choosing the perfect burger. In fact, 1/3 said that the perfect burger reminded them of family and friends, a stat that has fueled several of the iconic fast-food chains we feature in this list of the best cheeseburgers in America.
The first hamburger made its debut in the United States in 1904 at the St. Louis Louisiana Purchase Exposition. The first recorded cheeseburger came a few years later, in 1934 when Charles Kaelin in St. Louis supposedly added cheese to bring extra flavor to his hamburger offering. Louis Ballast of Humpty Dumpty Drive-In in Denver is the one who trademarked the name "cheeseburger" in 1935.  It's been a national love affair ever since, and with so many great places to get cheeseburgers all over the country, it's hard to know which is worth your time and money.
When looking for a great cheeseburger, "Look for burgers made with fresh, high-quality ingredients," says Kyle Jones, head chef at Craft Wood Fired Catering. "The menu should also specify the type of bun used (e.g. brioche or potato) and if it is toasted or not—these details can make a big difference in the flavor and texture of the burger,"  While all of that might not be on the menu at every fast food restaurant, these are all good starting points.
We looked at the most award-winning, best-selling, and best-loved fast-food cheeseburgers in the U.S. and came up with this definitive list. 
McDonald's Quarter Pounder with Cheese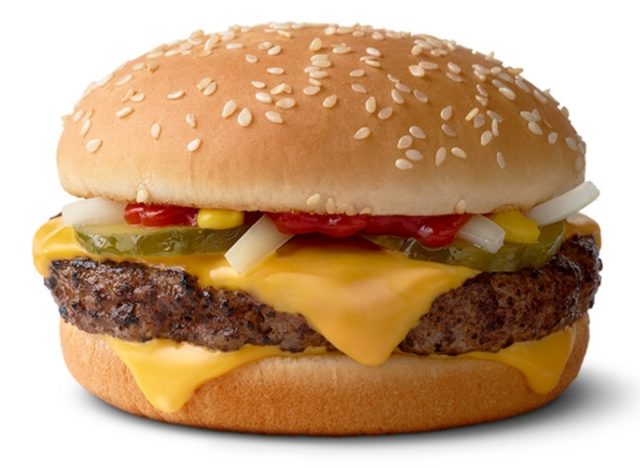 Probably the most iconic burger on our list, our top pick, the Quarter Pounder with Cheese has been a staple at the burger restaurant since its introduction in 1971. For context, McDonald's sells "more than 75 hamburgers per second, of every minute, of every hour, of every day of the year." In 2019, the chain switched to fresh beef for the Quarter Pounder, raising sales by 30%. 
The QPC has passed taste test after taste test, and we've named it the best burger at the chain, with a fresh, juicy patty and toppings—melty cheese, pickles, white onions, and a smear of ketchup and mustard—that work together to create a perfect blend of flavor and texture. You can get it as a deluxe, with bacon, or doubled, but in each version, the quality beef shines through. It costs a little more than McDonald's other burgers, but it's worth every penny.
In-N-Out Cheeseburger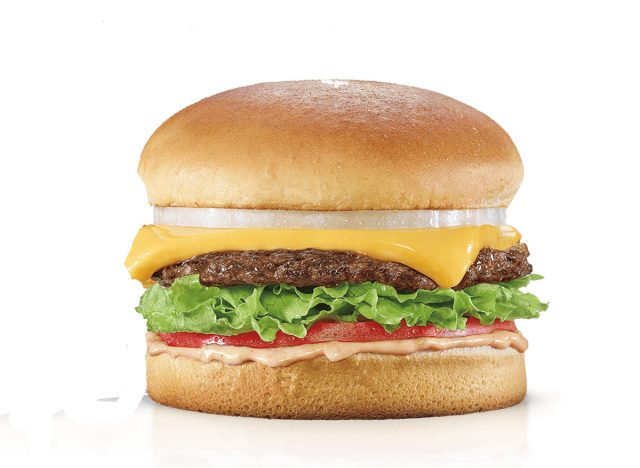 This West Coast classic is loved by chefs, celebrities, and millions of hungry people. If you haven't tried In-N-Out's cheeseburgers, you've probably seen photos of just about every hungry celeb chowing down on one after a stressful awards show. It's no surprise that this cheeseburger is beloved, as the never-frozen patty sits on a freshly baked, sponge dough bun and is topped with real American cheese, fresh or grilled onions, lettuce, tomatoes, and of course, the chains special spread sauce that hasn't changed since 1948. 
Burger King Whopper with Cheese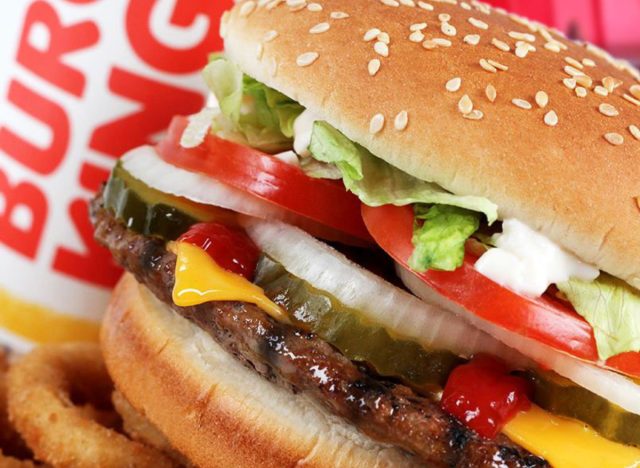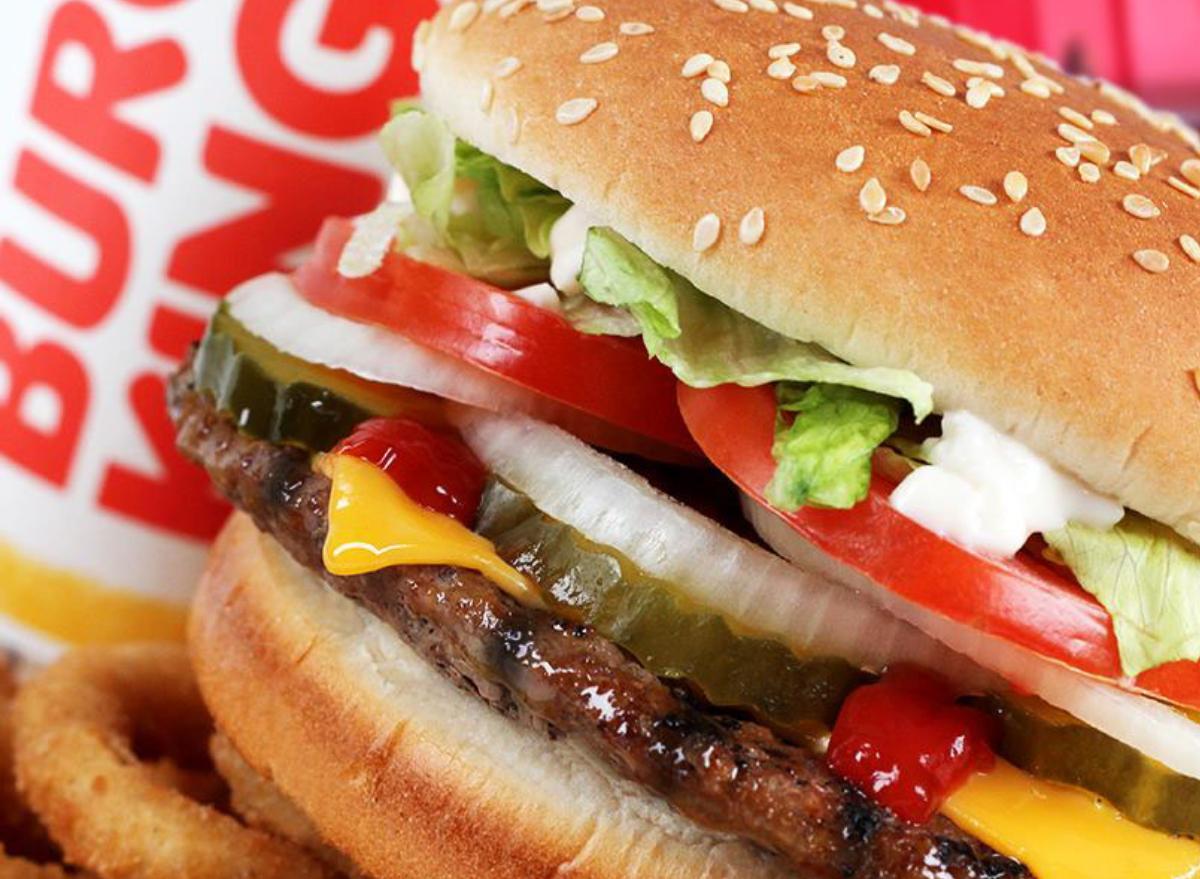 Created in 1957, this iconic classic is a mighty feast of a sandwich, and we picked this as one of our top burgers to get from the King. The burger features a 1/4-pound patty topped with American cheese, fresh onion, tomatoes, pickles, lettuce, and mayo. For this sandwich, it's all about the toppings. The zestiness of the raw onions somehow brings out the beef flavors perfectly, which is probably why the chain sells 1.3 billion Whoppers a year. 
Shake Shack Shackburger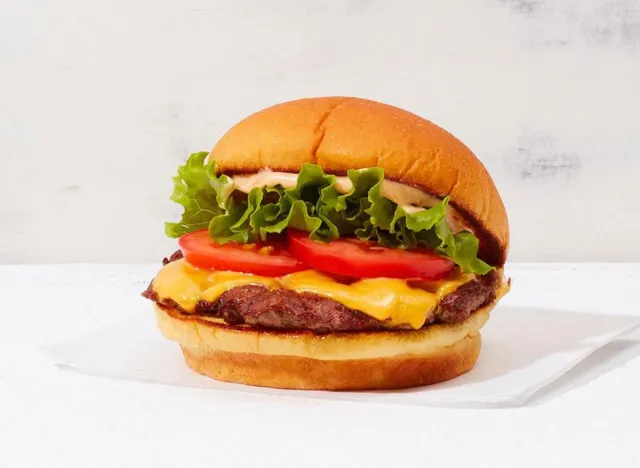 We've rated this cheeseburger from the beloved East Coast chain highly, and it tops many other taste tests that call this cheeseburger the chain's crown jewel. For this near-perfect cheeseburger, a single 100% all-Angus beef patty is served on a toasted bun topped with cheese, lettuce, tomato, and ShackSauce. It's one of the reasons people line up for this fast-growing chain. If there isn't a location near you, just wait, Shake Shack has big plans to open 70 new locations this year, all with a drive-thru.
Five Guys Cheeseburger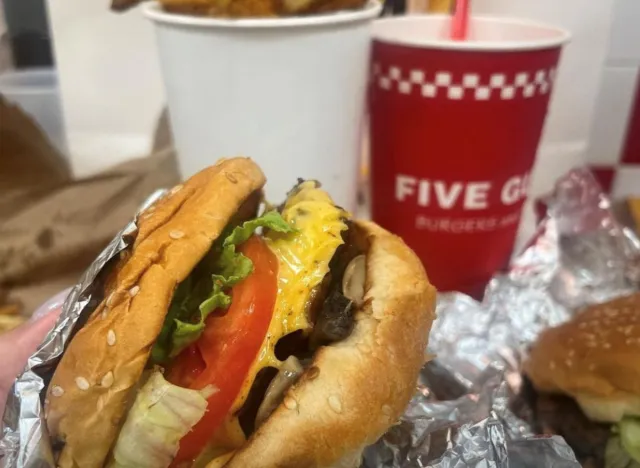 Five Guys' claim to fame is a simple menu where the burger is the star. A chef favorite, we love this simple pleasure of American-style cheese melted between fresh patties and placed on a soft, toasted sesame seed bun. But with Five Guys, it's all about the customization. With free toppings, you can basically build whatever burger you want—add grilled mushrooms, jalapenos, hot sauce, grilled onions, and more to make the cheeseburger flavor combo of your dreams. 6254a4d1642c605c54bf1cab17d50f1e
Wendy's Junior Bacon Cheeseburger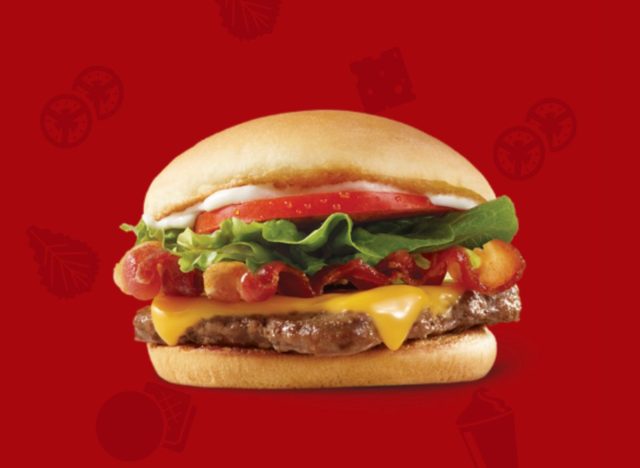 Wendy's has a lot of burgers to choose from, but this small version has everything the chain is famous for in a little package. James Beard nominated Chef Douglass Williams told us he's a fan of this juicy bacon-topped burger, and we're also longtime fans of this readily available classic. The Junior size is the perfect balance of beef, bacon, and cheese, and is perfect in its simplicity. Plus, at $3.90, this little cheeseburger hits all the right notes without leaving you stuffed. 
Whataburger Bacon and Cheese
If you've been to Texas and you haven't tried Whataburger, you're missing out on a longhorn classic. Chef Tim Love told Esquire he loves Whataburger, saying, "It's like a fresh, clean, Texas version of McDonald's."  The tasty sandwich consists of the chain's signature five-inch beef patty, a slice of American cheese, three slices of bacon, tomato, pickles, lettuce, diced onions, and tangy mustard. If you haven't heard of this chain, there are over 700 across the country, with the majority of them in Texas, but also spread across the South and Southwest. 
Smashburger Classic
Smashburger fans know, the reason these cheeseburgers are so good comes down to the flavorful and vinegary Smash Sauce. The USDA Angus beef is super crisp from being smashed out, the gooey cheese balances that crispness and the buns are always super soft. Chef Andrew Zimmern is enough of a fan he sang the cheeseburger praises on his blog.
Born in 2007, Smashburger is still young in the burger world, but the chain is opening nearly 20 locations a year to add to its 200 current spots. Keep an eye out for one coming to a spot near you to try the iconic caramelized burgers.
Tasty Burger Cheeseburger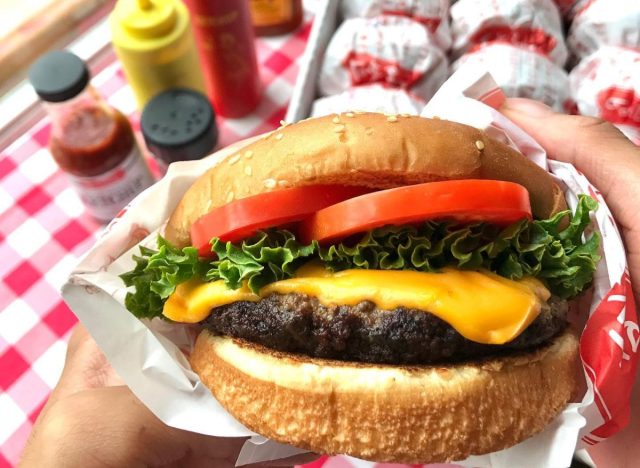 This local New England fave gets great reviews from local food sites and  Chef Michael Serpa of Atlántico, Select Oyster Bar, and Little Whale in Boston, who says, "The patties are super flavorful without being too greasy and their ingredients always taste fresh." The chain says they serve the finest American beef that's grass-fed and finished on a 100% grass and grain diet, and the buns are fresh made locally in an old Sunbeam bread factory. 
Culver's Butter Burger with Cheese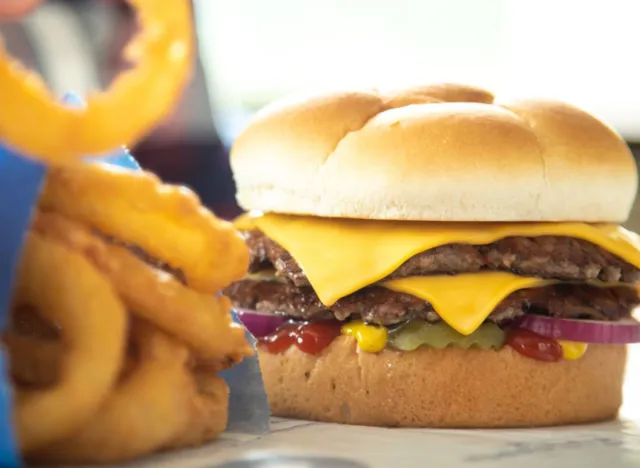 We adore this Midwest classic, which has also been named best cheeseburger by several outlets, and what makes it so special is the always fresh, never frozen beef and the buns, which are coated in butter—hence the name—and toasted. Every cheeseburger is custom and made-to-order, meaning they're cooked fresh when you walk through the door. While we love the Butter Burger with Cheese, it's even better paired with Culver's famous fried cheese curds. You can find the restaurant primarily in the Midwest, but its expanding to over 800 locations in the South and Southwest. 
Fatburger Cheeseburger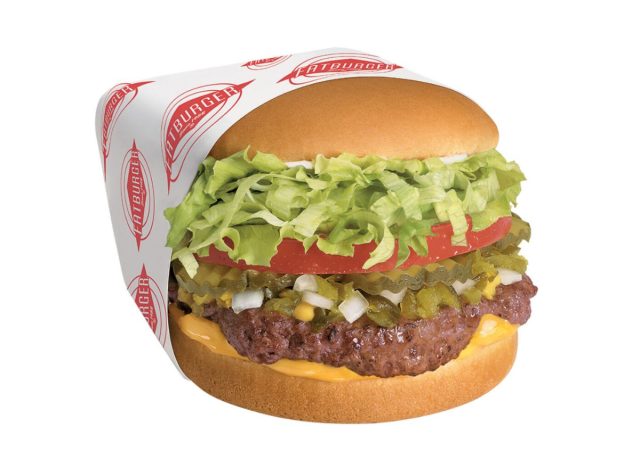 Fatburger doesn't kid around with its giant, made-to-order cheeseburgers. First, pick a patty size—they go all the way up to XXXL King Burger size—then order with "The Works" for the "full Fat" experience (lettuce, tomato, onion, mayo, mustard, pickles, relish), or customize with fresh toppings and add-ons.
This chain is smaller, with around 100 locations but it has some celebrity interest. In 2001, Magic Johnson's company bought a controlling interest in Fatburger's parent company (though he sold it two years later). Queen Latifah and Pharrell Williams reportedly own franchises as well. 
Jake's Burgers Cheddar Steer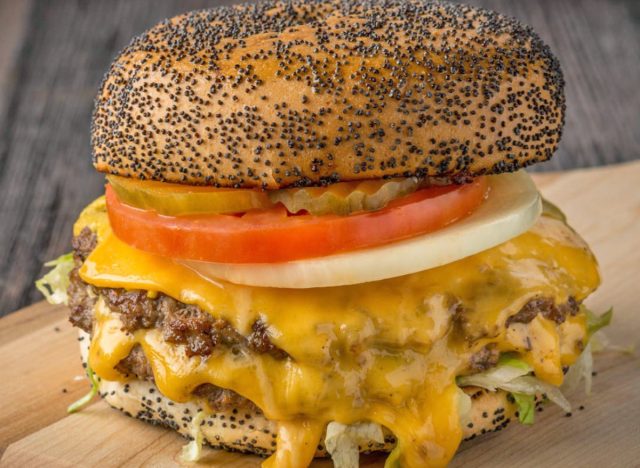 This regional chain's burger topped with shredded cheddar and onions is a classic that is absolutely not to be missed. Its known for 100% Texas beef and fresh, house-baked poppy-seed buns. Bonus, Jake's sells beer, so you can have the perfect combo—beer and a cheeseburger—after a long day. The small, but delicious chain has several locations in Texas.
BurgerFi Cheeseburger
All of BurgerFi's offerings are made with 100% natural Angus beef free of steroids, antibiotics, and growth hormones, and the flavor is a step up from most fast food. That's why their cheeseburger made this list, it's all about that natural beef flavor along with classic toppings like American cheese, lettuce, tomato, and BurgerFi's own special sauce. 
Looks to the East Coast to find one of the 100 locations of this special burger chain, and check out the countdown clock if one is slated to open near you. Florida and Connecticut, you're next!
Freddy's Frozen Custard and Steakburgers California Style Double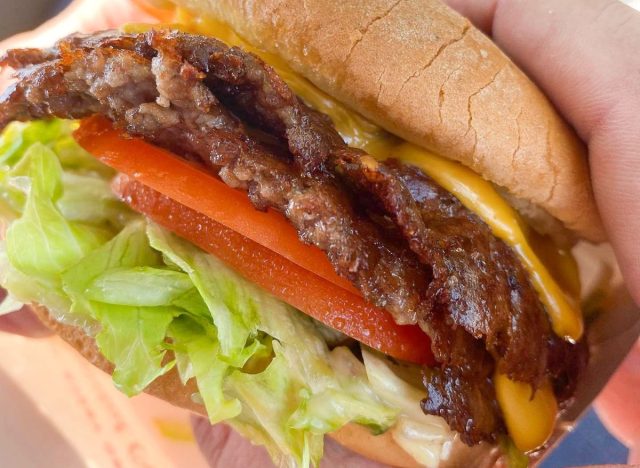 This Kansas-based chain is growing fast out west, and it's got an In 'N' Out dupe (if "California Style" in the name wasn't clear) that's making waves. The hearty sandwich includes two smashed steakburger patties, cheese, a full slice of onion, Thousand Island, lettuce, and tomato on a toasted bun. And, much like that famous California chain, you can get it Animal Style, wrapped in lettuce.  With more than 400 locations, you can find Freddy's primarily in Texas and the Southwest though it growing fast and has several locations on the East Coast.
Steak 'n Shake Single Steakburger with Cheese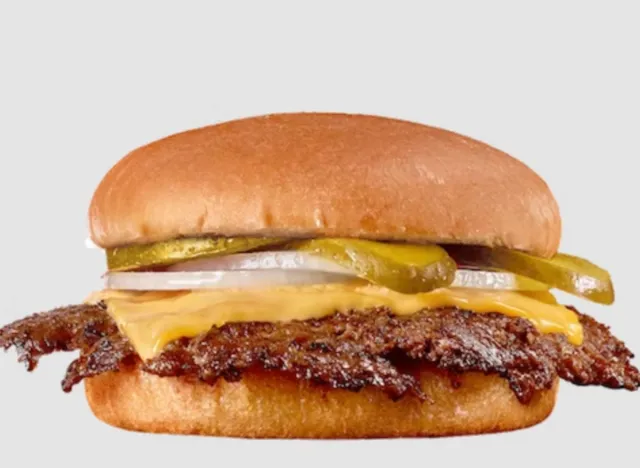 If smashed cheeseburgers are your thing, head straight to Steak 'n Shake for this never frozen ground beef burger that's smashed and topped with cheese that melts into every cranny. Add pickles, onions, and whatever other toppings your heart desires and you've got an excellent cheeseburger.
Started in 1934, this chain has been serving steakburgers and shakes for over 85 years. The chain, however, has seen its share of trouble after narrowly avoiding bankruptcy in 2021 and closing numerous locations over the past few years. 
Fuddruckers 1/3-Pound Burger with Cheese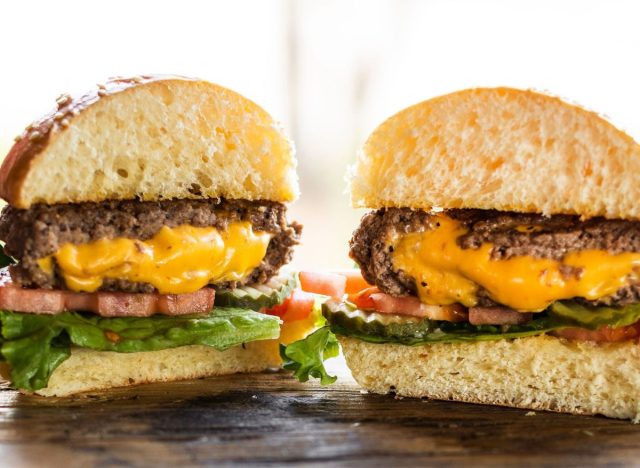 Fuddruckers claims its burgers are the "world's greatest" and this one is definitely a contender. You'll love the fresh, 100% USDA premium beef that's never frozen and served on a fresh-baked bun. The customization bar allows you to have your cheeseburger exactly the way you want it. At ⅓ of a pound, this burger will fuel you for the day, though if you're beyond hungry, the burgers go up to one pound!  Fuddruckers' first spot opened in 1980 and the chain now has locations in 18 states spread across the country. with the greatest concentration in Texas. 
Rally's/Checkers Double Fry Lovers Burger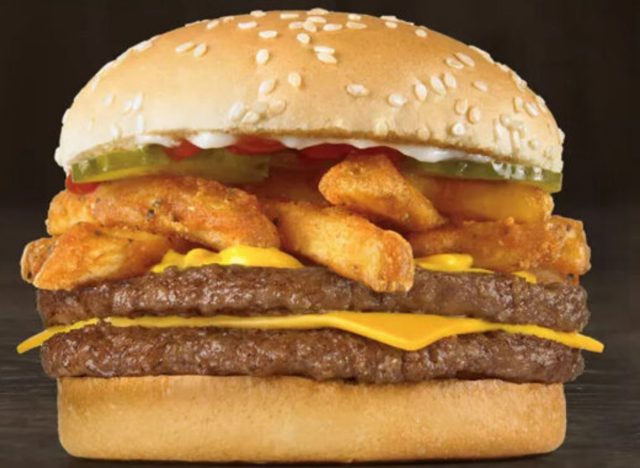 Whether you live in Rally's or Checkers country, this is what you need to order when you hit this chain. The Double Fry Lovers Burger is a cheeseburger with seasoned fries piled on top.  Wondering what the difference between the restaurants is? There isn't one. Checkers acquired Rally's in 1999, and in places Rally's was popular, the branding was kept. Checkers and Rally's have the same menu items and serve the same food.
Tanya Edwards
Tanya Edwards is a seasoned food and health journalist, who has held roles at Yahoo Health as Managing Editor and at Food Network as Programming Director.
Read more about Tanya