40 Best Foodie Gifts This Year
Not sure what to get your favorite home chef? These gifts are a great place to start!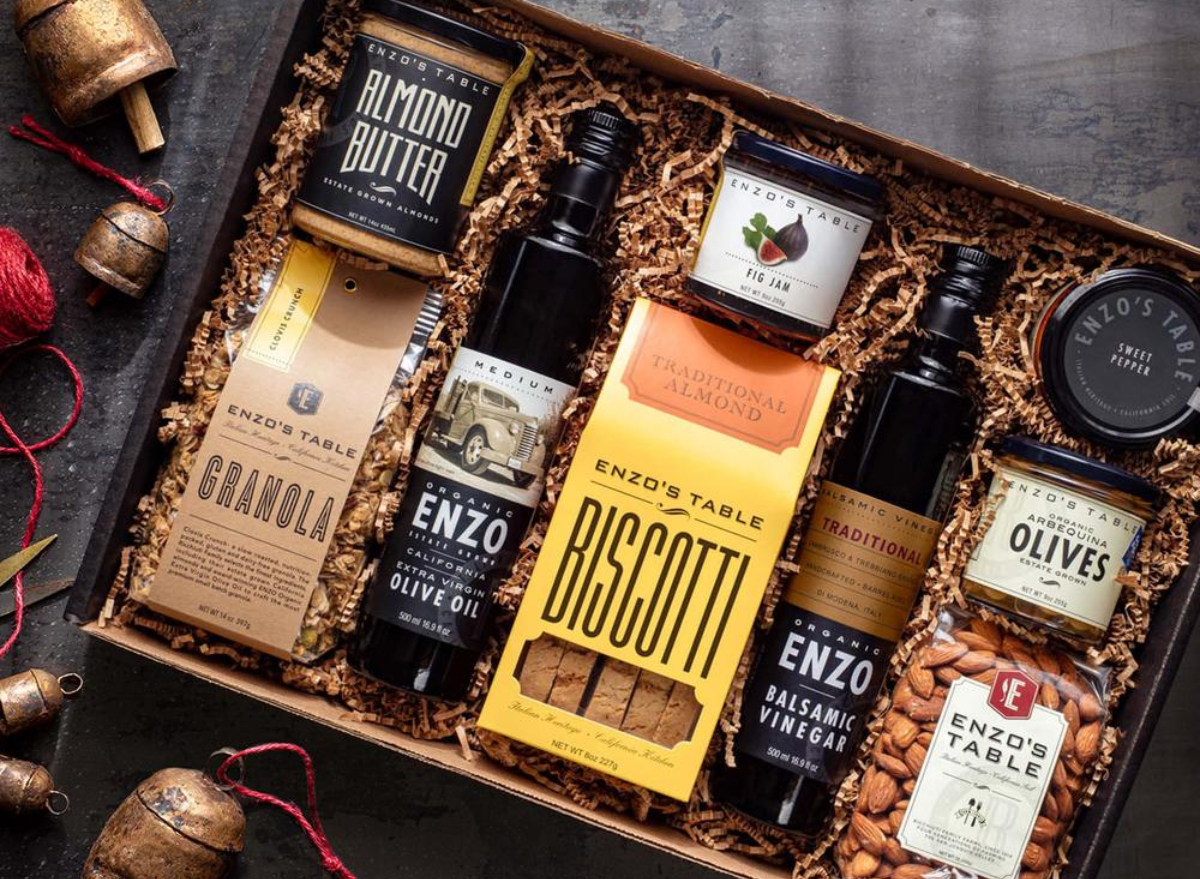 This post contains affiliate links. If you use these links to buy something, we may earn a commission.
Whether you're looking for a gift to buy your favorite home chef or a delicious treat for your friends and family to indulge in this holiday season, we put together an extensive list of the best foodie gifts you can give this year. We rounded up some of our favorite products that we think your loved ones are going to adore during the holidays.
Read below for the best foodie gifts inspiration, and for more tips, be sure to check out our list of 100 Easiest Recipes You Can Make.
Get a taste of the famous Rao's right at home with this sampler kit! Comes with two types of pasta and three of their famous sauces—Marinara, Tomato Basil, and Arrabbiata.
TAZO Tea Adventures Variety Pack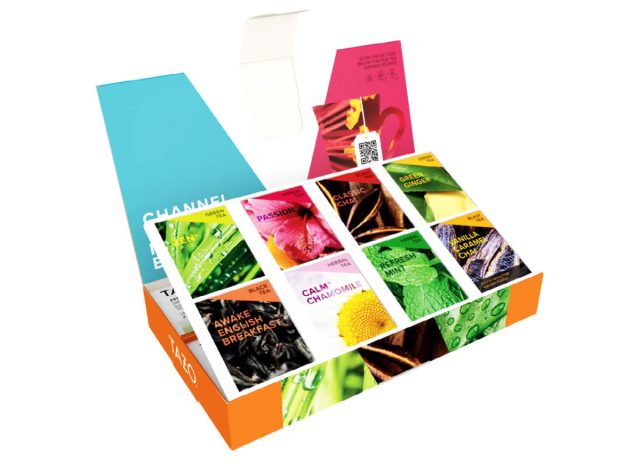 For the tea lover, let them explore the different flavors of TAZO tea with this sampler kit. It features AZO Zen, Passion, Classic Chai, Green Ginger, Awake English Breakfast, Calm Chamomile, Refresh Mint and Vanilla Caramel Chai tea.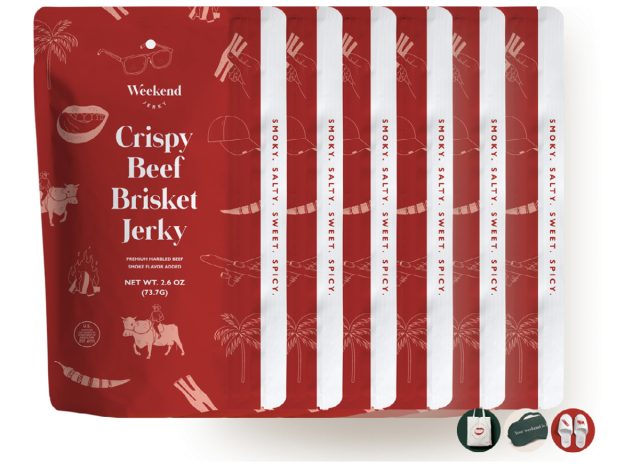 Whether it's your favorite hiking snack or simply something quick to grab on the go, Weekend Jerky is a great gift for anyone who loves a quality cut of meat. The jerky has flavor notes of sweet, salty, spicy, and umami. You can buy a pack of 6 or 12 and get a free tote bag, slippers, and an eye mask.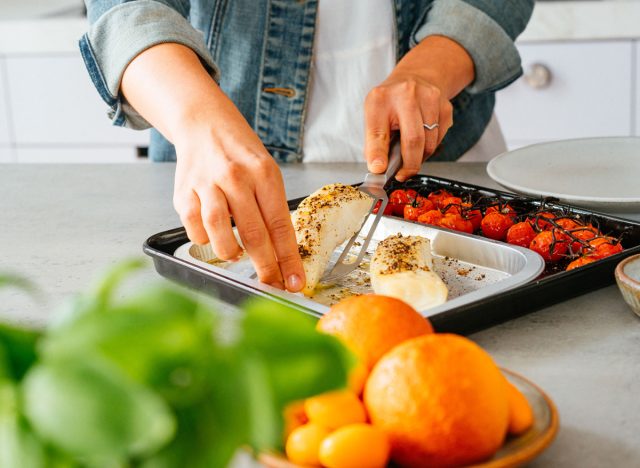 Does your friend always belly ache about how much they miss good, fresh fish? Gift them a petite box from PureFish. You can choose up to four trays from a variety of fresh fish options like Ahi Tuna, Charr, Salmon, Caribbean Cobia, Mahi Mahi, Santa Barbra Black Cod, Saltwater Striped Bass, Ocean Trout, and Wild Jumbo Mexican Shrimp.
California Olive Ranch 2021 Olio Nuovo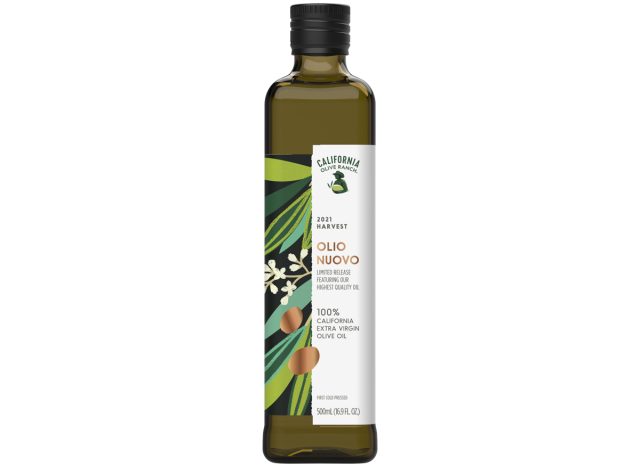 This limited-release olive oil from California Olive Ranch features the first pressings of the 2021 harvest season, and really showcases the unique flavors of this past year's harvest. It's the perfect gift to gift the olive oil lover in your life who will appreciate its nuances.
Daily Harvest Custom Gift Box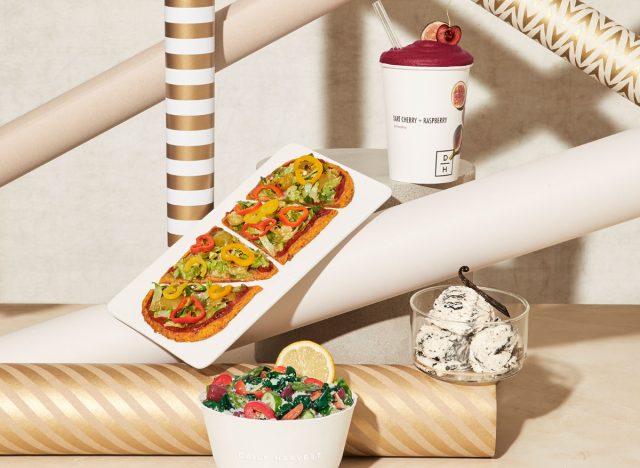 For those people in your life that complain how they "never have time" to cook, this is for them! The Daily Harvest Custom Gift Box allows you to pick nine different items from their variety of options including smoothies, flatbreads, bowls, and even ice cream.
Chandon + Food52 'A Taste of the Bay'
The perfect sparkling kit to pair with some local oysters (or a fresh shipment!) This kit comes with a bottle of Chandon By The Bay Reserve Blanc de Blancs, Wild Elderberry and Huckleberry vinegars, and a Fuego Box Set for the perfect oyster toppings!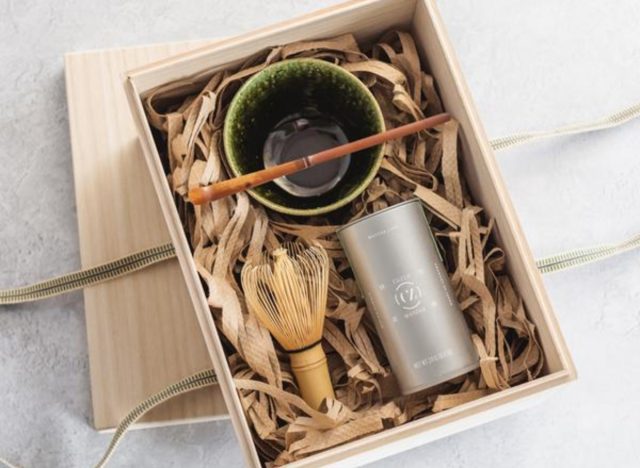 For the matcha tea lover, this set is a dream. This ceremonial set comes with organic single-origin whole tencha leaf,  a ceramic matcha bowl, a chashaku (spoon), a chashen (whisk), all in a kiri bako (reusable box, paulownia wood).
Carbone Fine Food Pasta Sauces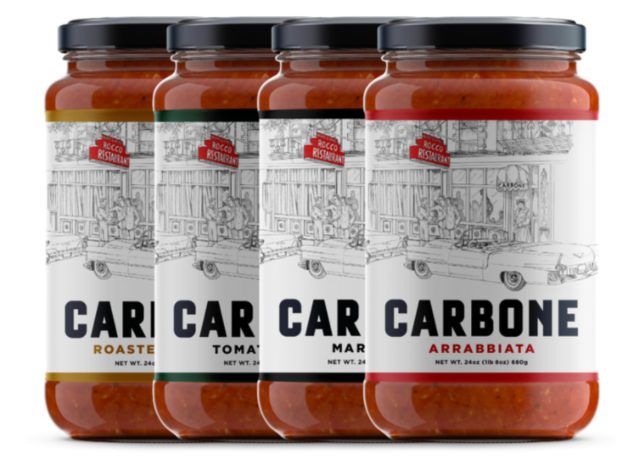 Enjoy the delicious flavors of Carbone, a sauce inspired by the Italian-American cuisine of New York. This set comes with four jars including Roasted Garlic, Tomato Basil, Marinara, and Arrabbiata.
Carandini Authentic Balsamic Vinegar of Modena
This premier balsamic vinegar creates the perfect balance of sweet and sour and makes for an excellent ingredient to pair with your sweet or savory dishes.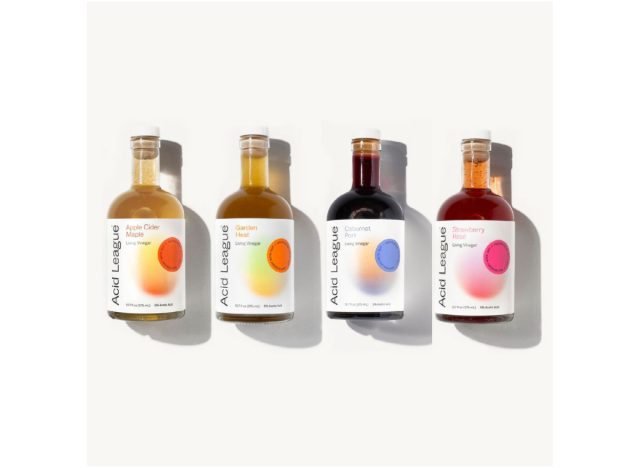 Give your pantry a makeover! This vengar set features four of Acid Leagues bestselling Living Vinegars including Apple Cider Maple, Meyer Lemon Honey, Garden Heat, and Strawberry Rosé.
Italic's Kolossos Life Grecian Olive Oil + Vinegar Box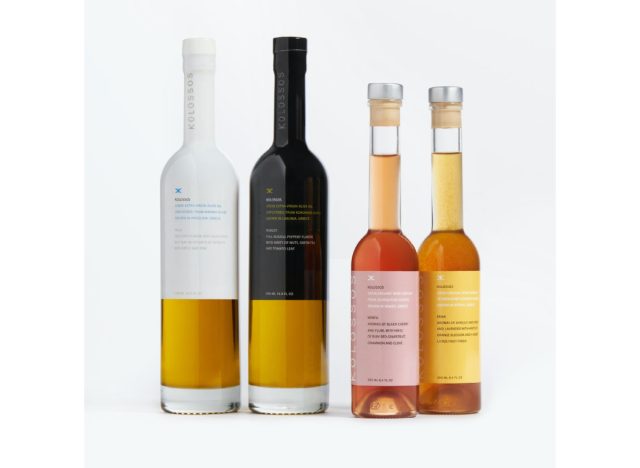 For a mix of oil and vinegar—the perfect pair for making an exquisite salad dressing—Kolossos offers a set of olive oil and vinegar your foodie friends will love. It includes Kolossos Mild Olive Oil, Kolossos Robust Olive Oil, Erika White Balsamic Style Vinegar, and Nemea Red Wine Vinegar.
Jasper Hill Farm Deluxe Cheese Box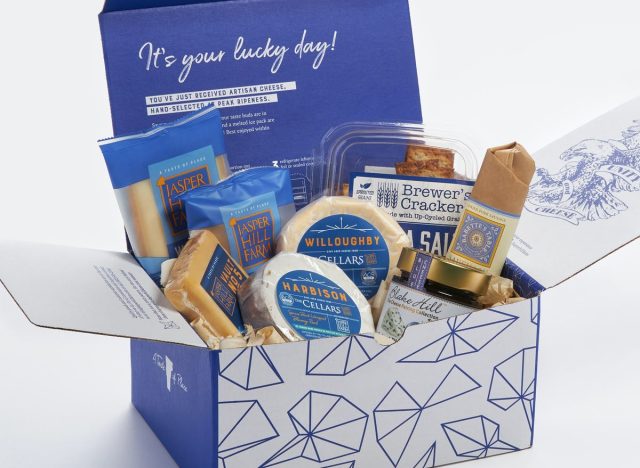 Gift five delicious kinds of cheese to your favorite cheesy friend, including the award-winning Cabot Clothbound pasteurized cheddar, the Whitney raw raclette style, Vault No. 5 pasteurized alpine-cheddar,  award-winning Willoughby pasteurized washed rind, and the award-winning Harbison pasteurized brie. This box also comes with all the fixings for the perfect cheese board like Blake Hill Spiced Plum Jam, Brewer's Sea Salt Flatbread Crackers, and Babette's Table Saucisson Sec.
With three different flavor profiles, gift this unique spice blend set for any foodie in your life that loves to experiment with different types of seasonings. ALL DAY works well for all kinds of dishes including soups, sauces, dressings, proteins, veggies, salads, grains, and much more.
Kosterina The Dipping Duo Gift Set
Another divine olive oil and balsamic vinegar set, Kosterina's dipping set is exactly what you would want it to be—the perfect oil and vinegar for dipping crusty, artisanal bread.
The Very Good Butchers Holiday Box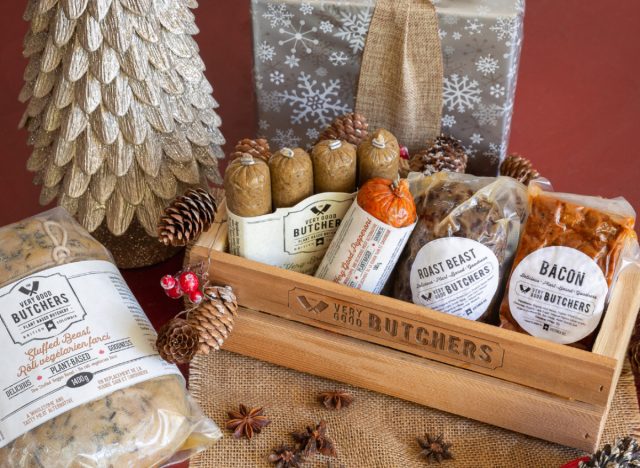 For the person who prides themselves on always cooking the best cuts of meat, this butcher box from The Very Good Butchers comes with their best-selling Stuffed Beast, a mustard-maple glazed Roast Beast, Very British Bangers, one pack of bacon (perfect for Brussels sprouts), and some pepperoni perfect for snacking.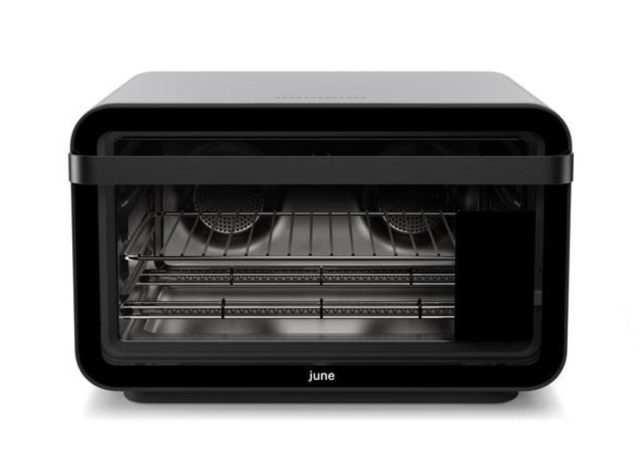 Your kitchen just got a whole lot smarter. This 12-in-1 kitchen appliance is meant to cook all kinds of foods—from roasting a chicken to making pizza and even perfectly cooking a hard-boiled egg. Their high-performance camera on the inside is able to identify hundreds of foods automatically and helps to perfectly cook practically any type of food you desire. With a touch screen interface on the front and a smartphone app to match, this oven is the perfect gift for any foodie who's looking for an appliance that just does it all.
Elements Truffles – Calypso Gift Box
Calling all choco-holics! This box is perfect for any chocolate lovers who love indulging in signature truffles, packets of dark hot chocolate, chocolate bars, and more. Elements Truffles creates products inspired by Ayurveda and ensures their products are clean, use minimal ingredients, and are sustainable.
Le Creuset Harry Potter Collection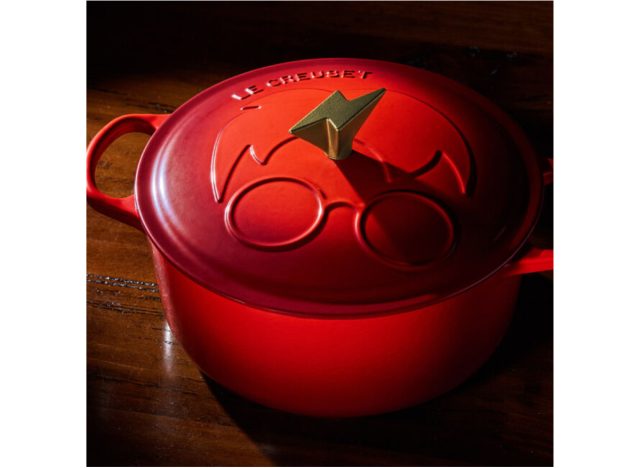 Magic is upon us with this spectacular Le Cruset Harry Potter collection. Rep your favorite Hogwarts house or choose your favorite types of decor—like wand-shaped spatulas and Deathly Hallows spoon rests. This set is perfect for anyone who equally loves the magic of cooking and the magic from the boy who lived.
TABASCO® PERSONALIZED GALLONS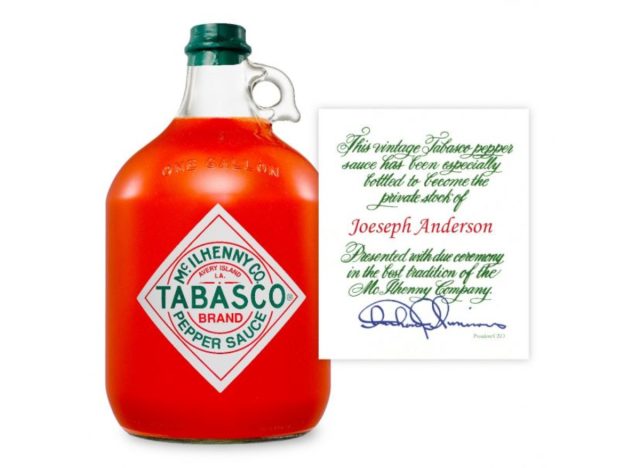 Hot sauce loves are going to freak at this gallon-sized Tomasco sauce—personally branded for whichever friend you choose. Your welcome!
Brightland – Mini Essentials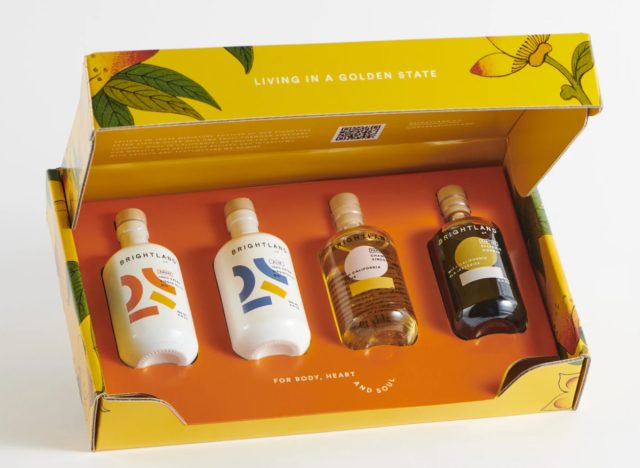 Enjoy petite-sized versions of Brightland's popular oils and vinegars including AWAKE, ALIVE, RAPTURE, and PARASOL.
Clevr Blends – The Holiday Gift Kit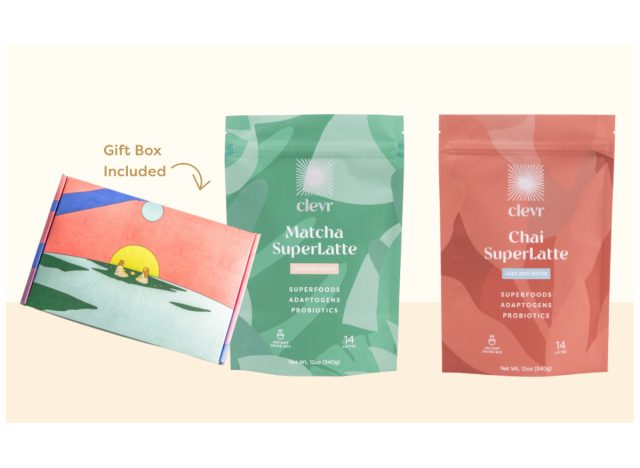 Even Oprah is singing the praises of Clevr Brands! This Holiday Gift Box comes with any two latte flavors you choose (Matcha, Chai, Coffee, Golden, or Rose Cocoa), a hand frother, a scoop for perfect portions, and even flower sprinkles to make a beautiful Instagram-worthy latte at home.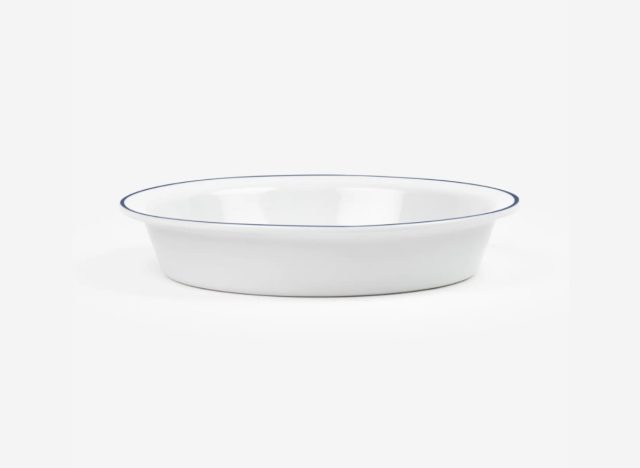 Made In's recent hand-crafted pie dish is ideal for any pie lovers in your life looking for the absolute perfect dish to make perfect pies. Featuring different colored rims, this dish is flat-edged so you can create perfect crimped, latticed, and braided crusts.6254a4d1642c605c54bf1cab17d50f1e
Weber Traveler Portable Gas Grill
Whether it's for a tailgate or simply for someone who wants a grill but can't store a full-sized one, this Weber Traveler Portable Gas Grill makes for the perfect gift. Its compact design makes it easy to pack it up and bring it anywhere.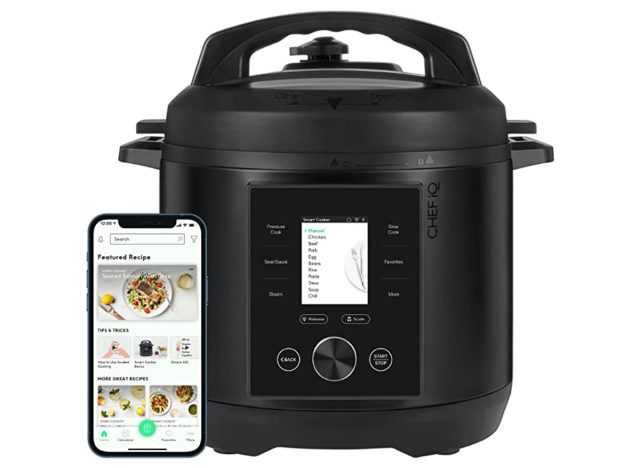 For the nerdy foodie who loves the intermingling of cooking and technology, this CHEF iQ Smart Cooker works with Bluetooth and WiFi technology to create the ideal "smart" cooking experience. This appliance can pressure cook, slow cook, steam, sauté, ferment, and even simply keep your food warm, and can all be controlled with your phone.
Utilize that microwave with Anyday! Meant for flawless microwave cooking, this Starter Set comes with a deep and a shallow dish that will work for pretty much all of your microwaving needs.
Cooking Classes with YesChef.me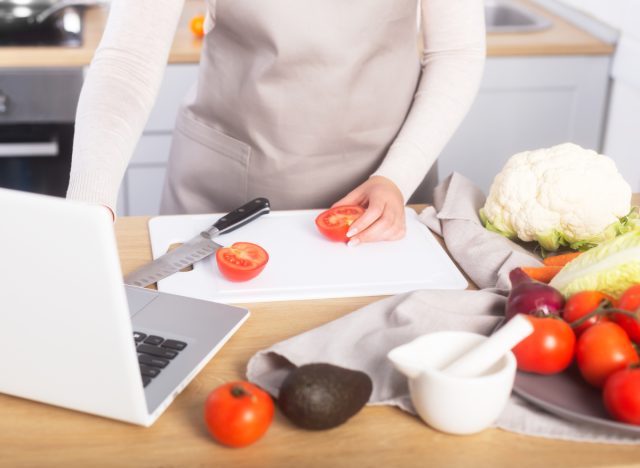 Enjoy premium educational experiences online from the world's greatest chefs. Dive into a hands-on culinary experience, learning techniques and recipes from chefs like Nancy Silverton, Francis Mallmann, Ed Lee, Erez Komarovsky, and many more.
Enzo's Table – il Mercato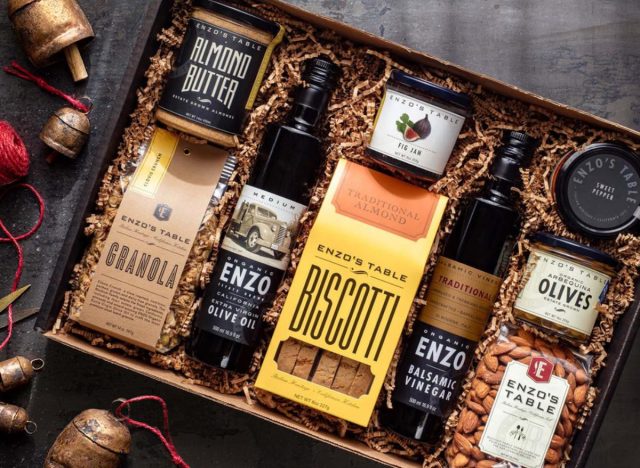 For the foodie that likes a little bit of everything, this gift set has it all. Featuring handcrafted artisan goods from ENZO'S TABLE like Almond Butter, Clovis Crunch Granola, ENZO Organic Medium Extra Olive Oil, Fig Ham, Almdon Biscotti, Balsamic Vinegar, Sweet Pepper Pesto, Arbequina Olives, and Roasted No-Salt Almonds.
Jacobsen Salt Co – The Starter Kit
For the foodie friend who nerds out hard when it comes to salt, this is the perfect gift for them. This set comes with different types of sea salt, infused salt, and a guidebook to teach you everything you need to know about the differences of using them.
Popcornopolis – Case of 6 Mini Popcorn Gift Baskets
These cute mini cones come in different delicious popcorn flavors including Zebra® Popcorn, Kettle Corn, Cheddar Cheese, and classic Caramel Corn. Each order contains six gift baskets, with five mini cones per basket.
Drinkmate Sparkling Water and Soda Maker
Turn any beverage into a sparkling drink with this easy Drinkmate machine! The bundle comes with two CO2 cylinders, two carbonation bottles, and a fizz infuser. You can even order it in different colors including Matte Black, Arctic Blue, Ivory White, and Royal Red.
Bountiful Basket from Weyauwega Star Dairy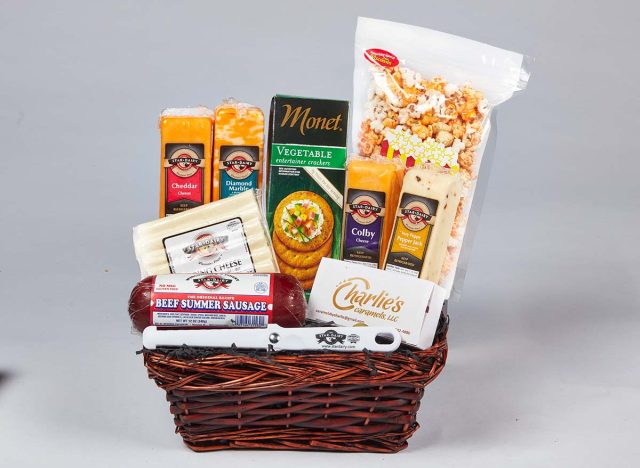 Create the ideal charcuterie board with this Bountiful Basket! Each set comes with Cheddar Cracker Cut, Colby Cracker Cut, Diamond Marble Cracker Cut, Pepperjack Cracker Cut, String Cheese, Summer Sausage, candy, popcorn, crackers, and of course, a cheese slicer!
Viking Acacia Butcher Block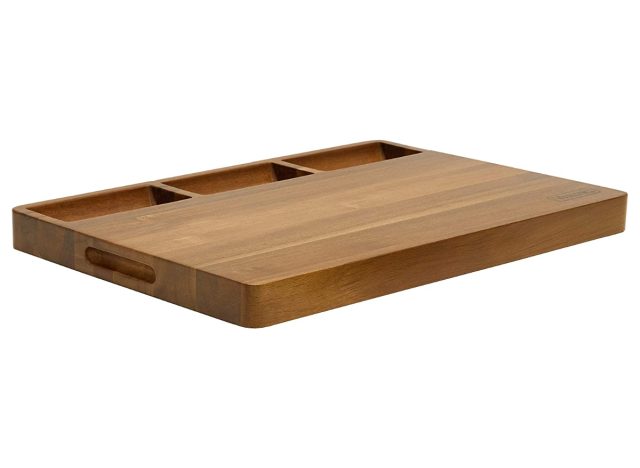 The perfect butcher block that's also ideal for prep! Prep all of your veggies before cooking with this multi-purpose cutting board, built with three compartments and a juice groove so your counter won't get completely messy as you prep.
Olive Lane Prep and Eat Salat Bowl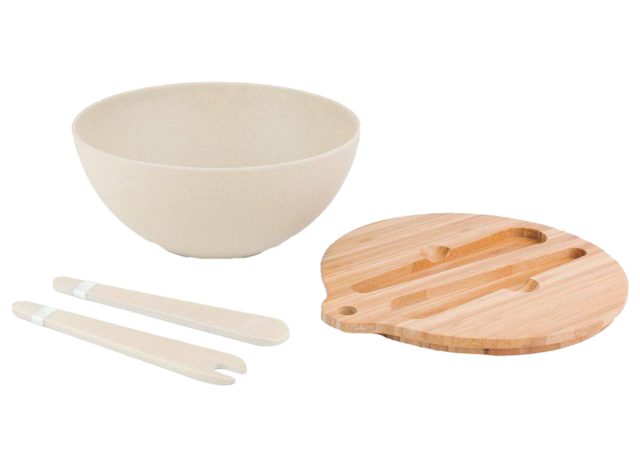 Bringing the perfect salad or side to the next dinner party just got easier! This Salat Bowl makes traveling and serving with your side dish even easier thanks to it's built in prep lid and utensils.
Best of Porter Road House Box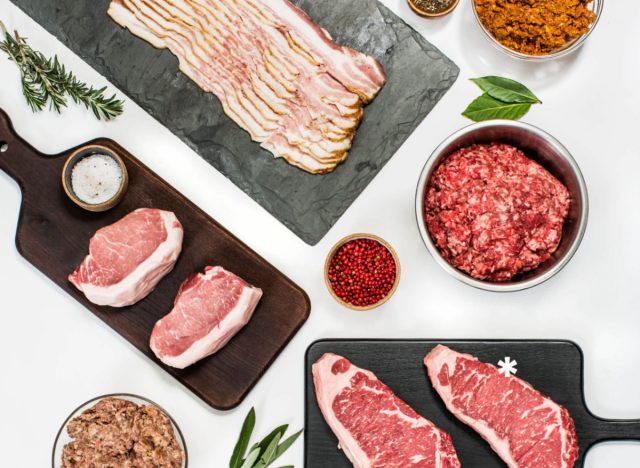 Get ready to say "pinch me," because this Porter Road deal is unreal. For just $100 you get two dry aged steaks, two pork chops, two pounds of dry-aged ground beef, one pound of bacon, one pound of country sausage, and one pound of chorizo.
kyoord Early Harvest High-Phenolic Olive Oil "The Entertainer" Box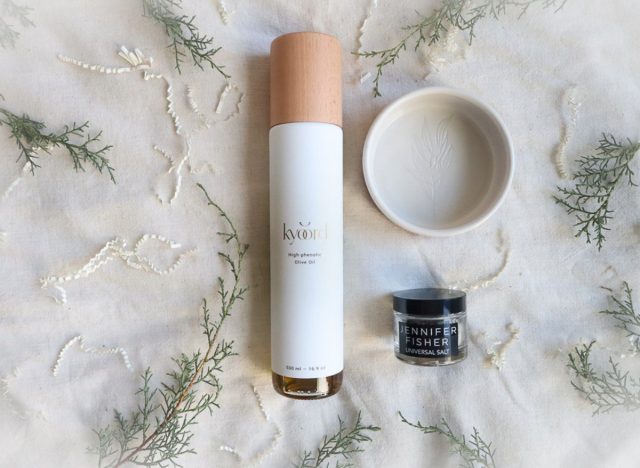 This Greek EVOO was founded by a female molecular biologist who, after working on cancer research looking at polyphenols and their role in fighting cancer, decided to start her own high-quality olive oil company. This bundle pairs kyoord's high-pheolic olive oil with an olive oil dipping dish and an herbal salt blend!
Haven's Kitchen Get Saucy Bundle (Sauce Variety Pack + Cookbook)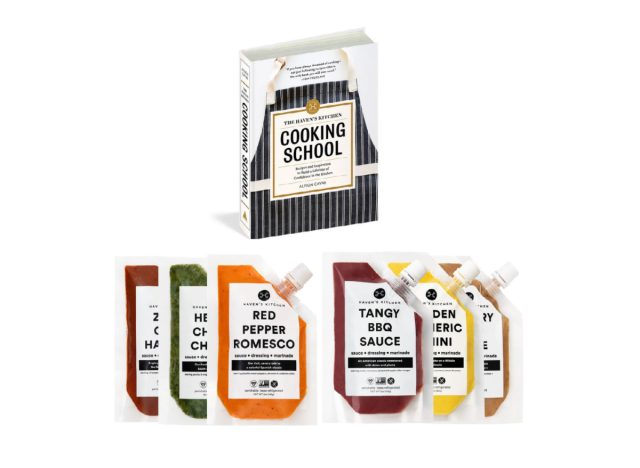 Not only does Haven's Kitchen sell the most delectable sauces, but this gift set comes with a cookbook that shows you numerous ways to use your sauces in the kitchen! From delicious side dishes to delectable mains, cooking at home just got a whole lot easier.
Just Add Veggies Bundle (Cookbook, Dishtowel & Tote)
Already stocked up on sauces? This bundle comes with a cookbook, a dish towel, and a tote from Haven's Kitchen that makes planning and shopping for food each week a complete breeze.
The Beast Blender + Hydration System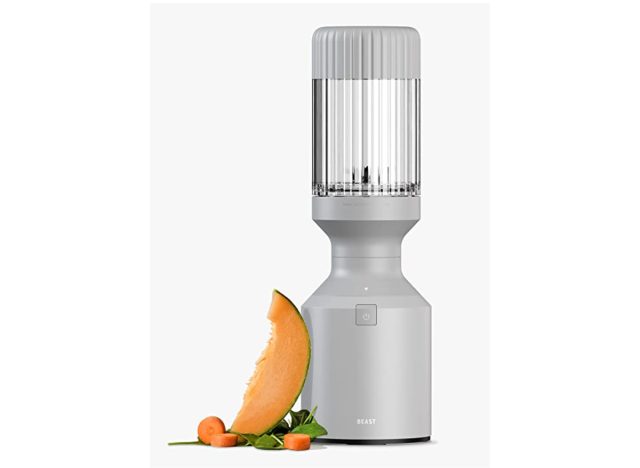 Blend up the perfect smoothie every morning with the Beast Blender—designed to create the smoothest smoothies and shakes you will ever have.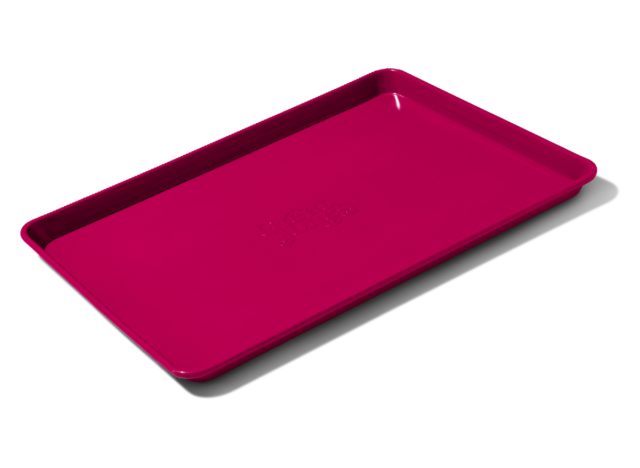 Many customers rave about this half-sized non-stick sheet pan, the perfect appliance to quickly whip up sheet pan dinners or even a side of roasted vegetables. It comes in different eye-popping colors like Raspberry, Broccoli, and Blueberry.
More content from
Groceries