The #1 Best Fruit To Eat, According to a Dietitian
Stock up on this colorful fruit next time you're at the store!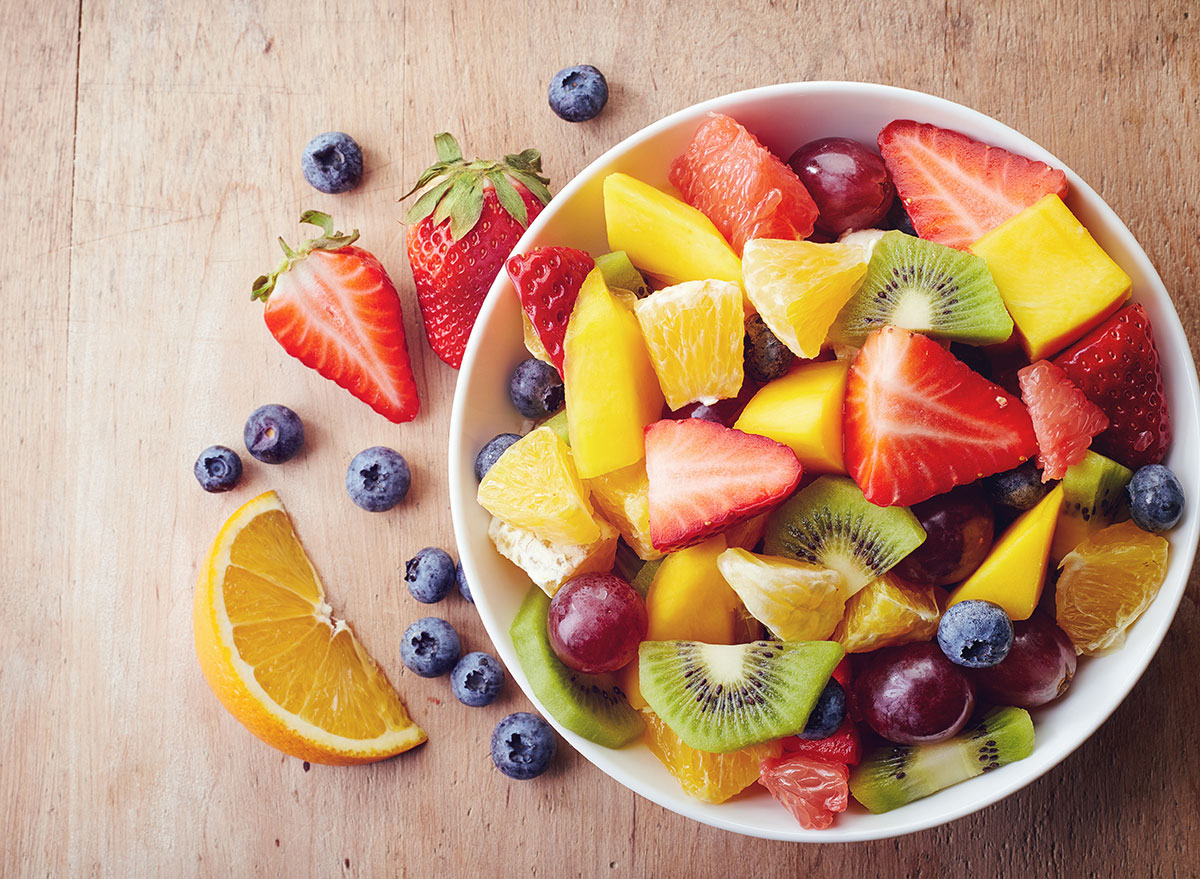 If we're being honest, all fruit is great to eat! Not only is fruit delicious, but having a variety of fruits in your diet can also ensure you are getting a variety of nutrients that your body needs. However, if you had to choose the best fruit to eat, it would have to be berries. Here's why a dietitian says you should eat berries regularly, and for even more healthy eating tips, be sure to read up on our list of The 7 Healthiest Foods to Eat Right Now.
"When it comes to fruit, berries really top the charts," says Amy Goodson, MS, RD, CSSD, LD, author of The Sports Nutrition Playbook. "They are full of fiber, vitamin C, and flavonoids, which is a powerful antioxidant."
Compared to any other fruit, berries are the highest in fiber. One cup of raspberries or blackberries contains 8 grams of dietary fiber, which is equivalent to 32% of your dietary fiber intake, according to the American Heart Association. Fiber helps with gut health, digestion, and even can assist with weight loss.
Plus, as Goodson mentions, berries are a powerful source of antioxidants. These antioxidants have anti-aging properties, which science has proven can help you live a longer life. This happens because the antioxidants can protect your cells against free radicals, which cause oxidative stress and can lead to the development of chronic diseases like cancer or heart disease, according to a study published by the Proceedings of the National Academy of Sciences of the United States of America.
While there are many different foods that constraint these antioxidants, berries are known to be the most antioxidant-rich—along with pomegranates—according to the Journal of Agriculture and Food Chemistry.6254a4d1642c605c54bf1cab17d50f1e
But is there one type of berry that would be considered the best of the best? Goodson points out that blueberries may be a top choice due to their higher antioxidant capacity. The journal Nutrients also says that blueberries contain polyphenols that can limit the effects of the aging of your cells.
Along with all of the health benefits, berries are incredibly versatile when it comes to putting together healthy meals—especially breakfasts and desserts!
"Berries are so versatile, making them easy to consume," says Goodson. "They can go on top of cereal, oatmeal, or yogurt. It can be added to baked goods, salads, and grain salads, blended into smoothies and juices, and can be eaten all by themselves as a naturally sweet treat."
So the next time you mix up a warm bowl of oatmeal or scoop some Greek yogurt into a bowl, top your breakfast with some fresh berries to give your morning the ultimate healthy boost. Plus, if you're looking for even more healthy recipe ideas, check out our list of 38 Quick & Easy Breakfast Ideas.