The Best Grocery Store Rotisserie Chickens—Ranked!
Build a better weeknight dinner by grabbing the best bird in your local supermarket.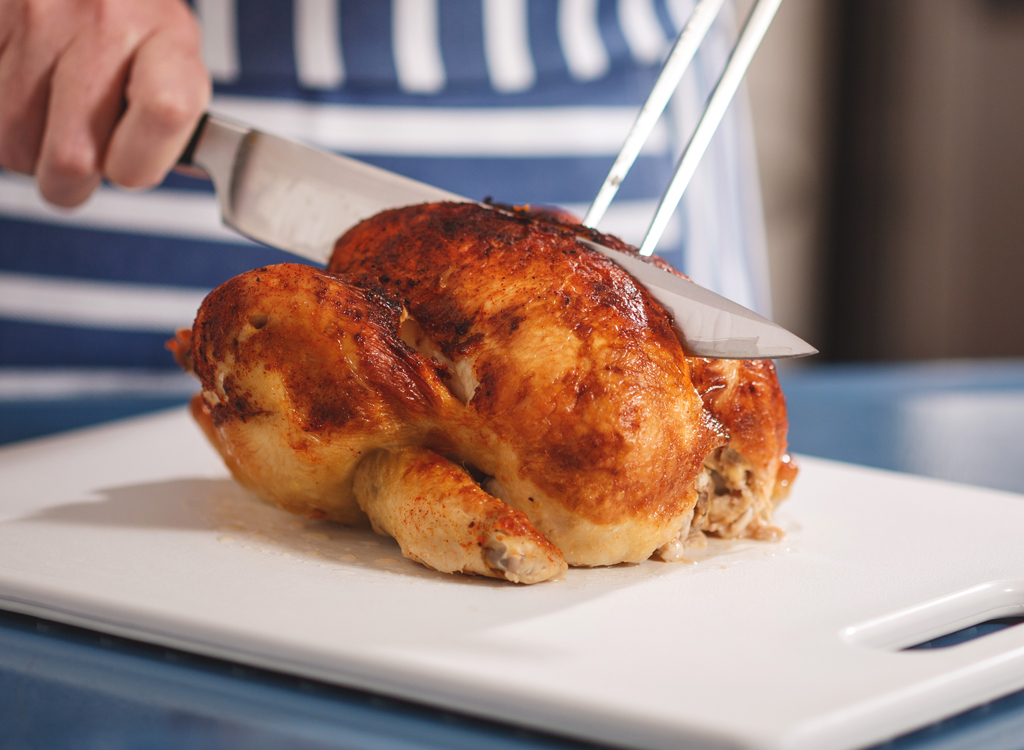 Rotisserie chicken is the unsung hero of weeknight dinners: it helps you get a quick meal on the table, whether you're eating the bird straight from the container or shredding it into a quick and easy salsa verde chili. And the pre-prepped protein is a decently healthful option, too. It's jam-packed with lean protein—which can be made leaner if you toss out the skin—as well as energizing B vitamins, immune-boosting minerals, and skin-rejuvenating collagen. And the best part is that you can find the accessible birds in most nationwide supermarkets.
Next time you're working overtime in the office or rather not reacquaint yourself with the spice rack, grab one of our best grocery store rotisserie chickens below. We gathered Yelp reviews from state-spanning supermarkets highlighting each store's rotisserie chicken before coming to a consensus about which are best.
Ranked from Worst to Best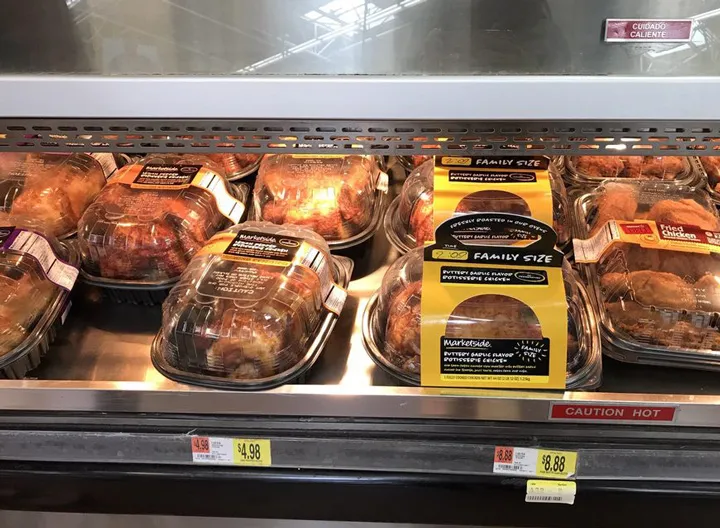 Walmart's rotisserie chicken ranked last on our list due to the consistently poor reviews that highlighted the poultry's lack of flavor and substance. Rotisserie chickens are usually large and juicy, and Walmart's doesn't seem to live up to those standards.
"They've got rotisserie chickens for about $4" – Alyssa B.
"The rotisserie chicken was very fatty, and had too much pepper on the skin." – August M.
"And, I've got to throw in that they do some very good rotisserie chicken. Kudos." – Kevin K.
"Cooked rotisserie chickens are bone thin." – Dolly L.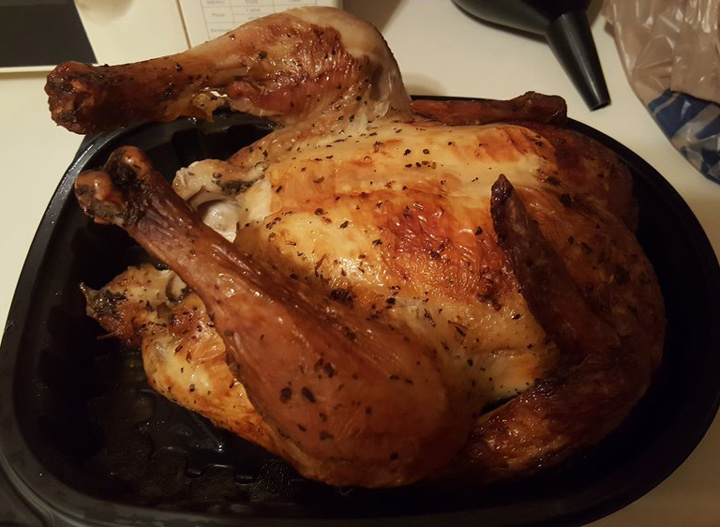 Kroger and Ralphs share the same distributor, a process that doesn't seem to excite shoppers when it comes to the chicken. We ranked these grocery stores towards the low end because of the mixed reviews. Some Yelpers highlight how the poultry wasn't cooked through—a major red flag for contamination—while others raved about the juiciness.
"There is no real prepared foods section, just an area to get some tiny rotisserie chickens." – Jonathan S. 
"They have rotisserie chicken for $4.99 and it's absolutely delicious!" – Donielle W.
"They ALWAYS have rotisserie chicken with no salt added." – Lew H.
"Succumbed to hunger and popped in on my way home for a rotisserie chicken. $7.99 plus tax, so $8.75. Worst, smallest, crappiest, driest most disappointing chicken I've ever eaten. For some reason, while the skin was undercooked and pale (it was the last one left, at 5:45 pm, like they are surprised people want them at this time of day), the meat itself is dry and dark from bloody broken bones and pretty much disgusting." – C B.
"They also have a great hot foods area where I like to pick up some rotisserie or fried chicken for dinner on occasions." – Melissa A.6254a4d1642c605c54bf1cab17d50f1e
"I come here mainly for the giant rotisserie chickens. At $7.99 they are almost the size of the Costco ones." – Seung Eun C. 
"I've been trying to watch what I eat lately so I come to Ralph's for the rotisserie chicken so I can eat it with my salad. The chicken is not bad and it's obviously convenient." – Antho L. 
"I will say that the rotisserie chicken is quite good and the salad bar is pretty nice." – Candi B.
"The rotisserie chicken I got was like a quail. It had hardly any meat on it." – Dan G.
"This is by far the worst Ralph's in the area. Rotisserie chicken I bought was still pink inside." – Brittany E.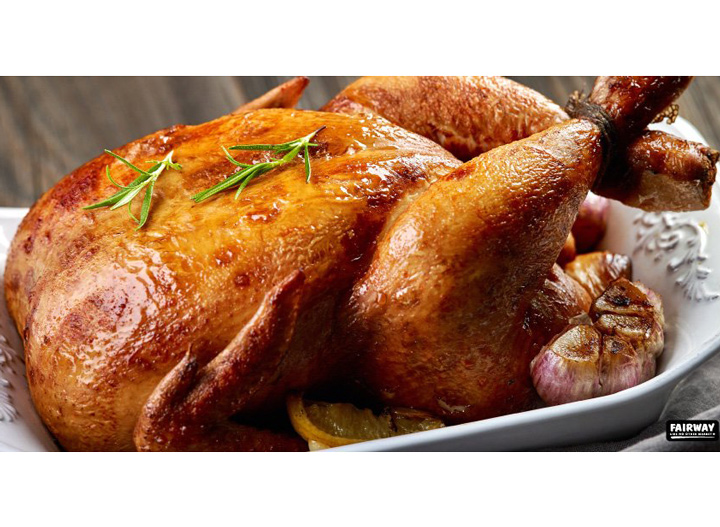 According to Yelp reviews, Fairway changed its chicken recipe and customers aren't excited about it. Besides the recipe change, we docked points because one buyer had to cook the undone bird at home. Talk about a gross inconvenience!
"The rotisserie chicken here is very good. If you're in a rush to get dinner home, grab a freshly baked baguette and a whole rotisserie chicken for $8. Can't beat that." – W C.
"The Rotisserie Chickens looked good and are only $8, which is now cheaper than my usual choice at FreshDirect since they recently raised their prices." – Carl C.
"Selected things I love to buy here [include the] rotisserie chicken. (No better meal for $5.50.)" – Andrew W.
"Perfect. BUT BUT BUT why are the rotisserie chickens now being brined? It makes them taste sad and papery when they could be so good if they were just left alone. Dickson's farmstand is doing it, too, and so is Whole Foods. What is the stupid trend? What's the point? It ruins the poultry and depresses the customer. Stop brining the chickens!" – Violet G.
"The rotisserie chicken doesn't taste as good as it used to." – Olive P.
"BLOODY ROTISSERIE CHICKEN! Yes! I'm very disappointed because for $8.99 per chicken, there is absolutely no excuse for your rotisserie chicken to look like this! … So now I have to cook these chickens when I shouldn't have to. Just to think I told everyone I knew that you are the place to go for rotisserie chicken. What a mistake!" – Christian M.
"The hot food selection is also good, I got a rotisserie chicken for my boyfriend because he loves rotisserie and he said it was the best he has tried." Evonna A.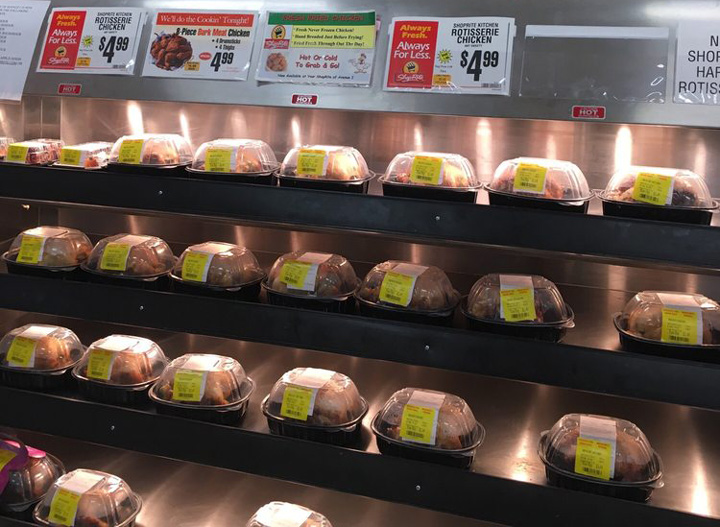 A recurring theme around these grocery store birds is that they're not always cooked through, and ShopRite's birds are no exception. However, most reviews highlighted the consistently good flavor and tasty seasonings.
"The rotisserie chickens aren't always cooked through." – Diana R.
"But the main reason I wanted to post was because I just tried this store's rotisserie chicken and it is by far the BEST rotisserie chicken I have ever had—juicy and well seasoned! Try it! A great option for dinner when you're short on time! Wish they had some hot sides to buy as well but regardless, this chicken is damn good!" – Jane K.
"We love the fresh rotisserie chicken, which I love that they now have leg/thigh pairs and this is my favorite part of the chicken. Always juicy and tasty even when having leftovers the next day." – Joe R.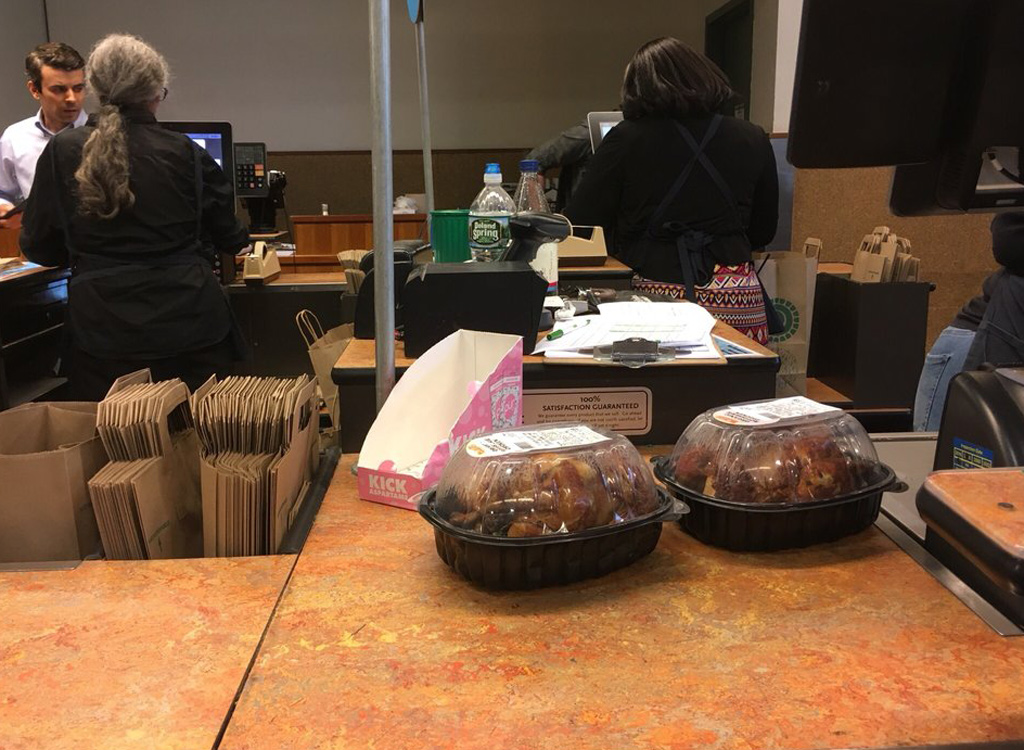 Whole Foods' rotisserie chicken cracked our top three because it's responsibly raised, fed a vegetarian diet, and free of antibiotics, hormones, artificial colors, and preservatives. However, our top two grocery stores surpassed WF in the flavor department. If you're looking for a quality chicken, this pick is one of your best bets.
"The Rotisserie Chicken (especially Chipotle BBQ when they put the seasoning under the skin) many times just melts in your mouth with a savory flavor so perfect" – D D.
"I don't feel guilty eating their rotisserie chicken (organic, free range, no hormones)." – Ainslee S.
"Get the half a rotisserie chicken for $5.49 with a side of steamed vegetables and your total meal will probably be less than $10. Packed with protein." – Kevin C.
"I've bought their rotisserie chicken a couple of times but they're alright. It just smells so damn good that I can't resist every single time I walk by it! " – Eri S.
"This is a review on their rotisserie chicken which looked great so I bought it. It tasted like rubber. I was very disappointed." – Nora S.
"Yesterday I was there and bought a rotisserie chicken which was disappointingly dry." – Meg M.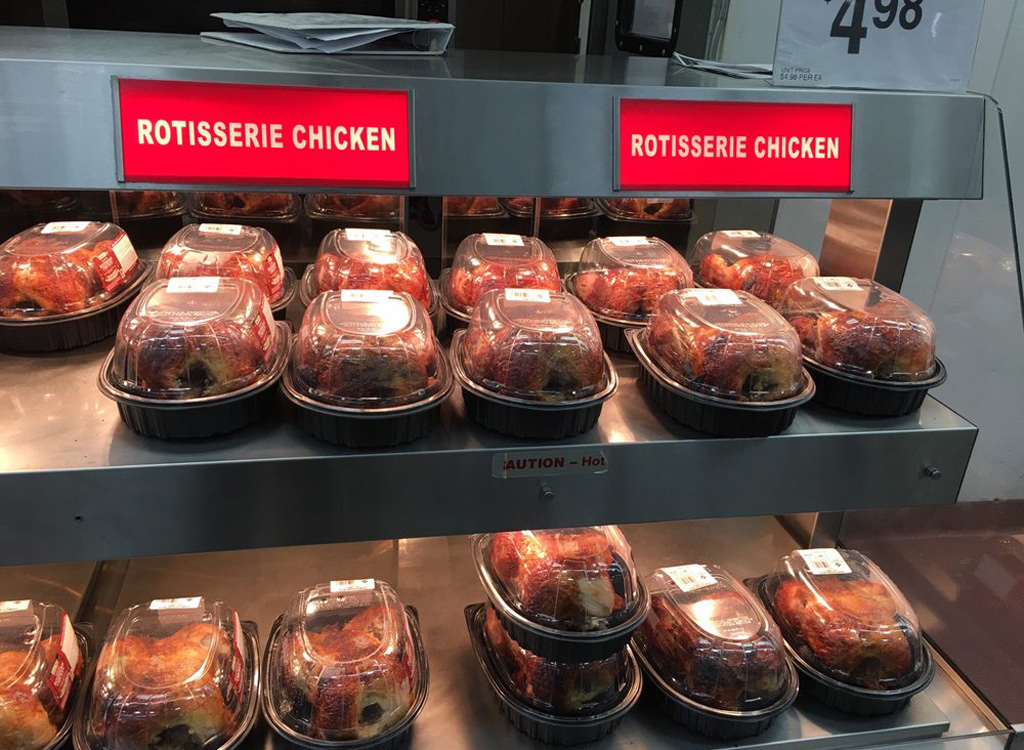 Yelpers rave about the warehouse club's big birds that boast a ton of flavor. The poultry is larger than Walmart's but smaller than Costco's, so if you're looking for a decently sized bird to feed the fam, don't look any further than your local Sam's Club.
"Most of these warehouse clubs are all the same. While the meat is much better at Costco, the rotisserie chickens here blow Costco's away. They are off the charts delicious, and the fact that they may be smaller than Costco's is irrelevant for that reason … If you want a rotisserie chicken, this is the place to go." – Joseph H.
"Rotisserie chickens are so good! I got a pretty big chicken for $5. Easy for a quick dinner with the husband. I happened to be there around noon, and they were just coming out with a fresh hot batch. When I ate it for dinner, not only was it flavorful without being overly salty but tender, even the white breast which tends to be dry." – Tiff C.
"The rotisserie chickens are really good and significantly larger than the ones from Wal-Mart next door for the same price." – Kelle C.
"The best rotisserie chickens. Only $4.99 for a large chicken. Consistently moist and seasoned just right." – Louis T.
"Another deal not to be missed is that they sell very large rotisserie chickens for less than five dollars. This chicken can actually feed a family unlike those small rotisserie chickens that you can buy in grocery stores for maybe a dollar less." – Mark V.
"I like Sam's Club rotisserie chicken. For $4.97 + tax, you get a juicy and piping-hot bird seasoned with Lawry's. It's cheaper and bigger at 3 lbs than what you'd get at the supermarket deli section or El Pollo Loco. I found two rotisserie chicken comparison online for ready to serve birds and the one from Sam's Club was rated the best for taste, texture, and appearance." – Patrick B.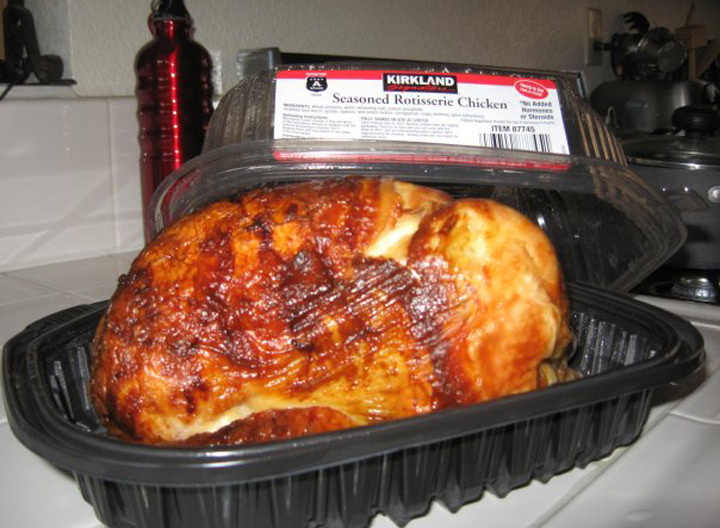 It's no surprise that Costco stole the top spot on our list of best rotisserie chickens. It scored A's across the boards regarding flavor, juiciness, and size (these birds are huge!). And who doesn't want to feed the whole family for just under five bucks?
"There is so much selection and the prices are fantastic. I bought a three-pound rotisserie chicken for $4.95 [while] a one-pound chicken at Gristedes is $7.50. Boneless, skinless chicken breast at Costco is $2.25 [per pound], and Gristedes $4.75 [per pound]. On average I find Costco to be at least 50% cheaper than UES [NYC] markets. What else do I need to say." – Randy B.
"I walked out with a single, normal size rotisserie chicken. I couldn't handle the mega sizes." – Taylor M.
"Rotisserie Chickens: at $4.99 and the size of a small turkey this is the best deal in the city. Not only that but the flavor is delicious and they are never dry." – A O.
"Rotisserie chicken is one of the best you'll get from any grocery store." – Julia P.
"'I hate chicken.' Well, I'm really sorry for you, because their rotisserie chicken is HEAVENLY. Always perfectly moist, perfectly spiced, and it's only $4.99. FIVE BUCKS for a whole cooked chicken." – Ram T.
"I love their rotisserie chicken. HUGE Foster's Farm chicken, roasted to perfection, seasoned so perfectly. And priced unbelievably cheap at $4.99. What?! Ridiculous." – Felicia T.
April Benshosan
April is a born-and-raised Brooklynite who has a passion for all things health, wellness, and tastebud-related.
Read more about April