20 Hanukkah Recipes No Table Is Complete Without
These dishes will take your celebratory dinner to the next level.
Hanukkah has been celebrated for centuries, and with this long-standing tradition comes a bevy of recipes that have been shared for generations. For years, tables have been set with latkes, of course, as well as other fried and dairy-based delicacies to commemorate both the oil that kept the menorah lit for eight days and Judith, a legend who saved her town by weakening the enemy with cheese and wine.
Hanukkah is an important holiday to many people, and it is a holiday that comes with no shortage of delicious foods connected to these stories. This year, set the table with recipes that honor the traditional Hanukkah foods while adding your own contemporary twist.
Here are 20 Hanukkah recipes no table would be complete without, served up in a way you might not have seen them before.
Latke Pumpkin Pie
Latkes are one of the most-consumed foods at Hanukkah (if you need a basic recipe, we created The Best-Ever Potato Latkes Recipe). This recipe celebrates latkes as a sweet and savory combination—by getting reimagined as a pie! Who knew latkes could double in your dessert spread?
Get the recipe from My Name Is Yeh.
Spiralized Potato Noodle Kugel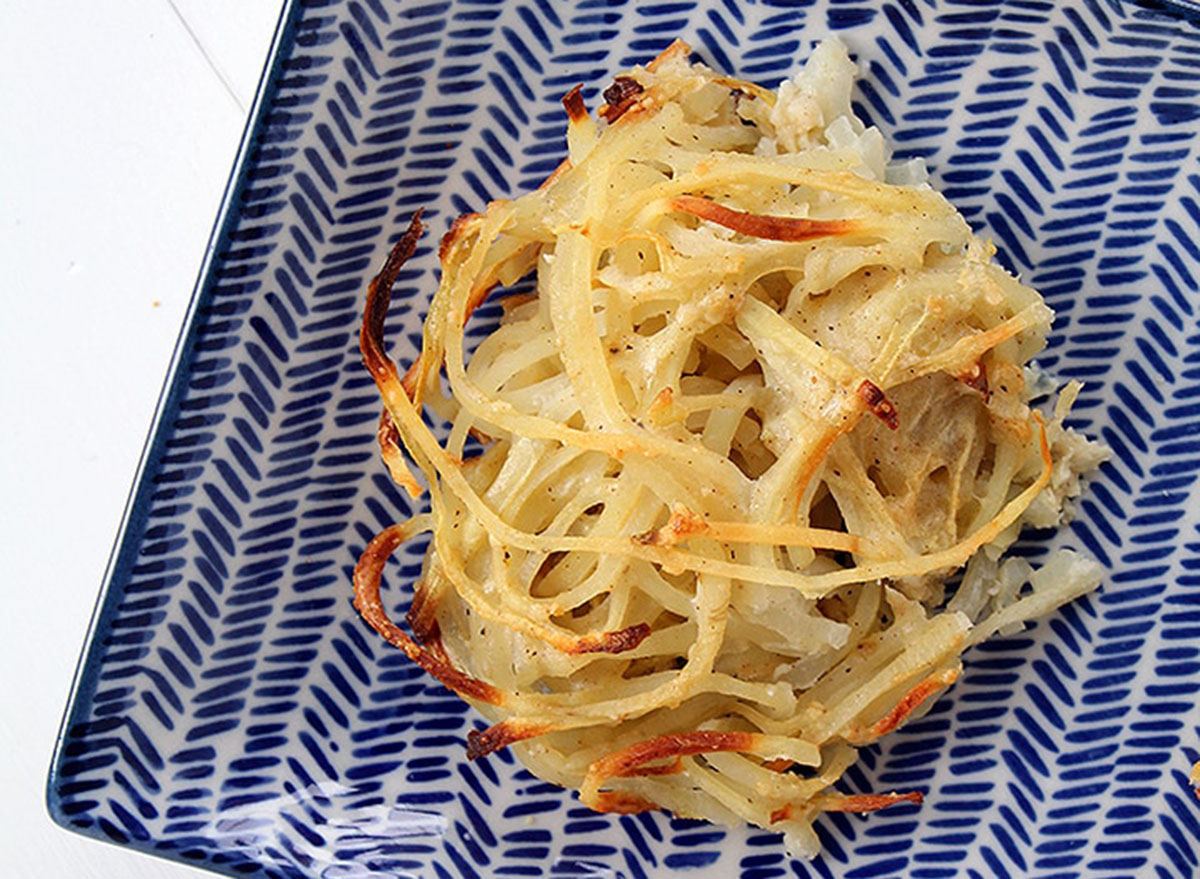 The spiralizing trend (zoodles, anyone?) is taking over the dinner table at Hanukkah, too. Switch up the standard noodle kugel with a spiralized potato version, which is simple to make and delicious. Leftovers, if there are any, also work well as breakfast.
Get the recipe from Inspiralized.
Matzo Chocolate Bars
In a twist on the typical unleavened flatbread, matzo, this recipe uses the matzo as a thin, crispy base for a "magic bar"-esque dessert with only five ingredients! The combination of salty matzo and nuts complements the sweet chocolate and coconut in a treat that will be devoured in minutes.
Get the recipe from Half Baked Harvest.
Chocolate Cinnamon Babka Muffins
By baking babka in a muffin tin instead of a loaf tin, it's easy for dinner guests to serve themselves these scrumptious treats. The chocolate-cinnamon combination is delectable, too, so don't be surprised if guests grab two or three at a time.
Get the recipe from How Sweet Eats.
Pumpkin Butter Rugelach Cookies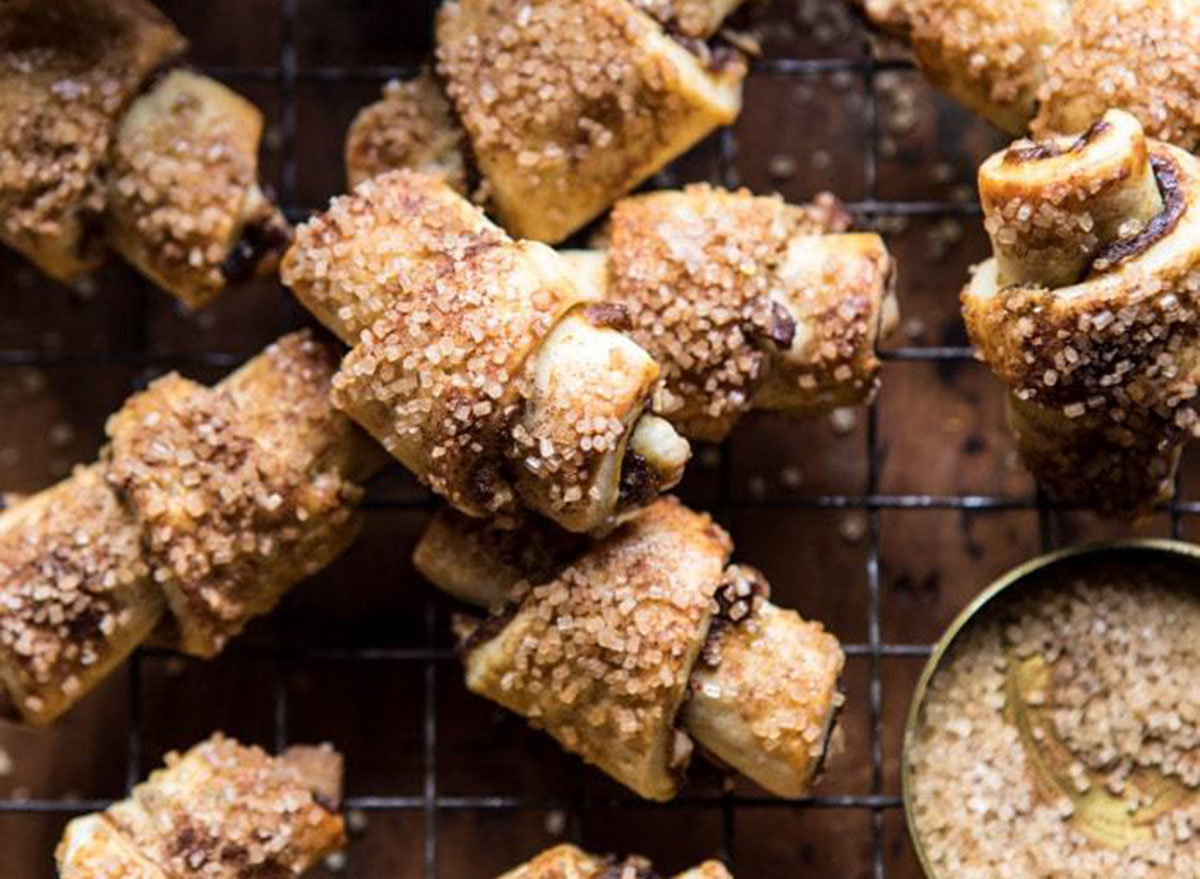 Rugelach are a staple for any Hanukkah dinner, but this recipe makes use of the last bits of everyone's favorite autumn produce—pumpkin. A sprinkling of pecans with the filling adds crunch, and coarse sugar adds the perfect crisp to the outer layer.
Get the recipe from Half Baked Harvest.
Blintz Soufflé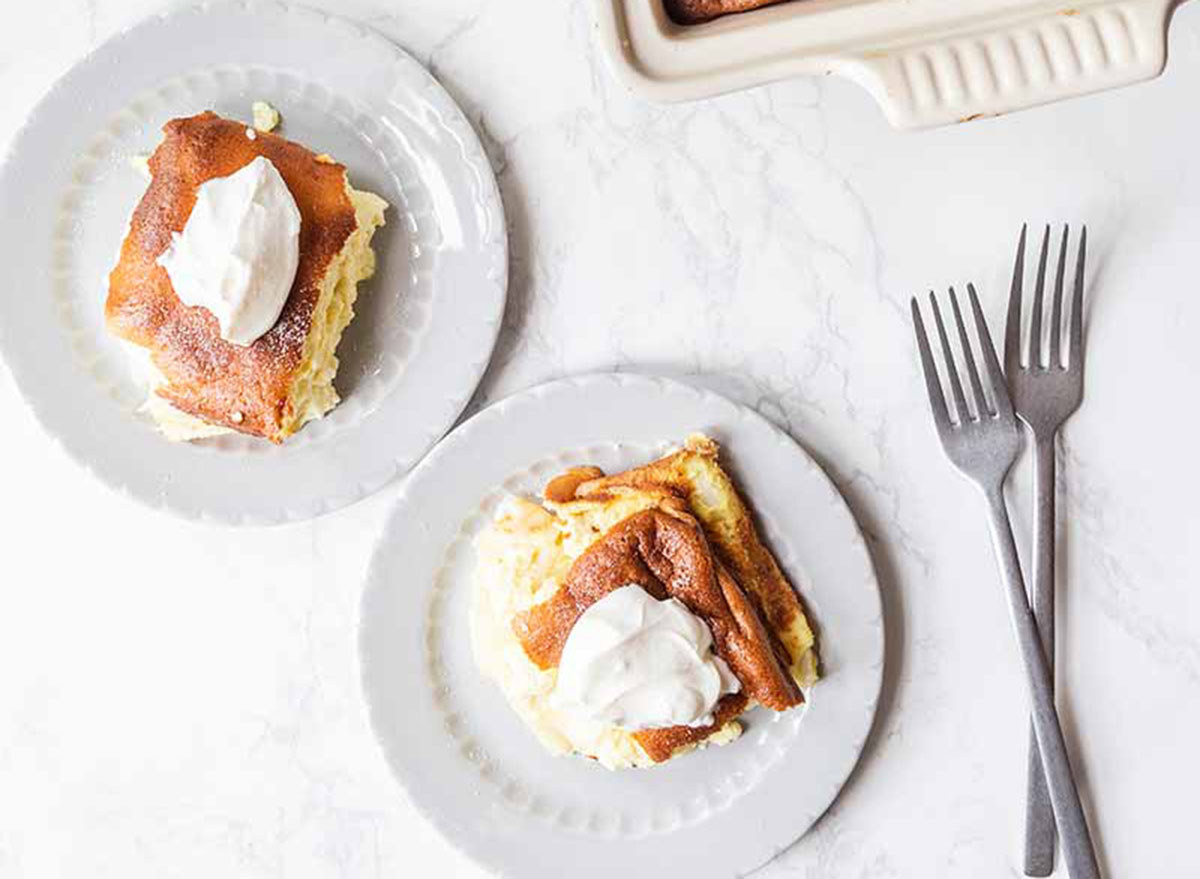 Blintzes are similar to pancakes and crepes and are stuffed with cheese, so you truly cannot go wrong by lining several blintzes up in a casserole dish and turning them into a soufflé. Add toppings for whatever taste you want to go for—you can easily whip this dish up and make it sweet or savory.
Get the recipe from Savory Simple.
Spiralized Tzimmes
From the sweet potatoes and carrots to the apricots and prunes, this hearty side dish will be a sweet and welcome addition to guests' plates.
Get the recipe from Inspiralized.
Celery Root, Bacon, and Parmesan Rösti
Rösti is similar to fritters and latkes, but much larger. Serve a crowd or celebrate the season with a larger portion for yourself with this recipe that swaps potatoes for celery root. Add in bacon and parmesan for a dish that is packed with savory umami flavor.
Get the recipe from I Breathe I'm Hungry.
Pan-Fried Feta With Peppered Honey
With this one dish, you can pay homage to both the oil that burned for eight nights and the story of Judith and the cheese. This recipe offers complex layers of flavor and texture, from the salty, creamy cheese with a crisp, fried exterior to the sweet-yet-spicy peppery honey.
Get the recipe from Half Baked Harvest.
Apple-Pear Sauce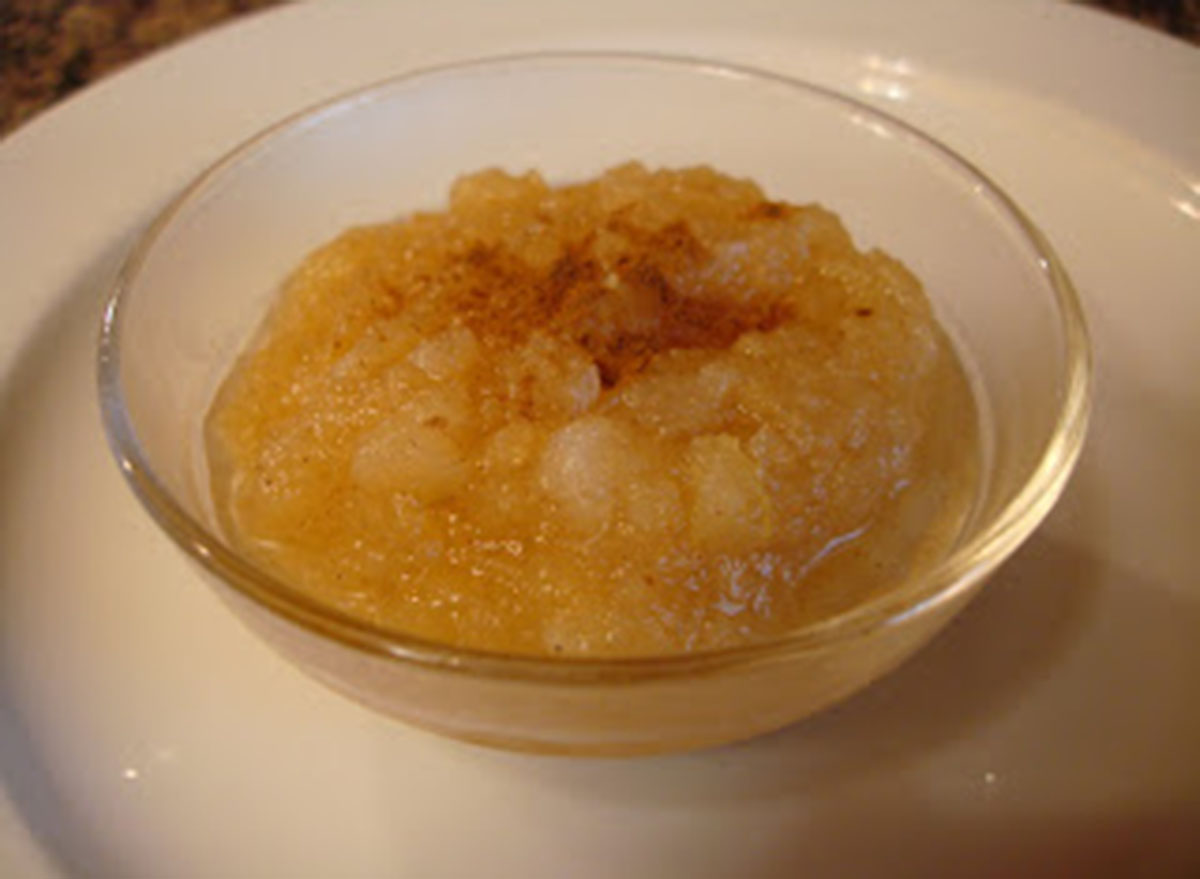 Applesauce and sour cream are the best companions to the ever-popular latkes, and if you want to spice up your usual store-bought applesauce, here's your chance. This take adds pears for extra natural sweetness—there is no added sugar or artificial sweeteners here. Just apples, pears, cinnamon, honey, and a bit of lemon juice. Simple and sweet!
Get the recipe from In Erika's Kitchen.
Salted Apple Fritters
These salted apple fritters are fried in oil, of course, and coated in a mouth-watering glaze—no one will be able to turn one of these delectable desserts down. A hint of flaky sea salt brings out the sweetness of the apples and the glaze.
Get the recipe from How Sweet Eats.
Everything Latkes with Smoked Salmon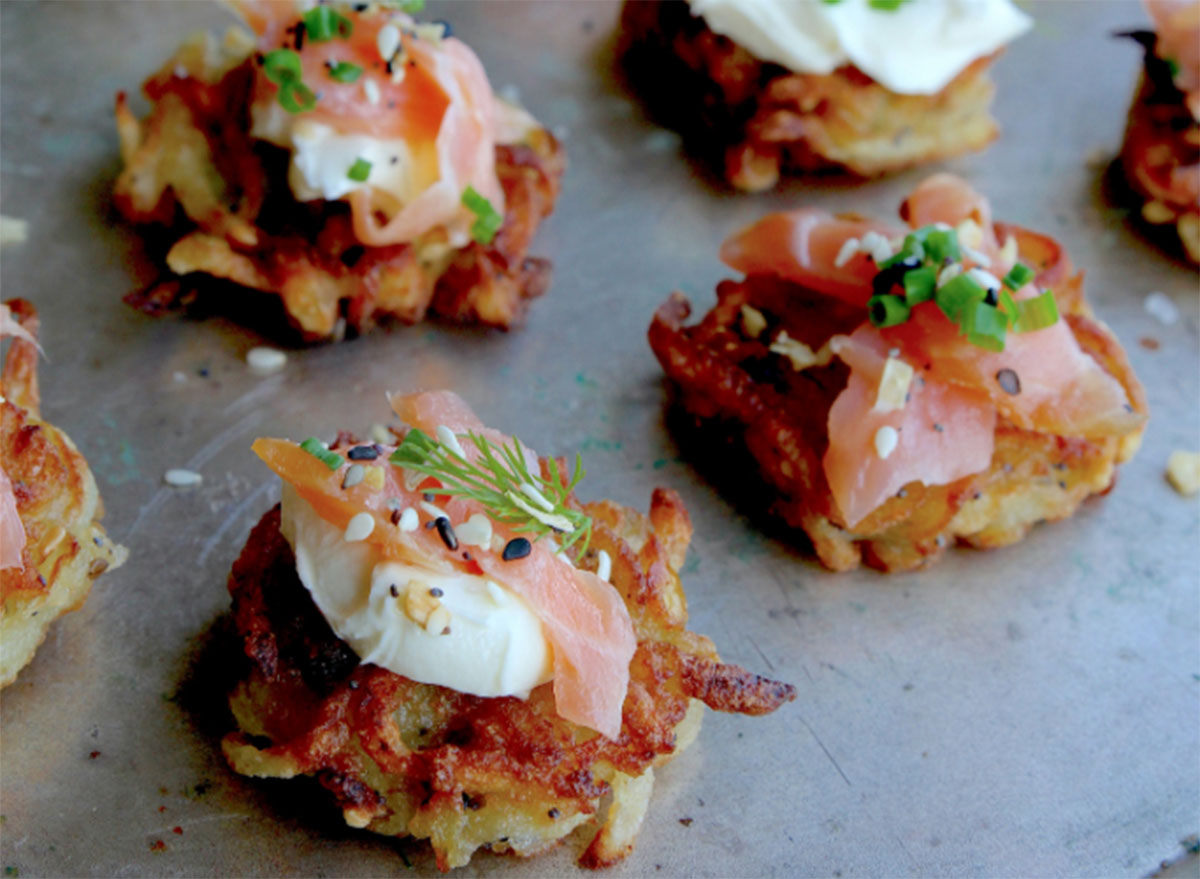 Salmon often accompanies a Hanukkah dinner, and this could be the year you display it in a more creative way. This recipe sees smoked salmon topping crispy latkes, both of which are seasoned with the ever-popular everything-but-the-bagel seasoning (you can make your own spice mix at home).
Get the recipe from Zen Belly.
Apple Noodle Kugel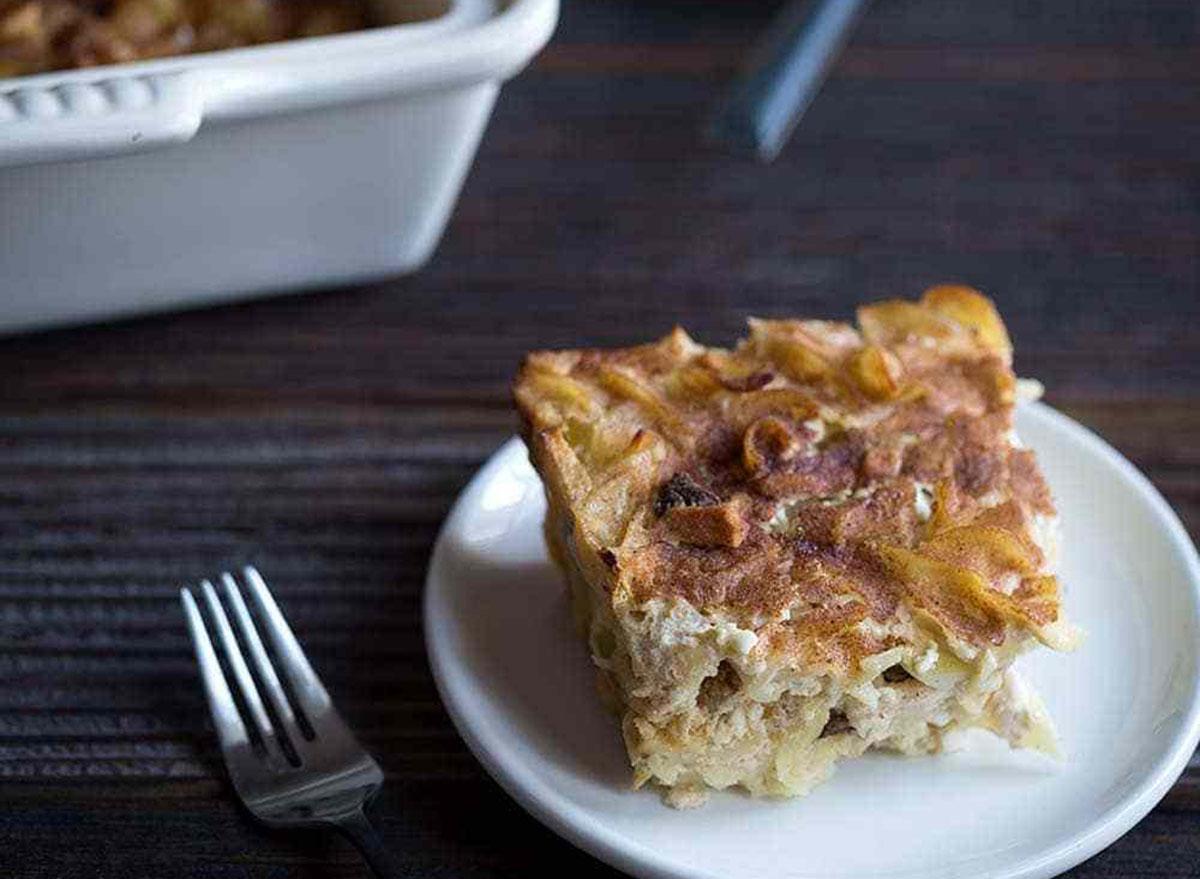 Apples are in abundance this time of year, and their flavors are at their peak sweetness. For this comforting, celebratory noodle kugel, apples add a slight sweetness to a traditional side dish.
Get the recipe from Savory Simple.
Herbed Cheddar Latkes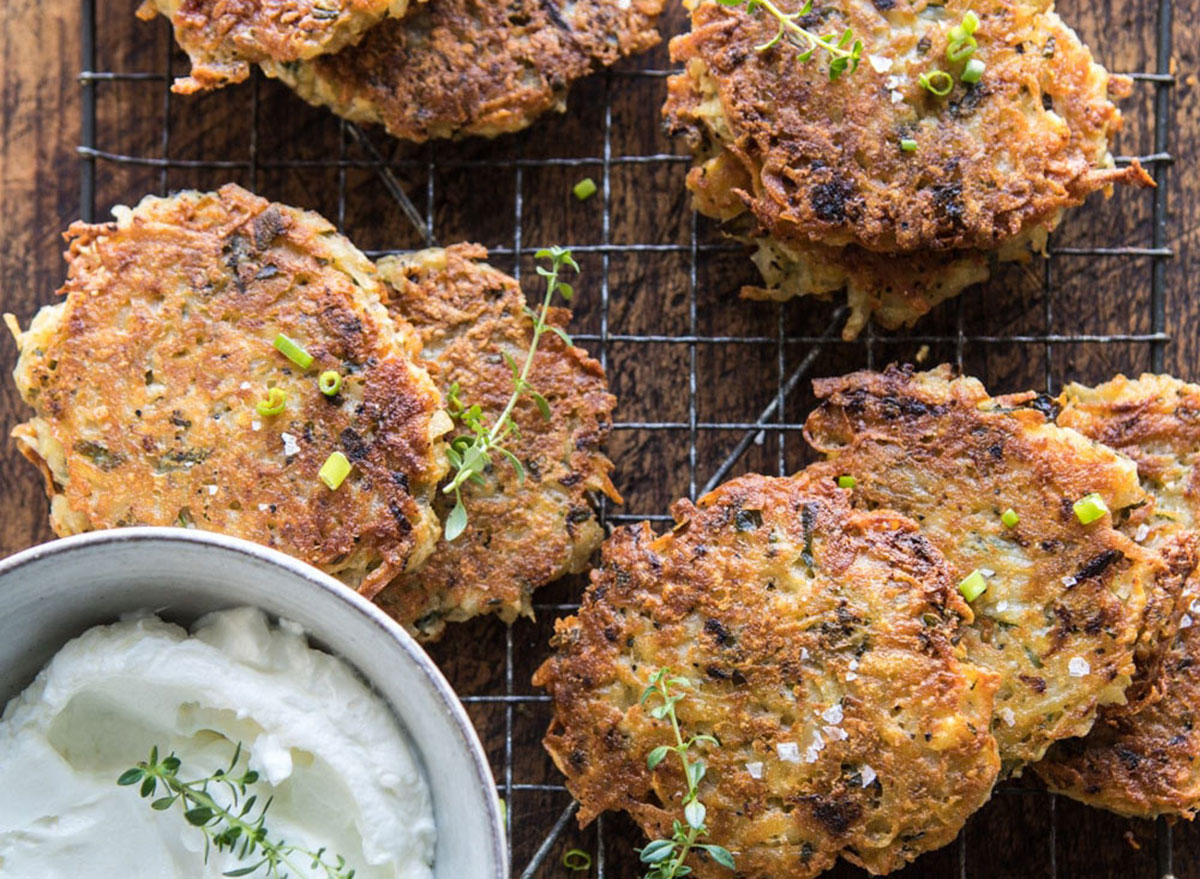 Here, the basic latke gets a savory upgrade with the addition of cheese, herbs, and the perfect amount of sea salt.
Get the recipe from Half Baked Harvest. 
Nutella Rugelach
Nutella really does make everything better, and here, you can change up the typical rugelach with this hazelnut spread.
Get the recipe from Eating Bird Food. 
Apple Honey Challah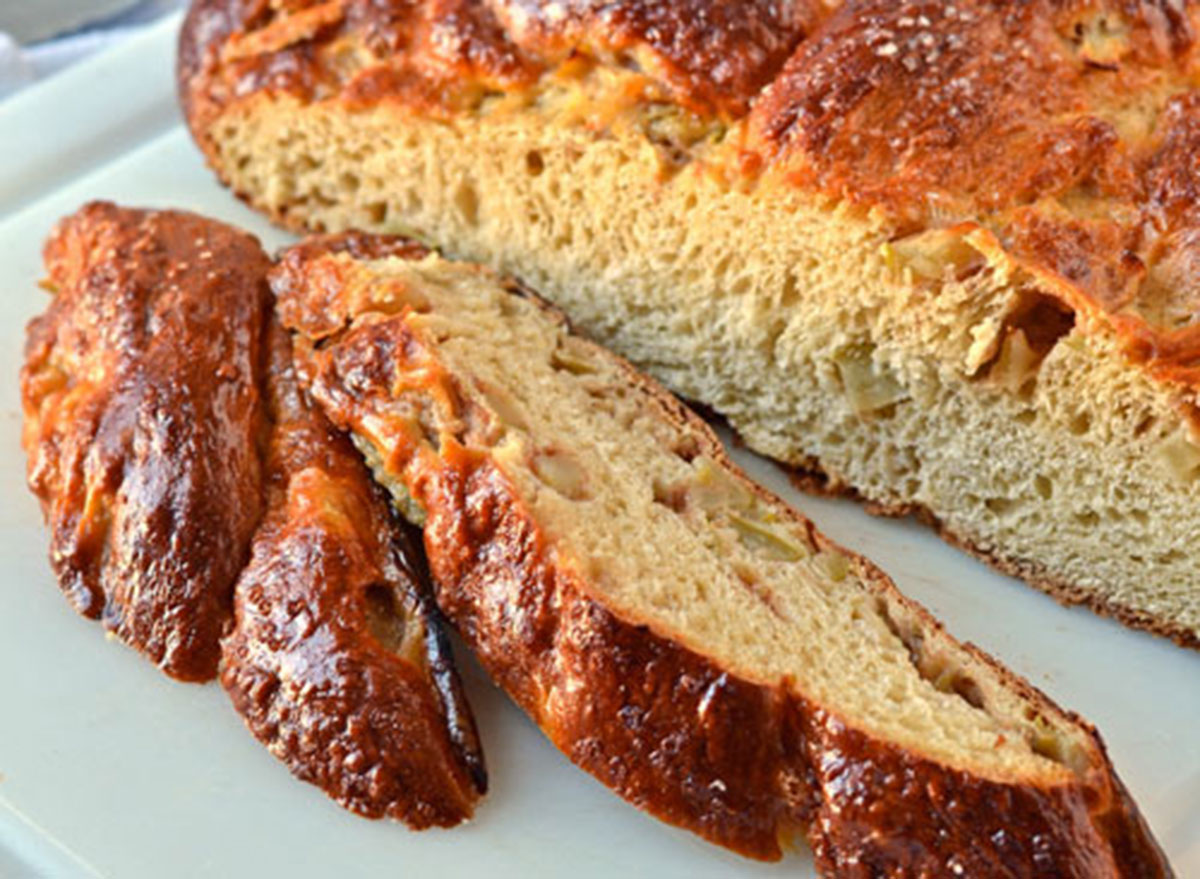 Challah bread is a staple, and with this recipe, you can make an apple honey version that features apple chunks and golden honey. Yum!
Get the recipe from Well Plated by Erin. 
Matzo Ball Soup with Chicken Meatballs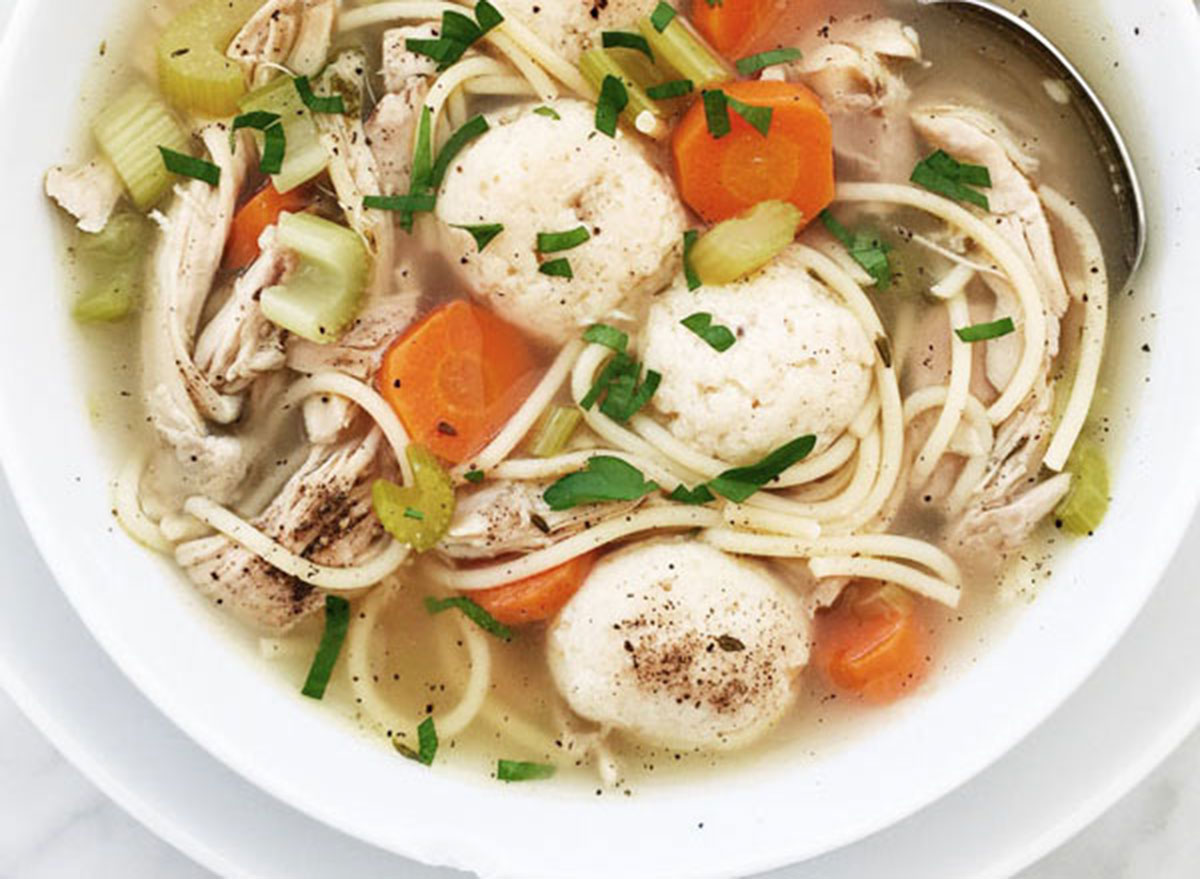 It's no secret you'll most likely be enjoying a warm bowl of matzo ball soup at a Hanukkah feast, but this recipe takes a not-so-traditional approach with the addition of chicken meatballs.
Get the recipe from Foodie Crush. 
Eggnog Chocolate Marzipan Babka French Toast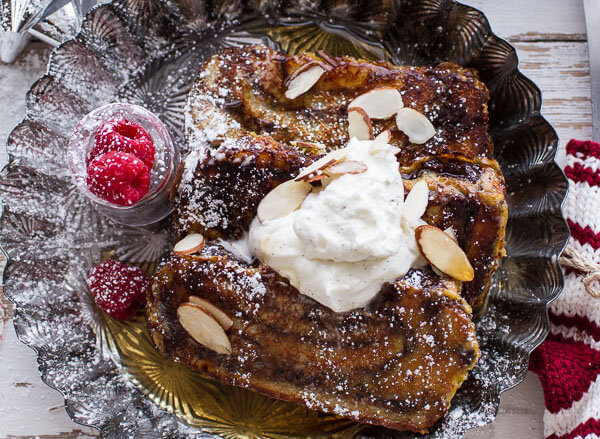 Babka is a braided bread that often features chocolate swirled throughout it, but here, you'll get some eggnog added into the mix for a French toast dish that makes for a decadent dessert or a sweet brunch option.6254a4d1642c605c54bf1cab17d50f1e
Get the recipe from Half Baked Harvest. 
Jelly Doughnut Bundt Cake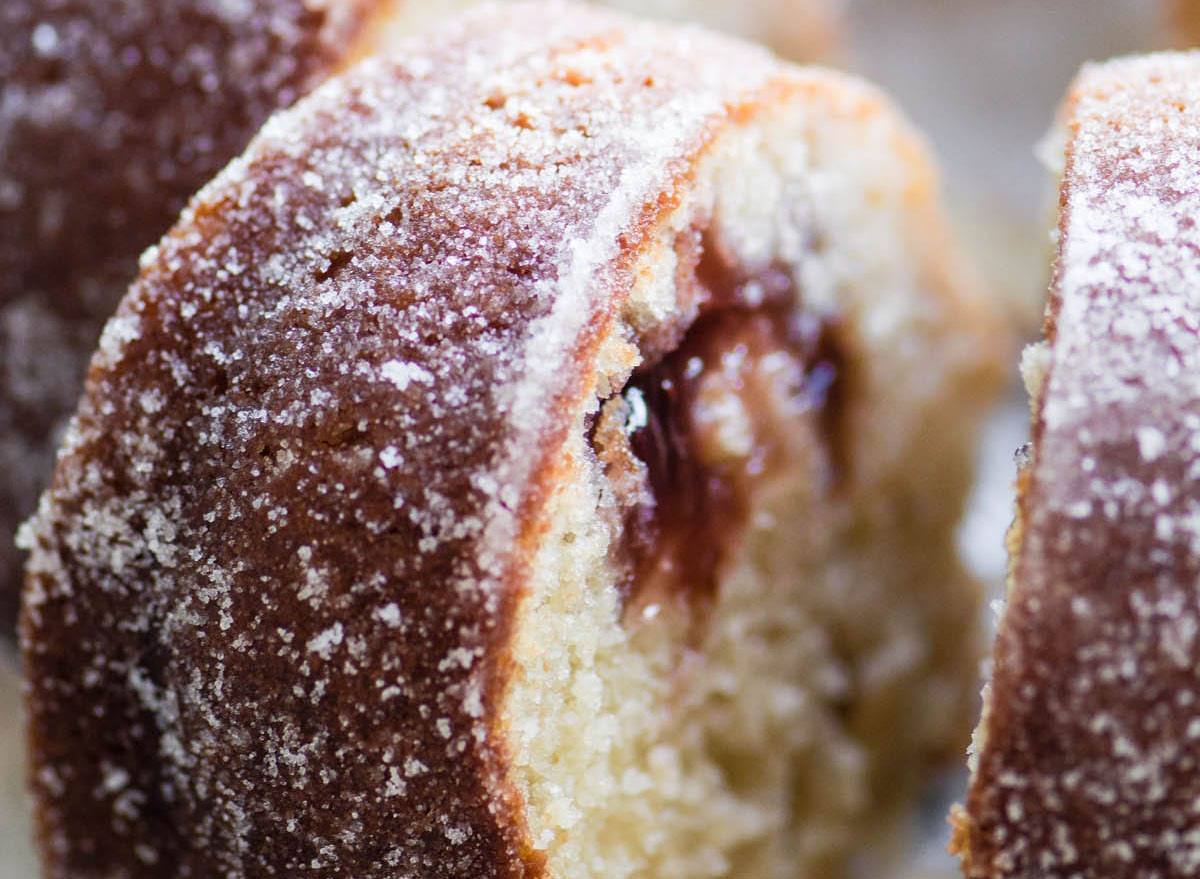 Sufganiyot are often served at a Hanukah celebration, and the jelly-filled doughnuts make for a delicious dessert. Here, that sweet treat provides inspiration for a bundt cake version. It's a different way of serving up some sufganiyot this year!
Get the recipe from The View from Great Island. 
Sweet Potato Latkes
You haven't had a latke like this before! Here, sweet potato takes center stage for a latke that brings some bright color and big flavor to the dinner table.
Get the recipe from A Pretty Life. 
Paige Bennett
Paige is a Los Angeles-based editor and freelance writer. In addition to writing for Eat This, Not That!, she works as the content editor for Inhabitat.
Read more about Paige