The Best Healthy Restaurant in Every State
You'll be happy to eat healthy at all of these delicious spots.
When you're looking to dine out but still meet your health goals, it can be tricky to find the right spot. That's why we decided to round up the best healthy restaurant in every state. Our parameters for picking healthy spots meant looking at how fresh the ingredients in the dishes are, how many options they offered for a variety of diets—vegetarian, Mediterranean, low-carb, even keto—and of course, how diners rated the taste. We're steering clear of smoothie shops and focusing on cozy spots you can tuck into for a light meal of lean meats, veggies, whole grains, and more.
With that in mind, we scoured reviews, talked to locals, and looked back on our travels around the country to put together a definitive list of our favorite healthy restaurants in the United States.
Please note: All of the included restaurants are open as of publication, or offering takeout. However, with regulations changing almost daily (at least it seems like it), please call or check the restaurant's website or social media before running out the door.
And for more, don't miss these 15 Classic American Desserts That Deserve a Comeback.
ALABAMA: Eli's Jerusalem Grill in Birmingham
It's hard to go wrong with Mediterranean food, but Eli's in Birmingham elevates the genre with local produce, grass-fed beef, and organic chicken cooked to order.
And if you love cooking, sign up for our newsletter to get daily recipes and food news in your inbox!
ALASKA: Hangar on the Wharf in Juneau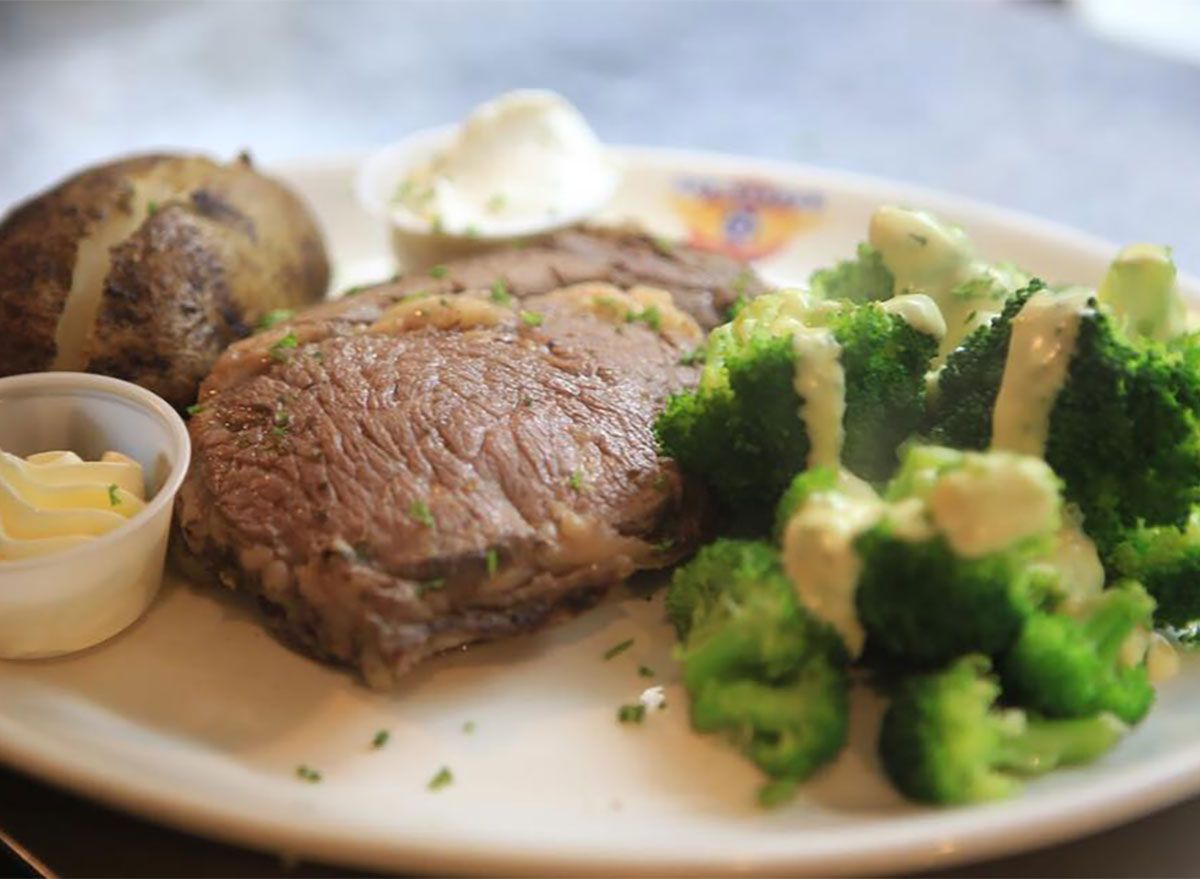 Hearty fare is on the table at most restaurants in Juneau, including Hangar on the Wharf, which serves steak salad and a halibut wrap that's sure to cure healthy cravings.
ARIZONA: Sapiens Kitchen in Scottsdale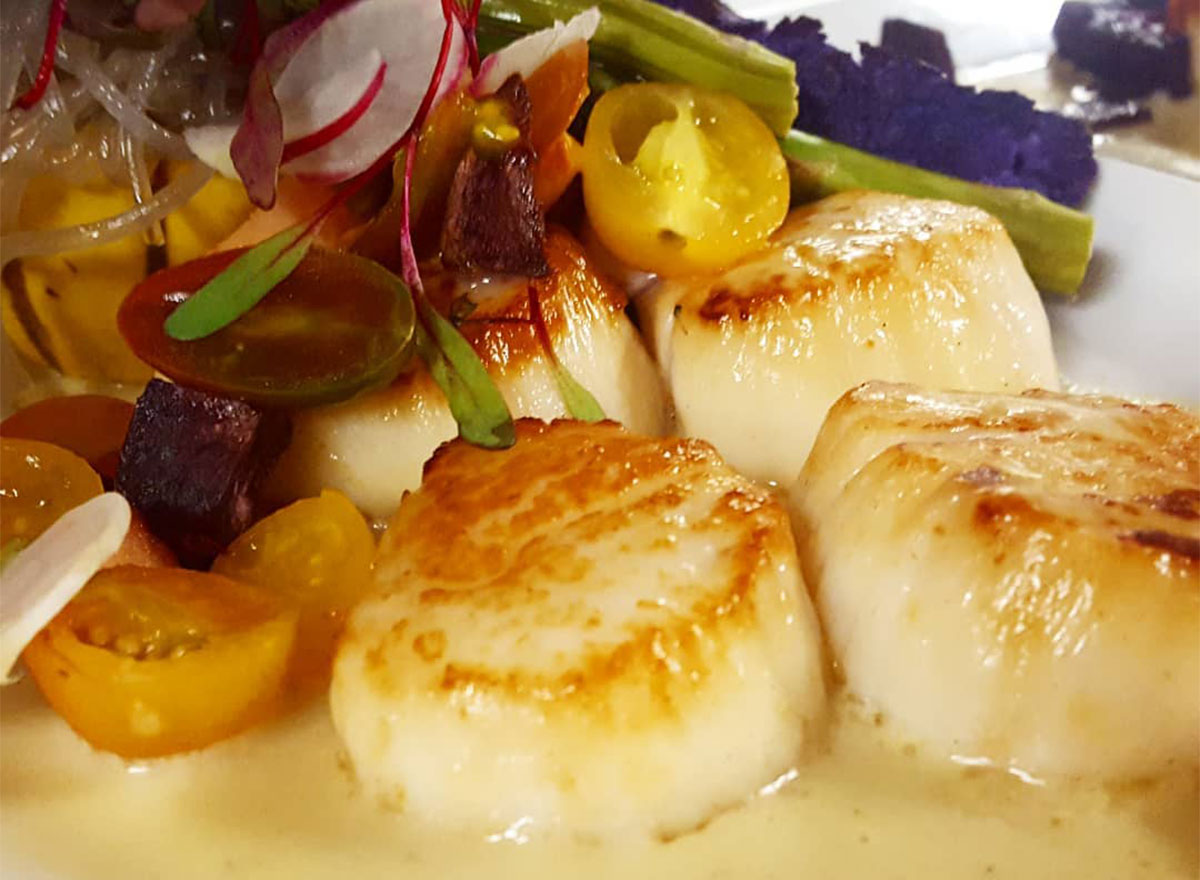 A paleo gourmand's dream, Sapiens serves 100% paleo French cuisine that is Gluten-free and fully supports KETO ( Ketogenic ), Whole30, and AIP (Autoimmune Protocol). Reviewers say to try the Colorado lamb chops stuffed with dates and apricots in this sleek space.
ARKANSAS: The Root Cafe in Little Rock
This Little Rock cafe sources 100% of the meat, eggs, and bread it serves, as well as the majority of its vegetables, fruits, nuts, and cheeses, from local farmers, turning out dishes like pickle brined tofu and spiced pecan salad.
CALIFORNIA: Botanica Restaurant & Market in Los Angeles
There is no shortage of healthy restaurants in LA, but this Silverlake fixture is one of our faves. The rotating menu leans toward the Mediterranean, with chili oil roasted carrots and kabocha squash soup as standouts.
COLORADO: Leaf Vegetarian Restaurant in Boulder
A healthy-ish happy hour is on the menu at this Boulder veggie spot. Sample the adventurous menu of butternut flatbread, buffalo cauliflower tacos, and more while you sip a CBD-infused cocktail.
CONNECTICUT: Flora in Hartford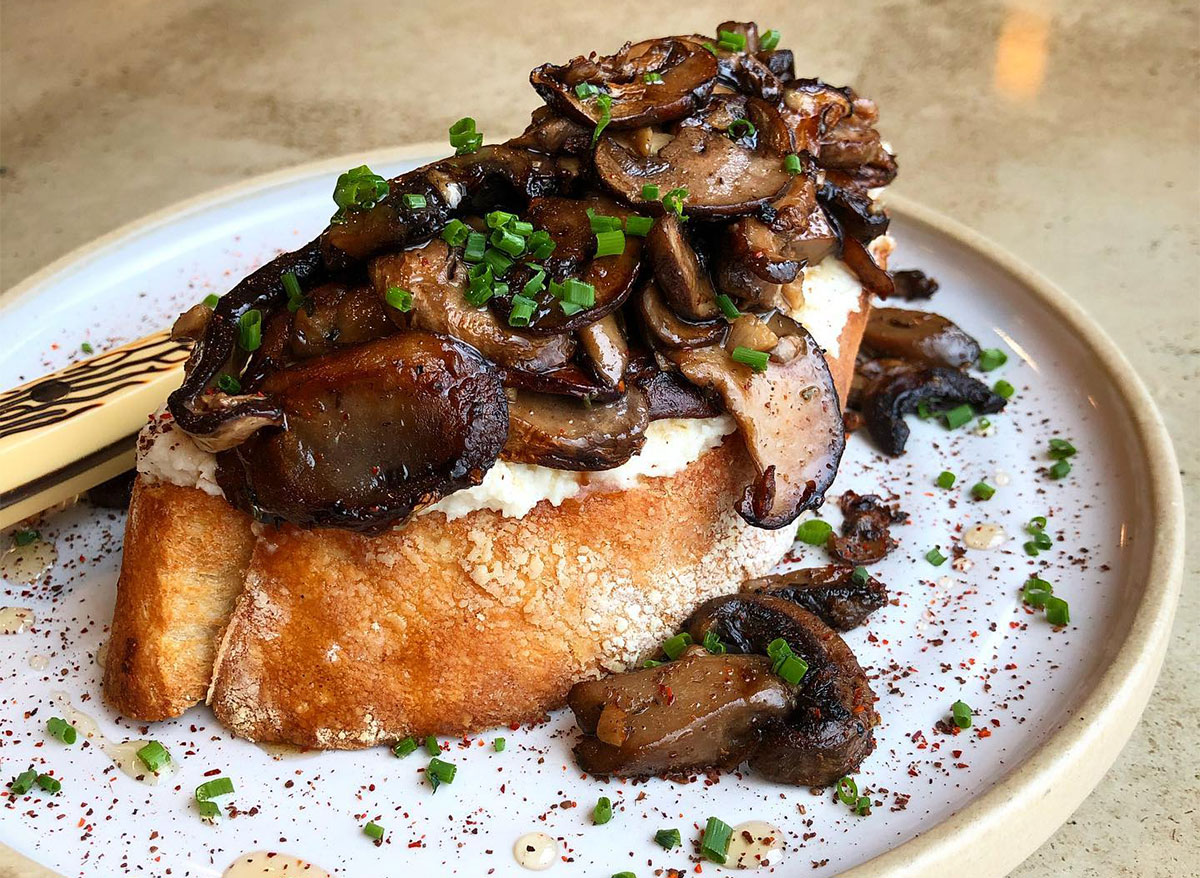 While the focus at Flora is a menu celebrating plants, the Hartford spot also offers sustainably and responsibly raised meat. Vegans will love the avocado bowl, while omnivores can enjoy wild shrimp and grits.
DELAWARE: Drop Squad Kitchen in Wilmington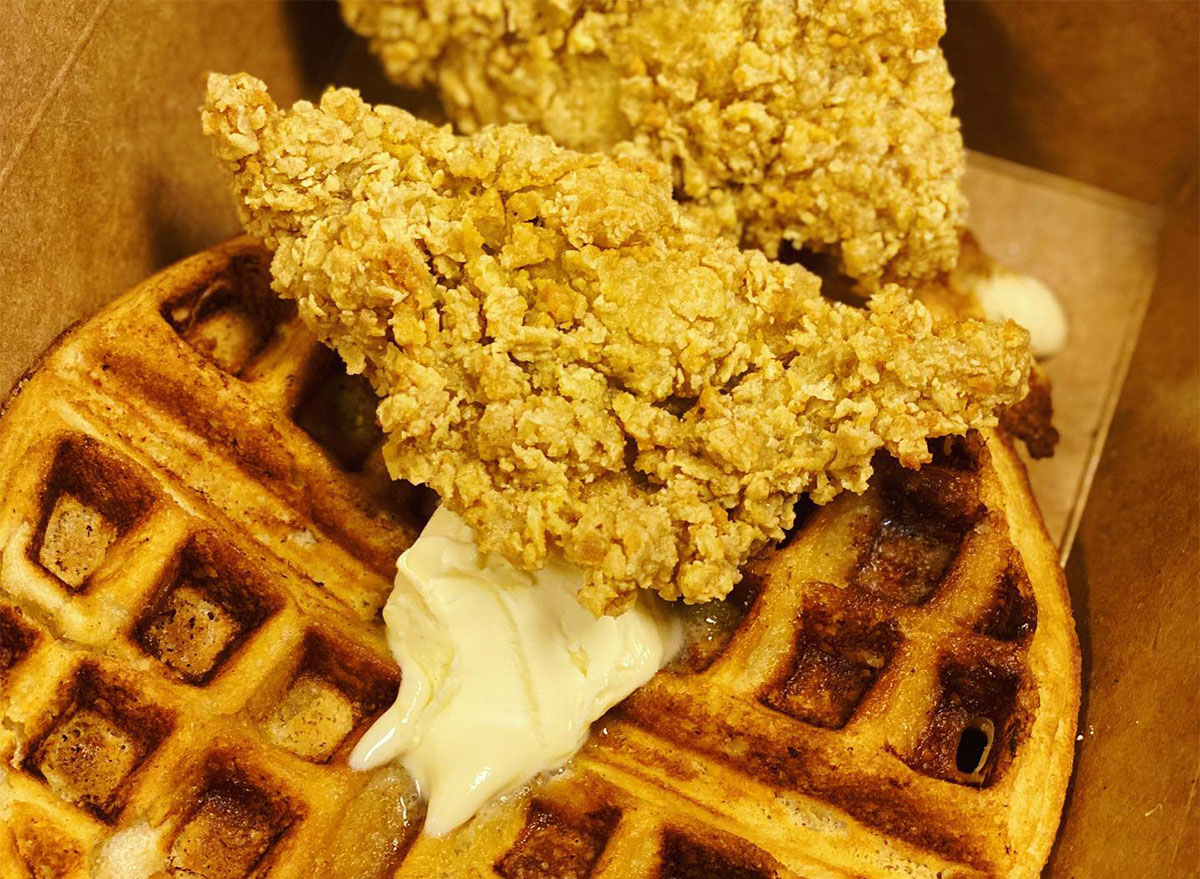 This unapologetically vegan restaurant serves up fresh soul food from scratch, minus the heavy proteins that can leave you feeling sluggish. Reviewers say the food is great, and the vibe is hip.
FLORIDA: Plant Miami in Miami
Plant Miami offers certified Kosher, gourmet, vegan food in a luxe space. Reviewers say to try the sophisticated, South Florida-inspired dishes like coconut corn soup and summer squash lasagne with spinach béchamel and kale pesto.
GEORGIA: R. Thomas Deluxe Grill in Buckhead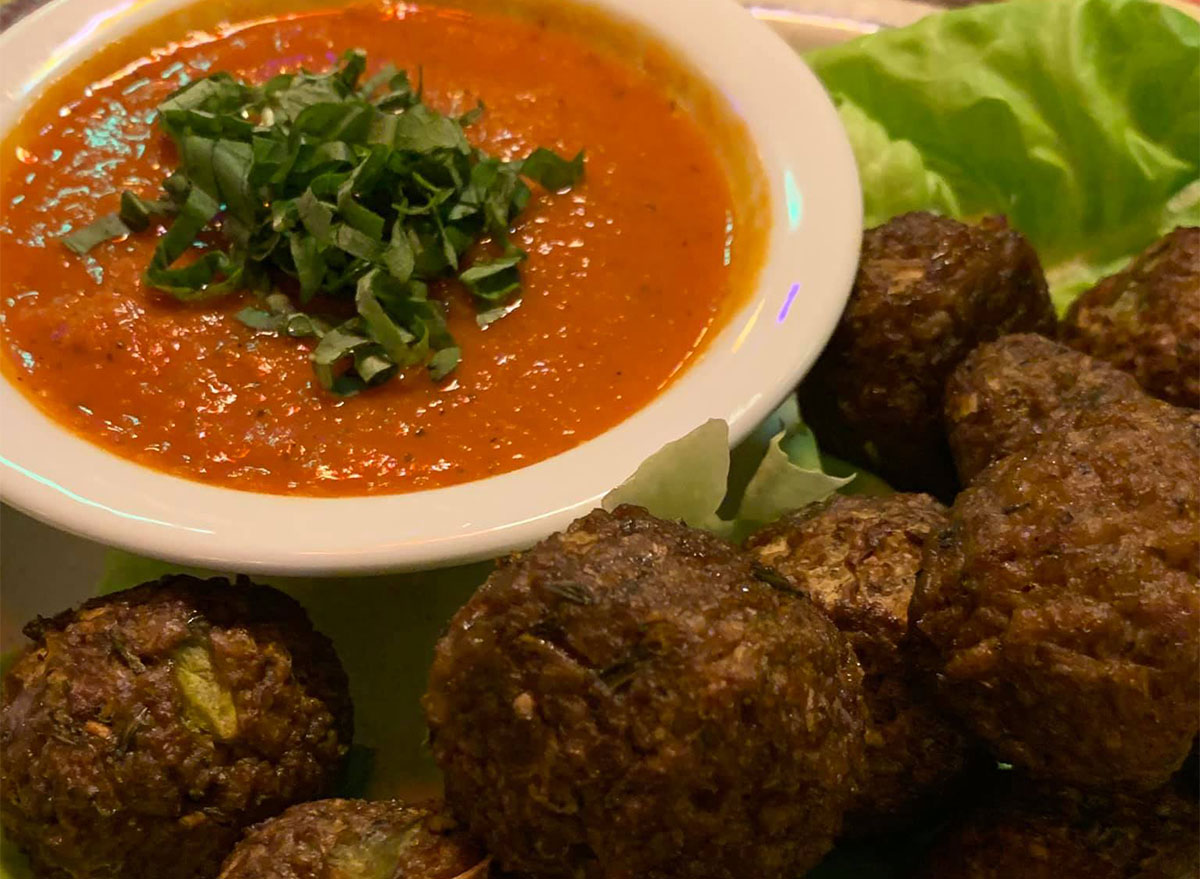 This quirky Buckhead classic has been serving vegan foods like tofu scrambles and kelp noodles since 1985, but it isn't exclusively vegan. Reviewers like the chicken curry basil wrap and stuffed portobello caps.
HAWAII: Kaimana Farm Cafe in Honolulu
A cozy farm-to-table cafe on the island of Honolulu, Kaimana serves excellent "power bento boxes" for lunch packed with island-style protein and veggies to fuel your exploring.
IDAHO: Locavore in Boise
This fun corner spot in Boise celebrates local fare with seasonal dishes that are "farm fresh" and "hearty," like the grass-fed brunch burger with pickled onion and arugula.
ILLINOIS: Beatrix in Chicago
This chic all-day eatery has several locations around Chicago, serving up slimmed-down versions of comfort classics like the enlightened Caesar and miso salmon.
INDIANA: Ezra's Enlightened Cafe in Indianapolis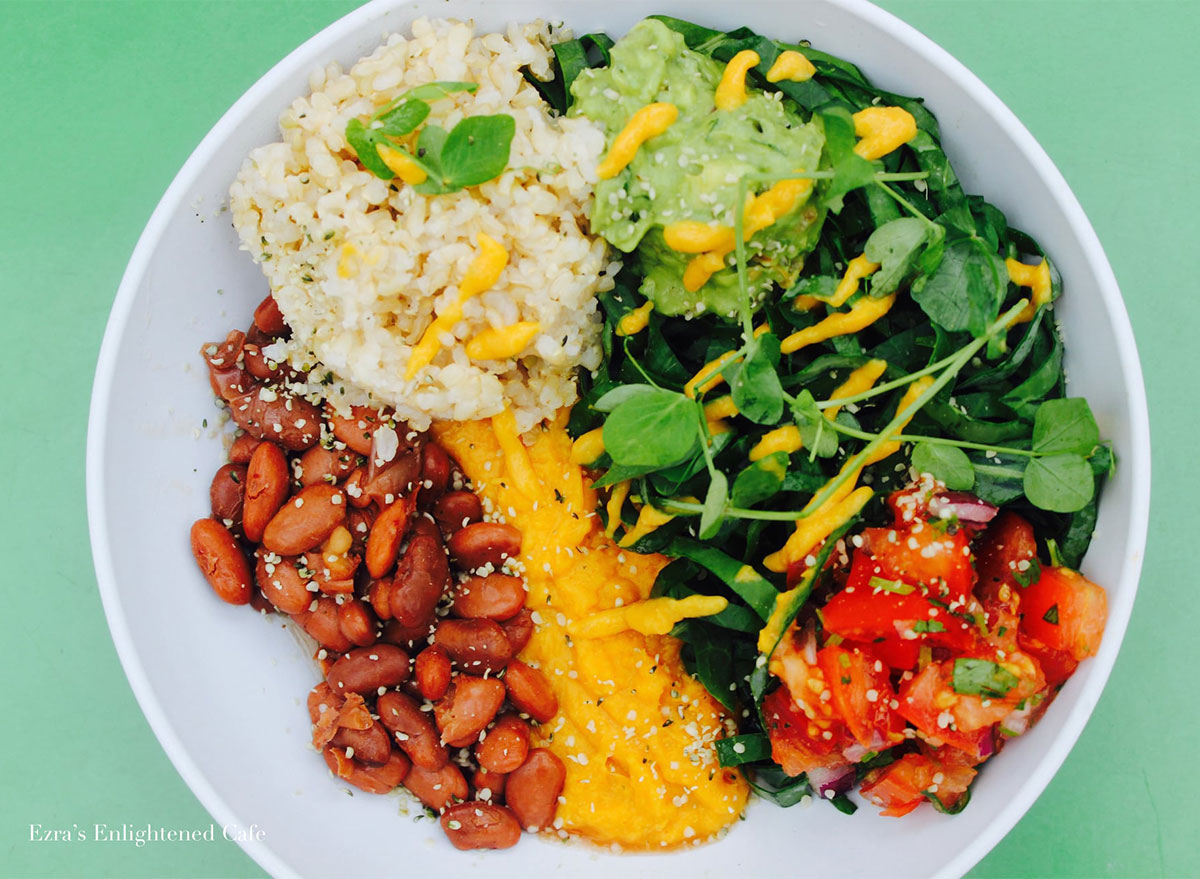 When you're in Indianapolis, dig into the gluten-free, dairy-free, meatless, raw food, like pizza, cheesecake, and even doughnuts. The restaurant also operates a sustainable farm where organic produce is grown from heirloom seeds.
IOWA: Eatery A in Des Moines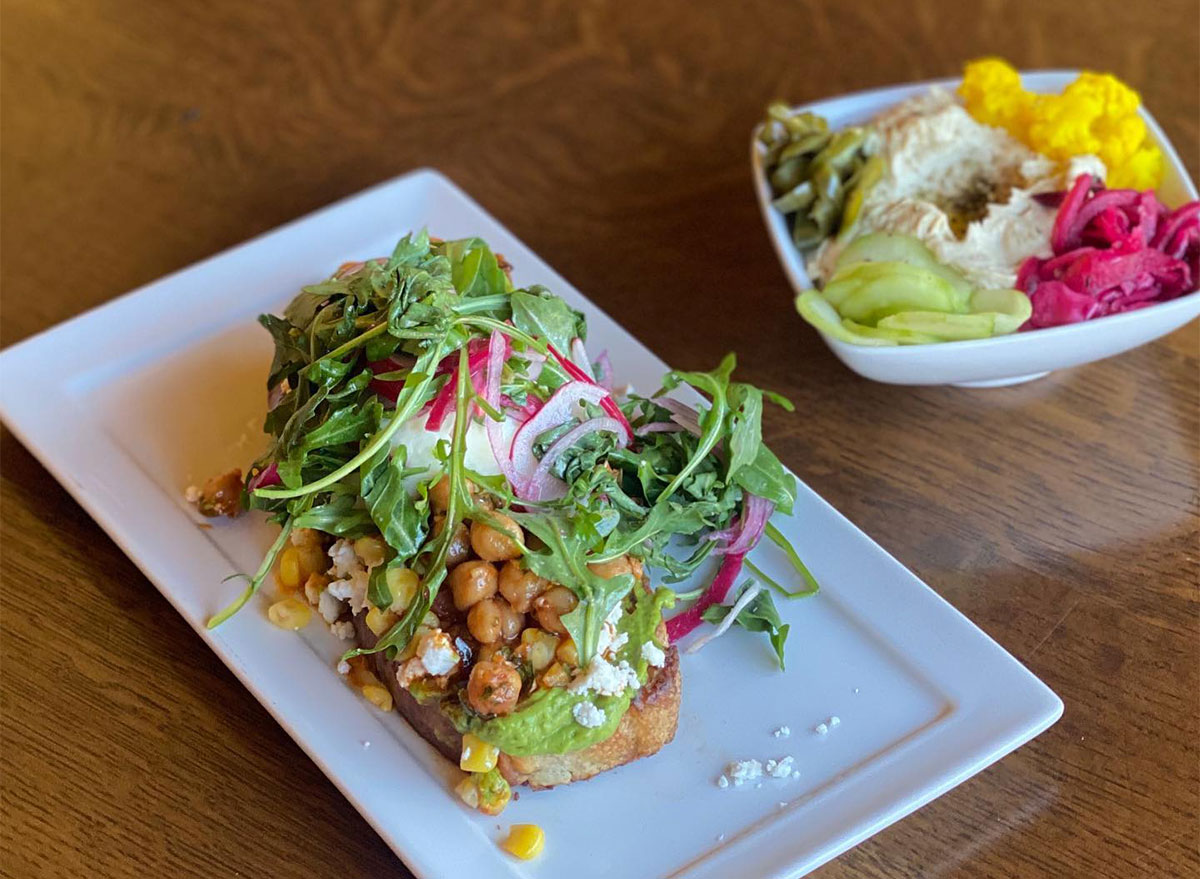 This Des Moines favorite serves creative Mediterranean dishes and wood-fired pizza in a stylish space with reclaimed Iowa wood. You won't want to miss the cauliflower falafel.
KANSAS: Enjoy Pure Food + Drink in Leawood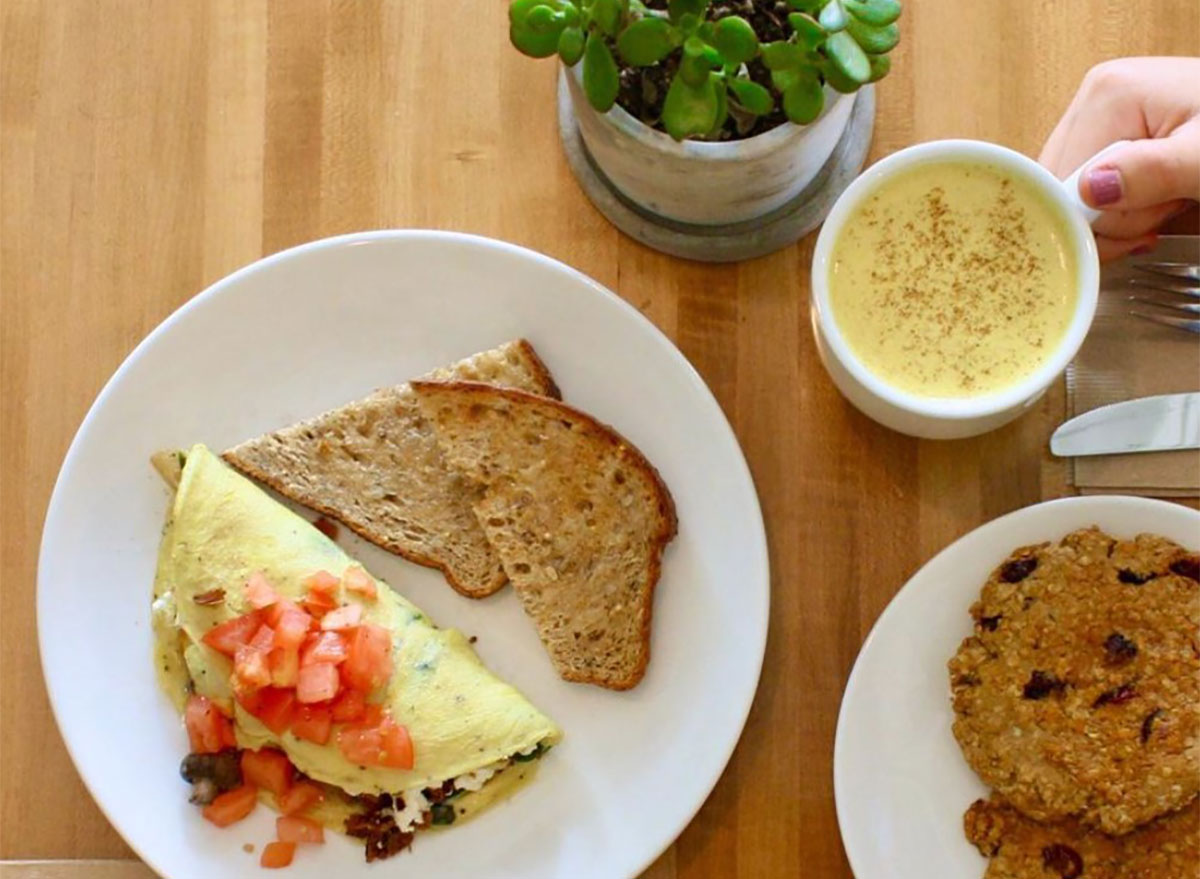 Highly rated by locals, Pure makes it easy to eat clean, plant-rich foods in Leawood. Try the roasted Brussels sprouts or the signature trail hike sandwich.
KENTUCKY: Lueberry in Louisville
This Instagram-friendly Louisville spot promises bowls, smoothies, salads, and vibes, and they deliver with the wrinkle blaster smoothie and the tropical thunder bowl. You'll have to check the vibes out yourself!
LOUISIANA: Carmo Tropical Cafe and Bar in New Orleans
Highly recommended by New Orleans influencer NOLAMaven, Carmo is a vegan-friendly seafood restaurant loaded with Caribbean and South American influences, including a stellar ceviche menu that will fill you up with flavor, not calories.
MAINE: Green Elephant Bistro in Portland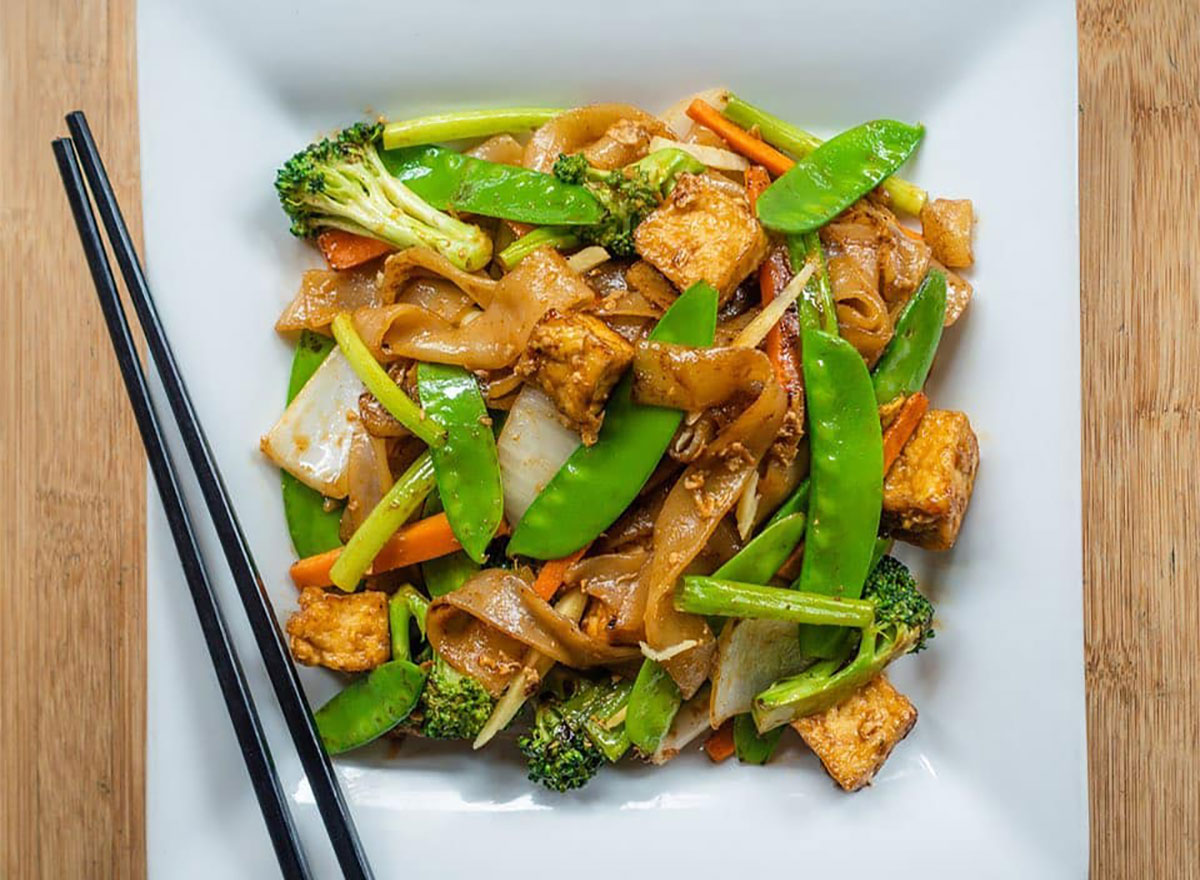 Since 2007, this bistro has been serving Portland's residents and visitors Asian-influenced vegetarian dishes like garlic and ginger tofu.
MARYLAND: Woodberry Kitchen in Baltimore
Set in a vintage factory, this rustic-chic place for refined New American fare has a farm-to-table bent with healthy options like vegan eggplant pizza.
MASSACHUSETTS: Sarma in Somerville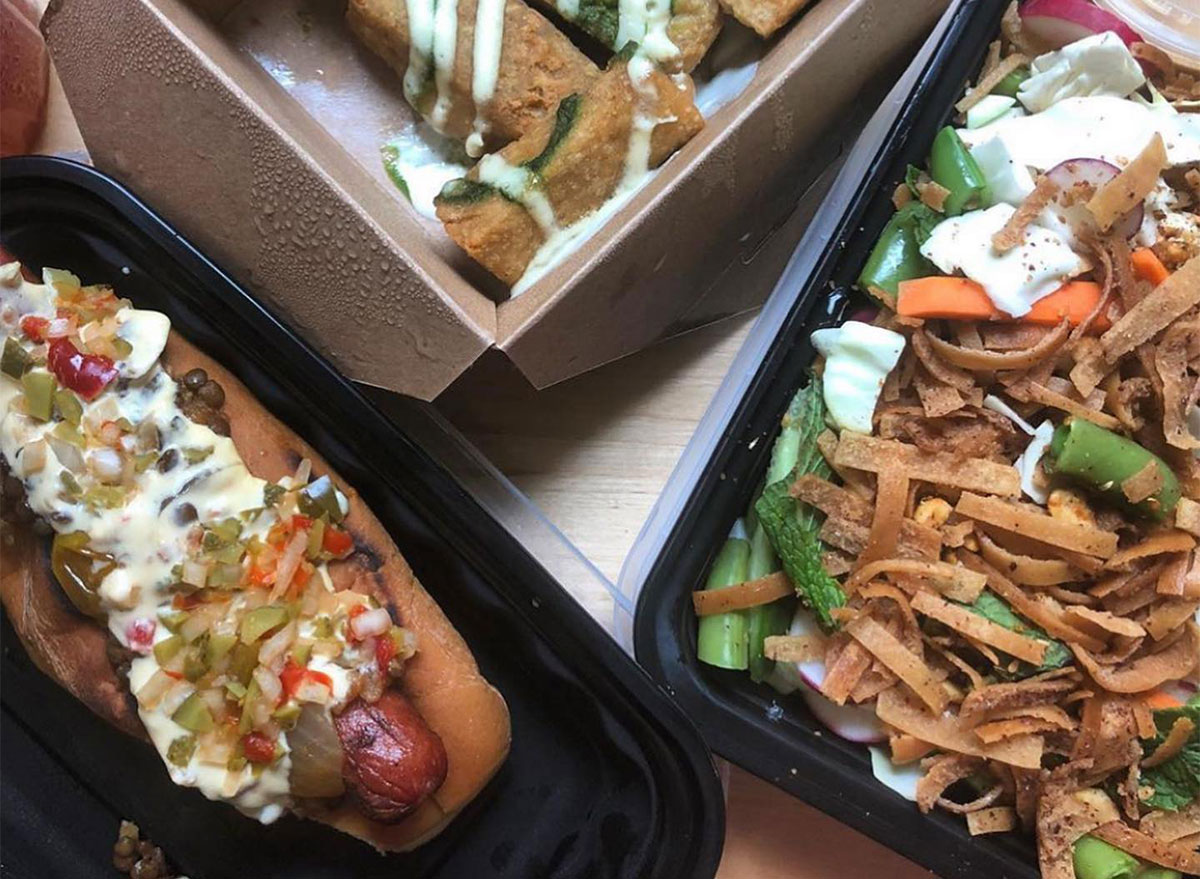 Packed with Mediterranean flavors, this small plates restaurant offers the freshest fish and a full vegetarian tasting menu, including mind-blowing pumpkin fritters.
MICHIGAN: Blue Nile Restaurant in Ferndale
Settle in for great grains, proteins, and greens at this Ferndale Ethiopian restaurant, where you can enjoy a vegetarian feast for under $20.
MINNESOTA: Agra Culture Kitchen in Minneapolis
This Minneapolis restaurant tells you what it's all about with its punny name. But in case you're still confused, Agra Culture Kitchen delivers bowls, flatbreads, and sandwiches that are labeled on the menu as gluten-free, dairy-free, vegetarian, etc. There's a healthy dish for everyone at this fun spot.
MISSISSIPPI: Greek Kitchen in Clinton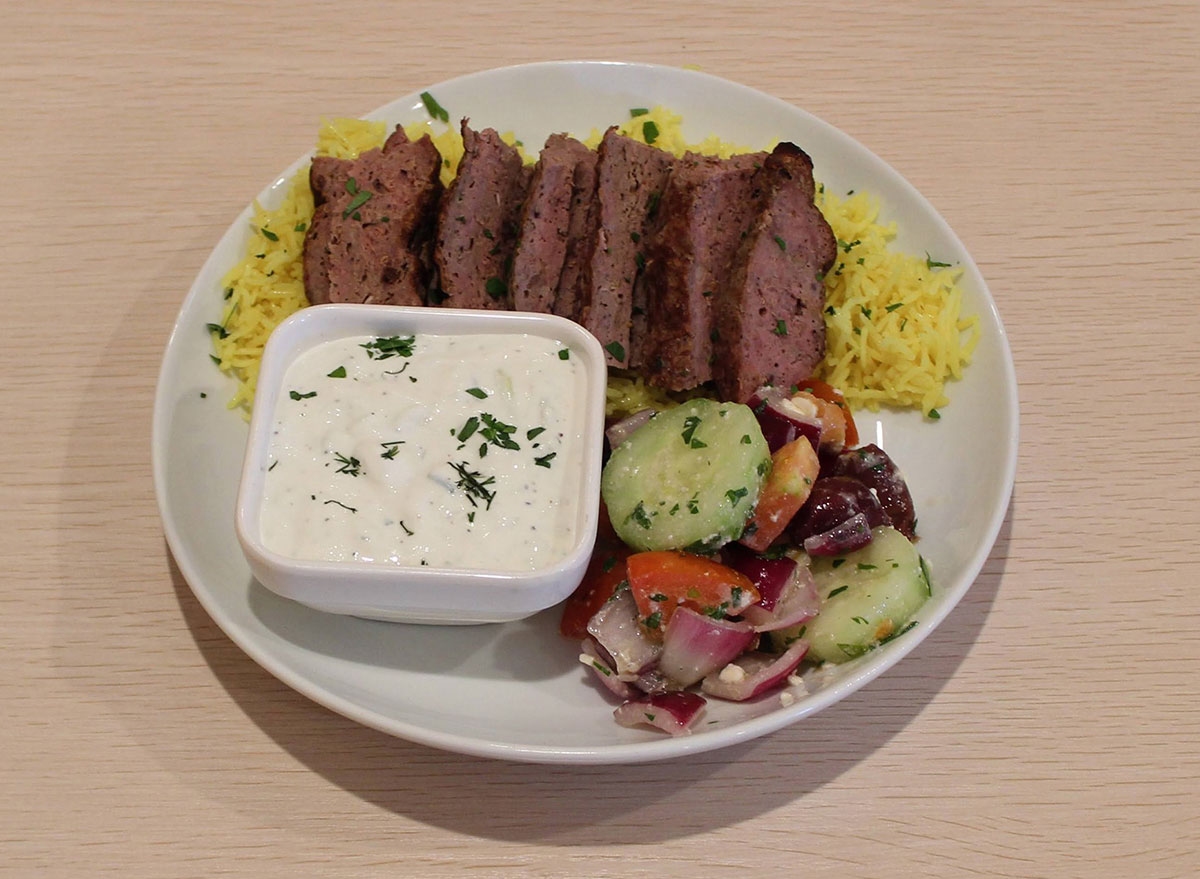 Serving fresh Mediterranean cuisine from natural ingredients, Greek Kitchen offers chicken shawarma that's been seared on the rotisserie, served in a wrap or over a salad.
MISSOURI: Lona's Lil Eats in St. Louis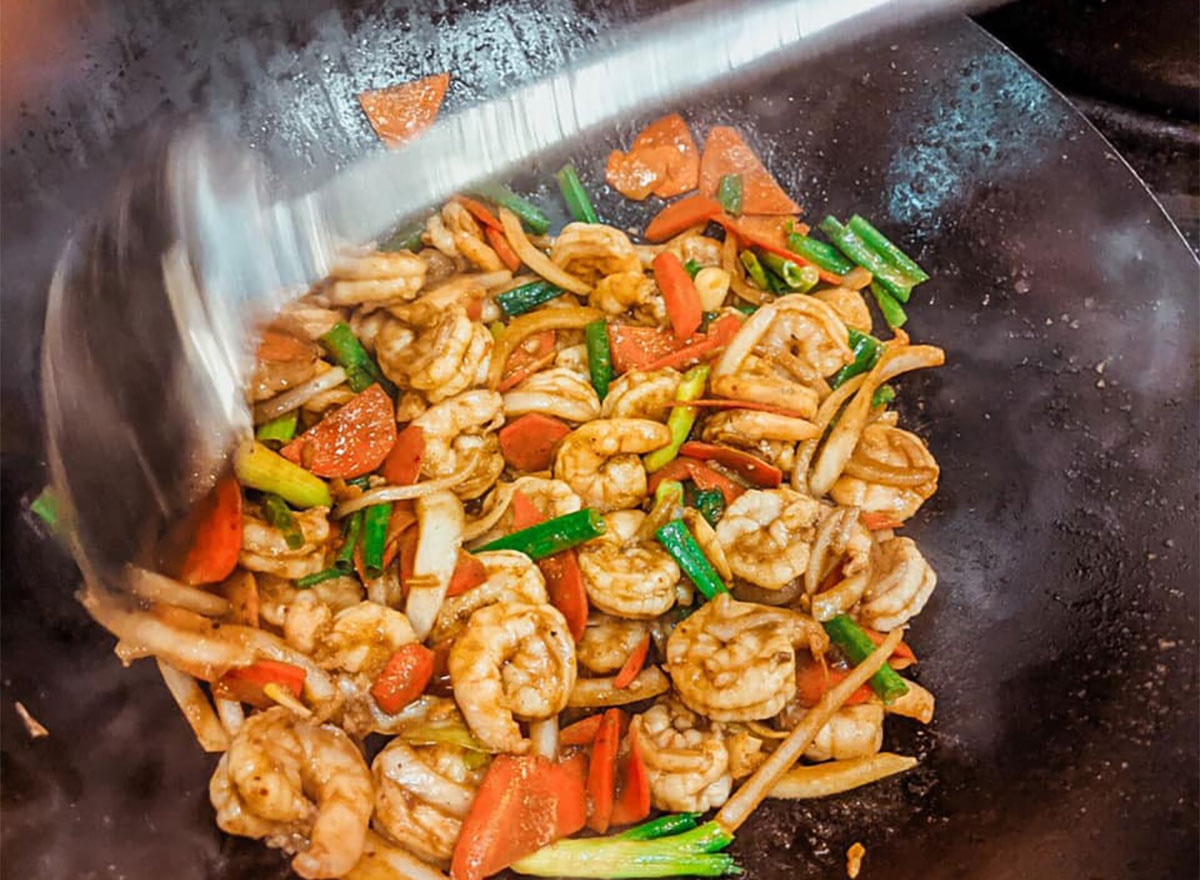 St. Louis has no shortage of healthy eats, but Lona's is a favorite for its Asian fusion fare, and locals love the do-it-yourself rice paper wraps.
MONTANA: The Fieldhouse in Billings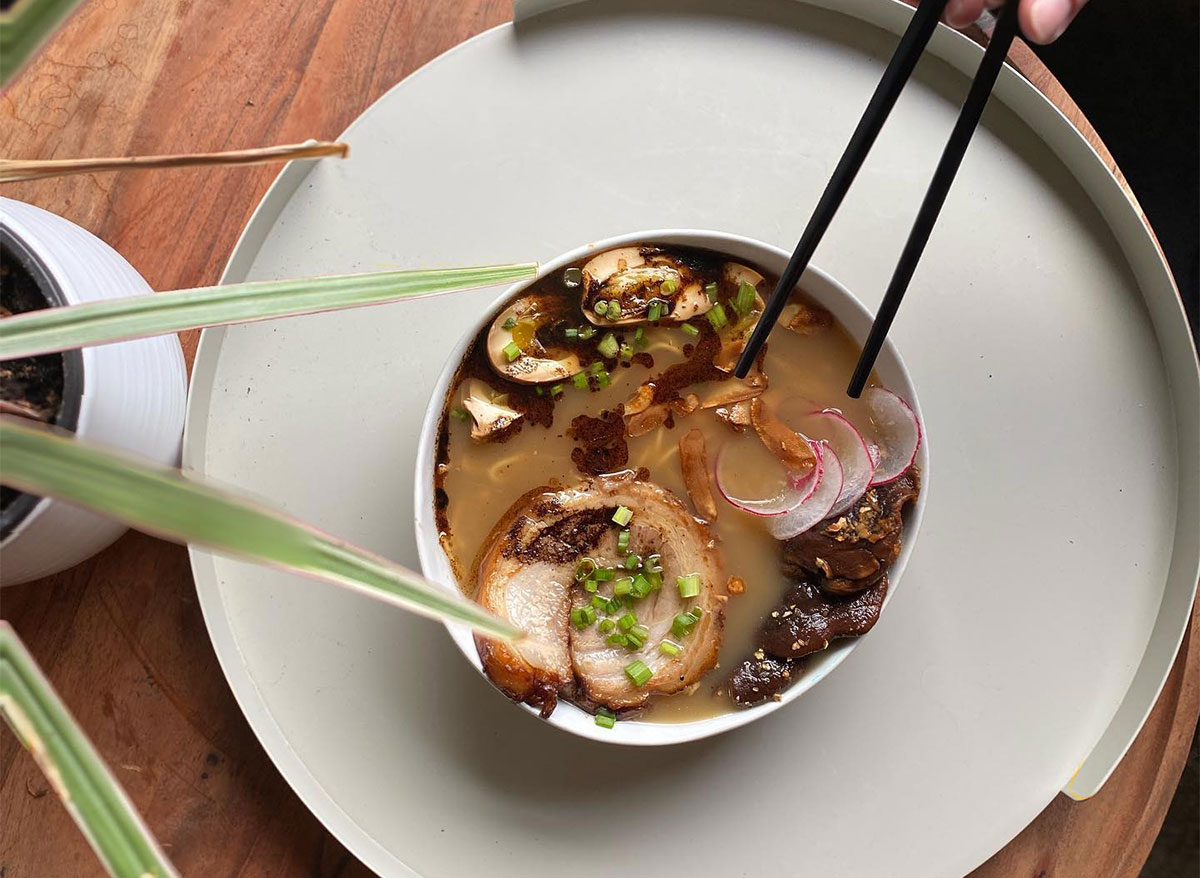 Yes, you can get vegetarian food in Montana, but meat-eaters will be happy with their meal too at this hip spot in Billings. Try the king salmon with kabocha squash and pomegranate.
NEBRASKA: Greenbelly in Omaha
With three locations in the state, this healthy chainlet bills its salad menu eco-friendly and responsible. We'll take the artichoke chicken salad and Caprese to go, please.
NEVADA: Canyon Ranch Grill in Las Vegas
Tucked away in The Venetian on the Las Vegas strip, this cafe specializes in fresh food that's free of additives and preservatives. Canyon Ranch Grill lists the calories as well as the fat and fiber content with each dish. Try the spa chicken burger, which feels so indulgent.
NEW HAMPSHIRE: Madeline's Truly Organic Kitchen in Portsmouth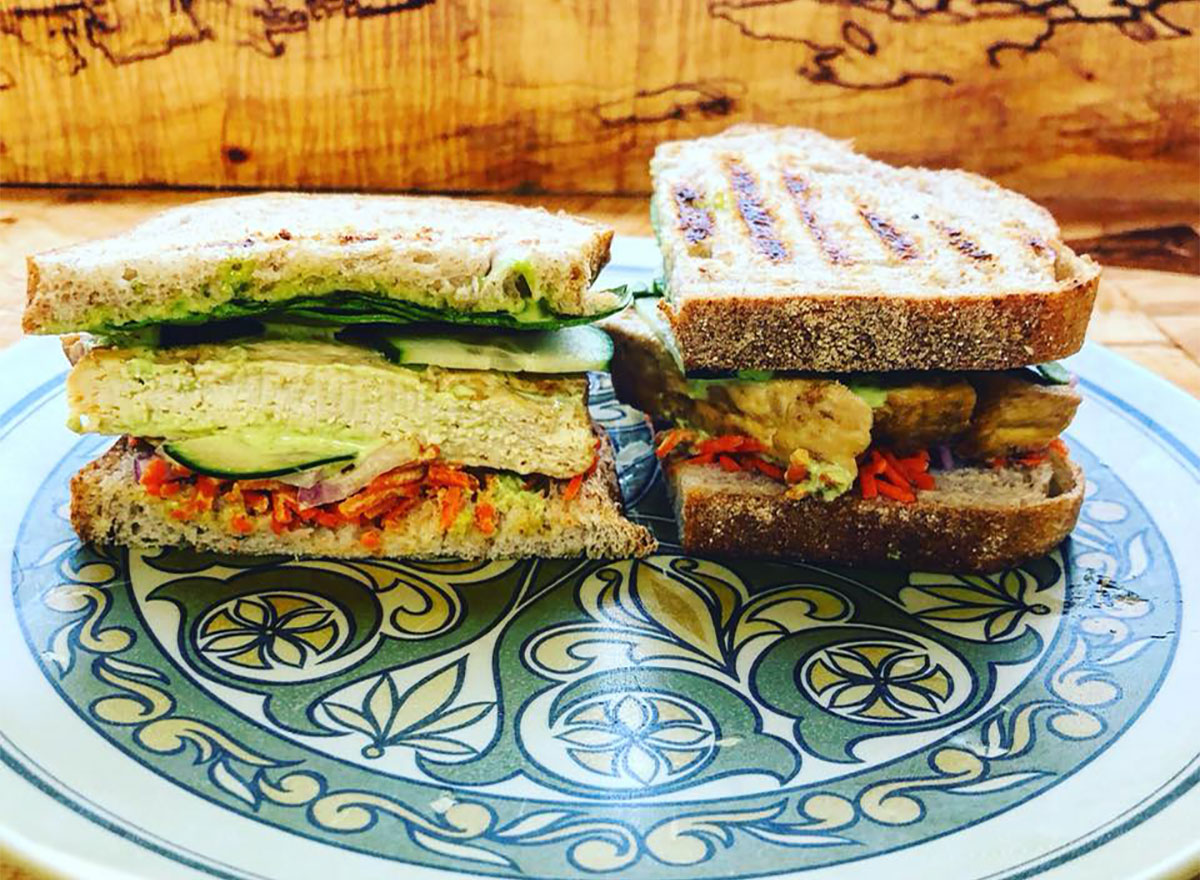 At this health food store and cafe in Portsmouth, reviewers say you must try the delicious smoothies and soup—recent specials like organic BBQ chicken chili and organic coconut curry sure sound tempting.
NEW JERSEY: Clean Plate Kitchen in Clinton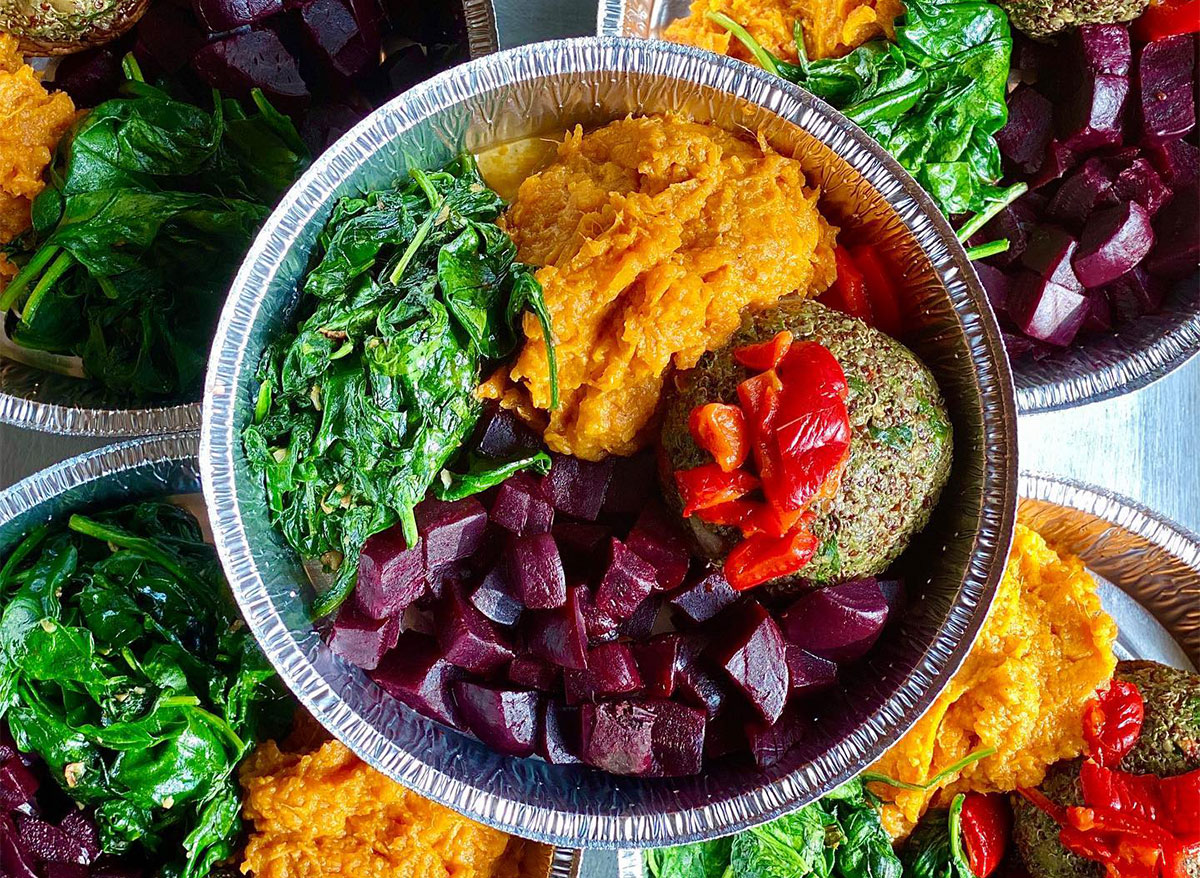 This vegan-friendly restaurant has a local, organic focus and is currently creating take-out meals you can eat at home, including a kids menu and adult fare like ginger teriyaki salmon with soba noodles.
NEW MEXICO: Bumble Bee's Baja Grill in Santa Fe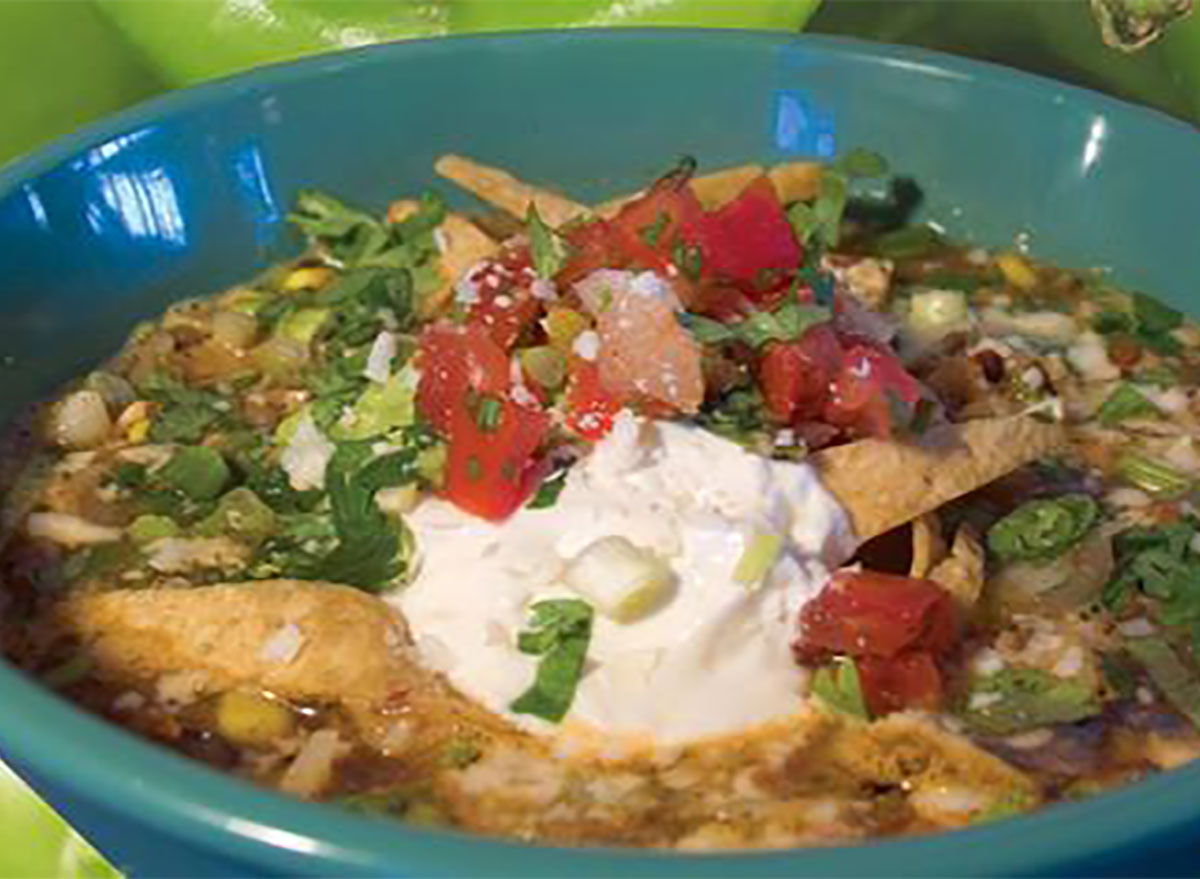 You'll love the Southwestern-style Mexican food with a healthy twist at Bumble Bee's. Try the vegan tortilla stew or goat cheese chicken burrito to fuel up before exploring Santa Fe.
NEW YORK: ABCV in New York City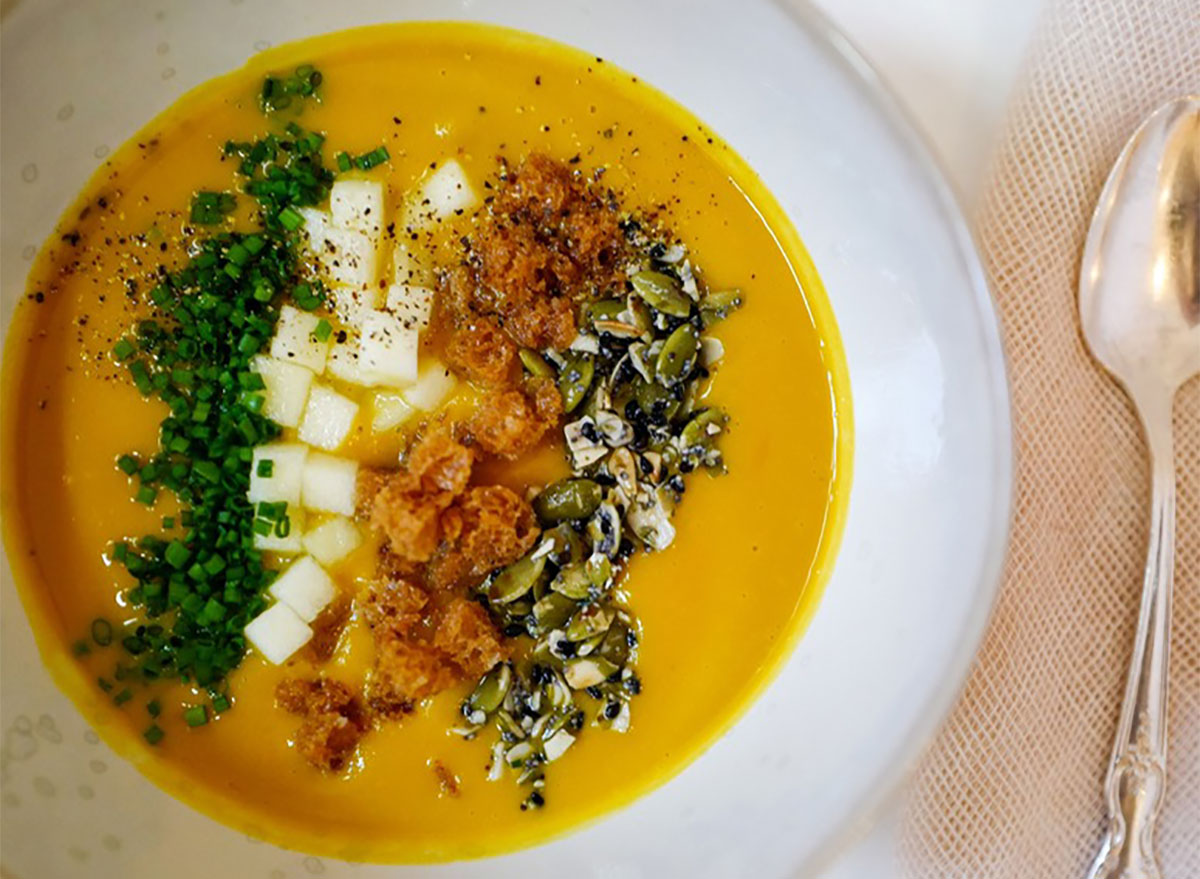 Plant-based, sustainable, artisanal, and organic whenever possible, created by celebrated chef Jean-Georges Vongerichten, this NYC restaurant will change the way the most dedicated meat-eater thinks about vegan food.
NORTH CAROLINA: Living Kitchen in Charlotte
Living Kitchen serves vegetarian fare and juices made with local, organic products served in a spare, modern setting, and reviewers swear the seasoning is so well done, you won't miss the meat. They also offer juice cleanses to go.
NORTH DAKOTA: Luna Fargo in Fargo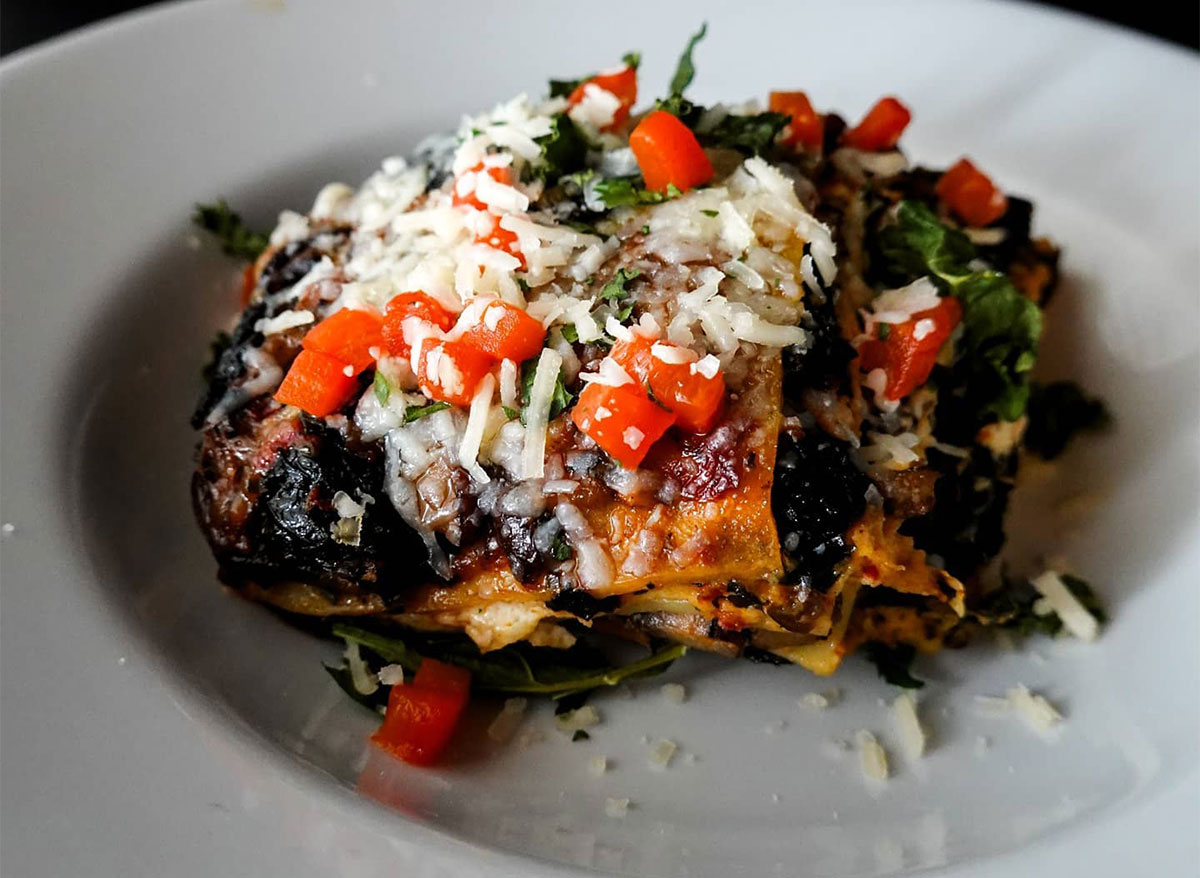 This casual eatery serves up flavorful and memorable meals, according to reviewers. Plus, Luna Fargo uses local, organic, and sustainable ingredients. Bison tenderloin and kale lasagna on the menu means there's something for every diet.
OHIO: Townhall in Cleveland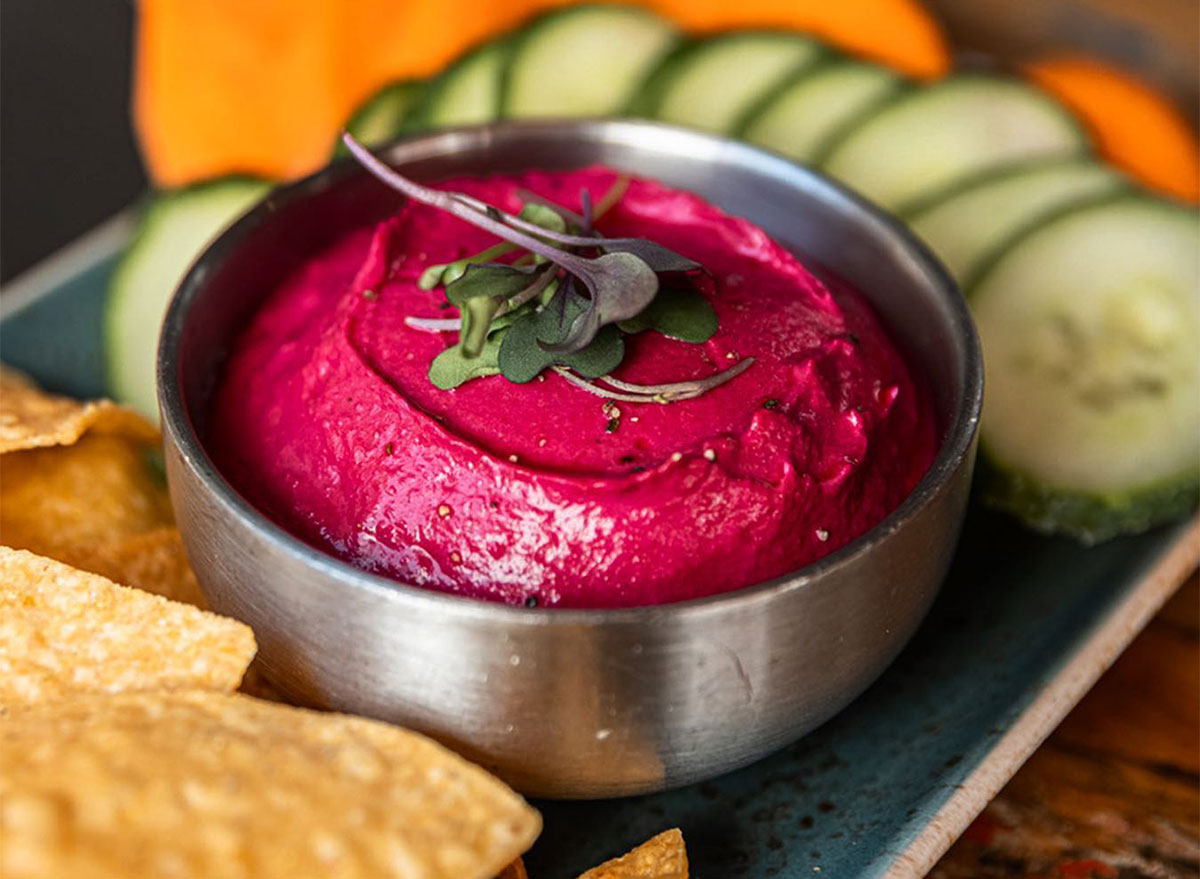 Townhall serves Bulletproof coffee, along with locally sourced meals like Keto baked tenders (with cashew breading) and seared shrimp tacos. Try the Townhall locations in Cleveland and Columbus.
OKLAHOMA: Plant in Oklahoma City
This OKC gem serves fresh local and plant-based food that will make you feel great, and those with allergies and food sensitivities will be happy to find that the kitchen is entirely gluten-free, dairy-free, soy-free, and peanut-free.
OREGON: Farm Spirit in Portland
It's not surprising Portland has its share of healthy restaurants but Farm Spirit is a special standout. Local, seasonal produce and a curated list of biodynamic and natural wines make this tiny spot a must-visit.
PENNSYLVANIA: Vedge in Philadelphia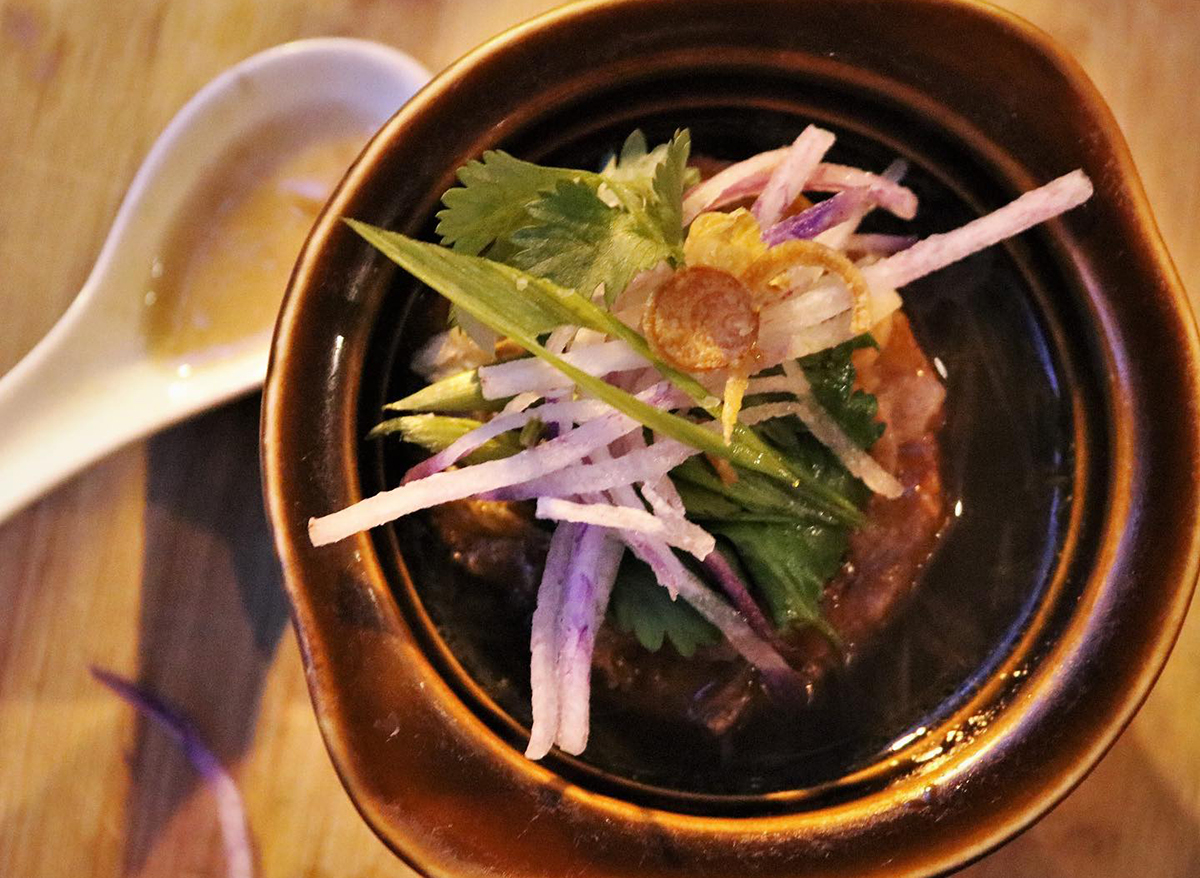 Philly's Vedge is a vegan spot serving dishes like BBQ beet empanadas and pho-spiced onion soup. Consider us intrigued!
RHODE ISLAND: Big King in Providence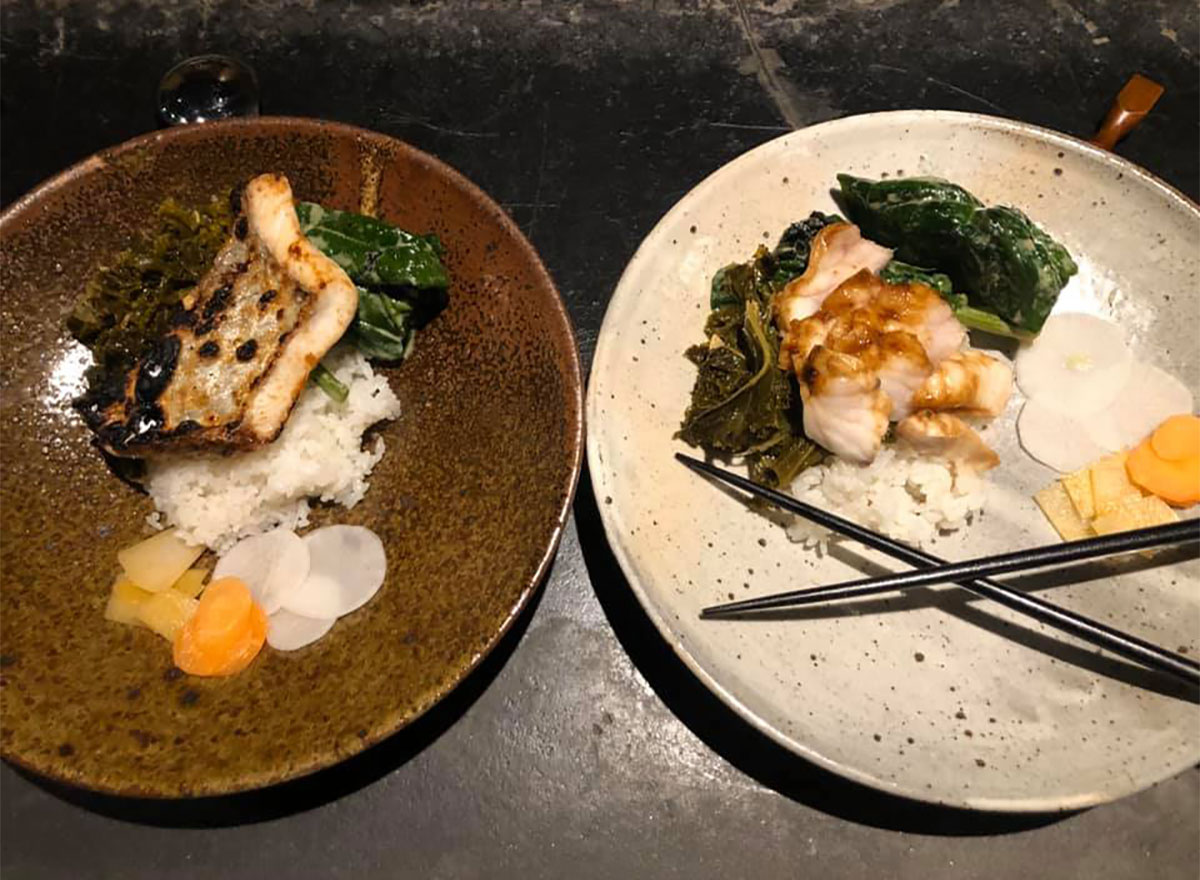 Providence's Big King is a tiny, slightly oddball Asian restaurant that serves a lot of grilled and raw local fish and veggies. You don't need to be on a healthy tip to eat here; it's well worth a visit no matter what. Big King is currently takeout only, but we hope that changes soon.
SOUTH CAROLINA: Gathering Cafe in Charleston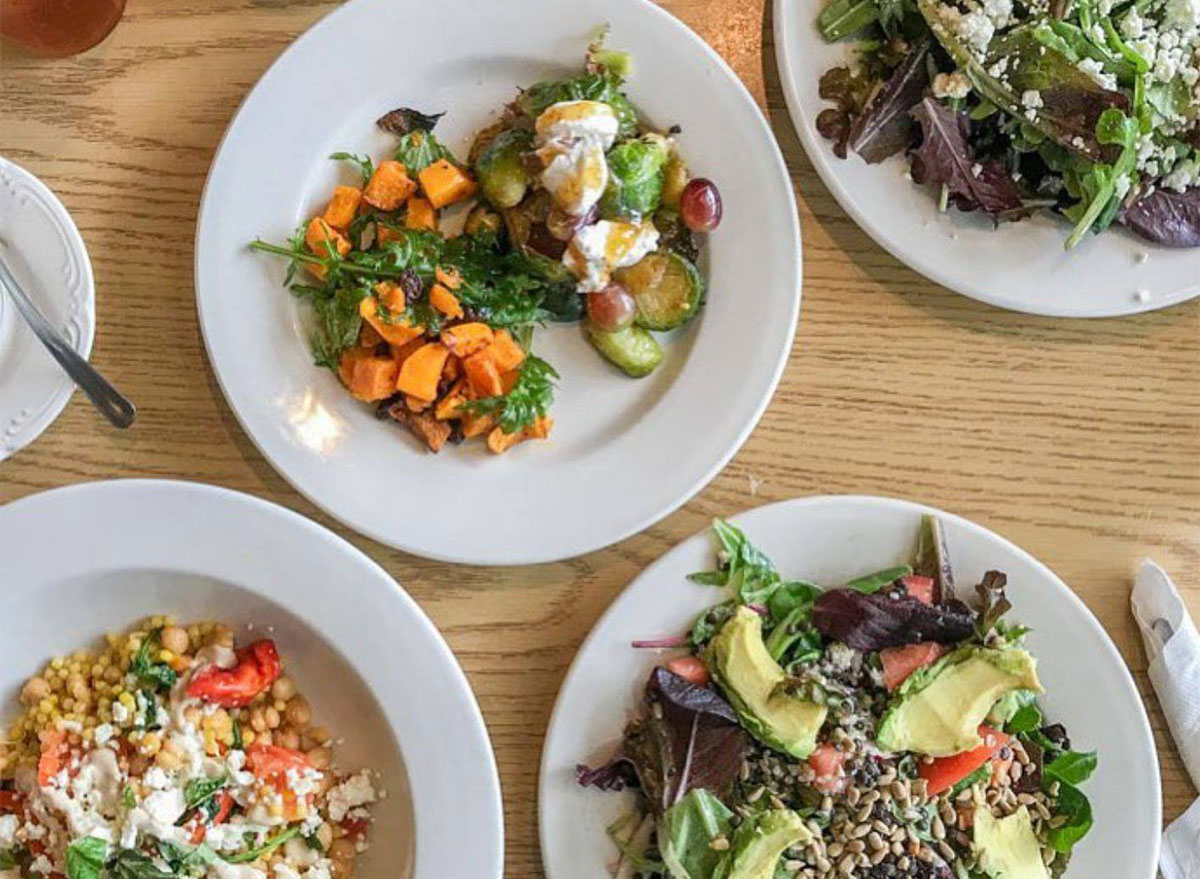 This charming Charleston spot serves organic-focused comfort food with global influences in a cheerful space. Try the chipotle tofu wrap or the lightened-up cobb salad.
SOUTH DAKOTA: Daily Clean Food and Drink in Sioux Falls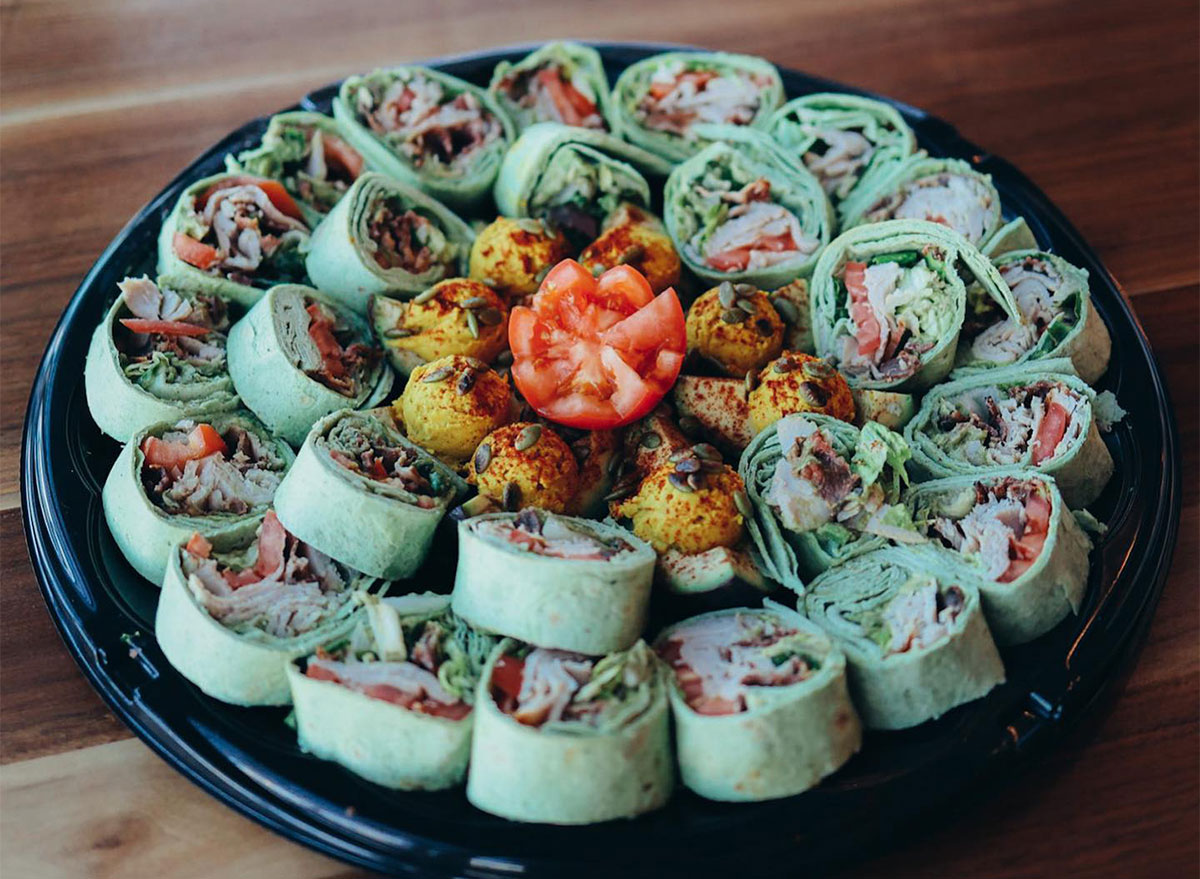 This Sioux Falls spot serves everything from vegan to keto dishes, all crafted from local, organic ingredients. Locals rave about the restaurant's build-a-bowl options.
TENNESSEE: Calypso Cafe in Nashville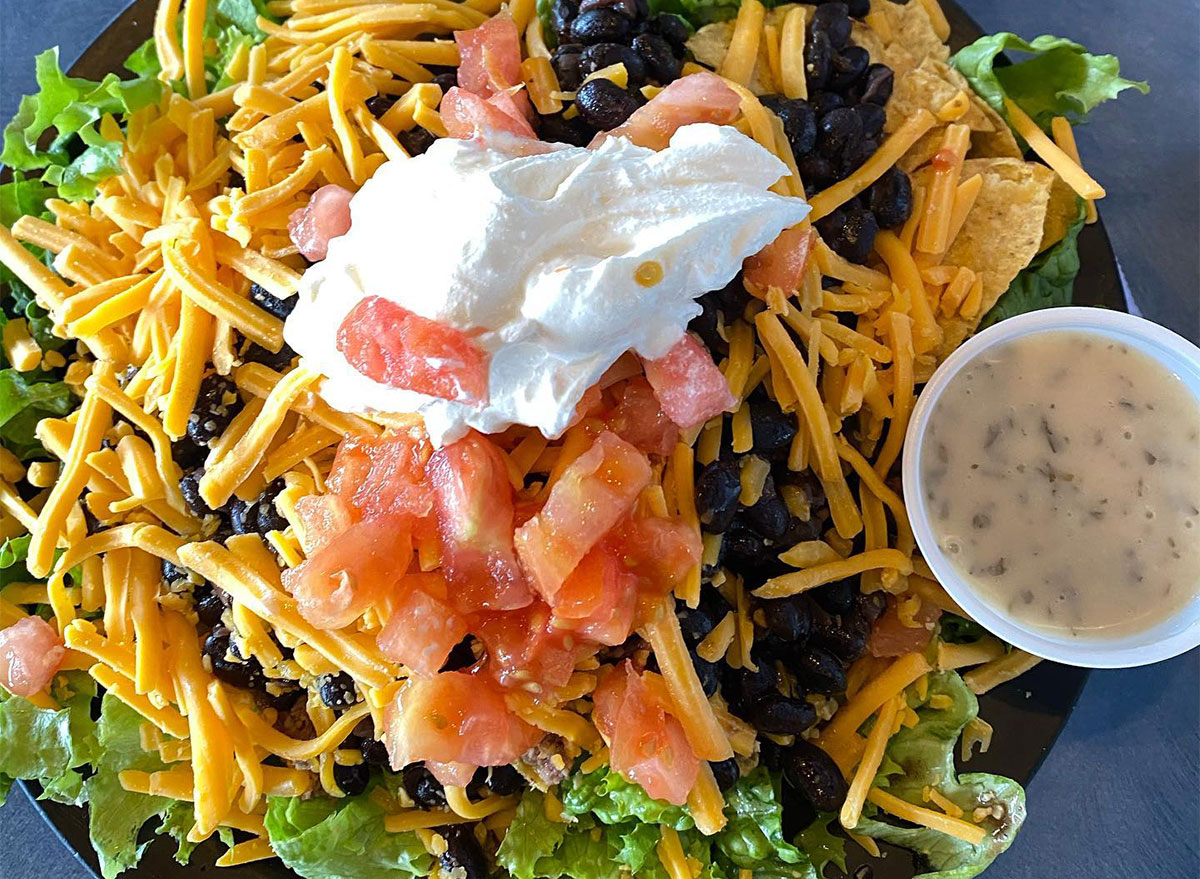 With several locations in Nashville, Calypso Cafe is a favorite of locals, offering bites like black bean salad and pulled rotisserie white meat chicken.
TEXAS: Sachet in Dallas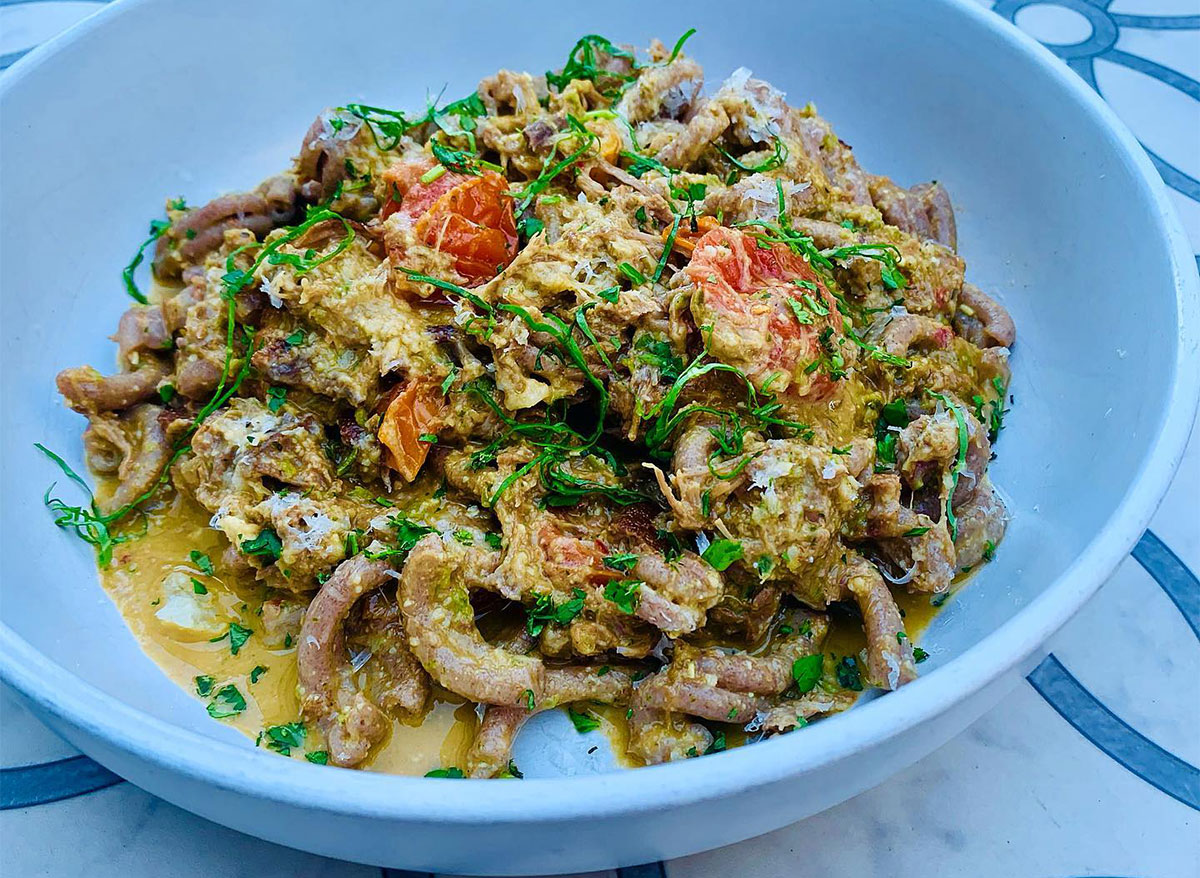 This hip Dallas fave serves Mediterranean-inspired fare with an emphasis on vegetable dishes, plus lamb, beef, chicken, and seafood in a bright space that also offers patio seating.
UTAH: GR Kitchen in Midvale
GR Kitchen serves delicious, healthy modernized Greek food. Build a salad, bowl, or wrap with Mediterranean options like grilled chicken, lamb strips, and hummus.6254a4d1642c605c54bf1cab17d50f1e
VERMONT: Hen of the Wood in Burlington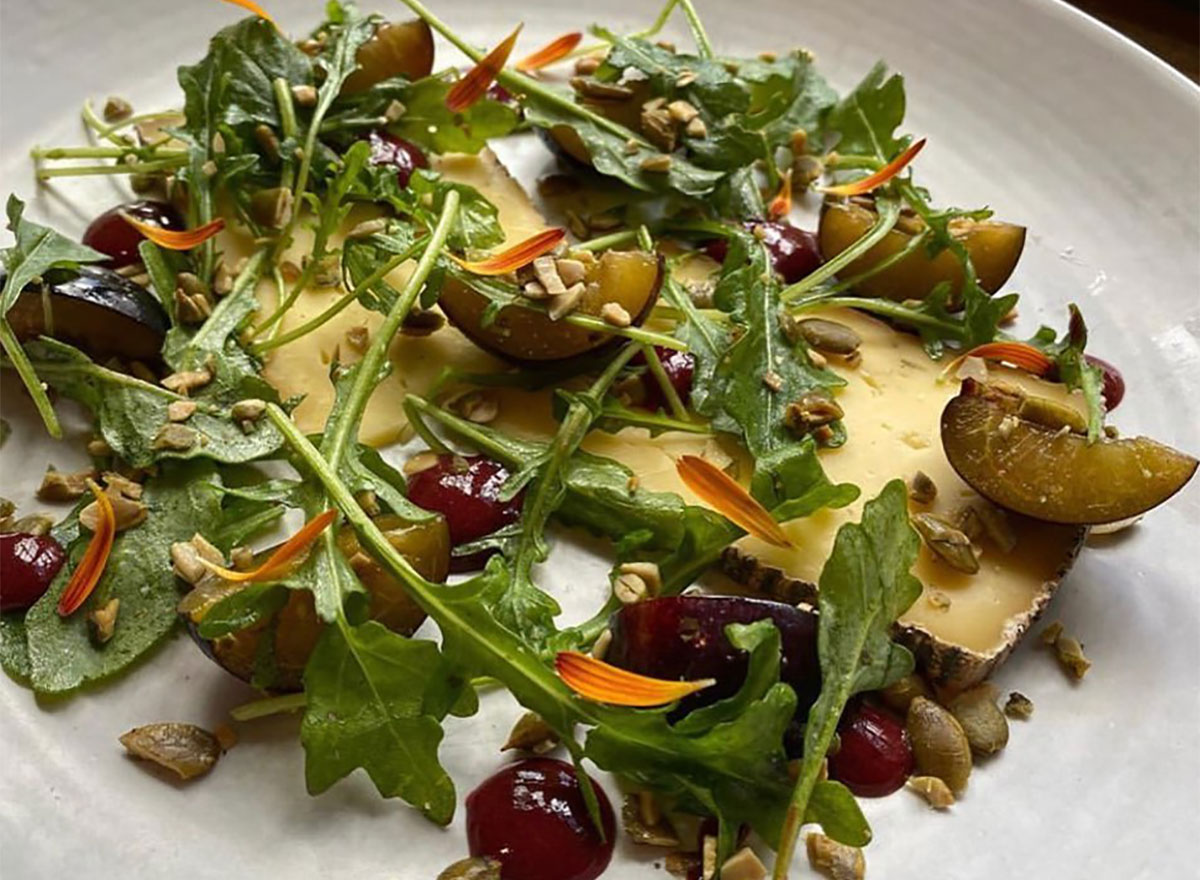 With farm-fresh bounty everywhere in the state, it's not difficult to eat healthy and clean in Vermont, but this spot's two locations in Burlington and Waterbury are standouts. The swordfish with celery root purée is a standout.
VIRGINIA: Civil Libation Bistro in Virginia Beach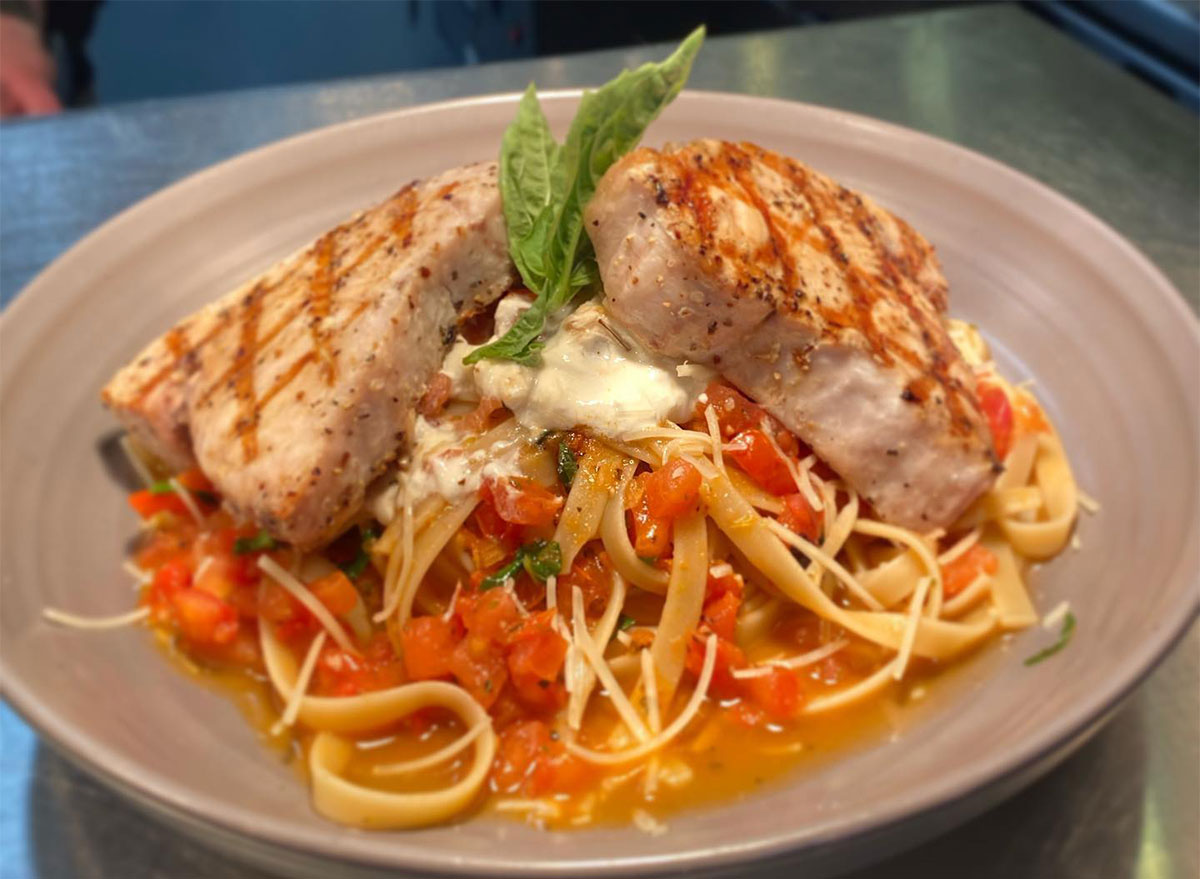 Come for the cocktails and stay for healthy bites like the crab omelet, jerk tuna, and super acai bowl at this fun Virginia Beach spot.
WASHINGTON: Cafe Flora in Seattle
Dine on vegetarian cuisine like harvest polenta and avocado toast in this light-filled, bustling spot with a courtyard.
WEST VIRGINIA: Good Natured Collective Market & Cafe in Martinsburg
Reviewers love the spicy chili, salads, and veggie "chicken" flatbreads at this vegetarian restaurant in Martinsburg.
WISCONSIN: Harvest in Madison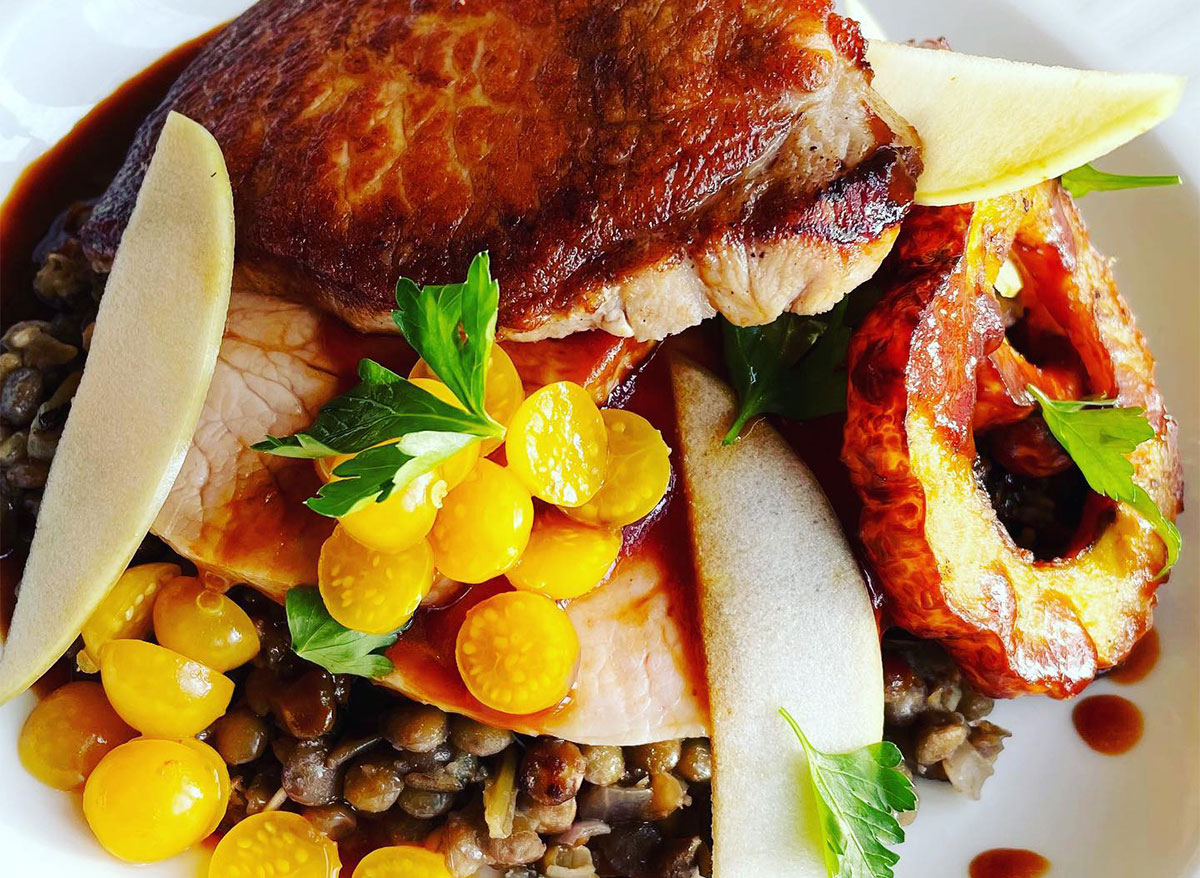 An upscale spot overlooking Capitol Square in Madison offering farm-to-table New American fare and a long wine list, Harvest offers healthy options like Brussels sprout salad, grain bowls, and mushroom risotto to-go at this time.
WYOMING: Gather in Jackson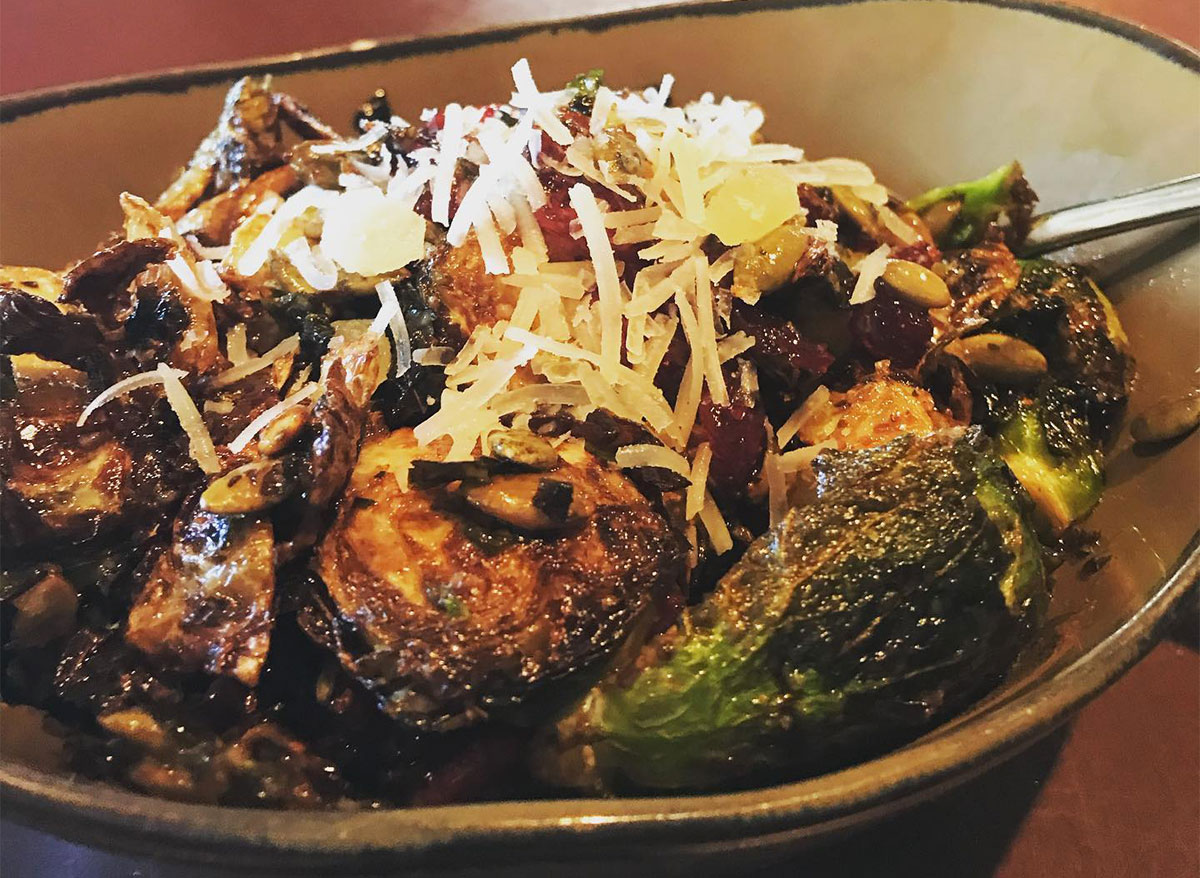 Offering an inventive menu in a casual atmosphere, this Jackson spot, which reviewers describe as absolutely fantastic, offers plenty of healthy options like pan-roasted salmon and vegan mae noodles.
Tanya Edwards
Tanya Edwards is a seasoned food and health journalist, who has held roles at Yahoo Health as Managing Editor and at Food Network as Programming Director.
Read more about Tanya