10 Best Low-Carb Beers That Won't Ruin Your Diet
Discover the best beers to help you stay on track with your health and fitness goals.
The product recommendations in this post are recommendations by the writer and/or expert(s) interviewed and do not contain affiliate links. Meaning: If you use these links to buy something, we will not earn a commission.
When living a balanced lifestyle, maintaining a healthy diet and an active social life can sometimes feel like opposing forces. Many social gatherings and celebrations revolve around food and drinks, and that often includes beer. According to a recent Gallup poll, 62 percent of U.S. adults drink alcohol, with beer taking the top rank as most popular.
But if you're watching your carb intake and are trying to make smarter choices when it comes to alcoholic beverages, we have some fantastic news. We've selected the 10 best low-carb beers that won't sabotage your diet or leave you feeling deprived. This way, you can still enjoy a brewski without straying from your health and fitness goals.
Whether for weight loss or blood sugar management, counting carbs has become a common practice for many. It's relatively straightforward to track your carbs, but what about when you want to kick back with a cold one? Fortunately, not all beers are created equal in terms of carbohydrate content. With an increase in health-conscious consumers, breweries have responded by crafting low-carb options that still deliver on flavor without the extra calories.
Read on to discover our top picks for the best low-carb beers that won't ruin your diet. And when you're done, don't miss How to Choose the Best Beer at the Grocery Store, According to Experts.
Michelob Ultra Pure Gold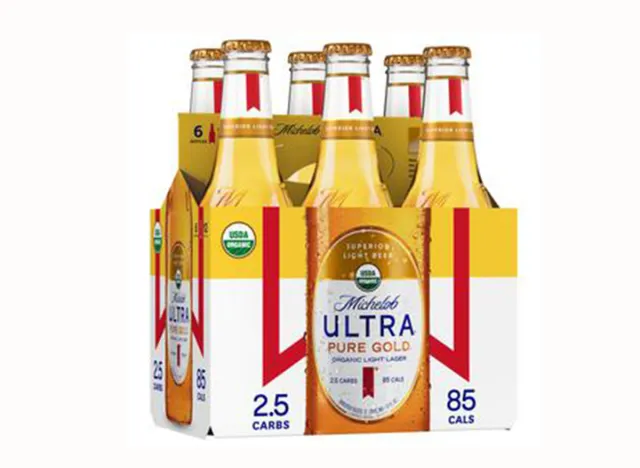 Carbs: 2.5 grams
Calories: 85
ABV: 3.8%
When it's time to kick back and enjoy a cold one without the guilt, Michelob Ultra Pure Gold comes to the rescue. With its crisp, refreshing taste and a carb count that won't derail your diet, this beer is a top pick for those who want to balance their love for beer with their health-conscious lifestyle. It's a fantastic choice for those sunny days when a cold beer is a must, but you'd rather not compromise your low-carb goals.
Miller 64 Extra Light Lager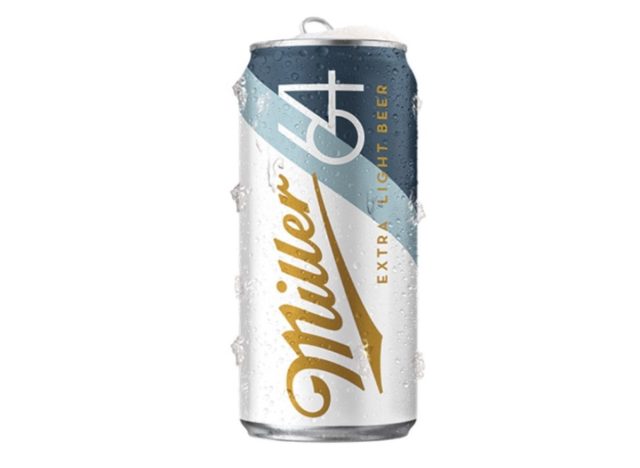 Carbs: 2.4 grams
Calories: 64
ABV: 2.8%
Sometimes, you just want a beer that's simple and straightforward, and Miller 64 Extra Light Lager delivers. This low-carb brew is ideal for those moments when you're in the mood for a beer that won't weigh you down, whether you're at a game, a barbecue, or just winding down after a long day.
Corona Premier
Carbs: 2.6 grams
Calories: 90
ABV: 4.0%
Love the taste of a good Mexican lager but not the carb load that often comes with it? Look no further than Corona Premier. This beer combines the iconic flavor of a Corona with a lower carb content, allowing you to savor the taste of Mexico's favorite beer without carb concerns.
Bud Light Next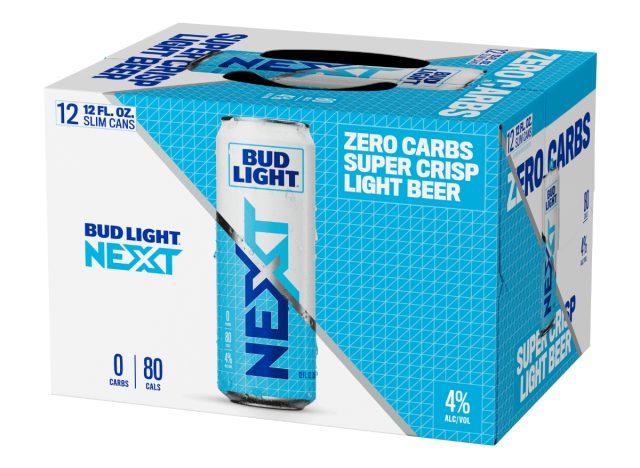 Carbs: 0 grams
Calories: 80
ABV: 4%
If you're a Bud Light fan but also carb-conscious, Bud Light Next is your solution. This beer offers the classic Bud Light taste you love but with fewer carbs, ensuring you can enjoy your favorite beer without derailing your dietary goals.
Busch Light
Carbs: 3.2 grams
Calories: 95
ABV: 4.1%
Striking a balance between carb-consciousness and robust flavor, Busch Light is an excellent choice for those who enjoy the taste of Busch but want a lighter, low-carb version. Whether relaxing at home or celebrating with friends, this beer delivers the perfect blend of taste and fewer carbs to help you enjoy your beer without worry.
Kona Kona Light Blonde Ale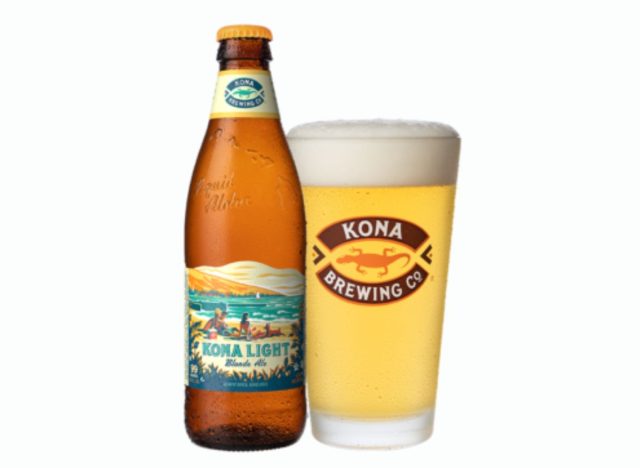 Carbs: 4 grams
Calories: 99
ABV: 4.2%
Craft beer lovers who appreciate a flavorful brew without the carb overload will love Kona Kona Light Blonde Ale. This beer boasts a crisp and easy-drinking taste that appeals to those who prefer quality beer but also keep an eye on their carb intake. It's an excellent option for laid-back evenings when you want to enjoy a brew that doesn't compromise on taste or your diet.
Budweiser Select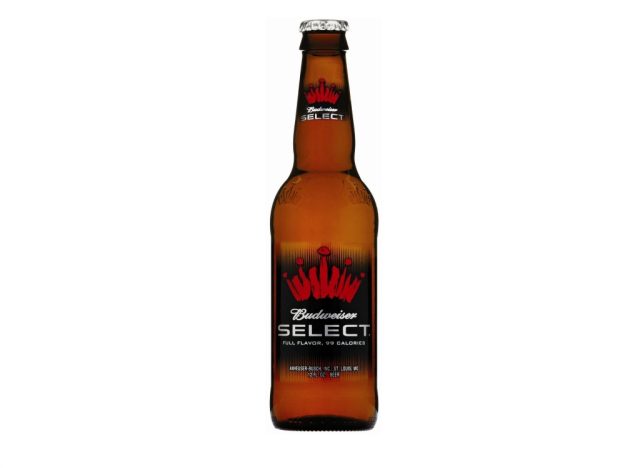 Carbs: 2 grams
Calories: 55
ABV: 4.3%
Keeping things simple without sacrificing taste, Budweiser Select is an ideal choice for those into the Budweiser flavor but want fewer carbs. This beer offers a streamlined profile, making it a great option when you desire the classic Budweiser experience while maintaining your low-carb lifestyle.6254a4d1642c605c54bf1cab17d50f1e
Beck's Premier Light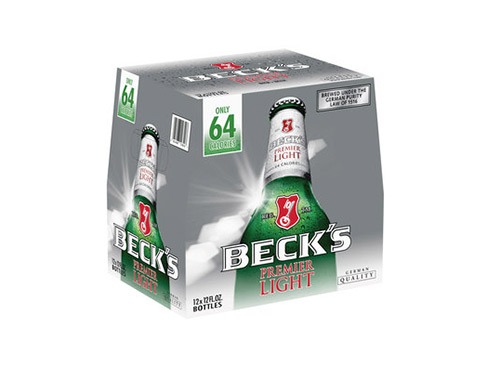 Carbs: 4 grams
Calories: 64
ABV: 2.3%
For those seeking a low-carb beer that doesn't compromise on taste, Beck's Premier Light fits the bill. With its flavorful profile and lower carb content, it's the choice for beer lovers who want a satisfying brew while staying within their dietary limits.
Keystone Light
Carbs: 5 grams
Calories: 100
ABV: 4.2%
Keystone Light is the beer of choice for those who appreciate the simplicity and a light beer profile. This brew strikes a balance between straightforwardness and a satisfying flavor, making it an excellent choice for various occasions, from casual get-togethers to relaxing evenings at home.
Natural Light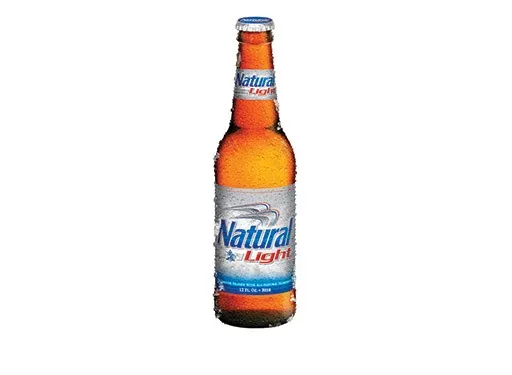 Carbs: 3.2
Calories: 95
ABV: 4.2%
When it's time to kick back and relax with a cold one that won't overload your carb count, Natural Light is a dependable choice. This low-carb beer is a go-to option for those occasions when you'd rather not compromise your dietary goals but still want to enjoy the classic beer experience.
Adam Meyer
Adam is a health writer, certified holistic nutritionist, and 100% plant-based athlete.
Read more about Adam