10 Best Mail-Order Steaks in America
With so many meat companies selling directly to consumers, there's an option to suit every taste and need.
The product recommendations in this post are recommendations by the writer and/or expert(s) interviewed and do not contain affiliate links. Meaning: If you use these links to buy something, we will not earn a commission.
Online shoppers have seen a proliferation of meat-box delivery services over the past decade. While consumers now have a variety of options, it still can be difficult to differentiate between the offerings.
Consumers have to decide which details are personally important to them. Is grass-fed vs. grain-fed or pasture-raised a critical element of your choice? What about dry-aged beef as opposed to wet-aged? Do you prefer local sourcing from small farms? Is humane animal treatment the number one factor?
With all these possibilities to consider, here's a bit of a cheat sheet to help you find what matters to the meat lover you're shopping for—even if that person is yourself.
Moink
If you want: Customization
Moink features a different variety of meats in its weekly subscription boxes weekly, so you can just roll the dice and pick up what the supplier is laying down. Alternately, Moink provides the opportunity to substitute items from its wide selection of ethically sourced grass-fed beef and lamb, pastured pork and chicken, plus wild-caught seafood, to build your own box that ships via UPS every Tuesday with free shipping to the Lower 48. Portions are sized so that any substitutions you choose to make to the standard box still cost the same as the weekly special. Standard weekly subscription boxes start at $159, while gift boxes start at $119, with an all-beef Papa Steaks collection, including 14 different cuts, available for $199.
Omaha Steaks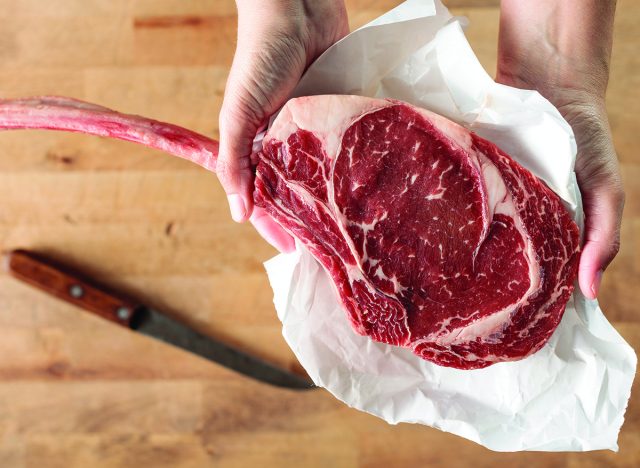 If you want: A brand name that everyone knows
Since 1917, five generations of the Simon family have been providing butcher services and delivering premium Nebraska beef across the country. For gifting or home use, a box from Omaha Steaks has been the gold standard of grass-fed, grain-finished beef delivery services since 1952. Omaha Steaks' premium Private Reserve steak offers benefits from at least 60 days of dry aging to concentrate beefy flavors and firm up the texture of the meat. Steak boxes start at $149.99, but it's worth checking for Omaha's frequent sales promotions to save a little bread on your beef.
Porter Road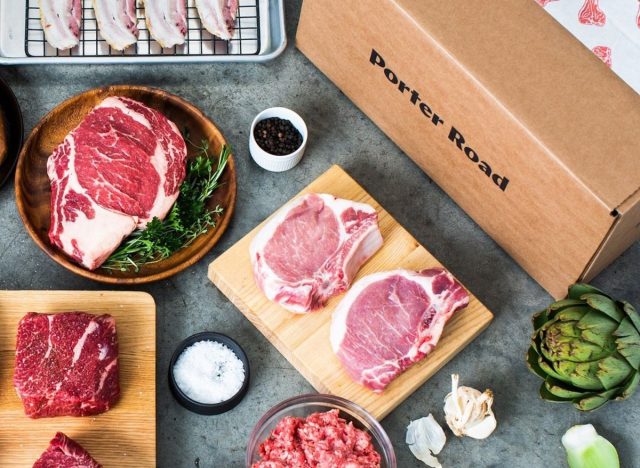 If you want: Meat from craft butchers
Started by two chefs who discovered a mutual love of craft butchery while working in the same restaurant kitchen, Porter Road seeks nothing less than to reinvent the concept of the butcher shop. Sourcing from family-run farms in Tennessee and Kentucky that have been vetted against the highest standards of animal care, Porter Road meticulously hand cuts every piece of meat that it ships from the company's processing facility. Steaks, pork, and chicken ship fresh, not frozen, and the company's helpful website offers cooking tips from the chef/owners. Curated boxes range from $60 to $165, and discounts are available for subscriptions.
Crowd Cow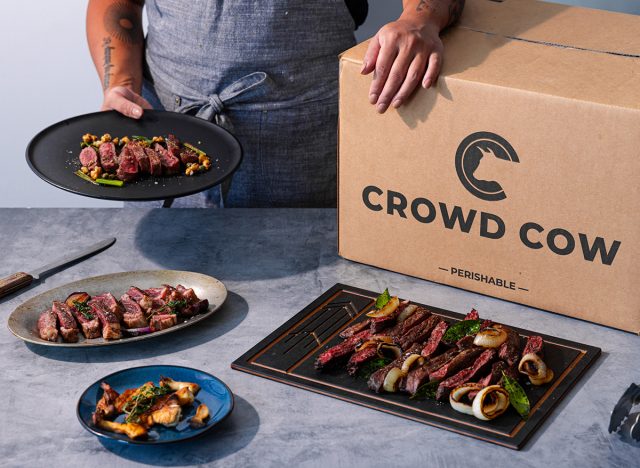 If you want: To own part of a cow (well, not really)6254a4d1642c605c54bf1cab17d50f1e
Seattle-based Crowd Cow started out with the concept of using crowdsourcing to purchase whole animals to divvy up among investors, kind of like buying a consumable timeshare. Eventually, the company pivoted to a more traditional business model, expanding operations to allow for aging beef and shipping from locations more accessible to the rest of the company. In addition to premium steaks, Crowd Cow now offers chicken, pork, bacon, and salmon in its standard boxes with available add-ons, such as lamb, whole turkeys, duck, and the much sought-after Japanese A5 Wagyu beef. Gift boxes start at $79, with the Steak Lover's Dream pack of eight cuts priced at $199 and a Wagyu Sampler offered for $242.48.
ButcherBox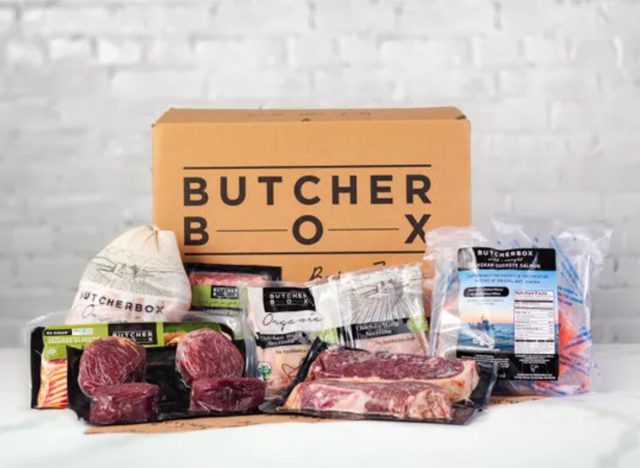 If you want: Variety and transparency
The team behind ButcherBox is fastidious about where it sources its beef, poultry, chicken, pork, and seafood. The company's website clearly lists details about its providers. The beef primarily comes from Australia, where pasture-raised cattle are the norm. The company also sources humanely-raised pigs, free-range chickens and turkeys, wild-caught fish, shrimp, scallops and lobster, and bison that graze on prairie grass. The result is meat you can eat and trust. In addition to recurring subscription boxes, the company offers a wide range of gift boxes, including a Premium Holiday Steak Sampler for $199.
Snake River Farms
If you want: Super premium meats
In an effort to improve the quality of American beef, Snake River Farms cross-bred Japanese Wagyu bulls with local cows, starting in 1988. The resulting American Wagyu breed revolutionized the industry by creating an animal with gorgeous tight fat marbling that contributes a buttery texture and complex flavors to the beef. In addition to this premium beef, Snake River Farms also sells Japanese Kurobuta pork from heritage-breed Berkshire pigs, which are basically the Wagyu of ham. Snake River Farms assortment packs run from $78 for a burger and truffle box up to $534 for a variety of dry-aged American Wagyu and USDA Prime steaks and patties.
Boxed Halal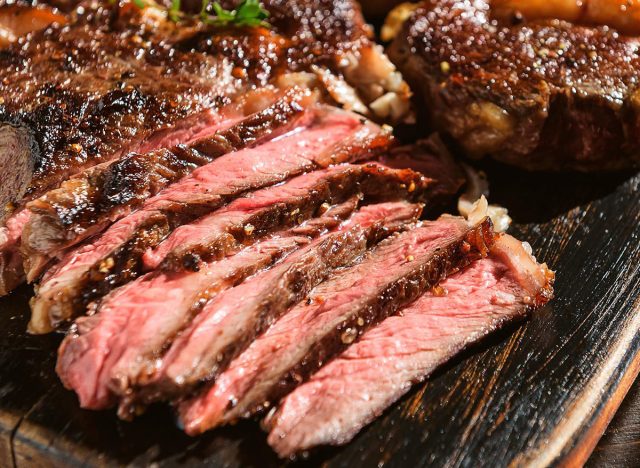 If you want: Halal certification
While halal-certified meats might be fairly easy to source from butcher shops in big cities, it's pretty hard to come by in the hinterlands, thanks to a dearth of providers who employ the proper hand-slaughtering practices. Boxed Halal offers solutions to this conundrum by shipping  high-quality and ethically raised meats to shoppers across the country. Ranging from humble goat to elevated Wagyu steaks, Boxed Halal is a valuable source to anyone seeking curated boxes or customized meal plans while remaining observant. Boxed Halal assortments start at $100 for a whole turkey box and top out at $199 for Wagyu or surf & turf boxes.
Harry & David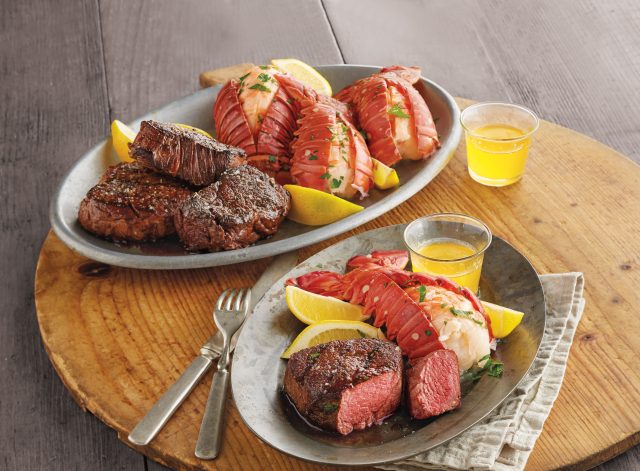 If you want: Your meat shipped with some pears
If the name Harry & David only evokes the box of pears that your boss used to give you as a holiday present, you probably need to take another look at the venerable gourmet gift-delivery service. Harry & David's Fine Meats division offers a wide variety of steaks, pork, chicken, ham, and seafood. A partnership with Rastelli's provides antibiotic-free beef turf that you can accompany with fresh Atlantic lobster for the surf. Harry & David's meat shipments start out at $39.99 for bacon-wrapped pork chops and top out at $269 for four USDA Prime Barrel-Cut eight-ounce filet mignons.
Silver Fern Farms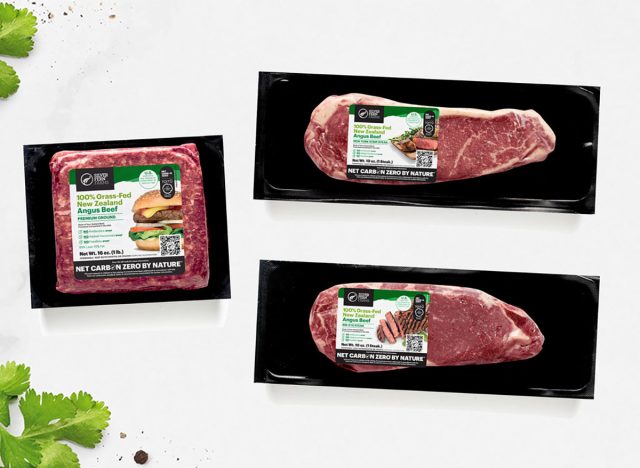 If you want: Net zero carbon meats
There have been multiple studies investigating the impact of the meat and dairy industries' contribution to greenhouse gas emissions, so environmental factors are important issues to consider when making dietary choices. New Zealand-based Silver Fern Farms is steadfastly committed to a comprehensive Sustainability Action Plan that aims at a science-aligned reduction target of their emissions by 42% by 2030. Rather than simply relying on purchased carbon offsets, Silver Fern Farms works with a group of 17 farms to address their own carbon footprints and mitigate them by planting new foliage to optimize carbon storage within the borders of their properties. Plus, the grass-fed beef is objectively delicious, proving that doing good can taste better. Net Zero Carbon meat boxes range from $84.90 for top sirloin to $204.04 for the Ultimate Beef Box.
Force of Nature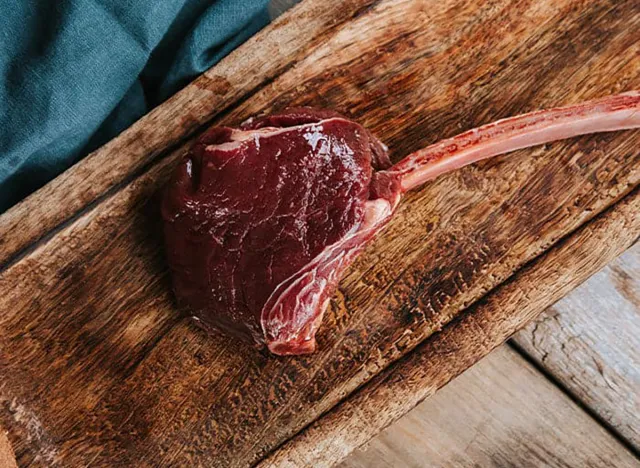 If you want: Specialty steaks and ground meats
For some truly unique meats, Austin, Texas-based Force of Nature offers all kinds. We're talking bison ribeyes, venison tomahawk steaks, and all kinds of ground meats, including elk and even wild boar. Now, that's how you take your chili recipe to the next level! To satisfy regulations about shipping elk and venison, the company adds 3% grass-fed beef to the grind, but nobody should complain about that extra deliciousness! Steaks run $9.99 to $23.99 each, grinds range from $11.99 to $13.99 per pound, and variety boxes run from $174 to $400, depending on the number of products.
Chris Chamberlain
Chris Chamberlain is a food, drink, wine, spirits, travel and personal interest writer based in Nashville, Tennessee.
Read more about Chris