10 Best-Tasting Steak Sauces You Can Buy Right Now
Steak purists may disagree, but a good sauce can really take your beefy entrée to flavorful new heights.
The product recommendations in this post are recommendations by the writer and/or expert(s) interviewed and do not contain affiliate links. Meaning: If you use these links to buy something, we will not earn a commission.
Steak sauce is a surefire way to enhance meat and veggies with a rich, bold flavor in a flash. The tangy condiment is a blend of tomato puree, vinegar, molasses, spices, and herbs, which together pack a punch that's acidic, sweet, savory, and salty.
Steak sauce is big business. According to a 2023 consumer steak report from Meats by Linz, 55% of respondents typically enjoy eating steak with sauce, with the classic British import A.1. Steak Sauce topping the list of go-to sauces. Some diners are particularly enthusiastic about steak sauce: in 2020, three million Americans used four or more bottles within the last 30 days, according to Statista.
Despite protests from steak purists that proper steak preparation needs only butter, salt, and pepper, a tangy sauce can kick up flavor fast, and what you choose to put on your steak is your business. Plus, aside from grilled steaks, the brown sauce can be slathered on hot dogs, burgers, sandwiches, and veggies for instant flavor bombs.
It's no wonder the condiment has remained popular since its invention in the 1890s. But if you want to branch out beyond classics like A.1. and HP Sauce, here are 10 of the best steak sauces to try right now.
Melinda's Ghost Pepper Steak Sauce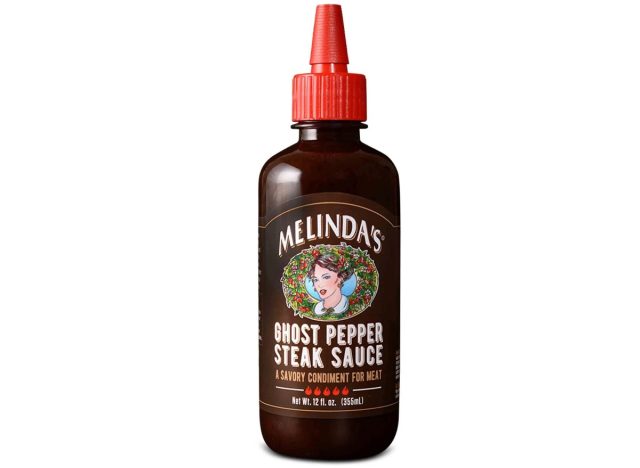 Hot sauce lovers can experience the best of both worlds with Melinda's ghost pepper sauce: balanced flavor and a heap of spice. Clocking in at one million Scoville units, expect a classic barbeque taste with serious heat. Reviewers say it is unexpectedly hot, and some can't stop slathering it on pretty much everything, from chicken to pork and of course, steak. "I might be going a bit overboard with it, but the flavor is just amazing," one reviewer wrote.
Primal Kitchen Organic Steak Sauce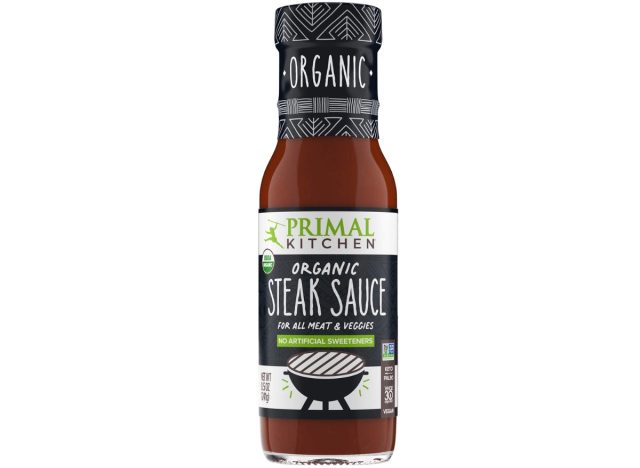 This low-calorie steak sauce from Primal Kitchen is a great option for those on special diets. Smoky and tangy, this healthful sauce can be used as a marinade for veggies or a steak topper, especially for those seeking a low-sugar or kosher sauce. Reviewers say this is a vinegar-forward sauce that rivals the taste of A.1., but without the blood sugar spikes. "I'm paleo and I have missed A1 steak sauce so much. Not anymore. This is so perfect and tangy and delicious," one reviewer wrote.
Great Value Savory Steak Sauce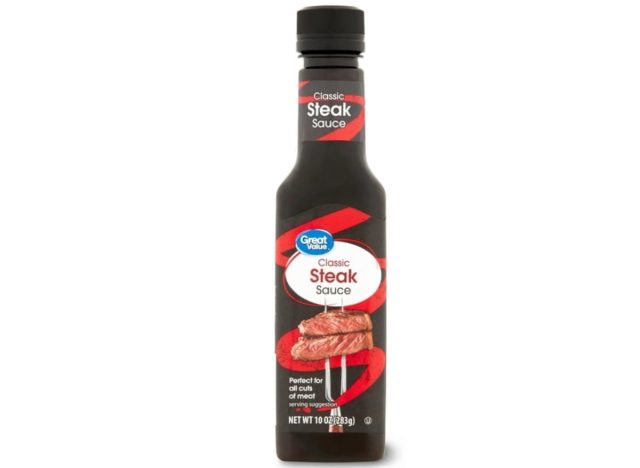 Want a budget-friendly A.1. dupe? Walmart has a great option for only a couple of bucks. Great Value's steak sauce is thick and bold, with a healthy dose of vinegar and tangy oranges cutting through the tomato flavor. In the ingredient list, you'll find raisin paste, just like A.1., though some reviewers say it's not as thick as the classic. "So much [more] affordable than A1 sauce and even tastier! This is my new sauce!" one reviewer wrote.
365 Whole Foods Organic Steak Sauce
Let's be real: some classic brown sauces are chock full of sugars and not-so-good-for-you ingredients. So if you're in the market for an organic pick, Whole Foods' private-label steak sauce is next-level. Expect a runnier sauce with herbal flavors and tasty onion and garlic. "I am usually an A1 fan but I really was surprised by how much I enjoyed this steak sauce instead," one reviewer wrote. "It is a great value for the size and taste."
Lea & Perrins Bold Steak Sauce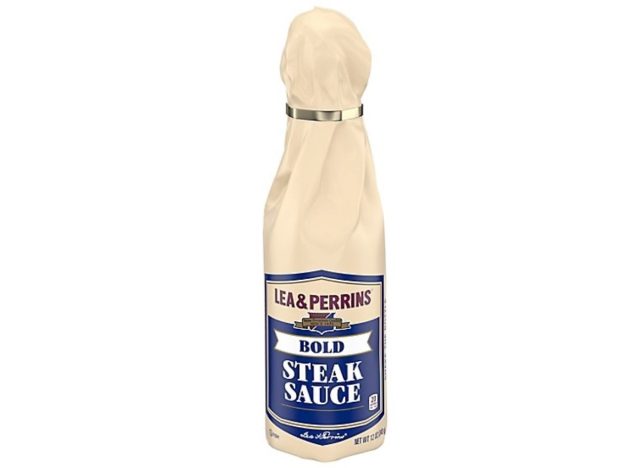 Into the savory sweet tang of Worcestershire sauce? This bold steak sauce from the inventors of the fermented liquid condiment is worth trying. Complex and slightly sweet, you'll recognize the classic flavor Lea & Perrins is known for in a bold, hearty sauce that's perfect for dipping. "More snap than the original L&P thin 'original'. You can add to your sauces without watering down," one reviewer wrote.
G. Hughes Sugar Free Steak Sauce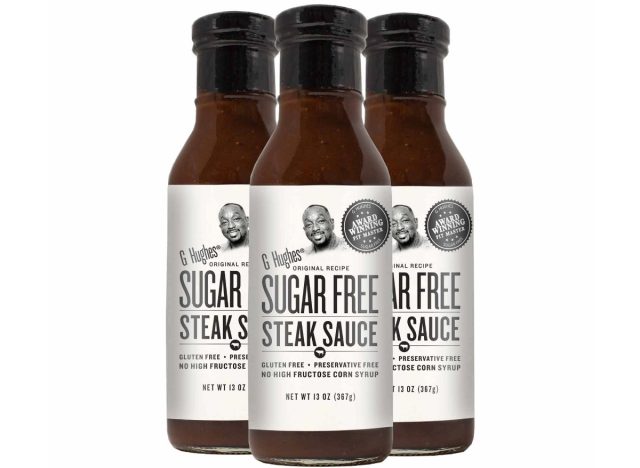 Health-conscious shoppers, this steak sauce may be your new go-to. Added sugar is a common ingredient in steak sauces, but this one from G. Hughes is always sugar-free. There's no need to sacrifice great flavor because of your diet: this one is gluten-free, keto-friendly, and low-carb. And it tastes good, without that weird sugar-free aftertaste. "While Low-Carbing, I needed steak sauce but didn't like anything else that was sugar-free," one reviewer wrote. "This is even better than the regular steak sauce brands."
Country Bob's All Purpose Sauce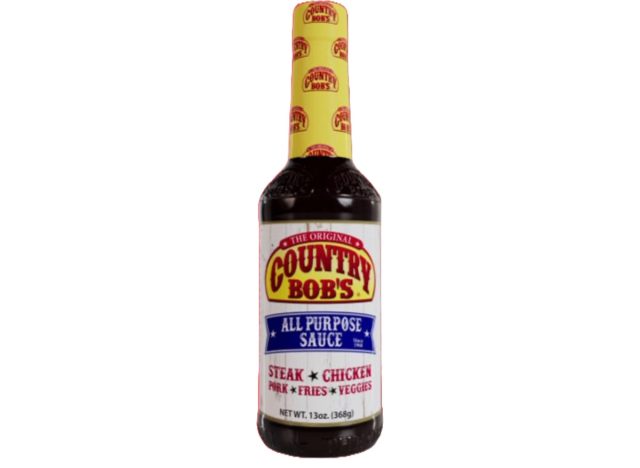 Whether you're grilling, dipping, or marinating—from pulled pork to brisket, veggies, or baked beans—this tangy and sweet all-purpose sauce is an affordable option that kicks up flavor quick and easy. Reviewers take the "all purpose" name seriously, slathering it on pizza, burgers, or chicken. "THE BEST sauce on planet Earth," one reviewer wrote. "You try Country Bob's one time and you will be a believer."
Delmonico's Restaurant Classic 1837 Steak Sauce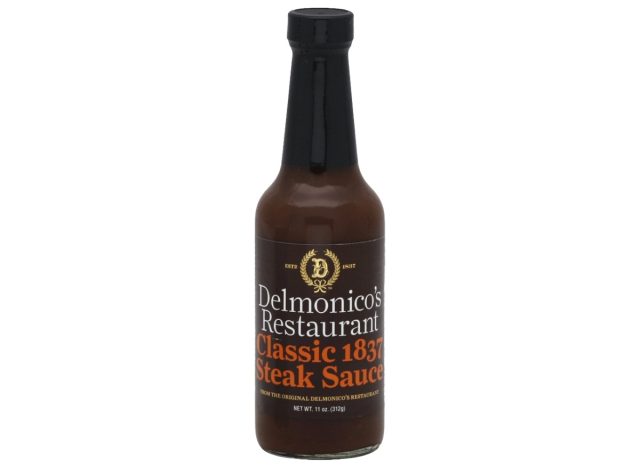 For restaurant-quality flavor at home, turn to Delmonico's, a chef-inspired sauce that originated at New York City's first fine-dining restaurant. Impart a flavor blast to your meal with a savory blend of molasses, honey, and red pepper, without masking the natural taste of the meat. Rich and thick, this one is heavy on the molasses. "Delmonicos is rich yet subtle and lets the taste of a good steak shine. Best sauce for meat lovers bar none!" one reviewer wrote.6254a4d1642c605c54bf1cab17d50f1e
Bone Suckin' Steak Sauce Chophouse Style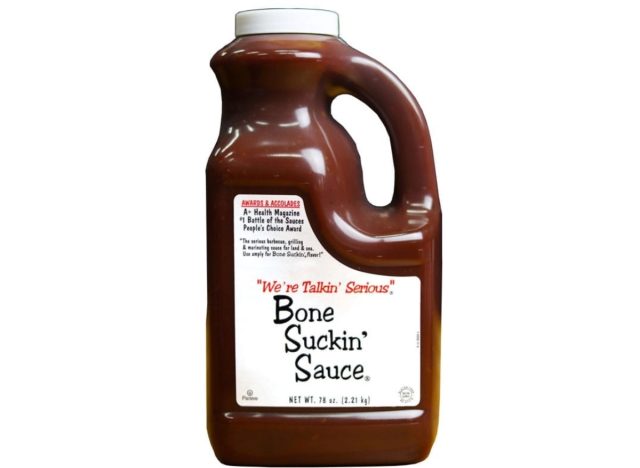 Gluten is one sneaky ingredient in some steak sauces, but this one from Bone Suckin' is totally free and clear, making it a great pick for those who avoid grain. Featuring garlic, onion, and spices, expect a bold flavor that's not overpowered by too much smokiness, and Women's Health voted this as a top-five barbecue sauce. "Some of the best marinating sauce I have ever bought," one reviewer wrote. "My guests are always wowed by our BBQ's and yours will be too."
Braswell's Vidalia Onion Steak Sauce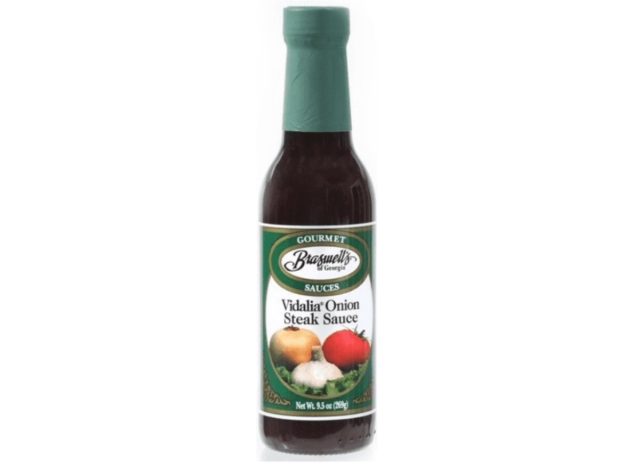 If you're turned off by the sourness of traditional steak sauces, this is an excellent pick. Zestiness is key in Braswell's Vidalia Onion Steak Sauce. The slight sweetness tamps down that vinegary vibe that classic brown sauces are known for. One reviewer even adds balsamic vinegar to it to whip up a quick salad dressing. "This has replaced ketchup in our house. So good on everything from eggs to chicken," one reviewer wrote.