8 Best Meat Delivery Services & Subscriptions—Ranked!
Get high-quality cuts delivered directly to your door. No grocery shopping required.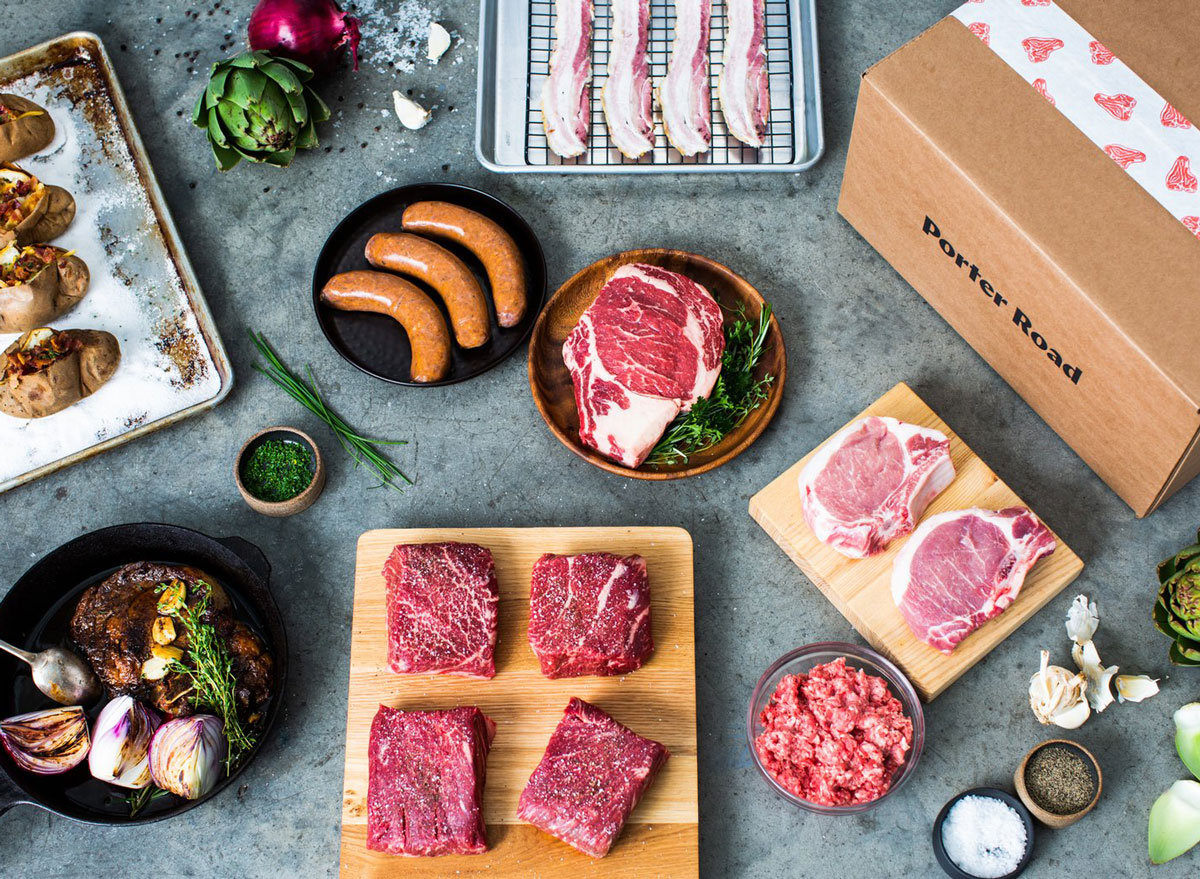 This post contains affiliate links. If you use these links to buy something, we may earn a commission.
If you've been staying on top of the news, you probably heard that we may soon experience a meat shortage. According to Bloomberg, eight major U.S. meat facilities have indefinitely halted operations so that workers can undergo Covid-19 testing. While just one of these large meat-processing facilities can feed four million people a day, there are plenty of smaller producers you can turn to for animal protein. Smaller, online meat delivery subscriptions have built sustainably-sourced, ethical supply chains that offer reasonably-priced cuts delivered directly to your door. They're not just more convenient—they're also better for you and for the animals.
Investing in a meat delivery service means no more going to grocery stores to find empty shelves, no more worrying about buying a bad batch of meat, and no more fretting over what you should be cooking for dinner.
From the industry veteran Omaha Steaks to newcomers like Butcher Box and Porter Road, these meat subscription services provide you with a variety of high-quality beef, chicken, pork, and even fish options.
We asked registered dietitian nutritionist, Lauren Manaker, MS, RDN, CPT, the author of Fueling Male Fertility: Nutrition and Lifestyle Guidance for Men Trying to Conceive and owner of Nutrition Now Counseling, for her favorite meat subscription services so you won't have to start asking, "Where's the beef?"
Here are our top 8 meat delivery subscriptions and services ranked from good to great.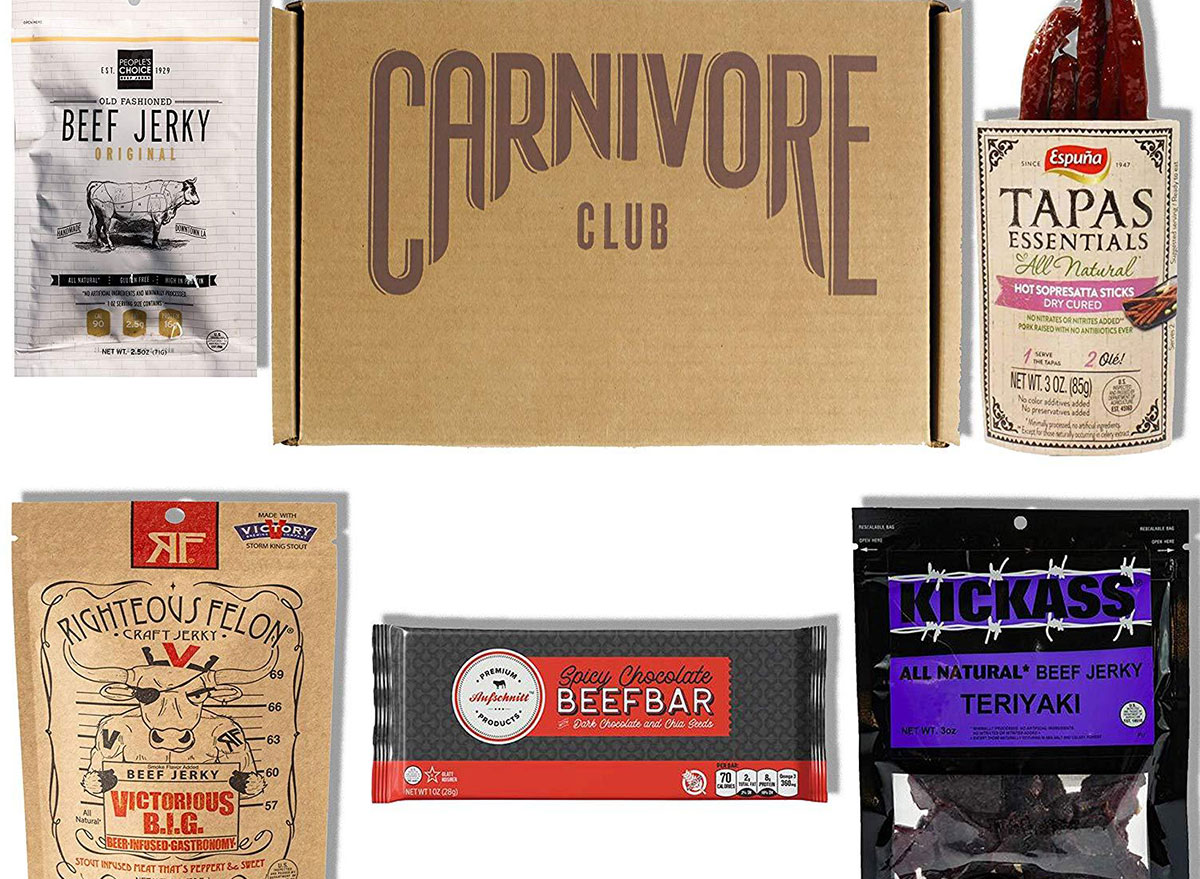 "If you are a charcuterie or jerky fan, this one is for you," says Manaker. Carnivor Club delivers premium cured meats to your door. Every month they feature a new artisan, which means every monthly box is unique—you'll never get tired of their innovative products. While we love the variety of products Carnivore Club offers, they are only limited to cured products.
Get a monthly snack box for $24.99 or a classic box with 4-6 cured meats for $39.99.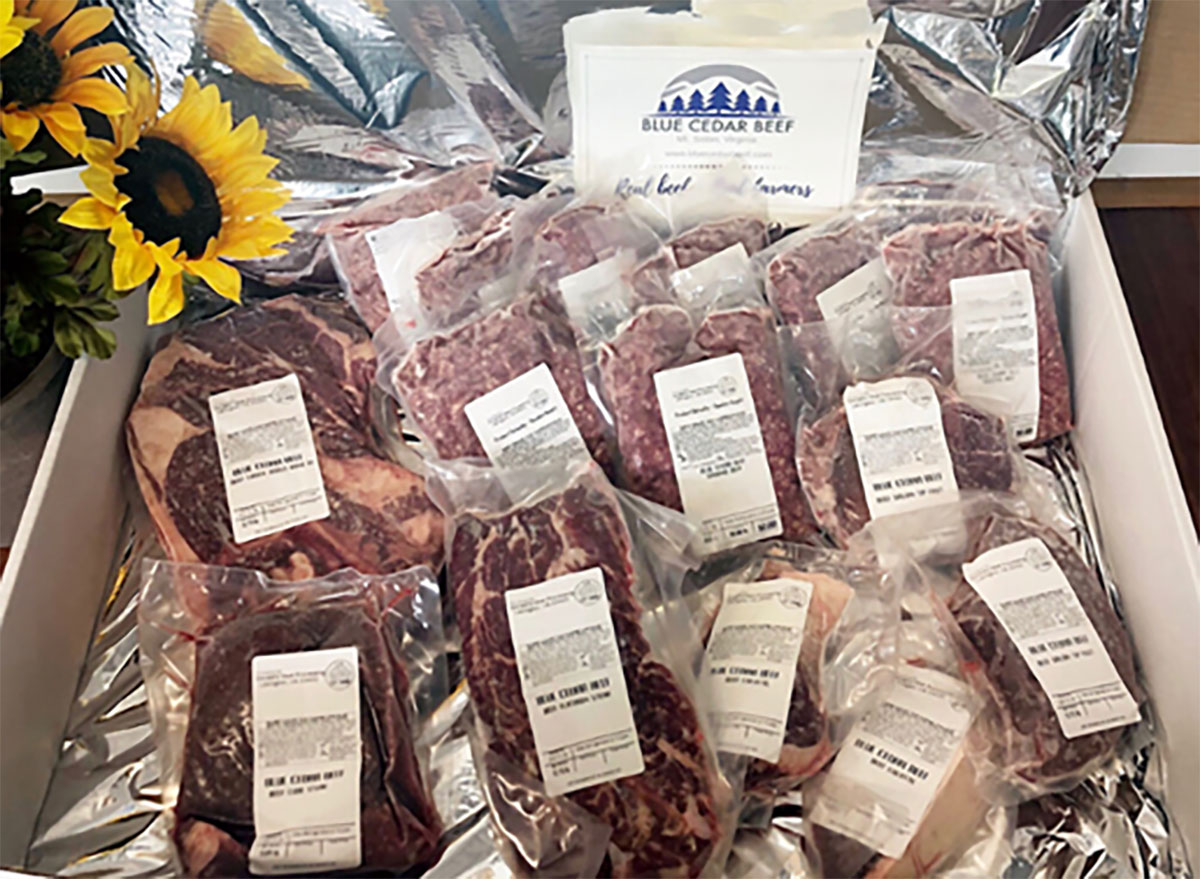 Blue Cedar Beef may be a small family farm in Virginia, but the farm ships nationwide. Specializing in black Angus cows, Blue Cedar ranchers raise cows on pasture. Their dry-aged Angus beef is aged for 21-days for a deeply flavored product. They're currently offering a special "Pandemic" box, which provides enough beef for six 30-minute meals and three crock-pot or Instant Pot dinners.6254a4d1642c605c54bf1cab17d50f1e
Prices vary depending on a la cart items; boxes retail between $80 and $185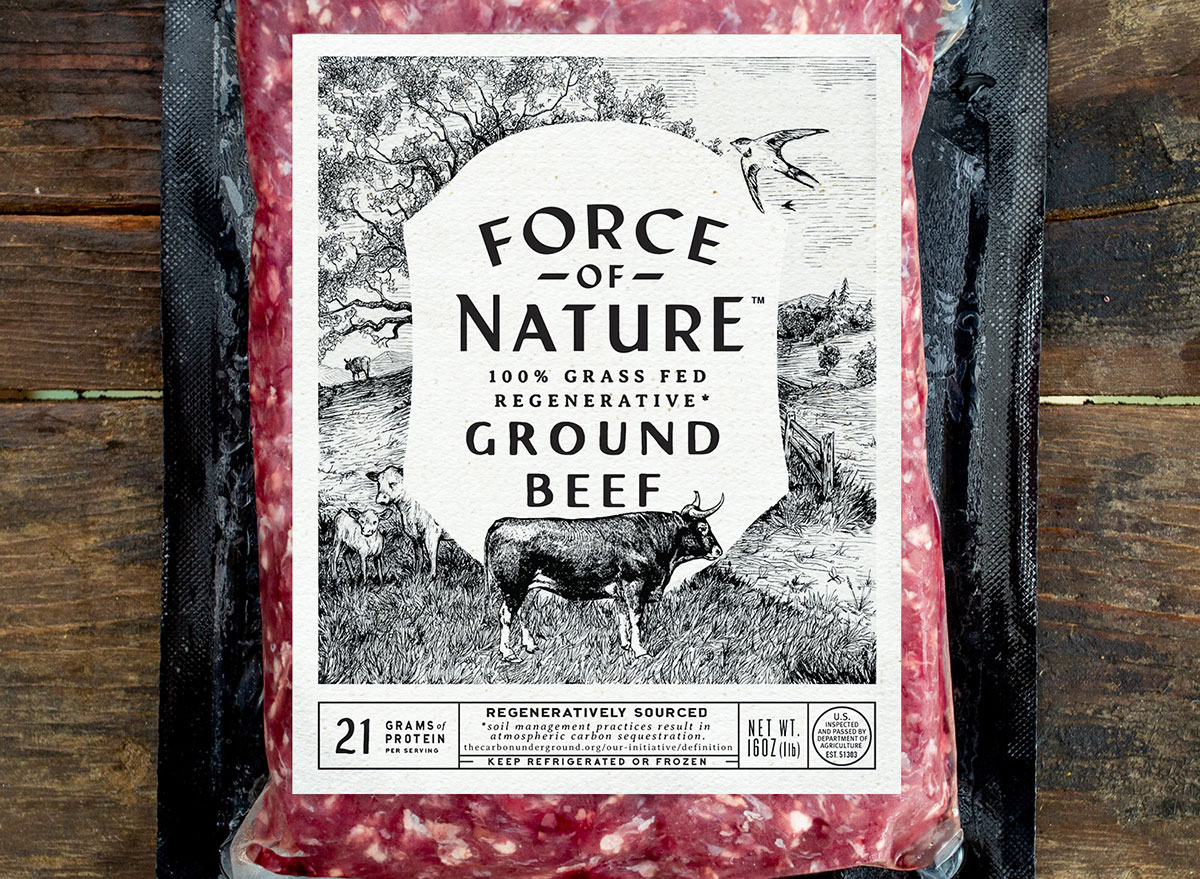 The Austin-based meat company says they produce "the best meat on the planet, for the planet." Force of Nature regeneratively sources their meat, which means that the animals are raised in a manner that is the planet and its climate. The brand offers a variety of meat cuts including bison, boar, venison, elk, pork, beef, and turkey. While Force of Nature isn't a meat subscription service like these other options, you can still build your own butcher's box a la cart by scrolling through Force of Nature's online offerings.
A la cart style: Prices vary depending on what is ordered.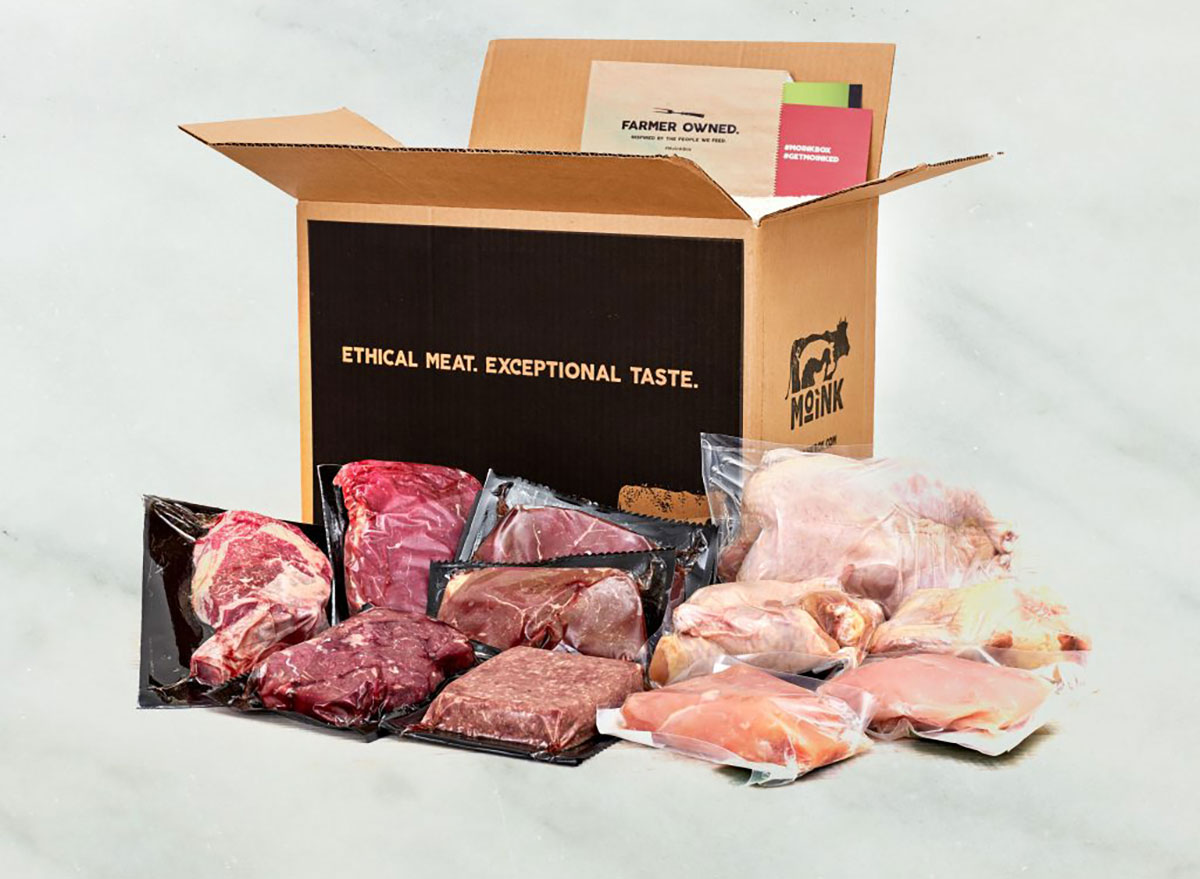 Moink Box stands by its principle of treating farmers fairly and raising animals humanely. "Their meats are free of sugar, nitrates, nitrites, food dyes, GMO grains, and saline solutions. Basically, they avoid ingredients or additives that most people don't want to see in their meats," Manaker tells us. We like the flexibility Moink offers: the service automatically selects products to include in each box, but you can substitute any pick for something you'd prefer. Don't care for chicken drumsticks? Get some boneless pork chop instead. Whatever you like, it's all going to be the highest quality: grass-fed and finished beef and lamb as well as pasture-raised pork and chicken.
A 7-item box costs $159 and a small sampler box that includes 5 items costs $129.
"Omaha steaks has been around since 1917 and is known for its high-quality meats. Not only do they offer beef, chicken, and seafood, but they also offer sides, desserts, skillet meals, slow-cooker meals, and even wine! Omaha Steaks is your one-stop-shop for mail-order meats and seafood with a large variety and high-quality. Everything is delivered frozen and comes with thawing and cooking directions," says Manaker. With such a variety of offerings and clever box bundles—like "Backyard BBQ Classics" and "Steak Dinner Essentials & Cabernet Sauvignon" (yes, it comes with wine)—Omaha Steaks is still one of the best meat subscription services despite new rivals.
Prices vary depending on what is ordered.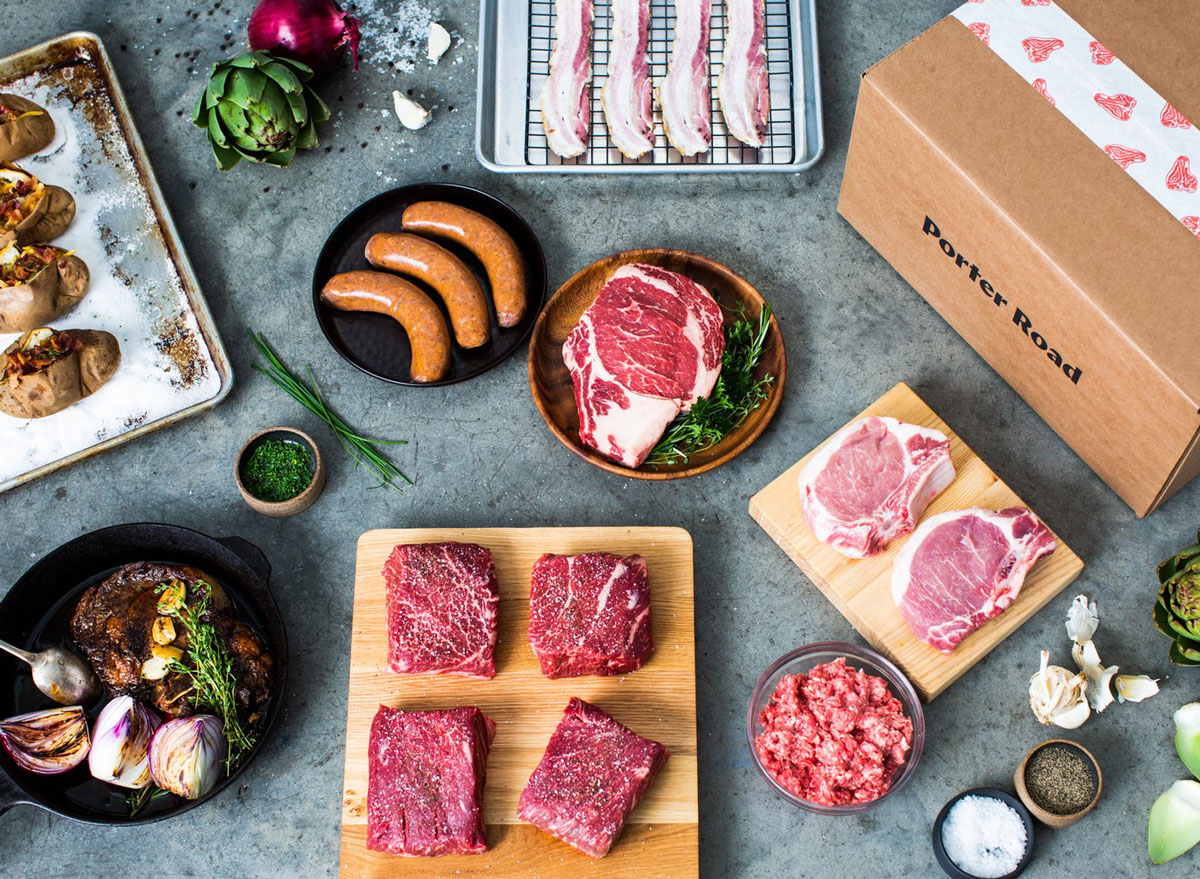 This is not your average meat delivery service. Porter Road doesn't deliver frozen cuts of beef, pork, chicken, and lamb like most other boxes do; their 100% pasture-raised steaks and chops ship fresh. They also keep their supply chain tight-knit: all of their products are raised in pastures in Kentucky and Tennessee. "The company does all of the processing themselves thanks to their team of highly-skilled butchers trained by the co-founders. Processing everything themselves ensures the highest quality and freshest product possible," says Manaker. She also likes that they practice whole animal butchery to minimize food waste.
Porter Road offers both a la carte and subscription options. We like that the service offers smaller, affordable boxes so that people cooking for themselves, as a couple, or a small family can get exactly what they need without overloading their fridges.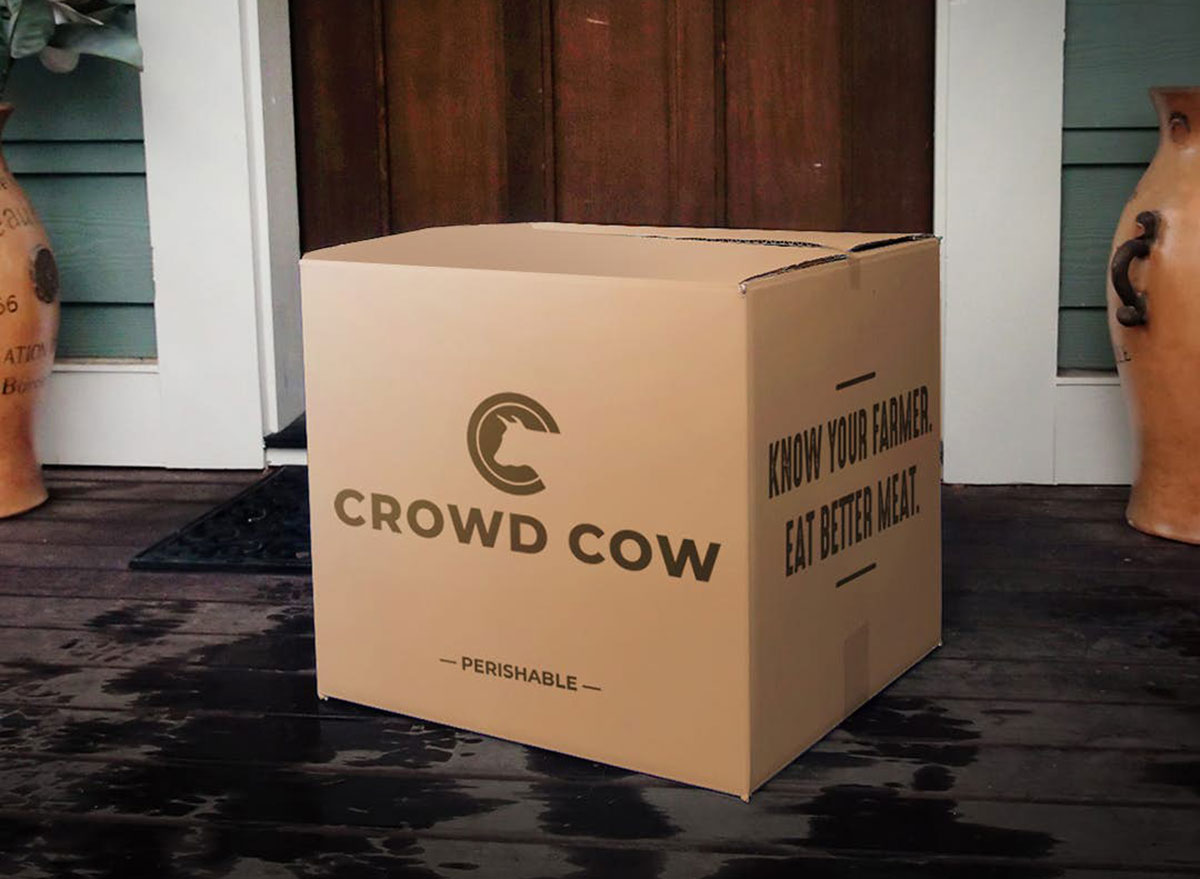 "The company began when one of the founders suggested they 'crowdfund a cow' so that 50 people could each buy a tiny amount of beef directly from a local farm," Manaker tells us. But don't get it twisted: this meat delivery service doesn't just send beef. In fact, the variety of Crow Cow's offerings is unmatched. The service also offers chicken, turkey, arctic char, cod, lobster, wagyu, and even prepared foods like salmon patties, pork sausage, smoked fish, and turkey patties. Crowd Cow may be a marketplace for protein from farms and ranches from around the world, but the company only works with farms that they know personally, so it still ensures products are of the highest quality. Manaker likes that products can be sorted by farm or by cut, so the service is easy to explore and shop. Each product is delivered vacuum-sealed and frozen.
They offer custom boxes starting at $99, a steak lovers' box for $159, and a Japanese Wagyu box for $249.
ButcherBox delivers the creme de la creme of animal products: 100% grass-fed beef, free-range organic chicken, heritage-breed pork, wild-caught Alaskan salmon, and wild-caught sea scallops. It doesn't get much better than that. (Well, it does, because all of this can be delivered directly to your doorstep.) "This subscription box is a popular choice for meat and seafood lovers who want to keep their freezer stocked with high-quality, humanely raised and sustainably sourced products," says Manaker. The meat is delivered frozen, which means you will have to plan ahead of time to use some cuts for dinner, but it ensures that the meat maintains its high-quality flavor. When you think about a meat subscription service holistically, you realize that ButcherBox's Custom Box actually comes down to only $4.97 per meal—a price point that you would never be able to find at a grocery store.
Box prices range from $129-$149 depending on selection and customization.
Olivia Tarantino
Olivia Tarantino is the Managing Editor of Eat This, Not That!, specializing in nutrition, health, and food product coverage.
Read more about Olivia