The 10 Best New Products We Saw at Expo West 2022
Out of the hundreds of products we sampled at the show, these 10 came up on top.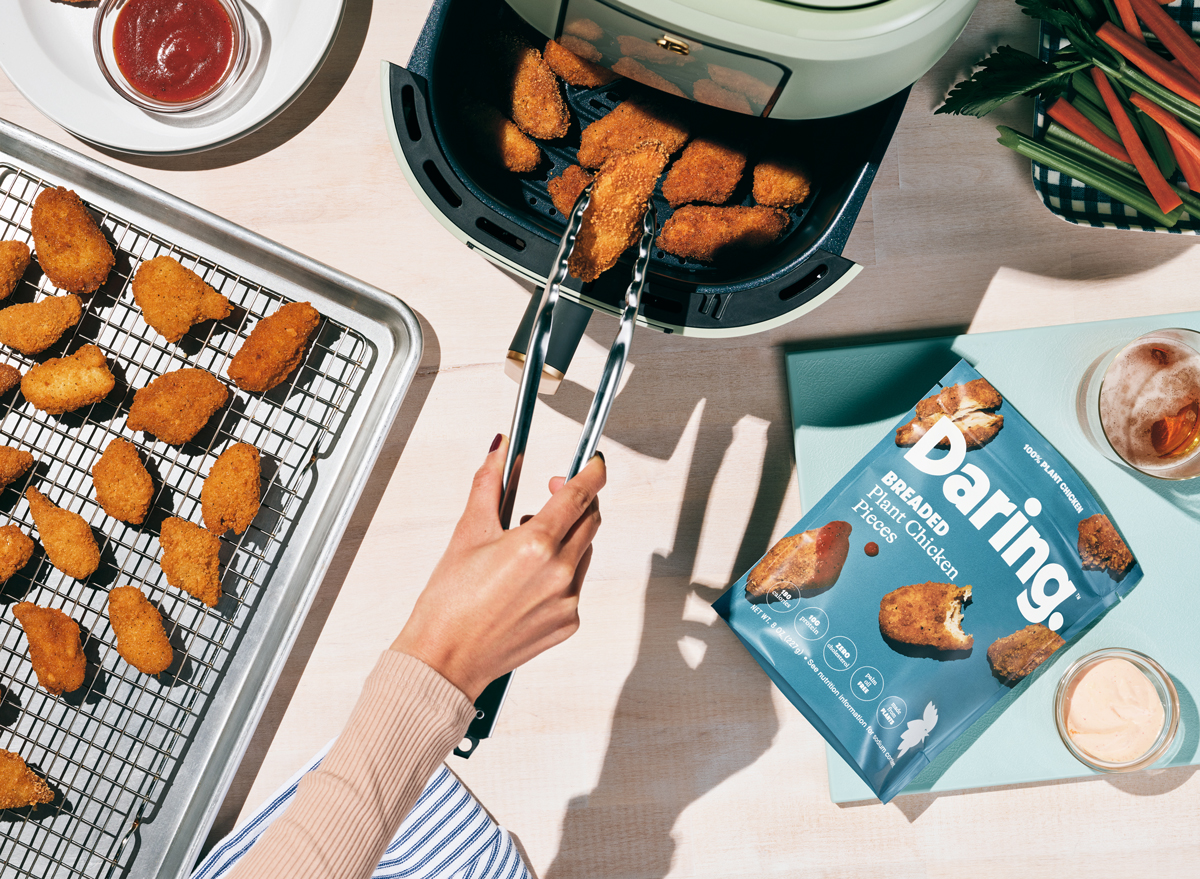 If you want to get a pulse on the state of the food and beverage industry in 2022, there's no better place to do so than Expo West, a trade show hosted annually in Anaheim, California that featured thousands of new food and beverage brands. I walked over a dozen miles over the course of two days sampling hundreds of products, and these 10 stood out from the pack because of their innovation, taste, and nutrition. Read on to find out what they were, and for more Expo West coverage, don't miss these Top 7 Food Trends We Saw at Expo West 2022.
Goodles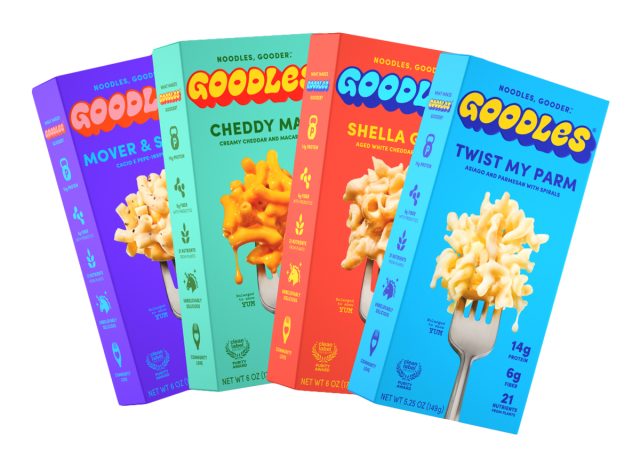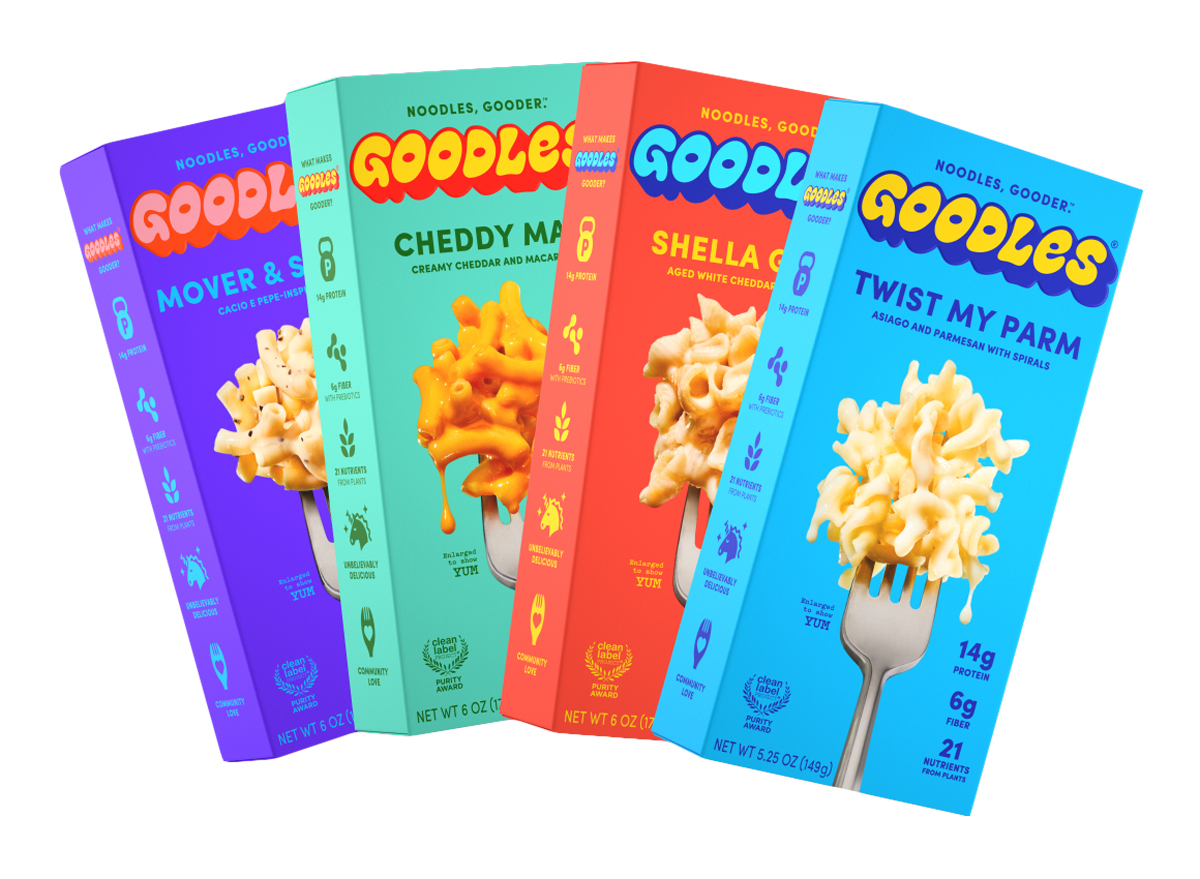 These were by far my favorite product I tasted at the show. The hype is real about these new healthy mac and cheeses. They taste exactly like your favorite mac and cheese, but they have 14 grams of protein and 6 grams of fiber thanks to chickpea and wheat protein, and 21 nutrients extracted from organic veggies like broccoli, chickpeas, kale, sweet potato, mushrooms, and more. Take just one bite, and you will never go back to Kraft again. This is definitely a product you'll never regret purchasing the monthly subscription for.
Cappello's Almond Flour Ravioli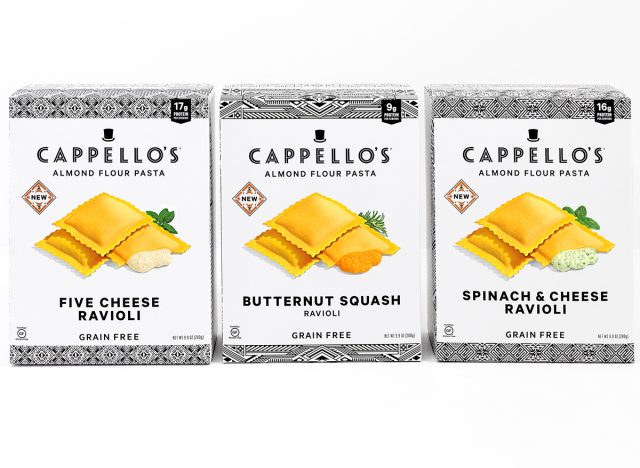 Cappello's truly delivers on these fresh-frozen almond flour ravioli that are stuffed with either five cheeses, butternut squash, or spinach and cheese. Holding themselves to high-quality standards, the brand uses cage-free eggs and leaves out things like modified starches, wheat, corn, rice, legumes, and soy. I will certainly be stocking my freezer with these weeknight-friendly pantry staples.
A Dozen Cousins Rice and Entree Seasoning Sauces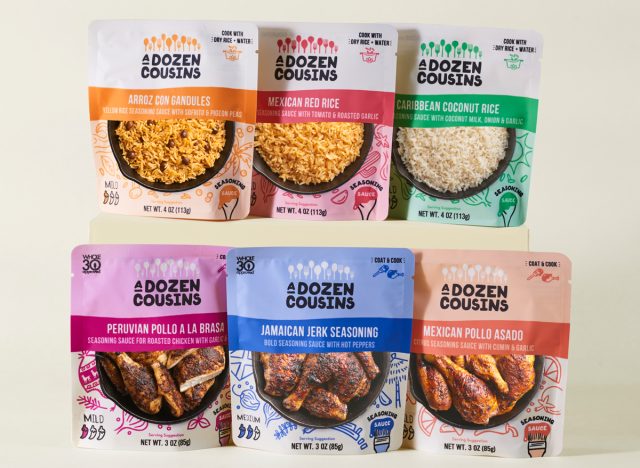 I don't know about you, but I tend to get bored of my same-old salt and pepper seasoning (sometimes I add a little lemon) on my chicken. Sure, dry seasoning blends can spice things up, but they don't come nearly as close to these flavor-packed, liquid-based seasoning sauces from A Dozen Cousins. Not only do they take your homemade protein and rices to the next level in terms of taste, but they also transport you to different cuisines you may not be as familiar with—but will now crave regularly. A few flavors include Jamaican Jerk, Peruvian Pollo Ala Brasa, and Caribbean Coconut.
SOW Good Freeze Dried Sweet Potato Chips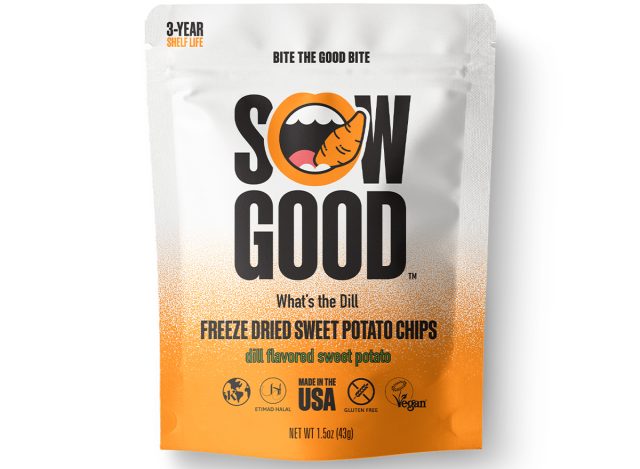 Trust us. These may sound weird at first, but once you try them, you will never know how you've lived without freeze-dried snacks. What has traditionally been aligned with hiking or emergency foods, freeze-dried fruits and vegetables are now accessible in a variety of fun and exciting flavors thanks to the team at Sow Good. These freeze-dried sweet potato chips are melt-in-your-mouth tender while also retaining that signature crunch you've come to associate with traditional potato chips. There are simply seasoned flavors, but I was drawn to this dill-flavored bag, and I don't even like dill.
Outstanding Foods "Cheese" Balls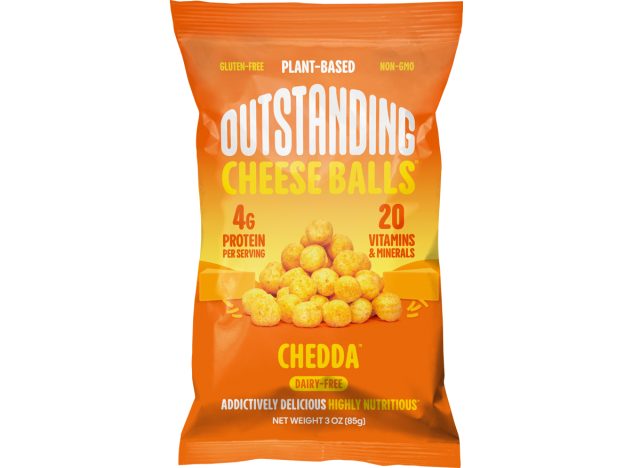 If you've steered clear of cheese balls after finding out they're made with a variety of vegetable oils as well as artificial colors and flavors, take solace in knowing that your days of popping those bright orange puffs have not come to an end. The executive chef behind the Beyond Burger, Dave Anderson, has done it again by creating a dairy-free cheese ball that's both delicious and nutritious. These have 4 grams of protein and 20 vitamins and minerals, including vitamin B12, which is particularly scarce in plant-based diets since animal meat is one of the only sources of this nutrient.6254a4d1642c605c54bf1cab17d50f1e
Available soon. Shop the rest of the brand's offerings here.
MUSH Mixed Berry Overnight Oats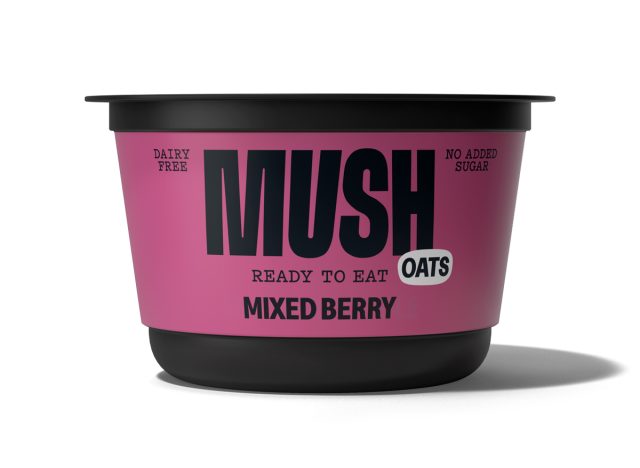 Everyone loves overnight oats, right? There's probably no feeling better than waking up in the morning to a breakfast that's already made for you. But you know what's better than making your own overnight oats? Buying them. And that's where MUSH comes in.
This ready-to-eat, mixed berry-flavored overnight oat cup is conveniently served in a yogurt-style container, making it easy to rotate it in with your regular cup of Greek yogurt. I'm particularly obsessed with the clean and simple ingredient label: just coconut milk, oats, dried and pureed fruit, and salt. Yes, that's it. No added sugars, no weird preservatives, nothing you wouldn't find in your own kitchen. And the result is a pleasantly sweet, nutrient-dense cup of rolled oats that is not mushy at all—the thick rolled oats maintain a chewy bite that makes this breakfast feel both substantial and delicious. While the Mixed Berry flavor is only available at Whole Foods, you can shop MUSH's other offerings below.
Daring Gluten-Free Breaded Plant Chicken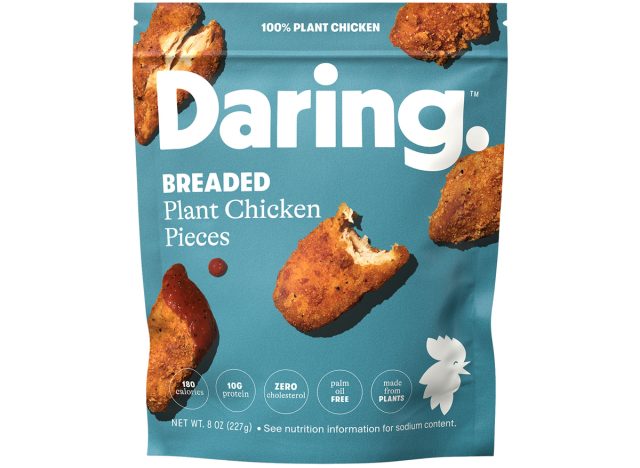 The plant-based meat industry has made leaps and bounds over the last few years, with newcomers like Daring completely overhauling less-than-appetizing products that only vegans would dare to eat. Those days are over. Anyone interested in plant-based eating—or not—will enjoy these first-ever certified gluten-free, plant-based chicken pieces. These breaded chicken bites boast 4 grams of fiber and 10 grams of protein per serving and taste—dare we say it—like chicken. They have a soft interior but maintain that crunchy, crispy breading that makes chicken nuggets so incredibly irresistible. These actually made me a plant-based chicken convert.
Rowdy Mermaid Adaptonic Clarity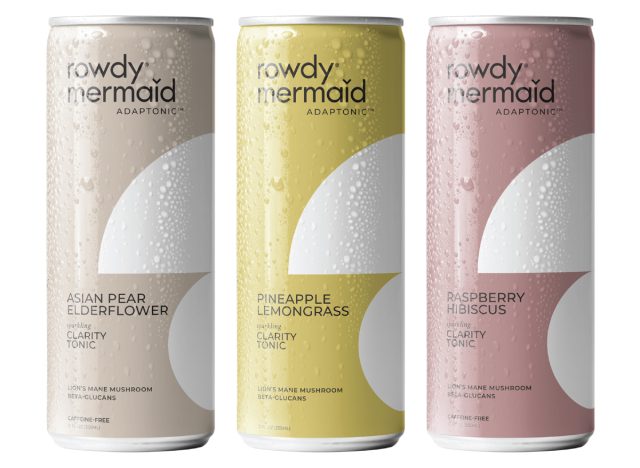 I've struggled with the midday slump for as long as I can remember, so you know I was excited to try out this new line of clarity tonics from one of my favorite kombucha brands, Rowdy Mermaid. Thanks to 200 milligrams of beta-glucans, a fiber derived from Lion's Mane mushrooms, these nootropic-rich tonics intend to help combat brain fog. Beyond the benefits, these drinks just taste really darn good. My favorite was probably the Asian Pear Elderflower with its delicate balance of herbal elderflower and fruity pear.
Available soon. Shop the rest of the brand's offerings here.
Mother Raw Plant-Based Aioli Dips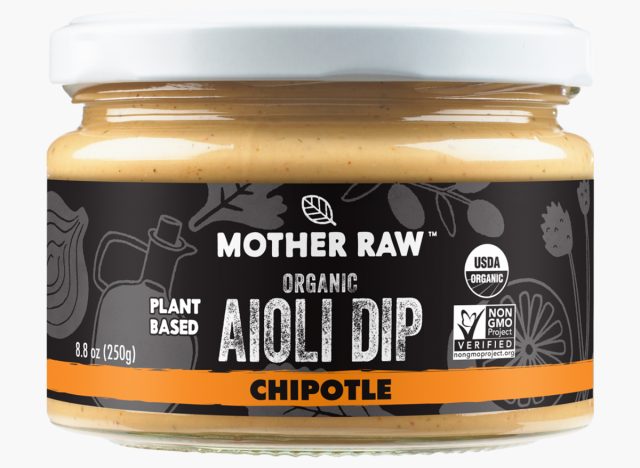 I am a condiment girl through and through and you know I'll be adding this jar to my fridge ASAP. Mother Raw makes a line of organic, completely plant-based aioli dips that are made with such clean ingredients that you'll only find these dips in the refrigerated section. You'll find these in three flavors, but I was instantly drawn to the chipotle flavor, which is easily dippable and spreadable. The company also offers refrigerated salad dressings made with EVOO (not canola oil), plant-based queso, and other plant-based organic dips.
Snow Days Buffalo Chicken Grain-Free Pizza Bites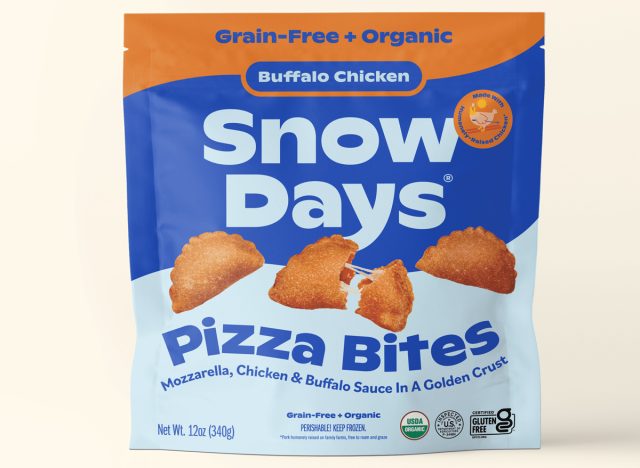 While I didn't grow up with hot pockets—the horror stories of burning your mouth upon the first bite really turned me off trying them—I'm thrilled by the launch of Snow Days, a new healthy pizza bite brand. These grain-free bites are made of all organic ingredients, even the chicken and cheese. You'd never guess these were gluten-free because they maintain the same crunch and chew you come to expect of traditional pizza bites and they have the perfect tang and spice of buffalo sauce, making these a perfect midday snack, dinner side, or party appetizer.
Acid League Living Pantry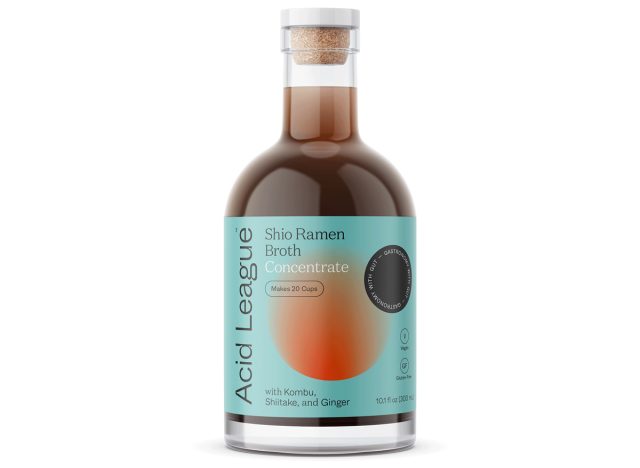 Acid League has to be one of the most innovative food brands to hit store shelves in the past couple of years. The brand puts an emphasis on live, fermented ingredients that retain the organic acids and live cultures that are naturally present after fermentation. Some of their offerings from their new Living Pantry include products like Bourbon Barrel Apple Cider Vinegar Living Vinegar, Red Wine Vegetable Starter, and Caramelized Fish Sauce. I tried their Shio Ramen Broth, which is made with flavor bombs like roasted garlic vinegar, fancy molasses, and kombu at the show and was blown away by the depth of umami flavor paired with the tang and brightness of vinegar notes. Highly recommend to upgrade your ramen game.
Olivia Tarantino
Olivia Tarantino is the Managing Editor of Eat This, Not That!, specializing in nutrition, health, and food product coverage.
Read more about Olivia