The #1 Pizza at Every Major Fast-Food Chain, Chefs Say
Take it from the pros: the best pizza begins with a great crust, and these restaurants do it right.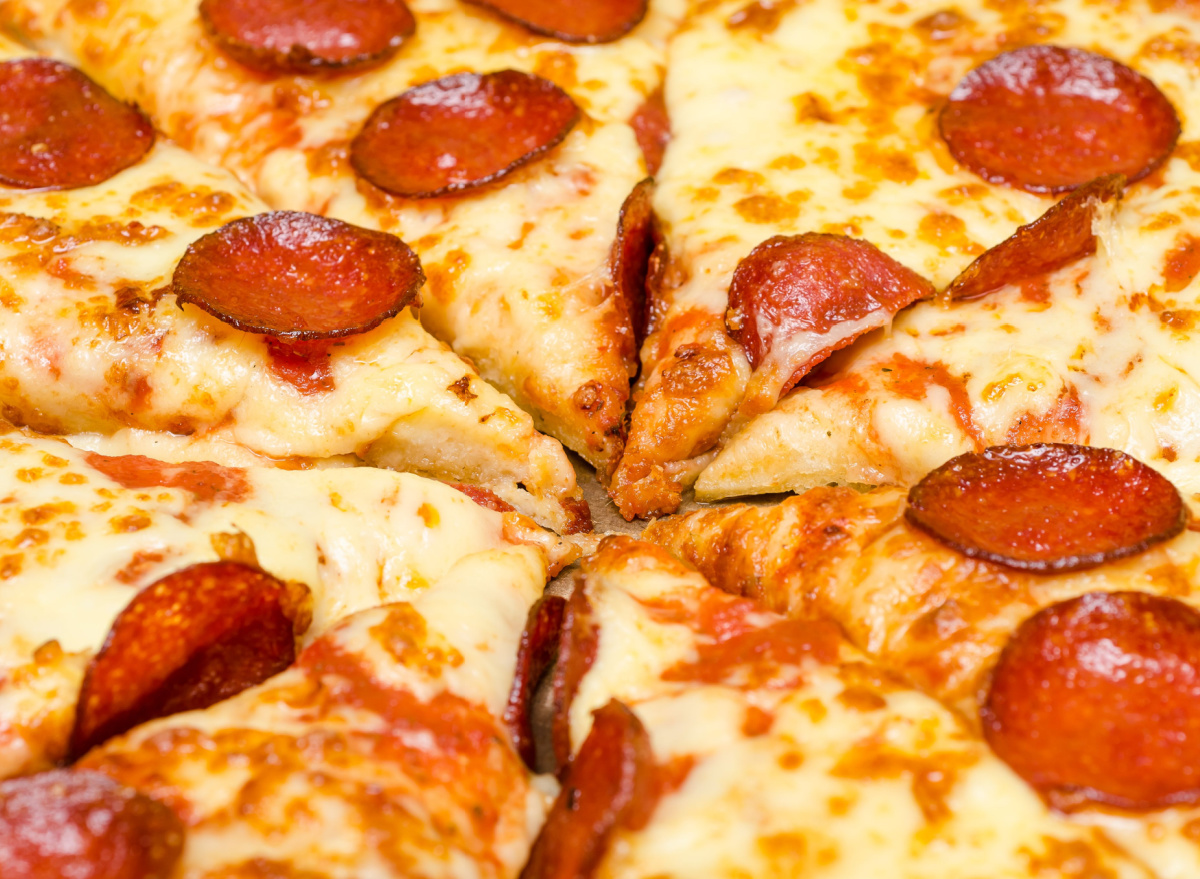 The product recommendations in this post are recommendations by the writer and/or expert(s) interviewed and do not contain affiliate links. Meaning: If you use these links to buy something, we will not earn a commission.
Pizza, a deceptively simple flattened piece of dough, covered with any variety of toppings, was brought to America by Italian immigrants in the late 19th century. And now, from New York to Chicago to California, Americans consume more than three billion pizzas a year.
With styles varying around the country, from crispy thin New York-style pies to thicker Detroit-style squares, everyone has a favorite and options are plentiful. Of course, no one knows food better than professional chefs, and these experts usually have good takes on everything from burritos to sandwiches. Naturally, they have strong opinions about pizza, as well.
When it comes to the best orders at pizza chains, these are the pro-approved picks.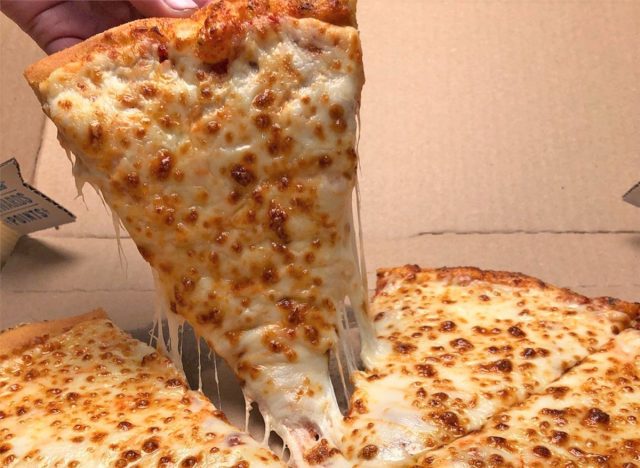 14-inch Large Cheese Per Serving (1/8th of pizza)
: 270 cal, 9 g fat (4.5 g saturated fat), 570 mg sodium, 34 g carbs (1 g fiber, 3 g sugar), 11 g protein
Many of us grew up eating Domino's, which is famous for its quick delivery, making it an easy choice for busy parents looking to feed hungry kids. According to one not-terribly-scientific survey, 40% of people rank Domino's as the top pizza chain, and it's not surprising the chefs we spoke with are fans of the chain pizza as well.
"My go to order at Domino's is a thin crust pizza with pepperoni and jalapeños," says Emerio Viramontes, executive chef of Chef's Palette, located at Canvas Hotel Dallas. "Dominos has the best thin crust out of the major pizza chains, and I love spice, so I have to add jalapeños. I always finish off my order with the cinnamon twists for dessert."
"One of the only meals you can enjoy, whether vegetarian or a meat lover, is pizza," says chef and co-founder of RollinGreens, Ryan Cunningham. "My favorite national pizza chain is Domino's for a classic cheese pizza with extra sauce. It's been a consistent favorite of mine since I was a kid."
Large Pepperoni Pan Pizza, Per Serving (1/8 of pizza)
: 360 cal, 18 g fat (6 g saturated fat), 670 mg sodium, 36 g carbs (2 g fiber, 2 g sugar), 14 g protein
Since 1958, Pizza Hut has been making pizzas in its famous dine-in, family-style restaurants and take-out operations. If you grew up in the U.S., you've probably enjoyed a pan pizza or stuffed crust pizza from the Hut. You may have even enjoyed the all-you-can-eat buffet, which is harder to find these days, but is still available at some locations.6254a4d1642c605c54bf1cab17d50f1e
It's still a favorite among teens, says Shawn Matijevich, lead chef of online culinary arts & food operations at the Institute of Culinary Education. "My son will only eat at Pizza Hut. He only will eat Pizza Hut pizza. He's 16 and he's just decided that's the only one he likes, and we always get the pan pizza, so I do wind up eating a lot of Pizza Hut. Pan pizza is actually a lot better than their regular crust, and the pepperoni pan pizza from Pizza Hut is actually pretty fire. It's got a good texture to it."
Thin Crust Cheese (whole pie)
: 960 cal, 109 g fat (48 g saturated fat), 3390 mg sodium, 150 g carbs (10 g fiber, 3 g sugar), 99 g protein
Can you even look at this pizza chain's name and not think of the old "Pizza! Pizza!" slogan? A Midwest classic, founded and still headquartered in Detroit, the chain makes pizza, breadsticks and chicken wings that bring back fond memories for chef and owner Diana Manalang of Little Chef Little Café in New York City.
"My dad used to bring me home cheesy breadsticks," says Manalang. "Then when I was in grad school, there was one around the corner where I could get 2 thin crust pizzas for less than $10 after working a whole day and having to sit through lectures and group sessions.  It made sharing with my cohorts a breeze without breaking the bank and I still love it!"
She shared her go-to order these days, saying, "Little Caesar's will always have a space in my heart and I always get plain cheese thin crust pizza and cheesy bread."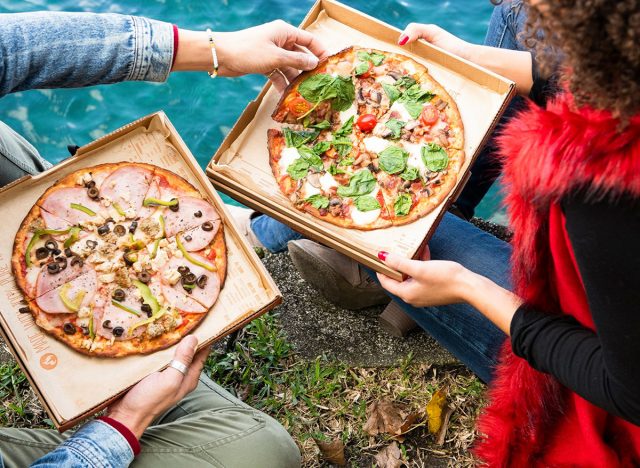 Large White Top With Chicken & Artichokes, Per Serving (2 slices)
: 460 cal, 14 g fat (8 g saturated fat), 980 mg sodium, 59 g carbs (3 g fiber, 3 g sugar), 22 g protein
This California chain, which has been around since 2011, gets a strong endorsement from chefs, who love how customizable the menu is. "I am all about Blaze Pizza!" says Corey Siegel, North American corporate executive chef for Electrolux Professional. "The crust is perfect and I love that I can customize what I want. My go-to is a Chicken and Artichoke with White Sauce and fresh mozzarella!"
Matijevich is also a fan: "It's like the Chipotle of pizza. I love this place, I used to spend all my money there when they first opened out in California. I get the red vine with roasted garlic on top and artichokes, which is basically just like a margarita with roasted garlic and artichokes and it's out of this world. They put the olive oil on top with this little can, and it just drives me wild. I know that there's probably cheap olive oil in the can, but it just makes it look expensive and it's exciting."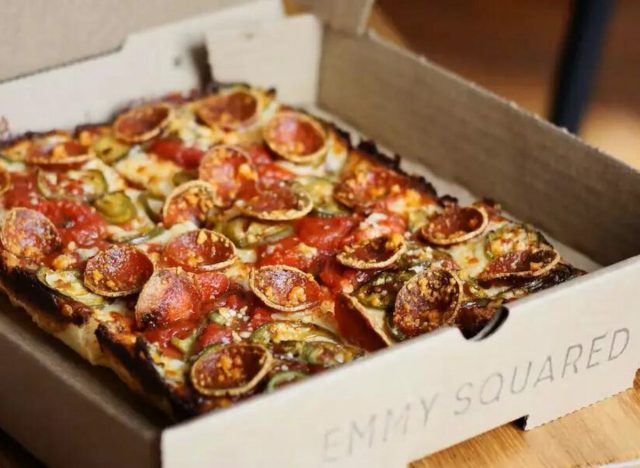 Per Serving
: Nutritional information unavailable
With 24 locations around the U.S., including Alabama, New York, Georgia, Pennsylvania, California, and more, this Detroit-style pizza chain is growing fast and has plenty of fans.
"My go-to pizza order in Nashville is the Emmy Squared Colony Pizza, which comes with red sauce, pepperoni, picked jalapeños and honey," says chef Laura Lea Bryant, author of Recipes for an Aching Heart. "However, I doctor it up by adding pineapple and dipping it in a side of their homemade ranch! Perfection."
Per Serving
: Nutritional information unavailable
This Georgia-based chain earns raves for its unpretentious New York-style pizza that transplants and locals love. Order a whole pizza with a couple of beers, or just grab a slice from the counter. "When I go to a chain pizza restaurant, I go to Fellinis' Pizza and I always get the works," says Zach Starr, executive chef at Wahoo! Grill in Decatur, Ga. "Pepperoni, sausage, bell peppers, onion, olives, and mushrooms."
Per Serving
: Nutritional information unavailable
Boston's beloved coal-oven pizzeria started out in the historic North End, but has expanded to multiple locations around New England. It's a must for Cozymeal's chef Christoper Atwood .
"When I'm in my hometown of Boston, I always go to the original Pizzeria Regina in the North End, that's been open since 1926," says Atwood. "The crust is chewy and delightfully charred. The cheese is savory and stretchy. My go-to order is a classic cheese pizza (not the Margherita) with some house-made chili oil for the crust."
Original Chicken Club, Per Serving (one medium slice)
: 290 cal, 15 g fat (3.5 g saturated fat), 480 mg sodium, 17 g carbs (1 g fiber, 2 g sugar), 11 g protein
This Canadian pizza delivery and takeout chain has over 200 locations across six provinces in Canada, and Cozymeal chef Logan Moore—who loves to make his own from scratch pizza—can't pass up this popular chain. He says it's all about the crust: "When I order out from a chain pizza restaurant, it's usually Panago. I love their crust!"
His order is unconventional, but flavor-packed. "My go-to pizza is the chicken club: no tomatoes and add pineapple. You've got to have the cheesy cheddar dip and the marinara on the side for dipping, too," says Moore. "I like the smokiness that the pizza has, and also the trio of sauces to compliment it all. I've been ordering this one for years and it's still my favorite. There's just something about bacon, pineapple, and a good white sauce."
Tanya Edwards
Tanya Edwards is a seasoned food and health journalist, who has held roles at Yahoo Health as Managing Editor and at Food Network as Programming Director.
Read more about Tanya