8 Best Pizza Chains In America
Ingredient quality is key to a great pizza, but nostalgia plays a role, too.
Despite its Italian origins, pizza is as all-American as hot dogs and apple pie. Which might explain why pizzerias are as prolific across the country as burger joints and steakhouses. Whether fast-casual or full-service, thin-crust or deep-dish, there's something innately comforting and crowd-pleasing about a good slice or two (or three). So it should come as no surprise that our country is positively teeming with pizza chains of all sizes, styles, and flavor profiles.
Across the nation, pizza chains are all over the map, literally and figuratively. Whether they've got a few locations or a few thousand, some are quick and casual, others are funky and cool, and some are straight-up fancy—but what differentiates a standout pizzeria from a ho-hum one boils down to a plethora of factors, including atmosphere, taste preference, ingredient quality, and nostalgia.
The success of pizza places that rise above the rest, much like a good Detroit-style crust rising above the pan, comes down to several key factors. And the biggest one is the dough. According to Benjamin Lambert, the pizza-slinging chef of D.C.'s Modena, quality dough is a key factor that differentiates a great pie from a mediocre one. "If you go to a good restaurant that takes the time to serve artisan pizza, I know the person making it has taken a lot of time to get the dough to the proper fermentation level, meaning they have developed a lot of good flavor in the dough which tastes really good."
While that philosophy certainly applies to independent pizzerias, and Italian restaurants putting due diligence into high-quality pies, it's a sentiment that also holds true for pizza chains as well. That's the reason why some the success of some is dwindling, while others are beloved by diners from all walks of life—including chefs. With good dough as a baseline, the toppings become as important as the ambiance, the service, and the overall quality.
Based on this criteria, we've rounded up the eight best pizza chains in America.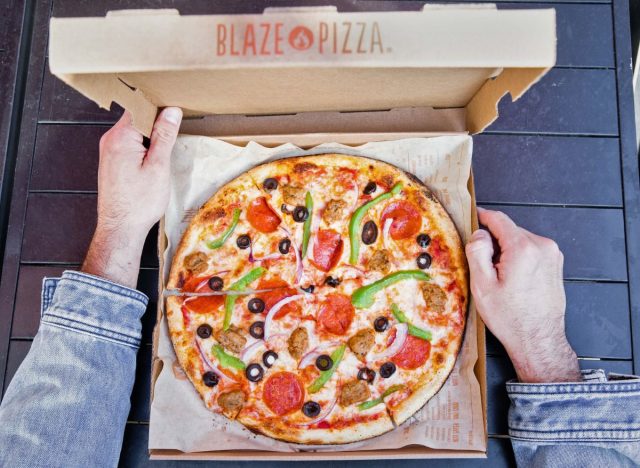 As one of the top restaurant chains for travelers, and one that people are flocking to in droves, it's safe to say that Blaze Pizza is on fire these days. Founded in California in 2011, the fast-casual brand has expanded exponentially across the country (and the world), to the tune of 300+ locations. A lot of that rampant success can be attributed to quality—the pizza chain is known for using fresh, never-frozen dough, and serving some of the best fast-food pizza in the game.
Similar to customizable concepts like Chipotle, which applies a made-to-order fast-casual approach, Blaze Pizza offers the choice of five crusts and more than 35 toppings on that house-made dough, which is made from unbleached flour, filtered water, extra-virgin olive oil, salt, and a touch of sugar. It's all executed with aplomb with a seasoned assembly line that gets customers from one end to the other as their personalized pizzas are freshly created before their eyes.
The rest of the ingredients are top-shelf as well, including meats from humanely raised animals, and produce and herbs that are seasonal and locally sourced as often as possible. The fact that this is all assembled from scratch within three minute is just icing on the cake—or rather, marinara on the pie.
Looking to the future, Blaze Pizza continues to grow at a rapid clip, expanding into target markets like Georgia, Tennessee, and Maryland. Suffice to say that the future looks bright for Blaze.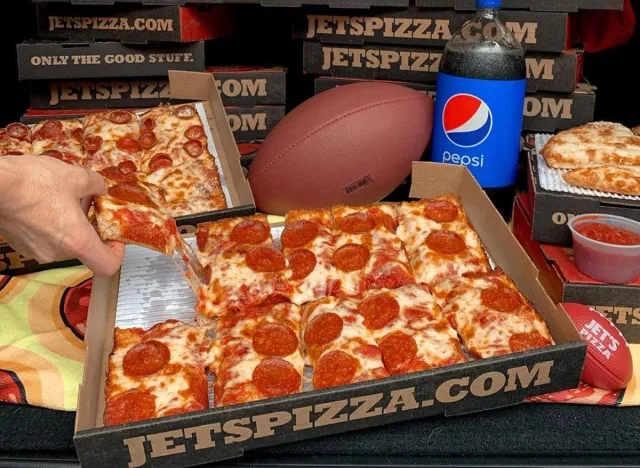 Before the widespread Detroit-style pizza trend swept the country, there was Jet's Pizza. Dating way back to the late-'70s in Detroit, and founded by Eugene Jetts, the now-iconic chain set the precedent for a regional style of Midwestern pizza. At once only found in the Midwest, Detroit-style pizza is virtually everywhere now, and a lot of that success can be credited to Jet's. Nowadays, the brand has locations all over the U.S., from South Carolina and Pennsylvania to Arizona, Florida, Nevada, and Colorado.
The chain's huge expansion of late is a credit to the fact that it is one of the pizza chains with the most loyal customers—and the most delicious cheese pizza. Through all its success and growth, the chain has retained its commitment to quality ingredients and time-tested recipes. As the company touts, this includes vine-ripened tomatoes, Italian herbs and spices, hand-grated premium mozzarella, and of course, dough made by hand every day.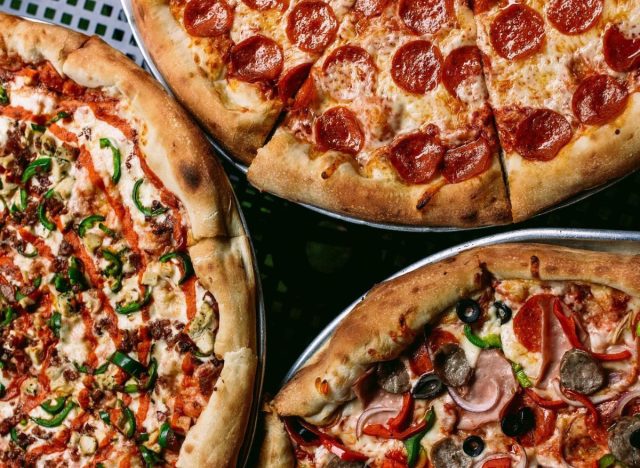 A burgeoning mini-chain based in Oklahoma City, now with several locations throughout the state capital, its suburbs, and Tulsa, Empire Slice House has developed quite a reputable empire. And that's a testament to a plethora of factors, including the brand's innovative and thoughtful leadership, its spunky vibe, and even spunkier toppings.6254a4d1642c605c54bf1cab17d50f1e
The company got its start in the Plaza District a decade ago, courtesy of 84 Hospitality and CEO Rachel Cope, quickly accruing enough of a fan following to help spur development in the neighborhood and immediately wowed local diners. FSR Magazine called Cope a "food star on the rise," and rise she did— her Empire of slice houses and slice shops now includes two more eateries in OKC, one in suburban Edmond, and another in Tulsa (a second slice shop in Tulsa is imminent).
Success was swift thanks to the company's cool environment, known for its graffiti-style decor and posters plastered all over the '90s-inspired walls, coupled with local beers and high-quality NY-style pies —available by the whole pie or the slice—topped with unique toppings. These include the Rocksteady, with marinara, bleu cheese, bacon, red onion, and balsamic; the Uncle Buck, with mozzarella, meatballs, baked marinara, and basil; and the Foghorn Leghorn, with sweet marinara, roasted chicken, bacon, jalapeño, and Sriracha drizzle.
These are paired with rotating pizzas of the month, which keep things dynamic and exciting. The current flavor du jour is the Bangarang! pie with panang curry sauce, marinated mozzarella, baby corn, pickled red jalapeño, green bell pepper, cashews, and cilantro-lime pesto.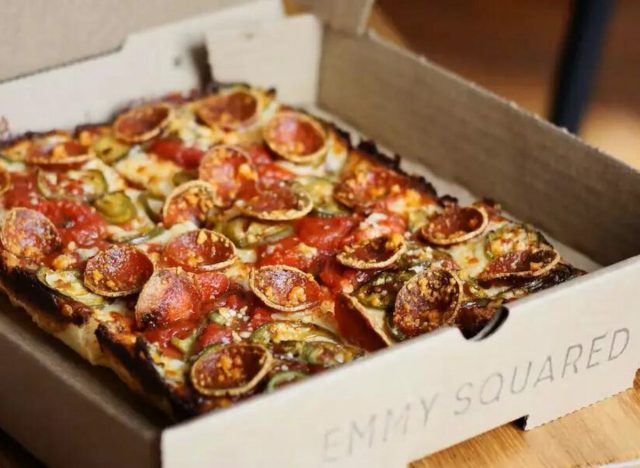 Another Detroit-style success story is Emmy Squared, a New York-born brand that now boasts locations in Pennsylvania, Georgia, Kentucky, Virginia, Alabama, North Carolina, Tennessee, D.C., and California. It all stated in Brooklyn in 2016, with a unique pizza style blending New York-style pies with Detroit-style, employing a fluffy focaccia-like dough that achieves caramelized crispy edges and serve as the foundation for a smattering of high-end toppings, like high-quality pepperoni, spicy kimchi, crispy soppressata, banana peppers, roasted cauliflower, and golden raisins.
Things are only getting bigger and better for the beloved brand, too, with plans for more locations—including going international. In addition to using top-quality ingredients and offering unique menu items in cool and contemporary dining rooms, a lot of that success has to do with nostalgia, and how the company cleverly blends it with modern techniques. With each and every location, the brand proclaims a diligent commitment to "contributing to the community and practice our company ethos of inclusivity and unparalleled hospitality," per the Emmy Squared website.
New York-style pizza, Chicago-style pizza, and Detroit-style pizza are all commonplace pizzeria options nowadays, but one singular style that deserves equally high marks is New Haven-style pizza. One of the foremost classic dishes to order in the Northeast, this is primarily a garlicky white pie topped with unconventional accoutrements like clams. It's a specialty perfected at the famed Frank Pepe, one of the most iconic pizza restaurants serving perfectly old-fashioned pies.
A New Haven original that started in the '60s, Frank Pepe invented the idea of white clam pies, typically made with littleneck clams, Romano cheese, and garlic. Quickly cementing itself as a must-try dish for locals and visitors alike, Frank Pepe's invention is now the most popular style of pizza in Connecticut. But beyond its Northeastern roots, the company has spread the white clam gospel across the east coast—locations can now be found throughout New England, as well as Maryland, New York, Virginia, and Florida.
From its scratch-made dough to its fresh tomatoes and coal-fired brick ovens, the success of Frank Pepe—and how it remains as beloved today as it did in the '60s—is in the chain's commitment to quality and its resistance to change.
Employing a tech startup mentality to the pizza business has paid off enormously for Zalat Pizza, a Texas chain that's experienced enormous success throughout the Lone Star State. Growing quickly over the past few years, the Dallas-born company has upwards of 20 outposts already, with several more on the way.
A commitment to quality, especially amidst an expansion tear, isn't easy, but it's the guiding light—and the key to success—or Zalat Pizza founder and CEO, Khanh Nguyen. "We buy the ingredients that the chefs put on the menu, not the marketing department," he says. "I avoid creating menu items that seem like they were concocted by analytics that a marketing team would determine to be hot sellers, like stuffed crust or the latest fad flavors or styles, like Detroit-style pizza." At the end of the day, it's this customer-first approach that has led Zalat into new Texas markets, with a bright future ahead of it. "We stick with what tastes great and will make our customer happy."
Nguyen also gives that same care and consideration to his employees, with a commitment to uplifting and empowering everyone who works in his restaurants, including providing health insurance and stock options. That care shows in Zalat Pizza's customer service and warm hospitality. The high-quality pizza doesn't hurt, either. In addition to pitch-perfect classics, menus include exciting originals like the Sweet Revenge, with bacon jam, hot honey, salami, mozzarella, crushed red peppers, and fresh basil, and the Loaded Notato with bacon, cheddar, jalapeños, chives, blue cheese, and ranch.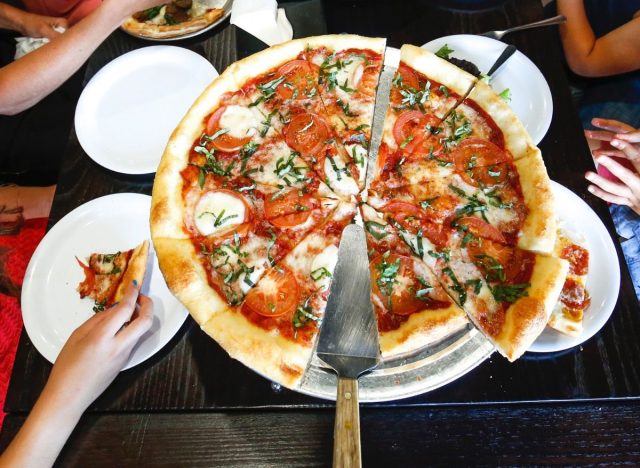 Rooted in family, tradition, and real ingredients, it's no wonder that Mici Italian—a pizza-centric mini-chain based in Colorado—has experienced immense success since its inception. Founded by the Miceli family, the company employs timeworn family recipes and high-quality ingredients for its menus. This also means simmering sauces for hours on end and making pizza dough from scratch on a daily basis. Today, Mici Italian has outposts in Colorado, Arizona, Michigan, and Texas, each one exhibiting a streamlined emphasis on craft and quality, served up in sleek and contemporary dining rooms that transcend the fast-casual model.
The Denver-born chain doubled its footprint in 2022, and earned a spot on the Inc. 5000 List. "Thanks largely to the key operational innovations Mici has developed to make its restaurants efficient, inexpensive and easy to run, the brand is well on its way to doubling its size by the end of 2022," said Matt Stanton, Chief Growth Officer, last year. Meanwhile, CEO Elliot Schiffer cites a lot more Mici Italians in the near future: "Our multi-unit agreements will allow us to catch fire in record time. It's important for us to target the right franchisees, and our large-scale investors have brought quality insights to the table that will allow us to keep growing the brand responsibility."
According to the company, the chain's artisanal menu offers comforting, classic Italian fare steeped in generations of Miceli family history, all prepared swiftly and efficiently without sacrificing quality. In terms of pizza, the menu focuses on unique offerings for both red and white pies, like the Pina pizza with zucchini, fontina, and mozzarella; the Digirolomo with nitrate-free pepperoni, pepperoncini, gorgonzola, and mozzarella; and the Molto Carne with family-recipe sausage, hand-rolled meatballs, nitrate-free pepperoni, and mozzarella.
In case you needed further proof of the Detroit-style pizza boom, just look at the wildfire success of Via 313. So named for the Detroit area code, Via 313 is an Austin-born pizza chain that now features numerous locations throughout the city, its suburbs, San Antonio, and even several in the Salt Lake City area. Each one, in addition to sporting a funky and hip facade, honors its Detroit roots with high-quality recipes that match the unique decor.
It was all started by Detroit natives Brandon and Zane Hunt in 2011, who sought to pay homage to the singular pizza style and offer something truly special in Texas—and beyond. From its origins as a small food trailer, the company is now ubiquitous and beloved, balancing mindful expansion with a studious approach to perfecting Detroit-style pizza using the utmost ingredients.
As the company explains, "our dough is carefully prepped and then allowed to go through a final, slowed rising process in our refrigerators for one to two days before it's used. This extended rise brings added flavor to our dough." Via 313 adds: "Our steel pans are reminiscent of the automobile parts pans commonly used by mechanics in Detroit. They're great at retaining heat, ensuring a crisp bake on all sides. Two types of cheese are layered not only on top of the pizza, but around the sides of the pan. This gives the pizza a wonderful crunch and makes each slice delicious all the way to the edge." It's all finished with a splash of red sauce that goes on top right before the pizza hits the table, which allows the cheese and dough to crisp up during the baking process.
After being named Pizzeria of the Year by Pizza Today in 2020, and earning a huge investment from Savory, things have been rapidly on the up and up for Via 313 — further evidence that Detroit-style pizza chains are now some of the best in the business.
Matt Kirouac
Matt Kirouac is a travel and food writer and culinary school graduate, with a passion for national parks, all things Disney, and road trip restaurants.
Read more about Matt