Which Grocery Chain Has the Most Delicious Pre-Made Pumpkin Pie This Year?
Still mulling over how to get a really good pie on your Thanksgiving table? Look no further.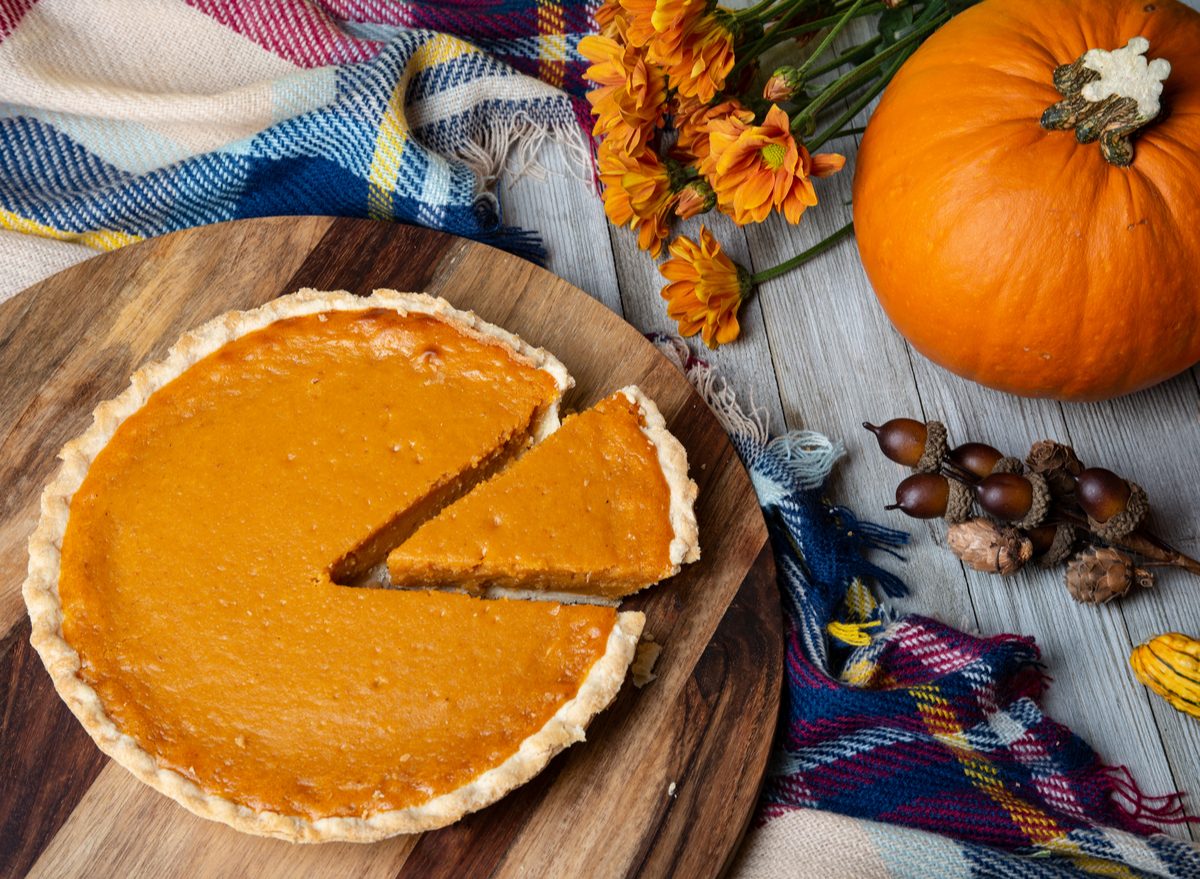 We're mere days away from Thanksgiving, so if you haven't gotten your pie order in at your local bakery, you're probably out of luck: Cue sad pie face.
Fortunately, however, your local grocery stores have stepped up to the (pie) plate with pre-made pumpkin pies which you can pick up last minute—perfect for T-day procrastinators nationwide. But which national chain has the superior pie?
According to Business Insider, who enlisted the help of professional baker Molly Allen, one grocery chain's pumpkin pie stands above the rest—and the answer may be somewhat surprising.
Allen taste-tested pumpkin pies from Costco, Safeway, Kroger, and Walmart, and reviewed each of them. She literally walked into each grocery store, grabbed a pie, and dug in. No pre-ordering process, no standing in line for hours at the bakery, and no pies that cost more than $10 (most actually were priced at around $6 for the entire thing).
While Walmart may not be known for its pies (understatement of the year), Allen actually gave its pumpkin pie ($5.94 for a 10-inch pie) props for having a nice, light crust with a smooth filling.
"The balance of flavors was ideal, as the pie itself wasn't too sweet and the pumpkin-spice flavor wasn't overwhelming," she wrote. The pie was shelf-stable, so it didn't need to be refrigerated.
Next up was the 8-inch Kroger pie ($5.99), which Allen didn't like at all. In addition to a "lackluster crust," she said the pie filling tasted artificial, and she couldn't eat more than one bite.6254a4d1642c605c54bf1cab17d50f1e
The 12-inch pumpkin pie from Costco ($5.99 plus the cost of a membership) more than made up for Kroger's disaster, however. Baked at the warehouse and packaged nicely in an aluminum pan, Allen says this pie was fluffy, sweet, and had notes of vanilla. But pumpkin-spice lovers may prefer a different grocery chain's pie, as this one wasn't as heavy on the pumpkin flavor, she says.
And finally, the winner. Safeway's 11-inch pie ($9.75), which was baked in store, had a light crust and a delicious filling.
"The balance of the pumpkin filling with the cinnamon and other spices was spot on," Allen says.
We know where we're heading for our last-minute pie needs!