The Most Popular Pie in Every State, According to New Data
To celebrate Pi Day, Instacart gathered data from across the country to determine the winning slice.
Pi Day, March 14, is the day we celebrate the mathematical constant that, shortened for brevity, comes out to 3.14. Since this isn't as exciting as eating actual pie, we also celebrate real pie. This year, Instacart gathered data from their platform to determine which type of pie is the most popular in every state based on actual purchases.
Turns out, the love of pie is very regional. If you take a look at this map, you'll see that many of the favorites cluster in specific regions of the country. Pumpkin pie rules the West, cherry pie sweeps the Midwest, and several warm states love key lime pie. And, if you guessed that apple pie is a favorite, you'd be right: Instacart reports that out of all of the pie orders on the platform, apple pie accounts for 27%… but, it's not the most popular by state.
Read on to see which pie reigns supreme in your state and to get some healthy(ish) recipes to celebrate Pi Day that are as easy as, well, pie. Before you chow down on a slice, though, be sure to also check out our 22 Meals to Melt Belly Fat in 2022.
Sweet potato pie – 1 state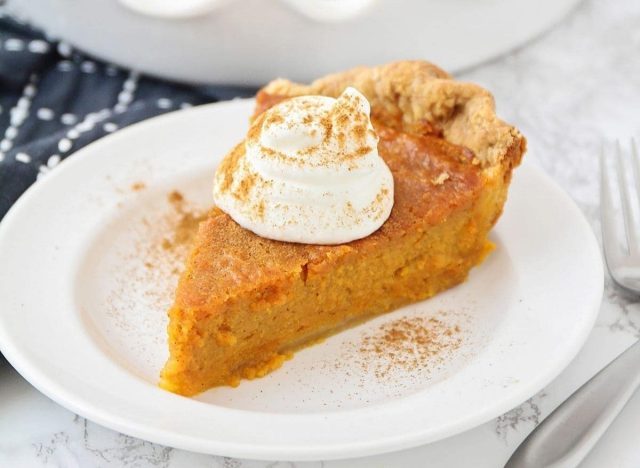 Only Georgia claims this pie as the favorite. Sweet potato pie is similar to pumpkin pie. To make, the softened sweet potato puree is blended with cream and warming spices in a pre-baked pie shell.
Try this recipe from Lil' Luna.
Peach pie – 2 states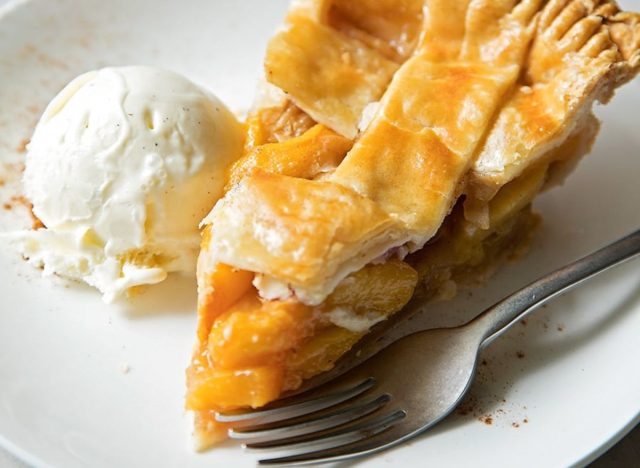 You would probably expect peach pie to be the most sought out pie in the South, but it's Colorado and Wyoming that are buying the most peach pies from Insatcart. Lil' Luna also has a beautiful peach pie recipe you should try.
Get the recipe from Lil' Luna.
Lemon meringue pie – 2 states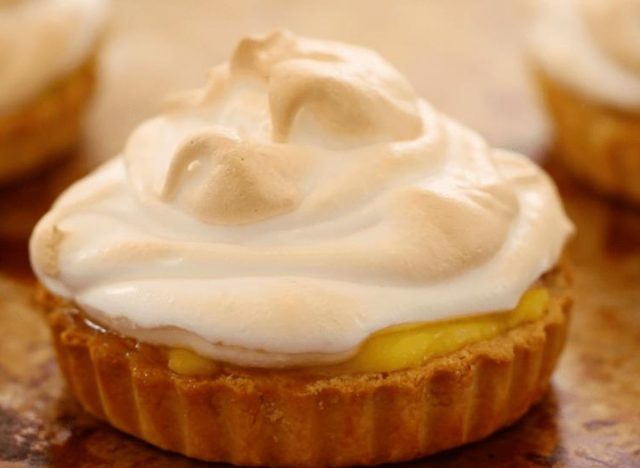 Delaware and Alaska favor this sweet-tart with a cloud of fluffy meringue on top, the higher the better!
Try the Mile-High Lemon Meringue Pie recipe from Bigger Bolder Baking.
Banana cream pie – 2 states
Classic banana cream pie, like lemon meringue, is a sight to behold. This creamy and satisfying pie is a favorite in Minnesota and North Dakota. Ambitious Kitchen claims to make the World's Best Banana Cream Pie.
Get the recipe from Ambitious Kitchen.
Boston cream pie – 2 states
Is the custard-filled, ganache-topped Boston cream pie truly a pie or is it more of a cake? It really doesn't matter what you call it as long as it's delicious. New York and New Jersey claim this as the most popular pie, not Massachusetts. Lil' Luna makes a stunning one.
Get the recipe from Lil' Luna.
Marionberry pie – 2 states
Marionberries are closely related to blackberries but are firmer and have a slightly different flavor. 90% of all marionberries are grown in Oregon, so it's no surprise that the state claims this pie as a favorite. Next-door neighbor, Washington, is also a fan of this berry-filled pie. Marionberry pies are made like other fruit pies, but this one from Martha Stewart is a good one to start with.
Get the recipe from Martha Stewart.
Chocolate pie – 3 states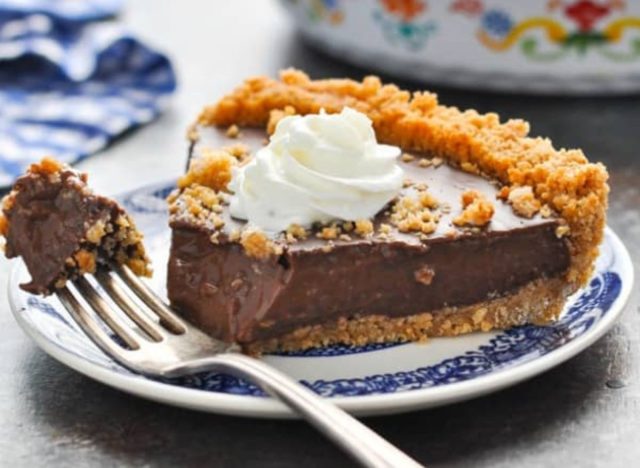 Hungry people in Arkansas, Vermont, and Virginia are the more likely to be seeking out satisfying chocolate-based pies. The Seasoned Mom calls this Chocolate Pudding Pie "the perfect simple, rich, and easy dessert recipe for any occasion." Give it a try!
Get the recipe from The Seasoned Mom.
Key lime pie – 3 states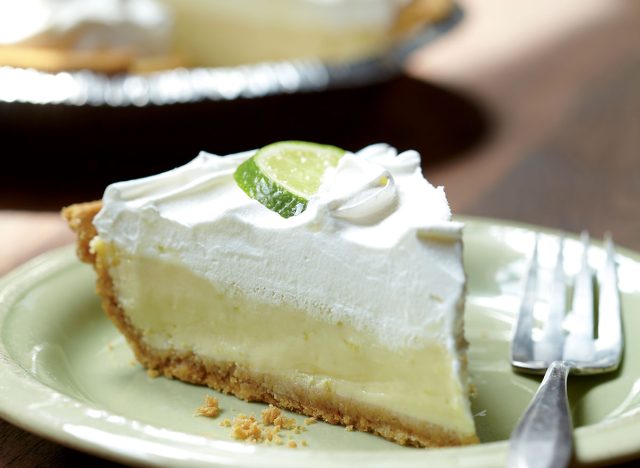 Sweet-tart tiny key limes are the star of the pie show in the South with Florida, South Carolina, and Alabama buying the most of these pies. We've got a super-easy key lime pie that you should try.
Get our recipe for The Easiest Key Lime Pie.
Blueberry pie – 4 states
In the upper Northeast, pie lovers are most likely to be seeking blueberry pie. Maine— known for its wild blueberries—Massachusetts, Vermont, and Rhode Island are the largest purchasers of these pies.6254a4d1642c605c54bf1cab17d50f1e
Try this classic Blueberry Pie recipe from Simply Recipes. 
Apple pie – 4 states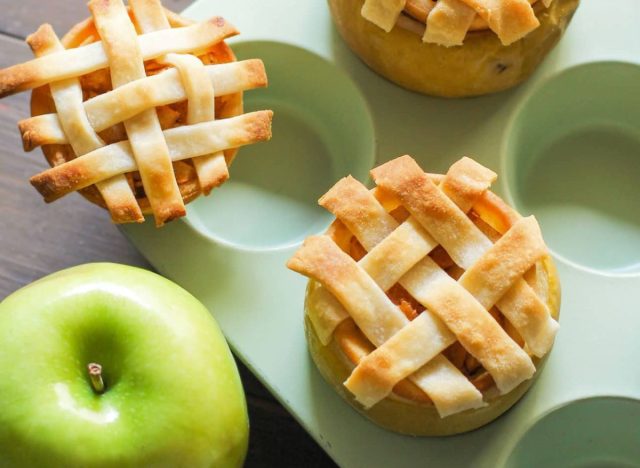 Good old-fashioned apple pie is a favorite amongst four states, but not the ones you might think: Connecticut, Pennsylvania, Maryland, and Nebraska. Want something a little different, and healthier? Try Desserts With Benefits Guilt-Free Apple Pie in an Apple.
Get the recipe from Desserts With Benefits. 
Pecan pie – 5 states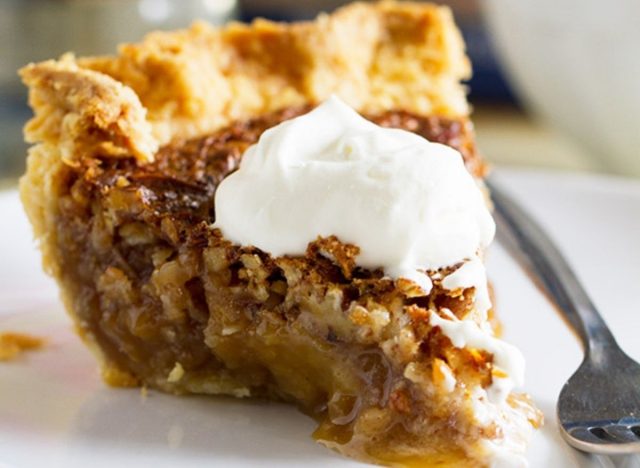 Pecan pie is one of the top three pies that are craved by the states. Louisiana, Mississippi, North Carolina, Tennessee, and Texas seek out this classic, sweet and crunchy pie.
Try this Coconut Pecan Pie recipe from Taste & Tell. 
Pumpkin pie – 9 states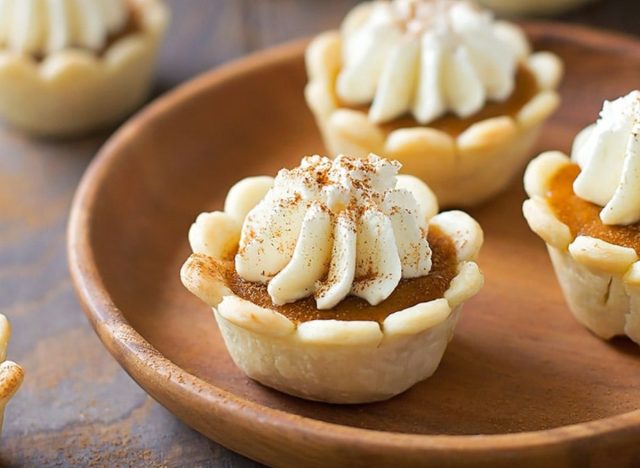 Pumpkin pie, the quintessential Thanksgiving pie, is the second most purchased on Instacart with 9 states seeking out the creamy dessert. Arizona, California, Hawaii, Idaho, Montana, Nevada, New Mexico, South Dakota, and Utah bought this pie more than any other. If you're looking for something bite-sized, these mini pumpkin pies from Lil' Luna are adorable!
Get the recipe from Lil' Luna. 
Cherry pie – 11 states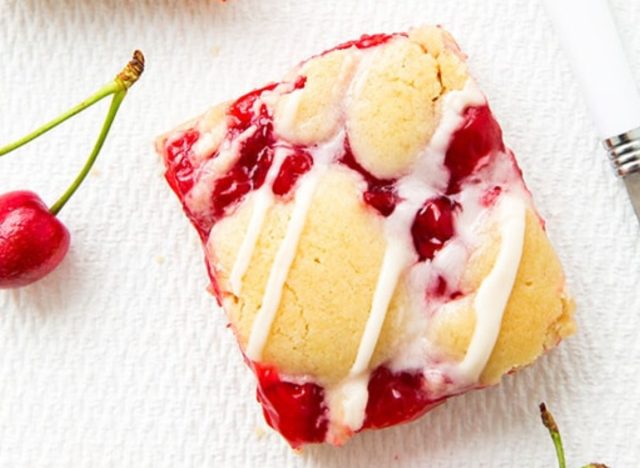 But the most-purchased pie on the platform is cherry pie. A whopping 11 states craved this sweet, ruby-colored pie enough to add it to their Instacart order. Illinois, Indiana Iowa, Kansas, Kentucky, Michigan, Missouri, Ohio, Oklahoma, West Virginia, and Wisconsin. These vibrant cherry pie bars from Cooking Classy are a must-try.
Get the recipe from Cooking Classy. 
Don't Miss: 50 Old-Fashioned Recipes You Should Make Now