12 Best Protein Bars for Women
Certain protein bars are better for you. Here's exactly which ones they are.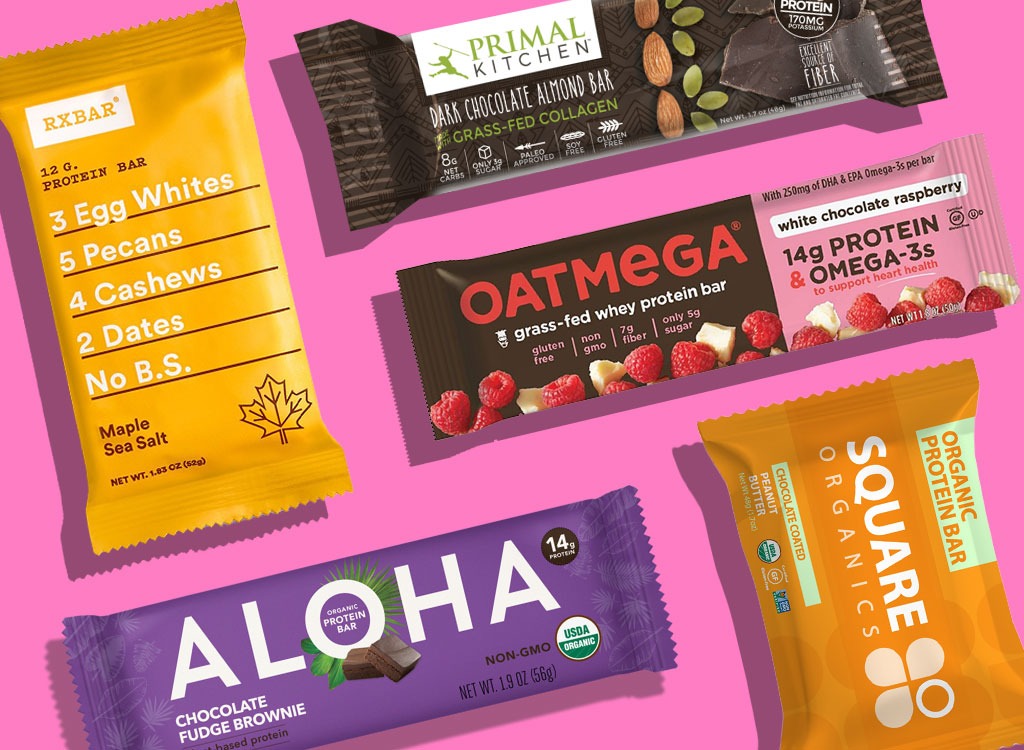 Perms, neon spandex, frosted lip gloss. While most trends are bound to fall out of style, there's one food trend that doesn't seem to be going anywhere anytime soon: protein.
In our increasingly fitness- and wellness-oriented society, protein has attained a higher celebrity status than Hollywood's elite. So, why all the hype? We'll let the science speak for itself. Consuming high-protein snacks can help preserve and build muscle, increase feelings of fullness, reduce feelings of hunger, and encourage weight loss.
But despite protein's ubiquity, many of us still struggle to discern exactly which protein products we should be adding to our diets to reap the most benefits. That's why we tapped Susan Stalte, RD, LDN, MBA-Candidate to help us sort through the hundreds of options to select the best picks out there for women.
Susan notes that although protein bars are totally fine as a snack or a quick post-workout, she recommends that your ideal option is to "opt for balanced snacks with whole food protein sources." (For inspiration, don't miss these 29 best-ever proteins for weight loss.) Below, we've laid out the exact recommendations Stalte gave us when selecting the best bars. Keep scrolling, and you'll find the bars that fit the bill!
The Nutrient Criteria
Stalte tells us she helps her Rise clients choose the best protein bars based on the following criteria: saturated fat should be limited to 5 grams, aim for 20 grams of carbs, a range of 5-10 grams of fiber, and no more than 15 grams of sugar (ideally, no more than 10 grams!).
As for protein, it differs depending on your needs: you'll be looking "between 10-15 grams of protein for a snack; however, for post workout, we want more around the 20 gram range." If you can't hit the 20 grams in an Eat This!-approved protein bar option, Stalte recommends "having a small whole food protein source in addition to the bar."
The Ingredient Criteria
It's probably a moot point, but not every protein bar is made with your best interests in mind. Many are loaded with bad-for-you ingredients such as artificial sweeteners—which have actually been associated with weight gain rather than weight loss. "I advise my clients to avoid or limit artificial sweeteners […] because we really don't know the long-term potential health impacts," Stalte tells us. In addition to artificial sweeteners, soy protein isolate and palm oil are also on the list of "Ingredients To Avoid."
As for which ingredients should be included in your bars, Stalte says she prefers protein bars with whole food ingredients—such as nuts and seeds—rather than processed additives. Below we've rounded up a list of bars that fit the criteria.
RXBAR Maple Sea Salt
Per bar (52 g): 220 calories, 10 g fat (1.5 g saturated fat), 260 mg sodium, 22 g carbs (5 g fiber, 14 g sugar), 12 g protein
RXBar has one of the highest sugar counts of all the options listed below, but it still garnered Stalte's seal of approval. That's because the sugars come from a whole food source—dates—and it has one of the shortest ingredient lists with countless whole food ingredients. That being said, Stalte still recommends keeping sugars below the 10-15 gram range "as sugar is sugar."
Buy it now for $34.95 per 12-pack ($2.91 each) at Amazon.com
Primal Kitchen Dark Chocolate Almond Bars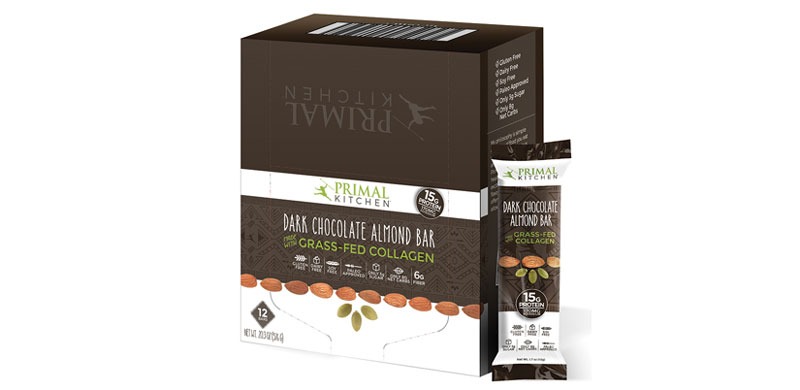 Per bar (48 g): 230 calories, 15 g fat (4 g saturated fat), 70 mg sodium, 14 g carbs (6 g fiber, 3 g sugar), 15 g protein
Don't be afraid of seeing a little fat in your protein bar. That's because fat is satiating, "meaning that it keeps you full," explains Stalte. She says "the more healthy fat, the better." To be clear, healthy fats are the monounsaturated and polyunsaturated fats, not saturated or trans. However, "saturated fat around the 5 gram range is completely okay as this usually comes from nuts and seeds (a common whole food ingredient in these bars)," she clarifies.
$25.27 per 12-pack ($2.10 each) at Amazon.com
Aloha Chocolate Fudge Brownie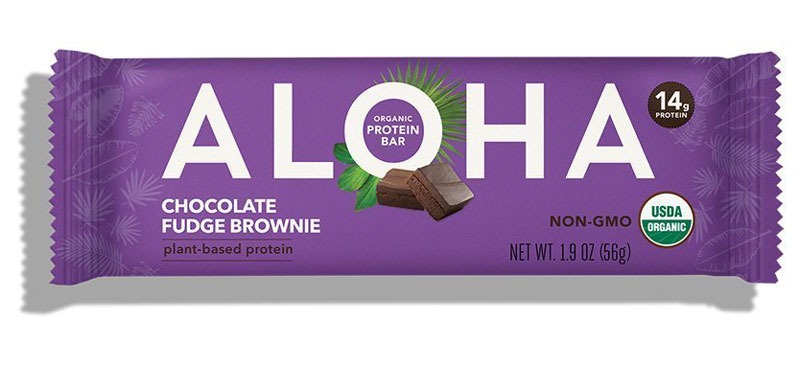 Per bar (56 g): 230 calories, 9 g fat (3.5 g saturated fat), 85 mg sodium, 20 g carbs (7 g fiber, 10 g sugar), 14 g protein
Say "Aloha" to one of our favorite bars taking the health world by storm. This protein bar gets its power from whole food ingredients like cashews, pumpkin seeds, pumpkin seed protein and pea protein, while organic pea crisps, sea salt, vanilla extract and monk fruit extract lend texture and flavor.
$29.99 per 12-pack ($2.50 each) at Amazon.com
No Cow Bar Mint Chocolate Chip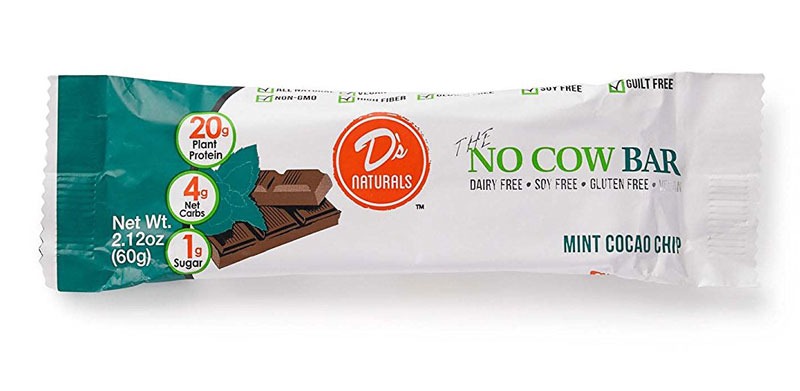 Per bar (60 g): 160 calories, 4.5 g fat (2 g saturated fat), 200 mg sodium, 25 g carbs (19 g fiber, 1 g sugar), 20 g protein
A win for plant-protein lovers! This delicious vegan bar surpassed every expectation of ours—including on taste. This vegan bar is as nutritionally stellar as they come: low in sugar, high in fiber, even higher in protein.
$33.99 per 12-pack ($2.83 each) at Amazon.com
Zing Bar Dark Chocolate Peanut Butter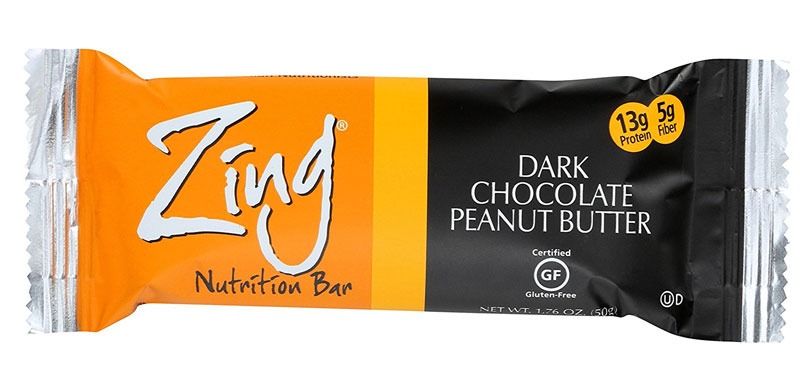 6254a4d1642c605c54bf1cab17d50f1e
Per bar (50 g): 210 calories, 10 g fat (3 g saturated fat), 150 mg sodium, 21 g carbs (5 g fiber, 15 g sugar), 13 g protein
Free of soy protein and gluten free, Zing's Dark Chocolate Peanut Butter packs 13 grams of high quality whey protein. But whey protein isn't even the first ingredient. That honor belongs to the humble whole food, organic peanut.
$27.94 per 12-pack ($2.33 each) at Amazon.com
Clif Whey Protein Bar COCONUT ALMOND CHOCOLATE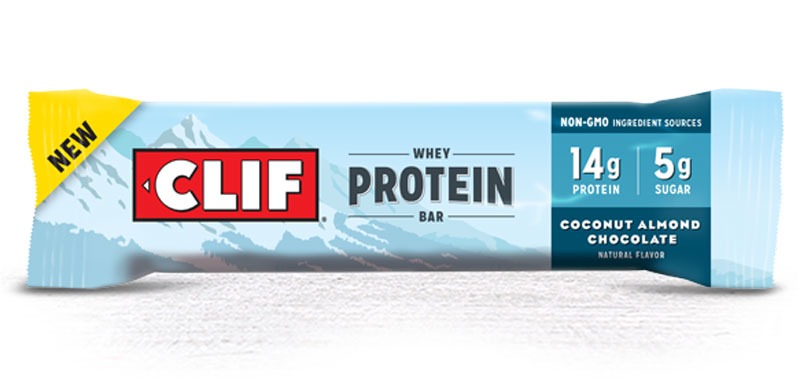 Per bar (56 g): 260 calories, 13 g fat (6 g saturated fat), 170 mg sodium, 24 g carbs (5 g fiber, 5 g sugar), 14 g protein
If you're hungry for a delicious protein bar boost without sugar alcohols, artificial sweeteners or zero-calorie sweeteners, this bar will become your go-to. It's the perfect blend of creamy almond butter and crunchy almonds and coconut.
$11.99 per 8-pack ($1.50 each) at Amazon.com
EXO BAR COCOA NUT
Per bar (60 g): 310 calories, 20 g fat (4.5 g saturated fat), 45 mg sodium, 23 g carbs (7 g fiber, 13 g sugar), 10 g protein
Ready to freak out your friends? Tell them you enjoy eating bugs! Crickets provide the bulk of protein in this bar aside from some almonds.
$34.10 per 12-pack ($2.84 each) at Amazon.com
Health Warrior Superfood Protein Bars, Lemon Goldenberry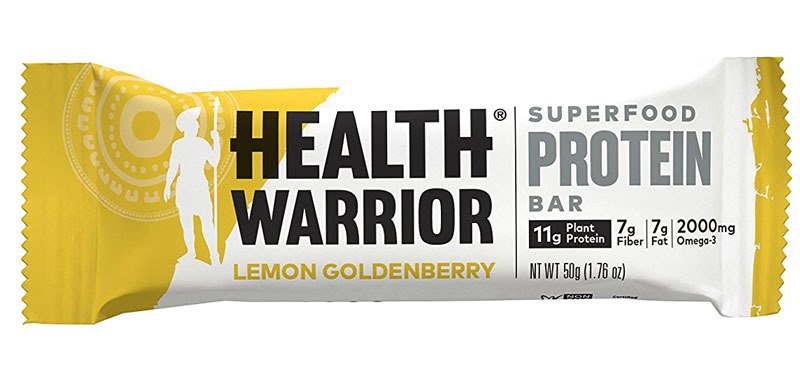 Per bar (50 g): 200 calories, 8 g fat (2 g saturated fat), 180 mg sodium, 25 g carbs (5 g fiber, 11 g sugar), 11 g protein
If you hate the odd texture of many high-protein bars, Health Warrior's products should be your go-to. They manage to pack in 10 grams of high-quality protein while maintaining some chewy texture thanks to chia seeds, oats, quinoa, and almonds.
$17.09 per 12-pack ($1.42 each) at Amazon.com
Oatmega White Chocolate Raspberry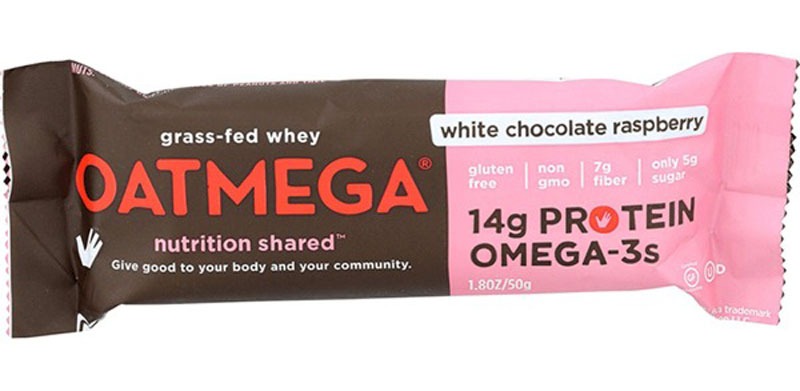 Per bar (50 g): 200 calories, 7 g fat (2 g saturated fat), 120 mg sodium, 22 g carbs (7 g fiber, 5 g sugar), 14 g protein
Not all protein bars have to be peanut butter and chocolate. This slightly sweet and tangy raspberry-flavored bar gets its protein from grass-fed whey protein concentrate and extra fiber from chicory root fiber, oats, and almonds.
$25.95 per 12-pack ($2.16 each) at Amazon.com
Raw Rev Glo Creamy Peanut Butter & Sea Salt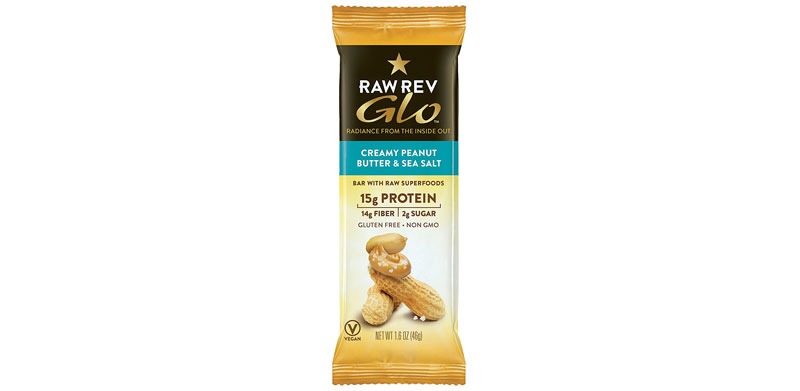 Per bar (46 g): 180 calories, 11 g fat (2 g saturated fat), 110 mg sodium, 17 g carbs (14 g fiber, 2 g sugar), 15 g protein
Before you take a double take, yes, this bar really only has two grams of sugar. And that's because Rav Rev eschews all added sweeteners—even the zero-calorie ones. You'll get a protein punch from a blend of peanuts, pea protein, organic brown rice protein, and hemp protein. The high fiber count is due to a combination of chia seeds, sprouted flax seeds, and isomalto-oligosaccharides, a type of prebiotic fiber from tapioca.
$17.76 per 12-pack ($1.48 each) at Amazon.com
NuGo Slim Roasted Peanut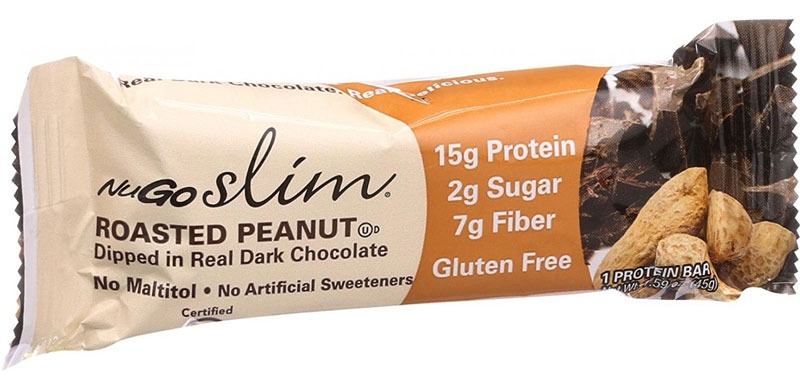 Per bar (45 g): 190 calories, 6 g fat (2.5 g saturated fat), 140 mg sodium,19 g carbs (7 g fiber, 2 g sugar), 16 g protein
Reese's Lovers, this peanut butter snack is for you! It's hard to believe that NuGO's rich-tasting bar is actually good for you, but it has everything we look for in a good bar: high protein, a hit of fiber and minimal additives.
$19.03 per 12-pack ($1.58 each) at Amazon.com
KIND Sweet Cayenne BBQ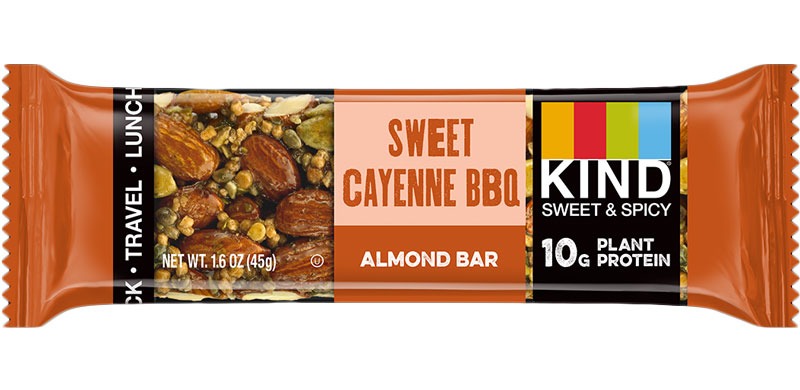 Per bar (45 g): 230 calories, 16 g fat (1.5 g saturated fat), 140 mg sodium, 15 g carbs (3 g fiber, 6 g sugar), 10 g protein
Time to throw away the chips. The first ingredient in this Honey Smoked BBQ bar is considered one of best nuts for weight loss: almonds. Not only are these teardrop-shaped nuts rich in the amino acid L-arginine, which helps build lean muscle and reduces belly fat, but they also contain the minerals riboflavin, magnesium, and manganese, which are essential for a healthy metabolism.
$17.95 per 12-pack ($1.49 each) at Amazon.com
Olivia Tarantino
Olivia Tarantino is the Managing Editor of Eat This, Not That!, specializing in nutrition, health, and food product coverage.
Read more about Olivia