8 Best Slices of Pizza In NYC, According to Chefs
These iconic spots come highly recommended.
Everyone in New York City has their favorite place to get a slice of pizza, and likely more than one. There's the slice shop that's near your apartment, the slice shop near your work, and likely a few slice shops that you're willing to hop on a subway to get to. One of the best things about living in the five boroughs is the ability to buy pizza by the slice. And for visitors, it's an inexpensive way to sample some of the best pizza in the country.
While New York style—a large, thin-crust pie made in a coal oven—reigns supreme at most shops, there are plenty of spots that use brick ovens to create other styles of pizzas. Whether you're looking for traditional NYC style, a Sicilian slice, or something a little different (vegan cheese anyone?), the chefs we spoke with had strong opinions about the best slices in the city, and one of them stood head and shoulders above the others.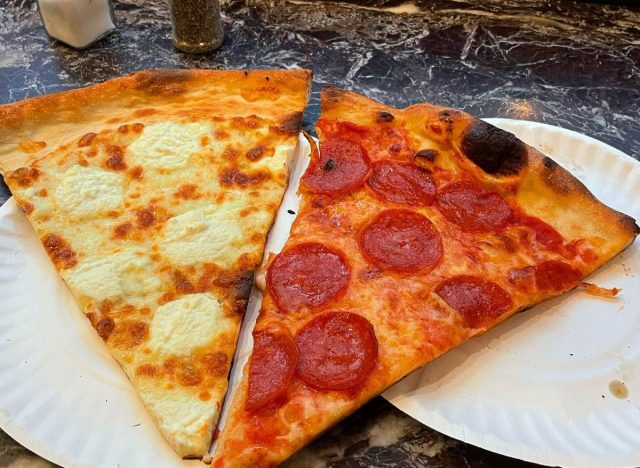 The iconic Joe's has locations in Manhattan and Brooklyn, and their classic thin-crust NY slice is not to be missed when visiting the city. It was the top pick for many of the chefs we spoke to.
"NYC has so many top pizza places but as a chef and True New Yorker that is always eating on the run, my top choice would be Joe's Pizza," says Brian Pancir, corporate culinary director for Thompson Hospitality. "The thin crust is made in-house with Mozzarella cheese and the old-school family tomato sauce with hints of fresh basil and garlic. These simple ingredients and old-world cooking techniques make Joe's Pizza the king of NY."
The slice shop also has a fan in Grant Kneble, chef and owner of Freddy J's Bar and Kitchen in New Jersey. He told us, "There's just something special about the original location. A slice of their classic pizza truly embodies the spirit of NYC."
This iconic spot got the nod from many of the chefs we spoke with. "As for the best slice of pizza, the original Joe's on Bleecker. A real New York slice. Always the same. Fresh, amazing! Think pizza that is a true New York slice," says Derek Axelrod, co-owner of T-bar NYC and T-bar Southampton.
"Nothing compares to New York City's pizza and my favorite is Joe's Pizza because of its perfectly burnt crust and garlic-ly tomato sauce. My favorite location is downtown, on Carmine Street of course," says Stephen Parker, executive chef of Black Tap Craft Burgers and Beer.
Yet another vote for Joe's comes from Chef Chris Aquilino, the esteemed director of culinary at Elior North America, who says: "Best ingredients, crust and seasoning in their sauce. It's all about the sauce and the dough!"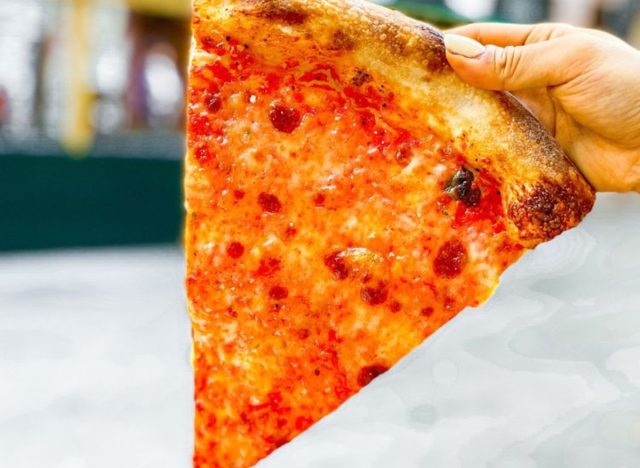 This hole-in-the-wall pizzeria on the Lower East Side is the only pizza shop in NYC that's milling its own whole flour, and it shows—it's quite possibly the perfect slice.
Chef Fernando Navas of BALVANERA restaurant on the Lower East Side (formerly of Nobu, SUSHISAMBA, and el Bulli), is a fan, telling us, "It's gotta be a grandma slice from Scarr's after a great night out on the Lower East Side. Best pizza and best neighborhood in the city—it's a double win."
"Their simple yet delicious slices are what New York pizza is all about," agrees Kneble.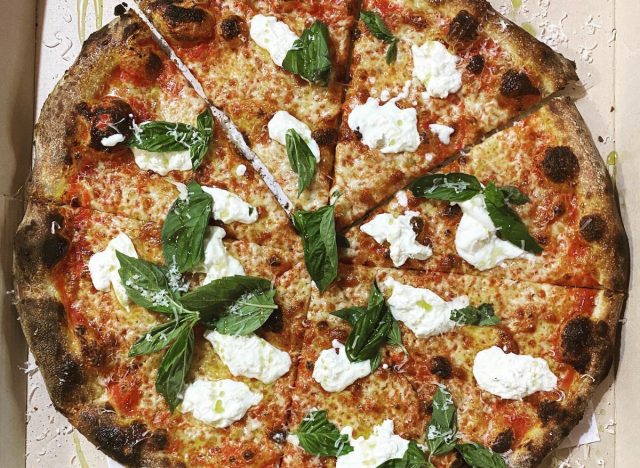 This heralded slice shop in Williamsburg, Brooklyn, expanded in 2021, and is still creating thin Roman-style pies available by the slice. Clinton Hall and Slate executive chef Darryl Harmon is a fan, telling us, "My go-to place is L'Industrie Pizzeria in Brooklyn. Their pizza consistently delivers exceptional quality. Personally, I'm a big fan of their Burrata Slice, which boasts a one-of-a-kind flavor that truly bursts with deliciousness."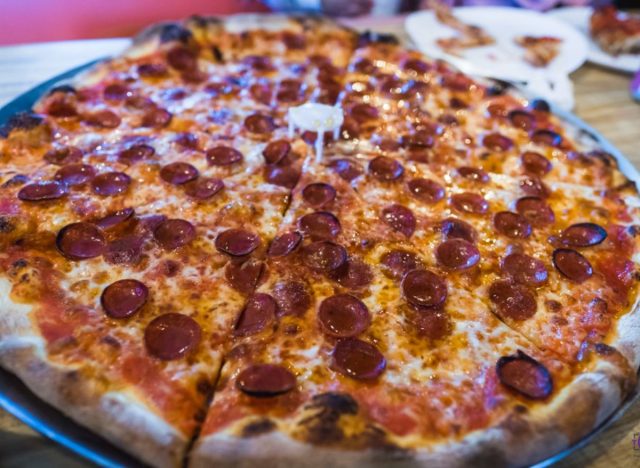 Evoking memories of every classic slice shop you visited as a kid—right down to the orange plastic booths—Paulie Gee's in Greenpoint, Brooklyn, has counter service selections you won't find anywhere else. The traditional pepperoni is a no-brainer, but branch out and try the honey-infused spicy Hellboy, and they even make vegan slices.
Kneble gives this shop his blessing, telling us, "The imaginative array of pizza options never ceases to amaze me, and I'm thrilled they've brought their innovative approach to Philadelphia."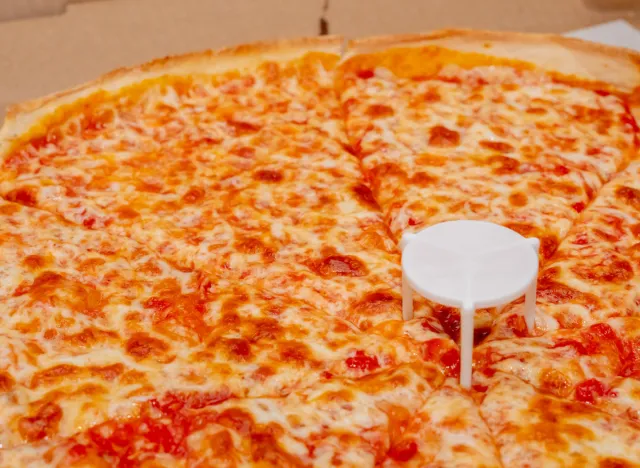 Chef Manjit Manohar, the new executive chef at The Regency Bar & Grill on Manhattan's Upper East Side, makes the trip to Queens for this thin-crust pizza by the slice.  "Outside of Manhattan, I often venture to Queens and enjoy pizza from Rizzo's Fine Pizza in Astoria," he says. "These pizzas are rectangular like Sicilian, but with an ultra-thin crust that crackles when you bite into. The ratio of bread to cheese to sauce is truly on point."6254a4d1642c605c54bf1cab17d50f1e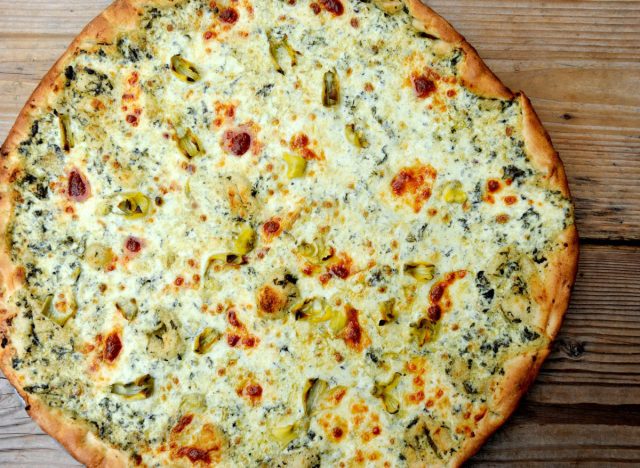 Artichoke Basille's has several locations around the city and in other states as well. The original location on the Lower East Side saw lines around the block when it opened in 2008. Owned by fourth-generation pizzaiolos, Artichoke rose to fame for its Big Artichoke (spinach and artichoke dip topped) slices, but their traditional slice is excellent as well.
"If you're looking for a great place in the Lower East Side, especially after a night out, Artichoke Basille's Pizza is the best. The line is always long but the Big Artichoke slice is worth the wait," says Chef Kelly O'Hara, corporate executive chef at SFL Hospitality Group in Fort Lauderdale, Fla.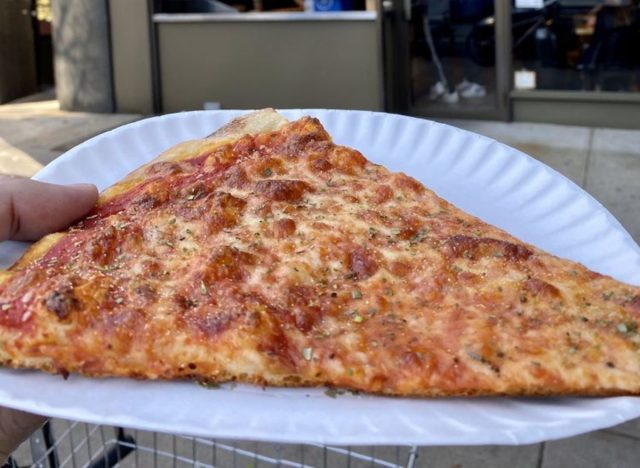 This Brooklyn Heights slice shop has the hearts of many who grew up eating there, including Chef Kiki Aranita of Poi Dog Philly. "Fascati's is the best slice in NYC," says Aranita.
"It was also my first slice, consumed when I was a 5-year-old discovering pizza as a kindergartener at PS8. As an adult and as a chef, I've revisited many of my childhood favorite dishes to much dismay —but not when it comes to Fascati's. This is the slice that I judge all others by. It's thin and large, you want to get the classic cheese. The crust is crisp and the cheese pull goes on forever. The sauce is perfect—not too sweet . . . Just right. The interior of Fascati's hasn't changed at all in 30+ years and I hope it never does."
Let's hear it for another neighborhood favorite, from native New Yorker O'Hara, who grew up eating slices at this East Side spot. "Mike's Pizza on 24th St and 2nd Avenue has the best classic NY pizza. It's right across the street from where I grew up, so I was basically raised on it," says O'Hara. "My go-to order is always one slice of pepperoni, one slice of cheese, and one corner of Sicilian, paired with a crisp cold can of Coke!"
Tanya Edwards
Tanya Edwards is a seasoned food and health journalist, who has held roles at Yahoo Health as Managing Editor and at Food Network as Programming Director.
Read more about Tanya