6 Fast-Food Chains That Serve the Best Stuffed Crust Pizza
Born in the '90s and still going strong, the novel pie is available far and wide.
The product recommendations in this post are recommendations by the writer and/or expert(s) interviewed and do not contain affiliate links. Meaning: If you use these links to buy something, we will not earn a commission.
If you could travel back in time to 1995 and turn on a television, then chances are good that you'd see an ad featuring Donald Trump and his then-recently minted ex Ivana Trump eating a Stuffed Crust Pizza from Pizza Hut.
This distinctive style of pizza, featuring cheese tucked into the thicker crust at the outer edge of the pie, was not invented by Pizza Hut, per Tasting Table, but the chain undeniably helped to popularize the foodstuff. And ever since Pizza Hut put stuffed crust on the proverbial map, it has been on the menu at other pizza restaurants far and wide.
Today, many stuffed crust pizzas go far beyond the simple addition of mozzarella cheese to the breading. As you'll see, there are options out there wherein the crust is almost a mini calzone at the pizza pie's end. Who could have predicted that the novel pizzas Donald Trump helped make famous in the mid '90s would catch on indefinitely? Then again, who could have predicted a lot of other things, too.
Here are six fast-food pizza chains with some great stuffed crust pizzas.
Pizza Hut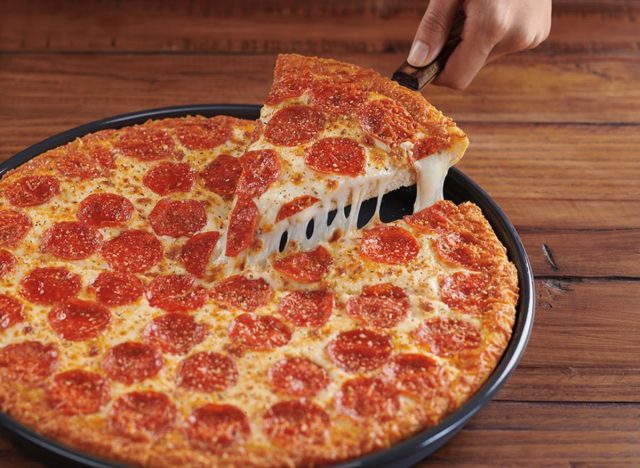 On any sort of notable scale, it all started with Pizza Hut. That aforementioned 1995 TV ad campaign was what made most Americans aware of a pizza you could eat "the wrong way"—that is, crust first, because the crust was stuffed with cheese.
Today, Pizza Hut offers what it assertively calls Original Stuffed Crust pizzas, and the chain also threw in the line "Nothing beats the original" on its site. And while Pizza Hut has its fair share of detractors, there are plenty of people who love its stuffed crust pizzas. In one Reddit chain, commenters raved "it will always have a warm melty place in my heart" and "God bless stuffed crust pizza."
Papa John's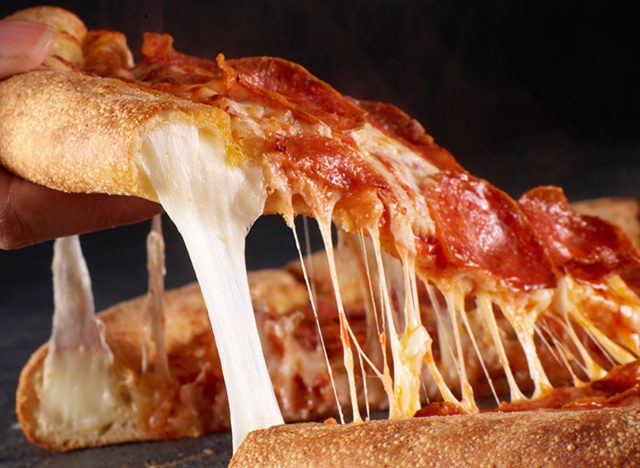 Papa John's is arguably the second name in stuffed crust pizza. And the chain doesn't offer just any old stuffed crust, but instead "Epic Stuffed Crust." At this chain, you can get pretty much any pie made on a stuffed crust base—or, to be even more "epic," you can opt for Epic Pepperoni-Stuffed Crust, which comes "hand-hand-stuffed with pepperoni and cheese," according to the website.6254a4d1642c605c54bf1cab17d50f1e
You can appreciate the fact that this chain treats stuffed crust as a menu option, not as a gimmick, using the same "original dough" and cheese as it does with other pies. The result is a pizza with more cheesy taste (and calories) instead of a different taste.
Little Caesars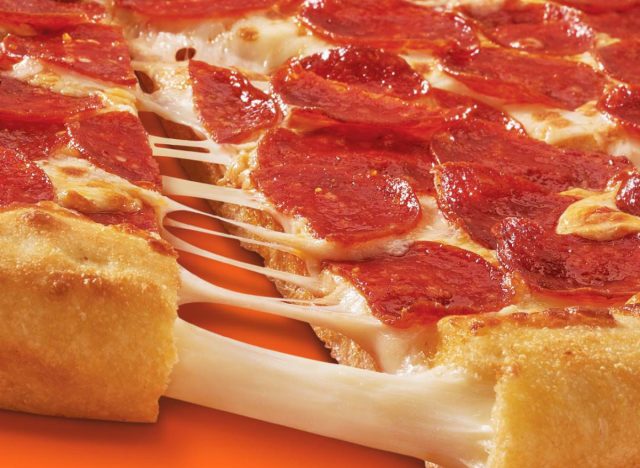 Sure, Little Caesars may have lost some fans when, after years and years of its Hot-N-Ready pizzas being available for just five bucks, the chain raised the Hot-N-Ready price to $7.99. But the Detroit-based chain still has plenty of loyal customers, many of whom keep coming back for the stuff crust pizza.
And not necessarily for the basic stuffed crust option—it's the Pretzel Stuffed Crust pizzas that truly set Little Caesars apart from the pack.
There's much love for Little Caesars' stuffed crust pies on the web. In a Reddit thread asking which stuffed crust pizza is better, many commenters chose Little Caesars over Papa John's.
Cicis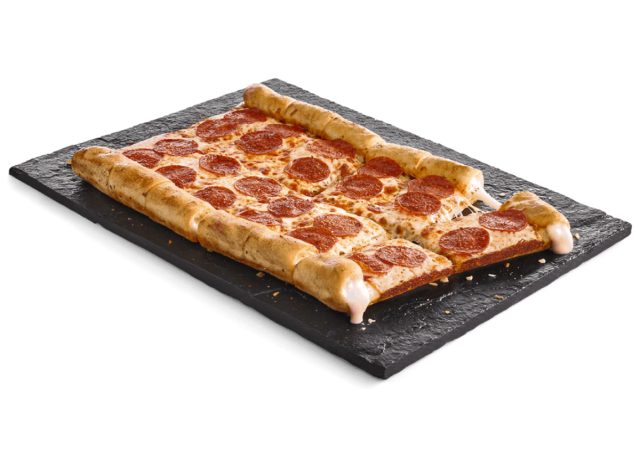 Cicis offers two stuffed crust pizzas: a Cheese Stuffed Crust and a Pepperoni Stuffed Crust. And these are unique pizzas even in this rarified category, being as they are square pies (well, rectangular, actually) with two parallel strips of crust and two sides of the pizza sans crust at all.
In those parallel strips of pizza crust, you'll find a plethora of cheese. And a lot of dough, too: these are essentially cheese-stuffed breadsticks that have been baked on the edges of a deep-dish pizza.
An unusual pizza, to be sure, but Cicis does most things in an offbeat kind of way. It is a pizza buffet restaurant, after all, and those are hard to find these days.
Papa Murphy's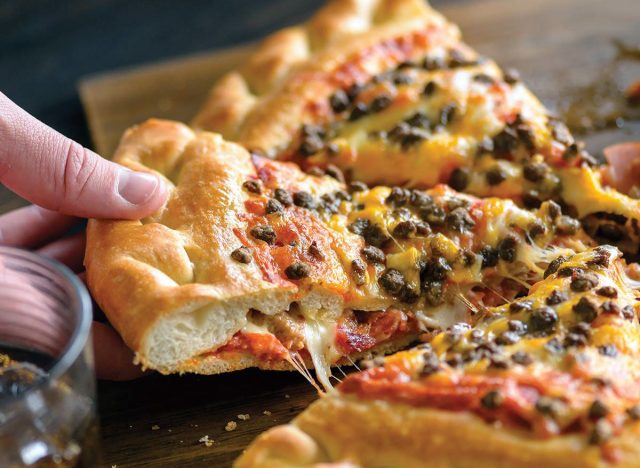 For the folks at Papa Murphy's, making a mere stuffed crust pizza just wasn't good enough. No, these guys went ahead and made a whole line of stuffed pizzas. That's right: at Papa Murphy's, you can get pizzas where the whole pie is jammed full of ingredients going well beyond mere mozzarella cheese.
At last check, Papa Murphy's offers four stuffed pies: the Big Murphy's Stuffed, the Chicago-Style Stuffed, the 5-Meat Stuffed, and the Chicken Bacon Stuffed. Each stuffed pizza features a layer of crust topped by plentiful foodstuffs followed by yet another layer of crust.
And yes, atop this upper crust, you still get cheese and more toppings. It's sort of like laying two thin crust pizzas atop one another. This is borne out by the nutrition facts: one slice of 5-Meat Stuffed Crust Pizza, for example, has 480 calories, 18 grams of fat, and 1,240 milligrams of sodium.
Marinara Pizza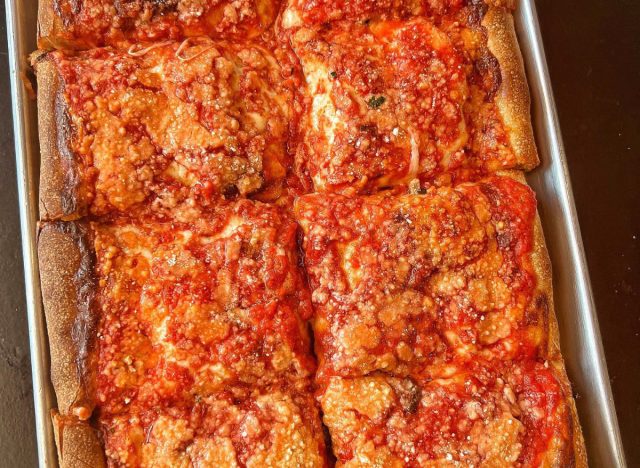 If you want to get the best pizza on earth, many people will tell you that you need to go to New York City. And many people will fight to the death to tell you about other places, from Chicago to Detroit to—what's that place called again? Oh, right! Italy. But if you do find yourself in New York and you want a great piece of pizza with a stuffed crust, then Marinara Pizza is the place to get it.
Marinara Pizza is a smaller chain with just five locations at present, all of which are in Manhattan. And while the chain's New York-style thin-crust pies are superb and properly foldable, you need to try the stuffed pies.
Those are the Red Sicilian Stuffed Crust pizza and the Spicy Pepperoni Stuffed Crust pie, both of which come from the chain's Square Pies menu. Just be prepared to shell out: these pizzas cost $5.50 per slice or $32 for a whole pie.
Steven John
Steven John is a freelancer writer for
Eat This, Not That!
based just outside New York City.
Read more about Steven