The Best Smoothie in Every State
Refuel after a workout with these healthy picks.
Nothing refreshes like a smoothie, and some can even make filling, healthy meals. We're big fans, whether it's a blend of sweet fruits to refresh or a greens-and-protein-packed powerhouse. What makes a great smoothie? We always look for the freshest ingredients—real fruits and veggies are non-negotiable—great vibes, and a loyal local fan base.
With that in mind, we scoured reviews, talked to locals, and looked back on our own travels around the country to put together a definitive list of the best smoothie spots in the United States.
Please note: All of the included restaurants are open as of publication, or offering takeout. However, with regulations changing almost daily (at least it seems like it), please call or check the restaurant's website or social media before running out the door.
And for more, don't miss these 15 Classic American Desserts That Deserve a Comeback.
ALABAMA: J' ti`'z Smoothie-N-Coffee Bar in Birmingham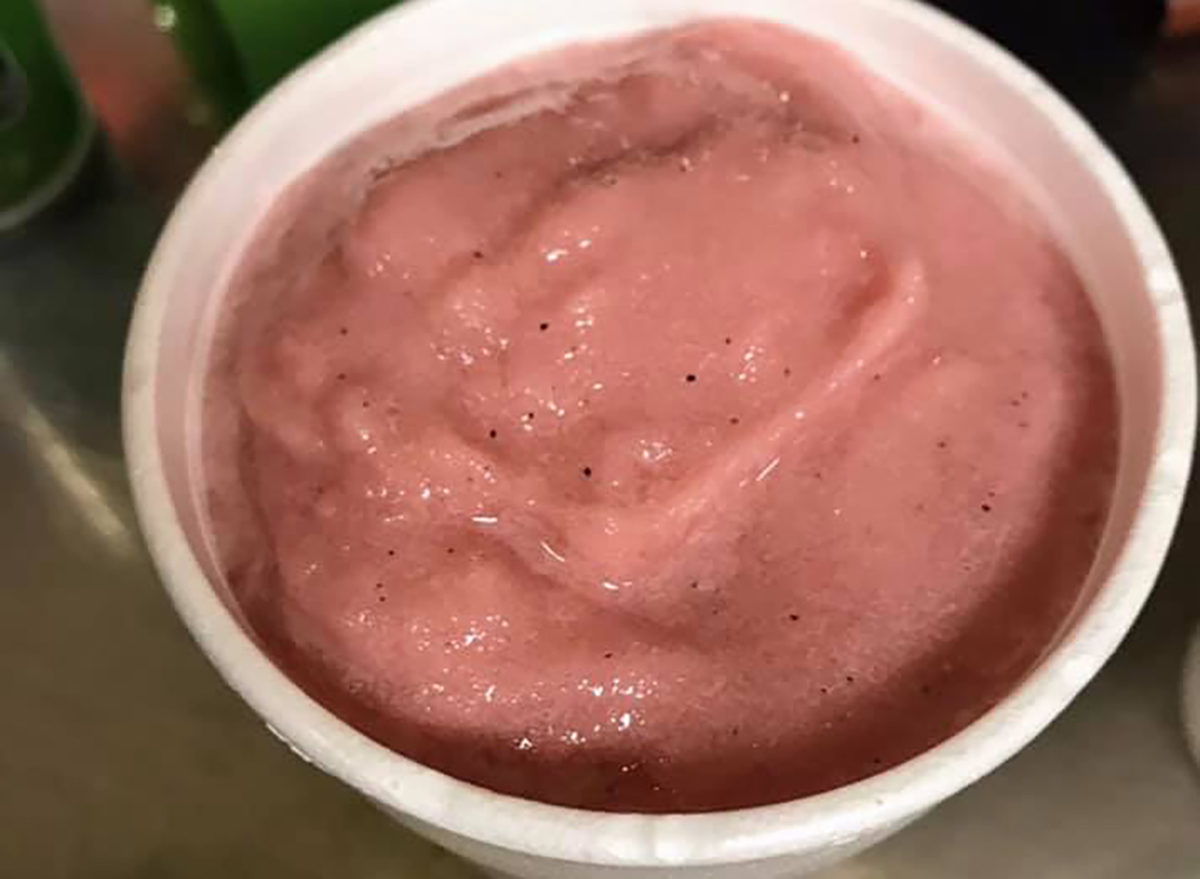 While J' ti`'z is relatively new to Birmingham, the rave reviews are already piling up for the shop's healthy smoothies, lattes, and boba teas.
And if you love cooking, sign up for our newsletter to get daily recipes and food news in your inbox!
ALASKA: Fisheye Cafe in Sitka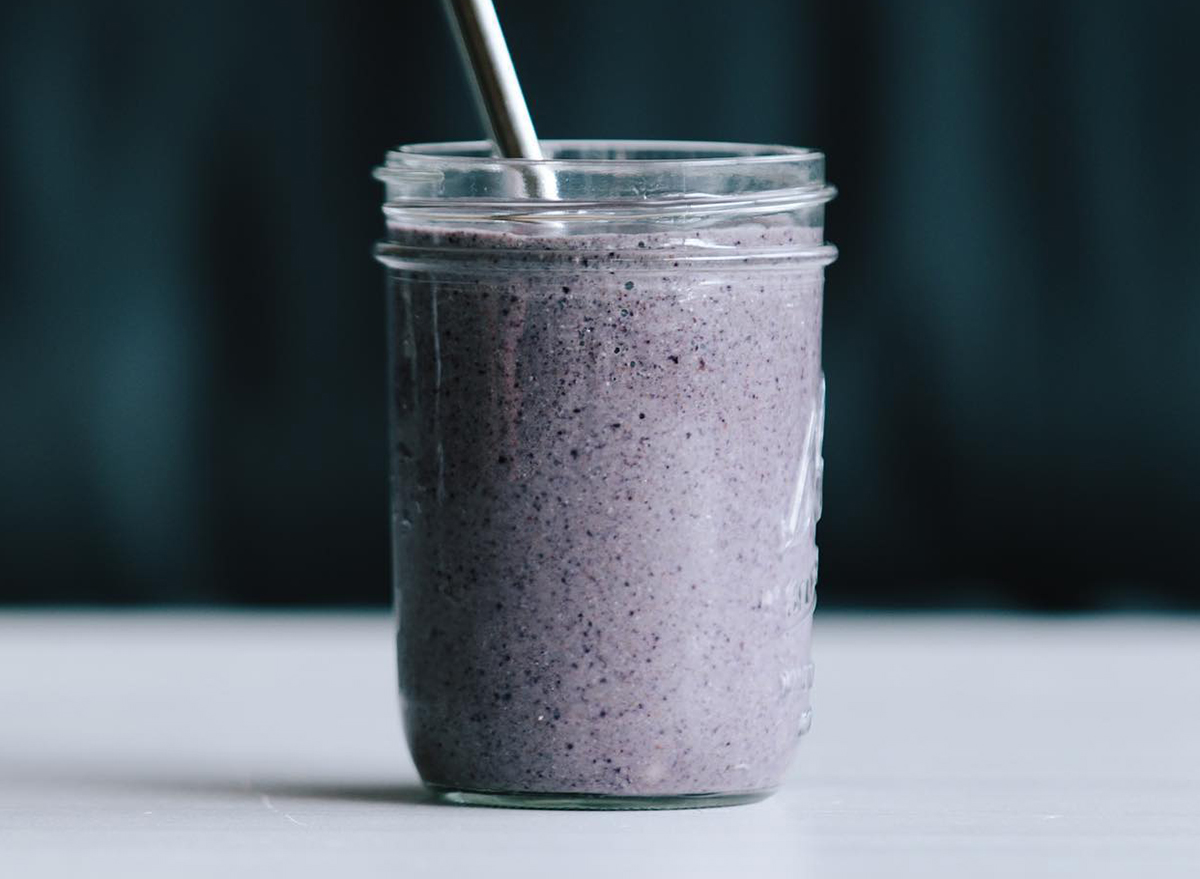 Reviewers rave about this cute cafe's "vibes" and "atmosphere" almost as much as they do about the Kick Start (banana, blueberries, oats, chia, vanilla protein, super greens, maca, date, cinnamon, coconut milk) and Sudden Sunshine (strawberries, banana, orange juice) smoothies. The shop also offers Bulletproof coffee and more.
ARIZONA: The Berry Beet in Phoenix
"The best smoothie bar in Arizona," raves one happy customer of this smoothie shop that offers smoothies, acai bowls, and juice shots. Try the green-packed Oh Kale Yeah!
ARKANSAS: Berry Natural in Fayetteville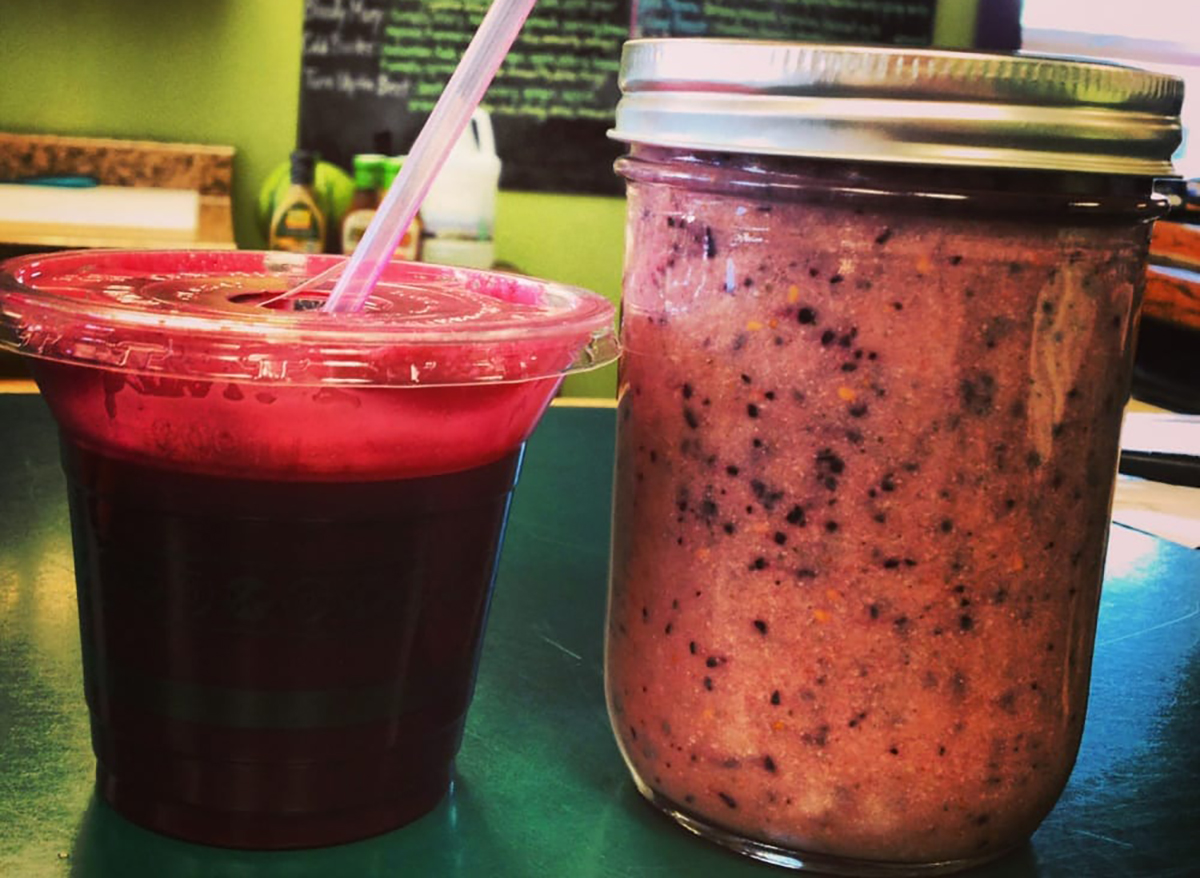 Yes, you can get cold-pressed, organic juices in Arkansas! This family-owned and operated business offers juices and smoothies to order, plus pre-made juice cleanses.
CALIFORNIA: Earth Organic Juice Bar in Los Angeles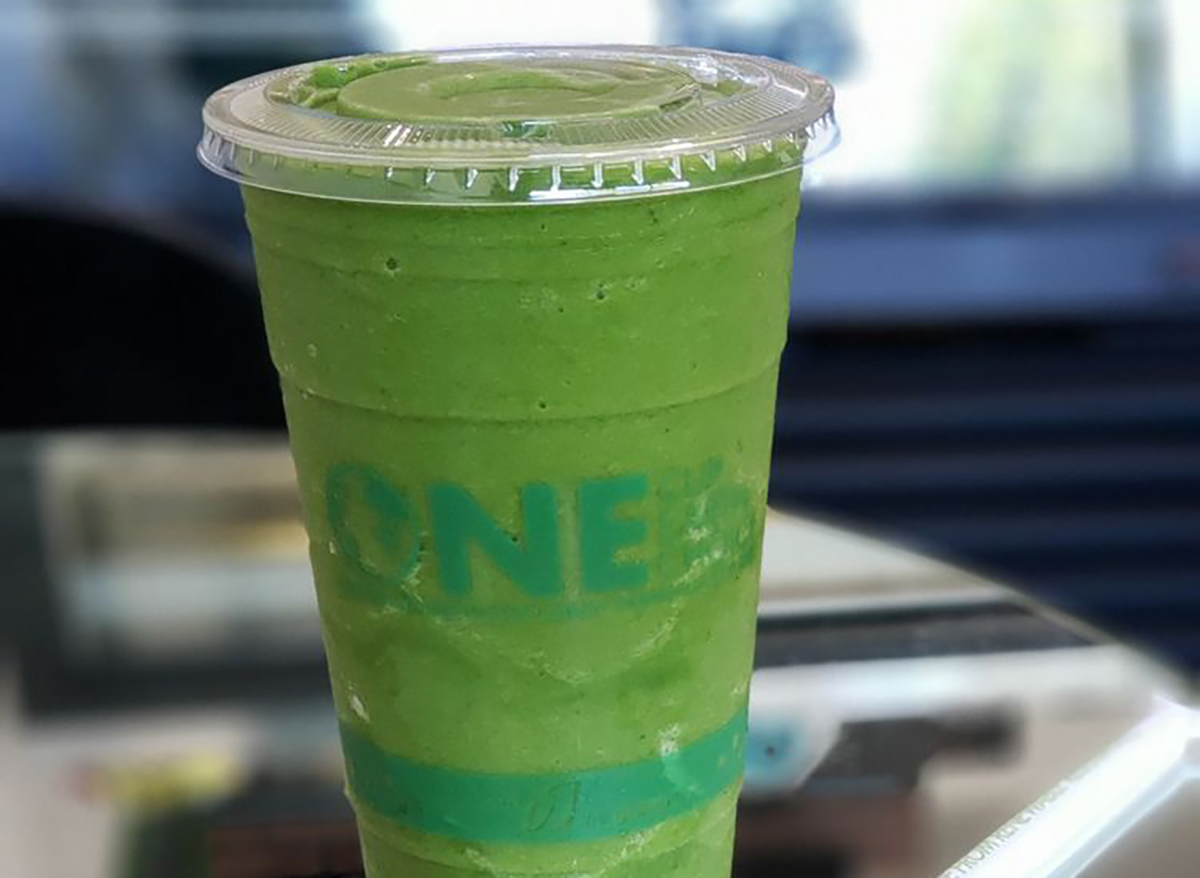 While there is no shortage of excellent juice and smoothie bars in California, Earth Organic in Los Feliz is a standout. Try the Breakfast smoothie to fill up for the day, and come back for the Natural Gatorade (celery, lemon, cucumber) for an afternoon pick-me-up.
COLORADO: Thrive in Boulder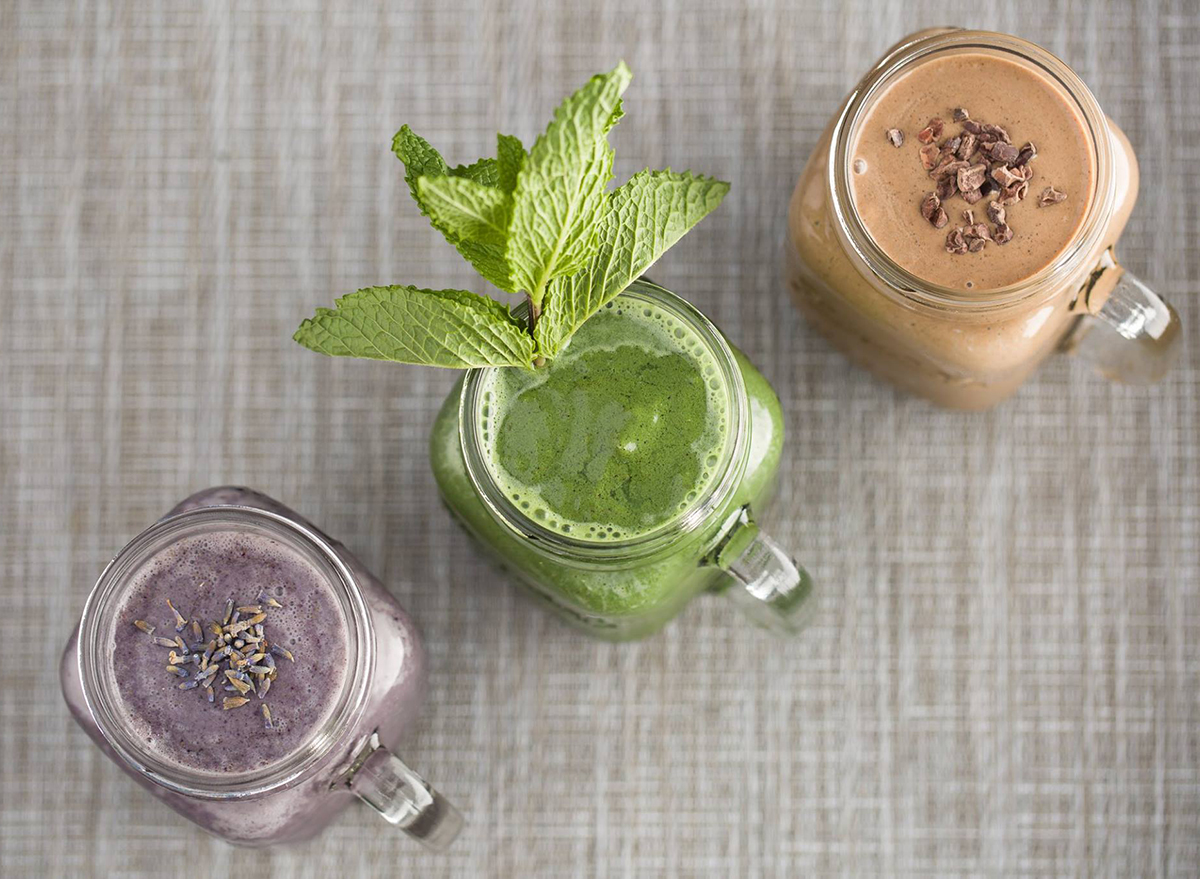 This health-focused eatery serves smoothies and organic vegan food to hungry adventurers in Boulder. They make their smoothies with spring water and use superfoods for high nutrition value.
CONNECTICUT: Macondo in Stonington
This coffee and bagel shop offers a simple, fresh smoothie menu that garners raves from locals and tourists alike. We love the Fruity Green, a mix of banana, pineapple, spinach, lemon, ginger, yogurt, agave, and coconut water.
DELAWARE: The Juice Joint in Wilmington
Opened in 2019 with a commitment to health, this juice spot serves cold-pressed juices like the Salad in a Cup (romaine, spinach, cucumber, celery, lemon, chia seeds, and Himalayan sea salt) in a "spot that is a total vibe."
FLORIDA: SOBE Protein Bar in Miami
Of course South Beach has an amazing smoothie bar in a kickboxing gym, with one reviewer writing, "The option to get a delicious protein-packed smoothie after an intense workout is the best!" We love the pumpkin meal replacement shake.
GEORGIA: Juiceheads in Atlanta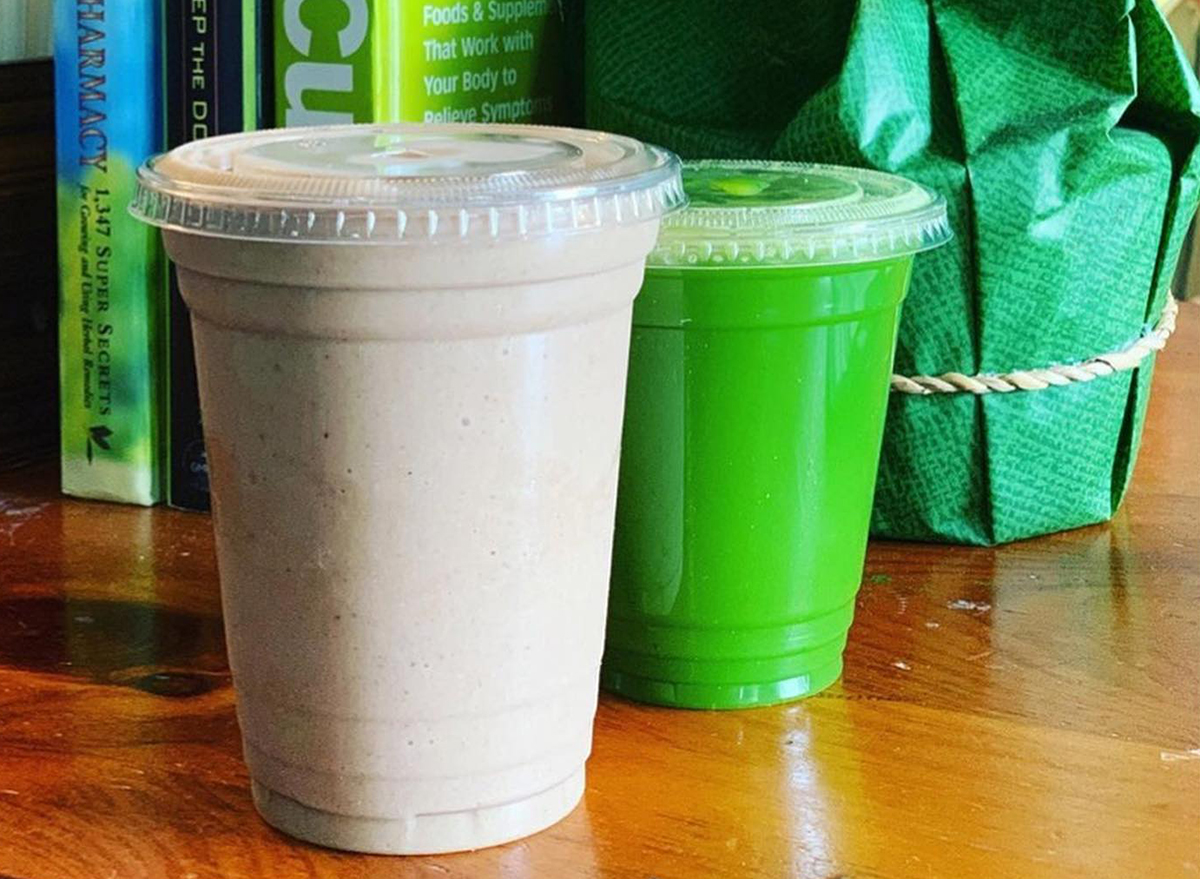 Customization is the order of the day at Juiceheads, with one reviewer explaining, "Great ingredients and really smooth experience too! You can completely customize your smoothie on a touchscreen easily." We'd try the Cricket (orange, pear, spinach, wheatgrass, apple) for an afternoon snack.
HAWAII: Maui Fruit Ninja in Maui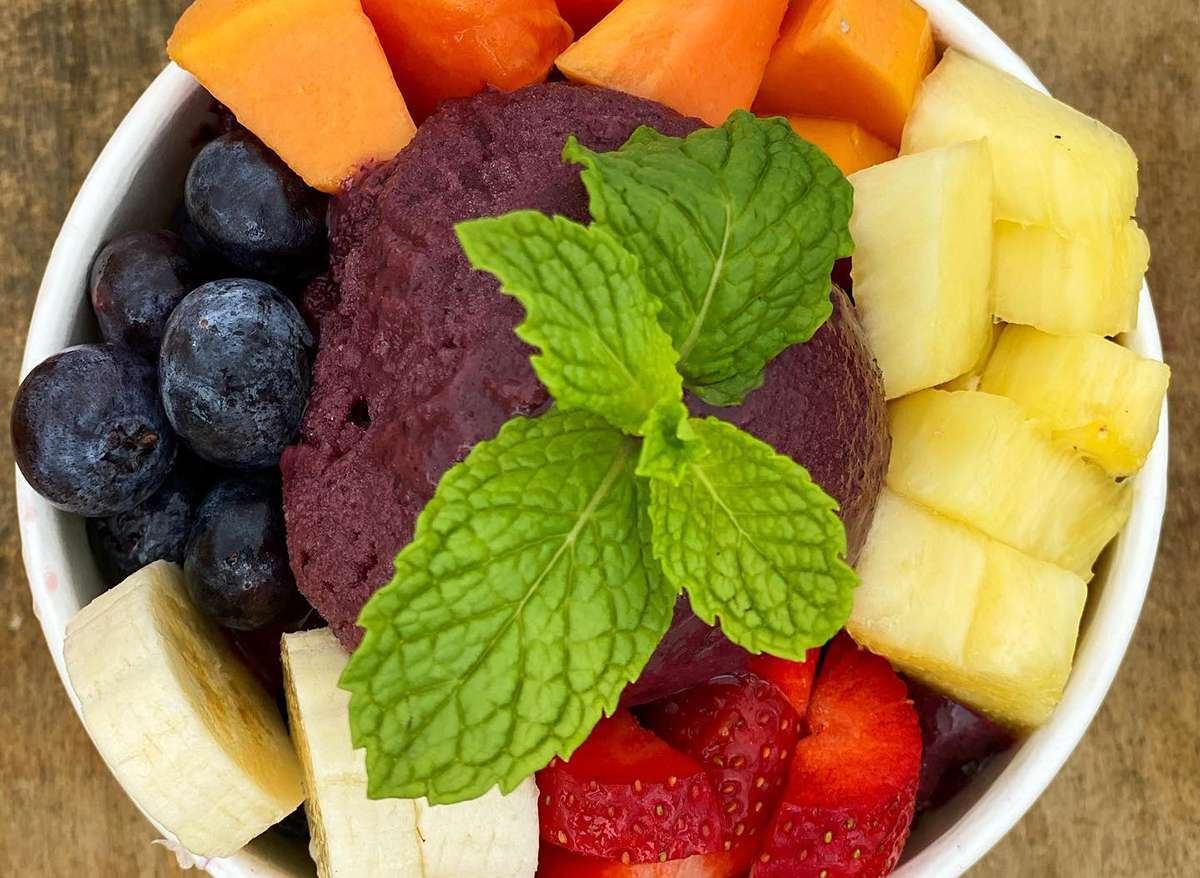 If you're in Hawaii and you don't get a fresh, organic açaí bowl from the Fruit Ninja popup, you're not making good choices. The family-owned company pops up at hotels and spots around the island with the freshest fruit—be sure to top your order with coconut flakes.
IDAHO: Boise Juice Co. in Boise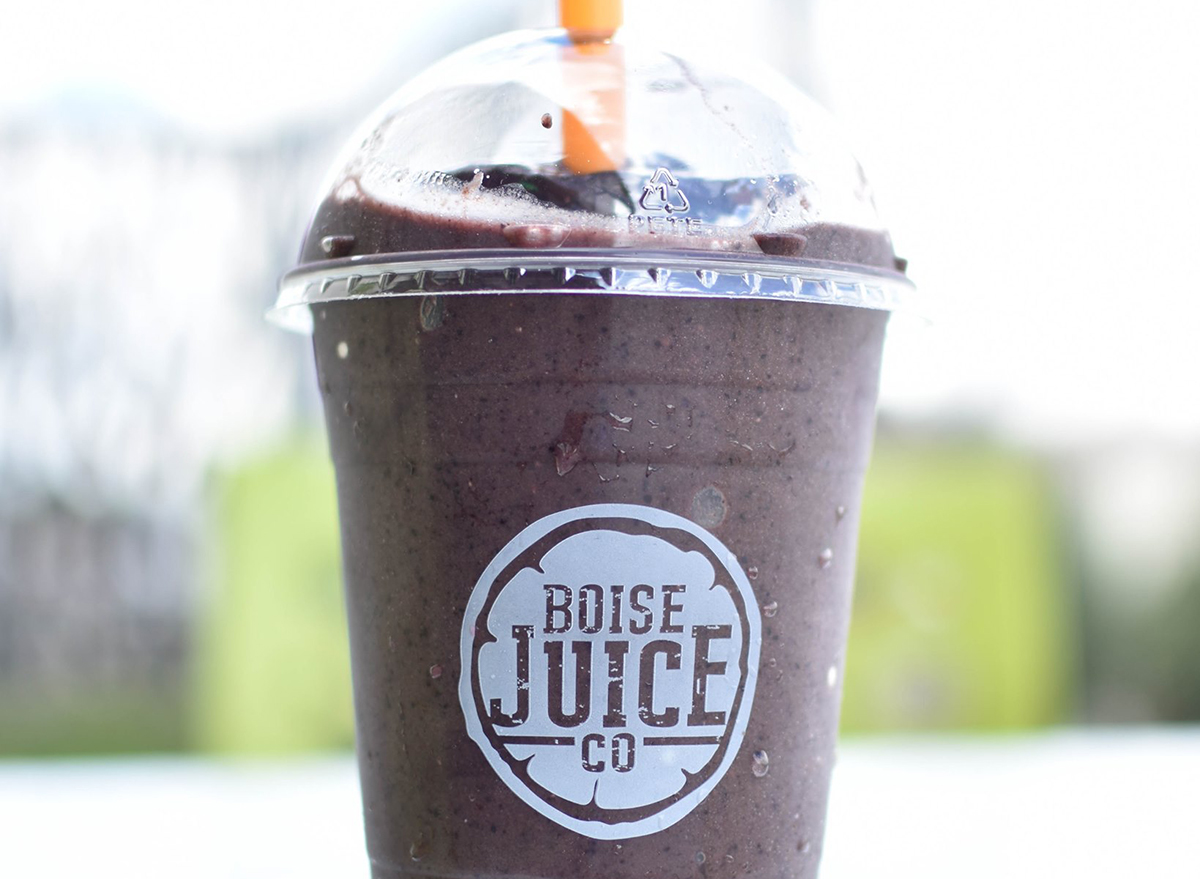 Locally and family-owned, this juice shop specializes in cold-pressed juices, smoothies, and açaí bowls. Locals say, "Real ingredients. Real fresh. Real good!"
ILLINOIS: Pegasus Protein Juice Bar in Chicago
This adorable, Instagram-ready spot in Lincoln Park serves up smoothies with "clean ingredients, no fluff," and is a "health-conscious person's dream." Try the Red Berry and Muscle Bowl.
INDIANA: Twenty Two Juice Bar in Indianapolis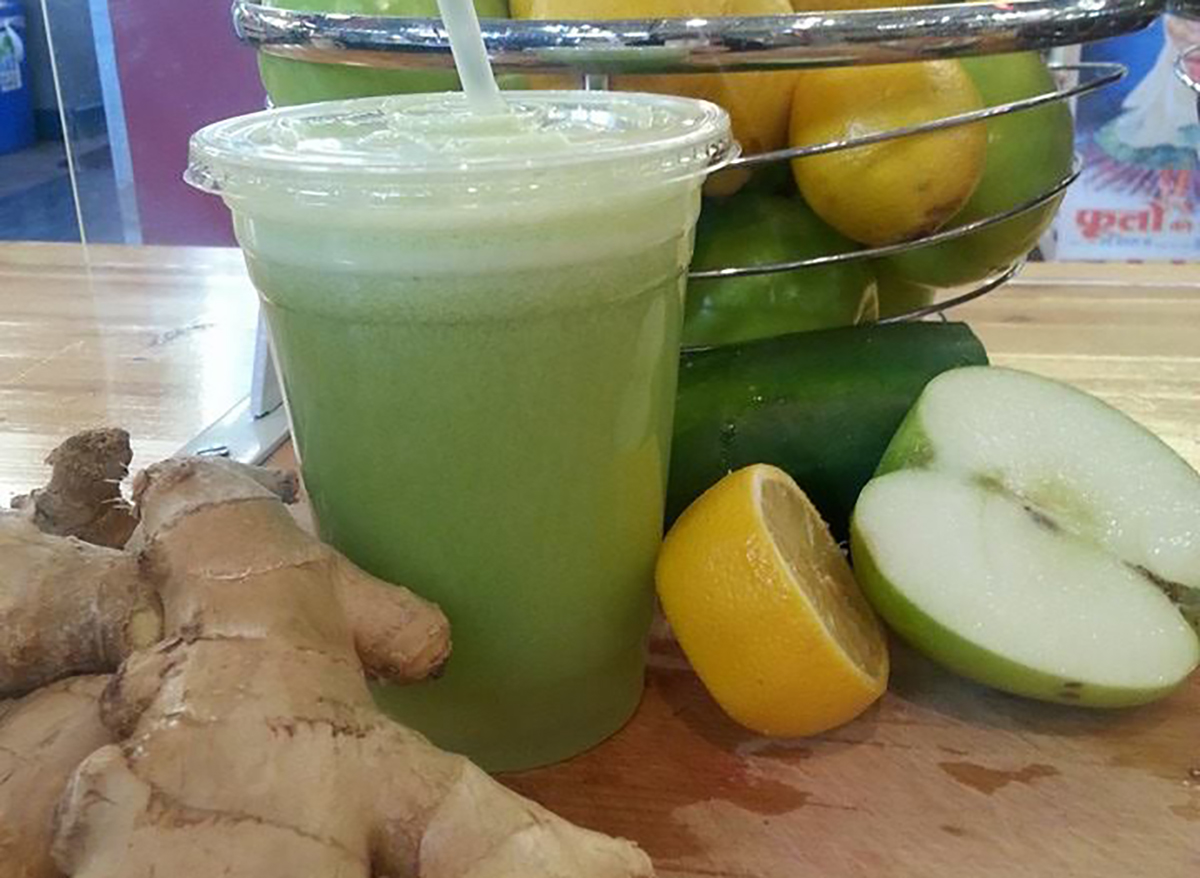 Located in the Indianapolis City Market, this superfood-focused smoothie and juice bar serves up palate-pleasing smoothies like the Tina Colada with mango, coconut, banana, vanilla, raw agave, fresh orange juice, and unsweetened almond milk.
IOWA: Lifestyle Juices in Des Moines
This cute little juice bar serves up the freshest smoothies, according to fans. "All of the fruit they use is displayed and beautiful and fresh, so you really know the quality of the stuff you are putting in your body," one reviewer wrote.
KANSAS: t.Loft in Lawrence
This shop offers "clean eats" like fruit and grain bowls, in addition to a delicious smoothie menu that includes the tasty Blue Hawaiian (pineapple, blueberries, apple, and spinach).
KENTUCKY: Better Blend in Florence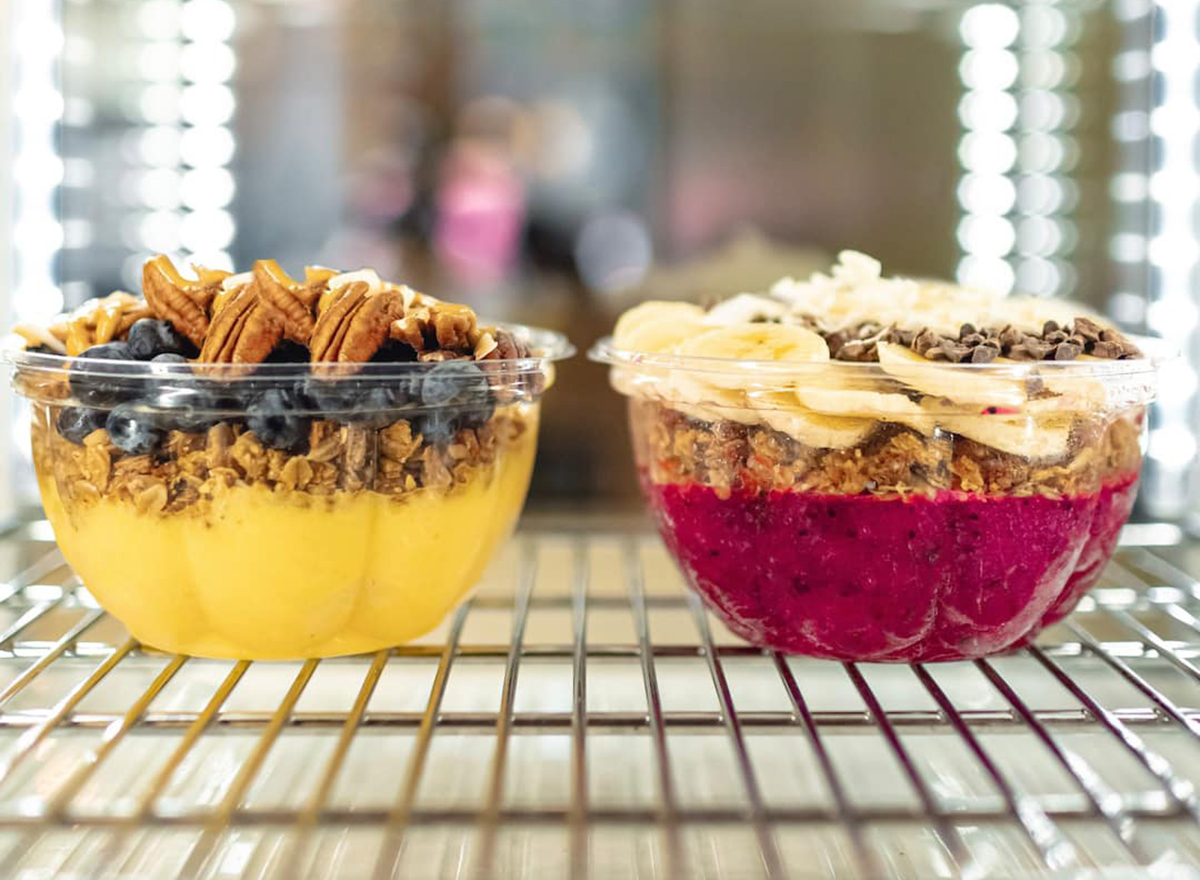 Try the Mighty Mango (mango, pineapple, banana, dates, turmeric, black pepper, unsweetened cashew milk, collagen peptides) at this cute shop reviewers rate as "top notch."
LOUISIANA: The Antidote in New Orleans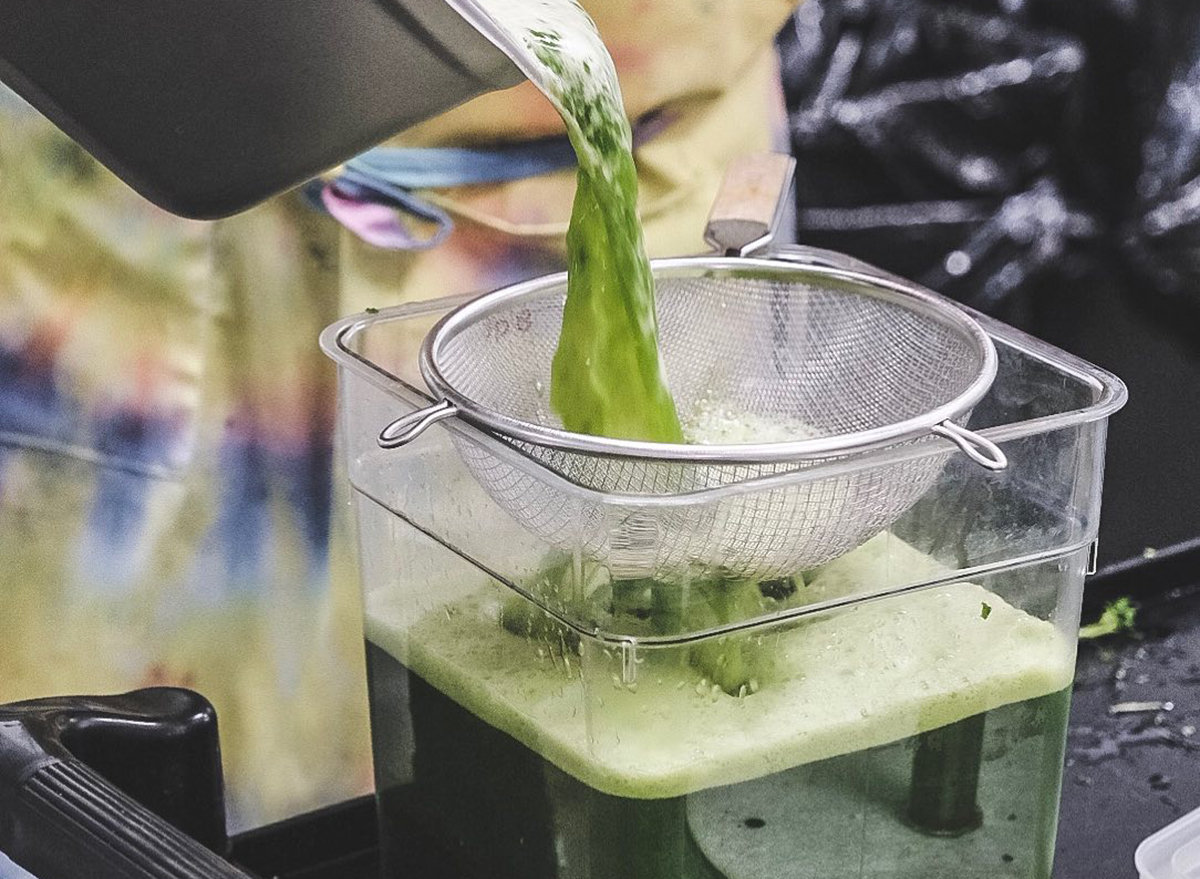 If you're visiting New Orleans, you definitely need to stay hydrated and healthy, and this juice bar delivers with fresh blends. As one reviewer wrote, "The hydration juice (Dr. Big Shot) was a day-saver and tasty, too!"
MAINE: Maine Juice Co. in Portland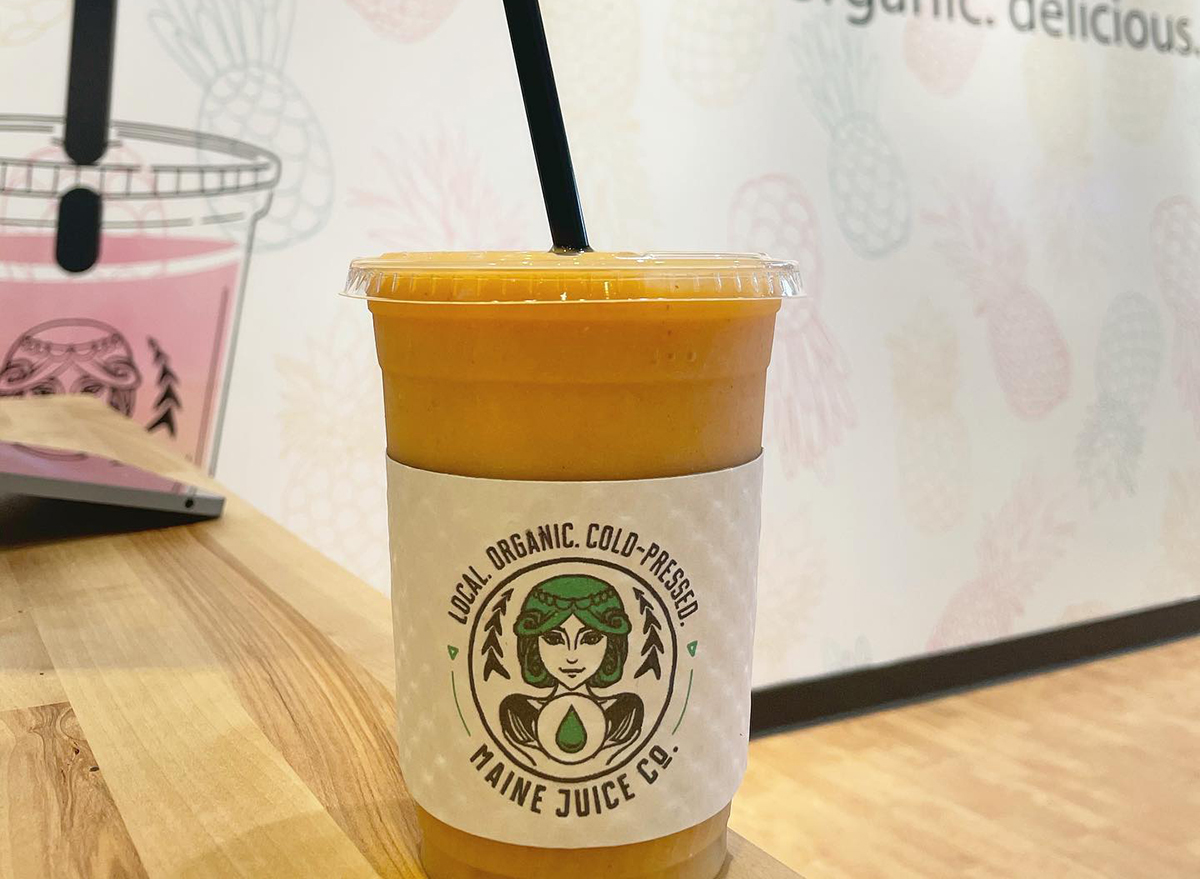 Offering cold-pressed juices and gourmet smoothies, Maine Juice Co. also offers CBD-infused beverages. Try the Matcha Smoothie (matcha, almond milk, banana, vanilla, dates, MCT oil) for an energy boost.
MARYLAND: Xtract Juice Bar in Baltimore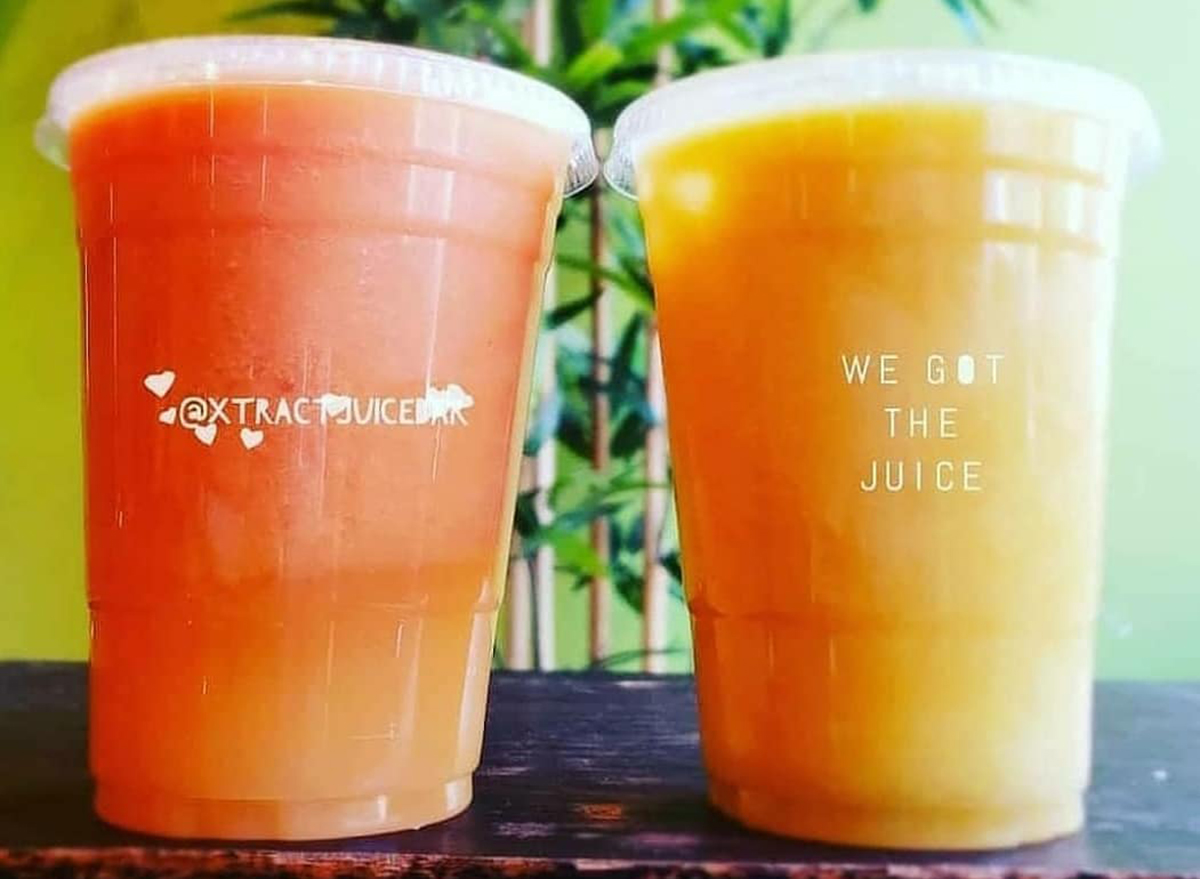 "The juices are fresh and healthy. The service was friendly and the wait time was quick. I had the smoothie Hawaii Breeze," one review of this locally owned smoothie and juice shop.
MASSACHUSETTS: Lulu Green in Boston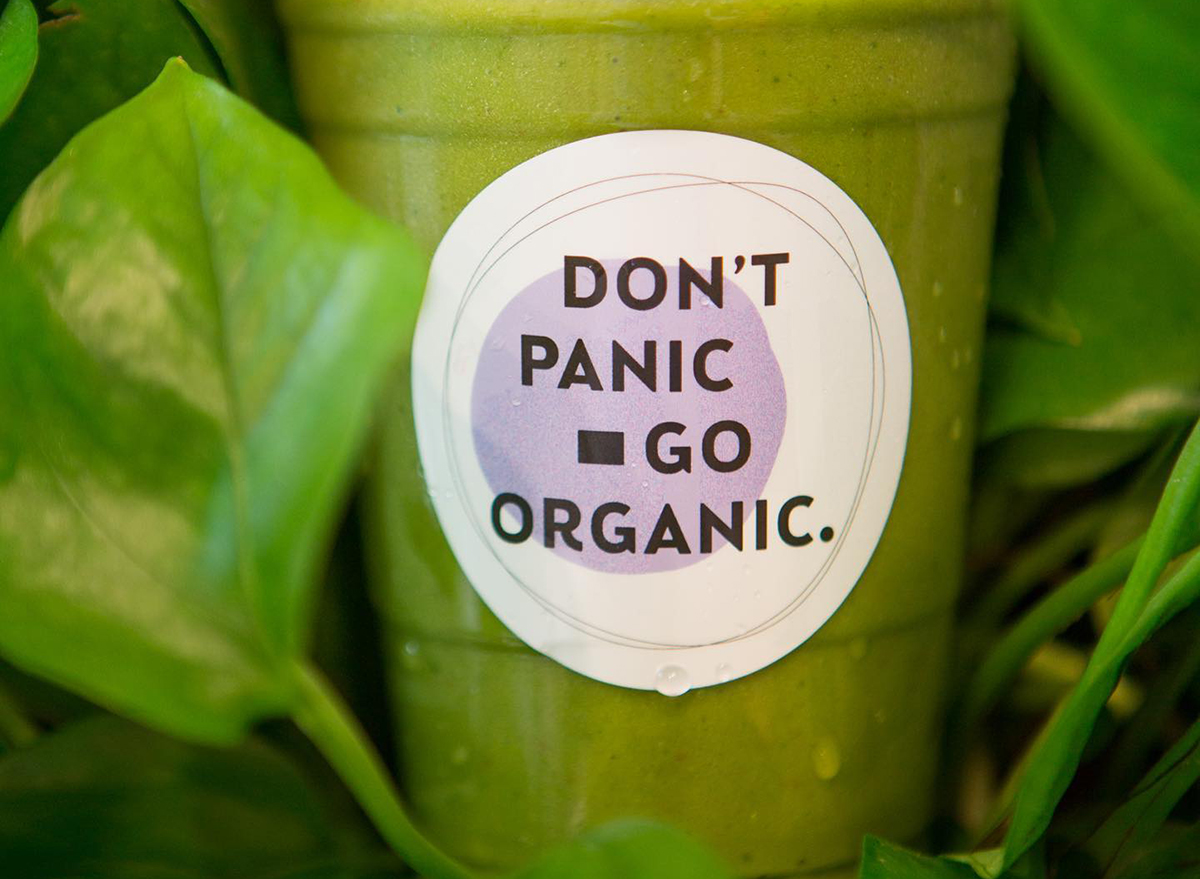 Green up your gut with smoothies from this vegan and organic cafe and juice shop in South Boston. We love the Over Achiever, a fatigue-fighting green smoothie that's loaded with kale, spinach, mango, strawberry, almond milk, orange juice, dates, and Rhodiola.
MICHIGAN: Thrive Juicery in Ann Arbor
Sleek is the name of the game at this chic juicery that offers cold-pressed drinks, juice cleanses, and more. You can also opt to donate drinks to emergency room staff when you order online.
MINNESOTA: Liv Tru Nutrition in Minneapolis
This self-described "nutrition club" focuses on overall health with lots of protein-packed, low-cal shakes, like the Bahama Mama, as well as a line of invigorating teas.
MISSISSIPPI: Kale Me Crazy in Ridgeland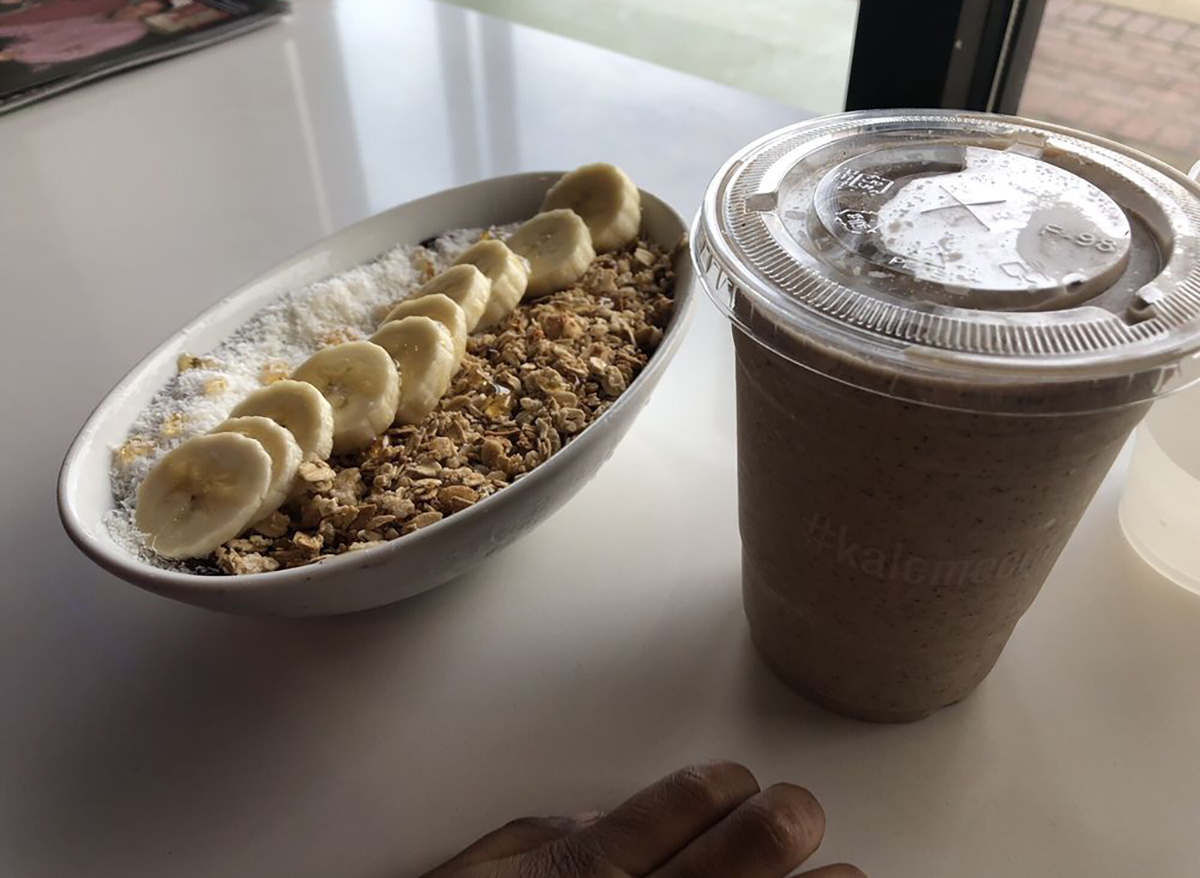 Get loads of energy with this shop's Recharge smoothie, loaded with kale, chard, coconut yogurt, almond milk, banana, and vegan protein. You'll also find poke bowls and wraps.
MISSOURI: St. Louis Juice Press in St. Louis
People love this shop's fresh juices, including the one-, three-, and five-day juice cleanses.
MONTANA: Mountain Berry Bowls in Missoula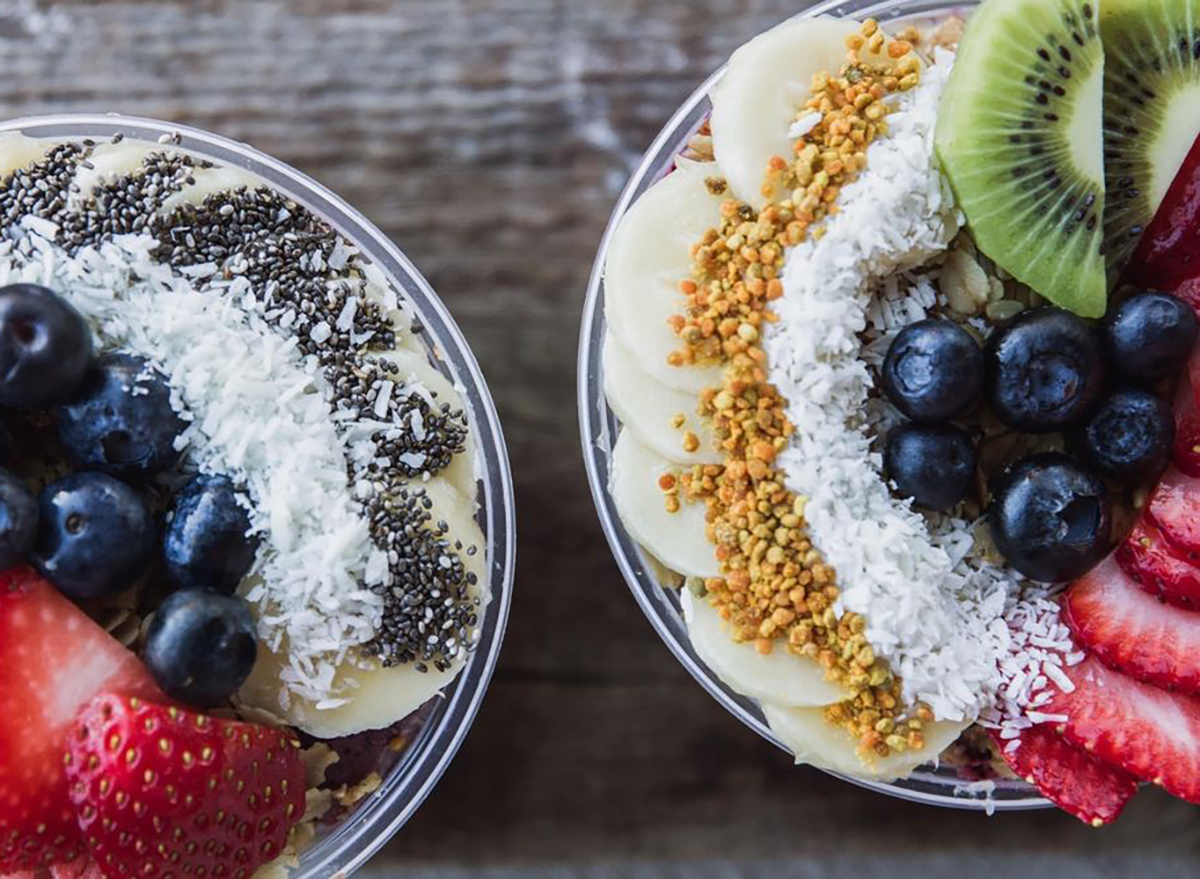 If you're a smoothie bowl fan, Mountain Berry Bowls is a local favorite, serving up healthy, vegan bowls—with gluten-free granola—with loads of fruit toppings.6254a4d1642c605c54bf1cab17d50f1e
NEBRASKA: Ignite Nutrition in Seward
Locals rave about the friendly staff at Ignite, as well as the healthy shakes like the Strawberries and Cream, with one writing, "I come here every day!"
NEVADA: Liquid: A Juice and Smoothie Place in Las Vegas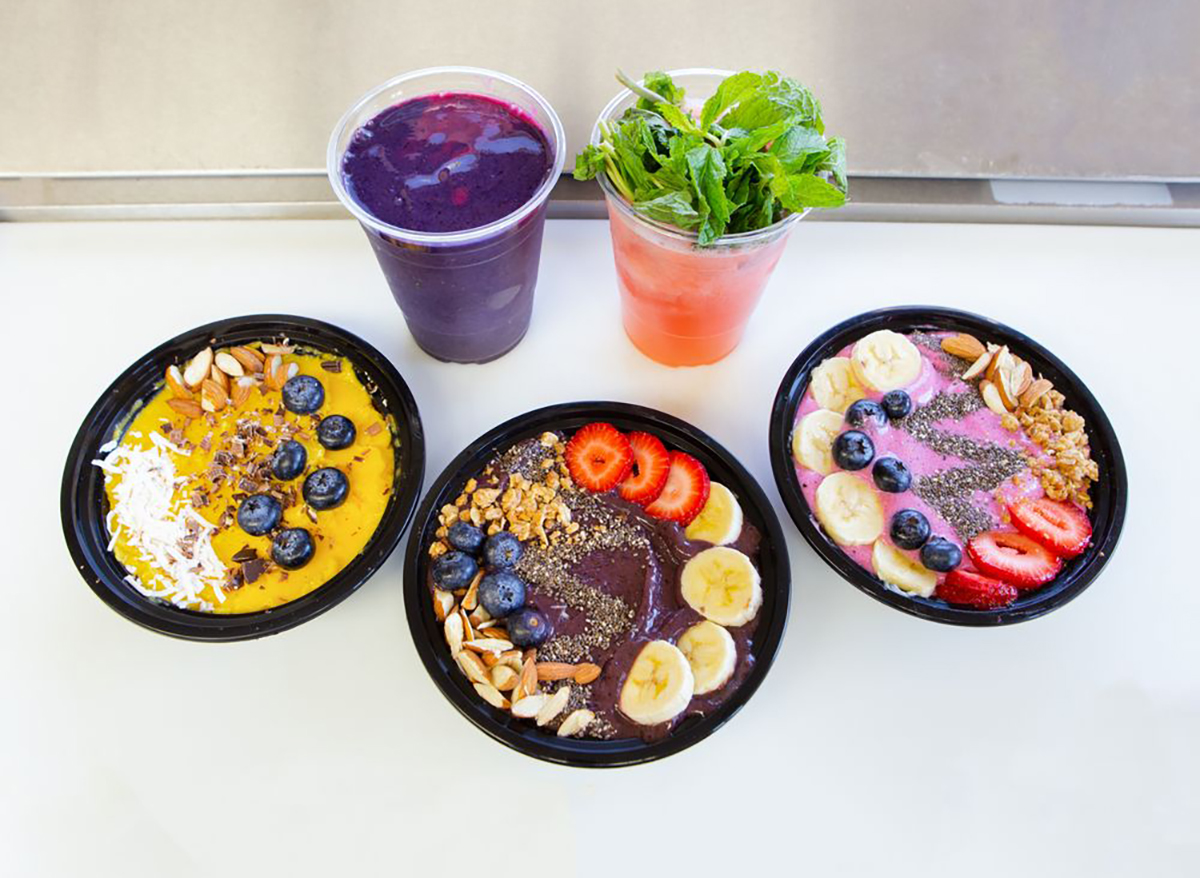 Recover from a night out on the town with super fresh smoothies like the Purple Gold and Nutella Passion. Bonus: Liquid is open late, for all of your late-night smoothie needs.
NEW HAMPSHIRE: The Smoothie Bus in Concord and Manchester
With a food truck (thus the name) and two shops, this local shop has many fans in the Granite State. The Smoothie Bus offers delicious, well-priced smoothies like the Green Machine (mango, pineapple, banana, apple, spinach, turbinado, and almond milk).
NEW JERSEY: Manhattan Juice Bar in Montclair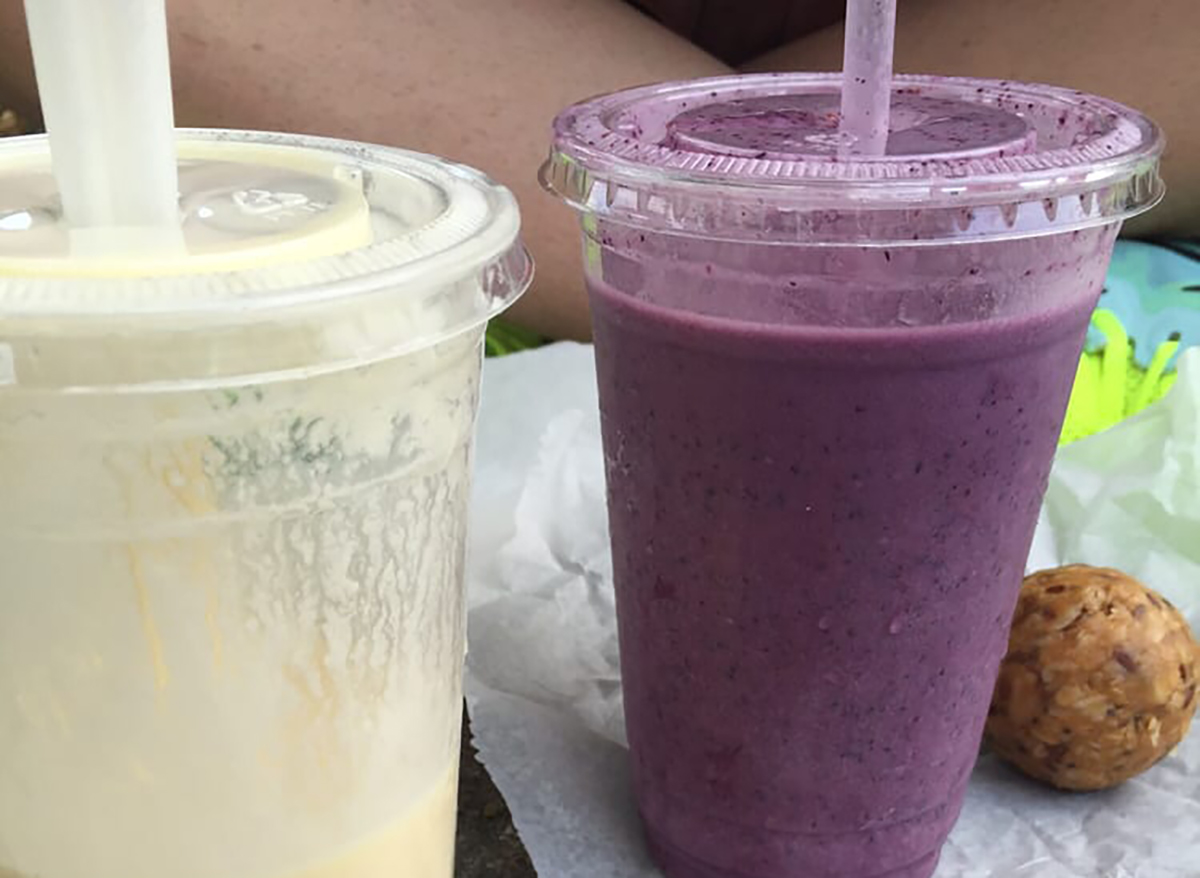 At this yummy shop, you'll find the Statue of Liberty (avocado, honey, almond milk, and protein powder). They also serve juices, wraps, salads, and quinoa bowls.
NEW MEXICO: Renewal Life Bar in Santa Fe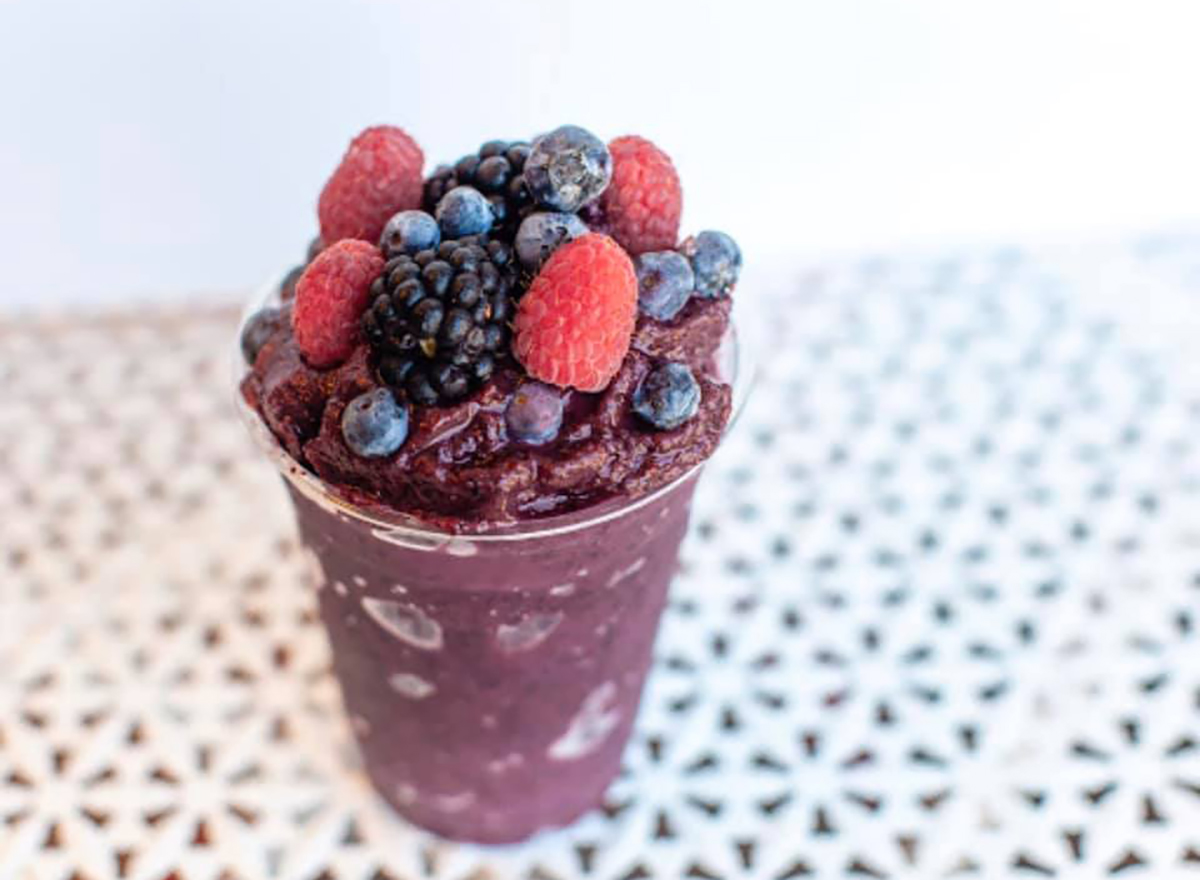 It's no surprise Santa Fe has plenty of great smoothie options, but locals swear by Renewal for
its organic, raw superfood smoothies. You'll want to order everything on the menu!
NEW YORK: Grass Roots Juicery in Brooklyn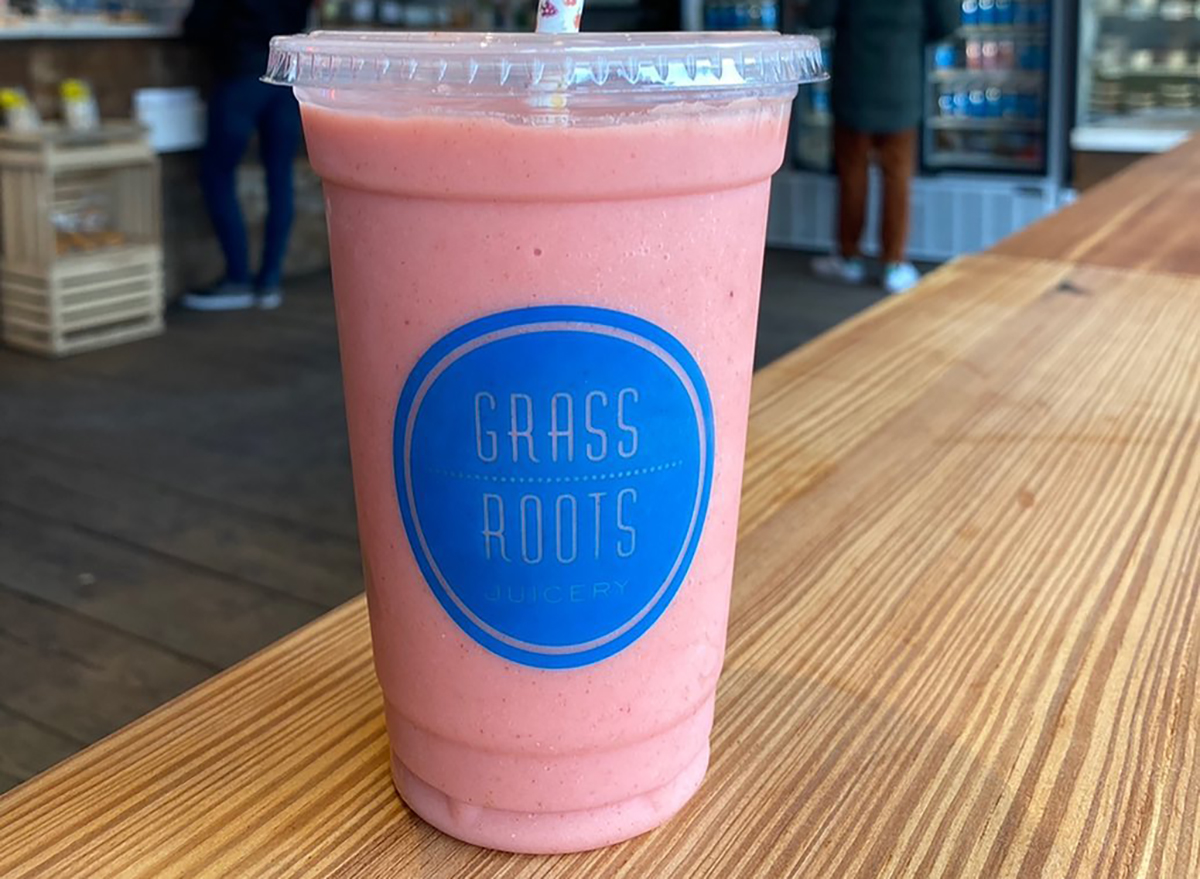 With 100% house-made organic smoothies on the menu, this is one of our favorite stops for smoothies in New York. You'll find us sipping on the Chuck Berry Smooth (blueberries, strawberries, raspberries, banana, house-made organic almond milk, berry whey protein, and flaxseed).
NORTH CAROLINA: Kalethy Living in Wilmington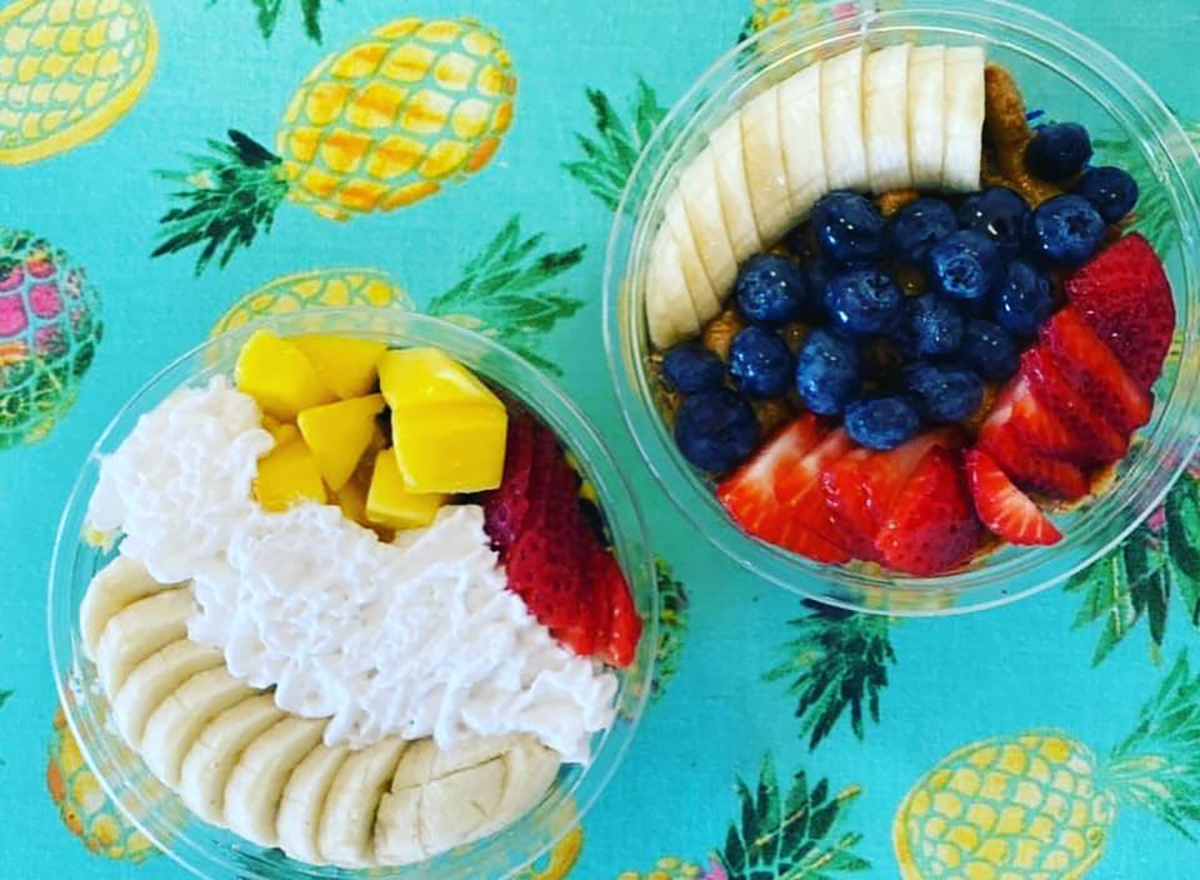 This locally-owned smoothie cafe serves up healthy, vegan smoothies (locals rave about the Hello, Pumpkin) and fruit bowls with a smile.
NORTH DAKOTA: Mabel's Bakery and Coffee Shop in Napoleon
Stop by for an espresso and add on a healthy smoothie at this little shop that does it all, including add-ins like protein powder and chia seeds.
OHIO: Ritual Juicery in Cleveland
Ritual promises that its clean, dairy-free smoothies will help increase energy and immunity, and help keep your skin clear. Locals love the #5 blend, loaded with almond milk, cashew milk, banana, cacao nibs, adaptogen shrooms, cinnamon, hemp seed, himalayan salt, cacao butter, coconut manna, vanilla, and lucuma.
OKLAHOMA: MadFit Nutrition in Oklahoma City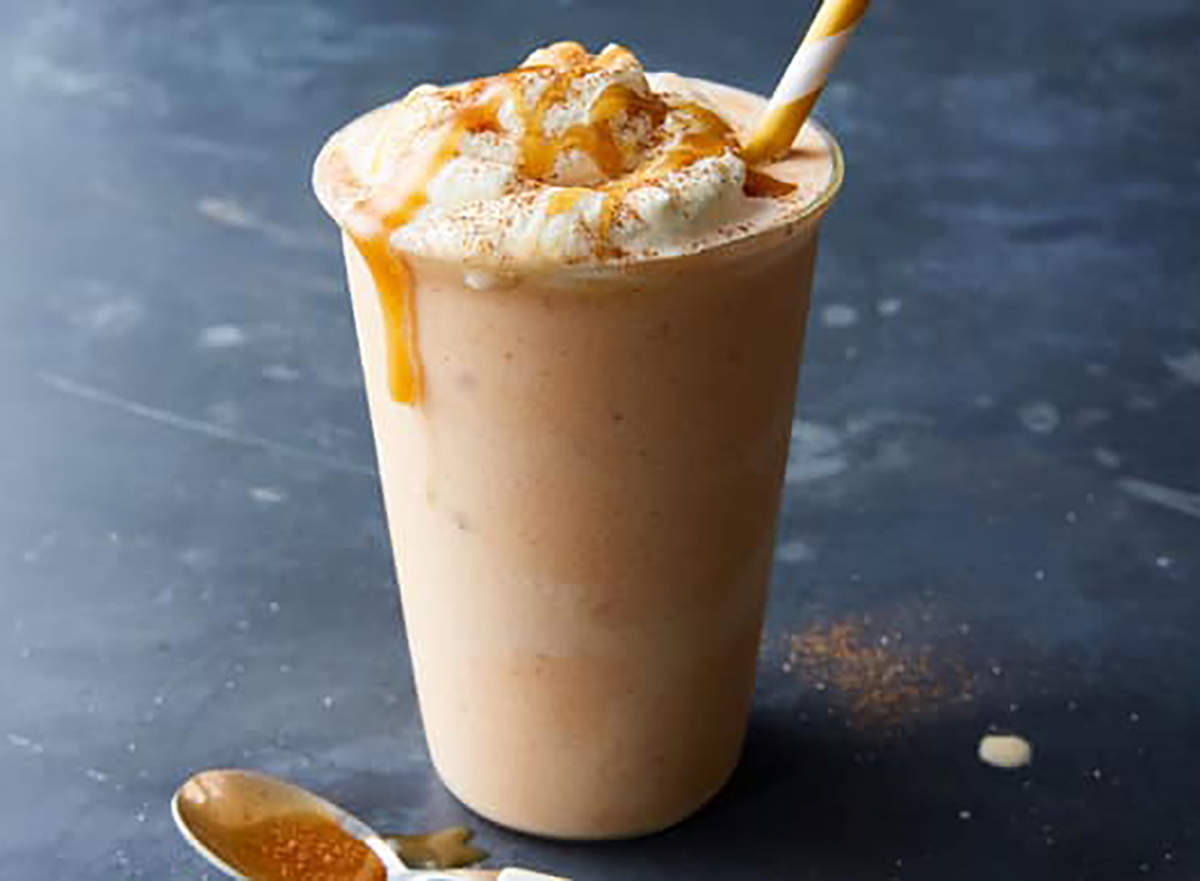 "I love MadFit Nutrition, the shakes are delicious and the teas are refreshing," wrote one local of this cute shop that writes encouraging messages on all of your orders.
OREGON: Happy Day Juice Co. in Portland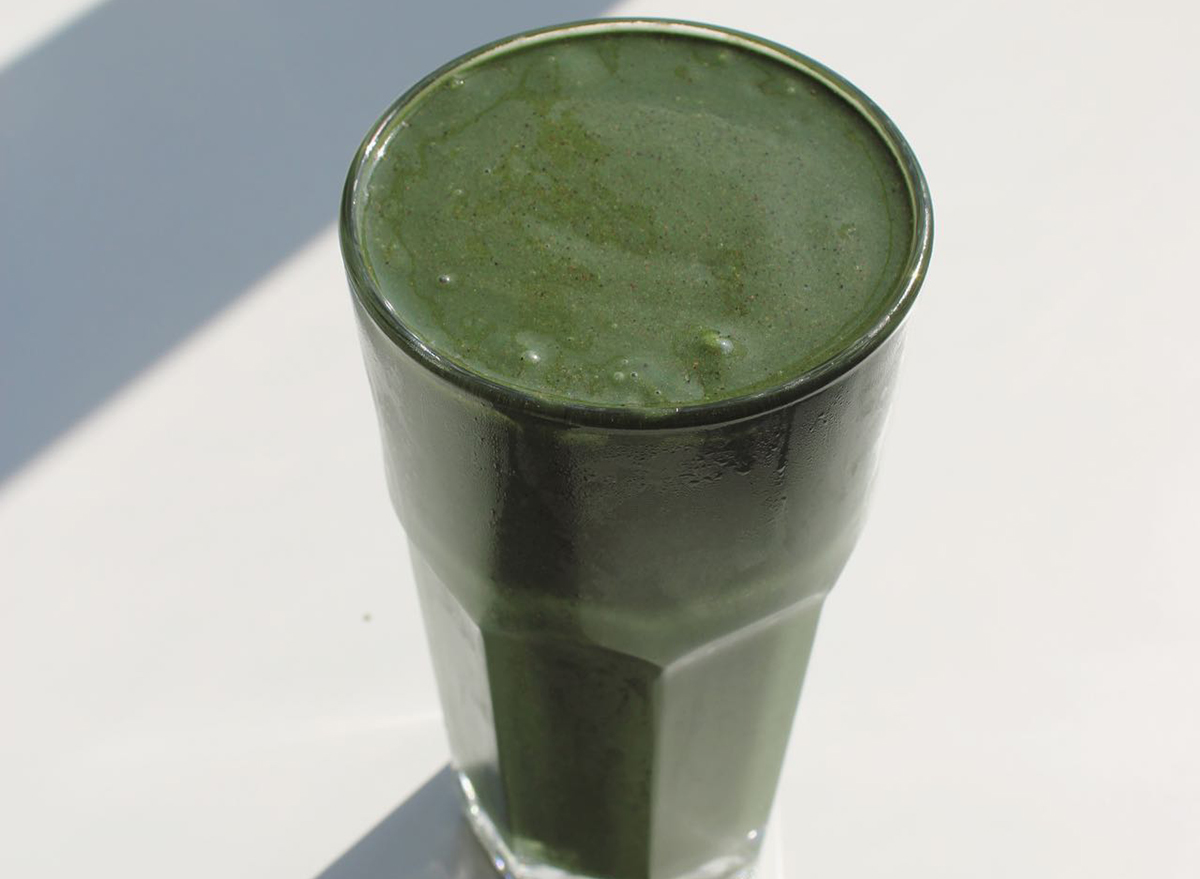 What's happier than a cool refreshing smoothie? This locally-owned shop blends plants with more plants to make super good, superfood plant-based smoothies. Yum!
PENNSYLVANIA: Mama Smoothies in Philadelphia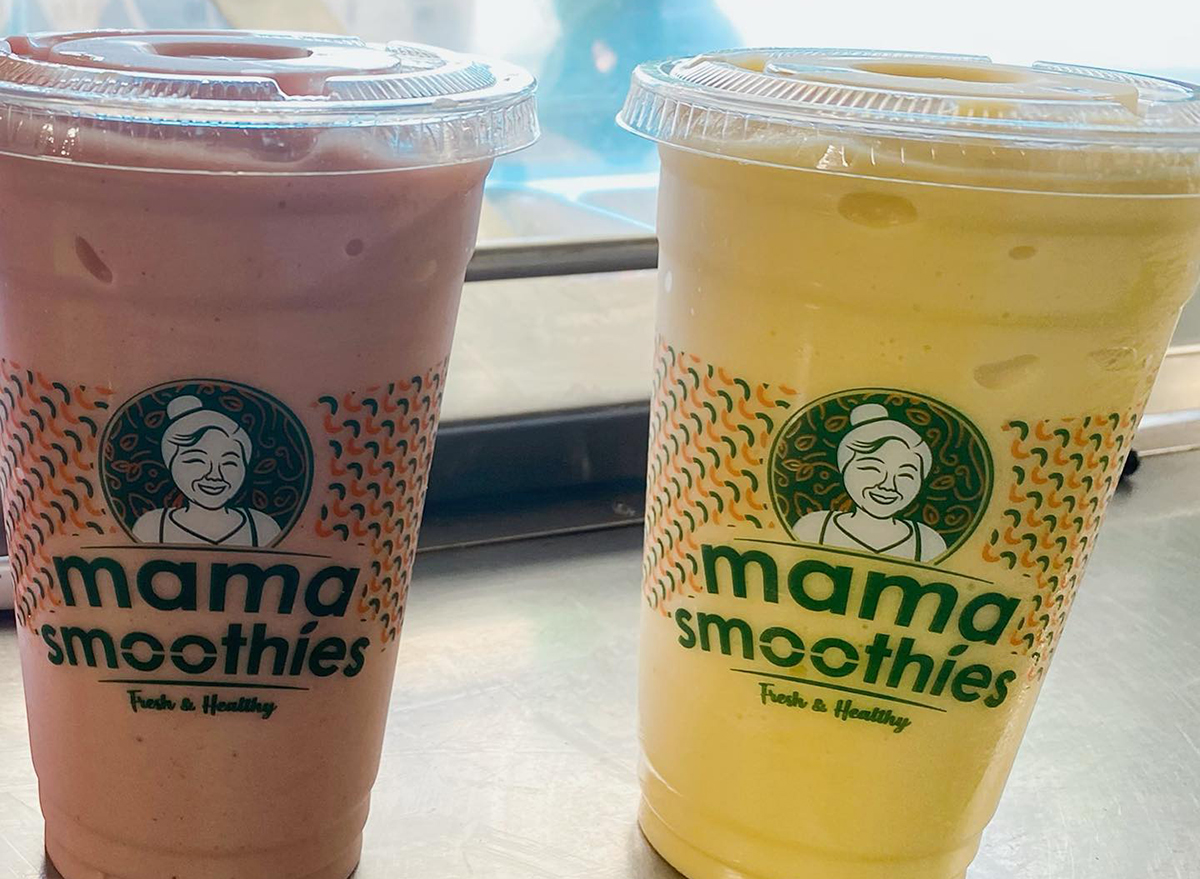 You'll find this truck near the Northeast Tower in Philly, and when you see them, order a well-priced smoothie (they start at $3) and start your day off packed with fresh fruit and veggies.
RHODE ISLAND: Root in Newport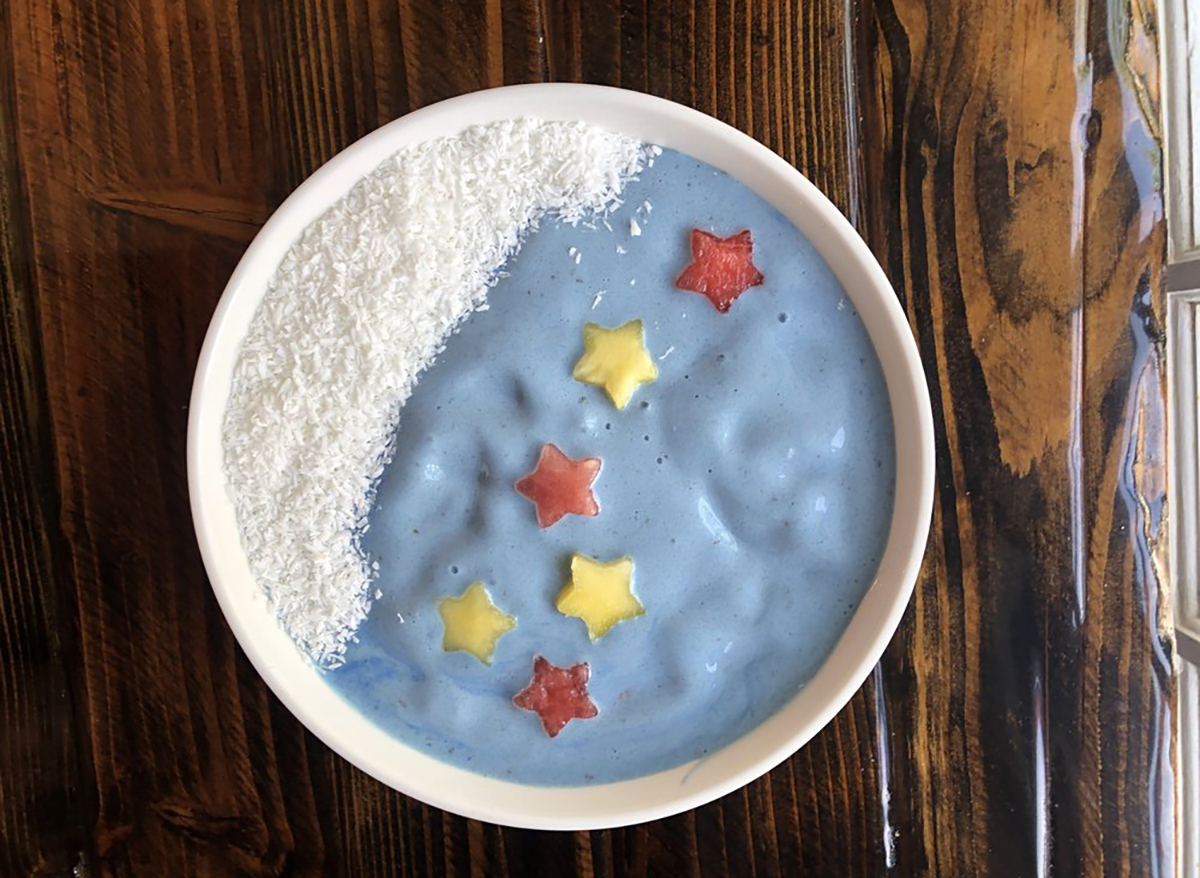 This plant-based eatery creates tasty juices and smoothies that "are a combination of fresh fruit, fresh veggies, and lots of love." Try the Seaside Shake (banana, blueberry, spinach, peanut butter, and almond milk) while you stroll the Cliff Walk.
SOUTH CAROLINA: Loleo Juice Bar in Myrtle Beach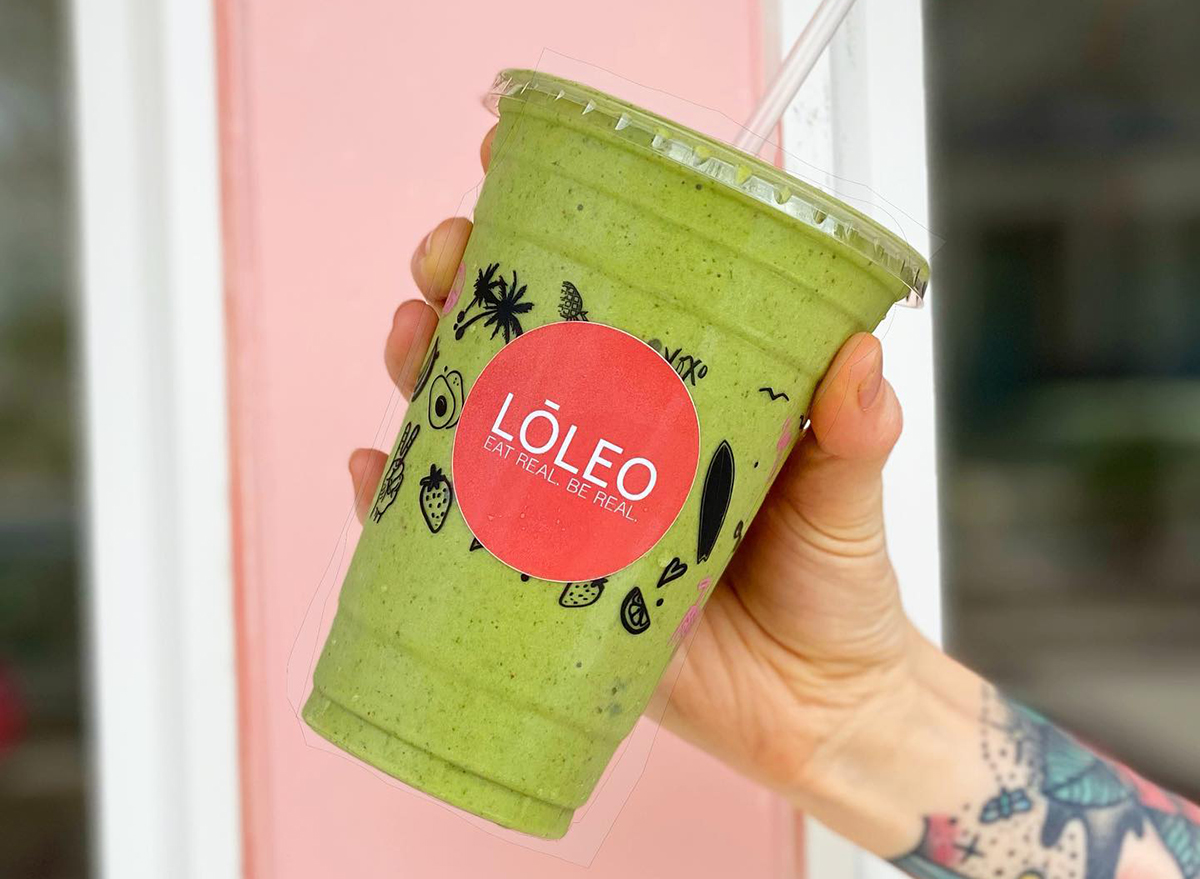 "So fresh and delicious. I am addicted already to their smoothies," raves one local about this pink jewel box of a shop.
SOUTH DAKOTA: Nature's Way Juice Bar in Sioux Falls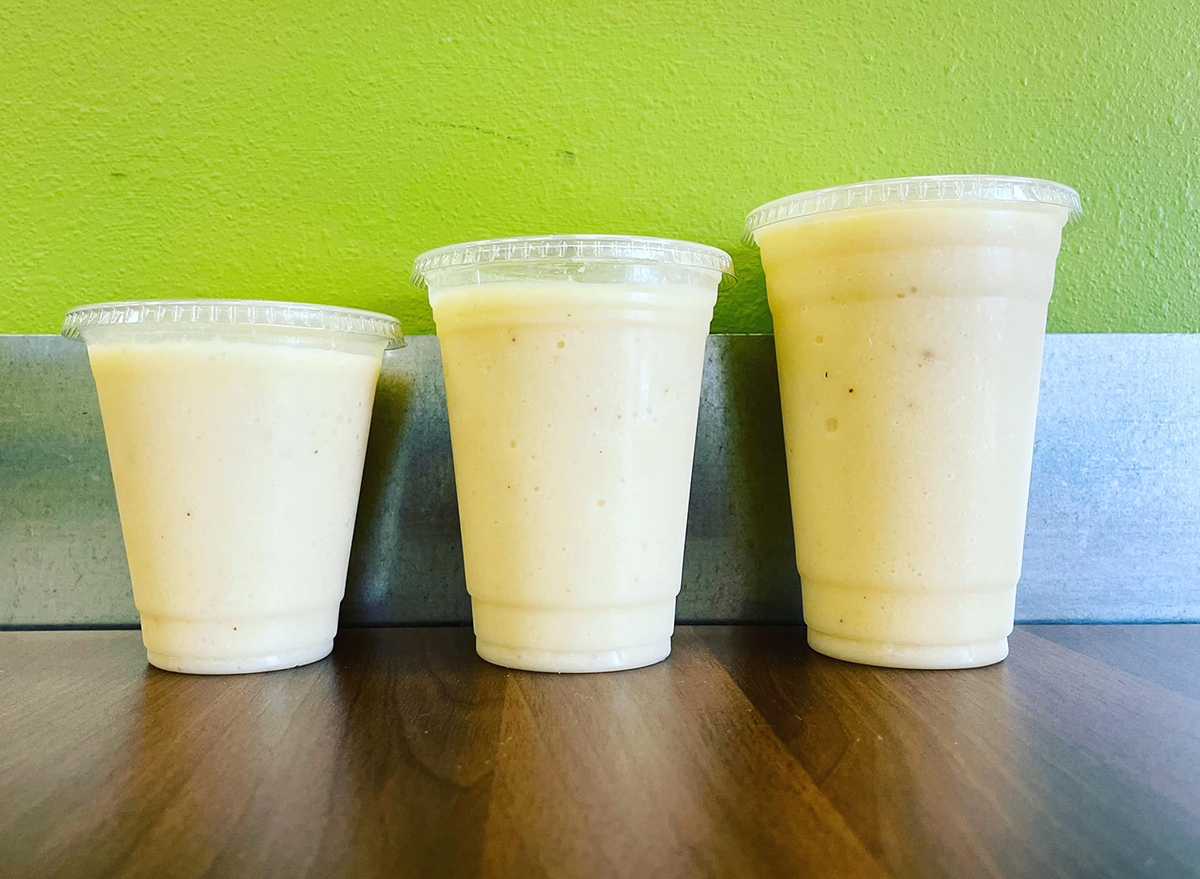 Ready to reboot after a workout? Hit Nature's Way for the Post Workout (kale, green grapes, cucumber, and green apple) or build your own smoothie from the store's assortment of fresh ingredients.
TENNESSEE: The Urban Juicer, Various Locations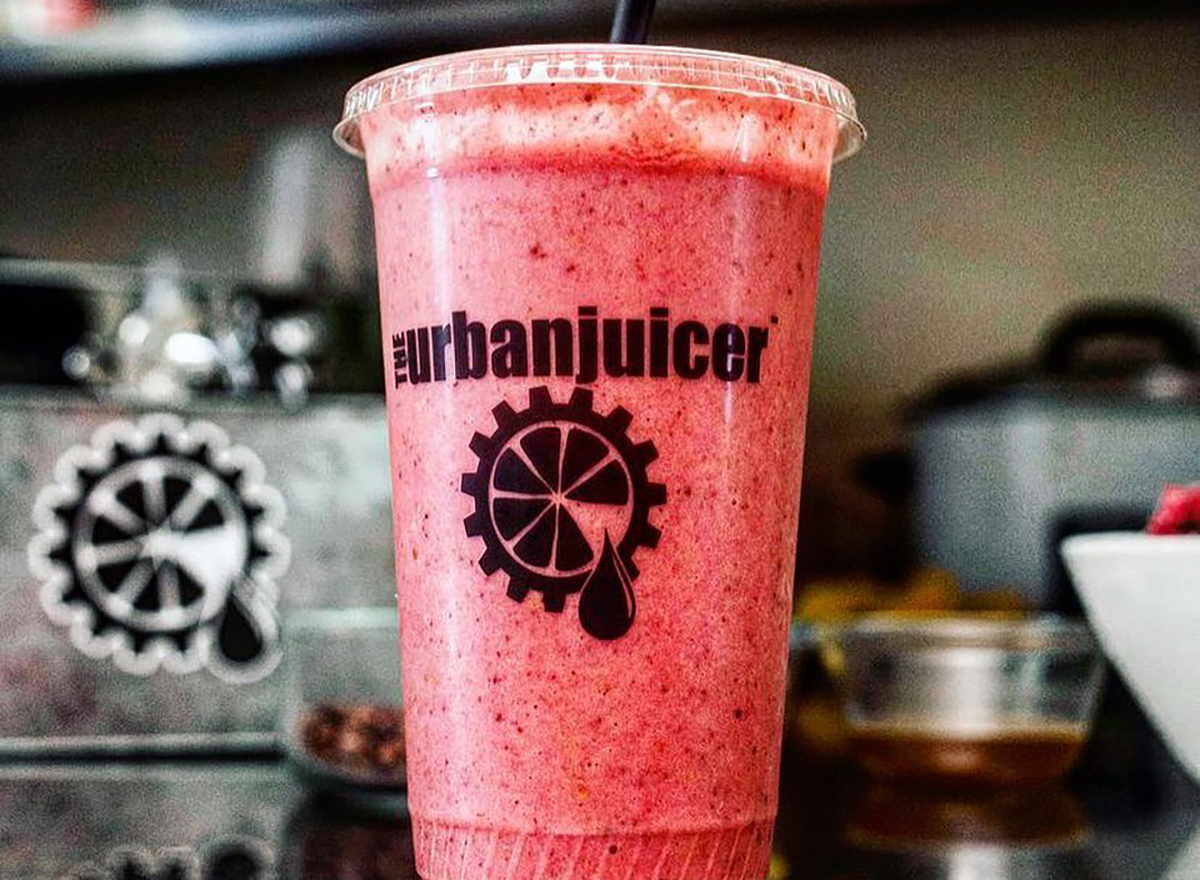 With several shops around Tennessee, this spot ranks high across the state, with locals raving about the "great service" and how they "just can't get enough of the Peanut Butter and Avocado Smoothie."
TEXAS: Vida Pura Juicery in Austin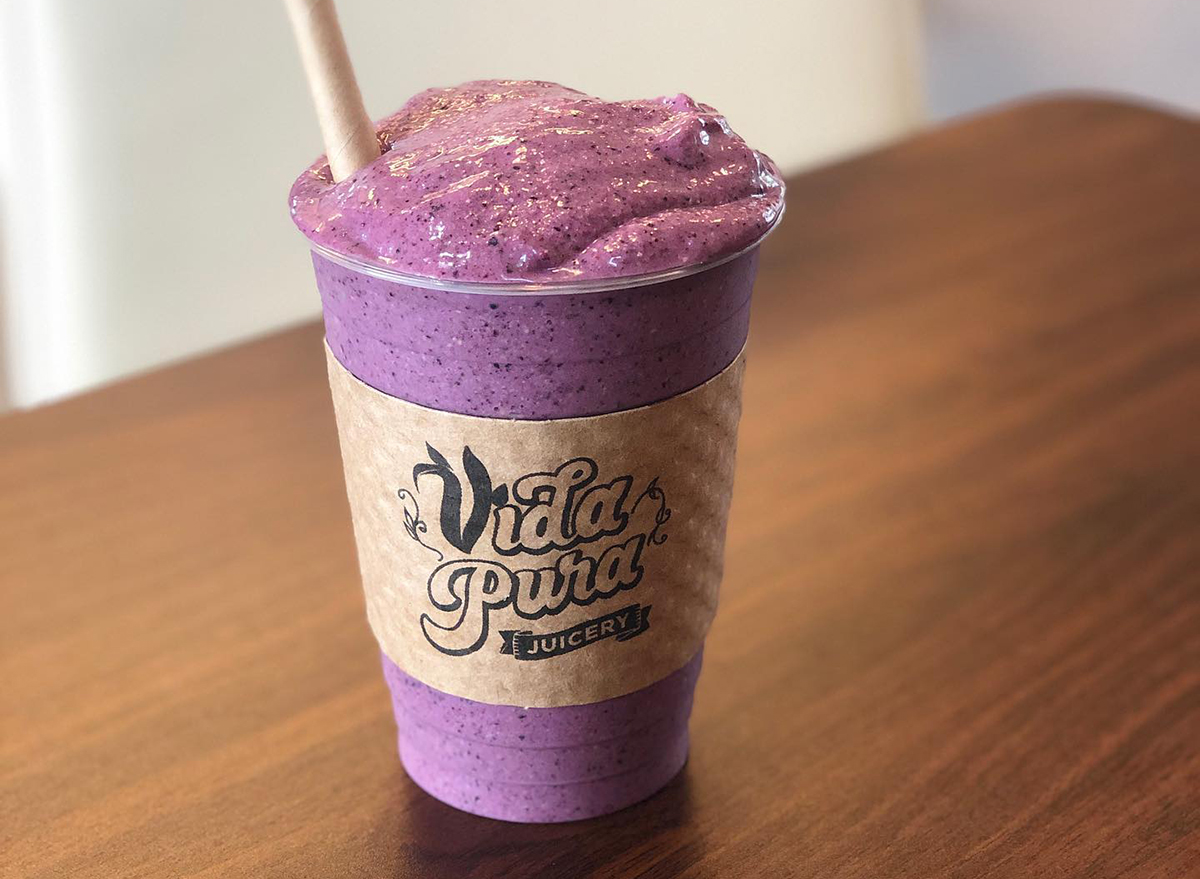 Offering "something for everyone" this juicery and smoothie bar serves up 100% organic smoothies that one reviewer says are "the best I've ever had."
UTAH: Brass Smoothies in Salt Lake City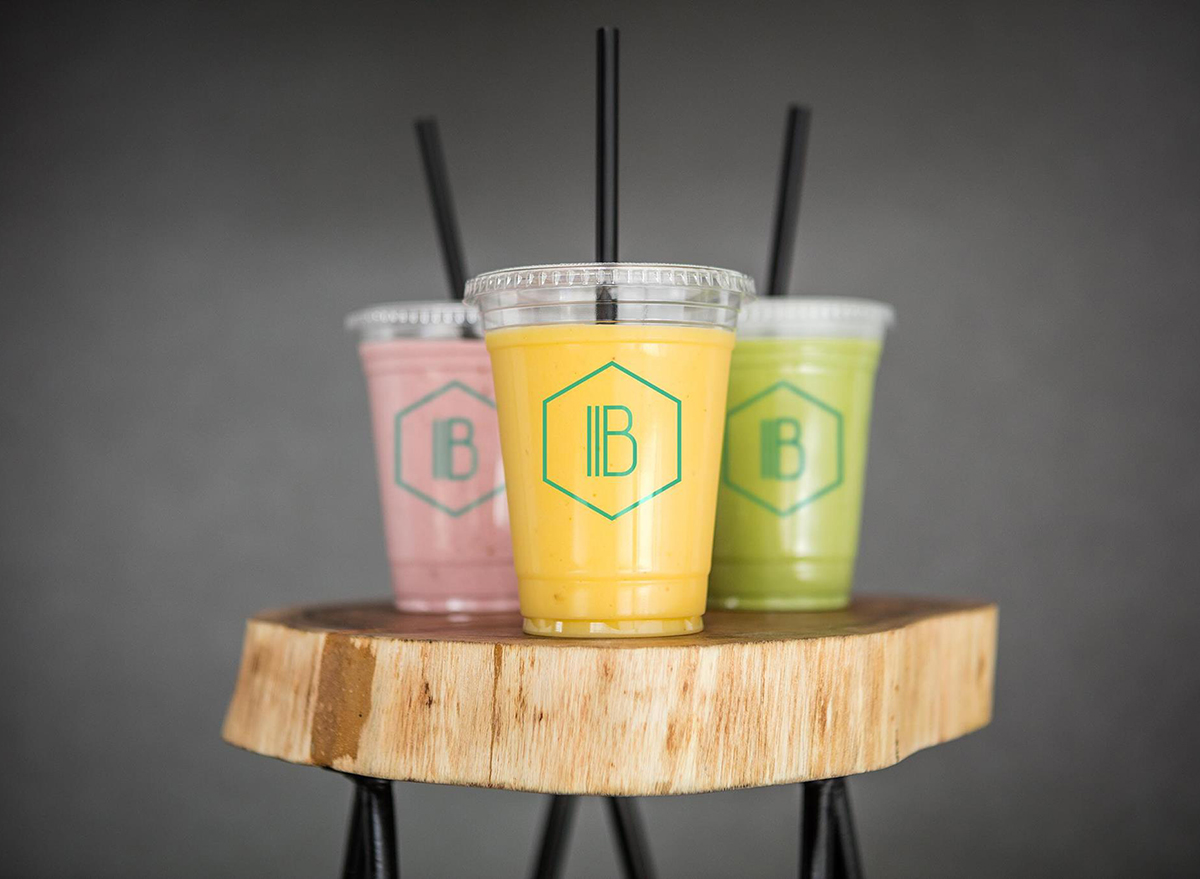 There is no shortage of great smoothie shops in the Beehive State, but we love the locally-sourced ingredients Brass makes it a priority to include. If you're looking for a smoothie with a kick, try the Beetlejuice, which has a beet base and jalapeños.
VERMONT: Tomgirl Kitchen in Burlington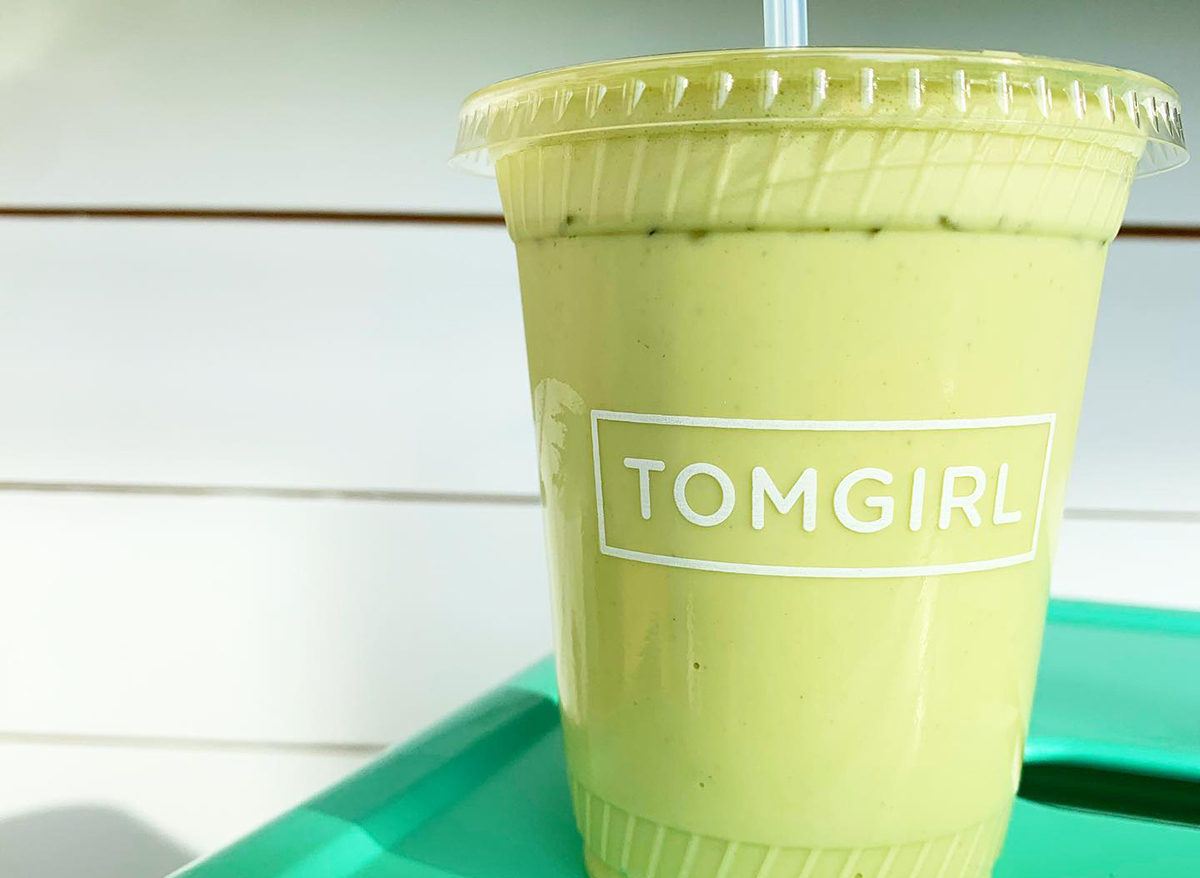 This self-described wellness oasis is co-owned by two moms who put their heart and soul into their smoothies, salads, and bowls. We love the Mango Lime Greens & Avocado smoothie, which is filling and ideal for an on-the-go lunch or breakfast.
VIRGINIA: Norfolk Smoothie in Norfolk
Specializing in blended drinks that are rich and nutritious, this shop serves made-to-order smoothies that are sure to please. Try a Tide or Something in the Colada after a day at the beach.
WASHINGTON: Central Cafe and Juice Bar in Seattle
Enjoy smoothies and creative sandwiches in this tiny shop in a historic building that locals love. You won't want to miss the fresh juice lattes.
WEST VIRGINIA: Zeganz Smoothie Shop in Charleston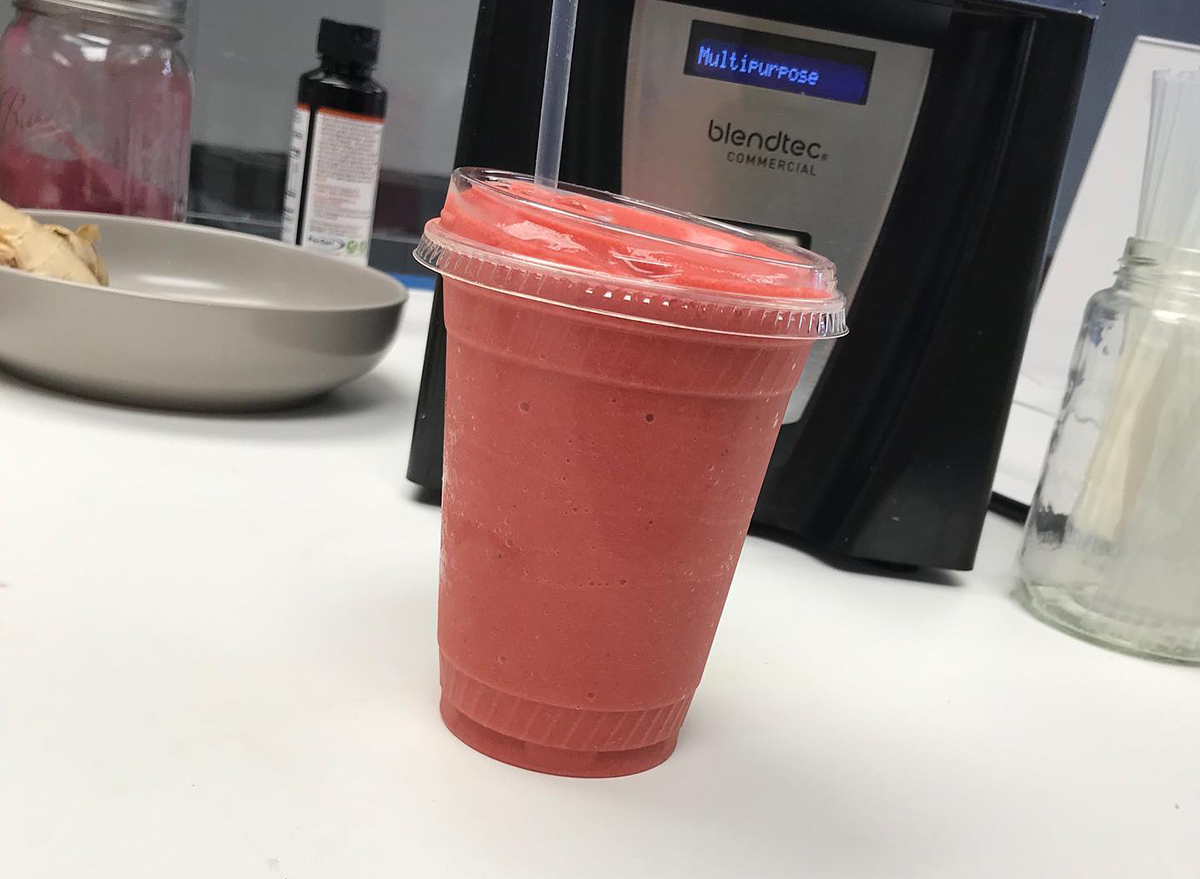 This bright and fun shop serves smoothies and vegan food to the hungry and health-conscious, including the Orange Zinger smoothie.
WISCONSIN: On the Bus in Milwaukee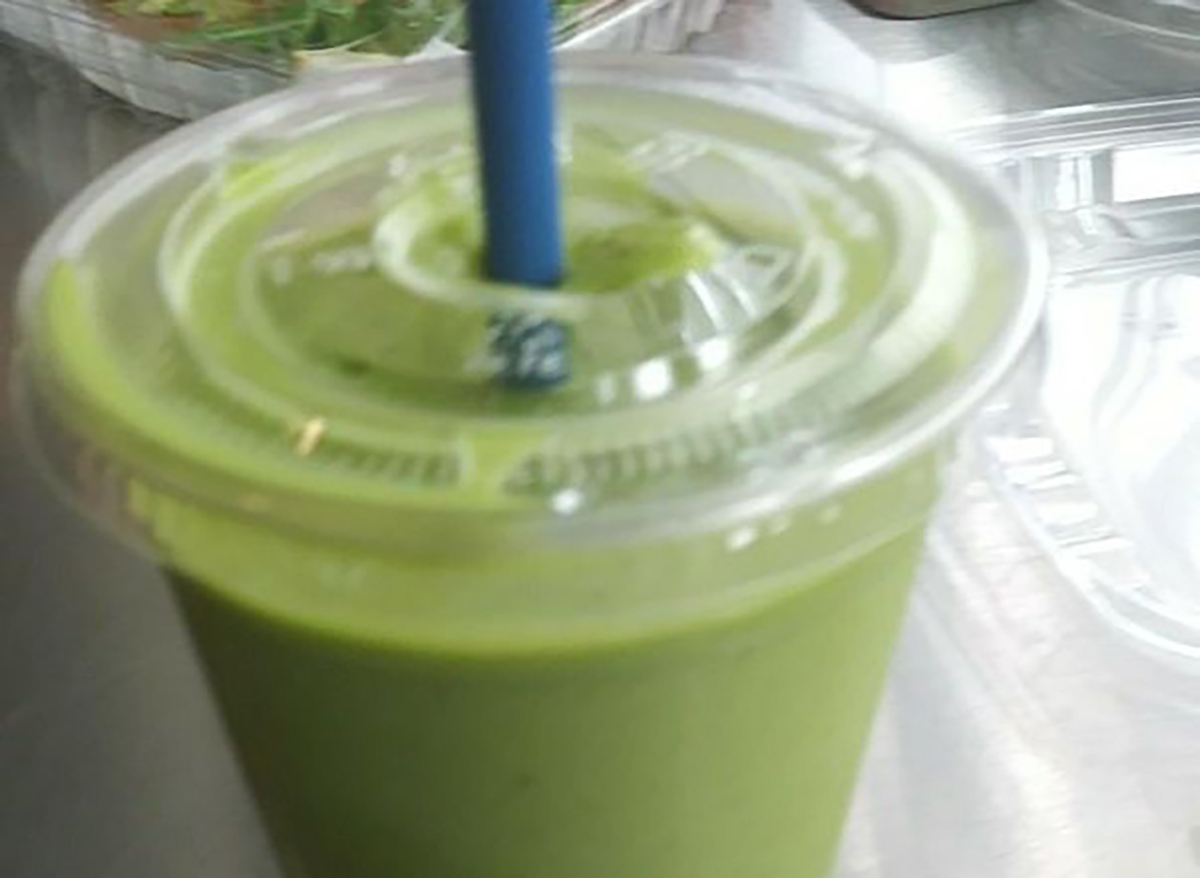 Grab a Glowing Ginger smoothie (turmeric, pineapple, ginger, banana, and orange juice) and take a stroll around the Milwaukee Public Market. On the Bus also offers vegan burgers and more.
WYOMING: Cultivate Cafe in Jackson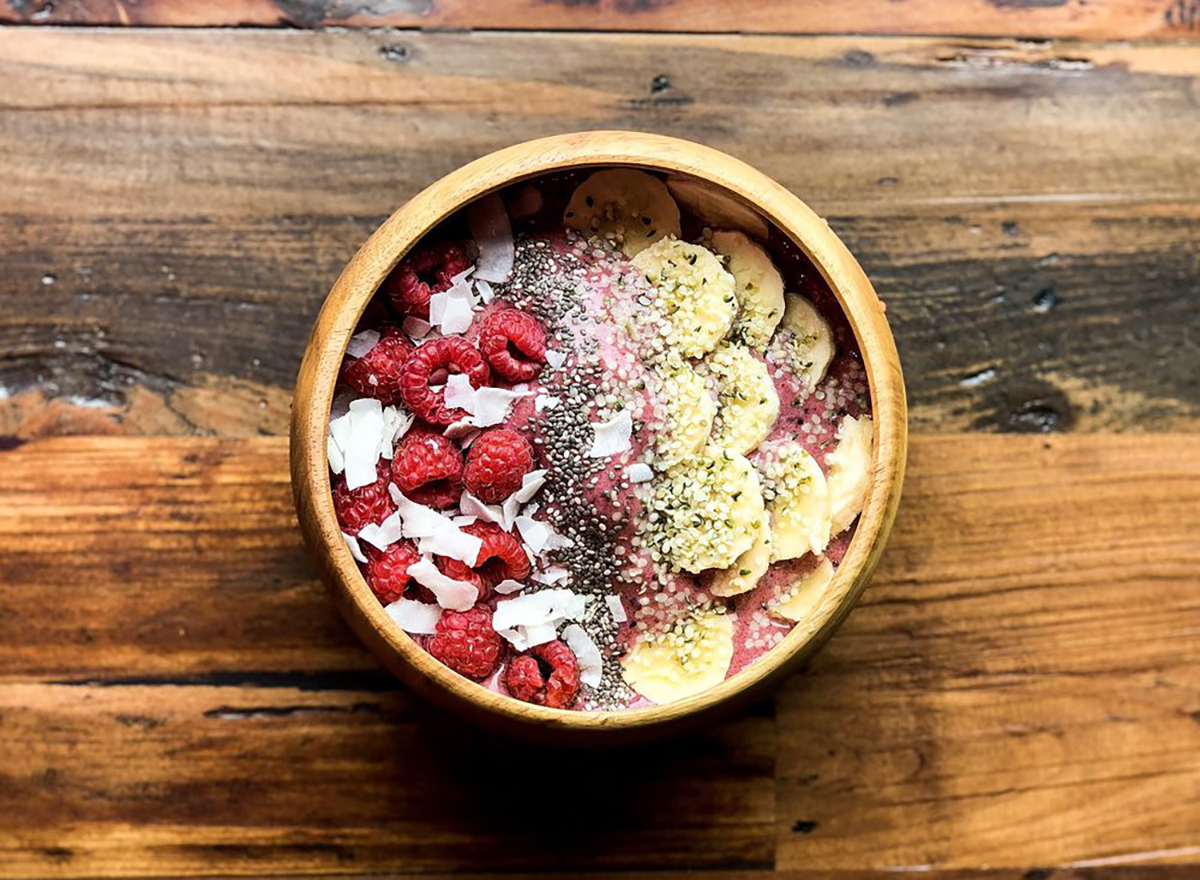 This ridiculously adorable cafe serving breakfast and lunch also offers some of the best smoothies in Wyoming. "The ingredients are so fresh, so delicious, and the service is beyond amazing," one reviewer wrote.
Tanya Edwards
Tanya Edwards is a seasoned food and health journalist, who has held roles at Yahoo Health as Managing Editor and at Food Network as Programming Director.
Read more about Tanya