This State Is the #1 Wine Destination in America (and It's Not California!)
Head to this second-largest wine producing state for a world-class wine vacation.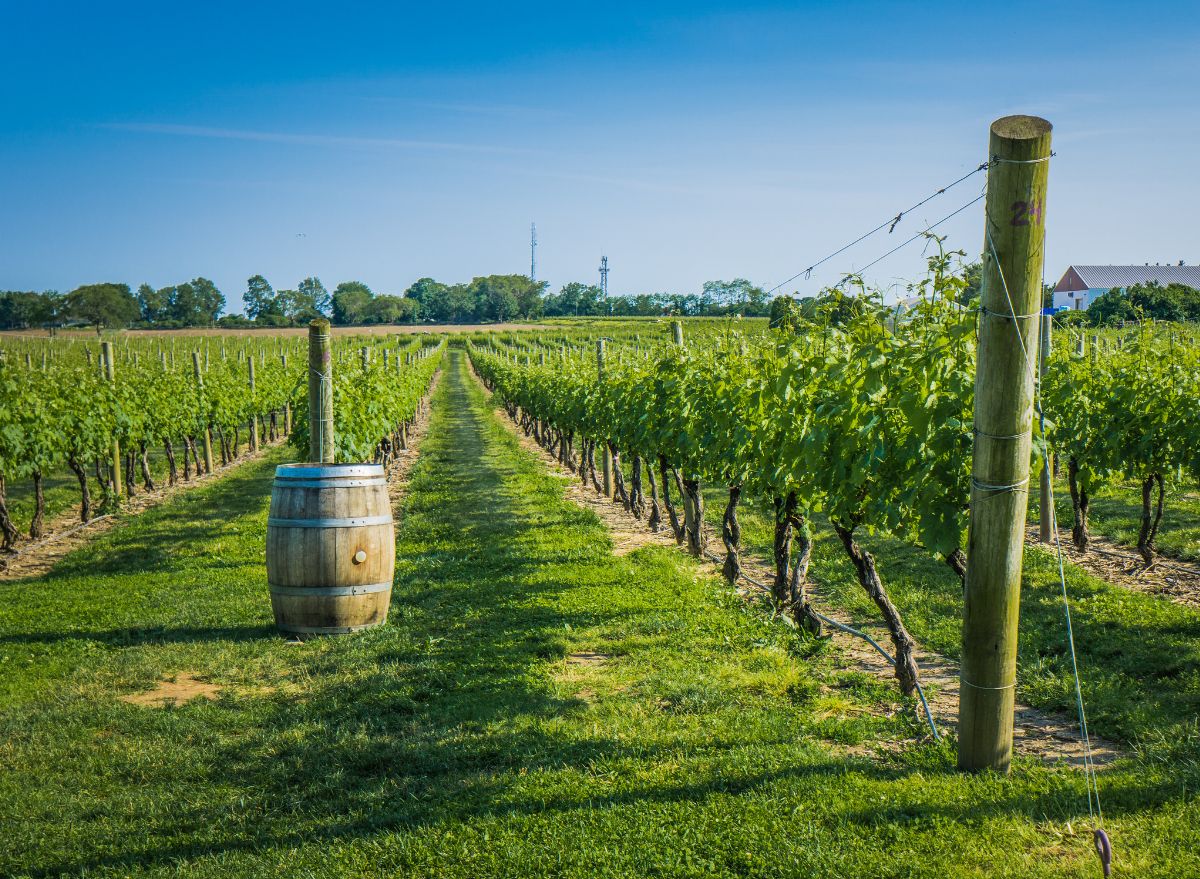 When an oenophile–someone who knows and loves wine—is headed on a wine vacation in the United States, they typically set their sights on Northern California. Napa, Sonoma, and Carneros are three famous wine regions that produce world-class wines due to their unique terroir. But of course, California isn't the only state capable of making exceptional wines, and according to a new study, it isn't even the best state to take a wine-tasting vacation.
Travel insurance company ComparetheMarket decided to do a deep dive into the world of wine travel, comparing seven data-heavy points to determine the best place to visit worldwide. What it discovered is that Americans are the largest consumers of wine in the world and the third best country to take a wine vacation, behind Italy and France. Here's what the study looked at:
Number of grape varieties
Vineyard surface area
Wine consumption
Wine production
Critic score for most popular wine
Price of most popular wine
World ranking of the most popular bottle of wine
The company took all of these data points and created an index to determine where wine lovers should go for a great wine vacation—and found some surprises along the way.
Here are the top five spots to visit if you love wine.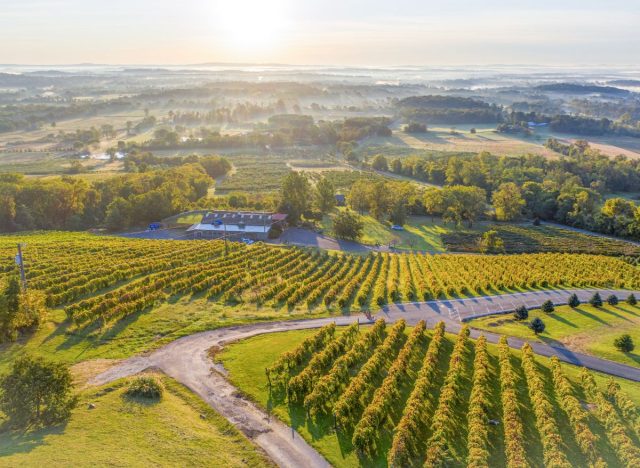 A state not traditionally recognized for wine, Virginia actually has over 10 regions and eight AVAs. An AVA is an American Viticultural Area, with a distinct climate or geography that affects how the grapes are grown. Coincidentally, October was Virginia Wine Month and while the month is nearly over, you could start planning your wine-tasting trip for next year.  Throughout the year there are plenty of wine events to keep you happy. According to Virginia Wine, top grape players in the state are lesser known varieties like viognier, cabernet franc, and petit verdot.6254a4d1642c605c54bf1cab17d50f1e
The most popular wine (as determined by Wine-Searcher) in Virginia is Barboursville Vineyards Octagon, a red blend that is about $89 a bottle. Virginia could be one of the best destinations for an affordable wine vacation that still delivers great taste and variety.
PLUS: Make better eating choices every day by signing up for our newsletter!
When you think about wine in Oregon, you should immediately think about Pinot Noir because it's one of the best destinations for this grape variety in the United States. This red grape thrives in the cooler, coastal climate. Oregon has 25 AVAs all located along the Pacific Coast. If you're looking for intimate, boutique wineries, says Wine-Searcher, Oregon is the place to take a vacation.
The most popular wine is Domaine Drouhin Pinot Noir with an average price of $44, making it one of the most affordable wines on this list.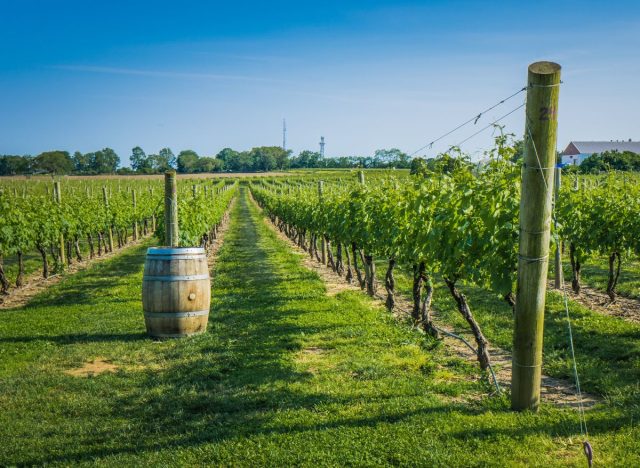 Um, Rhode Island has wine? Fun fact: Every state has a winery, even Alaska. And while Rhode Island's single AVA—which it shares with Connecticut and Massachusetts—doesn't compare to Virginia, it's still a solid bet for tasty, affordable wine. Turns out we have King Charles II to thank for allowing and encouraging wine production in Rhode Island in the 1600s. Plus, according to Wine-Searcher, the climate of Rhode Island is moderated by the Gulf Stream and the ocean, giving it a longer growing season than many inland New England locations.
The most popular wine to try in Rhode Island is Newport Vineyards Great White which is a blend of cayuga, riesling, and vidal blanc grapes, and a steal at $19 a bottle.
Yes, California is one of the most popular wine destinations on the planet, as it's home to the world-famous Napa Valley, but it isn't #1 on this list. While we can only guess, prices might have something to do with the second-place finish of California, and its sheer size. California, as a whole, is the largest wine region in the country and it would take months—if not years—to go through the entire state's 150 AVAs. Plus, it isn't cheap.
Its most popular wine is Opus One, a Bordeaux blend, with an average price of $419 a bottle.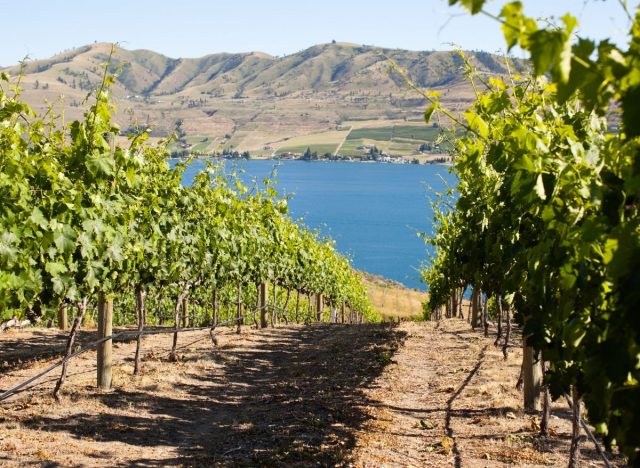 Surprisingly, Washington was the top destination amongst the amazing French and Italian wine regions that topped this global list. Washington is the second-largest producer of wine in the United States and has 20 AVAs. While Washington is about 1.4 times smaller than Oregon, Washington has 60% more vineyard area than Oregon. Washington's unique geography and climate—due to the mountains, rivers, and altitude—combine with the mixed soil to help create a perfect world for certain grapes.
Merlot, cabernet sauvignon, syrah, chardonnay, and riesling are the most popular varieties grown in the state. If you're looking for a place with world-class wines that's smaller in size—and price tag—Washington is a must.
Quilceda Creek Cabernet Sauvignon is the most popular wine in Washington, and it is much more affordable than California's massive cabs at about $210. (P.S. many great cabs can be found for a fraction of this price.)