The Best Winery in Every State
Here's your guide to all the best spots to sip on some vino throughout the U.S.
Regardless of whether you're a wine novice or an aspiring sommelier, visiting a winery is always a special experience. Not only do you have the opportunity to sample the estate wines that you might not be able to buy wherever you live, but you can also enjoy the scenic ambiance in a peaceful, serene setting. Some wineries also have in-house distilleries, while others feature produce from their own estate farm.
No matter what the perks are, you're sure to have a memorable trip. So which wineries should you stop and visit? Well, we went ahead and rounded up the best winery in every state to help guide your future trips—when it's finally safe to travel again! And for more U.S. favorites, be sure to check out The Most Popular Wine in Every State.
ALABAMA: Morgan Creek Vineyards in Harpersville
Arguably the best-known winery in the state, this family-owned spot is one that's definitely worth the trip. Founder Charles Brammer, Jr. has been quoted saying, "Grits don't come from New York, and chardonnay doesn't come from Alabama." For that reason, Morgan Creek carved out a niche for themselves producing semi-sweet and sweet muscadine and fruit wines. The winery uses fruits and other products that are locally grown to really exemplify the natural resources from the area.
ALASKA: Bear Creek Winery in Homer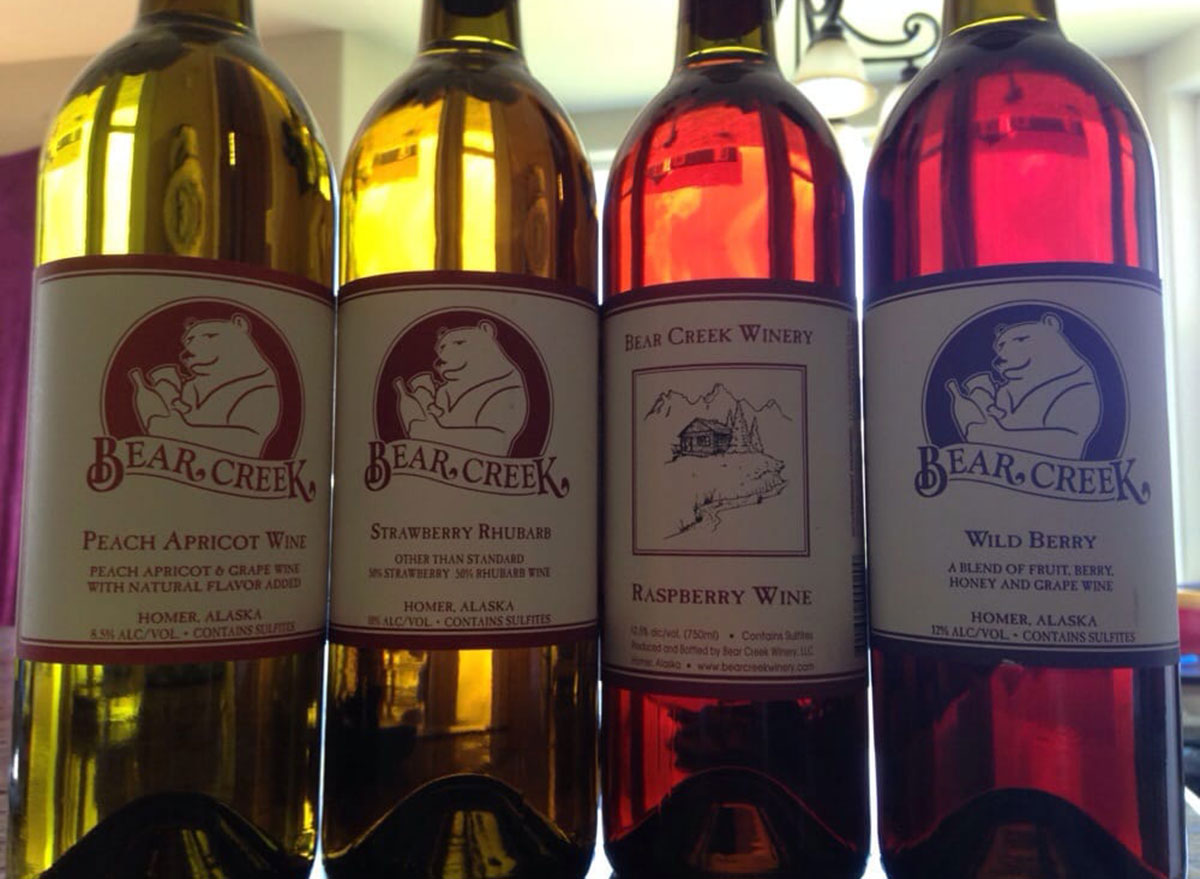 This small winery's specialty is the grape and fruit wine blends. It features eclectic varietals like the Alaska Chardonnay, which contains rhubarb, and the Blueberry Mirlo (aptly named, as it's a blueberry and merlot blend). The winery ferments its wines in small batches—sometimes as little as three gallons—and have connections with small local farmers to source their fruit. So you know you're getting a true Alaskan experience at Bear Creek Winery!
ARIZONA: Desert Rock Winery & Distillery in Scottsdale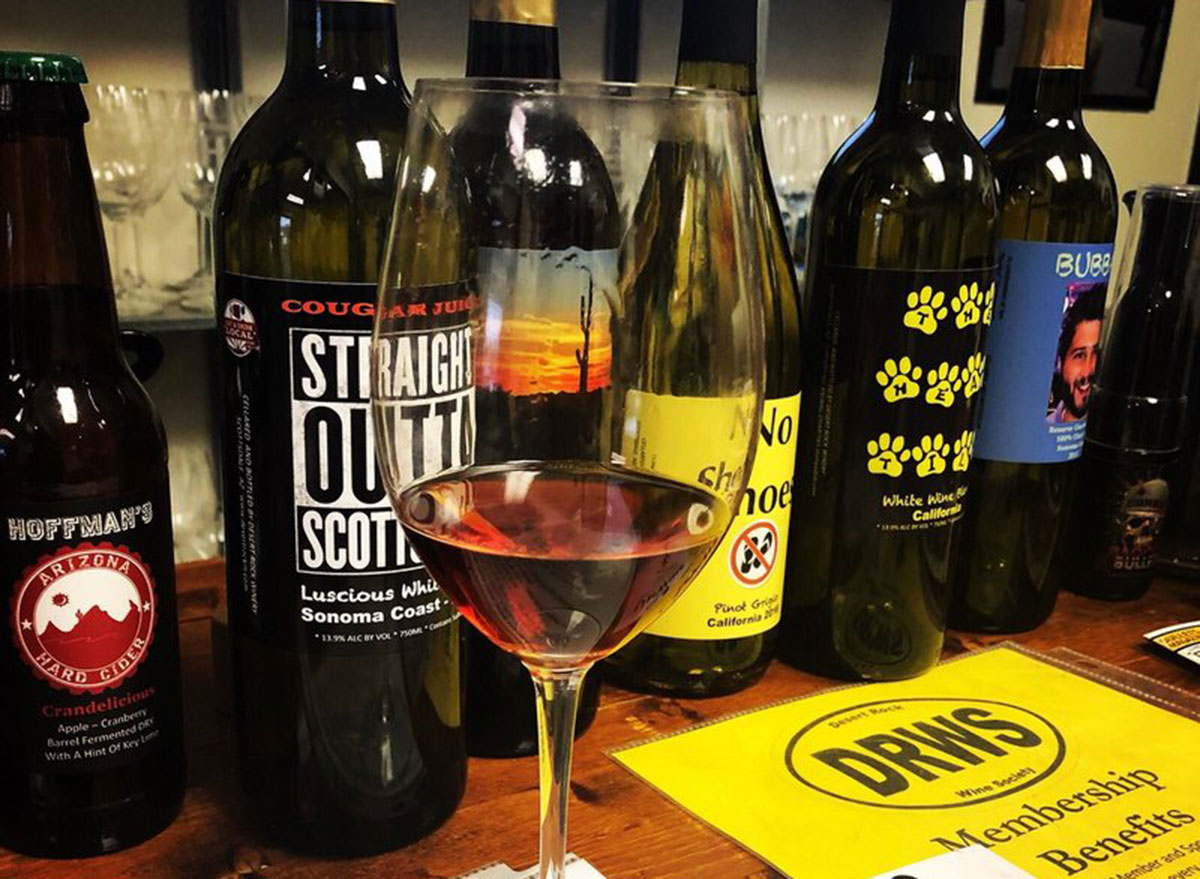 A lowkey and unassuming spot in Scottsdale, Desert Rock has an edgier vibe than traditional wineries; the wines and other beverages feature black labels with blocky text, and one of the in-house lines is even called Headbanger, complete with the outline of a skull on it. The hospitality of the winery is unmatched, and it hosts a handful of food trucks every weekend so you can have a full experience while you drink. In addition to the wines, there is hard cider, hard seltzer, and some liquor on hand as well.
ARKANSAS: Sassafras Springs Vineyard & Winery in Springdale
At 70 acres, this beautiful vineyard in the northwest corner of the state is perfect for socially-distanced tasting. The multi-tiered patio makes for a scenic date night or day out with your friends. The winery is best known for the Sassy Rosé, which is a fruity wine made with grapes grown in Arkansas that features notes of apple and strawberry. In addition to the rosé, there is a multitude of reds and whites made with California grapes offered up.
CALIFORNIA: Domaine Carneros in Napa
It's difficult to pick just one winery in California, but one we definitely couldn't go without mentioning is Domaine Carneros. The French-inspired chateau is surrounded by beautifully-kept gardens, and the scenery is just the beginning. Specializing in sparkling wines, Domaine Carneros offers a full experience. The chateau sets the tone for wines that were made to compete with French champagnes, with 95% of their fruit sourced from their vineyards in Napa and Sonoma. Just be sure to set up a reservation because the tastings tend to fill up!
COLORADO: Balistreri Vineyards in Denver
One of the best-known wineries in Denver, Balistreri is lauded for its wine-making process. The grapes are sourced from both Colorado and California to produce the signature "big reds," and the winery prides itself in fermenting the wines with indigenous yeasts to preserve the integrity of the fruits. There aren't any sulfates or other chemicals used to aid in the fermentation process either, and the wines are not filtered or fined. Instead, they are bottled by the barrel.
CONNECTICUT: Gouveia Vineyards in Wallingford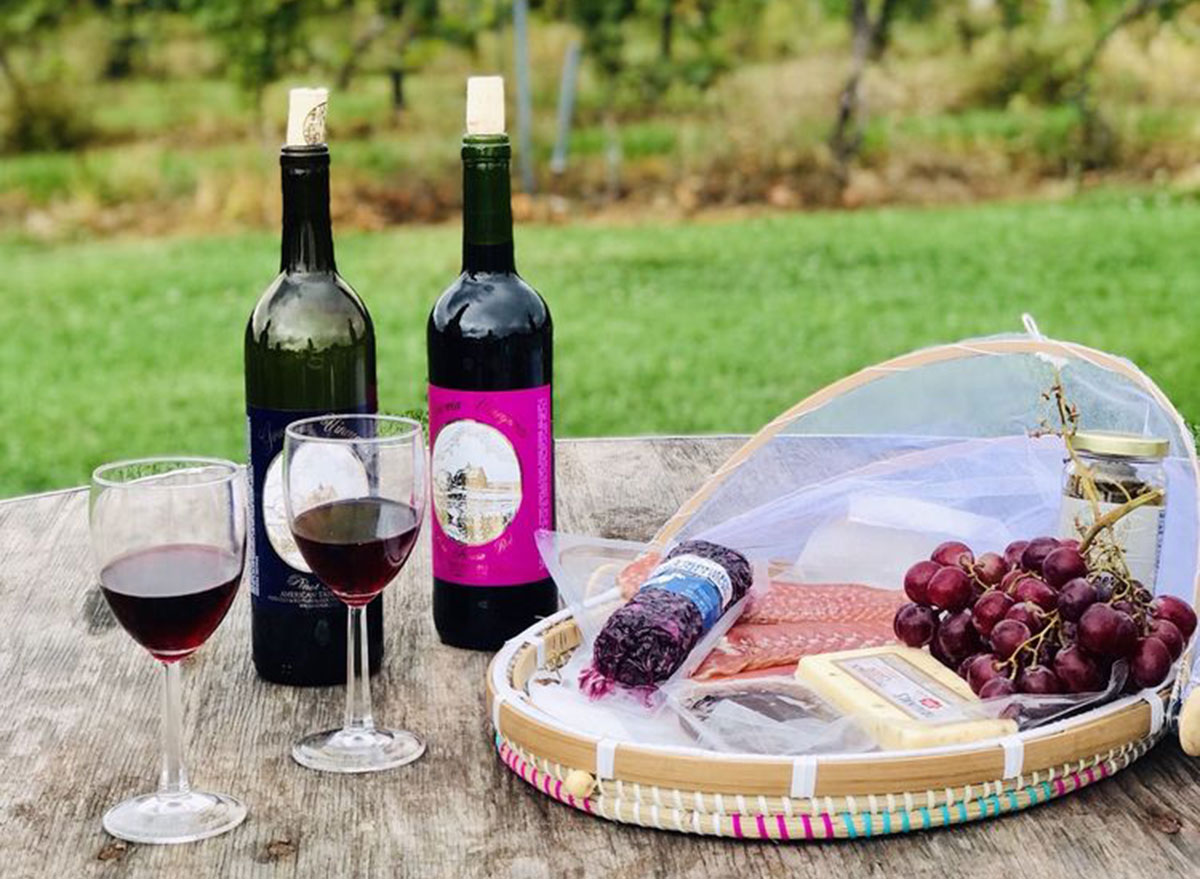 If you're looking for a fancier wine tasting experience in Connecticut, you should definitely head to Gouveia. The winery sits atop a hill overlooking a scenic view of the vineyard below. Founded by a Portuguese immigrant, the winery prides itself on its family roots and a community-focused atmosphere.
DELAWARE: Harvest Ridge in Marydel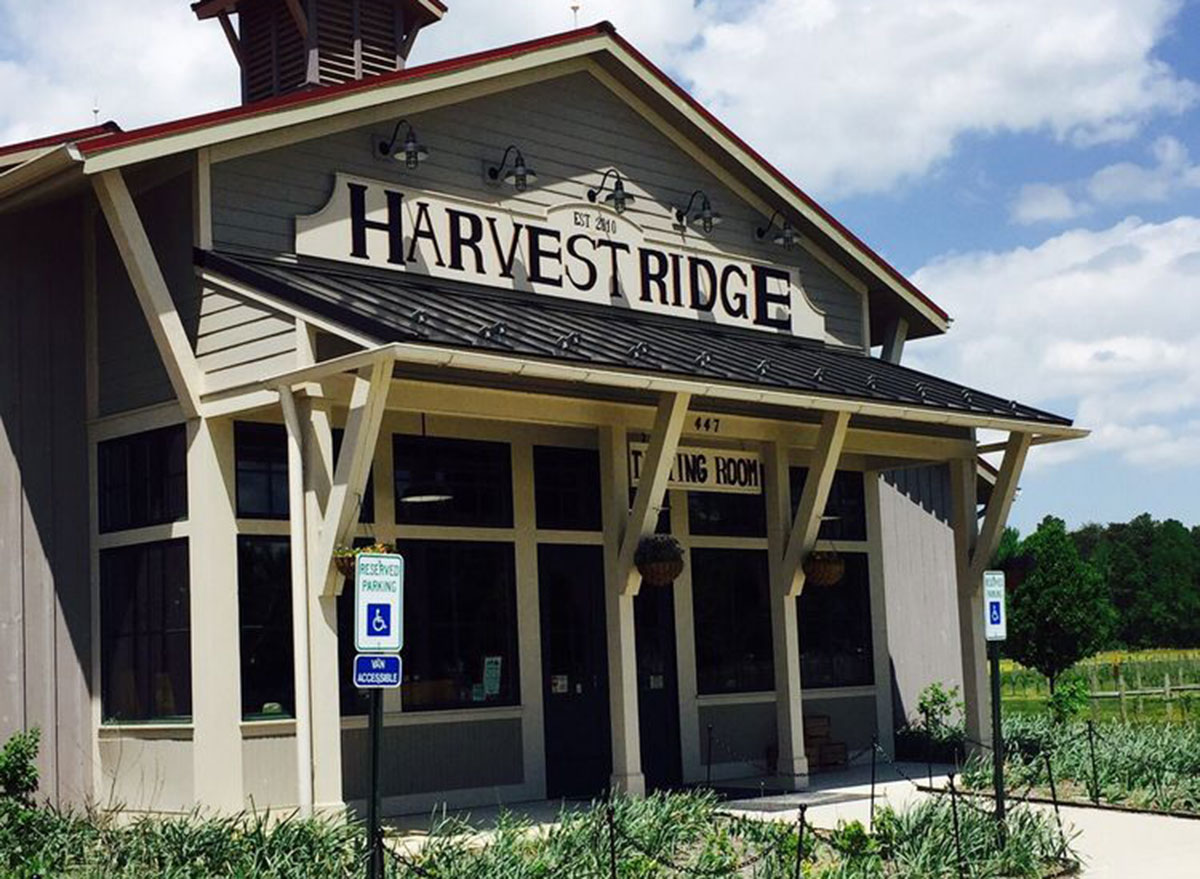 Another family-owned winery, Harvest Ridge was originally founded as a hobby with land along the Mason-Dixon Line. (The property even features one of the Line's original crown markers.) The vineyard grows chardonnay, viognier, malbec, and merlot grapes and offers tastings and food so you can enjoy your visit.
FLORIDA: San Sebastian Winery in St. Augustine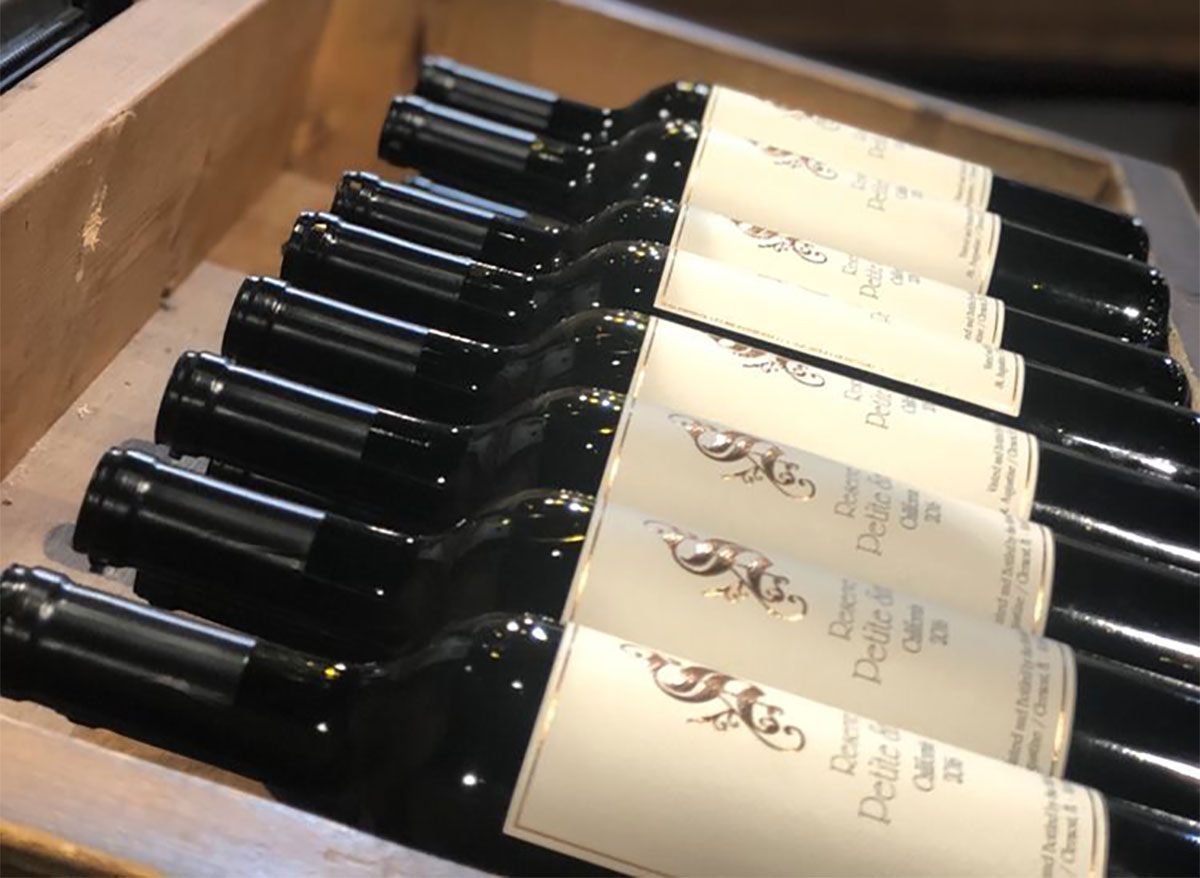 Focused on sparkling and dessert wines, San Sebastian is considered one of the premier wineries in Florida. St. Augustine is the oldest city in the state and the winery is just outside of downtown, making for a historic and scenic area to enjoy your wine. The winery tours and tastings are always complimentary—no purchase required. Inspired by Florida's Spanish heritage, the ambiance of the winery is cozy and speaks to Mediterranean influences.
GEORGIA: The Cottage Vineyard & Winery in Cleveland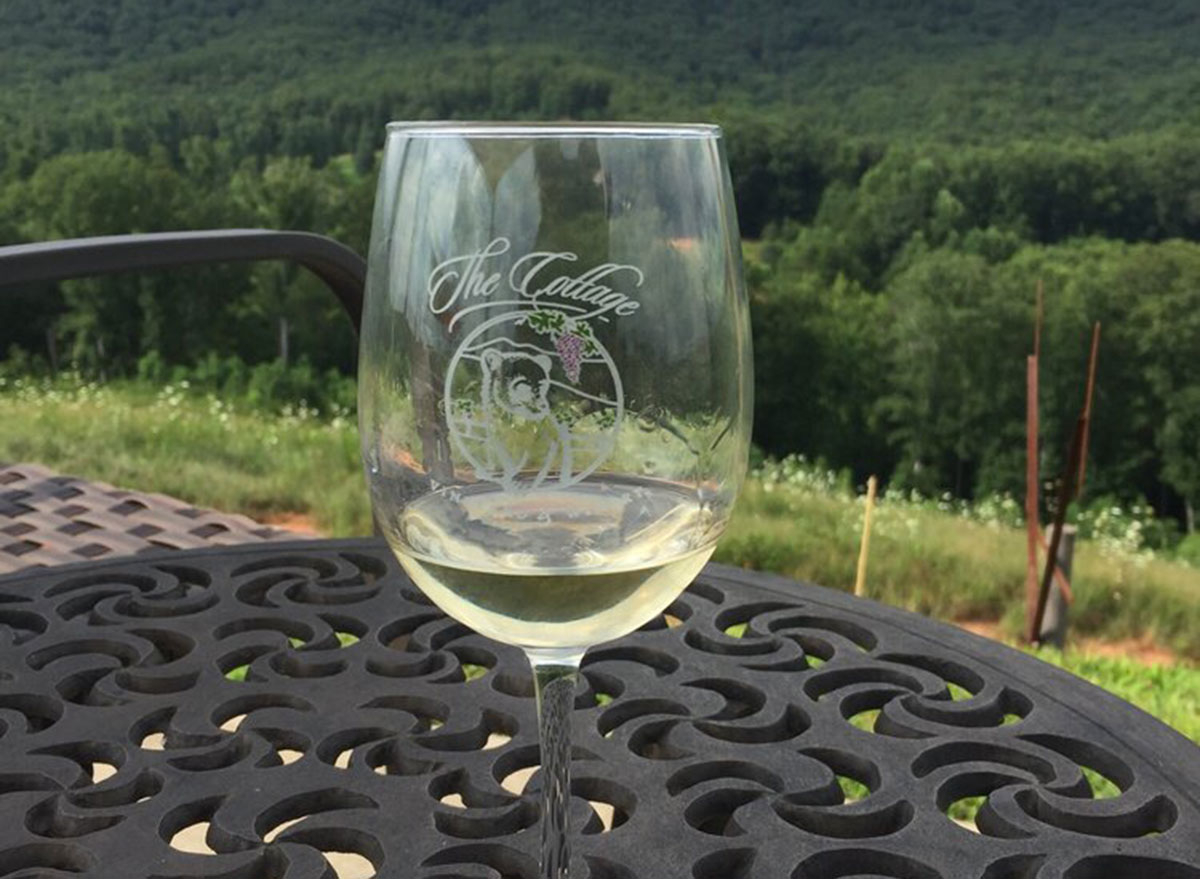 This Christian-lead winery in Northern Georgia was founded by a husband and wife who wanted to own a small family vineyard. There are 15 different varietals offered of both dry and sweet red and white wines curated by the winery and sourced from both their in-house production and various local winemakers around Georgia.
HAWAII: MauiWine in Kula
If you want a uniquely Hawaiian experience—tasting pineapple wine, that is—head to MauiWine on the Big Island. Situated on ʻUlupalakua Ranch, the volcanic soil and tropical climate help give their wines their signature flavors. In addition to the pineapple wines, you can sip on red, white, sparkling, and raspberry wines.
IDAHO: Ste. Chapelle Winery in Caldwell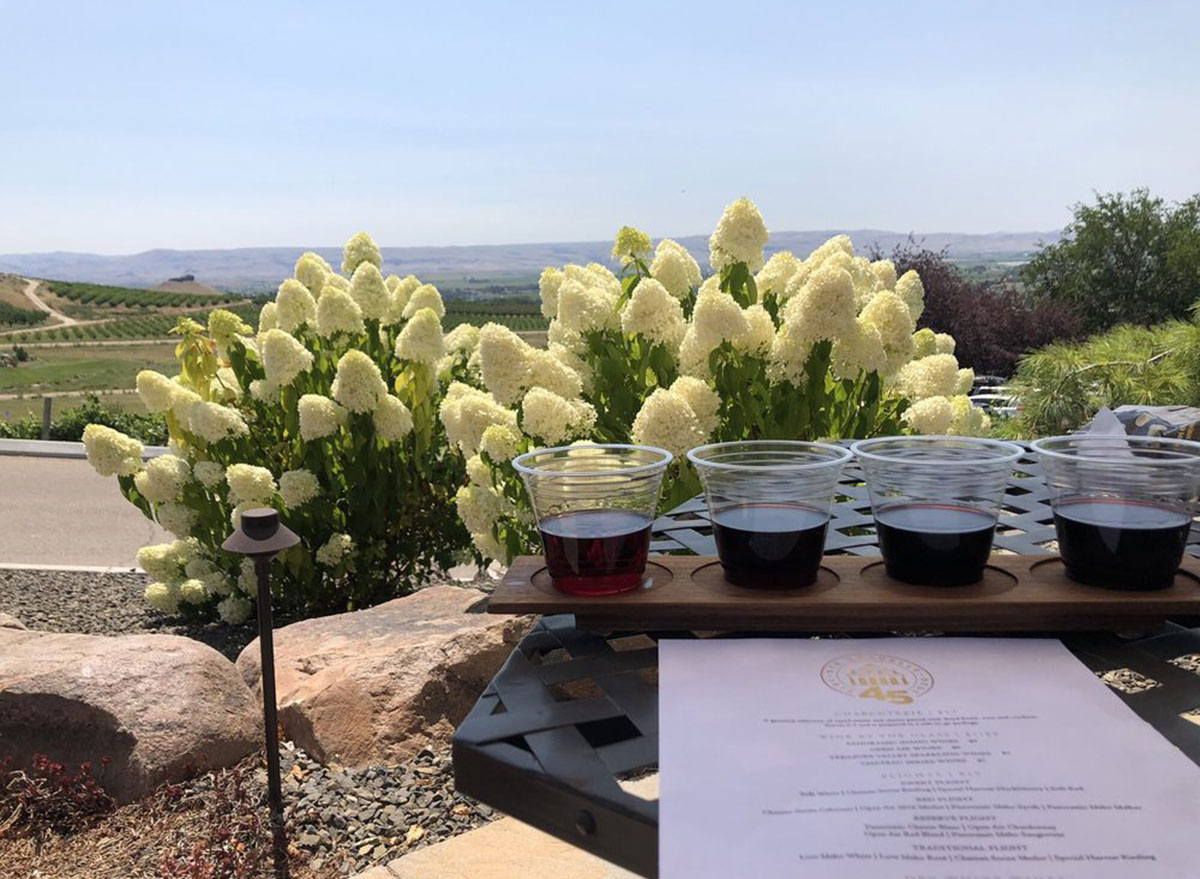 As the largest winery in Idaho, Ste. Chapelle's reputation is unmatched. Not only does it have a sprawling picturesque vineyard, but the wines are truly enviable. The vines are planted along the Snake River Valley appellation to give the grapes their signature flavor, and the winery utilizes special technology to ensure consistency across all of the wines. The winery offers riesling, chardonnay, sauvignon blanc, merlot, cabernet sauvignon, and syrah.
ILLINOIS: Lynfred Winery in Roselle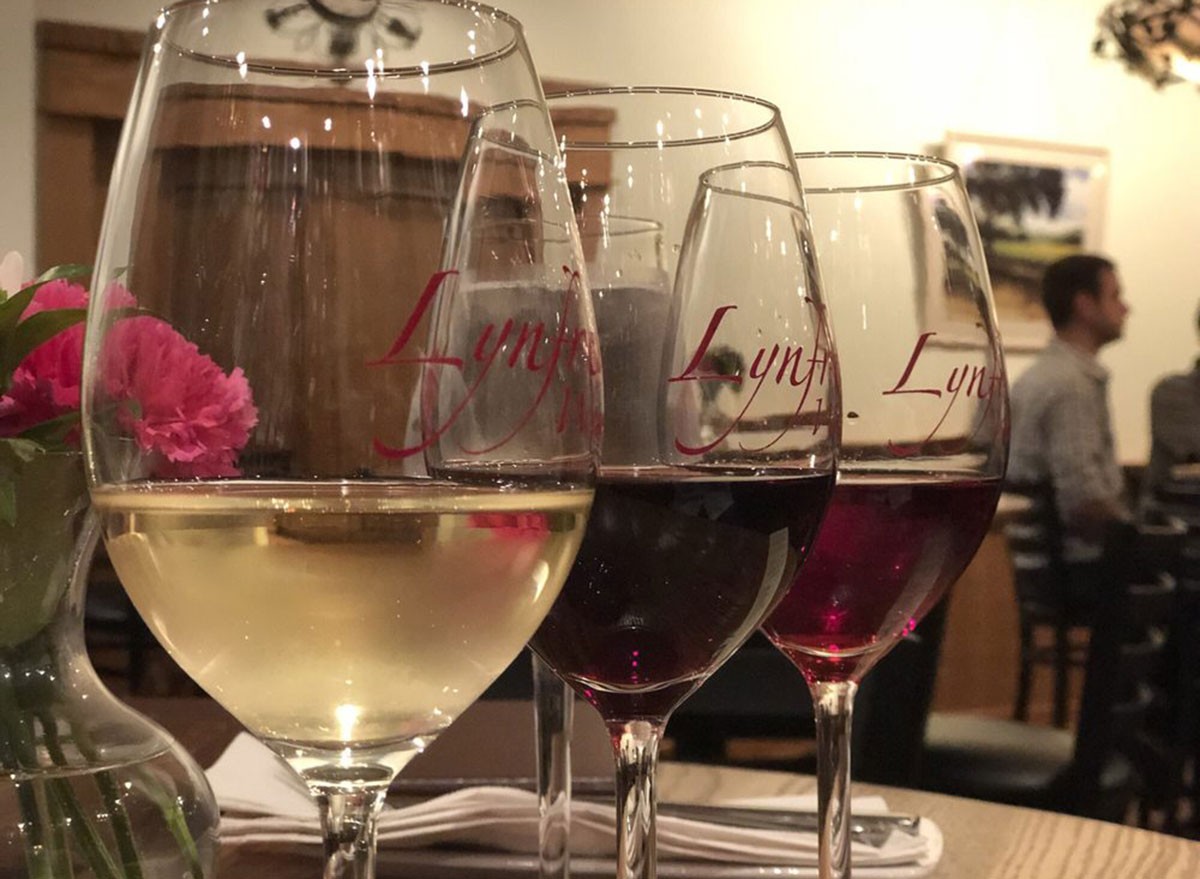 Lynfred Winery, a charming spot with its own B&B, is nestled along the coast of Lake Michigan just northwest of Chicago. Illinois is known for its beer (to go along with all of the hot dogs and sausages, of course), but this winery is a hidden gem among the craft breweries. The grapes are sourced from Illinois, California, Washington, Michigan, and Chile to put a unique spin on a large variety of wines. Keep in mind that reservations are required for by-the-glass tastings on Fridays through Sundays.
RELATED: This New Shortage Is Affecting Wine and Spirits
INDIANA: Turtle Run Winery in Corydon
Turtle Run Winery is operated by a husband and wife duo who personally lead the tours of the property. The focus is on health-conscious wine, particularly when it comes to sugar. The fermentation process of the dry wines does not include any back-added sugar to keep the dry wines actually dry and to ensure that the added sugar concentration stays low. The winery also strives to let each vintage be as unique as possible, so they don't concentrate on absolute consistency. Rather, they allow the slight variations to give each vintage its own personality.
IOWA: Cedar Ridge Winery & Distillery in Swisher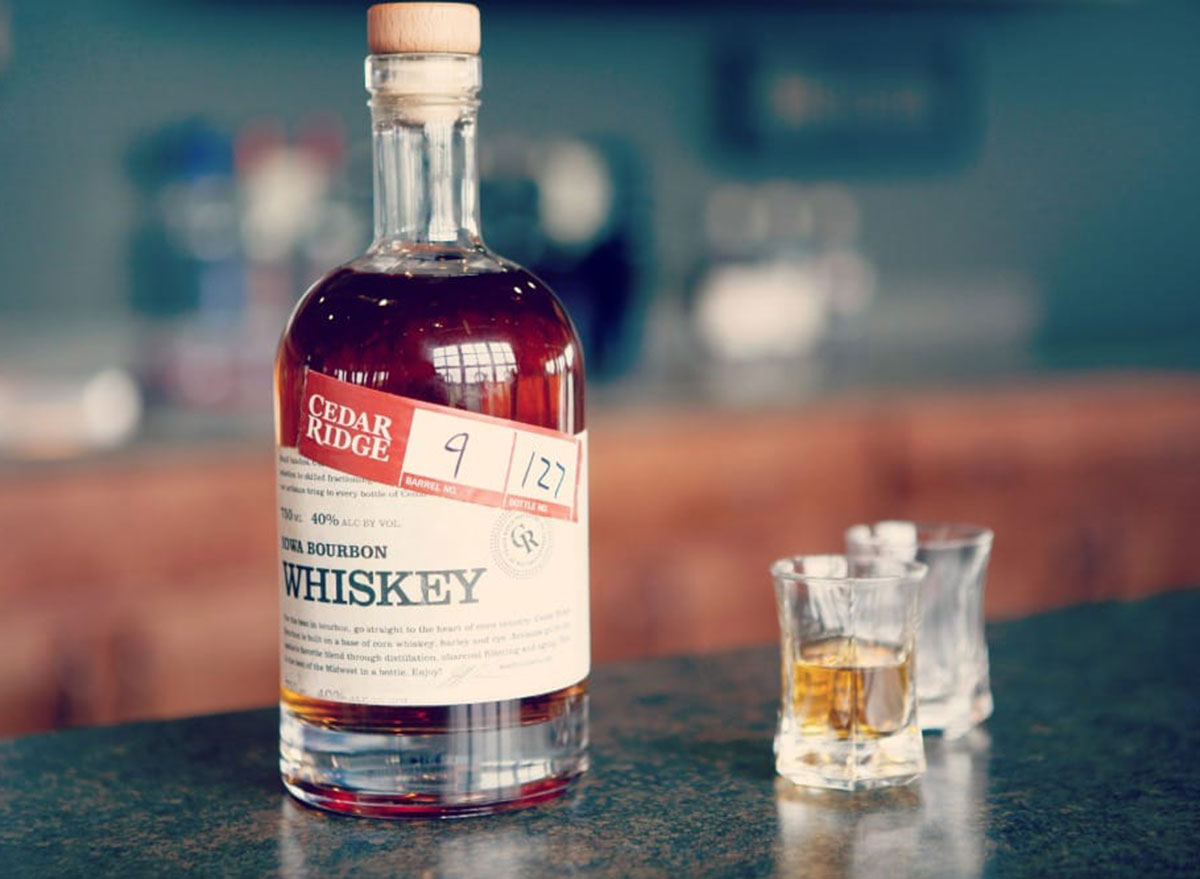 A winery and whiskey distillery in one, Cedar Ridge truly embodies Iowan culture. The winery prides itself in grapes grown in Iowa on its fertile Midwestern soil, which produces young, bright, fruit-forward wines. The unaged in-house line of wines is great for casual consumption whenever or wherever. While you're visiting, make sure you also check out their whiskeys, all made with Iowan-grown corn.
KANSAS: KC Wine Co in Olathe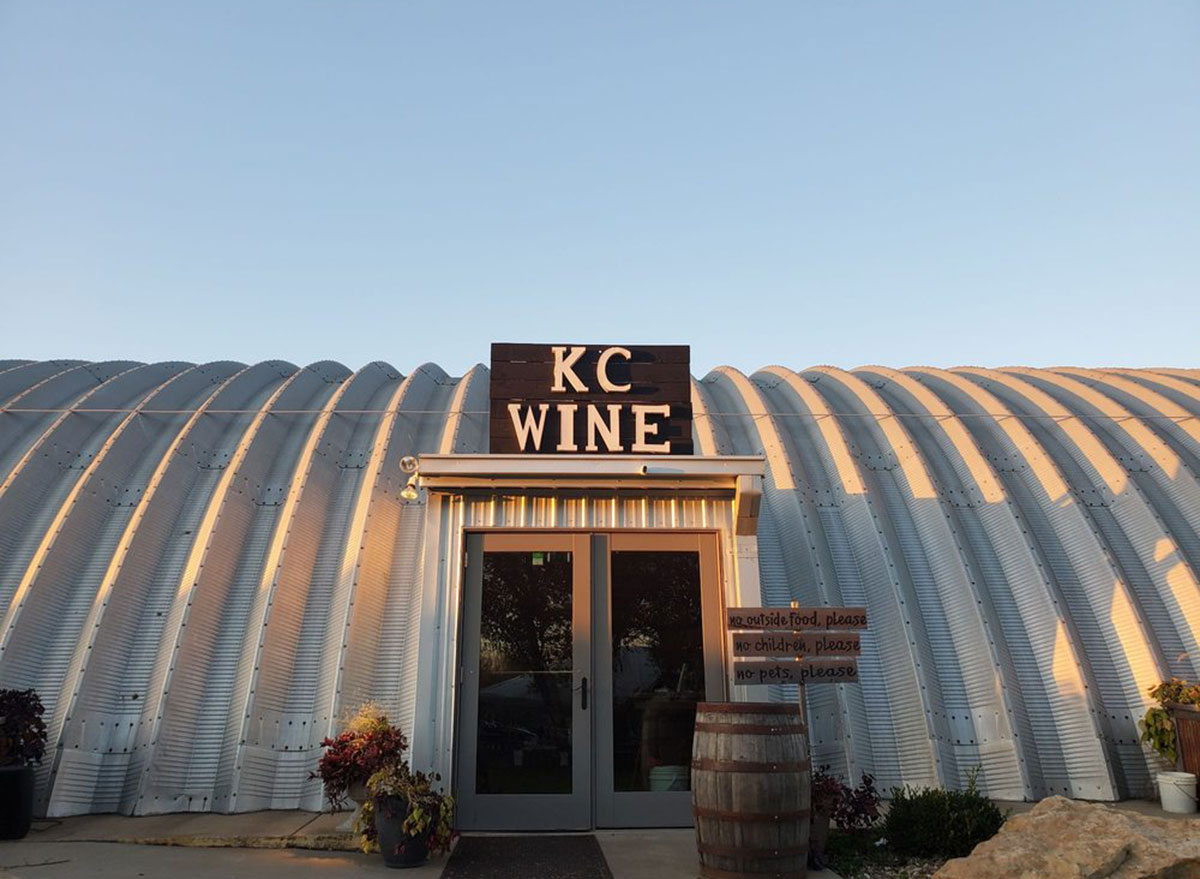 This millennial-friendly winery isn't just about the aesthetic—KC Wine Co in Olathe makes some great wine, too. Originally founded as a pumpkin field, the winery has expanded its product line to include ciders and "Vine Coolers," the signature boozy popsicles, and Wine Slushies. The website makes it easy to shop for a bottle (or five), thanks to the handy checklists of flavor profiles that accompany each wine. Be sure to try the fruit ciders, which include traditional apple as well as pineapple, blackberry, peach, and strawberry. The winery also hosts a multitude of events and festivals over the course of the year, so make sure you check out the event calendar when you visit.
KENTUCKY: Talon Winery & Vineyards in Lexington
Established in 1999, Talon Winery actually sits on tobacco farmland that has existed since before Kentucky was even a state. The history is exemplified by the winery's approach to southern hospitality and its dedication to highlighting flavor profiles traditionally found in the region. From table whites and reds to rosés and dessert wines, you have plenty of options to choose from. One particularly special selection is Rogue, a traminette made with grapes from their estate aged in Kentucky bourbon barrels.
LOUISIANA: Landry Vineyards in West Monroe
Landry Vineyards offers a unique history: The family-owned winery was originally built in Folsom in 1999, but after Hurricane Katrina devastated the property, they decided to move to higher ground in West Monroe. The weinery aims to produce wines that complement Louisiana's Cajun roots and cuisine and are native to the region.
MAINE: Cellardoor Winery in Lincolnville
Inspired by a story about a hobo visiting the farm and being welcomed with open arms, Cellardoor Winery focuses on their hospitality as an escape from the everyday. It's a small vineyard at just five and a half acres, but it's been able to churn out estate wines made from grapes engineered to withstand the ever-changing climate in the state.
MARYLAND: Rocklands Farm Winery in Poolesville
Rocklands Farm, which is located just 45 minutes west of Washington, D.C., has a holistic approach to running their winery. The winery takes into account the environmental, social, and economic factors at play in the production of their wines in order to have the most positive impact on their surrounding community. The wines are all made in small batches with both estate grapes and those sourced from other vineyards and, as much as possible, they avoid using any non-native yeasts in the fermentation process. Make sure you also try the grass-fed meats from the farm when you visit.
MASSACHUSETTS: Nashoba Valley Winery, Distillery, Brewery & Restaurant in Bolton
Nashoba is a full-fledged experience—not just a winery. In addition to the wine tasting room and restaurant, there is an on-site distillery and craft brewery, as well as a Pick Your Own orchard for both peaches and apples for the summer and fall seasons, respectively. There's a large picnic area on-site so you can enjoy some food and wine while overlooking the vineyard.
MICHIGAN: Round Barn Estate in Baroda
A winery, brewery, and distillery all in one, Round Barn is a one-stop-shop for a family (and pet-friendly) getaway. The winery is known for having live music every weekend, and also have a wide range of on-site hiking trails for you to roam and wander while you enjoy your libations.
MINNESOTA: Four Daughters Vineyard & Winery in Spring Valley
Four Daughters is a widely-lauded winery and cidery in southeast Minnesota. It has provided wines and ciders for events ranging from Country Music Awards after parties and SXSW festival events to the Sundance Film Festival. Come to experience the huge tasting room IRL and stay for the wide variety of wines and ciders that are available.
MISSISSIPPI: Queen's Reward Meadery in Tupelo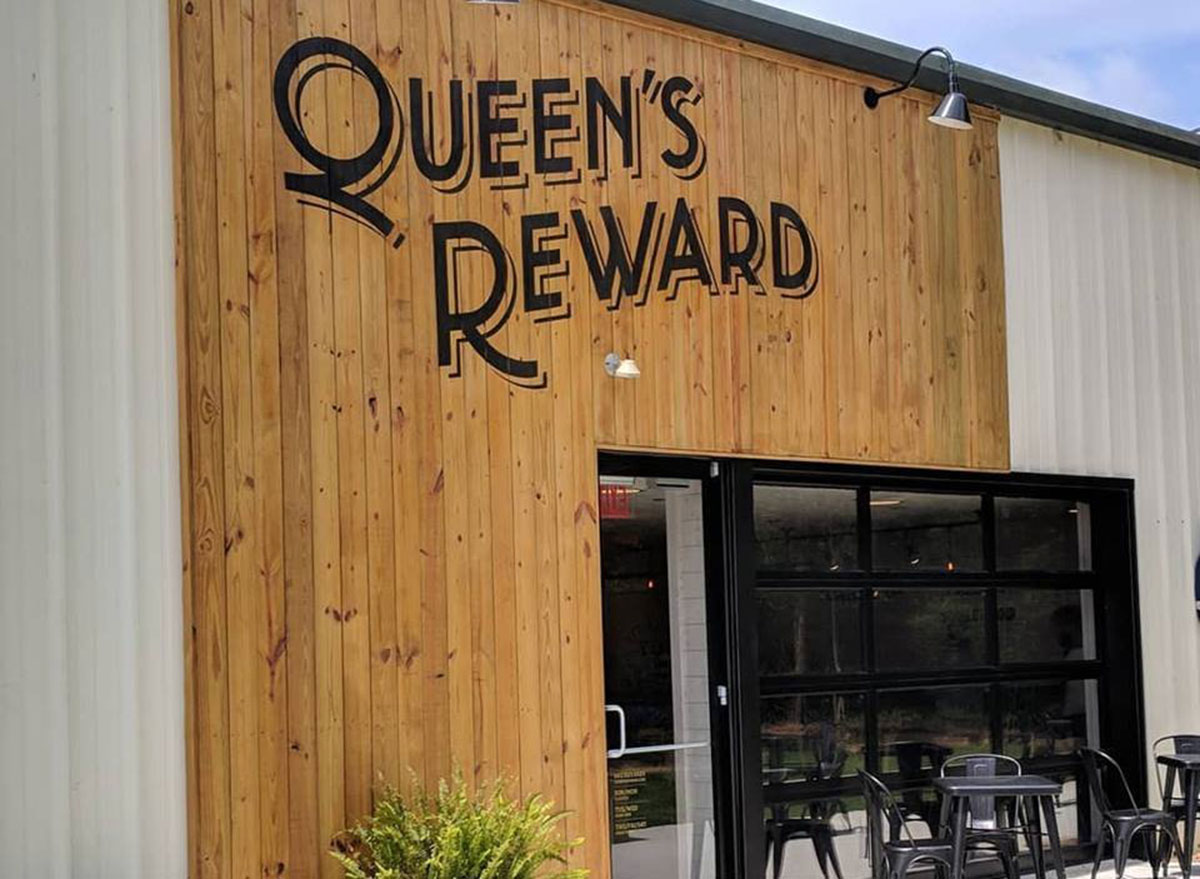 As Mississippi's first meadery, Queen's Reward has set the bar pretty high. It produces its four in-house meads using honey made locally in the state and has been recognized nationally for the quality. The lounge is BYOF (bring your own food) so you can sit and enjoy a tasting flight or just buy your favorites by the glass or bottle.
MISSOURI: Montelle Winery in Augusta
According to Montelle Winery's website, the Augusta area was selected as the first viticultural area in the country due to its unique soil and microclimate, making it an optimal environment for winemaking. In addition to their in-house wines, Montelle is also the first winery in Missouri to also have an on-site distillery, where four different types of brandy (apple, peach, cherry, and grape) are produced. Get lost in the views of the scenic Missouri River Valley while you sip on one of their signature varietals.
MONTANA: Tailing Loop Winery in Kalispell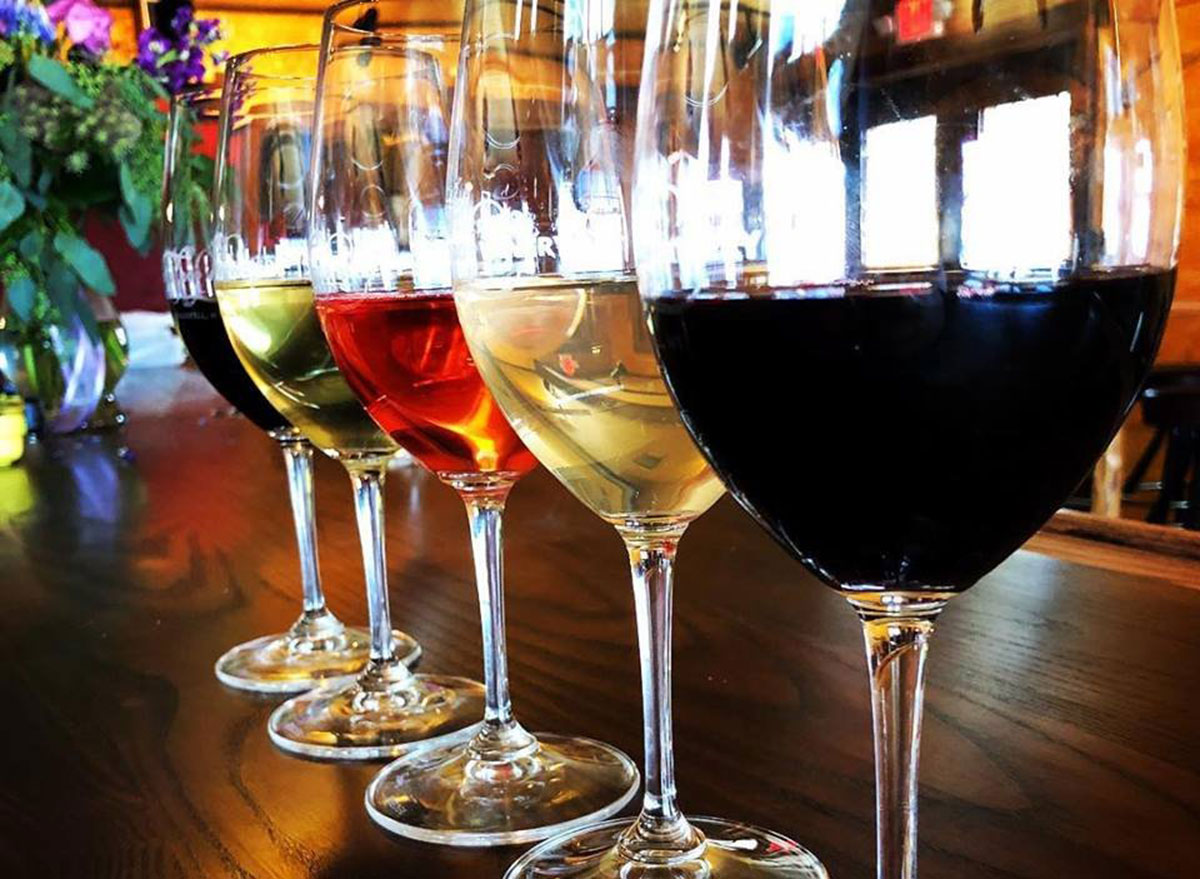 Tailing Loop aims to merge its love of wine with its admiration for the surrounding Montana landscape. The winery source most of its grapes from vineyards in the Pacific Northwest and have a precise, scientific approach to the winemaking process. The winery has also recently started producing small batches of wine made with Montana-grown grapes for a full Montana experience.
NEBRASKA: Cellar 426 in Ashland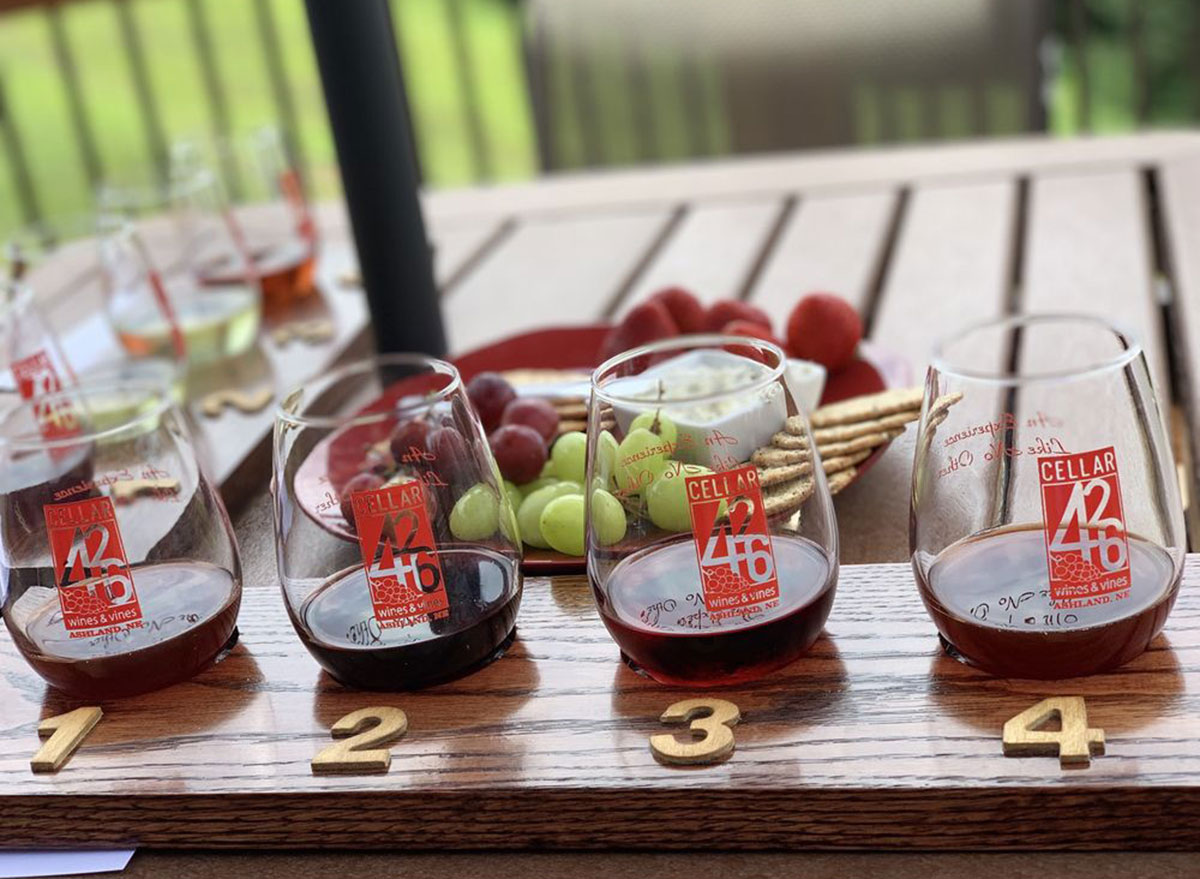 About halfway between Omaha and Lincoln at the top of a hill sits Cellar 426, an immersive winery that offers wine and hard cider. Frequent visitors love their in-house sangria, and two special reds are named after the two vineyard dogs, Rocky and Apollo.
NEVADA: Pahrump Valley Winery in Pahrump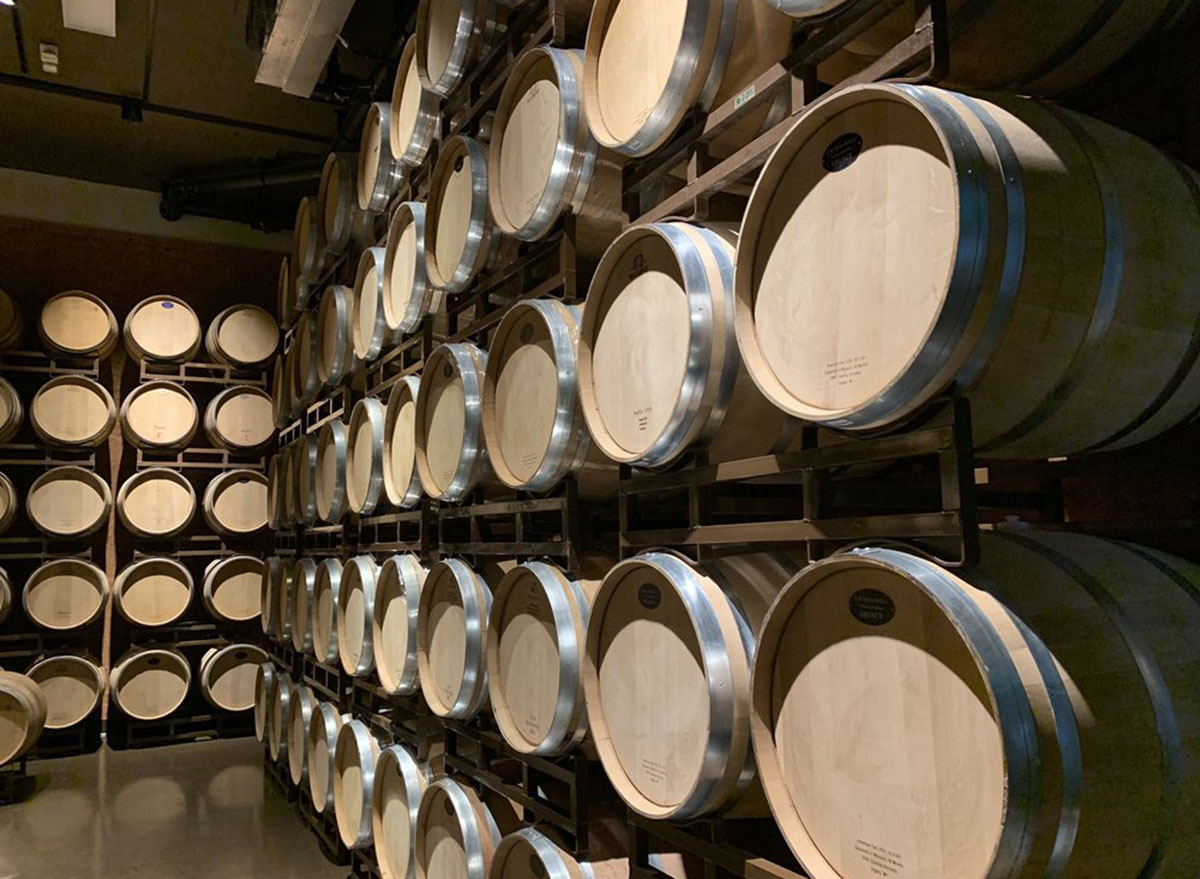 You probably wouldn't expect a winery to thrive in the middle of the arid Nevada desert, but Pahrump Valley defies the odds. Located just east of Death Valley National Park, it's Nevada's largest winery. When you visit, you absolutely have to try a glass of the 2005 Zinfandel, an estate wine that was Nevada's first-ever commercial red. The winery also offer other varietals from grapes grown all around the state of Nevada.6254a4d1642c605c54bf1cab17d50f1e
NEW HAMPSHIRE: LaBelle Winery in Amherst
Inspired by the founder's trip to Nova Scotia, Canada, LaBelle Winery in Amherst started off as an apple winery based at an orchard in Walpole. The business eventually grew to the sprawling 20,000 square foot winery, restaurant, and event center that it is today, producing up to 18,000 gallons of wine a year. The vineyard is unique in that the vines are able to be harvested in the early fall and resilient enough to withstand harsh New Hampshire winters. In addition to the apple wines that started it all, a wide variety of reds, whites, rosés are offered up.
NEW JERSEY: Laurita Winery in New Egypt
Laurita Winery in New Egypt is focused on sustainability and local product. The winery prides itself on making very fruit-forward wines that honor the integrity of the grapes, concentrating on classic European noble varietals like chardonnay, cabernet, merlot, pinot gris, and more. The actual facility was built with recycled and reclaimed materials, making it a tourist attraction in its own right, and their irrigation system functions with water retention and conservation as its first priority.
NEW MEXICO: La Viña Winery in Anthony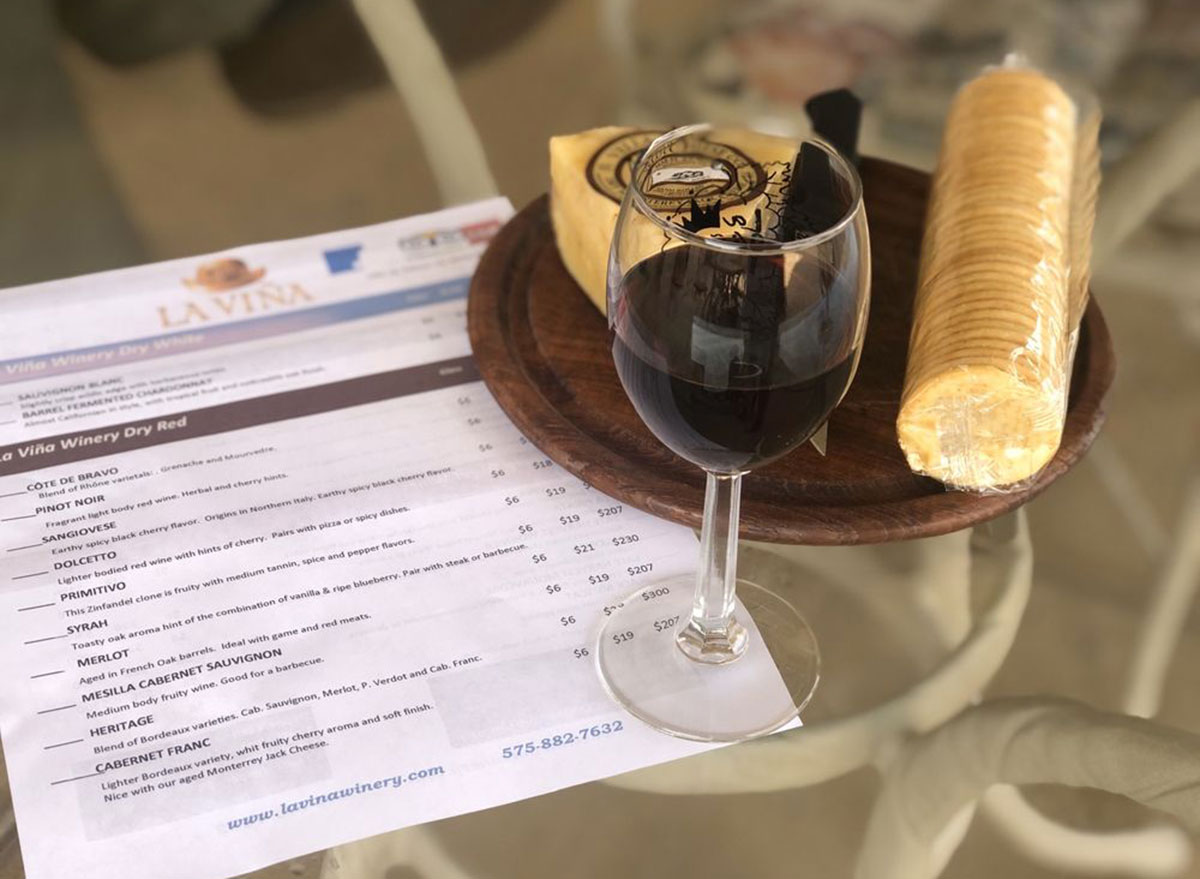 As New Mexico's oldest winery, La Viña has a rich 40-year history that keeps customers and tourists coming back. Founded by farmers who were abundantly familiar with the agricultural landscape of the state, the winery harvests its grapes with the utmost care.
NEW YORK: Wölffer Estate Vineyard in Sagaponack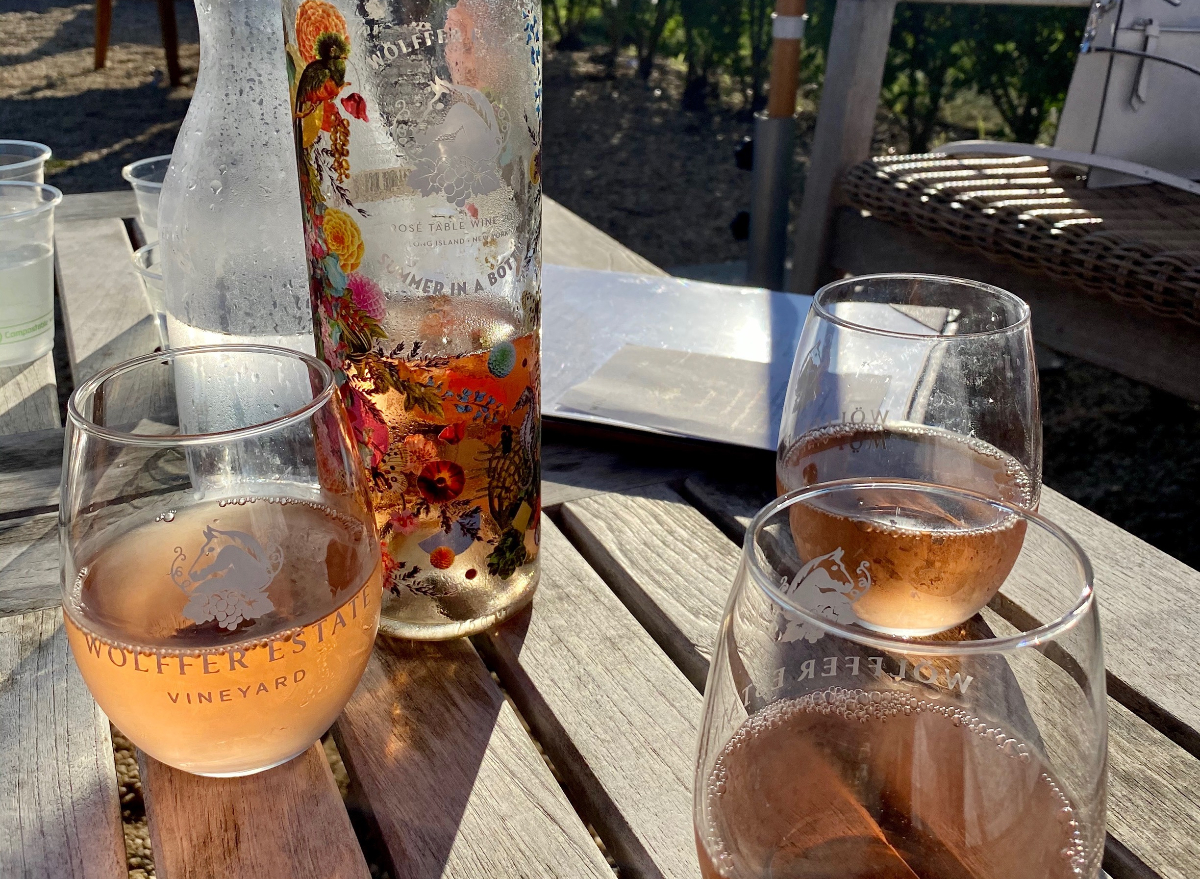 If you've ever spent a summer in NYC or the Hamptons, you've most likely had wine from Wölffer Estate. The acclaimed winery, often recognized for its enviably beautiful labels and bottles, brings an elegance to New York-made wine. The winery has a few different in-house lines that each focus on different parts of the vineyard: White Horse is their flagship line that stands up in international competitions, Summer Inspired is rosé-focused, the Cellar Series offers small quantities of limited releases, and much more. It also puts a huge effort into the sustainability of its 55 acres of vineyards.
NORTH CAROLINA: Duplin Winery in Rose Hill
Duplin is North Carolina's oldest operating winery. There is a large array of reds, whites, and blushes that will leave you completely satisfied upon your visit to any of the three locations. While the winery is known for its hospitality and wine collection, the winery also prides itself on giving back to local charities in the community.
NORTH DAKOTA: Fluffy Fields Vineyard & Winery in Dickinson
Established in 2010, Fluffy Fields has quickly become a North Dakota Staple. It offers locally-made wines and beers, as well as food sourced with local product. It's an upscale winery, perfect for visiting on date night when you want to enjoy a hearty dinner with your wine.
OHIO: Ferrante Winery & Ristorante in Geneva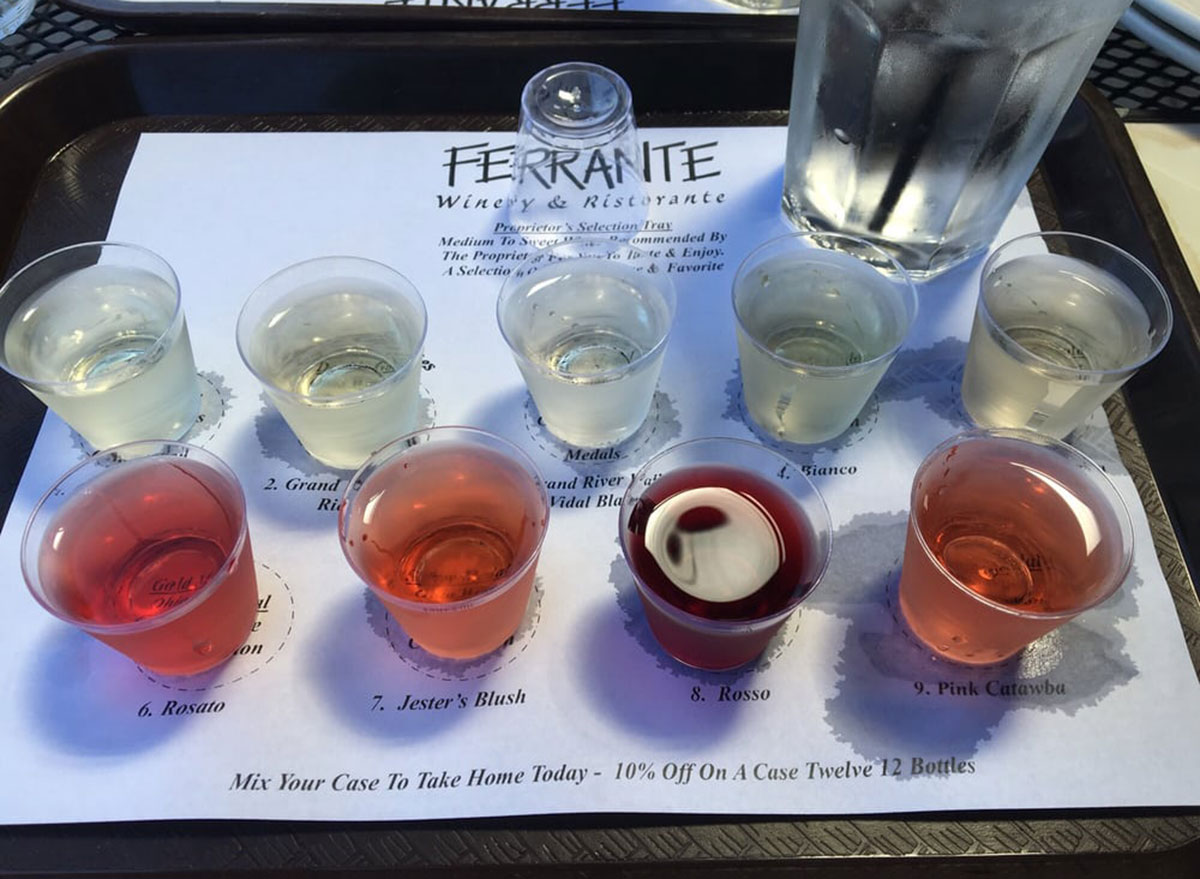 Three generations of Ferrantes have made wine at this Ohio landmark, and the family doesn't seem to be slowing down anytime soon. The winery embraces the traditional ritual of Italian winemaking while also incorporating new and innovative techniques with cutting-edge technology. Be sure to make a pit stop in their restaurant to refuel.
OKLAHOMA: Put A Cork In It in Oklahoma City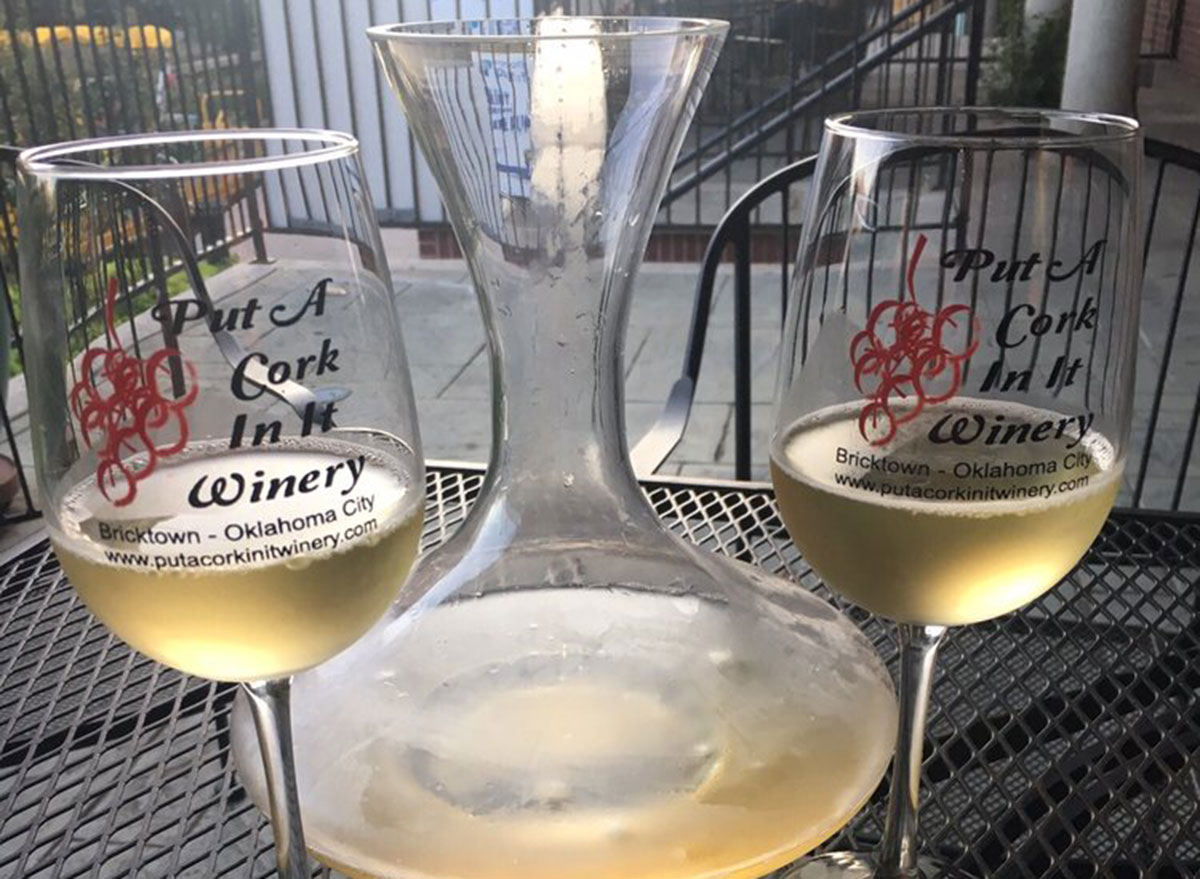 Nestled in the heart of Oklahoma City, the punny Put A Cork In It is a winery that highlights local products from around Oklahoma. Make sure you try the 2018 Crosstimbers Chambourcin, an Oklahoma dry red with notes of vanilla and chocolate.
OREGON: Argyle Winery in Dundee
Thanks to its cool climate, Oregon's Willamette Valley is known as one of the most optimal places in the country to produce sparkling wines, and Argyle is one of the best. The lineup includes the signature sparkling wines, as well as chardonnays, pinot noirs, and rieslings. True to its Oregon roots, there is a huge focus on sustainability, highlighting local products, and supporting the arts in the area.
RELATED: Brad Pitt's New Champagne Is Here—and You Won't Believe the Price Tag
PENNSYLVANIA: Penns Woods Winery in Chadds Ford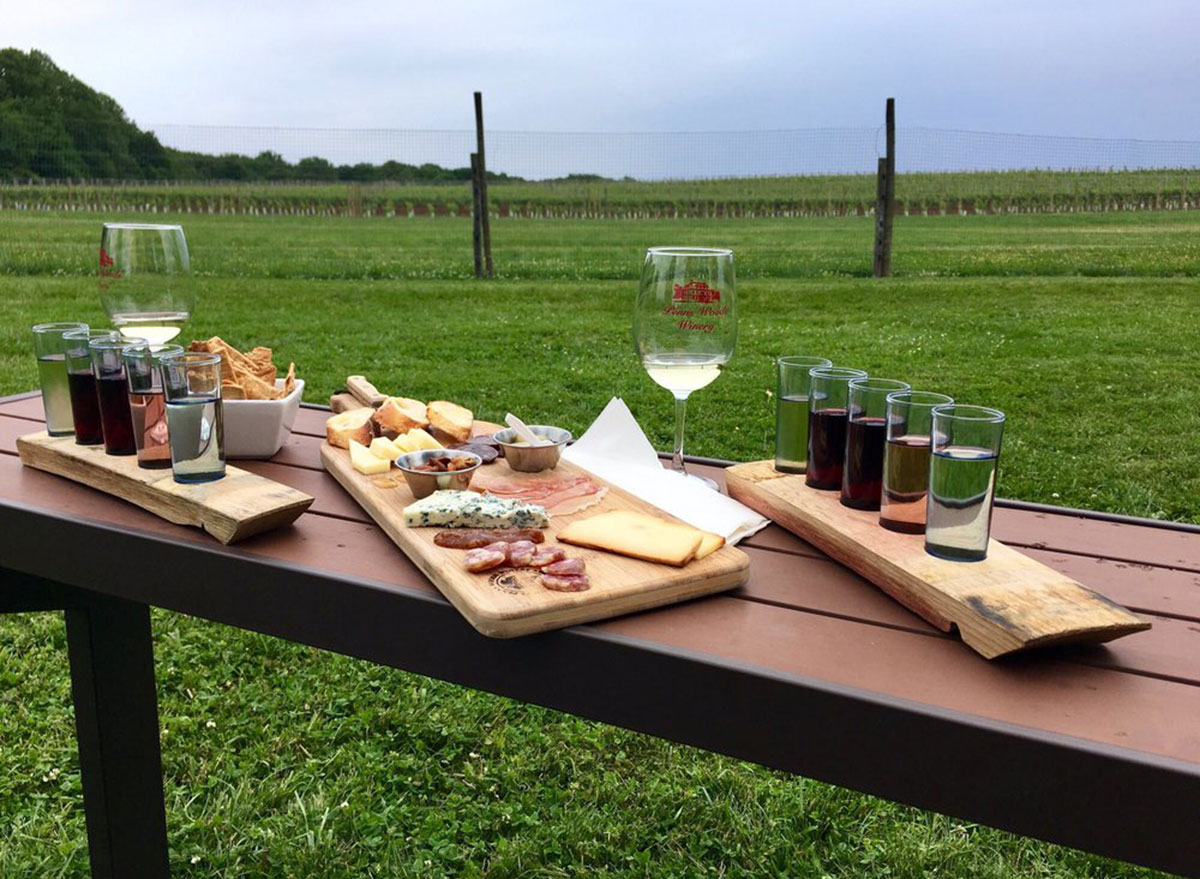 Penns Woods is a family-owned winery founded by an Italian immigrant with a passion for winemaking. Enjoy a sampling of the reds, whites, and rosés while listening to local musicians performing in the tasting room.
RHODE ISLAND: Newport Vineyards in Middletown
It's hard to picture a vineyard and winery occupying 100 acres in Rhode Island, but Newport Vineyards is a Napa-inspired oasis on the coast of the U.S.' smallest state. The vines are meticulously managed their to produce the best possible fruit for the large array of varietals, and benefit greatly from the moderate microclimate of Aquidneck Island. While you're there, you can also sample craft beers from the microbrewery.
SOUTH CAROLINA: City Scape Winery in Pelzer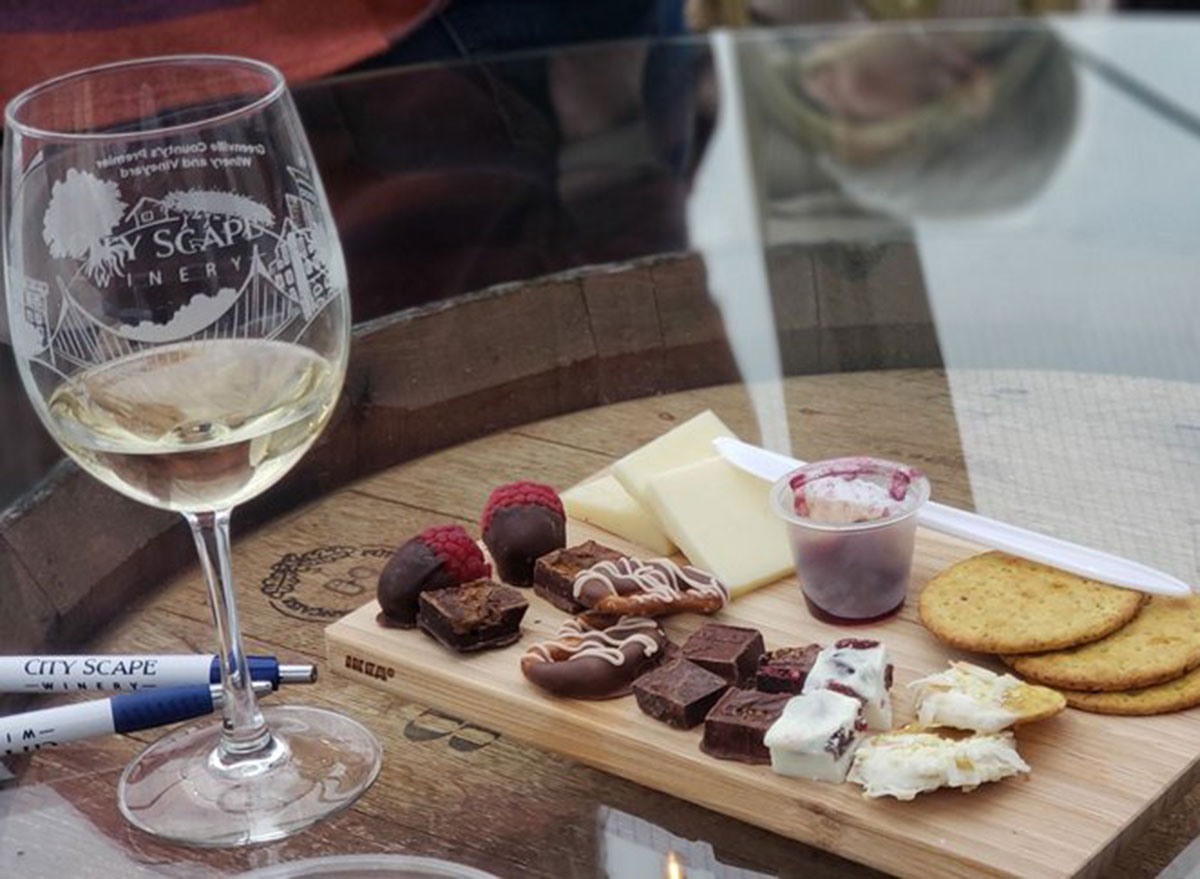 Overlooking the Greenville skyline, City Scape is run by the youngest winemakers in the southeastern U.S. Not only can you sample their in-house varietals, but you can also take one of their U-Vint classes to learn how to make your own wine.
SOUTH DAKOTA: Prairie Berry Winery in Hill City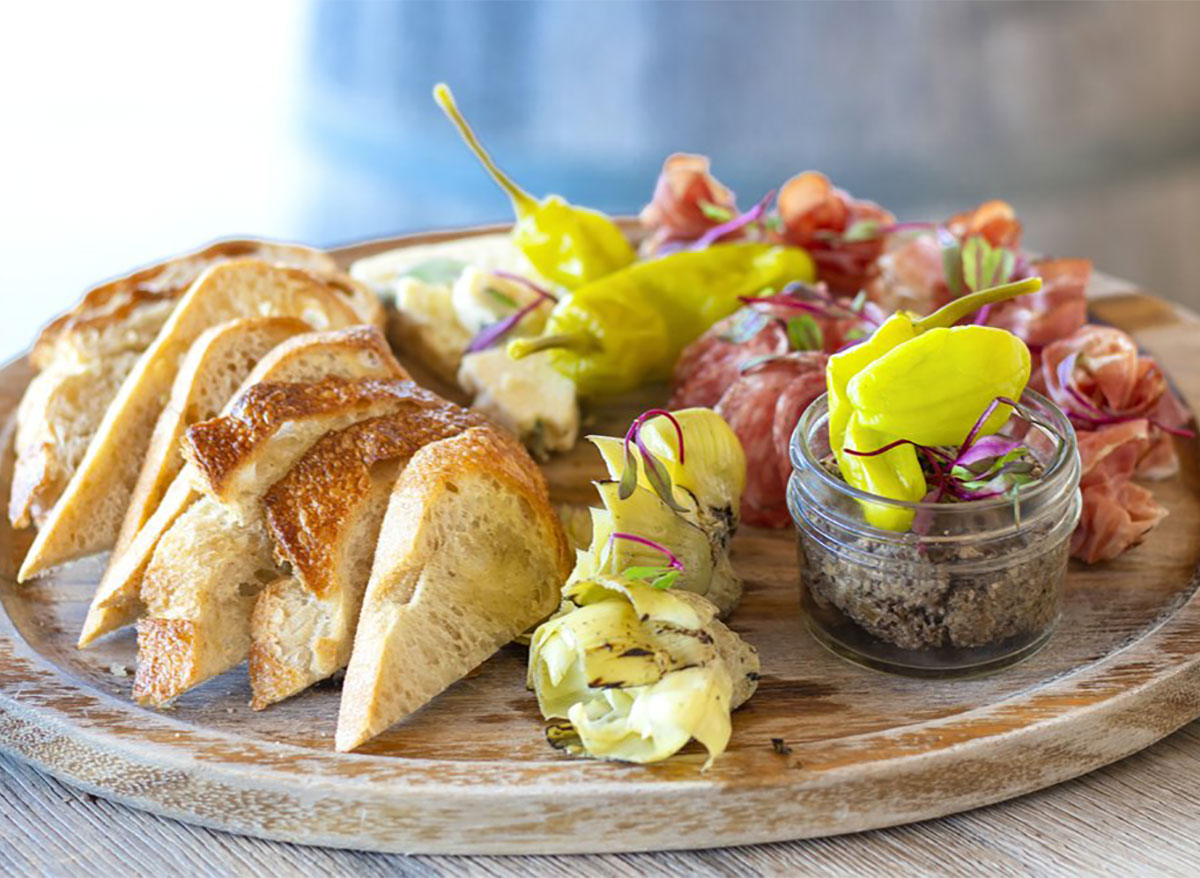 If you're an admirer of midwestern and South Dakotan culture, Prairie Berry is definitely worth a visit. The winery's founder graduated from college with chemistry and biology degrees, so her approach to winemaking is very precise and rooted in a scientific process. She inherited the bug from four generations of Czech winemakers and merged her culture with her love for South Dakota and its native prairie berries.
TENNESSEE: Arrington Vineyards in Arrington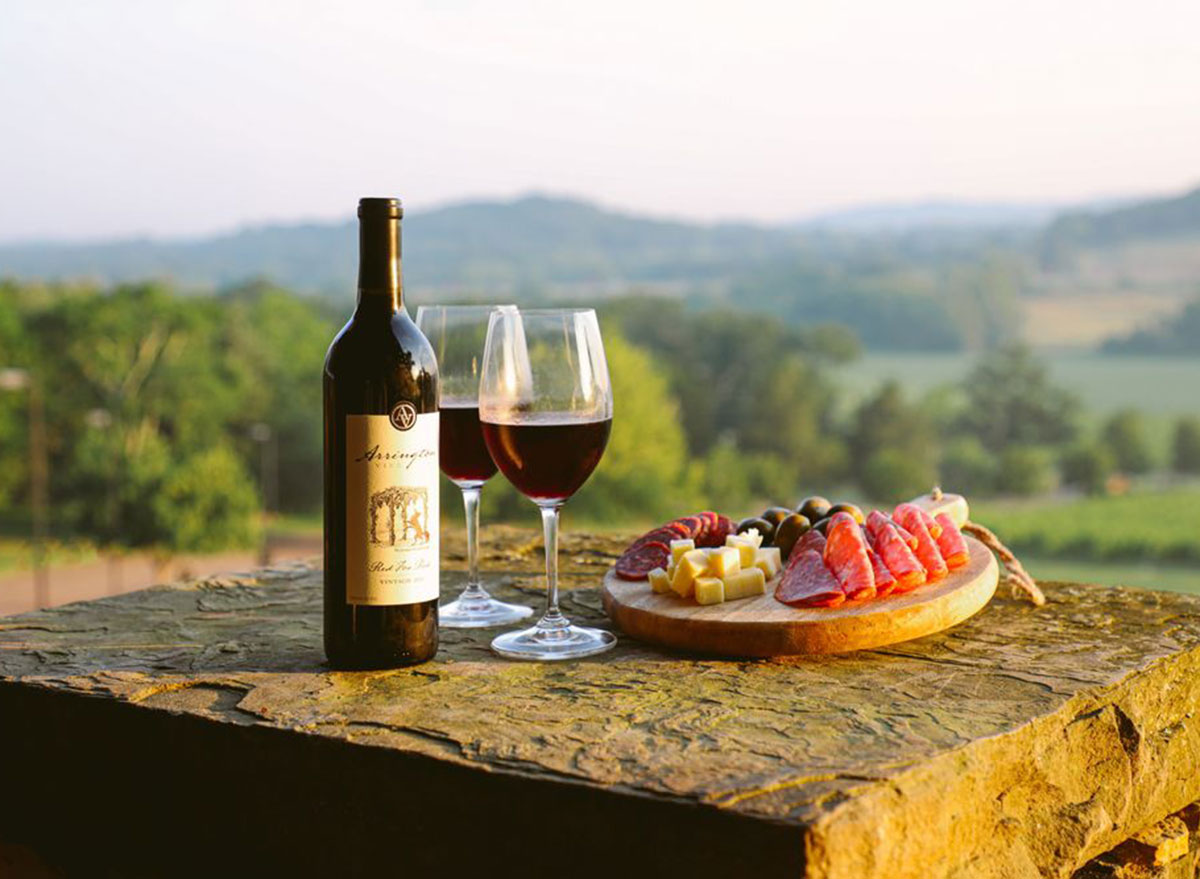 Arrington Vineyards is a relatively new winery having only been founded in 2007, but it has certainly made an impact. The winery is run by three notable Nashville figures, making it the perfect escape for people in Music City. The farm where the vineyard was built was originally a 25-acre hog farm, but has now spread to much of central Tennessee. The winery is best known for its syrah, so make sure you grab a glass when you go for your tasting.
TEXAS: Grape Creek Vineyards in Fredericksburg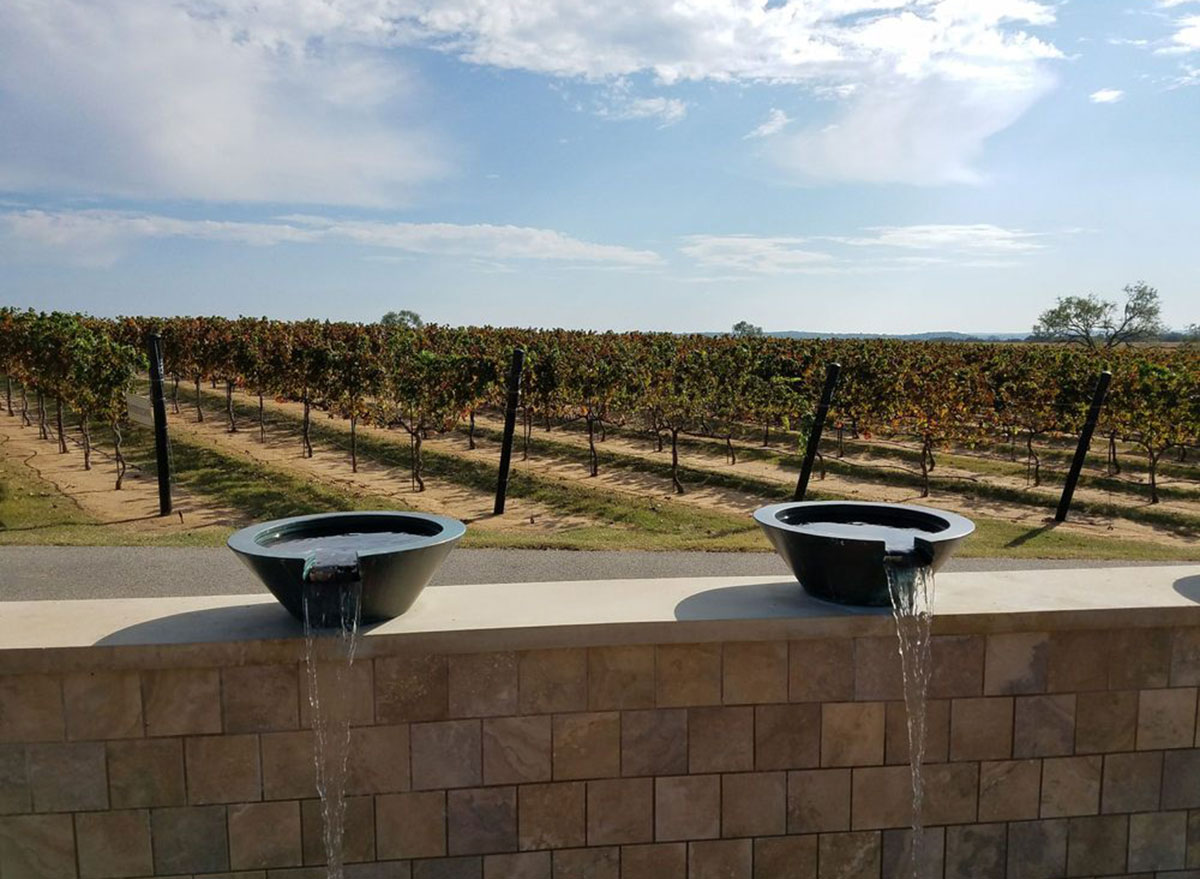 With almost 2,000 Google Maps reviews averaging at 4.5 stars, you know that Grape Creek is a must-see. The vineyard is home to both Grape Creek Estate (their flagship brand) and Heath Vineyards Estate (which specializes in sparkling wines). The owners have strived to create a "Tuscany in Texas" feeling across the winery so you can really enjoy a European vineyard experience coupled with the comfort of southern hospitality.
UTAH: Moab Castle Creek Winery in Moab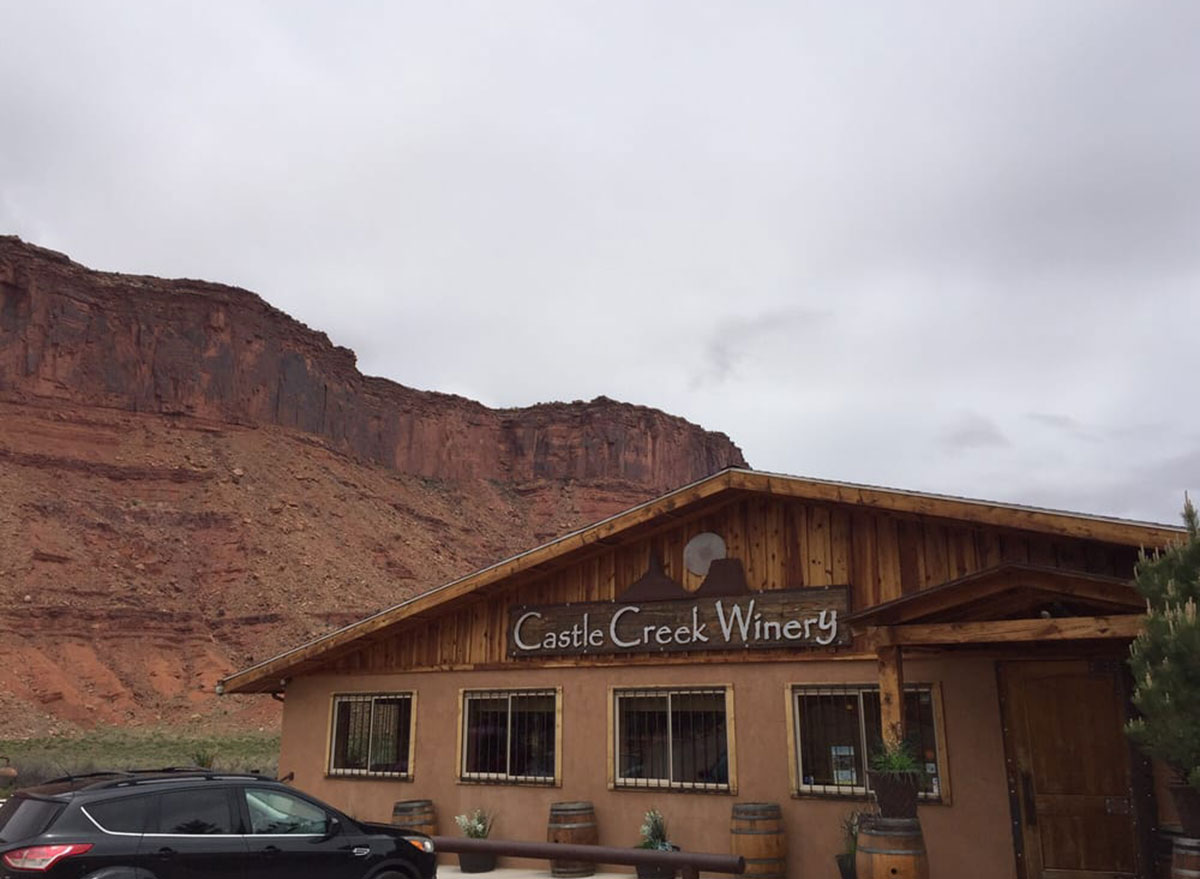 Come for the #views and stay for the wine. Moab is a hotspot destination for outdoorsy people looking for a little escape and out-of-this-world rock formations, but did you know that you can also spend your trip doing a little wine tasting? Castle Creek lies along the Colorado River on a historic ranch, and is a perfect place to grow grapes for pinot noir, merlot, cabernet sauvignon, Chenin blanc, and chardonnay, thanks to the region's dry climate.
VERMONT: Boyden Valley Winery & Spirits in Cambridge
The 800 acres of farmland that the Boyden Valley Winery sits on has been with the same family for over 100 years. Now, the farm is home to beef cattle, organic corn, hay, soybeans, a sugarbush with around 10,000 taps, a wedding barn, and a vineyard with cold climate grapes, rhubarb, and a winery. It really is a one-stop shop for a full family-owned farm experience. Don't forget to pick up some maple syrup with your wine.
VIRGINIA: The Winery At Bull Run in Centreville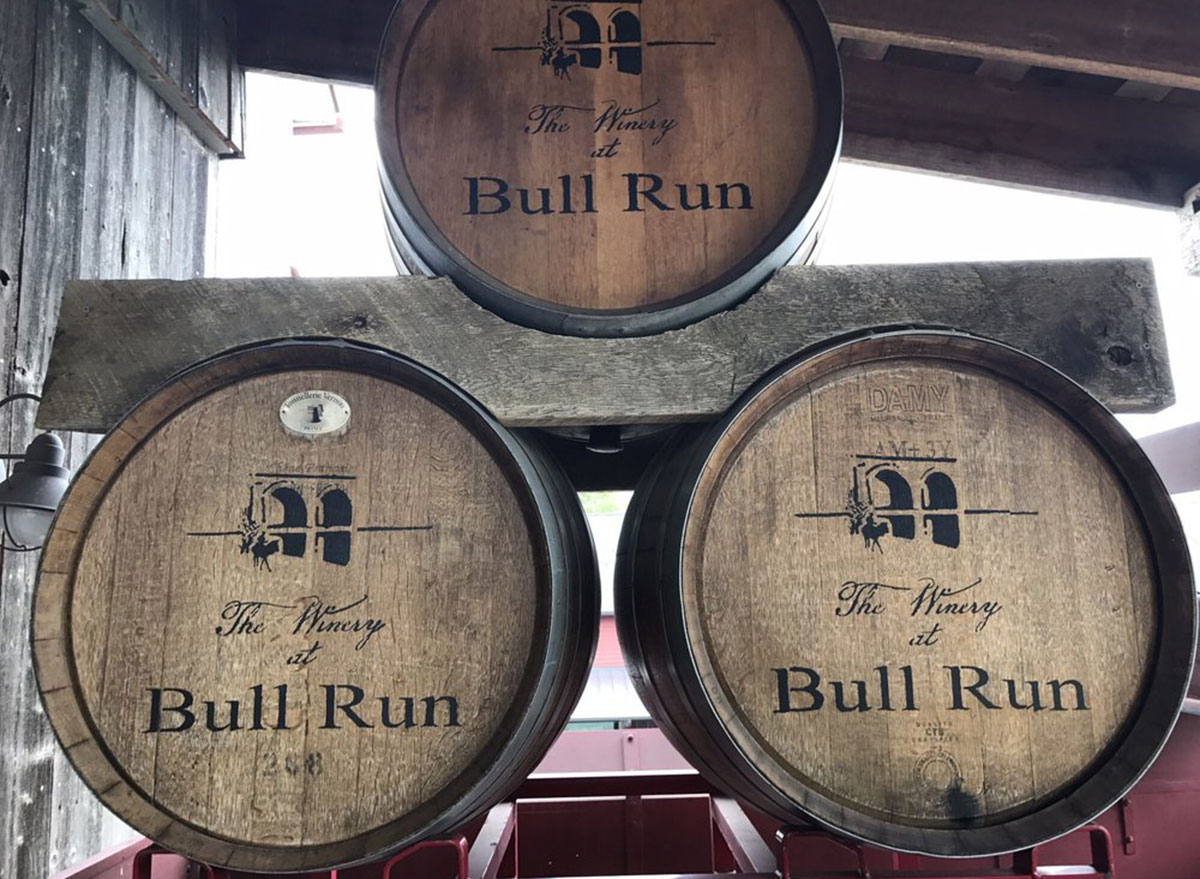 Just outside Washington, D.C., The Winery At Bull Run is an easy day trip if you're spending time in the city. The estate Norton and estate rosé of Chambourcin are both multiple award-winners, so those are definitely worth a try. And if you visit to stay for a tasting, you should enjoy your wine out in the Hillwood Ruins, a patio that was constructed from the stone ruins of the property's estate house from the 1800s.
WASHINGTON: Chateau Ste. Michelle Winery in Woodinville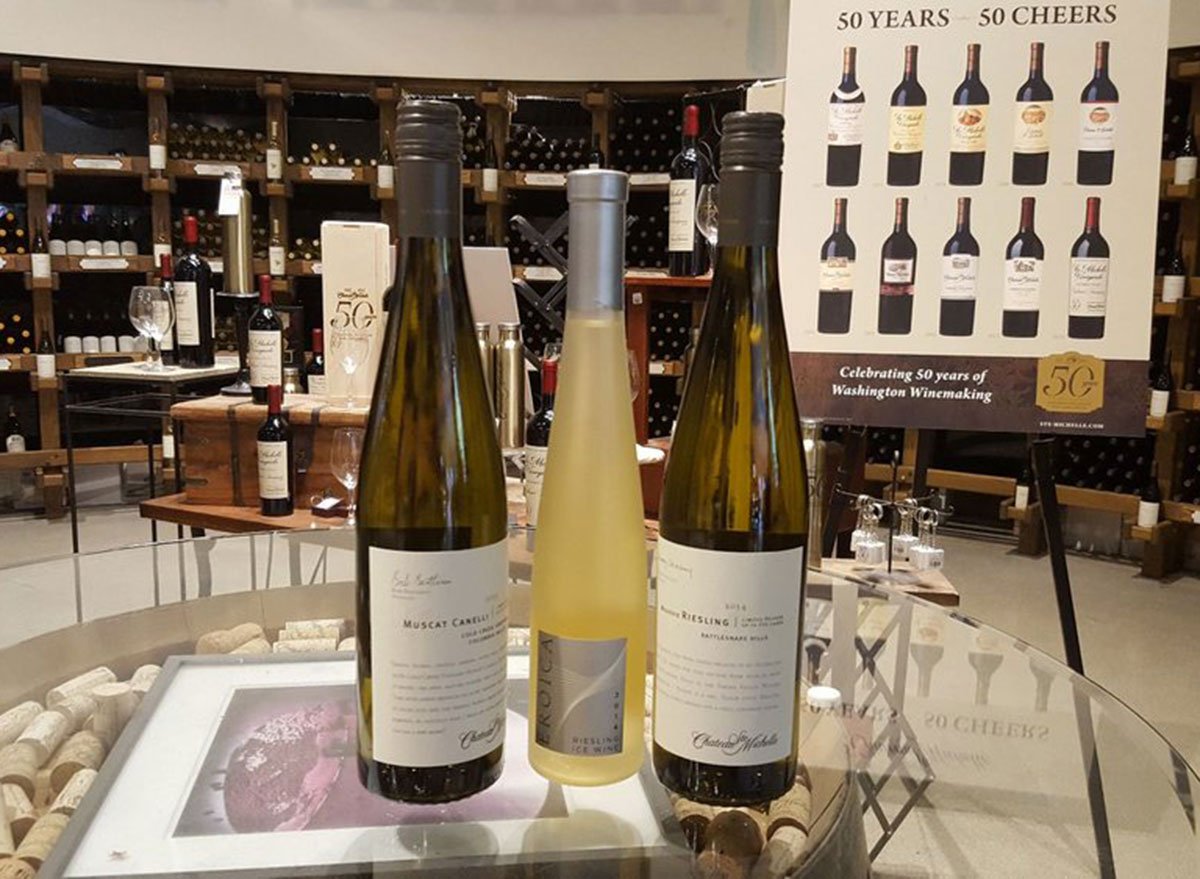 Originally founded around the time when Prohibition was repealed, Chateau Ste. Michelle has quite a rich history in the Pacific Northwest. Now, over 100 years later, the vineyard features two state-of-the-art wineries: one for reds and the other for whites. The elegant French-inspired estate makes for a beautiful setting so you can enjoy one of their signature Columbia Valley wines.
RELATED: The Best Red Wines to Buy Right Now, Say Experts
WEST VIRGINIA: Forks Of Cheat Winery in Morgantown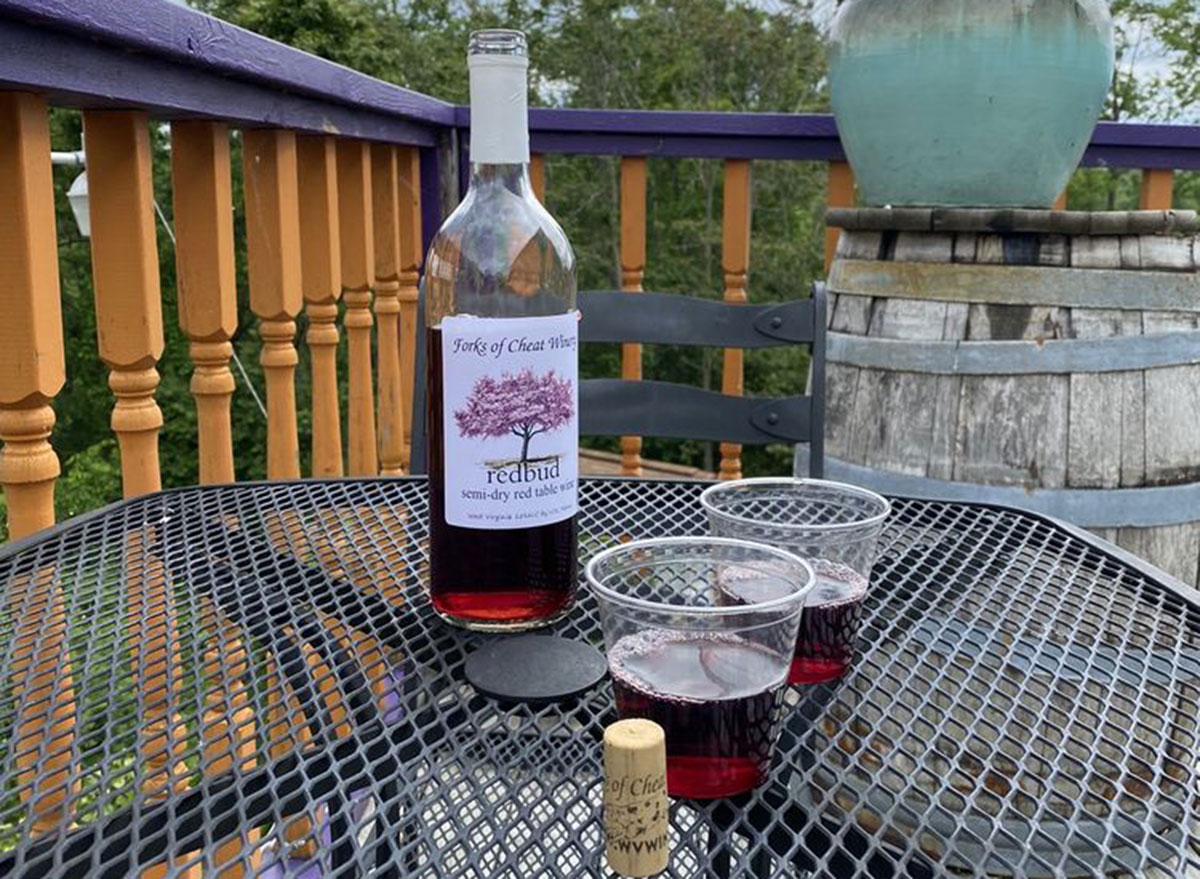 Forks Of Cheat Winery has all the charm of a traditional estate with the culture of Appalachia. The 16-acre vineyard grows French hybrid and American grapes to produce wine that is distributed state-wide. In addition to the reds and whites, the winery also produces a wide variety of fruit wines, ranging from peach and plum to an array of strawberries.
WISCONSIN: Wollersheim Winery & Distillery in Prairie Du Sac
Few things go better with wine than cheese, and Wisconsin has that in spades. Wollersheim Winery is recognized as a National Historic Site, which is reason enough to visit. Four different types of grapes are grown that can withstand the Wisconsin winters to make the seven estate wines, which range from light whites and blushes to deep, full-bodied reds. You should also check out the distillery to try the signature 100%-Wisconsin Coquard Brandy.
WYOMING: Jackson Hole Winery in Jackson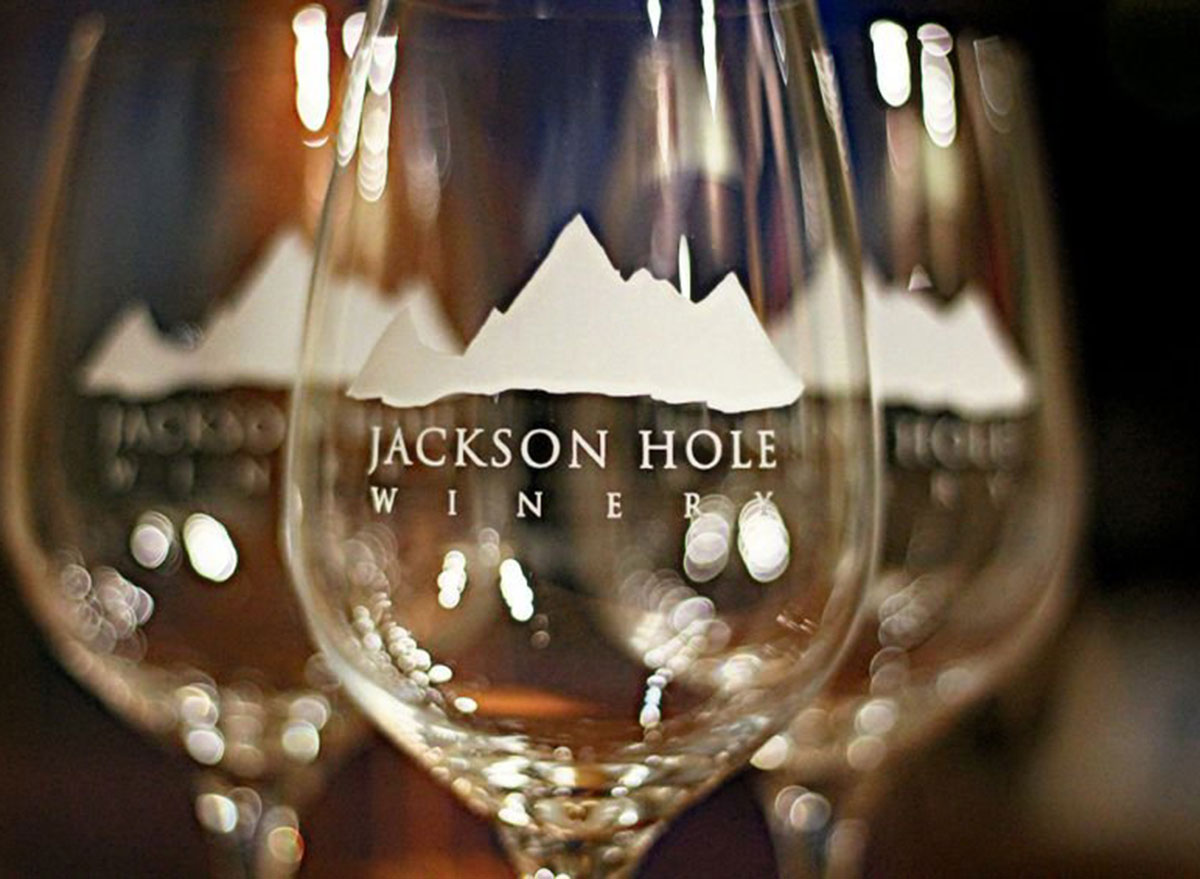 Jackson is one of the most scenic cities in the country, and Jackson Hole Winery is one of its most beautiful attractions. It sits next to Spring Creek with a gorgeous view of the mountains, about 6,200 feet above sea level. The mountain air and elevation help the grapes develop their distinctive flavor profile and actually aid in the fermentation process, so each varietal and vintage is especially unique.
Read more about your favorite wine and what to buy now:
Sarah Jessica Parker's New Wine Contains This Unexpected Ingredient
One Major Side Effect of Drinking White Wine Instead of Red