We Taste-Tested Popular Store-Bought Frozen Yogurts—This One Was the Best
We spooned our way through five fro-yo options to come to this conclusion.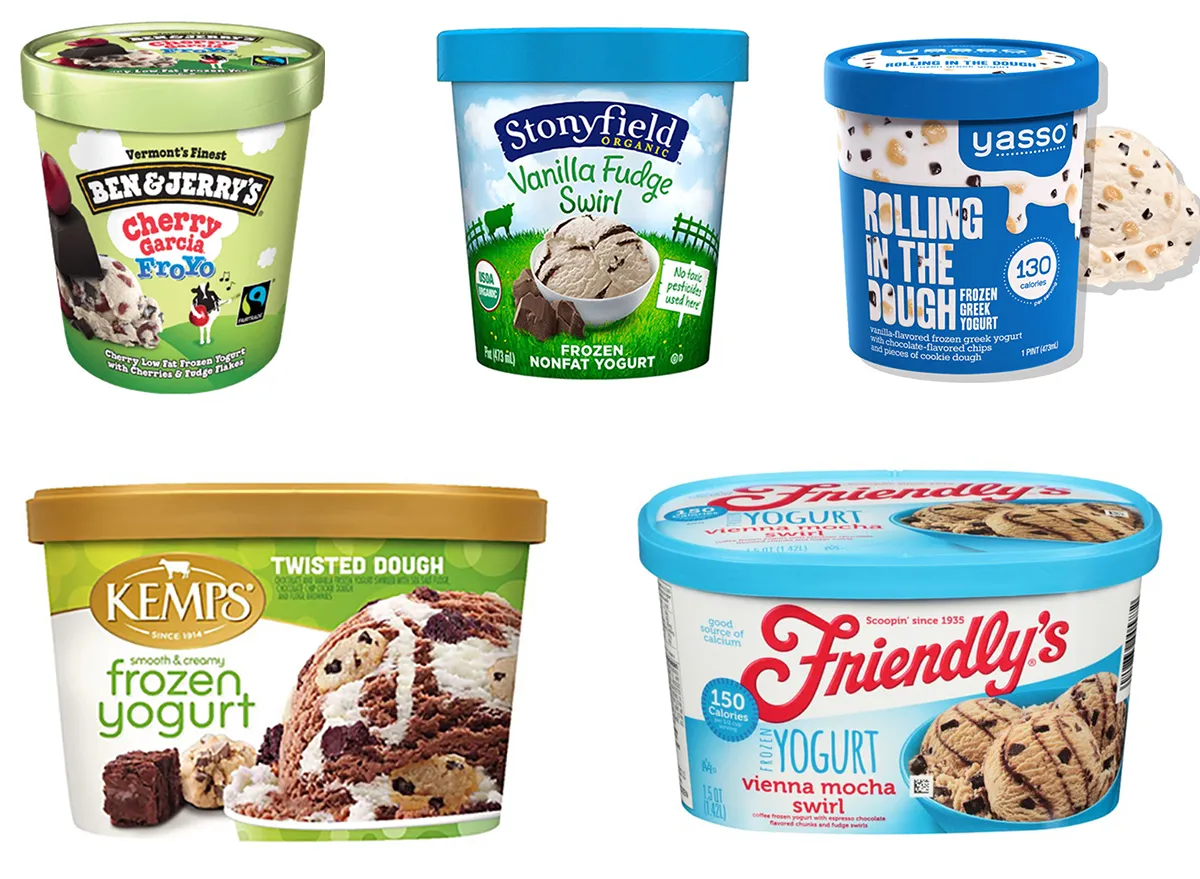 Sinking your teeth into a frozen, sweet treat during a swelteringly hot summer's day may just be one of the most satisfying sensations. Ice cream is a classic go-to treat, but for the person who prefers something lighter and creamier, frozen yogurt really takes the cake.
The team at Eat This, Not That! came together for an old-fashioned taste-test featuring five different flavors of frozen yogurts from five popular brands you can buy in supermarkets. Despite all of the varying flavors, each fro-yo included chocolate, either through a swirl of fudge syrup, chocolate chunks, or a chocolate yogurt base. We attempted to include a variety of flavors to satisfy a wide range of palates. We assessed the rank by taking the median of each taste tester's score after having each taste tester rank their favorites and provide feedback on each option.
Now, see what we deemed the best store-bought frozen yogurt.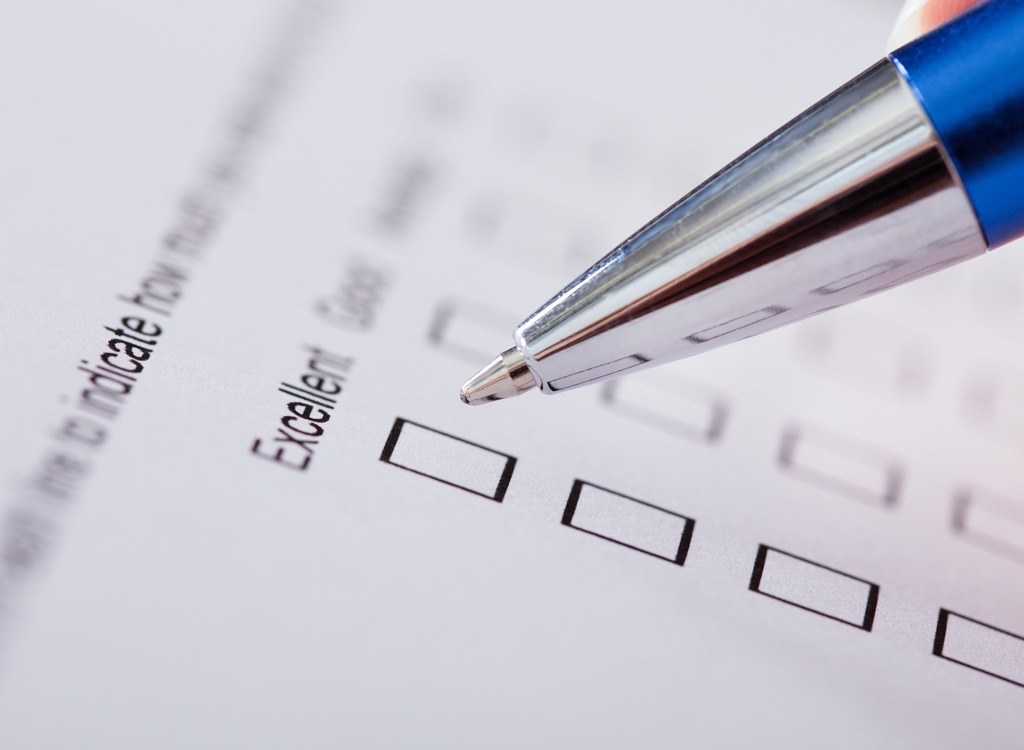 Our metric was pretty simple, it was all about…
Texture & Taste
When it comes to frozen yogurt, we like to think of a treat that tastes sweet like ice cream but has a lighter texture. You'll notice we awarded big points to those that demonstrated a balance of the two.
From Worst to Best…
Yasso—Rolling In The Dough Frozen Greek Yogurt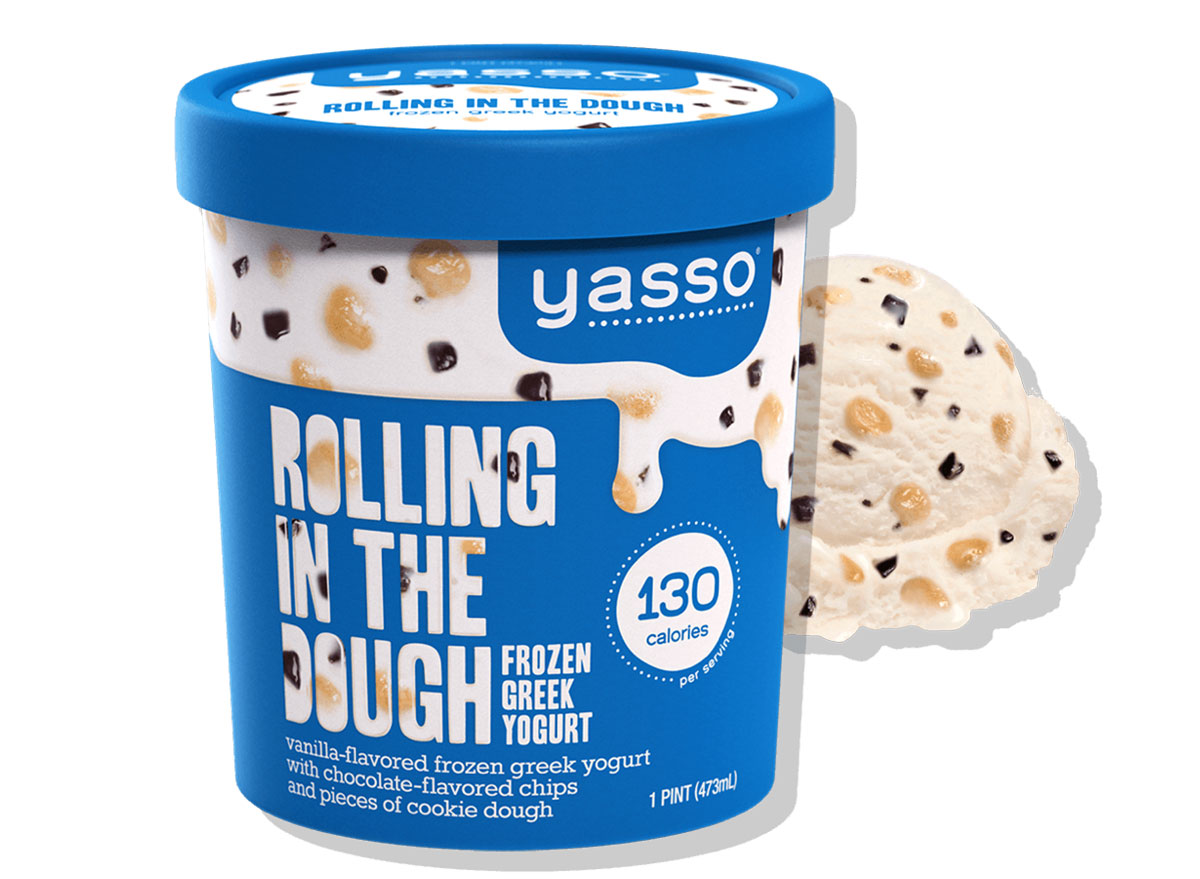 Texture & Taste: This fro-yo was definitely not as smooth as the other candidates, which is likely because it's made from Greek yogurt as opposed to traditional yogurt. Greek yogurt is much thicker in texture than regular yogurt because whey—the liquid residue from curdled and strained milk—has been removed. This also explains why this yogurt had more of a tangy, almost sour flavor rather than a sweeter one. The chunks of cookie dough were a great addition, though.
Eat This, Not That! Verdict:
Collectively, we were not impressed with Yasso's Rolling in the Dough fro-yo. This could be due to differences in palate preferences, though. Personally, I liked this frozen yogurt the best because I love Greek yogurt. However, for those who prefer a sweeter taste and smoother texture, it was not nearly as palatable. One taste tester said, "I would compare this to the non-fat plain Greek yogurt in the yogurt aisle. You know it's healthy, but it's certainly not the best."
Another taste tester shared that the fro-yo coated her mouth, leaving behind a sour taste, and another described the vanilla flavor as watery. What's striking about the lack of sweetness in this yogurt is that it comprises the same amount of sugar in a half-cup serving as two of the other frozen yogurts we sampled that were notably sweeter.
Between the texture and the lack of sweetness, this one came in last place. However, if you're a Greek yogurt fan like I am, this may end up being your top pick like it was for me! It's still worth tasting to find out.
Stonyfield—Vanilla Fudge Swirl Frozen Yogurt
Texture & Taste: This fro-yo had a very creamy consistency and a strong fudge flavor, but it was almost too sugary sweet for our liking. Also, it has a very milky taste.
Eat This, Not That! Verdict:
If you've ever had Stonyfield's Chocolate Underground Yogurt, which requires you to stir the chocolate syrup that's sitting at the bottom into the vanilla yogurt, then this fro-yo flavor may make you think of that. Stonyfield yogurts—whether frozen or regular—undoubtedly have their own distinctive flavor, so if you're not familiar with the brand, the taste may be a bit jarring. However, the fudge swirl is what carried this yogurt into fourth place.
"The fudge tastes like what you'd get at an ice cream shop. The frozen yogurt [itself] is nothing special," one taste tester admitted. Another tester said, "This one is what I would expect from frozen yogurt. It has some tang and is lighter than normal ice cream."
While some were a fan of the creamy flavor and strong notes of fudge, the overall consensus was that the actual yogurt tasted a bit off and the fudge swirl actually made it a bit too sweet.
Friendly's—Vienna Mocha Swirl Frozen Yogurt
6254a4d1642c605c54bf1cab17d50f1e
Texture & Taste: This frozen yogurt is very creamy and had a prominent coffee flavor between the mocha syrup and espresso chocolate chunks swirled within. There was also a pleasant salty aftertaste, similar to what you would experience after taking a sip of a caramel-infused mocha drink with a dash of sea salt.
Eat This, Not That! Verdict:
Friendly's Vienna Mocha Swirl frozen yogurt nearly tied for second place, with its sweet notes of coffee from the coffee extract and chocolate chunks scattered throughout the yogurt. However, what thwarted this fro-yo from snagging second place was its almost too rich flavor.
"Strong coffee flavor; it's very rich and I couldn't eat too much of this," wrote one taste tester. Another taste tester was not enthused with the coffee flavor, "Tastes like artificial sugar and the coffee taste is not fresh."
However, other taste testers commended this frozen treat for its creamy consistency and found it hard to believe that it was yogurt and not ice cream. One who liked the frozen yogurt appreciated the powerful, rich flavor. At the end of the day, it really comes down to preference and what you have trained your palate to like and dislike.
Ben & Jerry's—Cherry Garcia FroYo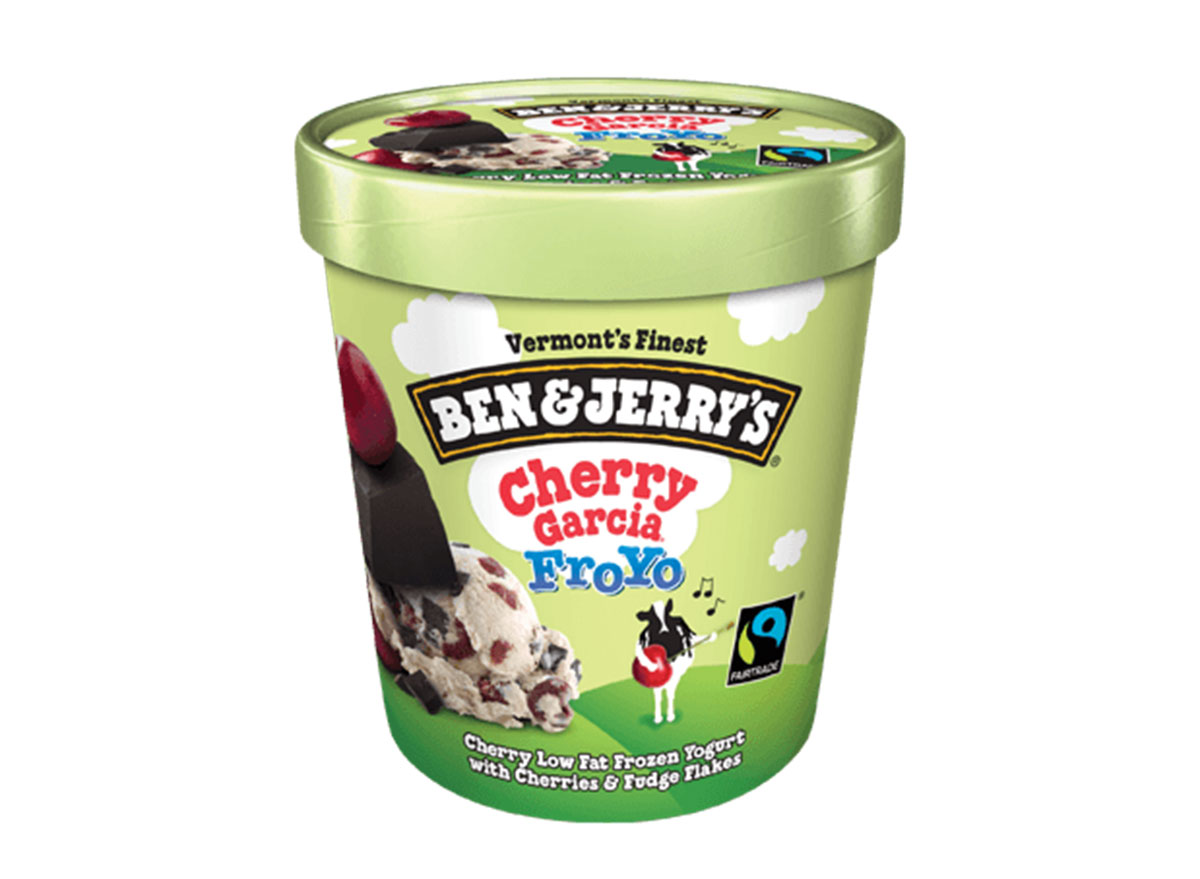 Texture & Taste: The cherry flavor was very prevalent in this creamy frozen yogurt. The chunks of real cherries and fudge flakes made this fro-yo stand out. Overall, it was very sweet and creamy.
Eat This, Not That! Verdict:
You can't go wrong with Ben & Jerry's ice cream, which is likely why their frozen yogurt did not disappoint. The fact that this fro-yo is a cherry flavor—which is a very distinct taste—and nearly all of our team ranked this flavor as one of their top picks says a lot about the quality of this frozen treat.
"The cherry chunks are delicious, especially paired with the chocolate chunks," said one taste tester. Another said, "As someone who doesn't like cherry flavors, I was very into it."
We all appreciated the chunks of real cherries that complemented the delicate fudge flakes. However, it fell short of first place because that decadent frozen treat was truly unrivaled…
Kemps—Twisted Dough Frozen Yogurt
Texture & Taste: It's very sweet between the chocolate frozen yogurt, and bits of sea salt fudge, chocolate chip cookie dough, and fudge brownies. There are a lot of flavors going on in this yogurt, but they remarkably work so well together, making for a dynamite treat. Our taste testers described the texture as fluffy and creamy.
Eat This, Not That! Verdict:
This frozen yogurt blew us away. As a group of food writers, we are always on the search for foods that stimulate the taste buds, and this fro-yo took first place.
"The best! The brownie and cookie dough chunks are great," exclaims one taste tester. "Solid chocolate and vanilla flavor; feels light."
"Winner! This is light and fluffy—keep it away from me or I will eat all of it and not share," wrote another.
We agree that this fro-yo would be a great choice for someone who loves ice cream but is looking for a frozen treat with a lighter, fluffier texture. But don't be fooled: the brownie and cookie dough bits make this fro-yo very rich in flavor. We also noticed that it melts a little slower in the mouth than the other varieties, which gave us more time to really taste all of the competing flavors at once.