I Tasted 6 Pretzel Brands & This Is The Best
This brand lived up to our crunchiest expectations.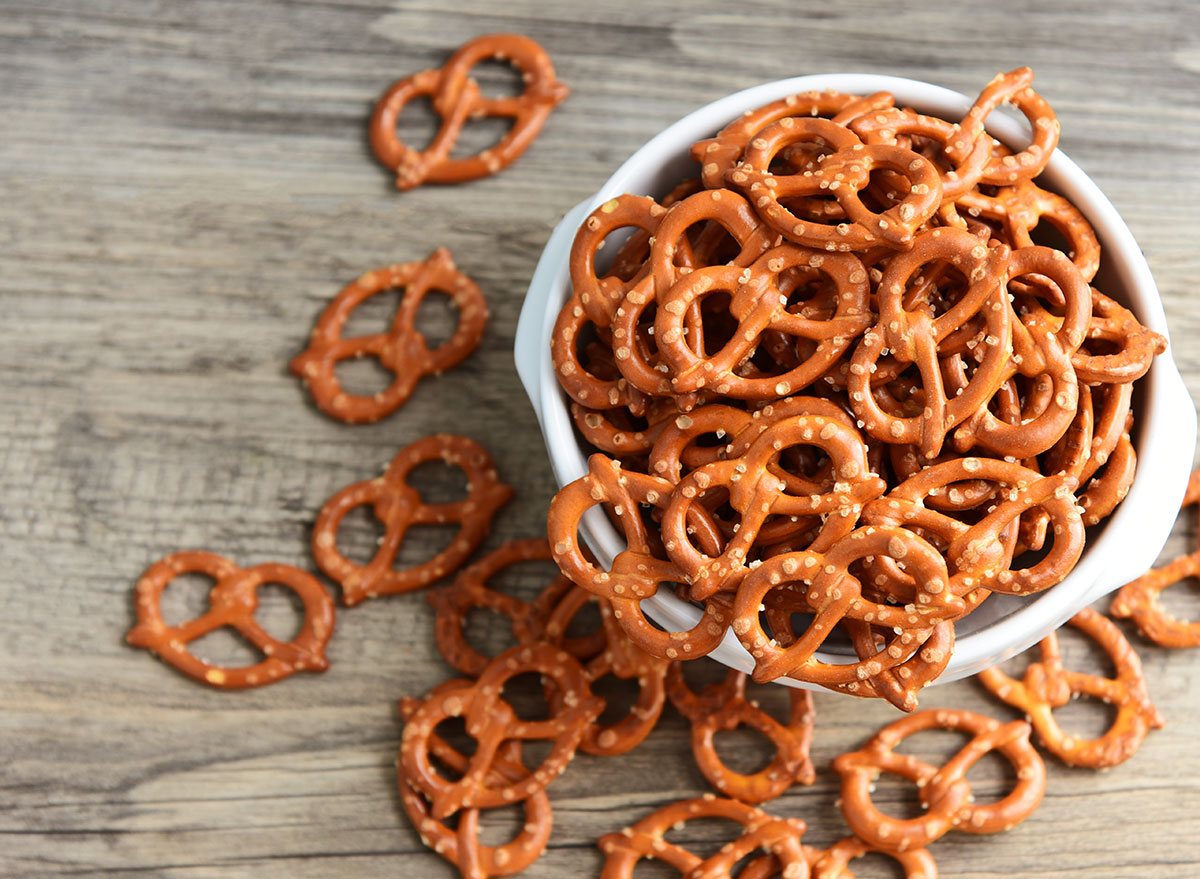 Pretzels are a crunchy, salty snack that often shows up at parties but are rarely the guest of honor. Bowls of sticks, twists, and chunks are left behind as people reach for wavy potato chips that are perfect for scooping up large amounts of dips. But I'm here to say that the humble pretzel is severely underrated as a snack with some cheese in the afternoon.
Salt-covered, perfectly golden pretzels are a real treat, especially when paired with a hearty cheese or French onion dip. To find out what pretzels are the absolute best, I headed to a few of my local grocery stores to raid the shelves and pick up what I could find. While some of the big brands were sold out thanks to the ongoing supply chain issues I was able to find six pretzels that were worth ranking. Here's what I discovered. Plus, check out We Tasted 6 Potato Chip Brands & This Is the Best!
Worst: Simply Stellar, Stellar Braids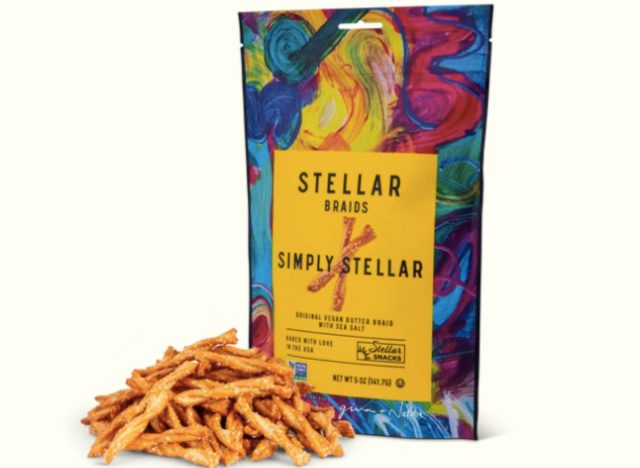 The Simply Stellar braided pretzels are by far the worst ones I tasted. For starters, the pretzels are a twist of two strands versus a braid of three. The pretzels lacked any distinguishable flavor and the salt seemed to have lost its saltiness. Another mark against these pretzels is that they basically crumbled into an unappetizing dust in my mouth immediately after biting into them. Skip these and go for another brand if you can.
Quinn Whole Grain Sea Salt Pretzel Twists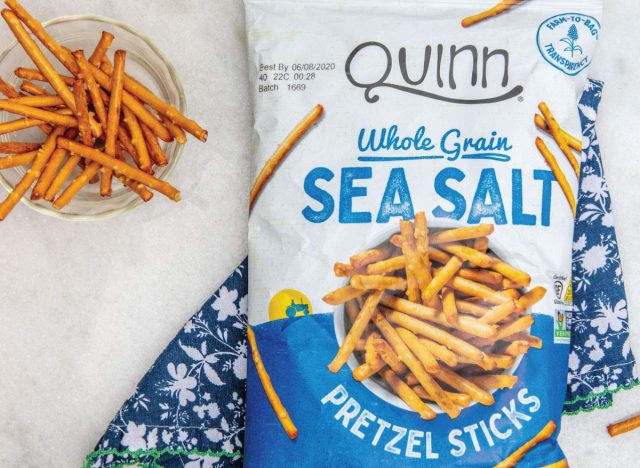 The Quinn Whole Grain Sea Salt Pretzel Twists are a good choice if you're specifically looking for a whole-grain pretzel, but otherwise, it misses the mark of a true pretzel experience. The pretzel lacked any sort of salt flavor and was very one-note, and that note was boring. While the pretzel did have a good crunch, it was almost too crunchy and hard to get through.
Snyder's of Hanover Pretzel Sticks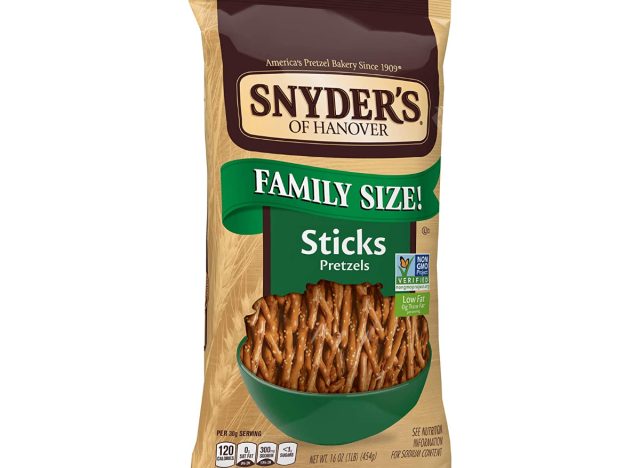 This is probably one of the brands and styles we all think of when we hear the word pretzel. The sticks are easy to hold and dip into things, as well as being a creative skewer for cheese cubes and salami pieces on an appetizer tray. In addition, these pretzels are fairly crunchy but could be more crunchy, and they definitely needed more salt. Overall, these are a middle ground pretzel that will please most anyone, but there are better out there.
Snack Factory Pretzel Crisps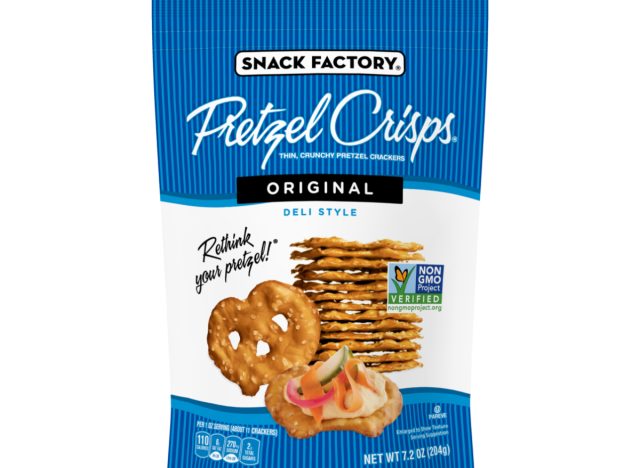 The Snack Factory Pretzel Crisps are one of my personal favorites and just barely missed making the top spot. The flattened pretzels are more like chips in size and shape versus a traditional twist or stick. While these are crispy and crunchy, the salt is just a little too much because there's so much more surface area to cover on the pretzel. I love these with a cheese ball or sweeter dip because the salt is balanced out better, but on their own, they are just slightly too salty.
Publix Big Twist Pretzels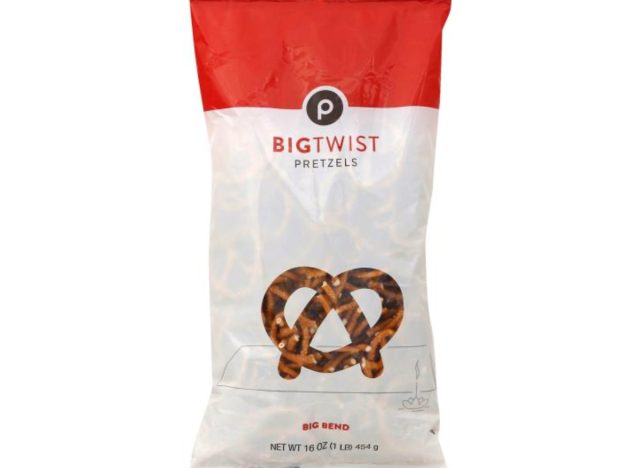 6254a4d1642c605c54bf1cab17d50f1e
Pretzel twists are another traditional shape that people can't seem to get enough of. These twists from Publix are about three times as big as their smaller counterpart. The pretzels are perfectly crispy and have a lot of salt, which I really enjoy. The structure is good for holding large amounts of dip without the pretzel breaking. If you're looking for a good party pretzel to put out on a snack tray this is it.
Best: 365 by Whole Foods Market, Pretzel Sticks Crunchy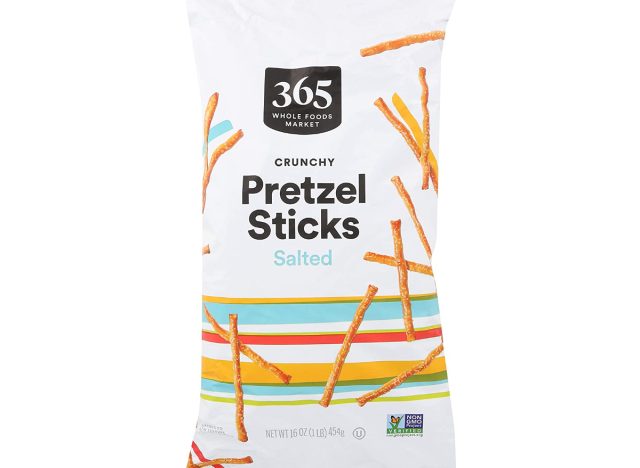 If you're looking for a pretzel that combines the best of crunch, salty, and a satisfying toasted flavor the 365 by Whole Foods Market, Crunchy Pretzel Sticks is the best option. The pretzel sticks are super crunchy without falling apart and making a mess of crumbs after every bite, and there's plenty of salt that will have you going in for more dip with these pretzels. The slight toasted flavor is nice and puts these above the rest with a deeper flavor versus just one note.
Check out more of our exclusive taste tests:
We Tasted 10 Popular Light Beers & This Is the Best
We Tasted 8 Hot Dog Brands & This Is the Best
We Tasted 6 Packaged Chocolate Chip Cookies & This Is the Best!
Megan duBois
Megan duBois is a travel and lifestyle journalist with bylines across the internet and in print at Delish, Conde Nast Traveler, Travel + Leisure, Yahoo Lifestyle, and more.
Read more about Megan