6 Best Tortillas and Wraps, and 5 to Avoid, According to a Nutritionist
Just because they're thin, doesn't mean they're better than bread.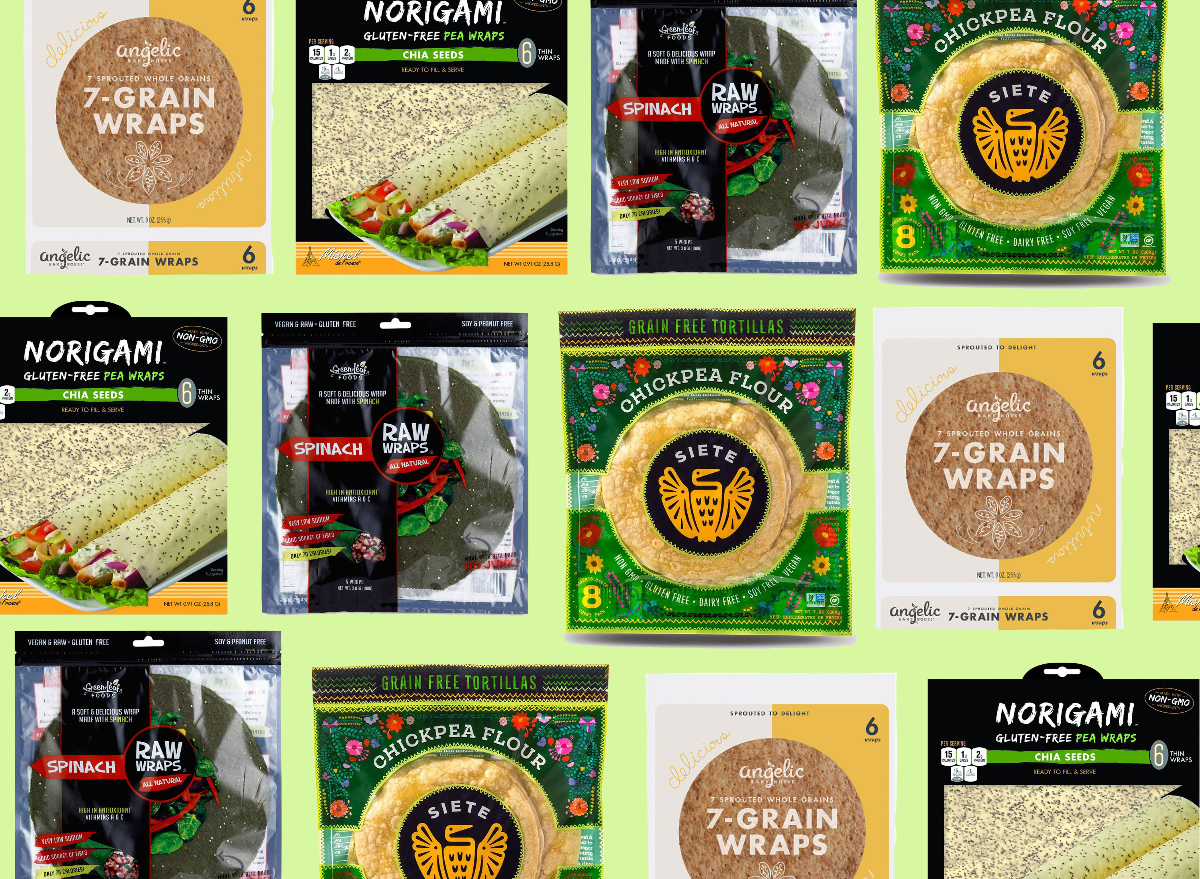 Somewhere in the 80s, wraps became a huge health food craze, thanks to a surge in low carb diets. So it's easy to automatically think of them as healthy, low-carb alternatives to bread. But only a handful of best tortillas and wraps truly deserve that label. Keep in mind that a wrap or tortilla can be made from a wide variety of ingredients (from grains to beans, cauliflower, and beyond). Therefore, it can range from a truly wholesome bread alternative, to a low-quality ingredient you're better off leaving out of your diet.
But just as important as the nutrition of the wrap itself is what you put inside it. Is it high sodium meats and cheeses or high fat fillings? Remember that a wrap isn't necessarily better than bread for a sandwich-like experience. It's a starting point for better choices.
How to choose the best tortillas and wraps
Here's what to look for when choosing tortillas or wraps:
Look at the serving size. Some serving sizes allow for two wraps, some only one, so make sure you're comparing them properly.
Understand the carbohydrate nomenclature. Don't assume that "no carbs" or "carb-free" means there are no total carbs. A label should say "zero net carbs" for it to truly mean there are no carbohydrates in the product.
If the wrap is grain-free, scrutinize the ingredient list. Grain-free products are more likely to be loaded with ingredients like gum, which can have negative effects on the GI system, and starches (tapioca starch, potato starch, corn starch etc.), which may be problematic if you're avoiding specific foods (GMO corn, for example).
The six healthiest tortillas and wraps
1. Siete Foods' Chickpea Flour Tortillas
One serving
: 2 tortillas (50 g), 150 calories, 4 g fat, 0.5 g saturated fat, 240 mg sodium, 24 g carbs, 2 g fiber, 2 g sugar, 4 g protein
Siete Foods should be one of your go-to brands if you're looking for healthy wraps made with alternative ingredients. We love their tortillas made from chickpea flour, but they also make version from cassava flour, almond flour, and more. The tortillas are free of soy, grain, gluten, and dairy, making them an ideal choice for those who have multiple allergies. If you look at the ingredient list, it is comprised of familiar foods like chickpea flour, tapioca flour, and apple cider vinegar. Guar gum, the only ingredient that may give you pause, is actually a thickening and stabilizing agent made from a bean.
2. Greenleaf Foods' Raw Spinach Wraps
One serving
: 1 wrap (20 g), 70 calories, 0 g fat, 35 mg sodium, 16 g carbs, 4 g fiber, 8 g sugar, 2 g protein
These spinach wraps really are packed with spinach and other natural ingredients. Flip over the package and you'll only see apple, spinach, onion, quinoa, coconut nectar, and psyllium husk on the ingredient list. It's the perfect option for those looking for a wrap made from whole foods and free of common allergens (including nuts, gluten, eggs, and soy).
While these wraps weigh only 20 grams a piece (many other on this list are closer to 40–50 grams), they do provide 4 grams of fiber as well as other vitamins and minerals from apples, spinach, and onion. The 8 grams of sugar from the coconut nectar are worth nothing, however, as that's slightly higher than the rest of our picks.
3. Angelic Bakehouse's 7-Grain Wraps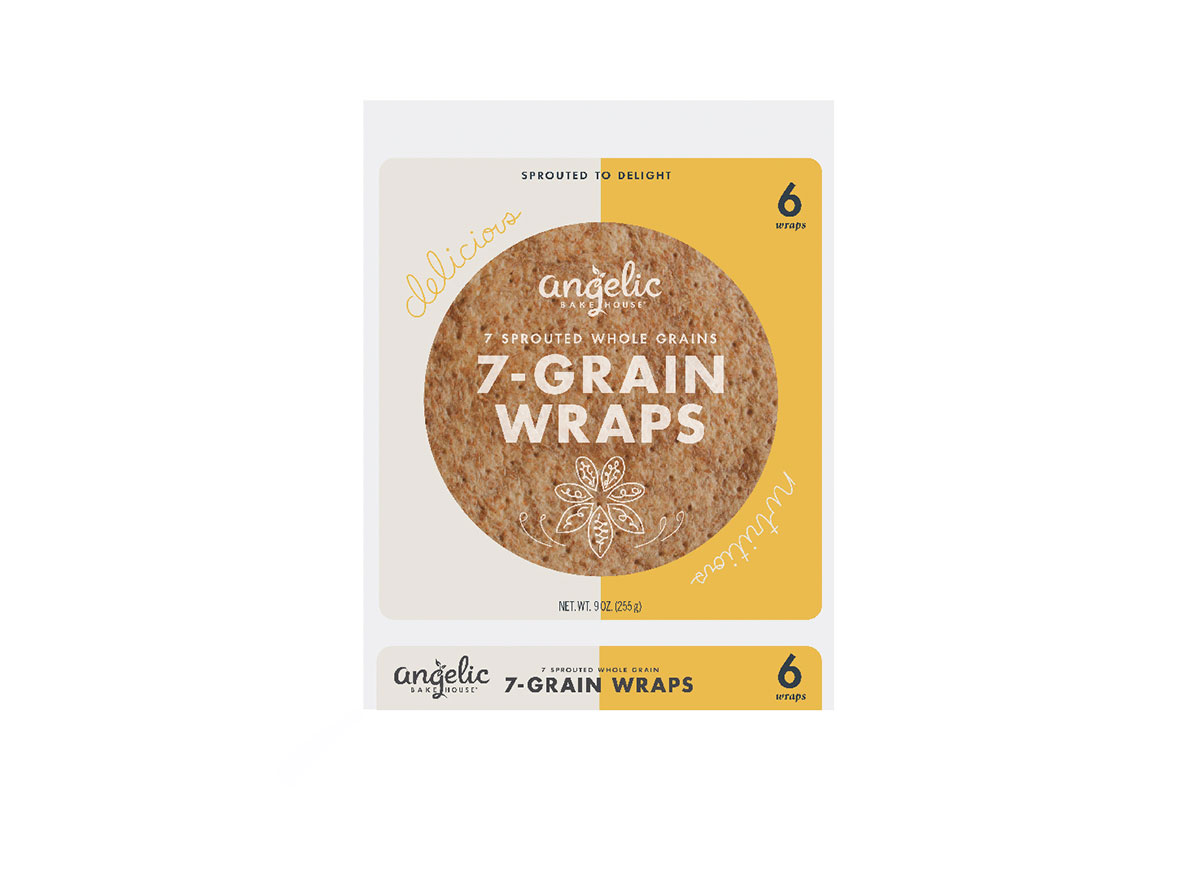 One serving
: 1 wrap (43 g), 100 calories, 2 g fat,0 g saturated fat, 270 mg sodium, 19 g carb, 4 g fiber, 1 g sugar, 5 g protein
These wraps are made from sprouted whole grains (wheat berries, quinoa, millet, oat groats, barley, rye berries and amaranth) along with whole wheat flour, wheat gluten, agave, oat fiber, and molasses. So what is a sprouted whole grain and does it actually matter? According to The Whole Grains Council, sprouted grains may be easier for some people to digest and the sprouting process can increase the amount and bioavailability of specific vitamins and minerals (like vitamin C). But keep in mind that there is still no regulation on the definition of 'sprouted grain', which means that it may vary from manufacturer to manufacturer.
These wraps include 19 grams of carbs with 4 grams of fiber and 5 grams of protein at 100 calories. They're vegan as well as dairy-, egg-, nut-, and soy-free—great for those with food allergies.
4. NUCO's Organic Coconut Wraps with Turmeric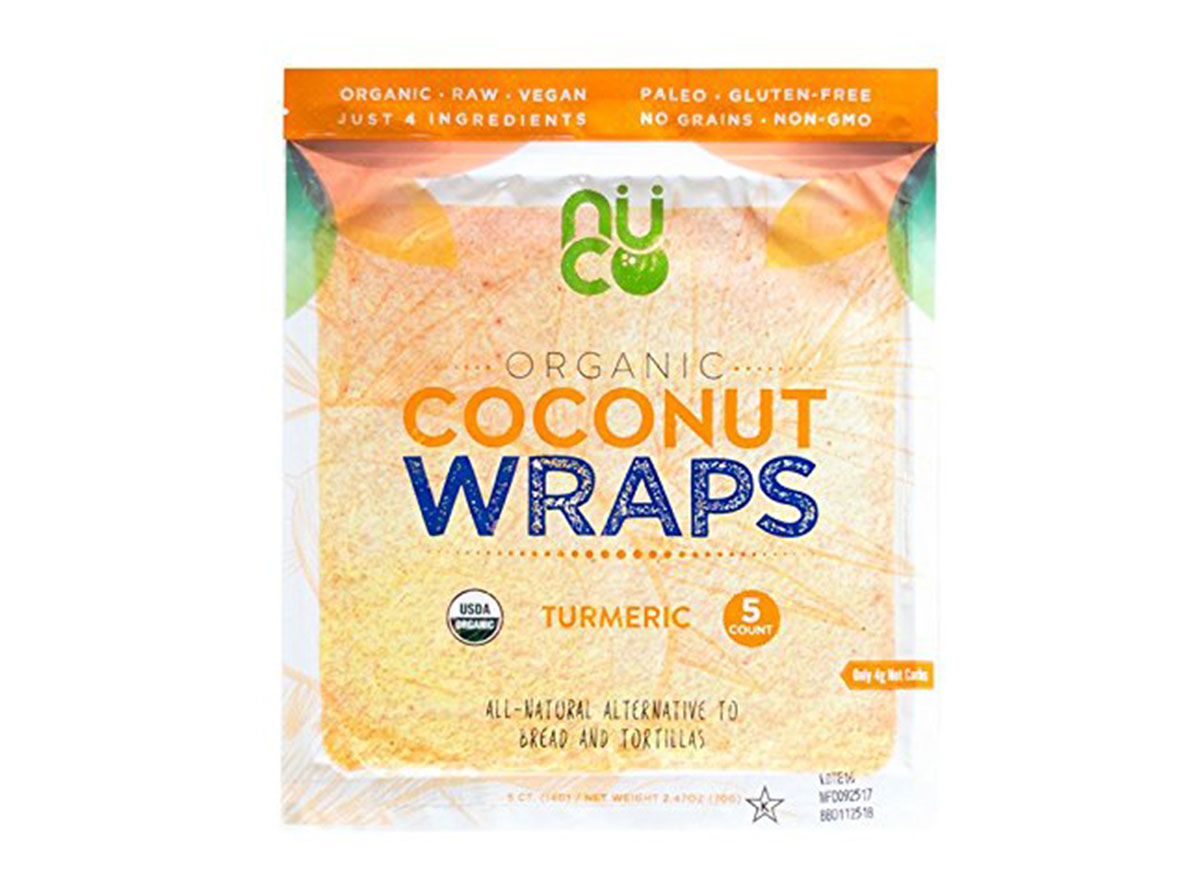 One serving
: 1 wrap (14 g), 70 calories, 5 g fat, 4.5 g saturated fat, 10 mg sodium, 6 g carbs, 2 g fiber, 3 g sugar, 1 g protein
Made from only four ingredients (three of them derived from coconut), this is one of the simplest wraps on our list. Our ears perked up when we hear the mention of turmeric in these wraps. But keep in mind that the turmeric needs to be paired with piperine, an ingredient in black pepper, for optimal absorption of curcumin. So, take it with a grain of salt.
Worth noting is that these wraps are higher in saturated fat due to the high coconut content (4.5 grams of the 5 grams of fat). On the plus side, they're only 6 grams of carbs and only 10 mg of sodium—lower than most other options.
5. Norigami's Gluten-Free Pea Wraps with Chia Seeds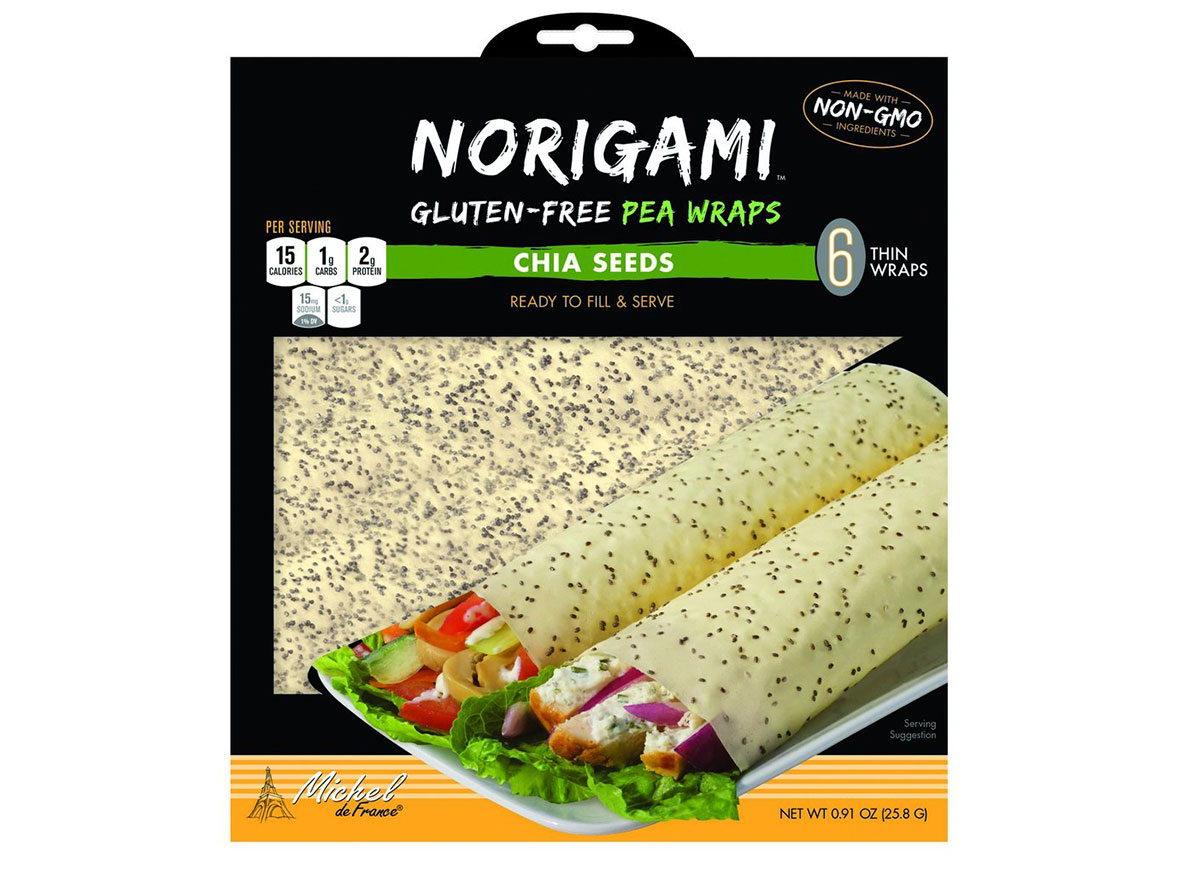 One serving
: 1 wrap (4.3 g), 15 calories, 0.5 g fat, 0 g saturated fat, 15 mg sodium, 1 g carbs, 0 g fiber, <1 g sugar, 2 g protein
These grain-free wraps are made with eggs, pea protein, agave, glycerin (used as a sweetener and preservative), and chia seeds. That's it! But don't be fooled by the 15-calorie label because these wraps are super tiny! At 4.3 grams per wrap, they're substantially smaller than other wraps which are closer to 40 or 50 grams in size. So these will work for you if you're just looking for a low-calorie hand-to-moth vessel for your other ingredients.6254a4d1642c605c54bf1cab17d50f1e
6. Flatout's Foldit 5 Grain Flax Flatbread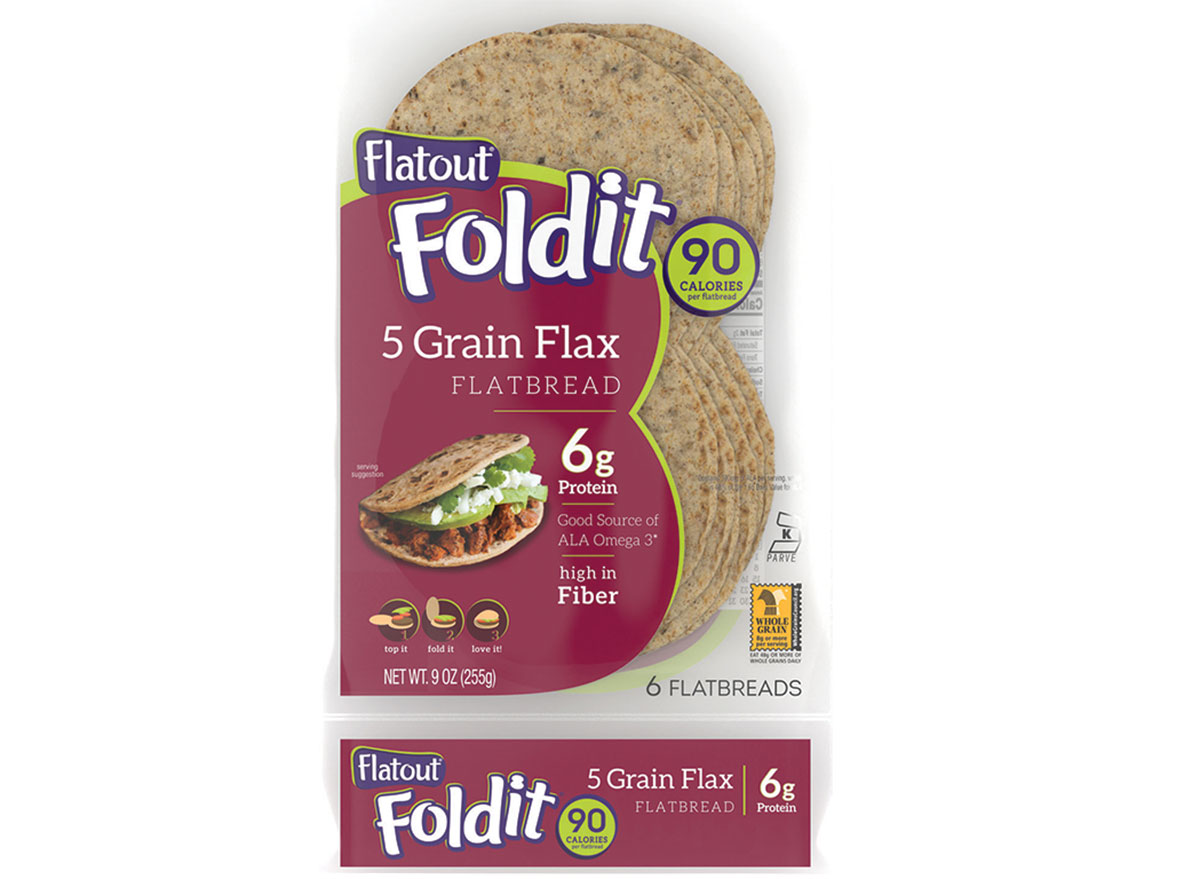 One serving
: 1 flatbread (32 g), 60 calories, 1 g fat, 0 g saturated fat, 120 mg sodium, 13 g carbs, 5 g fiber, 0 g sugar, 4 g protein
Flatout's flatbreads come in a variety of flavors, but the five-grain flax flatbread has the benefit of grain diversity. It has 8 grams of whole grains and 5 grams of fiber, and you'll find ingredients like triticale, rye, millet, buckwheat, and oat fiber on the nutrition label.
Another benefit to this bread is the 4 grams of protein, which is on the higher end for a wrap. Flatout markets their flatbreads as being half the calories (60 for 1 flatbread) and half the carbs of 2 slices of whole wheat bread. This is true, but remember to also be mindful of what you fill the wrap with, as those calories can add up quickly.
The worst tortillas and wraps you can buy
1. Toufayan's Organic Sprouted Whole Wheat Wraps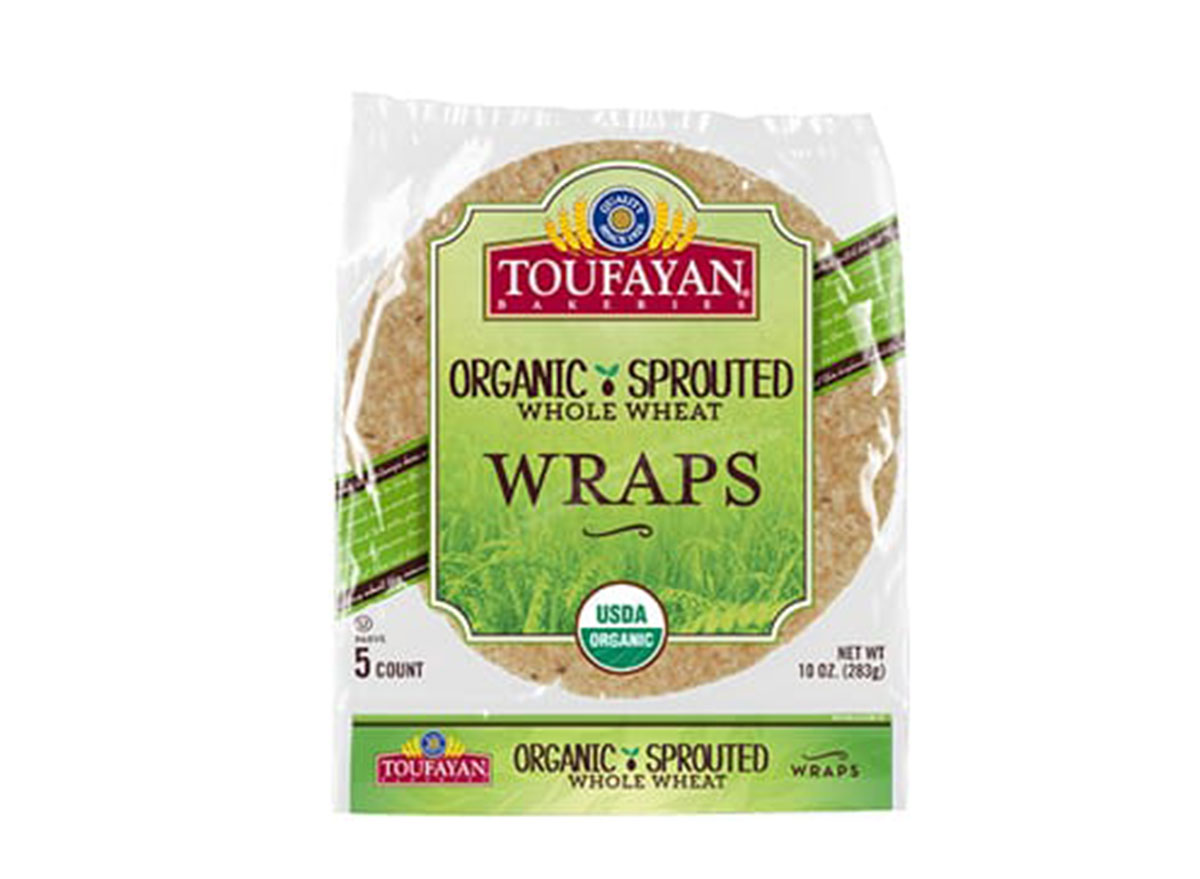 One serving
: 1 wrap (56 g), 170 calories, 4 g fat, 0 g saturated fat, 460 mg sodium, 29 g carbs, 2 g fiber, 1 g sugar, 4 g protein
This family-owned bakery has been in business for 90 years (and is now one of the largest privately held specialty bakeries in the US). Beyond this organic sprouted whole wheat wrap, you can also find low-carb and low-sodium wraps under their name. They're made from organic wheat and sprouted whole wheat flours, mixed with water, sunflower oil, and salt. The product also contains 2 percent or less of ingredients like sugar, enzymes, and sodium acid pyrophosphate (a leavening agent). But with 460 milligrams sodium, 29 grams of carbs, and only 2 grams of fiber, the nutrition panel of these tortillas is quite poor. Next!
2. Mission's Carb Balance Spinach Herb Soft Tortillas
One serving
: 1 tortilla (43 grams), 60 calories, 4.3 g fat, 1.5 g saturated fat, 330 mg sodium, 18 g carbs, 15 g fiber, 0 g sugar, 6 g protein
One of these tortillas is only 60 calories with 18 grams of carbs (15 grams of which are fiber!) and 6 grams of protein. This is a surprisingly good nutrition panel for such a commercial brand! But prepare to be disappointed when you get to the ingredient list: hydrogenated soybean oil, yellow 5, aluminum lake blue, and sucralose, are among the main ingredients in these tortillas. All that fiber? Not even related to ingredients we would expect, like triticale or whole grain rye. Just modified wheat starch.
3. Olé's Xtreme Wellness High Fiber Carb Lean Tortilla Wraps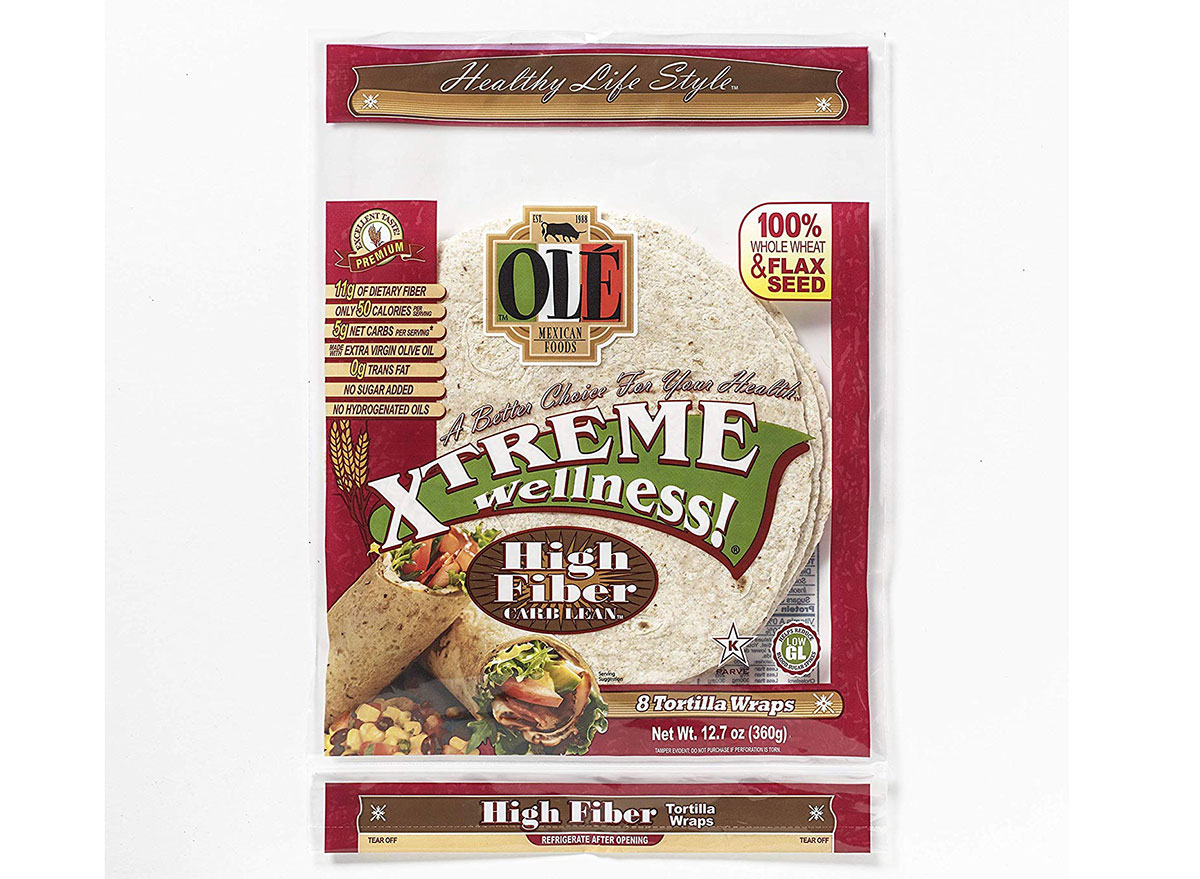 One serving
: 1 wrap (45 g), 50 calories, 1.5 g fat, 0 g saturated fat, 310 mg sodium, 16 g carbs, 11 g fiber, 0 g sugar, 4 g protein
Listen, we all like fiber. But if the high fiber content comes from ingredients like cellulose fiber and modified food starch, there are definitely better tortillas available. So yes, although these tortillas pack a ton of fiber, it's low quality fiber. You'll also notice the calorie count per tortilla is lower than for most (50 calories for a 45 gram wrap), but you're better off picking a product that's less about the numbers, and more about the quality of ingredients that get you there.
4. Cedar's Thin White Wraps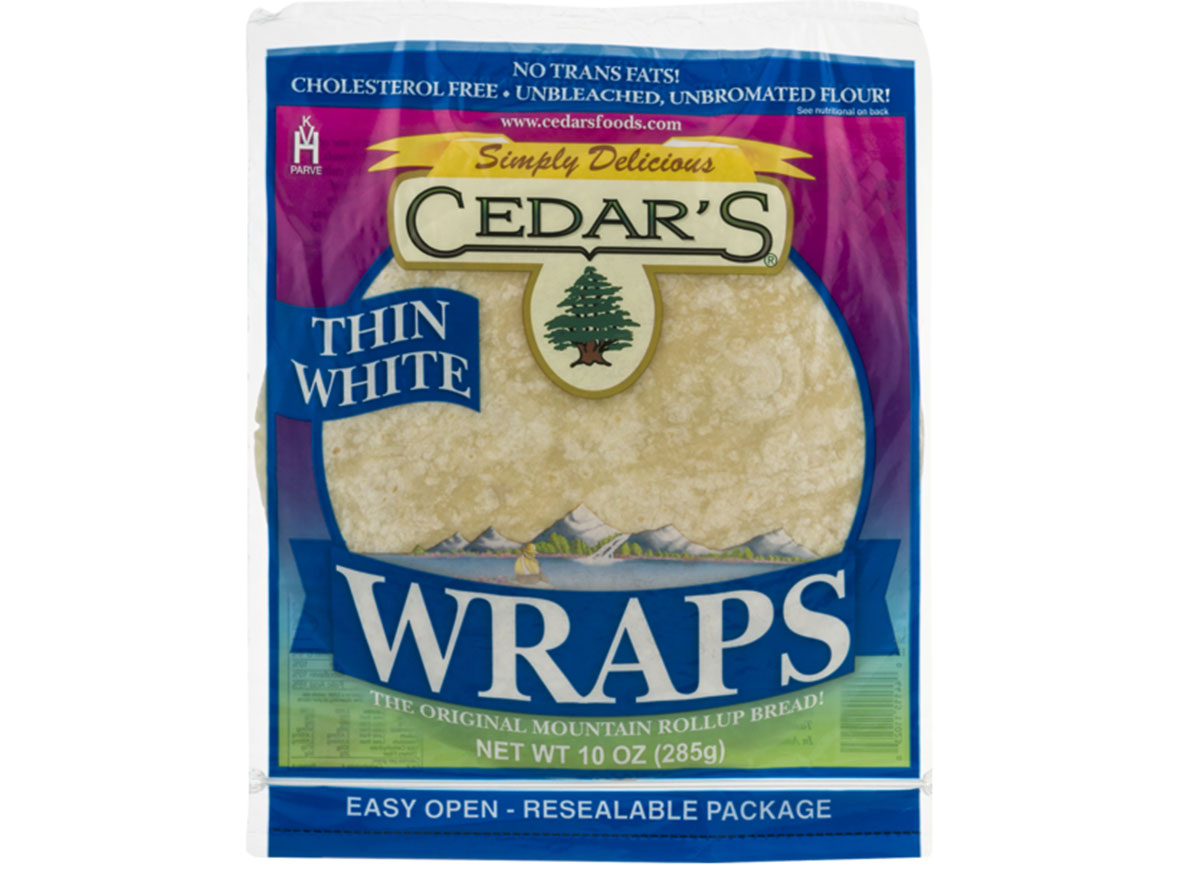 One serving
: 1 wrap (71 g), 160 calories, 3 g fat, 1 g saturated fat, 380 mg sodium, 27 g carbs, 1 g fiber, 0 g sugar, 5 g protein
These wraps are based on an "old world" recipe for mountain bread and are advertised as having an authentic taste and texture. But if you aren't sure what mountain bread is, and you're just looking for the best wrap option, know this might not be it. One wrap contains 27 grams of carbs but only 1 gram of fiber. While the ingredient list is short, it also contains palm oil which is harmful to the environment (if not sourced sustainably) and not a great source of fat for your cardiovascular system. Also worth nothing are the 380 mg of sodium, a higher sodium content than in many other wraps on this list.
5. Market Pantry Carb Conscious Flour Tortillas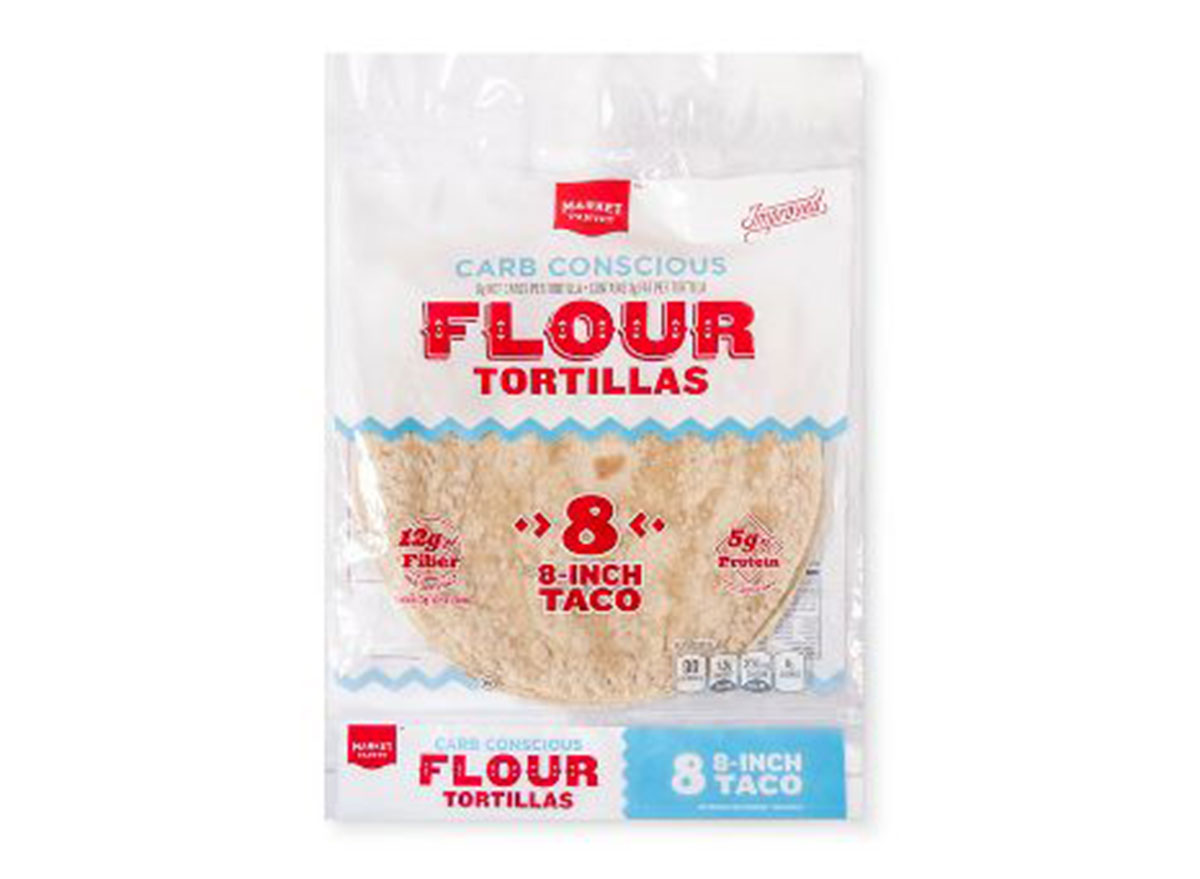 One serving
: 1 tortilla (42 g), 90 calories, 3 g fat, 1.5 g saturated fat, 270 mg sodium, 18 g carbs, 12 g fiber, 5 g protein
Carb-conscious? Yes. Good for you? Debatable. What you'll notice is that a lot of 'carb conscious' tortilla and wrap options list flour as a primary ingredient, and use modified wheat starch to bring the fiber count way up. So we can't state this enough—fiber can vary in quality, whether it comes from sub-par fillers, or true good-for-you whole grains. This wrap also includes vegetable shortening and powdered cellulose, along with sucralose. All in all, we'll avoid this one.