9 Best & Worst Store-Bought Tortillas and Wraps, Nutritionist Says
Wraps are considered a "healthier" alternatives to bread, but only the best tortillas and wraps live up to that reputation.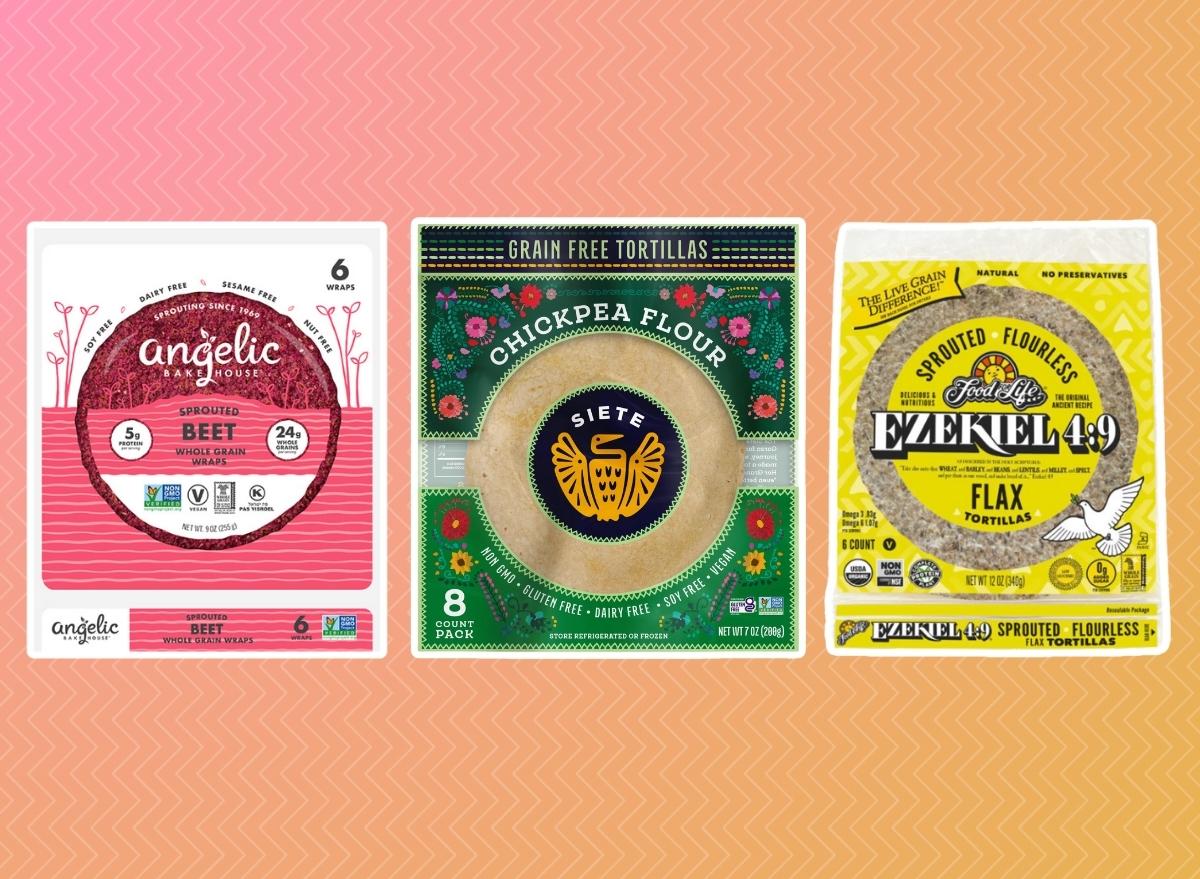 The product recommendations in this post are recommendations by the writer and/or expert(s) interviewed and do not contain affiliate links. Meaning: If you use these links to buy something, we will not earn a commission.
Tortillas have been a staple of Central and South American cuisine for centuries. Archaeological evidence indicates that they've been around since approximately 10,000 B.C.! These days, though, tortillas aren't limited to any one culture's food traditions. You'll find these flat, carb-based foods in most grocery stores across the U.S. (and in plenty of other countries, too).
As you shop for the right tortilla to hold your favorite fillings, you may be seeking one that has a positive nutrition profile. But not all tortillas are as healthful as you might expect. Some have highly complex recipes that involve additives and fillers (a strange twist for such a simple food), while others contain surprisingly high levels of calories, fat, and sodium.
Of course, that doesn't mean you have to make your quesadillas and lunch roll-ups with low-quality tortillas and wraps. Several brands offer healthy tortilla and wrap products that tip the scale toward healthy (and delicious). Check out our recommendations for the best healthy tortillas—and which to avoid!
How to choose a healthy tortilla or wrap.
Here's what to look for when choosing healthy tortillas and wraps:
Check the serving size. Is the nutrition info on the side of the package for one tortilla or two (or even three)? Look at the serving size to make sure that what you see is what you get.
Understand the carbohydrate lingo. Carb terminology can be a bit confusing. Some products labeled "no carb" or "carb-free" may actually contain carbohydrates in the form of fiber. ("Zero net carbs" means that all of a food's carbohydrates come from fiber.) The best place to look to get the true story: the nutrition facts label. It'll tell you exactly how many carbs a tortilla contains.
If the wrap is grain-free, scrutinize the ingredient list. Making tortillas without grains may require some culinary wizardry in the form of fillers. These can have negative effects on the GI tract, so double-check ingredient lists if you know you're sensitive to certain fillers like starches or gums.
Remember that simple is often best. Not all brands with lengthy ingredient lists are bad for you, but the more ingredients used, the more processed a tortilla is likely to be.
Without further ado, here's our list of the best healthy tortillas and wraps you can buy at the grocery store. Read on, and for more on healthy carbs, don't miss 11 Breads with the Highest Quality Ingredients.
The 6 healthiest tortillas and wraps
Siete Foods' Chickpea Flour Tortillas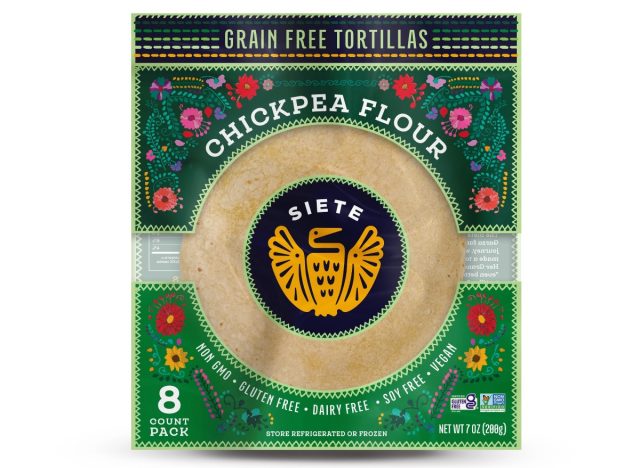 2 tortillas (50 g): 140 calories, 4.5 g fat, 0.5 g saturated fat, 220 mg sodium, 26 g carbs, 4 g fiber, 0 g sugar, 3 g protein

6254a4d1642c605c54bf1cab17d50f1e

Craving a burrito but can't do gluten or corn? Siete Foods has you covered with healthy wraps made with alternative ingredients. Many of their Mexican-themed foods are ideal for folks with multiple food allergies. We're fans of these tortillas made with chickpea flour, which come packed with 4 grams of fiber and take just 15 seconds to heat. But feel free to check out Siete Foods' other allergy-friendly products made with cassava flour, almond flour, and more.
Greenleaf Foods' Raw Spinach Wraps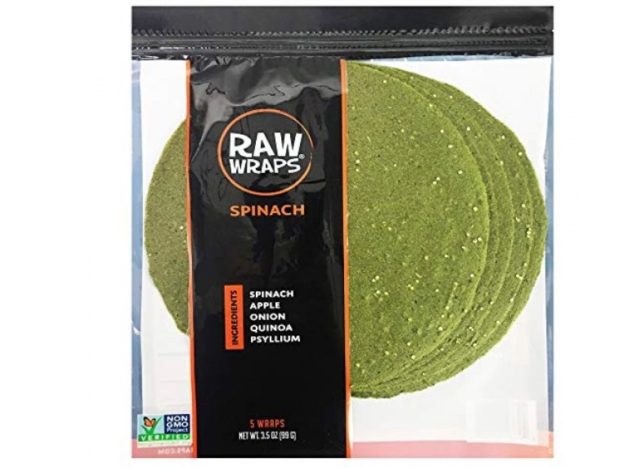 1 wrap (20 g): 50 calories, 0 g fat, 20 mg sodium, 13 g carbs, 4 g fiber, 6 g sugar, 1 g protein
Greenleaf Foods' Raw Spinach Wraps let you roll up a quick and easy lunch in a superfood package. Made with apple, spinach, onion, quinoa, coconut nectar, and psyllium husk, they're perfect for anyone looking for a wrap made from whole foods.
You may notice that these wraps contain higher sugar than some other options, but not to worry—it's natural sugar from the coconut nectar and apple. Try these wraps stuffed with a savory protein to balance out their slight sweetness.
Angelic Bakehouse Whole Grain Beet Wraps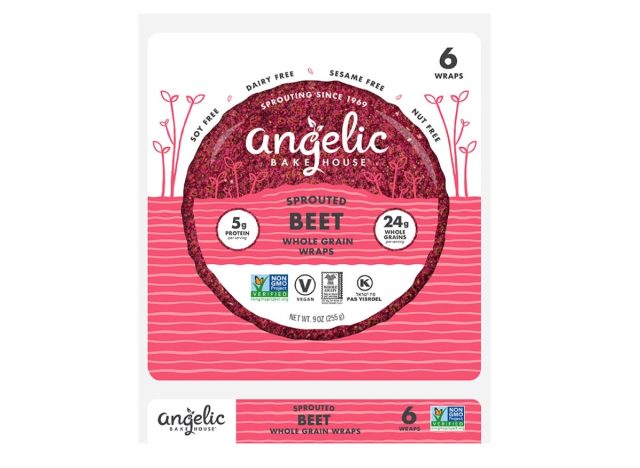 1 wrap (43 g): 130 calories, 2.5 g fat, 0 g saturated fat, 240 mg sodium, 23 g carb, 4 g fiber, 3 g sugar, 5 g protein
Pink tortillas? You bet! These delightfully colorful, mega-healthy wraps are made with sprouted whole grains and—yes—beets. They'll not only light up your lunchbox with color, but they'll also keep you full with plenty of protein and fiber.
Twenty-four grams of whole, sprouted grains per serving is another perk here. According to The Whole Grains Council, sprouted grains may be easier for some people to digest. The sprouting process can also increase the amount and bioavailability of specific vitamins and minerals (like vitamin C). Then again, the definition of sprouted grains isn't regulated, so there may be variations from manufacturer to manufacturer.
Rise and Puff Organic Gourmet Tortillas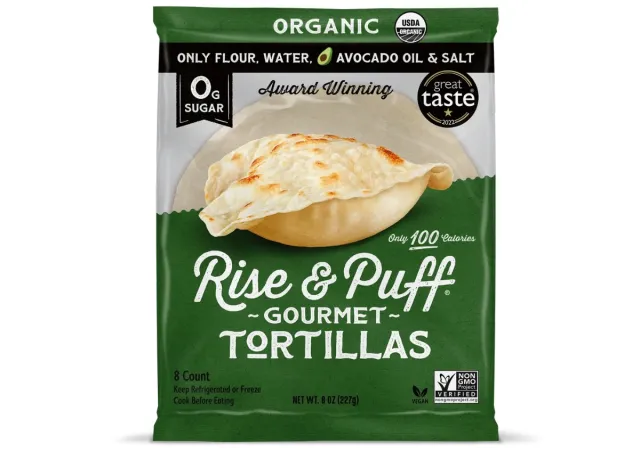 1 tortilla (29 g): 100 calories, 4 g fat, 0 g saturated fat, 150 mg sodium, 13 g carb, 0 g fiber, 0 g sugar, 2 g protein
Four ingredients are all it takes to create tortillas just like Nana used to make. Rise and Puff's Organic Gourmet Tortillas contain just organic wheat flour, water, organic avocado oil, and salt. Besides the earth-friendly advantage of their organic ingredients, these super simple tortillas are made with heart-healthy avocado oil. Its monounsaturated fats have been associated with a lower risk of cardiovascular and coronary heart disease.
The other fun bonus of Rise and Puff: If you're a fan of air pockets in your tortillas, you'll love what happens when you cook this brand. True to their name, these tortillas puff up, balloon-like, when heated.
Food for Life Ezekiel 4:9 Sprouted Grain Flax Tortillas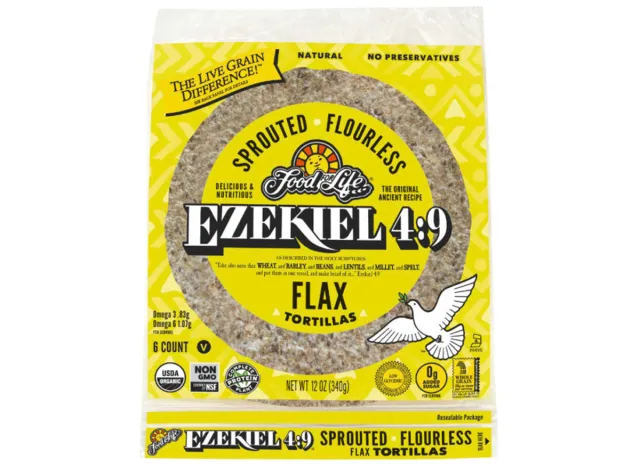 1 tortilla (57 g): 150 calories, 3.5 g fat, 0 g saturated fat, 115 mg sodium, 25 g carbs, 5 g fiber, 1 g sugar, 7 g protein
For fiber galore and more protein than an egg, don't miss Food for Life's Ezekiel 4:9 Sprouted Grain Flax Tortillas. Much like the Ezekiel bread you may already know, these tortillas are packed with a blend of sprouted grains, legumes, and seeds, including barley, lentils, millet, spelt, and flaxseed. The result is a wrap loaded with health-promoting micronutrients like zinc, manganese, selenium, and magnesium.
La Fe Tortilleria Corn Tortillas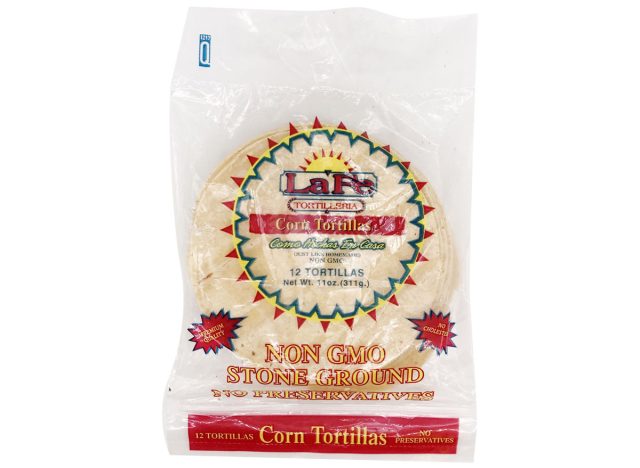 1 tortilla (41 g): 90 calories, 1 g fat, 0 g saturated fat, 0 mg sodium, 19 g carbs, 2 g fiber, 0 g sugar, 2 g protein
Some recipes just can't be done with flour tortillas. When you need the sturdy heft of corn, opt for these tortillas from La Fe Tortilleria. Their recipe involves just two ingredients: organic corn and water. You can't beat that for simple and wholesome! Plus, if you need to watch your salt intake, these are an excellent choice. Another plus is that they contain zero milligrams of sodium.
The 3 worst tortillas and wraps you can buy
Toufayan Garlic Pesto Wraps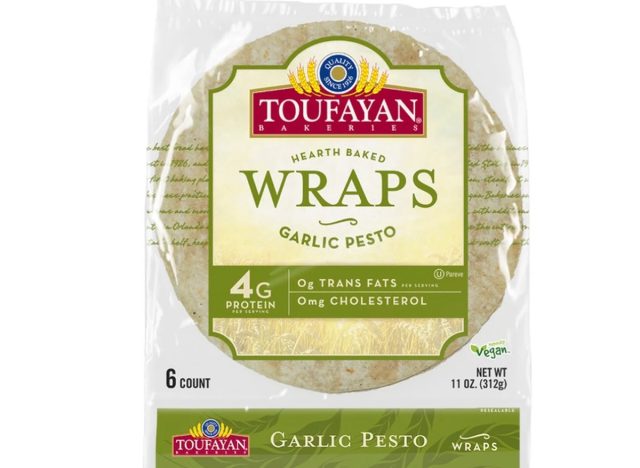 1 wrap (52 g): 150 calories, 3 g fat, 0.5 g saturated fat, 350 mg sodium, 27 g carbs, 1 g fiber, 1 g sugar, 4 g protein
This family-owned bakery has been in business for 90 years and is one of the largest privately held specialty bakeries in the US. We're all for supporting family businesses, but there's a lot to be desired from Toufayan's wraps, especially the garlic pesto variety. These flavored wraps are chock full of questionable additives like conditioners and gums, not to mention the fact that they contain hydrogenated vegetable oil—a type of saturated fat that may raise cholesterol.
Market Pantry Carb Conscious Flour Tortillas
1 tortilla (43 g): 70 calories, 3 g fat, 1 g saturated fat, 320 mg sodium, 19 g carbs, 15 g fiber, 5 g protein
Market Pantry's Carb-Conscious Flour Tortillas may have low net carbs, but that doesn't mean they're good for you. These wraps get their extremely high fiber count from modified food starch, not whole grains. Even though it might seem like fiber from any source is a good thing, modified food starch can't compare with whole grains in terms of protein, vitamins, and minerals. If you want high fiber from a tortilla, choose one that's made with whole wheat flour or other whole grains.
Mission's Gluten-Free Original Tortilla Wraps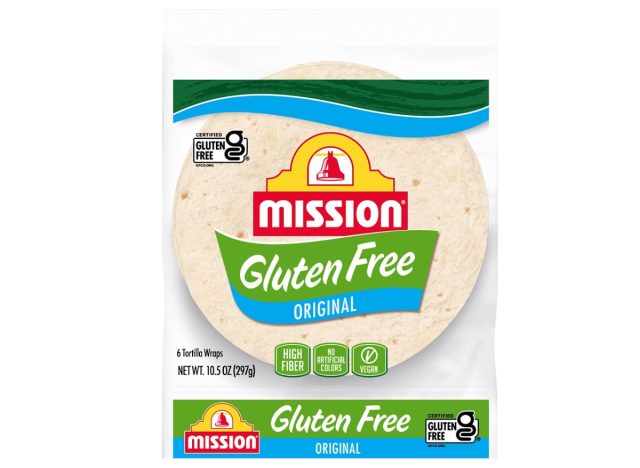 1 tortilla (50 grams): 150 calories, 4.5 g fat, 2 g saturated fat, 420 mg sodium, 26 g carbs, 5 g fiber, 3 g sugar, 3 g protein
These are far from healthy tortillas. Any time a product (like wheat tortillas) gets a gluten-free makeover, it's smart to find out what took the place of flour. In the case of Mission's Gluten-Free Original Tortilla Wraps, the answer isn't so wholesome. A host of fillers and gums like modified food starch, resistant corn starch, guar gum, and cellulose gum round out the ingredient list.
A gander at the ingredient list also reveals interesterified and hydrogenated soybean oils, which have been linked to weight gain, impaired glucose tolerance, and stress on the liver. And since you'll get a whopping 420 milligrams of sodium, 26 grams of carbs, and just 3 grams of protein from each tortilla, we say pass on these.
Sarah Garone, NDTR
Sarah Garone, NDTR, is a registered nutrition and dietetic technician, and a health, nutrition, and food writer.
Read more about Sarah