9 Most Delicious Cheeses at Trader Joe's
From brie to cheddar to its trendy pizza bread flavor, Trader Joe's stocks only the best cheese.
The product recommendations in this post are recommendations by the writer and/or expert(s) interviewed and do not contain affiliate links. Meaning: If you use these links to buy something, we will not earn a commission.
Trader Joe's is popular for many reasons: unique frozen foods, irresistible snacks, respectable desserts, and really incredible cheeses.
The specialty grocer has built up a cult-like following for its carefully selected cheese options, with an entire Instagram feed dedicated to the latest finds and customers constantly swapping recommendations on Reddit about everything from the classic ball of burrata to a spicy Buffalo-style cheddar.
"Trader Joe's is a curator," as noted expert Liz Thorpe, author of The Book of Cheese, explained to Business Insider. "They differ from a traditional supermarket in that they're not worried about having everything. Instead, they focus on the best performers with the best flavor profile."
While the retailer currently lists just 35 varieties on its website, regular shoppers know that you can often find many more in the store—including limited-time products spotted by fan pages. Take the Ubriaco al Cabernet cheese recently discovered by @traderjoeslist, for instance, which we are just dying to try!
Break out your cheese knives and charcuterie boards because we are diving into the best cheeses at Trader Joe's.
English Cheddar Cheese with Caramelized Onions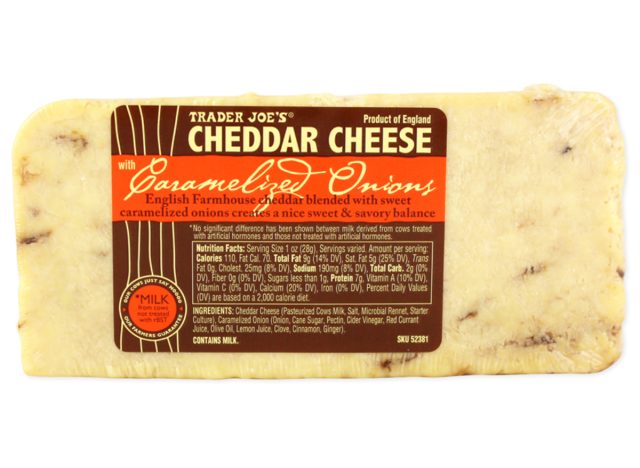 If you frequently graze Trader Joe's cheese section, then you must be familiar with its English Cheddar Cheese with Caramelized Onions. At $9.99 per pound, you can tell by the aroma as the package is opened that there is onion in the product, but it is in no way overpowering. Trader Joe's describes the cheese as having a sweet and savory balance, but a firm and creamy texture—which we feel is right on the money. One Reddit user claimed, "It's the best thing I've ever tasted," while another recommended that you melt it for an elevated grilled cheese.6254a4d1642c605c54bf1cab17d50f1e
Unexpected Cheddar Cheese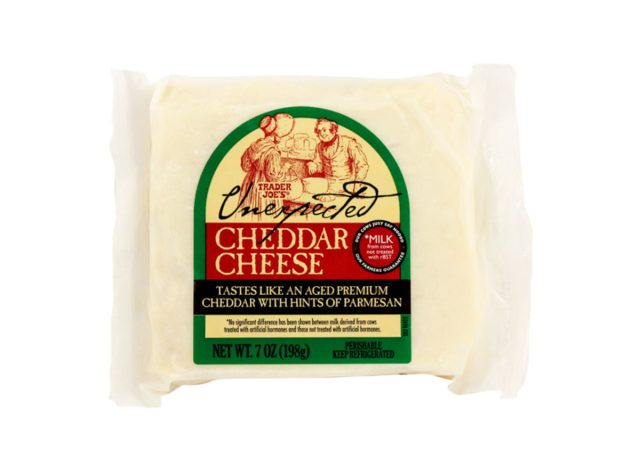 Let's just say that these cheeses are ranked in no particular order, because Trader Joe's Unexpected Cheddar Cheese is a crowd favorite, to say the least. The grocery chain's annual customer choice awards even ranked this dairy offering No. 1 back in 2021. Cheddar is already a sharp cheese, but because this premium cheddar is aged, the flavor is much more distinct. There are also subtle notes of parmesan, which similarly intensifies in taste with age. This one can definitely be a stand alone snack for approximately $3.99 per half pound. No crackers needed!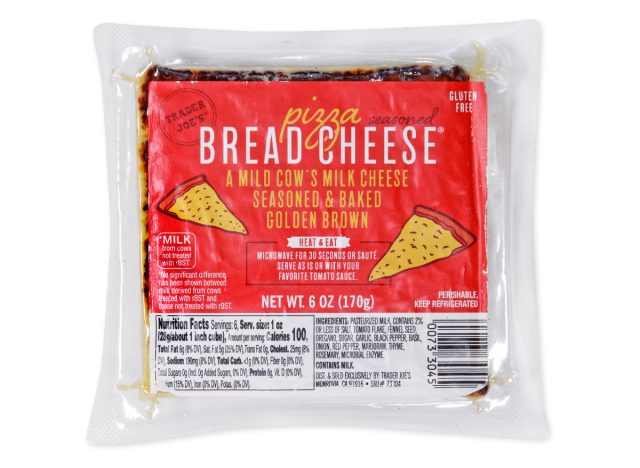 A formal word of thanks to whomever came up with this culinary innovation. Pizza Bread Cheese launched back in January 2022, and is advertised on the packaging as a "mild cow's milk cheese seasoned & baked golden brown." The $3.99 gluten-free offering is delicious and subtle, yet packs punches of seasoning. Tomato flakes, oregano, red pepper and garlic are the standout flavorings. We recommend pairing the pizza bread cheese with a bland cracker, but Trader Joe's claims that you can also microwave the item or sautée it with tomato sauce. Plus, we think it's way better than the related and arguably overhyped garlic bread cheese.
Saint André Triple Crème Brie
Brie will always have our hearts—especially when it's got triple the cream. To say that the Saint André Triple Crème Brie (sold but not made by Trader Joe's) "melts in your mouth" is no exaggeration, with its buttery taste and creamy texture. This may be due to the fact that the cheese holds 75% butterfat, which makes it much more luscious. For comparison, Cheese Connoisseur explains that most traditional bries (aka not triple creme) carry approximately 50% butterfat. This Trader Joe's grab is a bit on the pricer side, at $13.99 per pound, but would pair well with some strawberry jam, a cracker, and a glass of white wine. If the "triple creme" part of this ranking throws you off, the grocer also carries several light brie offerings with less calories.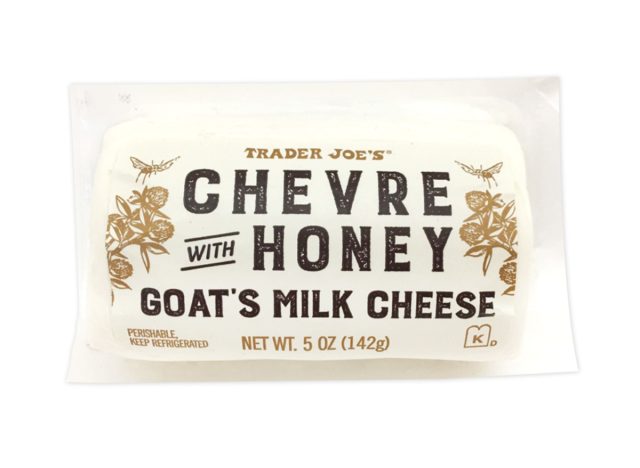 Honey and cheese are a classic pairing that will never steer your taste buds wrong. Chèvre is a type of goat cheese that is easily spreadable, versatile, and tangy, similar to feta in that way. According to Trader Joe's website, the chèvre with honey has been on shelves for almost 15 years and sells for only $2.99. What separates this cheese from the competition, you ask? It's the honey. This sweet addition adds the perfect kick to an already flavorful cheese, which is perfect for your morning toast or evening salad. We would even recommend having it on hand during your next homemade pizza night!
Port Salut Semi-Soft Cheese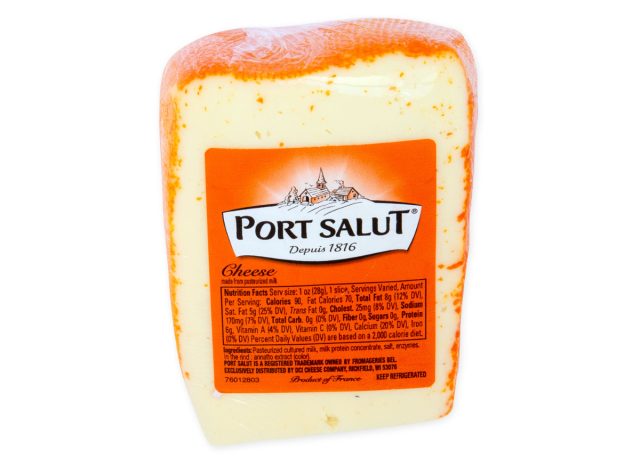 This cheese pick may be a bit controversial due to its plain flavor. Trader Joe's Port Salut semi-soft-cheese, imported from France, is undoubtedly on the milder side of the store's cheeses. However, it is simply delicious adorned with a well-seasoned cracker and your favorite jam. This cheese is slightly tangy and extremely creamy, making it an optimal palette-cleanser for a charcuterie board. "My favorite cheese of all time. It's a soft cheese and has a little stank to it in flavor not necessarily smell. Similar to Brie but different in its own way," one reviewer wrote on Influenster. Check with your local store for price, which may vary.
It's difficult to describe the taste of black truffle until you try it out for yourself, but it's widely known that people either absolutely love it or can't stand the flavor. The haters probably haven't tried out Trader Joe's Italian Truffle Cheese, because if they did, they might just change their minds. Sold for $13.99, this Italian product is made from pasteurized cow's milk and carries the perfect harmony of a semi soft yet subtle truffle flavor. It's a bit pungent in smell, but mild in taste. It's a wonderful addition to any cracker, burger, or omelet!
A classic never fails. Pecorino romano is a delicious alternative to parmesan, especially when you are cooking up Italian dishes like the traditional cacio e pepe or are sprinkling the cheese on top of spaghetti with marinara sauce. Trader Joe's Pecorino Romano (priced per pound) is saltier than parmesan and derives from sheep's milk. According to The Kitchn, the specialty grocer releases limited-edition pecorino romano flavors with truffles or peppercorns, although we have yet to see that at our neighborhood store.
Trader Joe's Havarti Cheese with Dill is the optimal cheese to grab for a bright herb flavor (and for pickle fans, naturally). The product couples well with fish or turkey due to its initial buttery taste. One Reddit thread advises that you pair the cheese with a "crisp white wine," "turkey burgers," or "thin slices of French bread, drizzle olive oil, slice of tomato, cheese, and some basil"—then pop it in the oven. Depending on your location, the Havarti cheese with Dill sells for about $7.49 per pound.
Olivia Bria
Olivia has a bachelor's degree in communications and political science from the University of Connecticut. She is a foodie, traveler, journalist, and celebrity interviewer.
Read more about Olivia