20 Must-Buy Trader Joe's Products For Quicker Dinners
We rounded up the healthiest convenience foods from America's favorite budget-friendly grocer.
We're all for cooking wholesome meals from scratch, but sometimes you just don't have the time or energy to whip up an entire meal — and that's ok! Fortunately, there are plenty of healthy convenience foods out there that can help you cut down on meal prep and cook time. That's why we've put together the ultimate list of nutritious Trader Joe's (TJ's) groceries. From wild salmon burgers to sprouted pizza crust, these convenience foods make it easy to stick to a clean eating routine without sacrificing flavor or nutrition. For more cheap grocery finds, check out the 15 Cheapest Proteins in the Supermarket.
Mexican Style Corn & Quinoa Salad
Pair your Taco Tuesday meal with this Mexican style corn and quinoa salad, which features brightly colored layers of grape tomatoes, kale, and red and green cabbage. The salad also comes with a side of roasted poblano cilantro dressing that also pairs well with grilled tempeh, chicken or shrimp. For more nutritious food options, take a look at this list of the 30 Best Anti-Inflammatory Foods!
Eat This! Tip: To boost the protein count a bit, add some leftover chicken to this flavorful salad.
Wild Salmon Burgers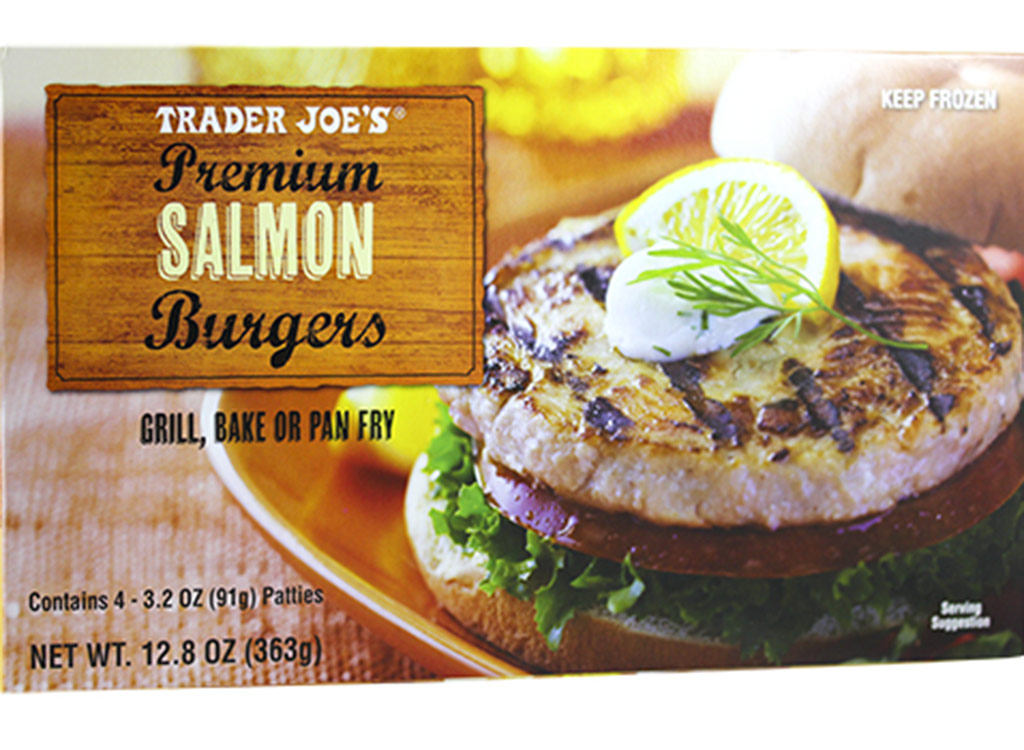 TJ's wild salmon burgers are a weeknight savior when you're craving a juicy fish burger but don't want to get your hands dirty. They're quick-frozen patties, which means it only takes a few minutes for them to be dinner-ready. Made with wild salmon, carrots, celery, and onions, these delicious patties are packed with heart-healthy omega-3 fatty acids and other anti-inflammatory nutrients.
Eat This! Tip: Top these yummy burgers with a mango, tomato and scallion salsa and enjoy them with a collard green wrap to cut back on carbs.
Shawarma Chicken Thighs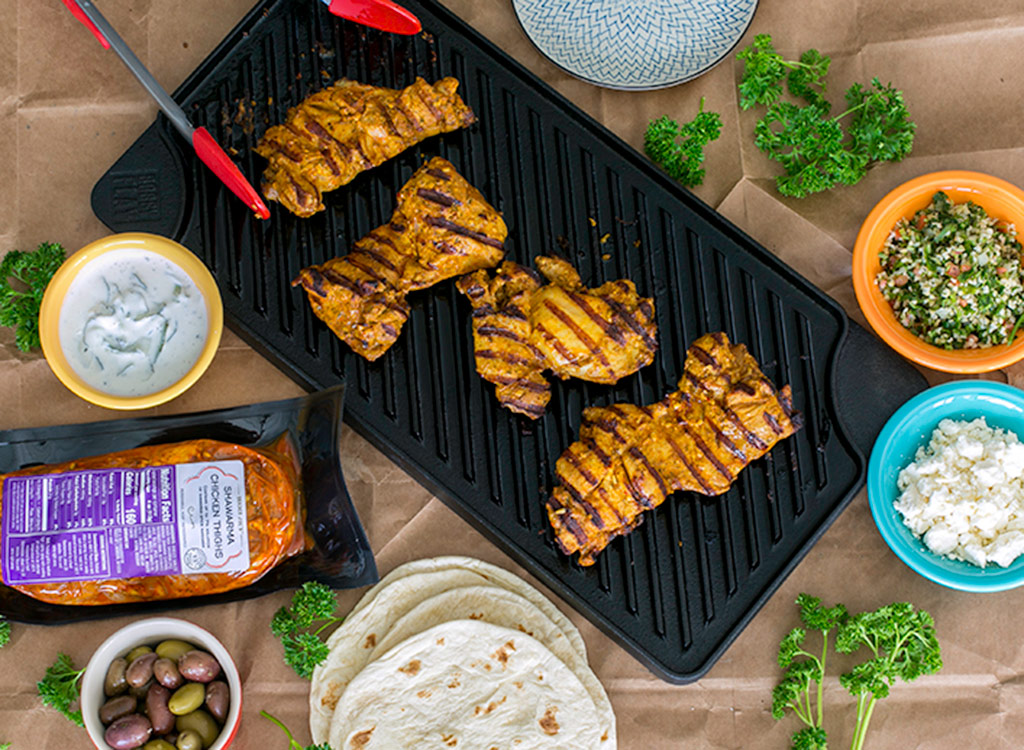 Shawarma is a Middle Eastern method of preparing lamb, chicken, or beef on a grill for an entire day, but TJ's shawarma chicken thighs will have it ready for you in just 35 minutes in the oven. A traditional shwarma spice marinade of onion, garlic, cumin, cinnamon, coriander, paprika, turmeric, and parsley infuses mouthwatering flavor into the chicken thighs.
Eat This! Tip: To get the authentic shawarma experience, slice the chicken thin and serve it with hummus, tahini, tomatoes, sliced cucumbers, olives, and feta.
Fully Cooked Falafel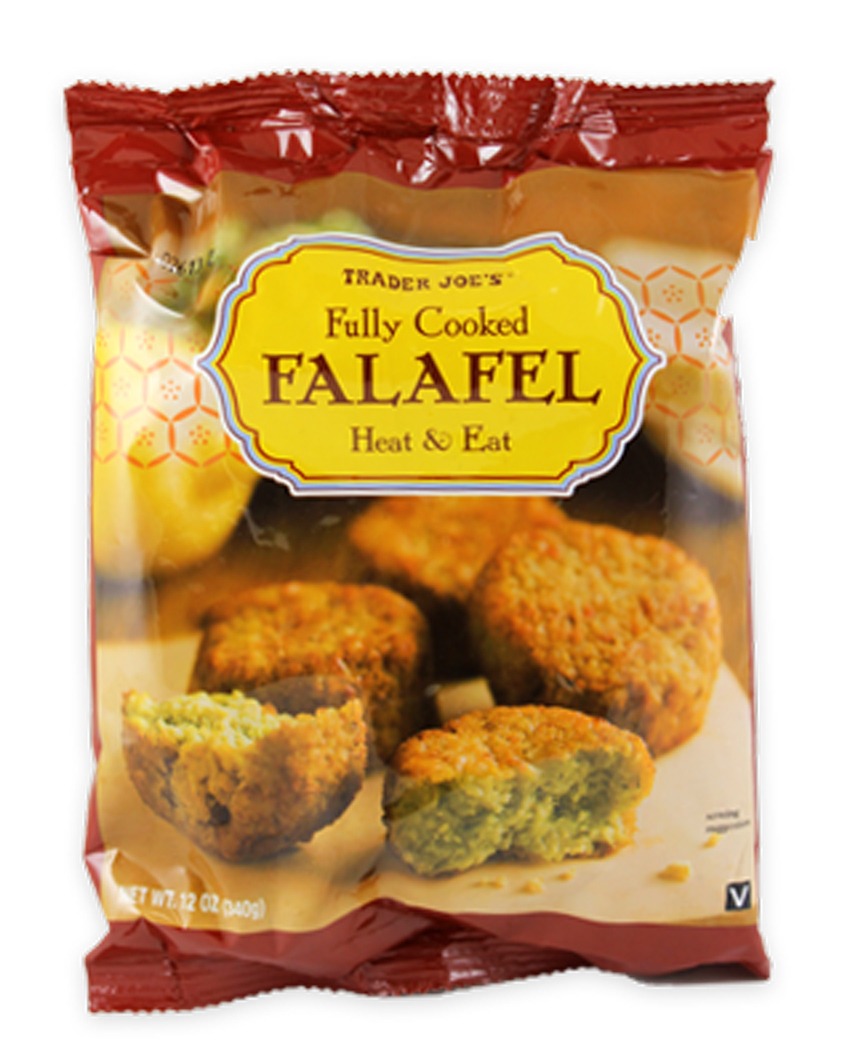 There's no better Greek salad topper than Trader Joe's frozen falafel. A flavorful mix of shawarma-spiced fava beans and chickpeas, these falafels add a big dose of plant protein to your dish. All you need to do is heat it up for a few minutes in the microwave, so you can use the rest of your prep time to put together a delicious Mediterranean salad.
Eat This! Tip: Serve with cucumbers, tomatoes, onions and brown rice or quinoa for a balanced meal.
Broccoli And Kale Slaw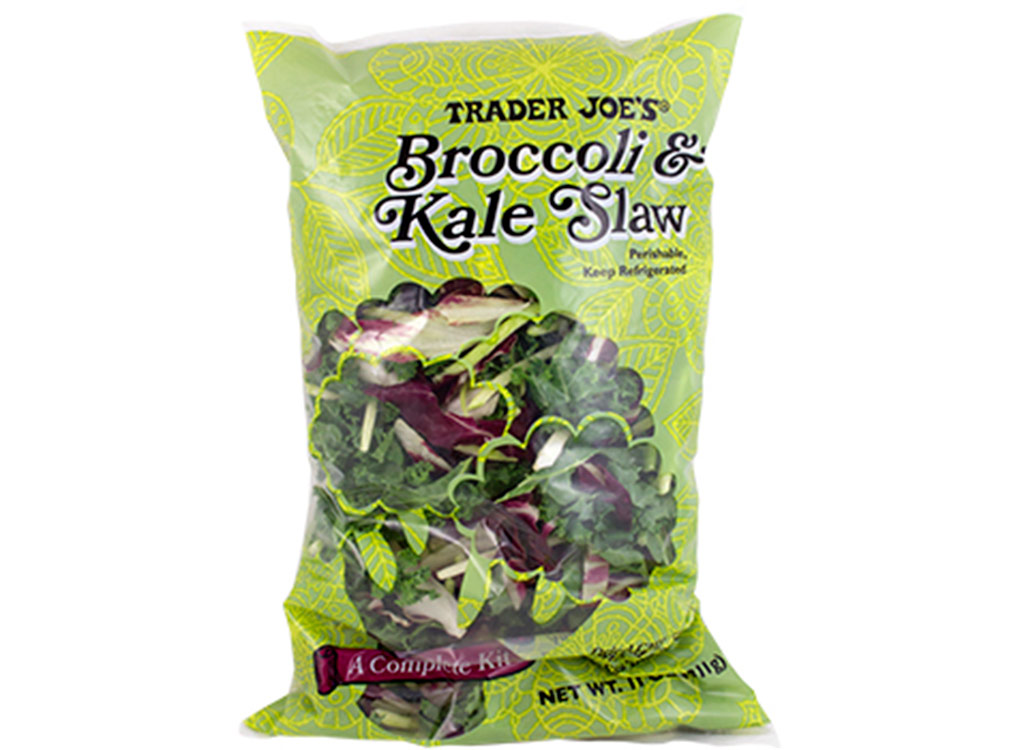 Hosting a picnic or barbecue? This broccoli and kale slaw is guaranteed to be a hit. Unlike other slaws that are loaded with mayo, it has a nutritious blend of leafy greens, dried cherries and blueberries, sunflower seeds and slivered almonds that pairs well with any dish.
Eat This! Tip: To make it a complete meal, serve it with grilled chicken, shrimp or tofu.
Tahini, Pepita And Apricot Slaw
Take your tacos to next-level deliciousness with this pre-chopped tahini, pepita and apricot slaw. Shredded rainbow carrots, broccoli, green cabbage and kale not only lend color and nutrients but also flavor and crunch. It also features pepitas, sun-dried apricots, and a creamy tahini orange dressing. Are you salivating yet?
Organic Sweet Italian Chicken Sausage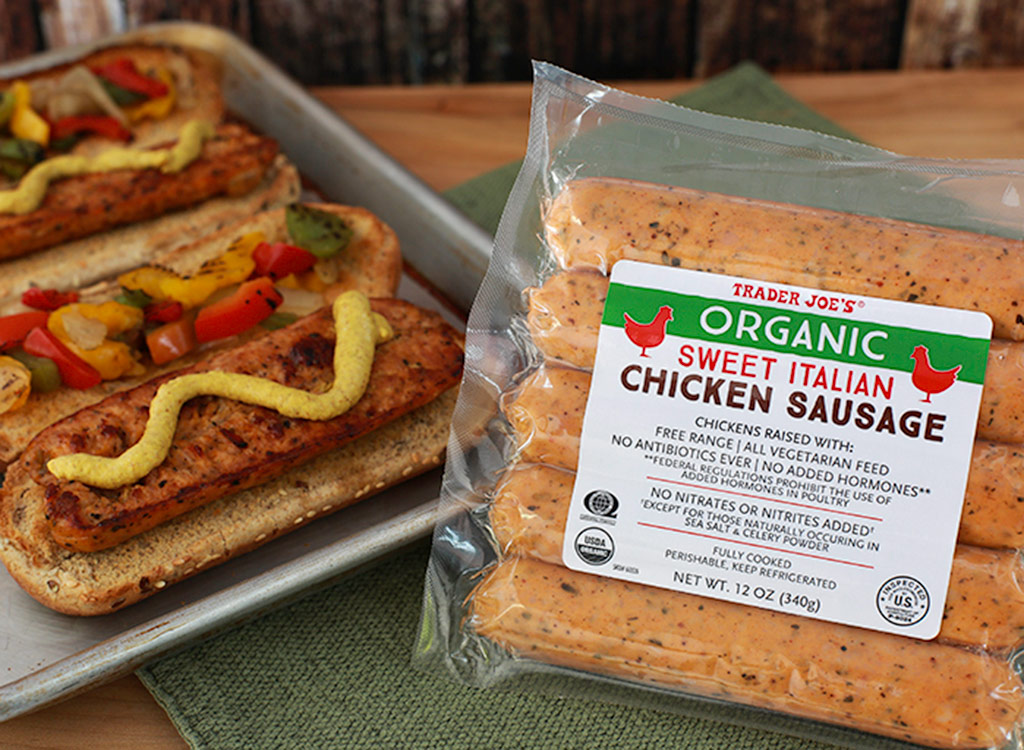 Whether you're preparing pizza or pasta, TJ's sweet Italian sausage cuts down on meal prep because it's pre-cooked and already mixed with the classic sweet Italian seasoning. At just 110 calories and 12 grams of protein each, these sausages won't put a damper on your weight-loss efforts.
Eat This! Tip: Serve them sliced open and seared with loads of green bell peppers, onions, tomatoes, broccoli and spinach for a satisfying and nutritious meal.
Sriracha Baked Tofu
If you're under the impression that meat eaters are the only ones who can enjoy Trader Joe's heat and eat foods, then think again. The chain's Sriracha baked tofu is marinated for 12 hours prior to baking, so it's ready to eat once you open it. A seven-ounce package of this spicy tofu has a whopping 30 grams of muscle-building protein.
Eat This! Tip: Pair it with quinoa, amaranth, or whatever whole grain your heart desires along with your leafy green of choice.
Sprouted Whole Grain Pizza Crust
Traditional pizza crust uses nutrient-void white flour, but this Trader Joe's sprouted whole-grain crust has a plethora of other nutritional benefits. Just a quarter serving of this pie has 23 grams of protein, thanks to its seven-grain blend of wheat berries, quinoa, millet, oat groats, barley, rye berries, and amaranth. The tasty crust has a naturally sweet nutty flavor and comes out crispy and brown on the edges. But this crust is capable of much more than just pizza! You can use it to prepare a Shakshuka-inspired dish.
Eat This! Tip: Simply spread some spicy harissa on the crust and top it with diced tomatoes, crumbled feta, and eggs.
BBQ Chicken Teriyaki
If you love teriyaki chicken but hate the harmful additives in restaurant-style sauces, this BBQ chicken teriyaki is just what you need. The skinless, chicken leg meat is already marinated in a soy sauce glaze and fully cooked, so it just needs a few minutes to reheat.
Eat This! Tip: To offset the sweetness of this dish, enjoy it fiber-rich broccoli and brown rice.
Turkey Meatballs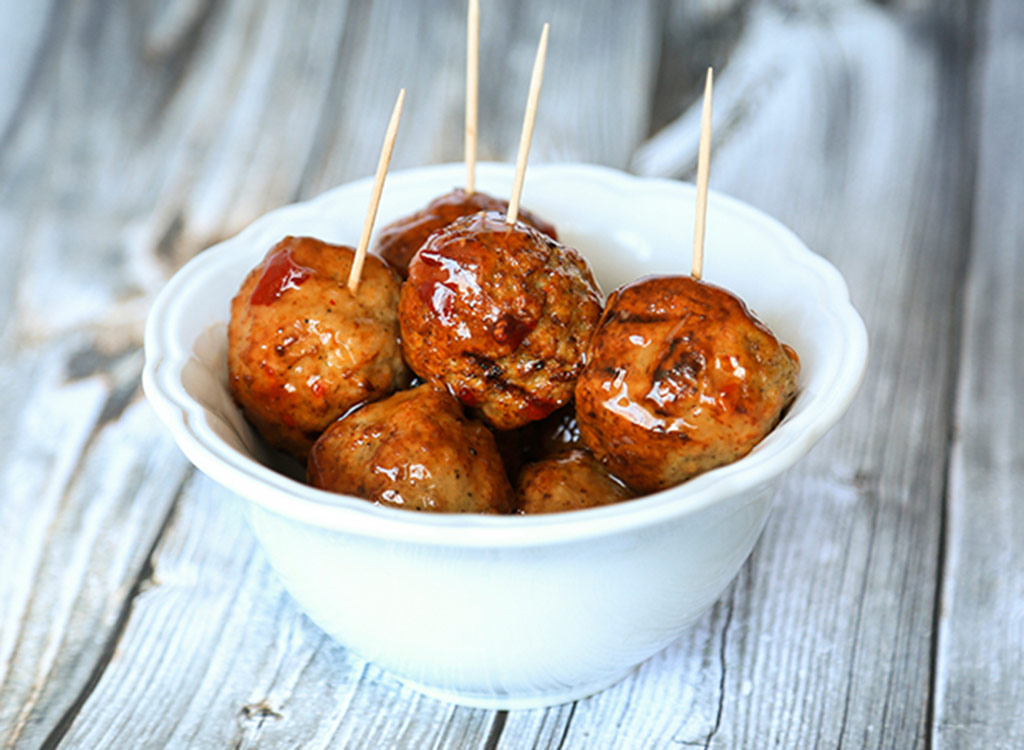 As much as you love making meatballs, they take some work to prep and can be messy. These pre-cooked Trader Joe's turkey meatballs are all rolled up so you don't have to roll up your sleeves.
Eat This! Tip: When you want to eat bad but have to be good, use it to top a plate of zoodles, tomato sauce, and a light sprinkle of Parmesan.
Healthy 8 Veggie Mix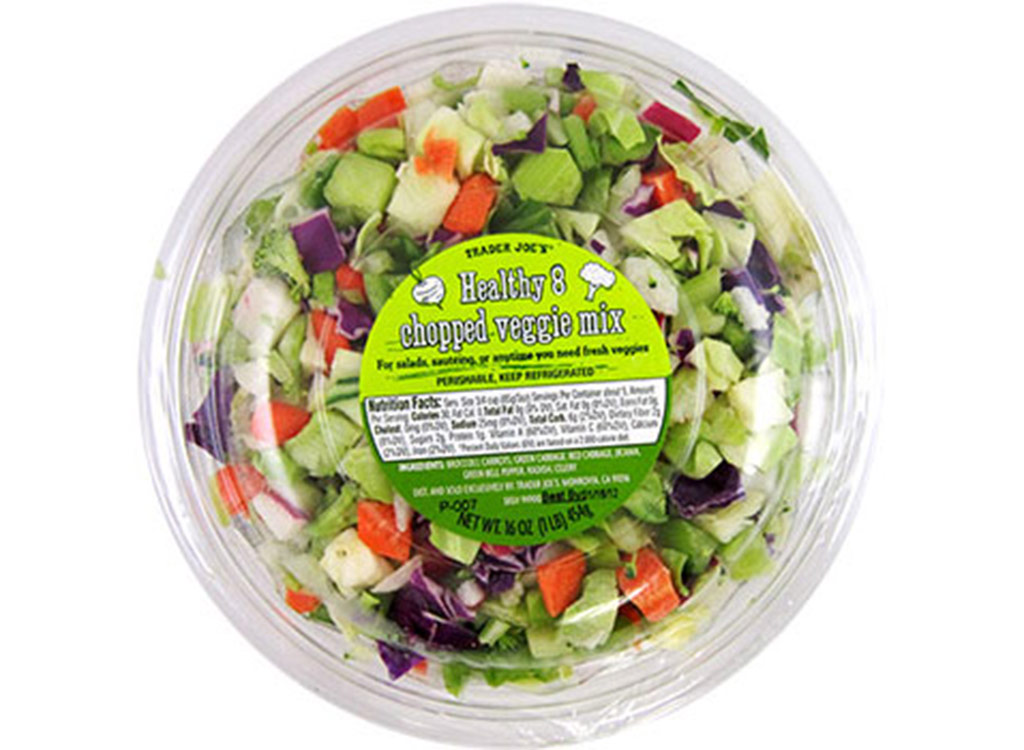 6254a4d1642c605c54bf1cab17d50f1e
Stir-fries are a quick and nutritious dinner option, but TJ's healthy 8-veggie mix makes the food prep even faster by saving you time chopping veggies. A bag of this stuff has a blend of red and green cabbage, carrots, broccoli, jicama, bell peppers, radishes, and celery.
Eat This! Tip: Pop it into a pan with some olive oil, garlic, and your choice of protein, and you're ready to chow down.
Organic Creamy Tomato Soup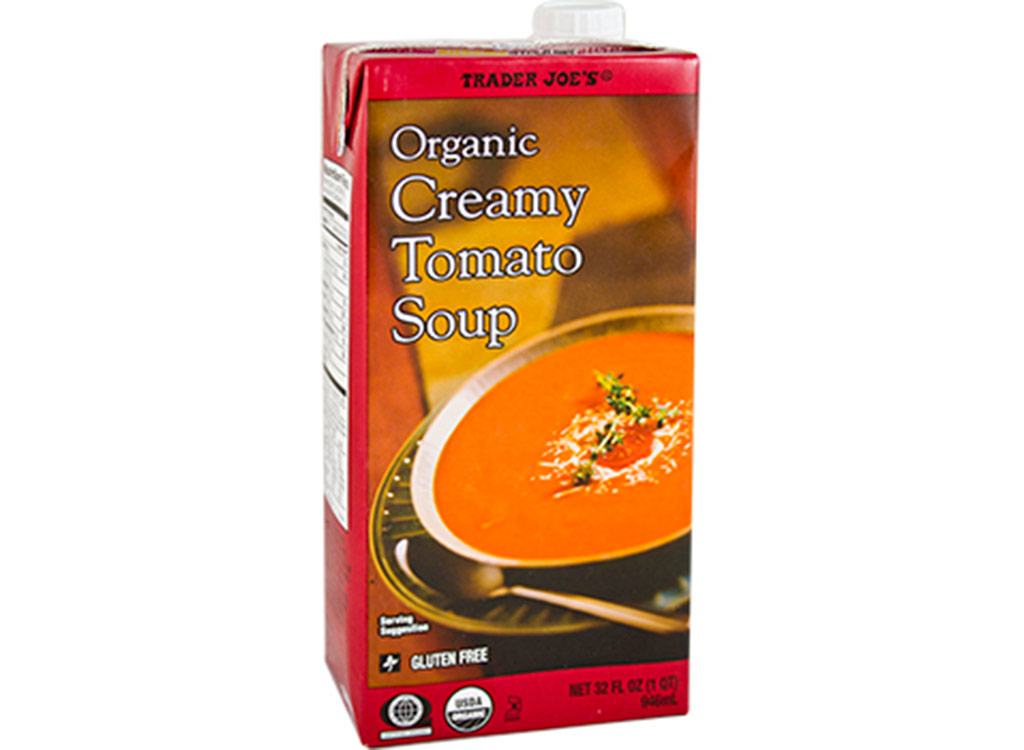 Not a fan of a stir-fry? Use the veggie mix above to craft your own soup with a little help from TJ's pre-made organic creamy tomato soup. After stir-frying the veggies, toss them into the soup. The organic tomatoes make this soup sweet and tart, while an assortment of herbs and spices lend savory flavors.
Eat This! Tip: Serve it with a piece of fiber-rich Ezekiel bread to dip.
Carne Asada Autentica
Believe it or not, TJ's carne asada autentica is something you can make at your summer barbecue in a matter of minutes. Though the meat isn't pre-cooked, it's butterflied and seasoned, so it takes a fraction of the time to grill.
Eat This! Tip: Enjoy it with a green salad or turn it into a filling for tacos, burritos, or fajita, along with beans, brown rice, and guacamole.
Cauliflower Gnocchi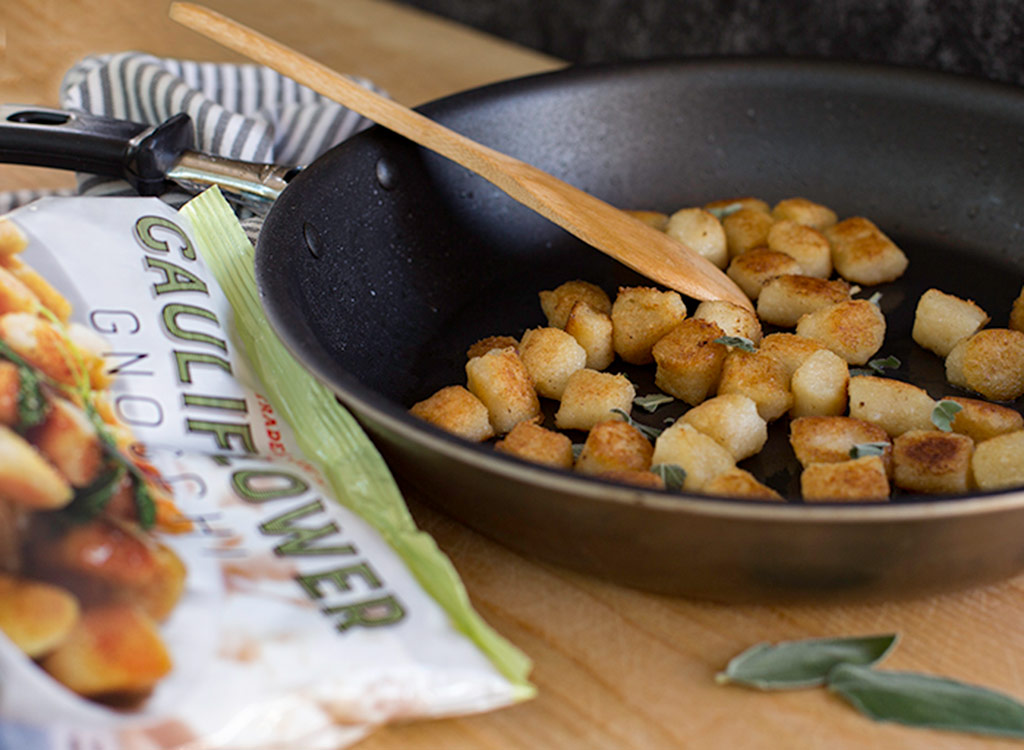 You won't be able to resist gluten-free TJ's cauliflower gnocchi, which features cauliflower, cassava flour, potato starch, extra-virgin olive oil, and sea salt. This low-carb dish is a healthier alternative to the classic carb-heavy Italian recipe. Simply sauté this guilt-free entrée over the stovetop or boil or microwave it for a more tender texture.
Eat This! Tip: For a boost of flavor, toss it with a little bit of Parmesan and olive oil or tomato sauce and fresh basil.
Hi-Protein Veggie Burgers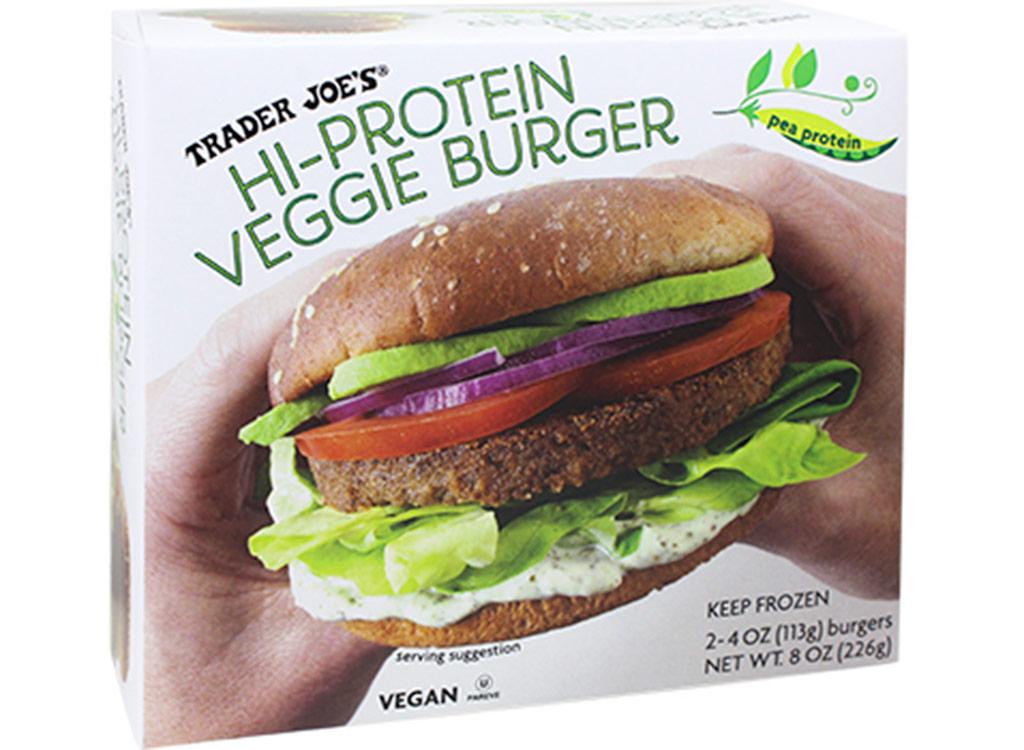 Veggie burgers don't offer as much protein as their meaty counterparts, but these hi-protein vegan-friendly patties from TJ's are in a league of their own. While a traditional burger contains about 19 grams of protein, these veggie burgers boast an impressive 26 grams of the muscle-building nutrient. Every hi-protein veggie burger has a pea protein blend that's combined with seasoned brown rice flour and onions.
Eat This! Tip: Serve the burger on a collard green "bun" with avocado slices and baked sweet potato wedges for more filling fiber.
Grilled Jerk Chicken With Mango Chutney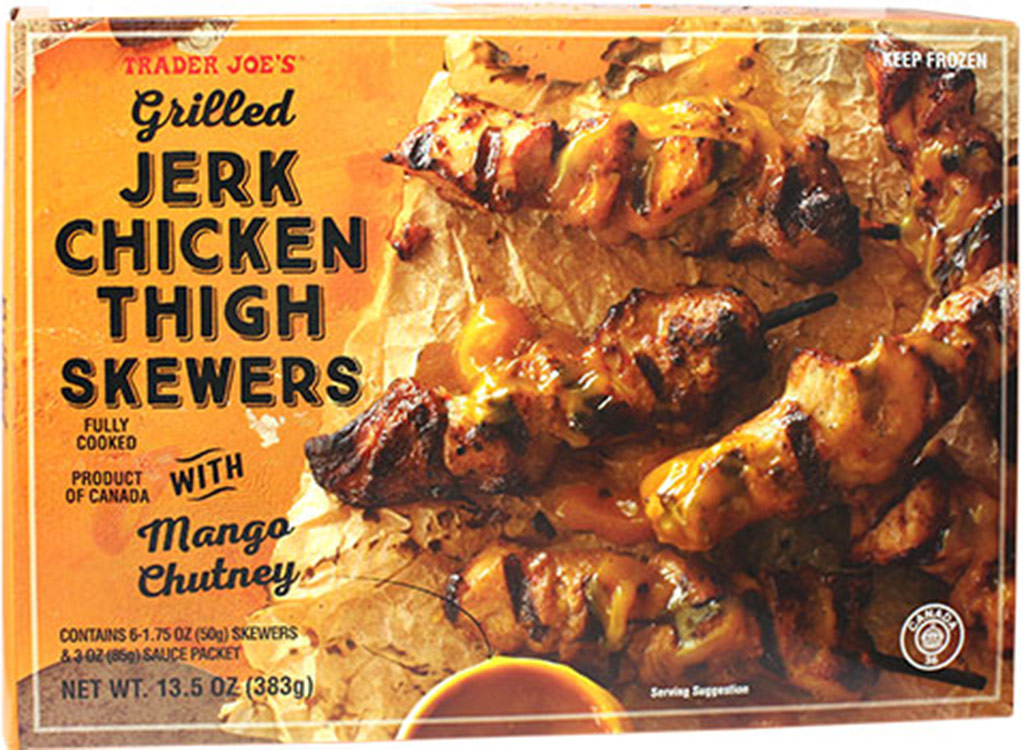 Thanks to TJ's grilled jerk chicken with mango chutney, you don't have to travel to Jamaica to bring the spicy flavors of the Carribean to your kitchen. The chicken has the traditional jerk seasoning, including chili, ginger, and lemon, and comes with a refreshing mango salsa. The best part is it's already packaged in wooden skewers and is fully cooked.
Eat This! Tip: To play off the tropical flavors, pair it with a spinach and mango salad.
Kale, Cashew And Basil Pesto
Trader Joe's kale, cashew, and basil pesto is one of the most versatile dips and sauces you can find in the popular grocer. Unlike traditional pesto, which uses Parmesan, TJ's version is vegan-friendly with garlic-scented cashew butter and uses kale to boost nutrition.
Eat This! Tip: Use it as a dip for chips, crackers, and crudités, or spread it on a sandwich or in a wrap.
Honey Walnut Shrimp
Restaurants that serve honey walnut shrimp tend to load it with sugar, but this version lightly coats the shrimp with ground walnuts and pairs it with a pineapple sauce for natural sweetness.
Eat This! Tip: Toss them into a bowl of buckwheat soba noodles, a low-carb alternative to wheat pasta. Soba also has six grams of protein and three grams of fiber per cup.
Japanese Style Fried Rice
Fried rice isn't typically healthy, but the Japanese-style fried rice from Trader Joe's is totally guilt-free. Packed with edamame, lightly fried tofu, and hijiki seaweed strips, this rice is filling and nutrient-dense. The other bonus is that you can just cook it in the microwave, skillet, or wok for a few minutes.
Eat This! Tip: To turn it into an even more filling meal, serve it with some teriyaki chicken. For more healthy protein choices, check out The 29 Best-Ever Proteins for Weight Loss!