The Surprising Way You Should Be Cooking Your Steak Isn't on a Grill
Preheat that oven and whip out your cast iron skillet—it's time to cook the best steak you've ever had.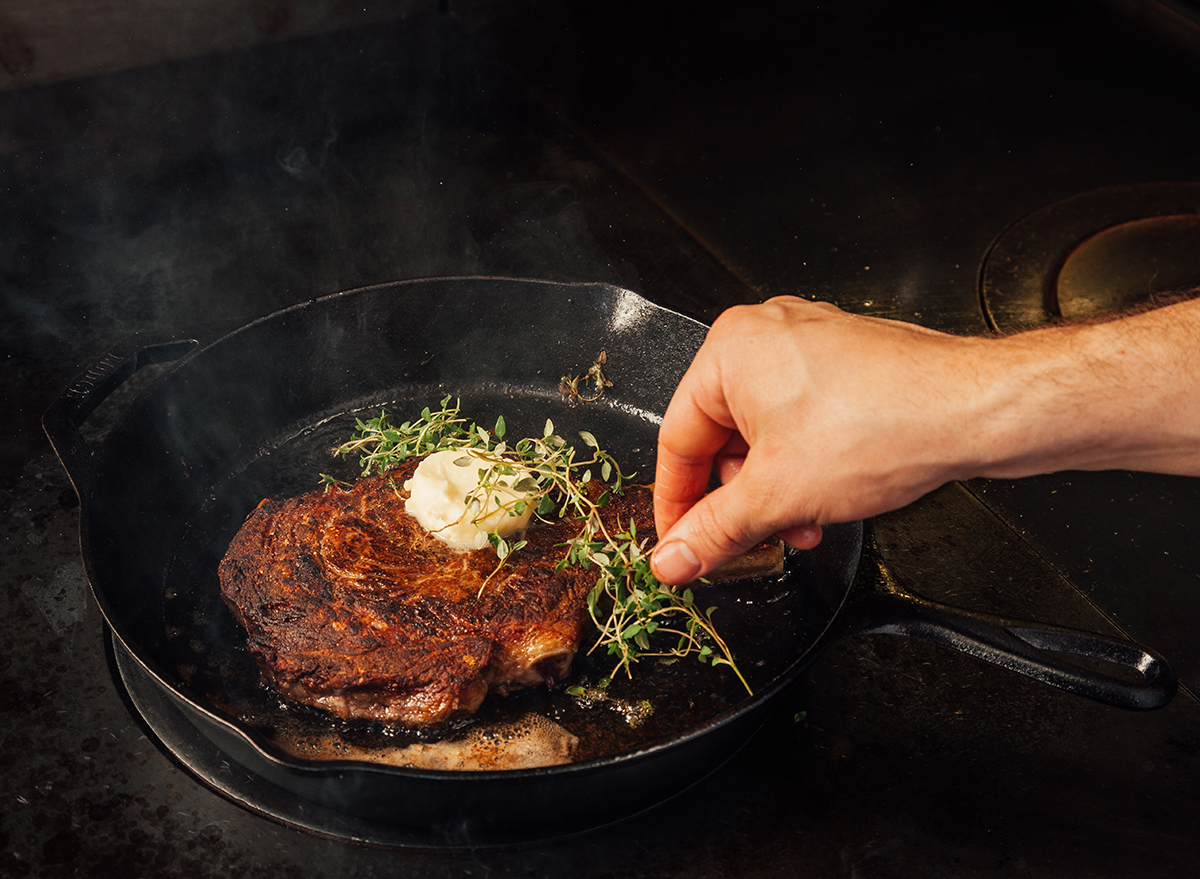 If you're looking for a way to cook the perfect steak without having to go through the trouble of firing up the grill in the backyard, the reverse sear may be your new go-to method. We called on Josh Tanner, the chef and director of online butcher shop New York Prime Beef, for the lowdown on the best way to cook a steak that doesn't involve a grill.
What is the best way you should cook your steak?
We have heard the reverse sear is an unrivaled way to cook the perfect steak, and Tanner, a steak connoisseur, agrees.
"Reverse sear is becoming more and more popular, as it gives a much greater margin of error in cooking steaks, particularly larger cuts because the timing of the cooking process is much less important," says Tanner. "Basically, no more charred steaks with raw middles."
What about the reverse sear enables the steak to achieve optimal flavor and texture?
When you think of a seared piece of meat, you likely think of tender, pink meat with a crisp, darkened crust. To achieve this look using the reverse sear method, you start cooking the steak ideally in the oven at a low temperature and then tossing it onto a sizzling cast iron skillet to finish it off before serving.
"By starting the cooking process at a lower temperature, you can ensure that the entire steak is cooked evenly through to the exact level of doneness you're looking for, before searing for the perfect crust," says Tanner.
How can you reverse sear a steak at home?
Tanner provides a step-by-step guide to the perfect reverse sear steak.
Make sure to start with a well-rested steak, at least 30-60 minutes out of the refrigerator, so it has fully come to room temperature.
If using an oven, 220 degrees Fahrenheit is a good temperature for a consistent cook.
Use a meat thermometer to monitor internal temperature and pull out when the steak measures 15 degrees Fahrenheit below the desired finishing temperature, which is 115-120 degrees Fahrenheit for medium rare.
In a heavy, hot skillet with a bit of butter, sear the steak on each side until well browned and the internal temperature rises to 135 degrees Fahrenheit for medium rare.
Let rest 5 minutes. Slice and serve.
Note: in between steps one and two, be sure to season the steak with whatever spices, herbs, and marinades if you have yet to do so already.
Now, it's time to cut into that tender yet caramelized steak. You'll see why a reverse sear is the perfect way to serve a steak!