How to Reheat Tamales, According to a Chef
Thanks to these expert tips, here's how to avoid eating soggy tamales that second time around.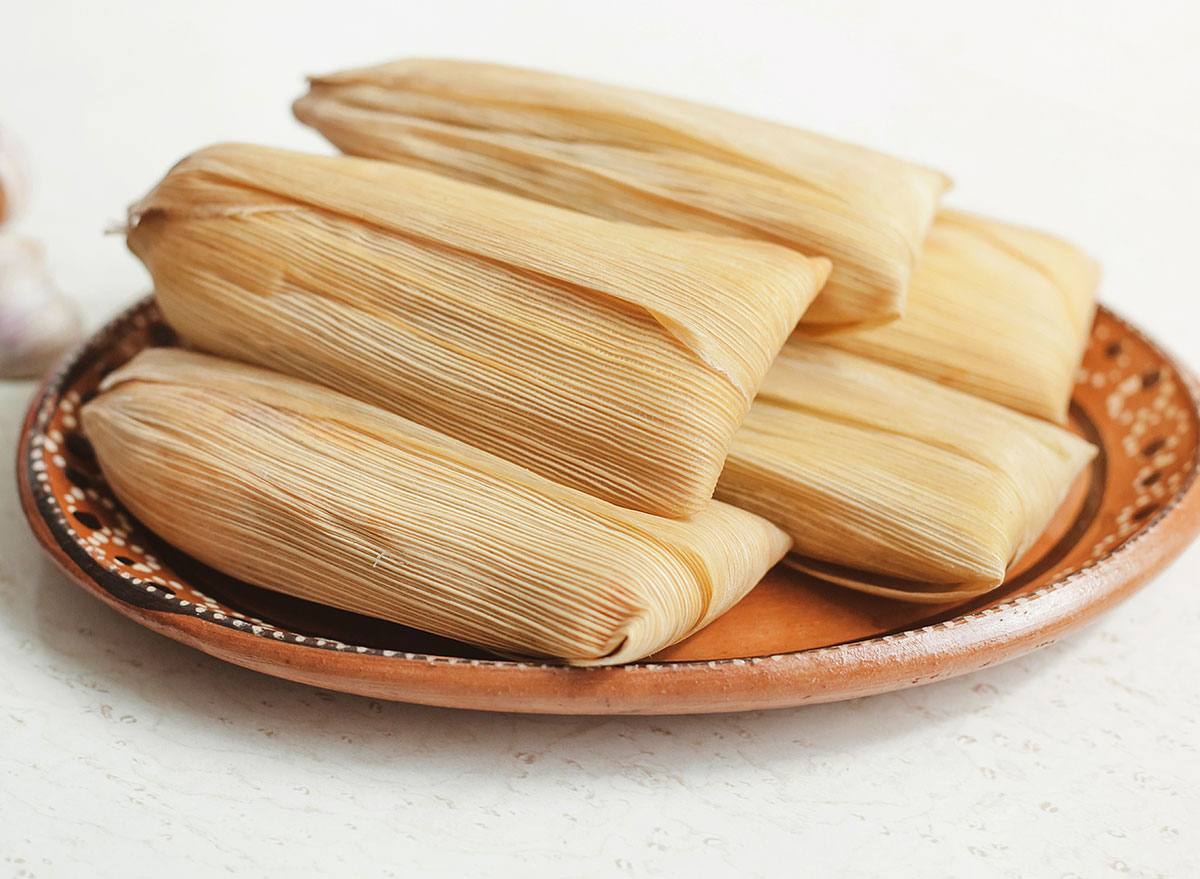 Originated in Central and South America, tamales are easily customizable and can be filled with meat, cheese, vegetables and anything else you'd like. Mexican tamales are wrapped in dough called mesa and then wrapped in a corn husk. The husk can be thrown away after they're cooked or can be a plate.
"The masa component in a tamale is a complex dough, similar to a freshly made pasta," says Chef Cindy Loren of Shuck House in Los Angeles and R10 Social House in Redondo Beach, California. "You don't want to over or undercook, there is nothing worse than a mushy or dense dry tamale.
We all know enjoying tamales are at their prime when they are hot, but what do you do when they get cold or you want to eat them the next day without making them soggy? The good news is it is possible.6254a4d1642c605c54bf1cab17d50f1e
"The best part is you will be eating them in minutes by heating up," says Chef Alan Vargas, Executive Chef of New York City's Consulate. "All flavors will blend together."
How to reheat tamales
It is best to eat them right away after cooking, according to Chef Loren. However, they do keep for 2-3 days after they are originally cooked, but also are easy to freeze and reheat. Luckily, there are three good ways that all involve the one thing that cooks them: steam.
Microwave
You'll need a few supplies for this method. "Pour a few drops of water on them and cover the plate with some plastic film before heating up in the microwave for 1.5 minutes," says Chef Vargas. The water will quickly turn to steam that will reach into the corn husk to warm the filling.
Steamer
If you have a steamer you can use it. It only takes 1-2 minutes, according to Chef Vargas. This could be a tamalera that fits inside of a stockpot or a rice maker, a pierced or mesh steamer that can be placed into a pot or even a steamer machine.
Double Boiler
You can also put tamales in a double boiler on the stove. "In a pot with some boiling water drop them in, in a smaller container until they heat up" for 3-4 minutes, Chef Vargas says.
The best way to reheat tamales
The oven! "Once my oven is heated at 350 degrees, I place the tamales on a sheet tray and it only takes about 8-10 minutes," Chef Loren says. "Also, for my personal preference, I enjoy a slight crisp on the outside while the inside is still moist." This can be done by keeping the corn husk on. For no crisp, she says to "cover the tamales with foil to protect them from harsh heat and you end up with a perfect soft, moist tamale."
Now that you know the best way to reheat tamales, here's The Only Way You Should Reheat Rice, According to a Chef.
Amanda McDonald
Amanda has a master's degree in journalism from Northwestern University and a bachelor's degree in digital journalism from Loyola University Chicago.
Read more about Amanda