9 Best Woks for Home Cooks, Hand-Picked By Wok Experts
For a more authentic stir-fry experience, you're going to need a wok. Here's how to buy the best one for you.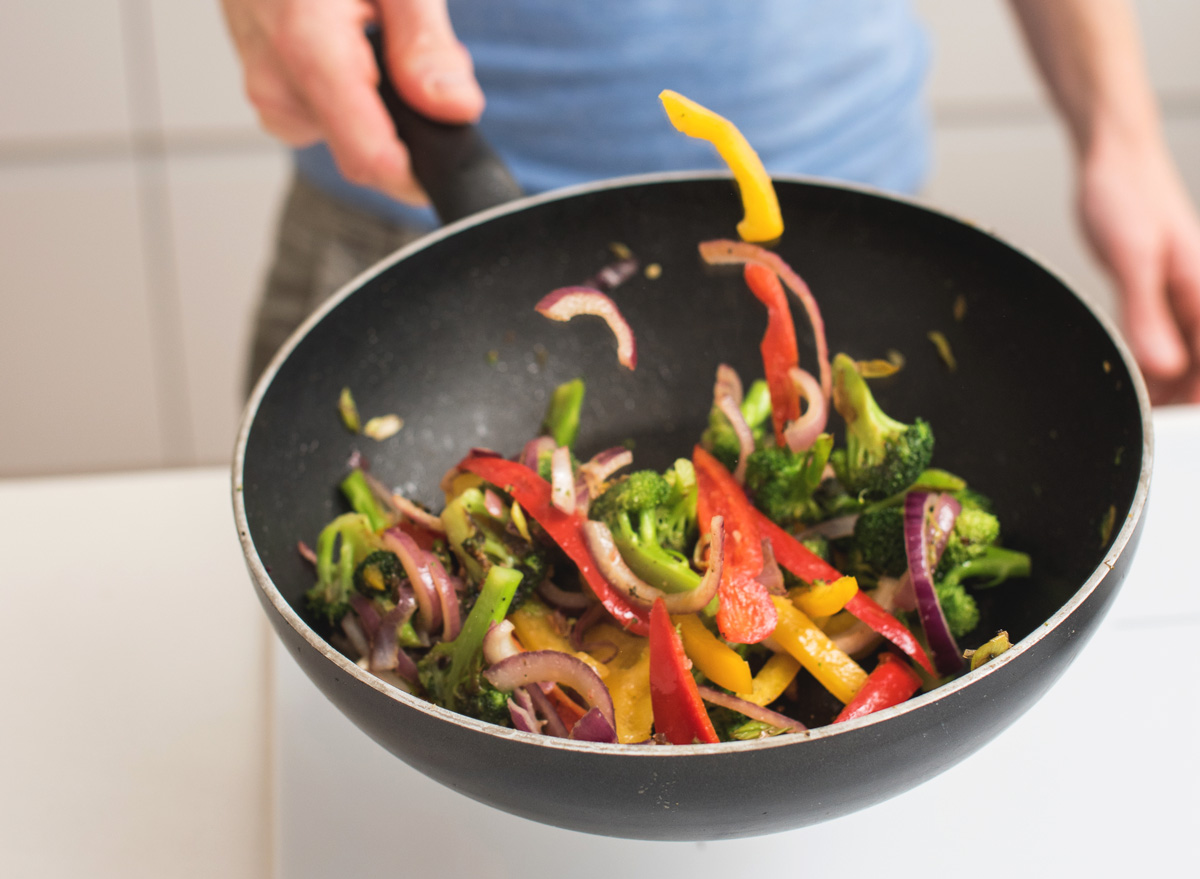 It's time to talk about woks. And—in just a minute—the best wok you can buy. But let's start with a simple question: what exactly is a wok? The versatile round-bottomed cooking vessels, which originated in China, are one of the most common kitchen utensils in China. Now, the pans are becoming increasingly popular stateside for their superb searing powers and versatility.
If anyone can fully comprehend the importance and versatility of a wok, it's Grace Young. The self-proclaimed stir-fry guru, who is a winner of the James Beard Foundation's Best International Cookbook Award for her tome, Stir-Frying to the Sky's Edge, uses a wok for a myriad of cooking-related tasks. "I've discovered the 2,000-year-old wok is the hippest pan, and it isn't limited by culinary borders," she says.
To help you decide which wok is the perfect fit for your needs, we've put together this handy guide using input from wok experts like Young as well as insights from professional chefs who use woks on a daily basis.
What kind of cooking is a wok good for?
"You can use a wok for roasting a chicken or vegetables, cooking bacon, pan-frying steaks or sunny side up eggs. It's also the all-time best pan for popping corn because of its spacious bowl shape," says Young.
Woks can be used to stir fry, steam, pan-fry, deep-fry, poach, boil, braise, smoke, and sear a variety of foods. They're also great for whipping up stews and soups, making them an ideal tool to have on hand.
What are the benefits of using a wok vs. a skillet?
Though it may seem like a wok is just another version of a skillet, Young maintains woks offer perks that traditional skillets do not. "The wok's concave shape makes stir-frying easier. Cooking in a wok requires less cooking fuel because the heat is concentrated in the well and spreads to the sides," she says.
"Unlike a skillet, the wok's sloping sides not only prevent food from spilling out, but they are also a cooking surface," says Young. The sloped sides also help to establish cooking zones. Any food you rest along the outside of the wok will cook at a slower rate and you can utilize the bottom of the pan for high-heat frying.
"The depth of the wok makes the pan more versatile; it's not just great for stir-frying. You can braise a stew, deep-fat fry spring rolls, steam fish, boil noodles, poach chicken, and smoke tofu."
What are the different types of woks you can buy?
Different types of woks—such as those made from cast iron, steel and nonstick material—are best suited for different purposes.
In order to determine which kind of wok is best for you, it's important to understand the pros and cons of woks made from different materials.
Carbon steel woks
Cookware made of carbon steel is typically best used for quick-cooking tasks, such as stir frying, which is part of the reason why carbon-steel woks are so common.
Pros:
You can easily adjust the temperature with a carbon steel wok. "It's great because it heats quickly and conducts heat well. The metal is ideal for searing ingredients and I love it because it responds immediately to heat adjustments," says Young.
It eventually becomes non-stick. "The more you cook with carbon-steel the more it develops a natural nonstick surface," says Young.
It is light and less unwieldy. To reap the ease-of-use benefits, Wang recommends looking for woks that are 14-gauge 2 millimeters thick and will not bend when pressed on.
Cons:
It can take a while to develop a good cooking surface. Carbon-steel woks have an interesting adjustment period. "When you first start using a carbon-steel wok, it takes time for the patina to develop," she notes. "During that period the wok often looks terrible and it's easy to get anxious wondering if you're doing the right thing."
It's prone to rust. Young also points out that carbon-steel woks are prone to rust if not cared for properly; luckily, the rust is easy to remove.
Cast-iron woks
Cast iron is a material that is commonly used to make various types of cookware, such as cast-iron skillets, grill pans, Dutch ovens and, yes, woks.
Pros:
A cast-iron wok is typically less expensive than its steel counterpart.
It has excellent heat-retaining properties.
It's well-suited to longer cooking methods. As Young puts it, "because [cast-iron woks] retain heat, they are excellent for braising and long cooking."
Cons: 
It takes a long time to heat up and cool down. Because cast iron cooking utensils are relatively thick, they take a long time to come up to temperature. This can make for a tricky cooking process, especially for novice wok users: "Cast-iron is slow to heat. Once the pan is hot it holds the heat for a long time, which means once the food is cooked, if you're a novice wokker and are slow getting the food out of the pan, the food will overcook."
It's heavy and clumsy. "I find the cast-iron wok to be too clumsy for cooking. When the wok is full of food, it's too heavy to pick up with one hand. You must always use both hands and potholders," Young explains.
Nonstick woks
Though a kitchen utensil like this might sound good in theory (afterall, nonstick generally translates to an easy cleanup) nonstick woks are a non-starter for Young. "Don't even consider buying a nonstick wok because most nonstick pans are not intended to be used on high heat, and high heat is a must for stir-frying," she says. "In my opinion, nonstick cookware is inferior to carbon steel for searing food and the food doesn't taste as good. I also don't want a chemical nonstick coating touching my food."
David Wang, the executive chef at Wok N' Bao in Chicago, agrees. "A personal preference of mine is to not use nonstick cookware when I don't have to, especially in a wok because when cooking with such a high temperature, it can degrade the nonstick coating fairly easily."
How to pick the best wok.
Now that you're armed with a basic understanding of the pros and cons of certain types of woks, it's also crucial that you know what to look for (and conversely, what to avoid) when choosing a wok of your own.
"When picking the best wok, be sure to look for the shape, size and material that best suits your comfort level in the kitchen and your personal preference. You also should consider the heat source at your home," says Anthony Alaimo, a Michelin star chef from 101 North Eatery & Bar in Westlake Village, California.
What kind of stove do you have?
Your heat source will dictate which wok you should buy.
If you have a gas burner, you're in luck. You can cook with a round bottom wok that sits under the grates. Wang notes that the round bottom will help distribute the heat better. Young shares that for optimal cooking with a round-bottomed wok, you can get a wok ring to stabilize the pan.
If you have an electric or induction burner, you'll need a flat-bottom wok. Large induction burners "will come in contact with the entire bottom surface of the wok," says Alaimo.
How many people are you feeding?
For Young, size is key. "I generally recommend a 14-inch flat-bottomed carbon-steel wok with a long wood and short helper handle. This is the best wok for a residential stove," she says. Even if you have a big family, if you're cooking on a residential stove, don't bother with bigger woks. "A 16-inch wok is too big and can't get sufficiently hot," Young says.
If you typically only cook for yourself or you and a partner, you can consider getting a smaller wok. Just keep in mind that 12-inch woks will "crowd the food, which can turn your stir-fries into a braise," says Young.
How much effort do you want to put into cleaning and seasoning your wok?
Stratis Morfogen, the owner of Brooklyn Chop House, is partial to stainless steel woks because they are easy to clean. Cast iron, on the other hand, will take a long time to cool down, which will lengthen your cleaning time. Both cast iron and carbon steel woks will also require you to season them regularly to maintain their patina. Non-stick pans are dishwasher safe, and will be the easiest to clean.
The 9 best woks for home cooks, according to experts.
Scroll down for a list of the best woks for home chefs!
Best affordable wok: Wok Shop's Carbon Steel Wok with Two Wood Spool Handles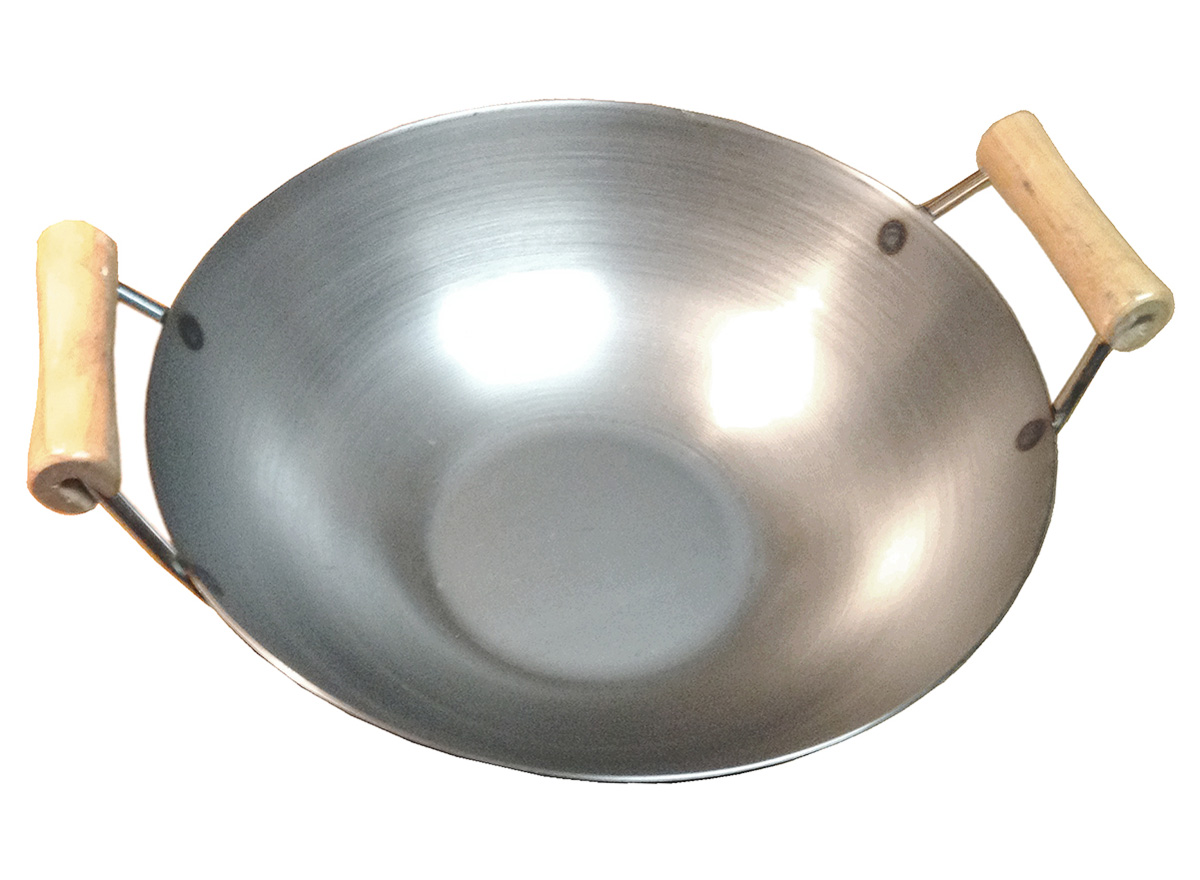 "My favorite source for woks is the Wok Shop. I call it Wok Mecca because they have the largest selection of woks and wok accessories," Young says. "They've been in business for nearly 50 years, located in the heart of San Francisco's Chinatown. They sell a no-brand, American-made 14-inch flat-bottomed carbon-steel wok for only $35. Yes, the shipping will cost a little more but I think it's worth it because the wok is built to last." With more than two dozen woks to choose from, Wok Shop has a pan for every purpose. What's more? Many are customizable and come in a variety of sizes and shapes, meaning you can tailor a wok to your specific needs.
Best wok for induction or ceramic glass stoves: AmazonBasics Pre-Seasoned Cast Iron Wok Pan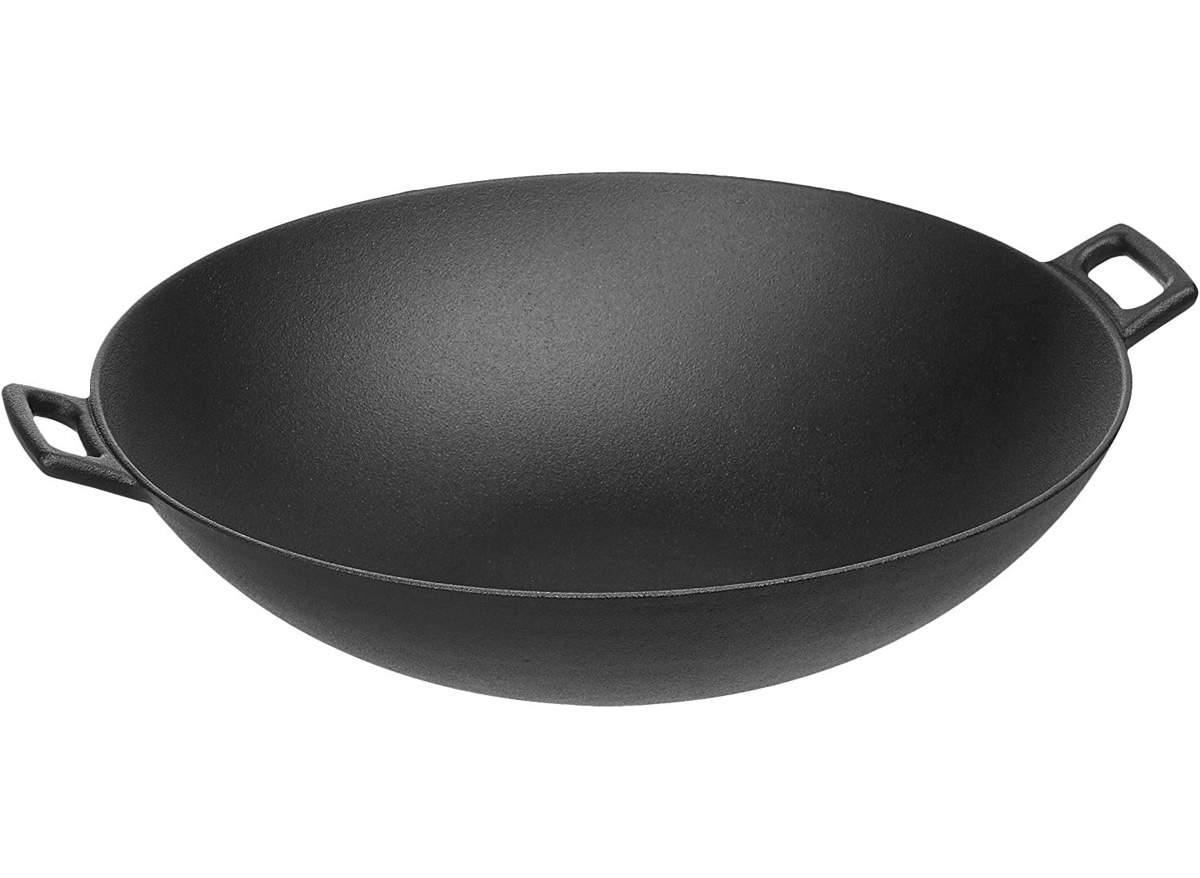 Though Young is partial to the wok above, she's fully aware that preferences vary based on your kitchen setup. "The kind of wok you want depends on your stove," she notes. While flat-bottomed carbon-steel woks are good for residential gas stoves, cast-iron woks with flat bottoms (like the one seen above) are ideal for induction or ceramic glass top stoves.
Best wok for gas-burning stoves: Wok Shop's Carbon Steel Wok With Wood Side Handle
6254a4d1642c605c54bf1cab17d50f1e
For semi-professional stoves, Young suggests either a Chinese-made cast-iron wok or a round-bottomed carbon-steel wok with wood handles, like the one above. "I like the wood handles rather than metal handles because they don't require potholders," Young says. If you happen to live or find yourself in San Francisco, Young recommends paying Wok Shop a visit. "There is no one in retail more knowledgeable about woks than the owner Tane Chan," she says. "Tell her about your stove and she can best advise."
Best non-stick wok: Alpha Nonstick Marble Stone Coating 12.6" Wok Pan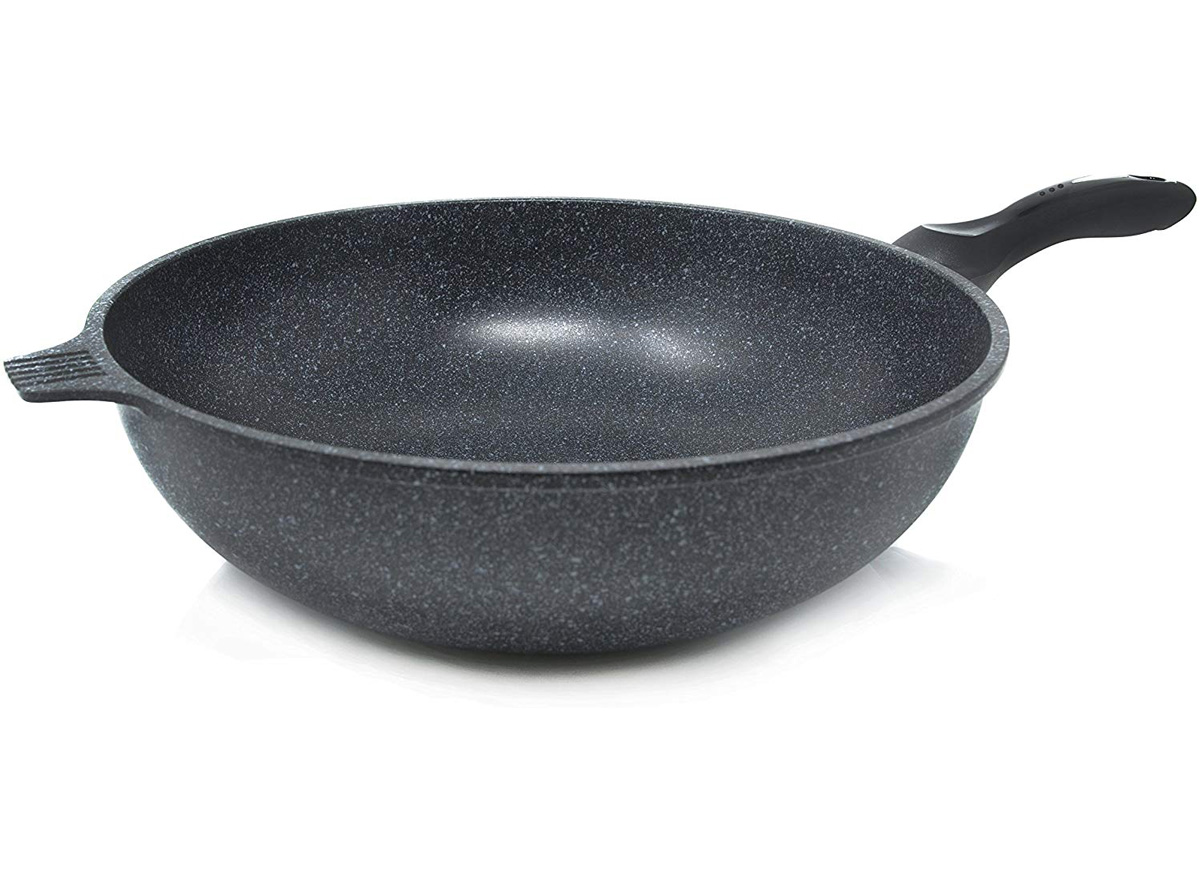 "A wok that isn't easy to stick and can be used for a long time would be considered a good wok," says Parq Vancouver's Jason Wu, the executive chef of MRKT East. "For home cooks, it is best to use a nonstick frying wok, because it's not that easy to stick when cooking," he adds. "The only problem with a nonstick wok is that once it's scratched on the surface, it's considered non-usable. You have to be very careful working with and cleaning nonstick woks." Make sure you're using a silicone wok ladle if you're going to use a non-stick wok. The version above, which is made in Korea, has dozens of 5-star reviews on Amazon.
Best carbon steel wok: 14-Inch Carbon Steel Non-Seasoned Round Bottom Wok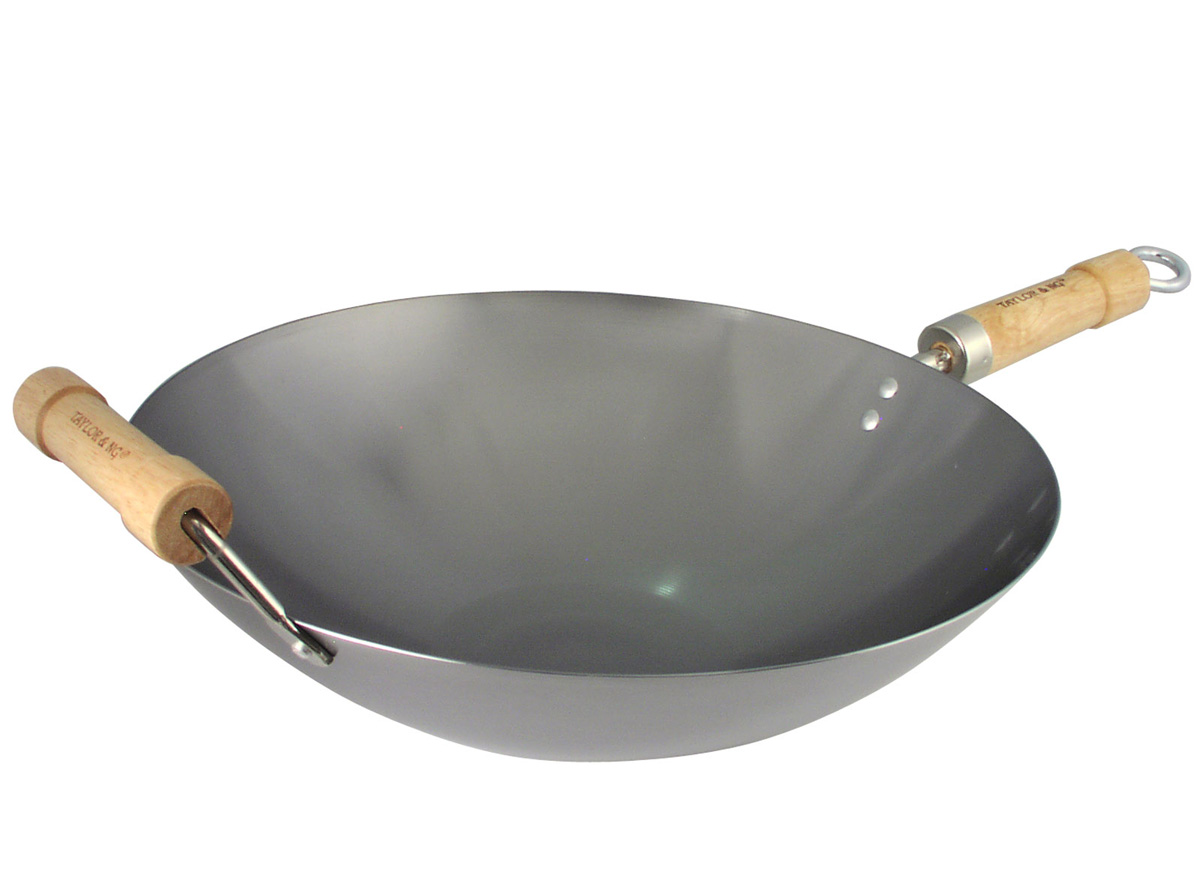 Wang is a fan of carbon steel woks because they're lighter than their cast iron counterparts and therefore less unwieldy. "Carbon steel heats up quicker and more evenly," he notes. "Look for woks that are 14-gauge 2 millimeters thick and will not bend when pressed on," much like the one above. "When buying a wok look for ones with a rounded bottom, it helps to distribute the heat better."
Wang also notes that if carbon-steel woks are properly cared for, they will essentially become nonstick.
Best traditional wok: Craft Wok Traditional Hand-Hammered Carbon Steel Wok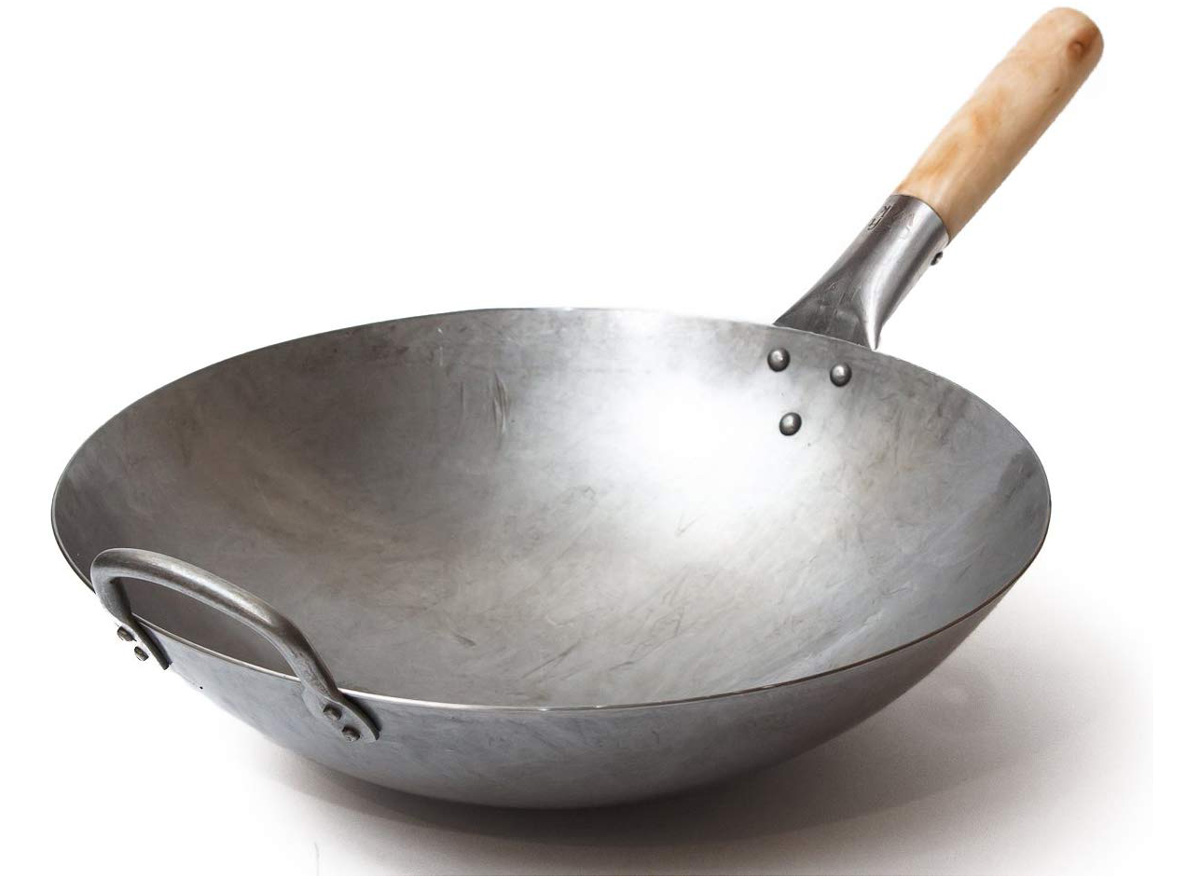 Alaimo is partial to woks with a helper handle, and specifically ones that are made of hand-hammered carbon steel. "[That's] the traditional wok that I was showed how to cook with," he says. "This type of wok is very durable and heats up quickly." This particular wok is one of Amazon's most beloved offerings, with several hundred perfect or near-perfect reviews.
Best wok for beginners: Sur La Table Professional Nonstick Wok
Like Young, Alaimo knows different woks are better suited for different purposes. "If you have a standard burner, it might be best to go with something a little more user-friendly such as a nonstick or stainless wok with a flatter bottom." This Sur La Table offering is professional-grade and is constructed from steel for quick, efficient heating and exceptional heat transfer. The light, easy-to-maneuver pan boasts a flat bottom, which allows for even results on a variety of cooking surfaces.
Best versatile wok: All-Clad Stainless Steel Wok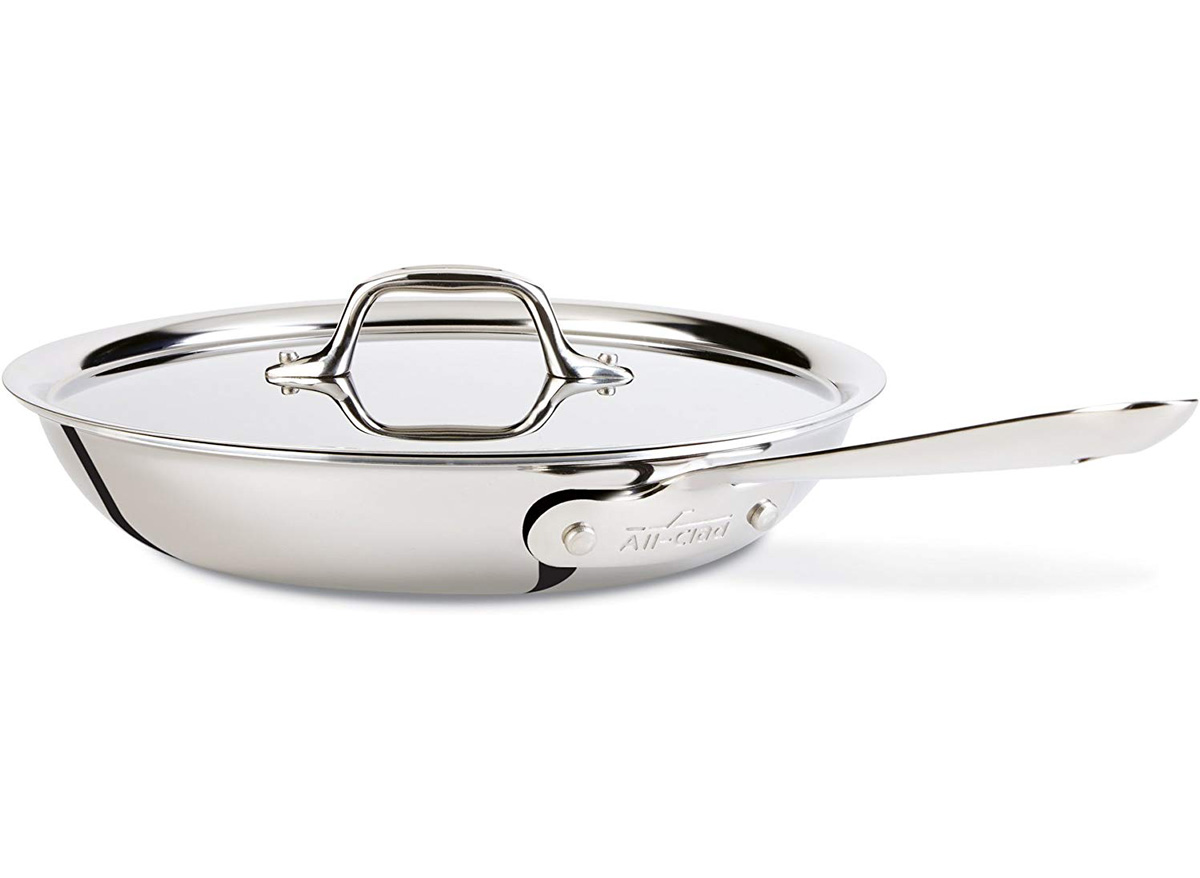 For a wok with a sleek, "clean" look like Morfogen enjoys, try this All-Clad offering, which is neither too high nor too wide, per the restaurant owner. In addition to being picture-perfect, this pan has hundreds of 5-star reviews, making it one of Amazon's most sought after woks.
Best dishwasher-safe wok: T-fal 14-inch Nonstick Jumbo Wok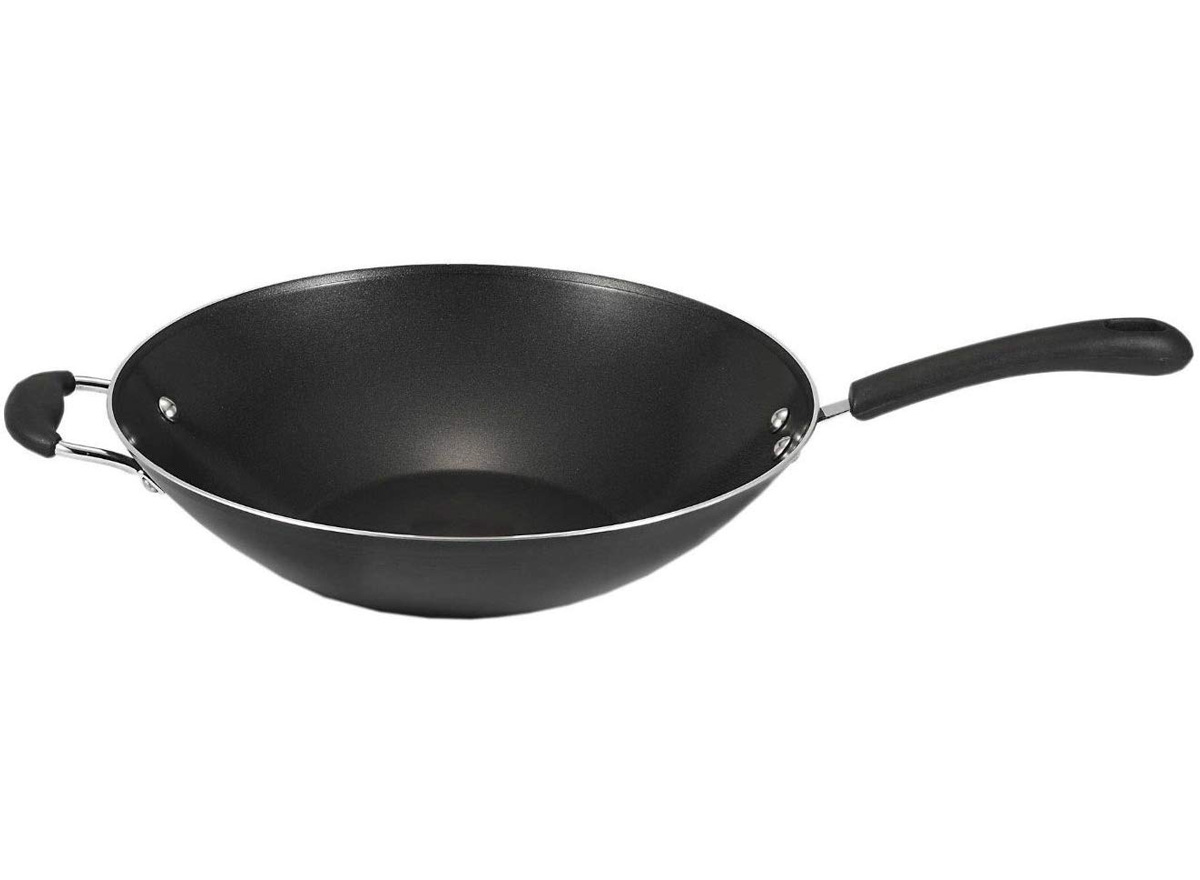 Looking for a dishwasher safe wok? This T-fal version, with more than a thousand stellar Amazon reviews is the best wok. It's big enough to hold a meal that can feed an entire family, yet it's still easy to cook with and a cinch to clean. Its aluminum construction allows for fast and even heat distribution, and the wok's nonstick surface means you only need to use minimal oils or fat while cooking.