25 Best Fast-Food Hacks for Weight Loss
Slim down by trying these handy hacks instead of forgoing your weekly drive-thru rendezvous.
Ever wonder how some people seem to stay so slim without cutting out their weekly lunches at Chick-fil-A? That enviable physique could be the result of genetics, a disciplined exercise regimen, and/or smarter choices involving what these people eat for all of their other meals. However, there's also a chance these folks simply know how to make healthier decisions at a fast-food chain.
Believe it or not, there are fast food hacks fit-minded people have at the ready. These simple tweaks can save you hundreds of calories at each meal, and there are dozens to learn. We rounded up the best healthy fast-food secrets. And to help keep your waistline as slim as ever, be sure to try out these 21 Best Healthy Cooking Hacks of All Time.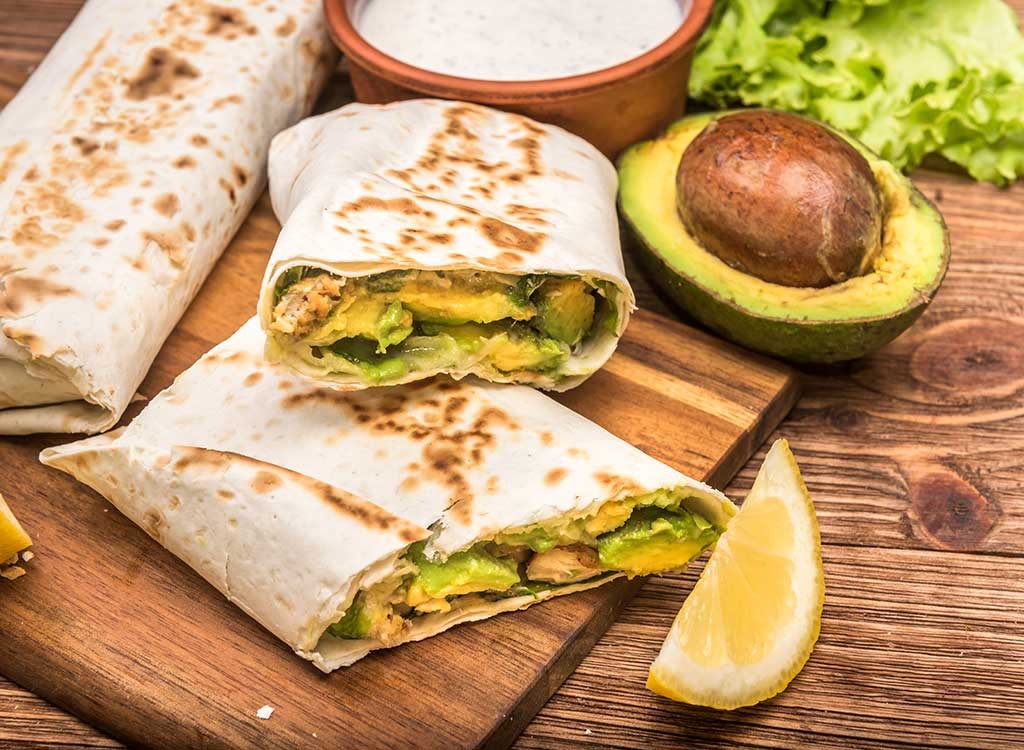 Those paper-thin wraps that seem so much healthier than bread are almost always loaded with calories, thanks to the added fat that's required to make them pliable. In fact, a large wrap can amount to the carb and calorie equivalent of four or five slices of bread. Yikes! Instead, choose bread that touts itself as 100-percent whole-grain or ditch the carbs altogether and order a protein-packed salad. Looking to boost your protein intake even more? Get familiar with The 29 Best Sources of Protein for Weight Loss!
Watch Out for Dangerous Dressings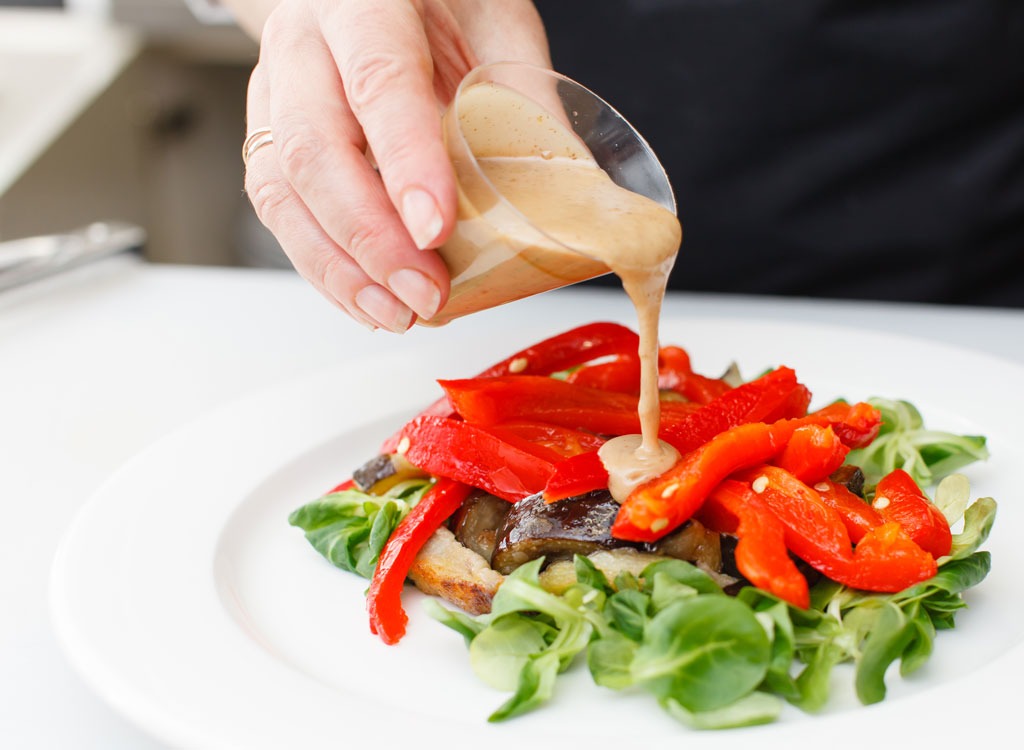 When ordering a salad or a sandwich, the dressing you choose can make or break the meal. Don't believe it? Panera Bread's Greek Salad has 410 calories, and topping it with an entire serving of Greek dressing adds another whopping 230 calories and 25 grams of fat to the otherwise healthy meal. Dress the salad with Panera's Thai Chili Vinaigrette instead, which will cost you just 50 calories and 1.5 grams of fat. When ordering a salad or wrap at Chick-fil-A, the chain recommends you go for their light Italian dressing, as a serving only adds 25 calories to a meal.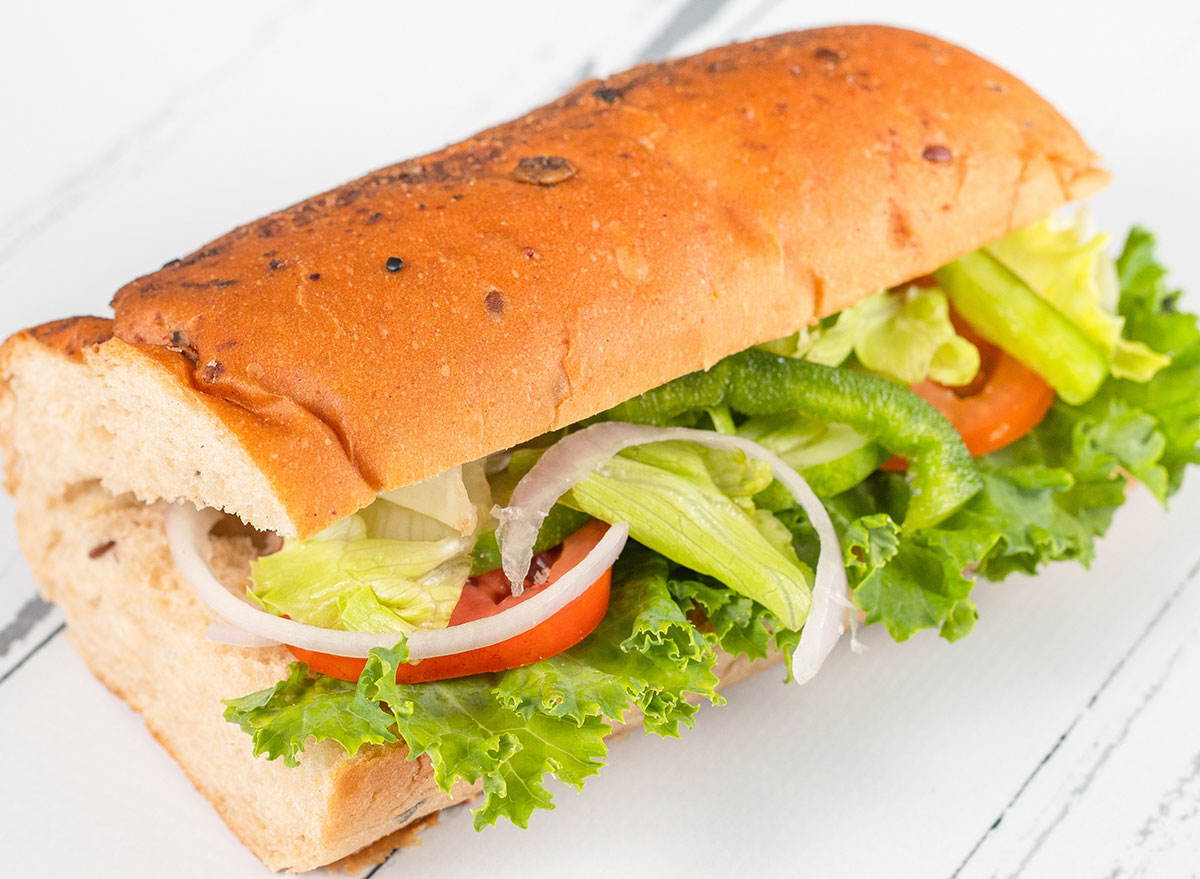 Subway, for example, has a cavalry of tried-and-tested sandwiches at the ready, but the chain also allows you to craft your own creations. When making your personalized 'wich, pile it high with fiber-packed produce such as spinach, avocado, and tomatoes. Not only are these nutritional superstars packed with vitamins and minerals, but they'll also keep you satiated so you won't be tempted to reach for unhealthy snacks. For make-your-own salads, use plenty of colorful vegetables and high-quality proteins like grilled chicken.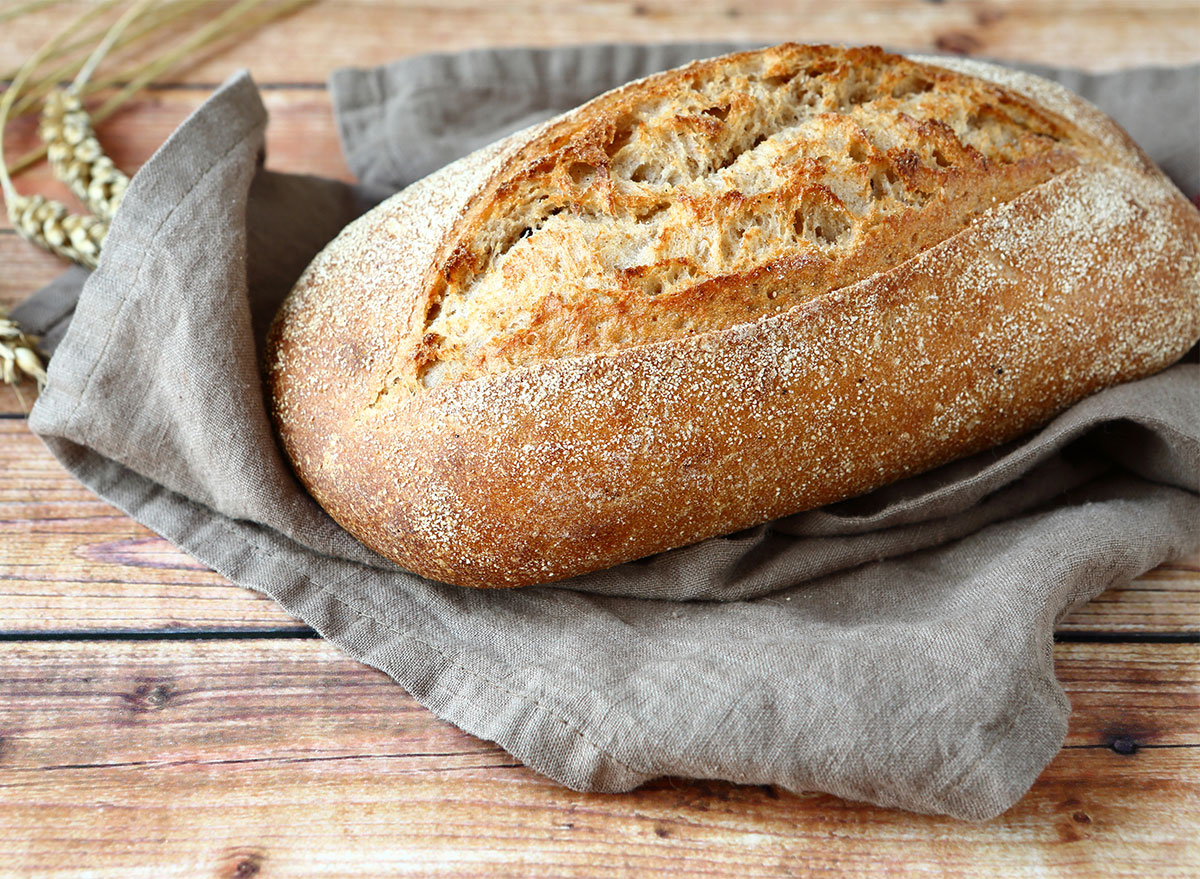 At fast-food and fast-casual restaurants, in particular, it's easy to come across unhealthy breads being disguised as wholesome ones. "Wheat" breads and "multigrain" breads all offer the promise of whole-grain goodness, but often the reality doesn't match up to what's advertised. Many restaurants such as Panera make their "whole-wheat" bread with mostly white flour. Look for the words "100% whole-grain" when selecting an armature for your sandwich, and make sure there is no belly-bloating added sugar.
Steer Clear of the Combo Meal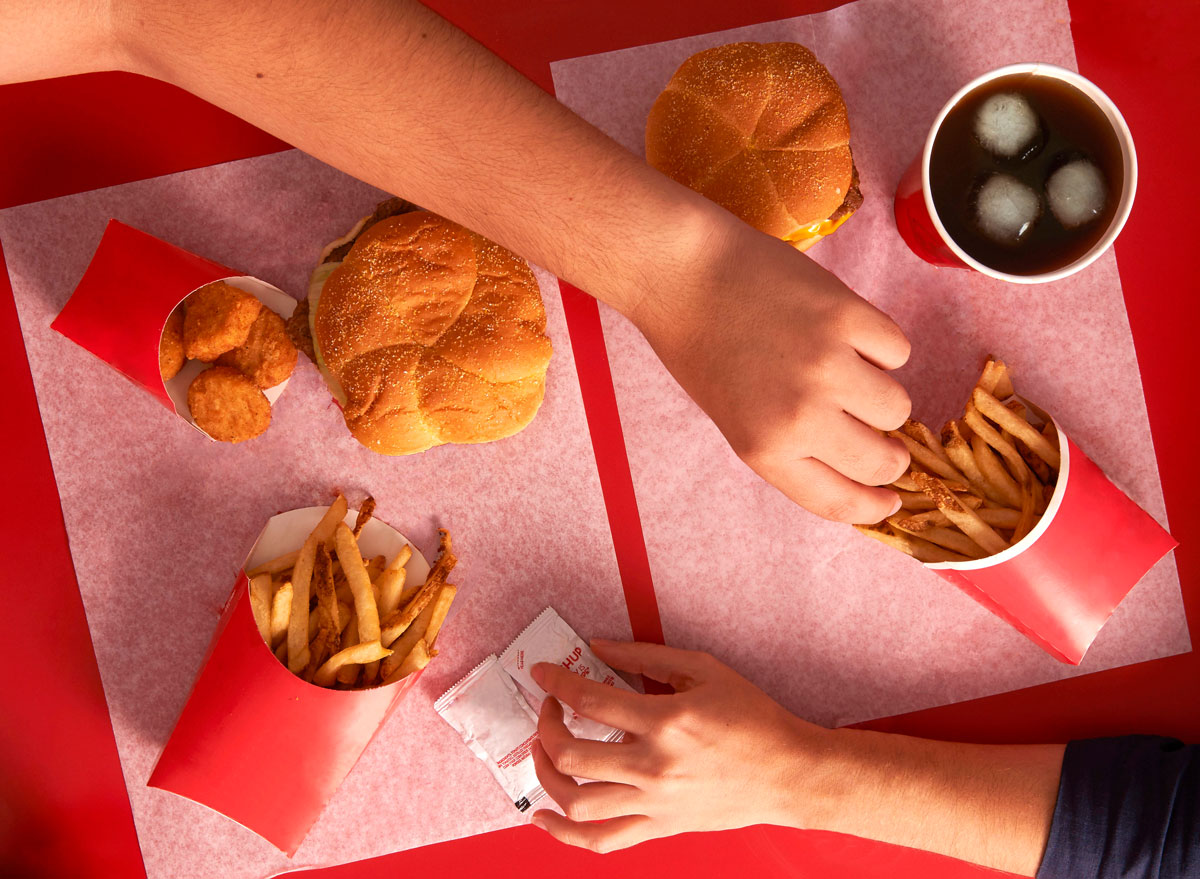 When grabbing grub at a fast-food restaurant the "combo" or "value meals" are typically less expensive and make you feel like you're getting a better deal, but oftentimes they're also nutritional nightmares. A study in the Journal of Public Policy & Marketing shows that compared to ordering à la carte, you pick up a hundred or more extra calories by opting for the aforementioned cheap "value meals." That's because, when you order items bundled together, you're likely to buy more food than you need or want, and end up overeating as a result. To keep your weight in check, order your food piecemeal instead.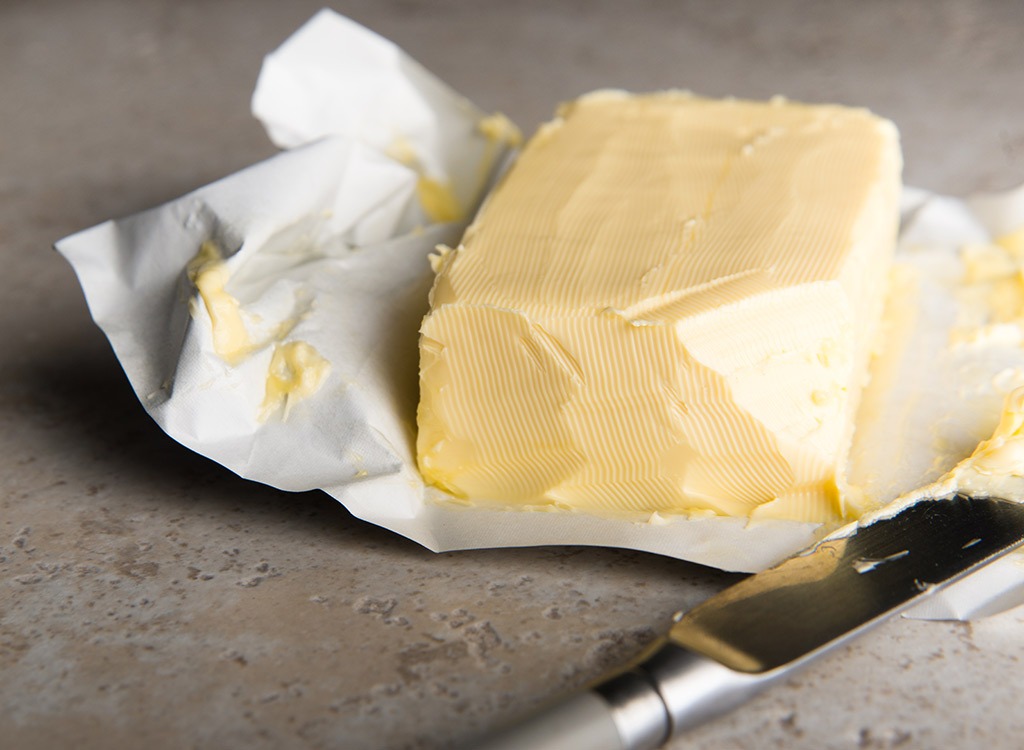 6254a4d1642c605c54bf1cab17d50f1e
If eating healthy is top of mind, Chick-fil-A recommends you ask servers to leave out the butter on any of the chain's classic sandwiches. Omitting just this one ingredient will shave a few calories and fat grams off your meal, and it's a good tip to keep in mind no matter where you eat out. Aside from Chick-fil-A, diner-style restaurants such as Denny's and IHOP have a propensity for buttering toast and pancakes before serving them to you, so keep your eyes peeled.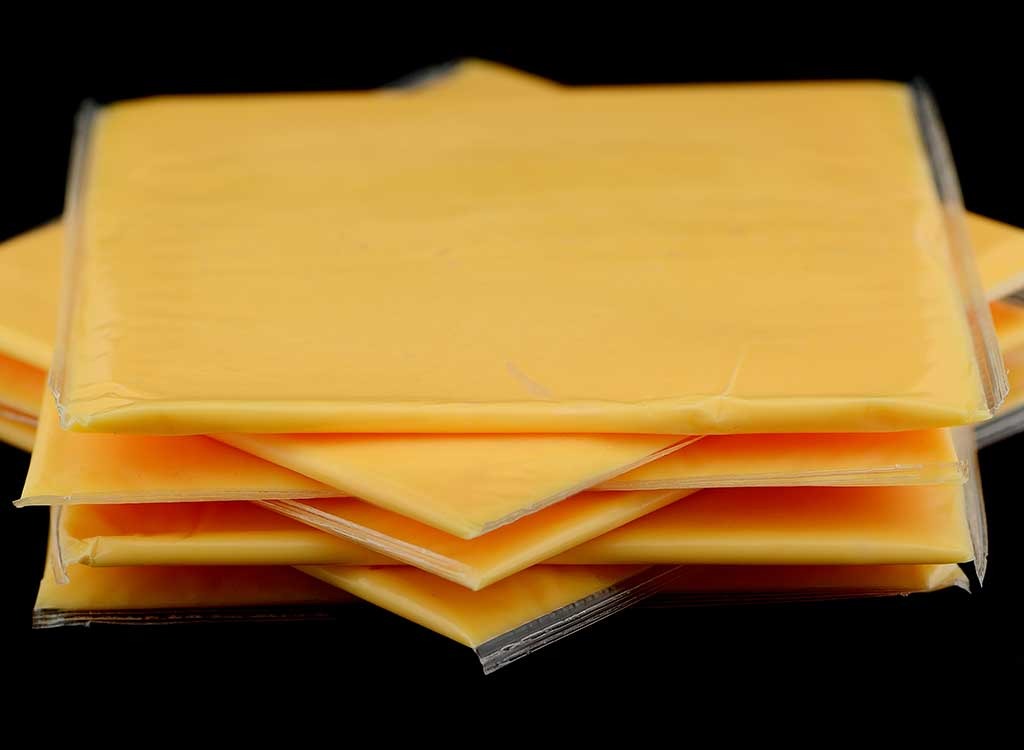 Another Chick-fil-A recommendation is to skip the cheese when ordering salads and wraps. This easy omission can save a few hundred calories and should be put to good use no matter where you decide to dine. This simple hack can also apply to burgers, sandwiches, and even an array of typically cheesy breakfast foods such as a McDonald's Egg McMuffin or a Burger King Croissan'wich.
If you're craving a burger and fries, indulge without going overboard by ordering off of the kids' menu. Children's portions are significantly smaller than regular-sized orders, which means they can help fulfill your cravings without undoing those weight loss wins. A McDonald's Happy Meal complete with Chicken McNuggets, fries, apple slices, and a bottle of one-percent milk contains just 410 calories, which is still 130 fewer calories than one Big Mac sans sides or add-ons.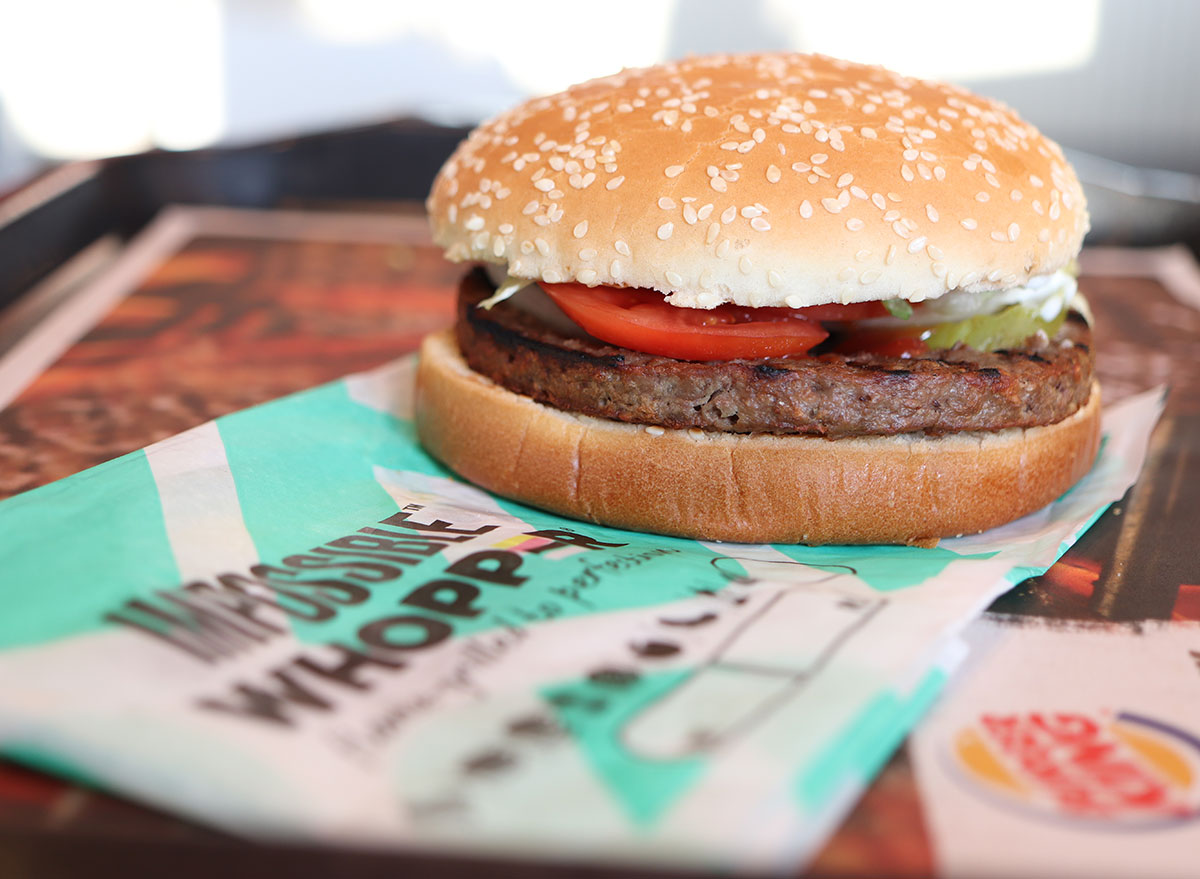 Though vegetarian options at fast-food restaurants are often few and far between, there are plant-based options making their way to menus. White Castle teamed up with Impossible Foods to create a vegetarian version of its famous mini-burgers, Burger King has its' Impossible Whopper, Starbucks has the Impossible Sausage Breakfast Sandwich, and McDonald's announced a new plant-based McPlant sandwich is coming.
Make Your Own KFC Famous Bowl
KFC's Famous Bowl traditionally comes layered with creamy mashed potatoes, corn, crispy chicken bites, gravy, and shredded cheeses, which amounts to 740 calories. While this meal packs in more than half the day's fat and almost a whole day's worth of salt, there's no need for the bowl to be that unhealthy. If you ask nicely, chances are the waitstaff would be more than willing to build a custom Famous Bowl. If that's the case, opt for a cheeseless bowl built upon a bed of green beans instead of mashed potatoes; these two simple swaps cut more than 200 calories!
Get Acquainted With Panera Bread's Secret Menu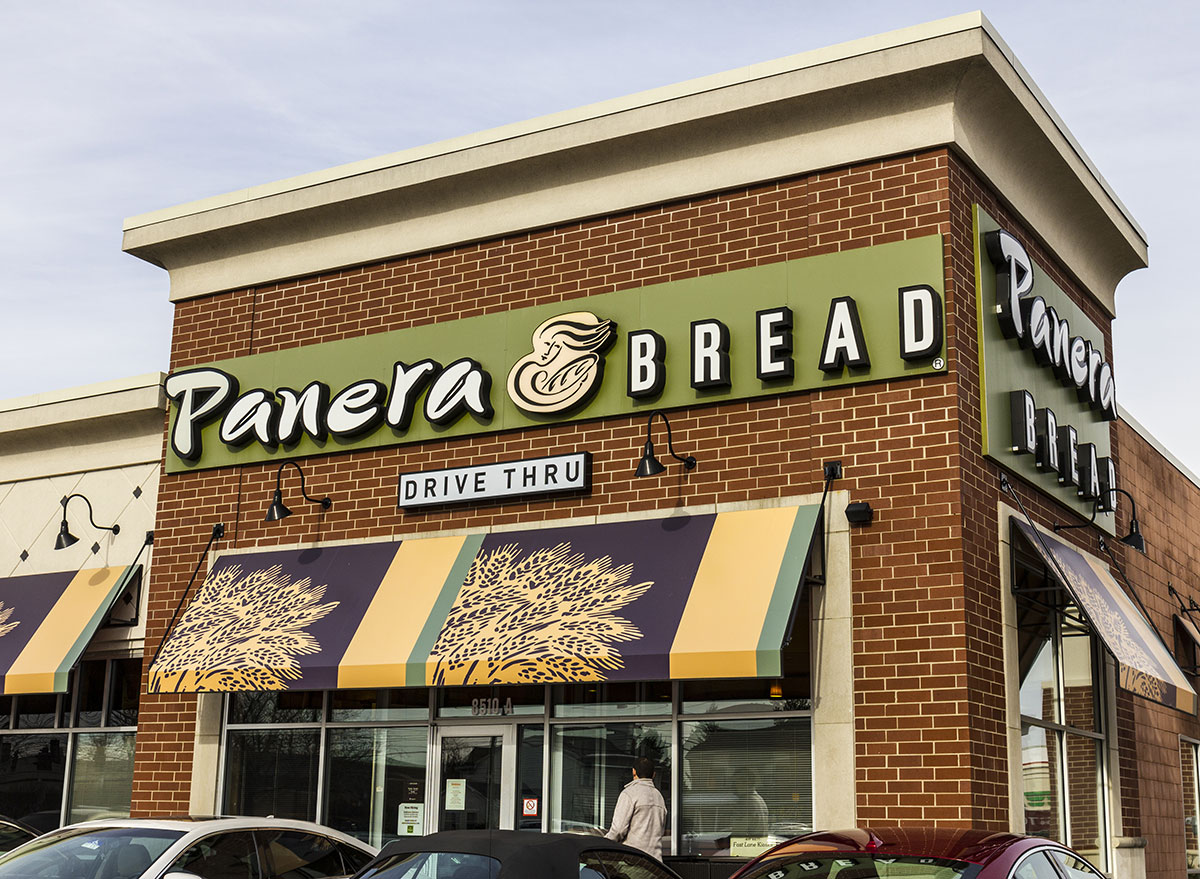 As with many fast-casual chains included in this list, Panera has a secret menu. And though many of the chain's traditional sandwiches and salads are deceptively high in calories, there are several options on the hidden list of offerings that are actually quite nutritious. Take, for example, the Power Chicken Hummus Bowl. The dish contains a combination of antibiotic-free chicken; satiating hummus; fiber-rich veggies such as baby spinach, cucumbers, tomatoes, red onions; and is garnered with fresh-squeezed lemon and chopped cilantro, both of which have been scientifically proven to blast belly fat.
Try Taco Bell's Shredded Chicken Mini Quesadilla
Though Taco Bell lags behind many other fast-food restaurants when it comes to healthy offerings, the chain's Shredded Chicken Mini Quesadilla from the dollar menu will fill you up without breaking the calorie bank. Why? Because the tasty offering boasts 200 calories and 10 grams of satiating protein. By asking the staff to go easy on the chipotle sauce and three-cheese blend, you can save an additional 30 calories. And swapping shredded chicken for steak cuts another 10 calories from the still protein-packed meal.
Go for 'Protein Style' at In-N-Out
West Coast burger chain In-N-Out is known for its juicy burgers, but thanks to a not-so-secret menu, the beef patties can be enjoyed sans bun. By ordering your burger Protein-Style you can easily forgo the bun and have your burger wrapped in hand-leafed lettuce instead. Aside from keeping the carb count low, this simple swap saves 150 calories.
Shake Shack has taken a cue from its West Coast rival and will also make a burger encased in lettuce leaves instead of a carb-heavy bun, if asked. Considering one of the chain's potato roll buns boasts 150 calories and 25 grams of carbs, this is a solid swap to make if you're trying to slim down. What's more? Even Shake Shack's vegetarian-friendly 'Shroom Burger can be made Protein-Style for a completely meatless and low-carb meal.
Choose a Salad at Chipotle
Chipotle is known for crafting large burritos, but the Mexican fast-casual chain boasts healthier options, too. For example, did you know that you can order a salad that packs a flavor punch similar to the beloved burritos but for far fewer calories? With the salad, you skip the burrito shell and rice and are treated to some fiber-rich leafy greens instead. You can then top your healthy salad with the same fixings you'd normally stuff in your burrito, such as steak, black beans, grilled veggies, and fresh tomato salsa. We'd recommend skipping the chipotle-honey vinaigrette dressing though (just one serving contains 220 calories). If you need something to fill you up, choose a small helping of guacamole instead. Though it has 230 calories, the avocado-based topping in loaded with healthy fats and will help keep you satiated until your next meal.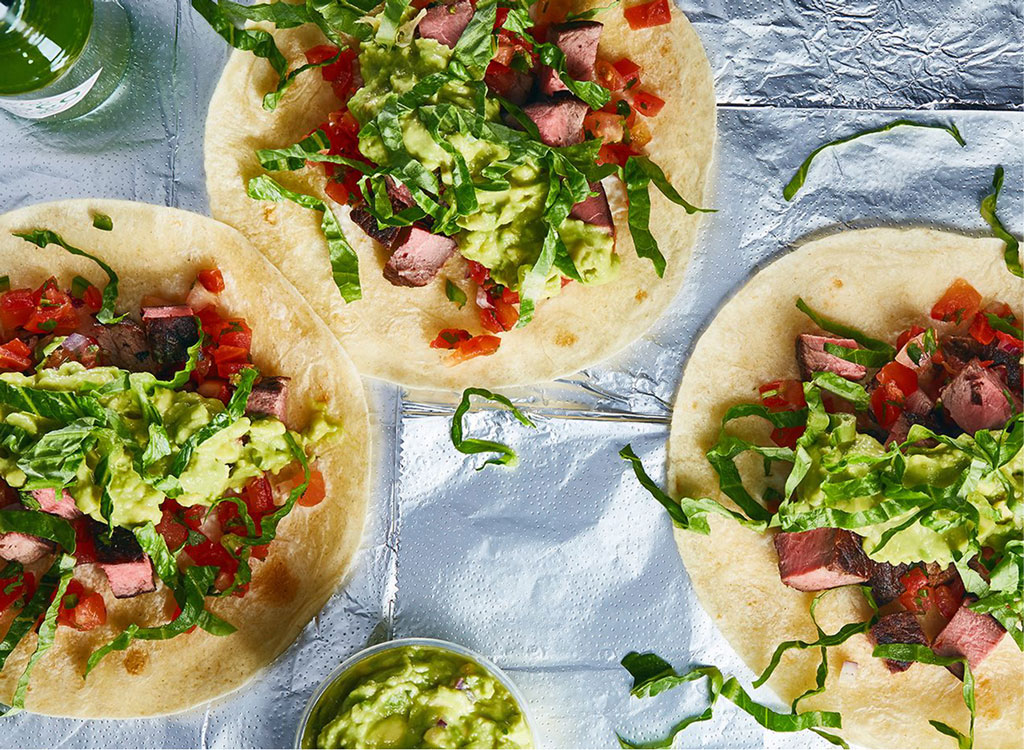 If a salad doesn't do it for ya, go ahead and get some tacos. Though they typically come three to an order, chipotle will actually let you order a single taco if you wish. As nutritionist Patricia Bannan, MS, RDN told us in our roundup of Nutritionist-Approved Chipotle Orders, she's partial to the soft corn tacos with steak, cheese, fajita vegetables, lettuce, and fresh tomato salsa. At around 340 calories for the pair, these babies provide about 6 grams of fiber and 27 grams of protein. "The meal is also an excellent source of calcium, iron and vitamins C and A," she explains.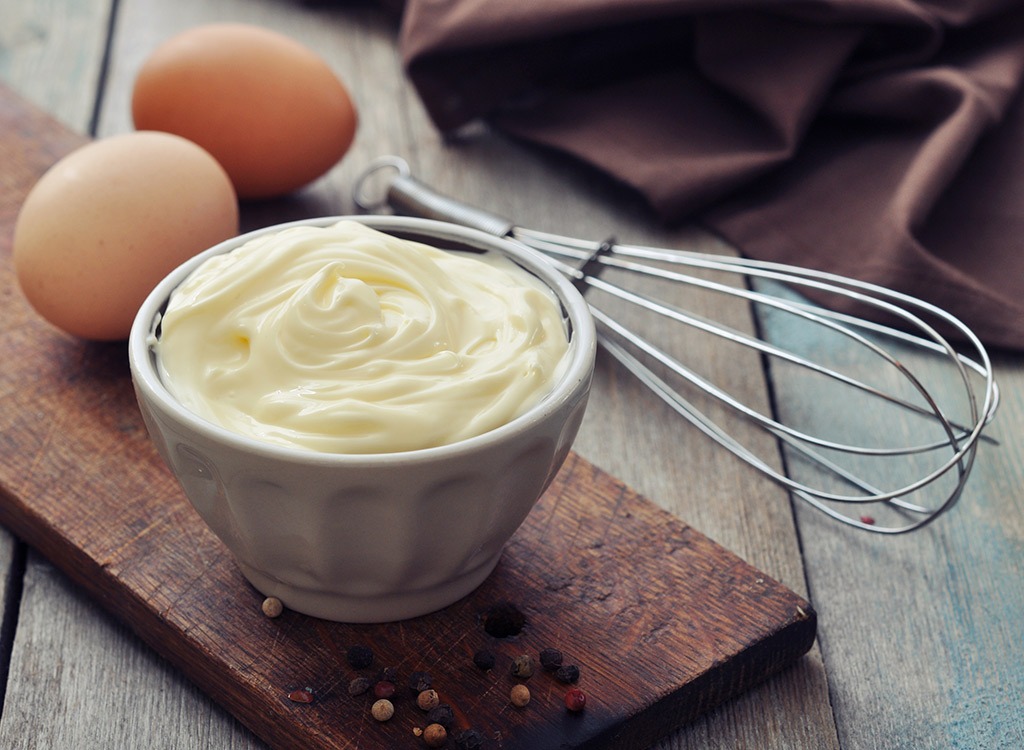 Believe it or not, every burger you order at Burger King comes with mayonnaise already slathered on the bun, but if you're looking to cut some calories, you can simply ask for your meal to be made without the fatty condiment. That simple move alone can save you upwards of 90 calories and 10 grams of fat!
Try a Turkey Reuben From Arby's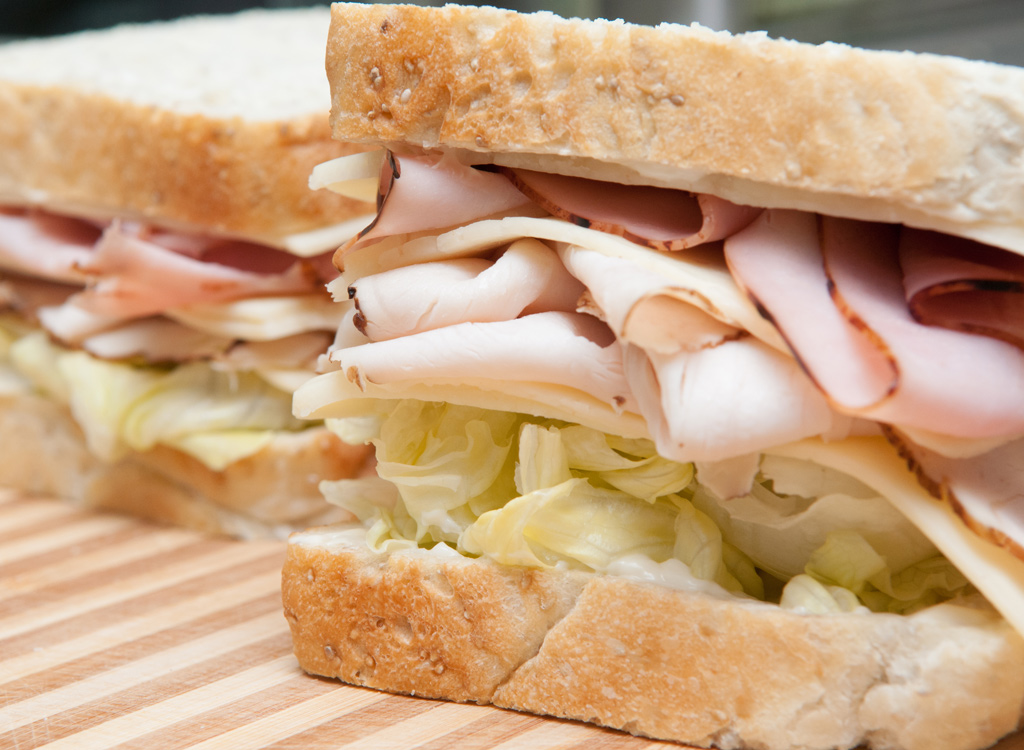 Shave some fat off your Arby's order by ordering a Turkey Reuben. This off-menu item has all the flavor of a regular Reuben but with a slightly less indulgent calorie count thanks to the protein-packed turkey. For something even more waistline-friendly, try the Turkey Classic—a take on the chain's ever-popular Roast Beef Classic that's made with 3-ounces of hot, lean turkey instead of beef.
Order the Spicy Char at Chick-fil-A
The Spicy Char isn't listed on Chick-fil-A's menu, but it's a great option for those looking to shed a few pounds. The sandwich is made with unbreaded, char-grilled chicken breast that's been sprinkled with metabolism-boosting spicy seasonings, and is served on a bun of your choice. The secret item also comes with toasted dill pickle chips, and bears a remarkable resemblance to Chick-fil-A's Spicy Chicken Sandwich, only this version has fewer calories and fat because it skips the breading and isn't pressure-cooked in oil.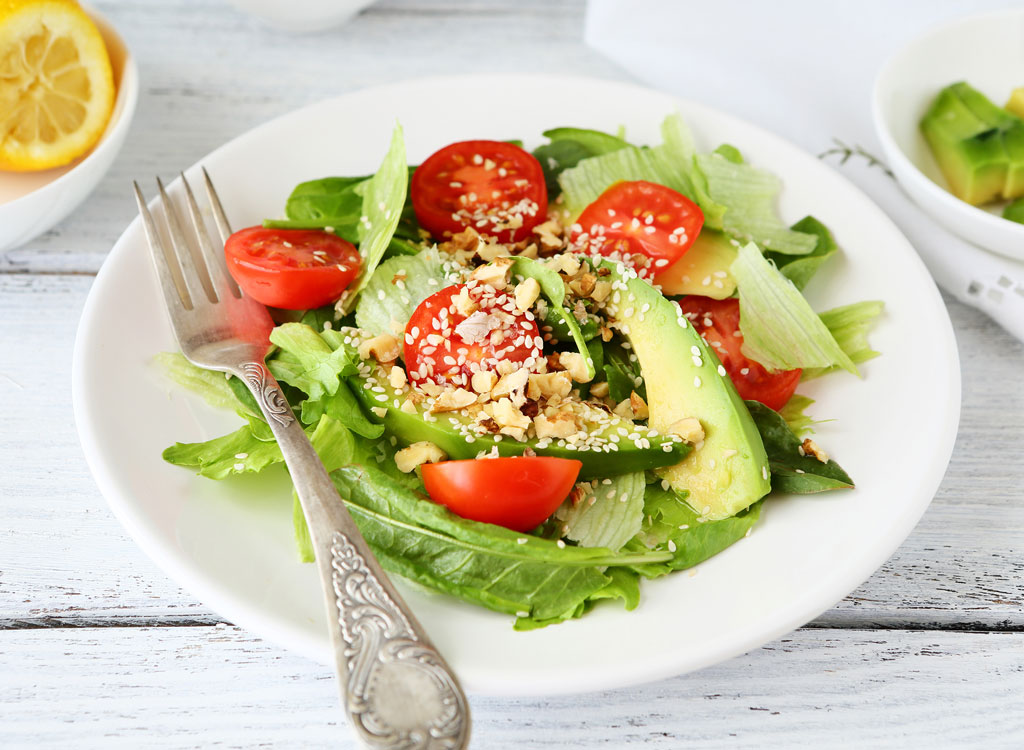 According to Subway's former Senior Dietitian, Lanette Kovachi, MS, RDN, any of the chain's delicious subs can be made into a veggie-filled salad—even if it's not on the menu. This smart swap can save you about 170 calories, on average. "It will also up your vegetable intake to about 2.5 cups, which is a day's worth," Kovachi tells us in 10 Best Subway Sandwich Tips.
Get the Sandwich Bread Scooped Out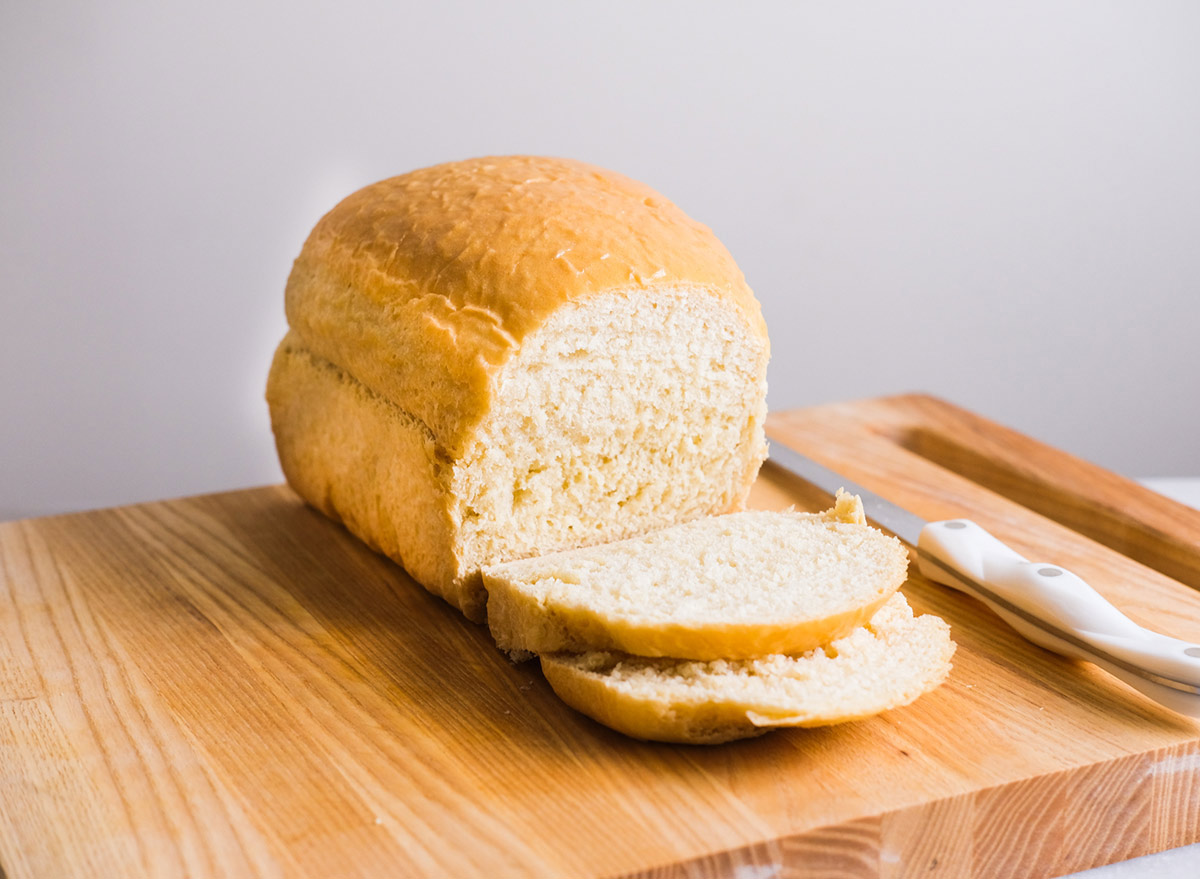 Looking to save calories without completely giving up your Subway sub? "Another hack to cut the calories and carbs from any sandwich is to ask to have bread 'scooped' out," Kovachi explains. This special request will give you a sandwich with far less soft, fluffy bread below the crust, but it will still taste almost exactly as it was intended.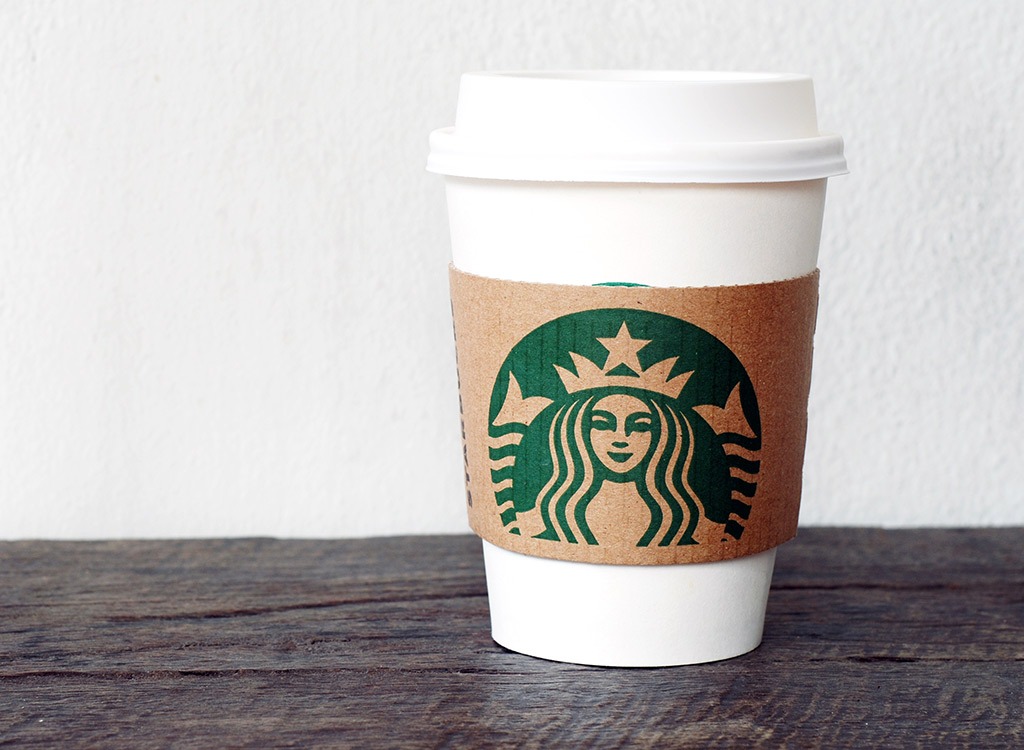 Starbucks is known for serving beverages in Tall, Grande, Venti, and even Trenta sizes, but for the popular coffee chain, Short is also an option. The 8-ounce Short contains four fewer ounces than the next size up (Tall) and can save you hundreds of calories while also being easy on your wallet.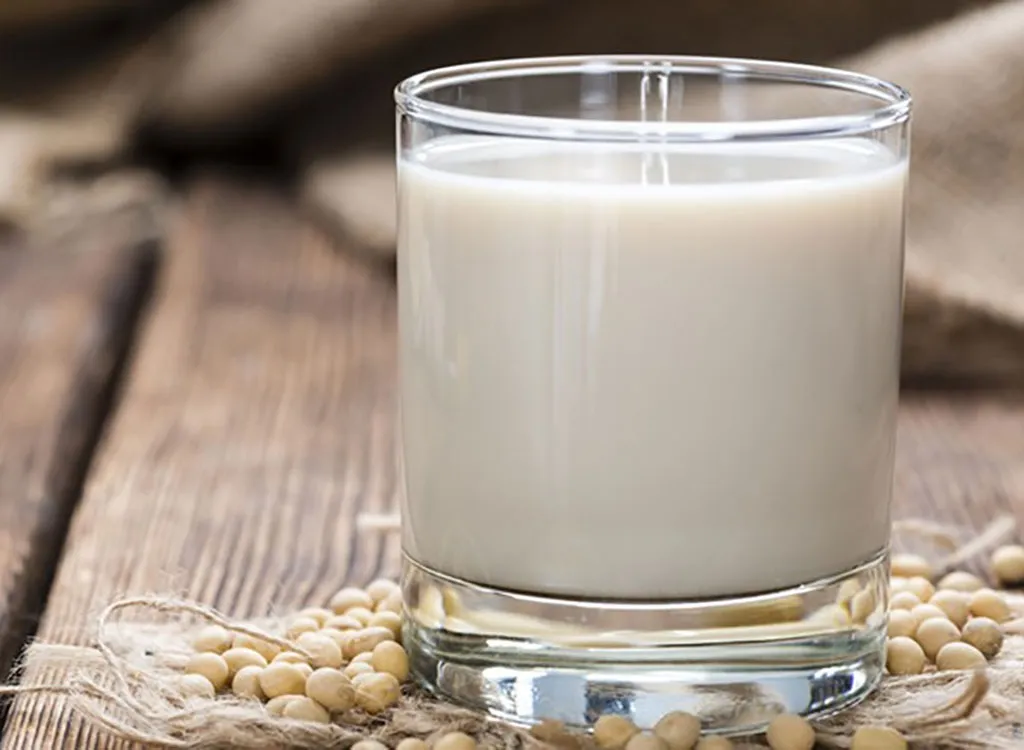 When ordering at Starbucks, milk can have a big impact on the nutritional profile of your order, as can calorie-dense toppings such as whipped cream. If you're watching your weight, opt for 2% milk over skim. Though skim milk has fewer calories, Starbucks' two-percent packs in a gram less sugar and a solid dose of healthy fats. If you prefer a plant-based milk, choose the almond or soy over the coconut milk, which has just one gram of protein and no fiber per 12 ounces.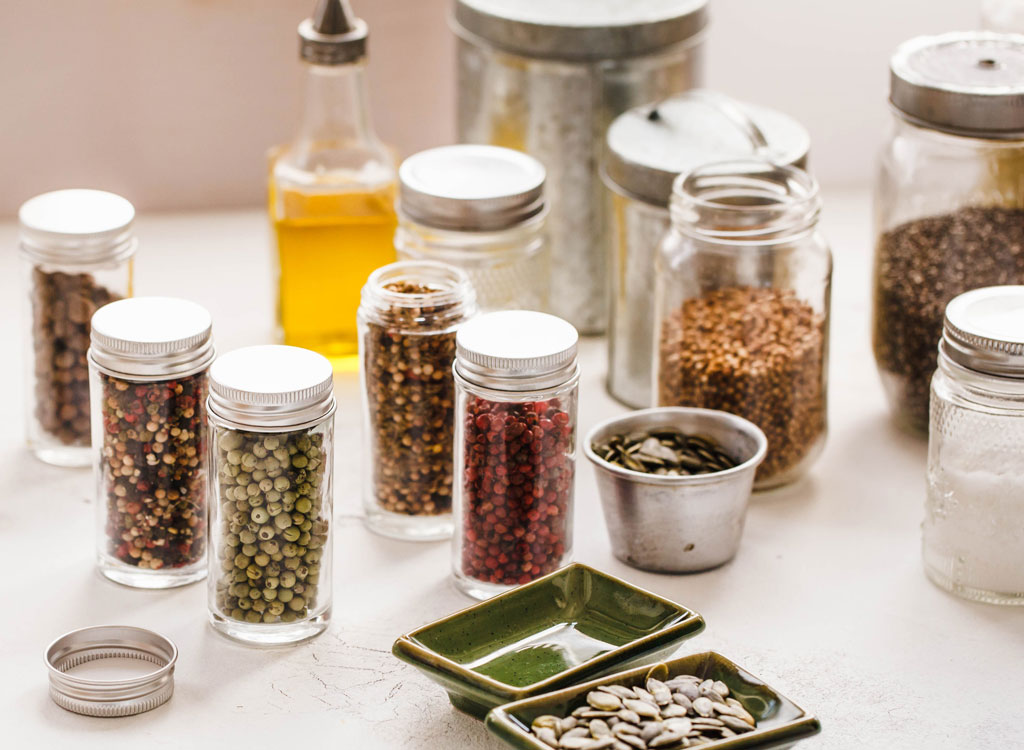 Starbucks' array of sugary syrups is part of its appeal, but the sickeningly sweet concoctions also play a major role in packing the chain's beloved beverages with hundreds of additional calories and grams of sugar. While each flavored pump packs in about 20 calories and five grams of sugar, tasty spices such as nutmeg and cinnamon are low-cal and healthy in their own right, so season your drinks with them instead. In addition to balancing your blood sugar (an important component for weight loss) studies have shown cinnamon may improve cholesterol, prevent against food-borne illness, ward off the effects of Alzheimer's, and provide treatment for women with Polycystic Ovary Syndrome (PCOS).
While a Grande Iced Caffè Latte with 2% milk contains 130 calories, the steamed version of that same beverage racks up 190 calories. Why such a big difference? It turns out that ordering your favorite drink iced over hot can save you a few calories because, naturally, some of the milk is replaced with ice. In other words, opt for cooler beverages if you're watching your weight.