11 Secrets You Never Knew About KFC
From menu hacks to secret recipes, there's a lot to learn about the chicken chain.
You may be familiar with the ever-present red and white KFC fried chicken basket and the wholesome face of lovable Colonel Sanders. Still, you probably don't know the actual story behind this fast-food franchise that's been around since 1952 or some of it's other secrets.
There are so many secrets about KFC and founder Colonel Sanders' famous fried chicken recipe that it's hard to separate fiction from fact. That's why we dug in to find out the history of the brand, menu hacks, items to avoid, and even some insight into those vaulted recipes.
What follows are the secrets that you never knew about KFC. And for more on your favorite fast-food chains, check out 8 Secrets You Never Knew About Little Caesars.
Customers in Japan celebrate Christmas Day with KFC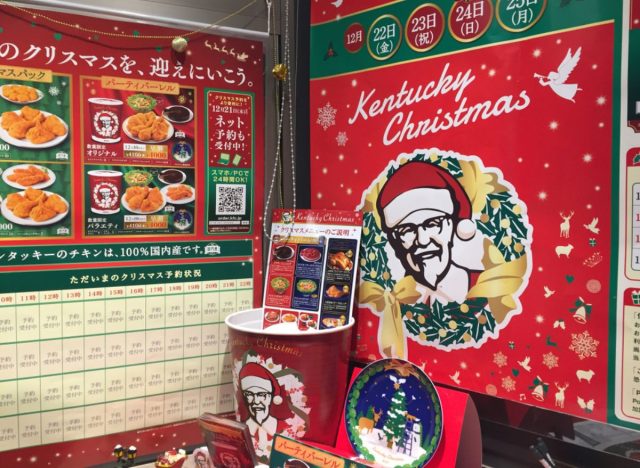 While Americans plan to enjoy a large Christmas turkey or ham (or both), some chicken fans in Japan opt for a family-sized bucket of Kentucky fried chicken, Delish reports. "Kurisumasu ni wa kentakkii," which roughly translates to "Kentucky for Christmas!" was the historic marketing slogan that spread across the country back in 1974. Now, thousands of families in Japan pre-order KFC buckets weeks in advance, due to popular demand, just to keep the tradition going strong.
The idea for KFC started in a gas station.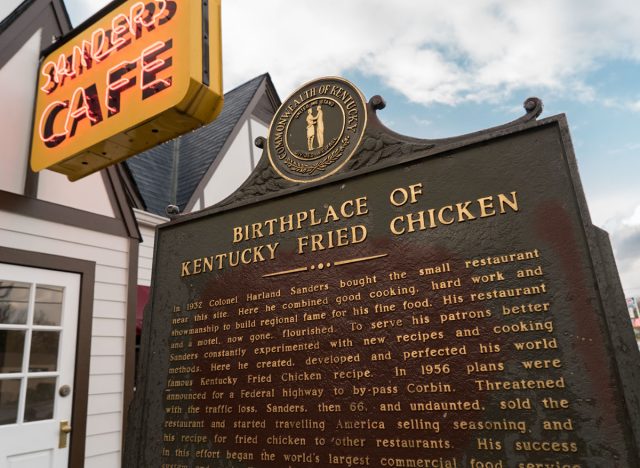 While you may know the Colonel from all of the iconic TV ads over the years (everyone from Kim Gaffigan to Ray Liotta has sported the famous white suit), you may not know that he was a real person named Harland David Sanders who spawned a fast-food empire with his chicken recipe.
Sanders began selling food to travelers from a gas station in Kentucky. As History points out, he became a hit with travelers selling his simple country fare of country ham, okra, biscuits, string beans, and similar items as an alternative to the typical diner food found along the highway. In 1939, he discovered that using pressure cookers could perfect his quick-frying chicken, which was coated in his secret recipe of 11 herbs and spices.
Colonel Sanders took aim (with a gun!) at a business rival.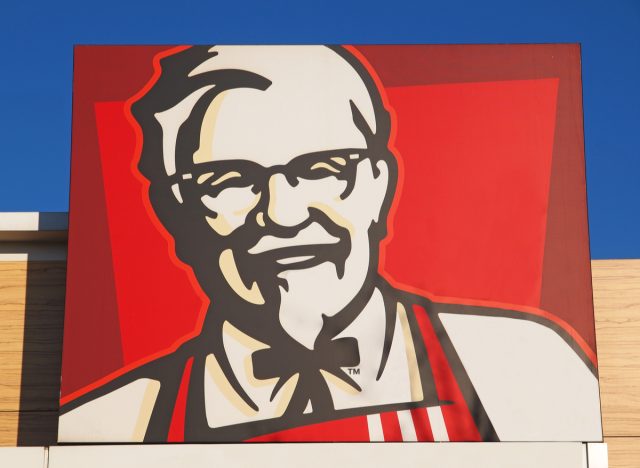 An aggressive marketer, Sanders painted advertising signs on buildings for miles around his gas station slash restaurant, according to History. Matt Stewart, who ran another local gas station, started painting over his signs, and when Sanders found out, he rushed to stop him, accompanied by two Shell executives.
According to Josh Ozersky's book, Colonel Sanders and the American Dream, Stewart grabbed his gun and fatally shot Shell district manager Robert Gibson. Sanders returned fire and wounded Stewart in the shoulder. Stewart was sentenced to 18 years in prison for murder, but charges against Sanders were eventually dropped.
White pepper might be the secret to KFC's recipe.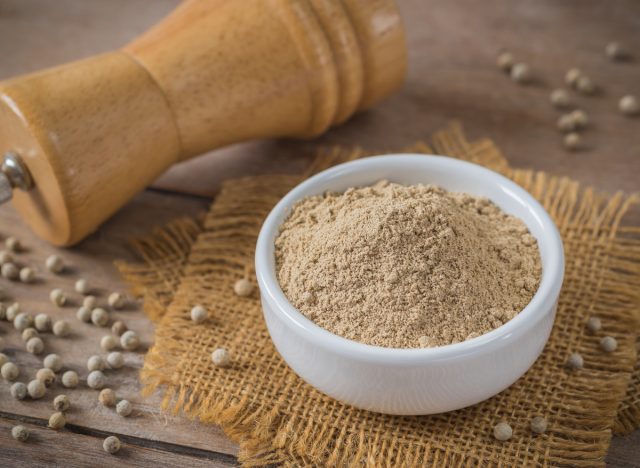 KFC's chicken recipe has always been a secret, until 2016, when a writer for the Chicago Tribune unearthed what is purported to be the actual recipe with all 11 herbs and spices—including the white pepper.
While we can't be 100% sure it's the real recipe, the use of white pepper is unusual, and the flavor profile described in the recipe does match the flavors of KFC's famous chicken.
They serve chicken gizzards.
Not for the faint of heart, gizzards are a muscle in a chicken's digestive tract that holds all the dirt picked up when they peck on the ground (it helps the birds in digesting their food). A lot of people love them, and after they were removed from menus a few years back, people demanded them back and created a Return Livers, Gizzards to KFC's Menu Facebook page. The campaign proved so successful that KFC brought gizzards back to select locations.
There's a hack for ordering the discontinued Double Down Sandwich.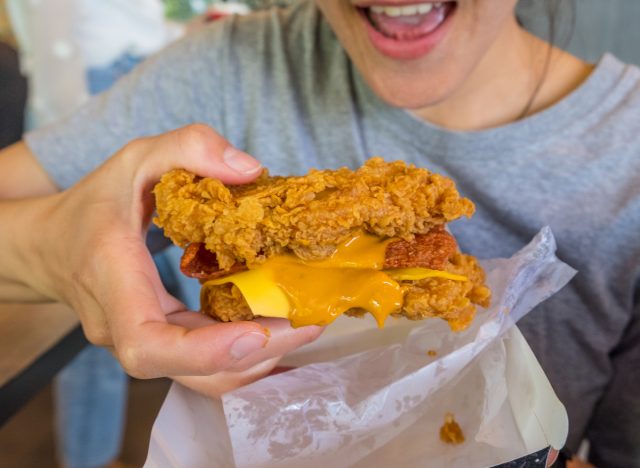 KFC's famous bunless Double Down sandwich—in which bacon, sliced cheese, and the Colonel's Special Sauce sat between two fried chicken filets—is no longer on the menu.6254a4d1642c605c54bf1cab17d50f1e
But, word is, if you order the individual components, the staff will put the deep-fried madness together for you, minus the discontinued special sauce. Is this a good idea? Probably not, from a health perspective.
KFC doesn't want you to think about the chicken being fried.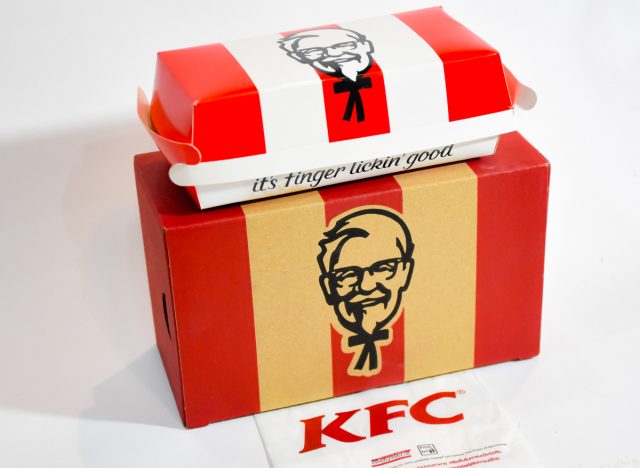 If you're of a certain age, you know KFC used to be called Kentucky Fried Chicken. Why the name change? Bloomberg reported in 1991 that the name change was part of a rebranding in an attempt to make the chain seem more healthy by removing "fried" from the name. However, Snopes claims the name change was due to a trademark issue with the state of Kentucky.
The founder of Wendy's actually came up with the famous chicken bucket.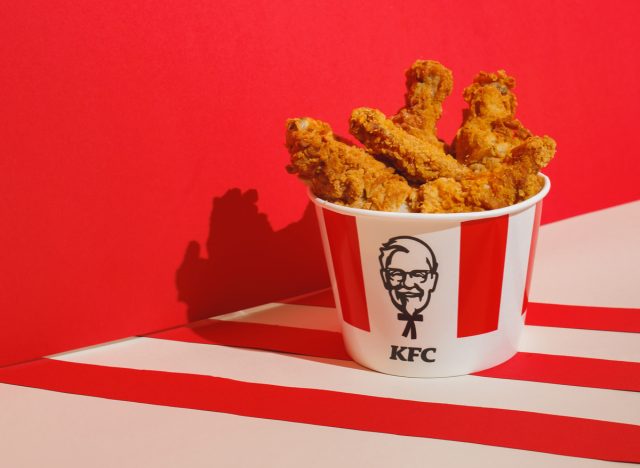 Believe it or not, Dave Thomas, the man behind Wendy's, was an early KFC employee and franchise owner. According to The Balance Small Business, Thomas came up with the idea for the iconic red and white striped chicken bucket, the streamlined menu, and the rotating chicken bucket signs.
KFC once offered a fried chicken prom corsage.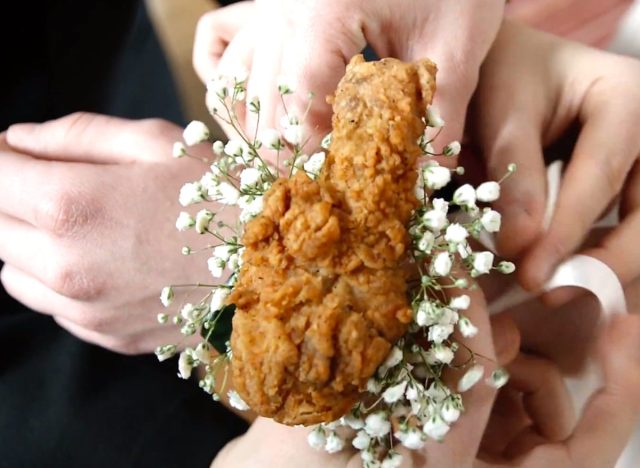 KFC loves stunt food. In 2014, the chain offered a prom-ready fried chicken corsage, according to the Los Angeles Times. For those who were brave enough to buy this for their date, a florist sent the corsage structure and some baby's breath, along with a $5 KFC gift card in order for the buyer to purchase fresh fried chicken to finish the arrangement. Yum?
You can turn your KFC biscuits into tasty sliders.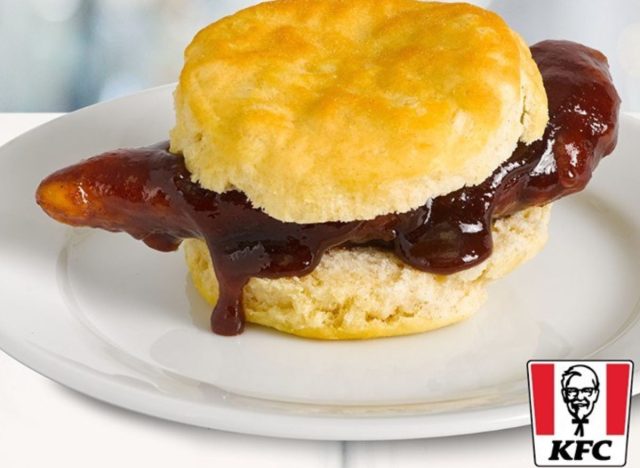 This one is super easy, according to Buzzfeed. Order biscuits, coleslaw, and the original recipe chicken. Then, slice the biscuits in half, add some shredded chicken, and top with coleslaw. A dab of BBQ sauce might be good too!
You can get fish donuts and shrimp stars (just not in the U.S.)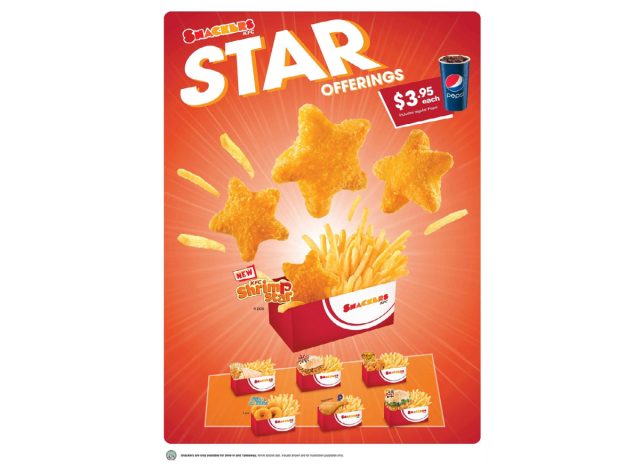 KFC Singapore is pretty wild. According to Mashed, in 2012, the chain's Singapore locations started selling Shrimp Stars and Fish Donuts. What does that even mean? Well, they're less offbeat than they might sound. Shrimp Stars are shrimp nuggets in the shape of stars that are breaded and deep-fried, while Fish Donuts are fish patties breaded and deep-fried in the shape of donuts.
A previous version of this article was originally published on November 24, 2021.
Tanya Edwards
Tanya Edwards is a seasoned food and health journalist, who has held roles at Yahoo Health as Managing Editor and at Food Network as Programming Director.
Read more about Tanya