The Healthiest Foods on Taco Bell's New Menu, According to a Dietitian
Think you can't eat healthy at Taco Bell? Think again!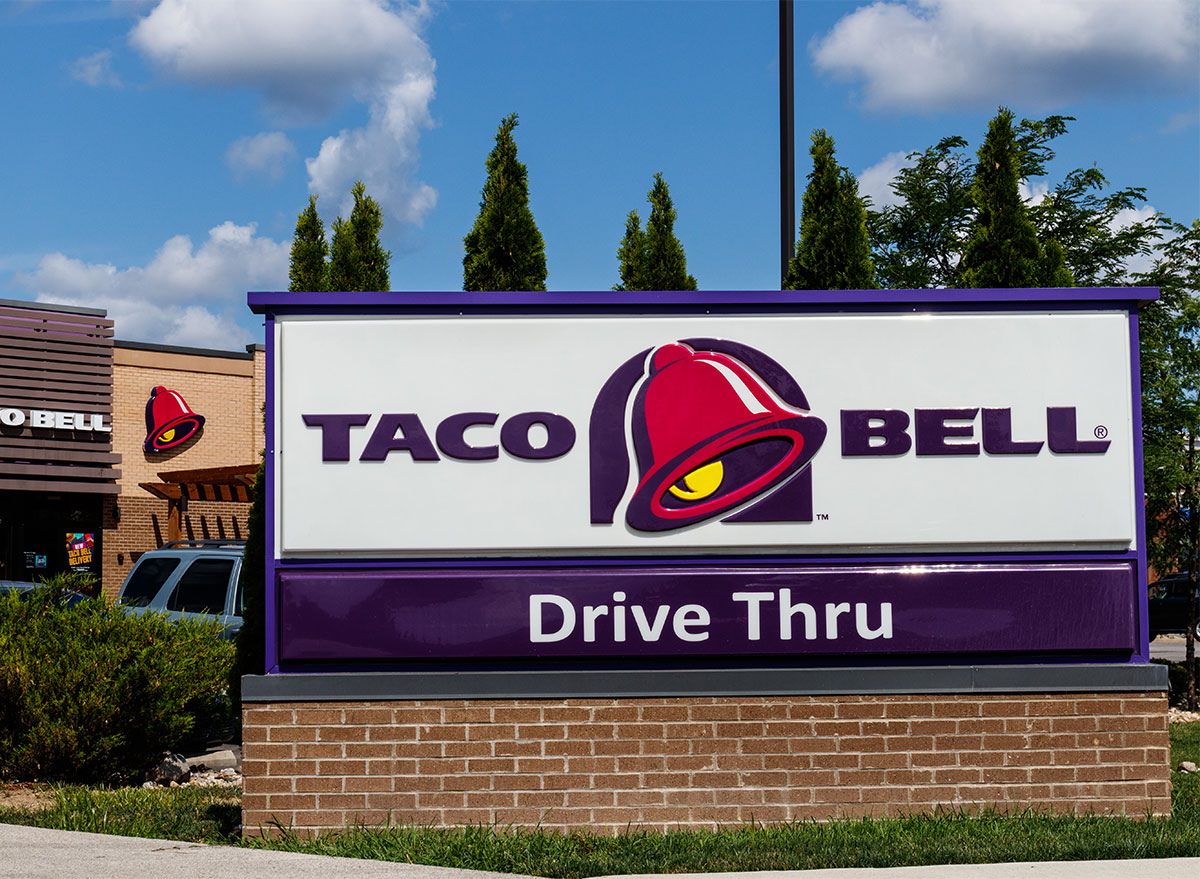 Anticipation has been swirling for months about the foods coming and going from your favorite taco chain. Thankfully, Taco Bell's new menu is finally set. Though that means the Mexican Pizza is officially gone, several new items have taken its place. While they're filled with the ingredients fans love the most (think: warm tortillas, melty cheese, juicy tomatoes, crunchy lettuce, and more), there are a few options you may want to skip.
We enlisted the help of Kelli McGrane, MS, RD, registered dietitian, and Lose It! nutrition consultant, to determine the healthiest items on the new menu. They're ranked below, from best to worst. Yep, we looked at all the nutritional info so you don't have to!
As you read up on these new additions, here are 11 Beloved Menu Items from Taco Bell That Have Vanished Forever.
Black Bean Chalupa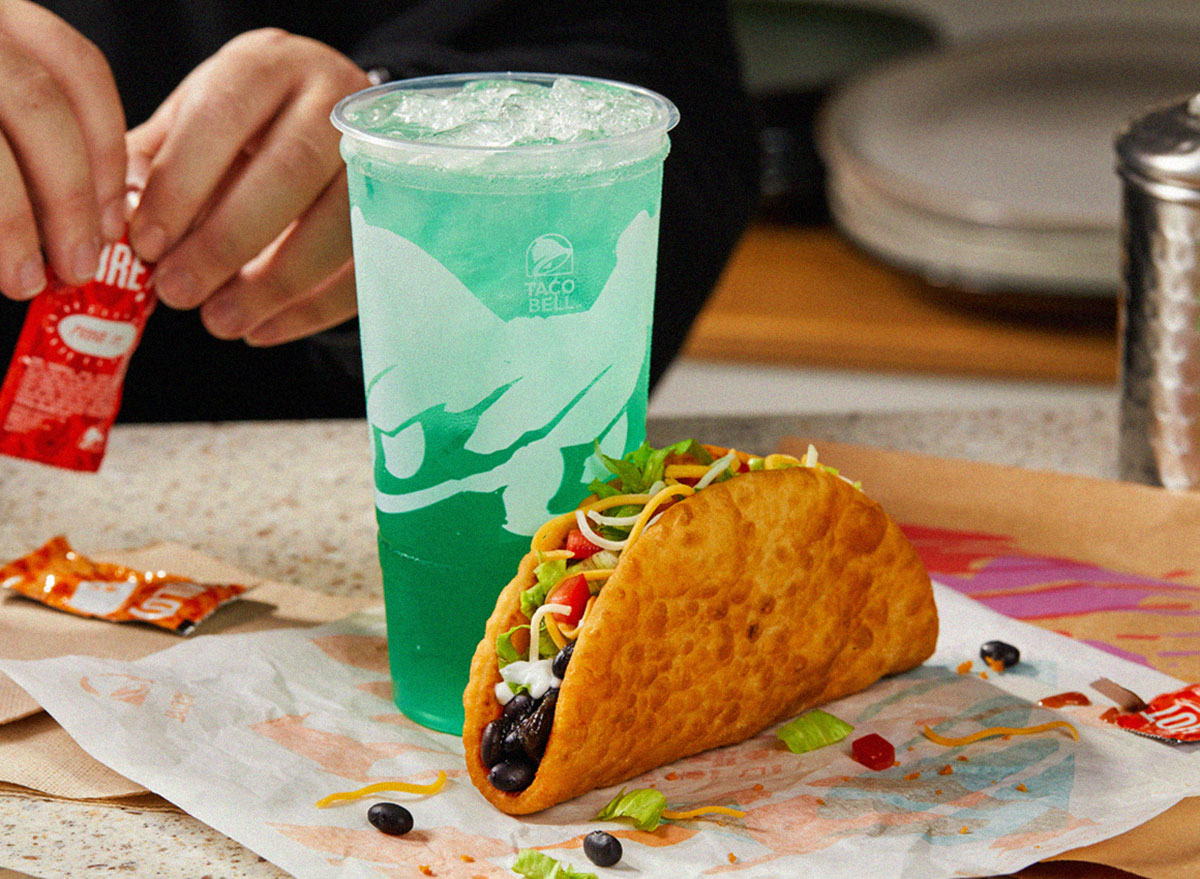 330 calories, 15g fat (3g saturated fat), 430mg sodium,  39g carbs (5g fiber, 3g sugar), 10g protein
This chalupa is certified vegetarian by the American Vegetarian Association. It includes black beans, lettuce, tomatoes, a three cheese blend, and reduced-fat sour cream. It's a great companion to the other meatless items on the menu, and the whole foods it contains add 5 grams of fiber and a ton of nutrients. Plus, it's a reasonable option in terms of the total number of calories and sodium, according to McGrane.6254a4d1642c605c54bf1cab17d50f1e
Related: 21 Best Healthy Cooking Hacks of All Time
Black Bean Toasted Cheddar Chalupa
470 calories, 29g fat (8g saturated fat), 450mg sodium, 37g carbs (6g fiber, 3g sugar), 15g protein
"Thanks to the Toasted Cheddar Chalupa shell, this item has nearly twice as much total fat and more than twice as much saturated fat as the regular Black Bean Chalupa," McGrane says.
If you want to switch up your Taco Bell order and try something new, consider this option over the regular Toasted Cheddar Chalupa. Speaking of new, here's why Your Favorite Taco Bell Location Is About to Look Very Different.
Toasted Cheddar Chalupa
490 calories, 33g fat (10g saturated fat), 580mg sodium, 32g carbs (5g fiber, 3g sugar), 17g protein
This new Taco Bell menu item is right in the middle of the pack in comparison to its peers. "With 10 grams of saturated fat, it provides approximately half your saturated fat intake for the day," McGrane says. "It's also higher in sodium than either of the Black Bean Chalupas."
If you want to try this item, avoid add-ons like Nacho Cheese Sauce and Red Strips in order to keep calories and sodium down. For more tips and tricks to follow to make your next meal out a little lighter, here are 35 Tips for Being Healthy at Restaurants.
Veggie Nachos Party Pack
1,770 calories, 93g fat (15g saturated fat), 2,510mg sodium, 206g carbs (34g fiber, 12g sugar), 28g protein
This, as its name implies, is an item to share—but beware. "Even when split between four people, the amount of calories, sodium, and carbs in the Veggie Nachos Party Pack makes it more of a meal than a snack or appetizer," McGrane says. "However, with just 7 grams of protein for 1/4 of the pack, it's unlikely to keep you satisfied for very long."
The plus side? The ingredients are full of veggies like avocado, beans, jalapeño, and tomatoes, McGrane points out. With 8.5 grams of fiber in 1/4 of the pack, it's also loaded with even more fiber than the Black Bean Chalupa. What's great about fiber? Here's what happens when you don't eat enough of it.
Grilled Cheese Burrito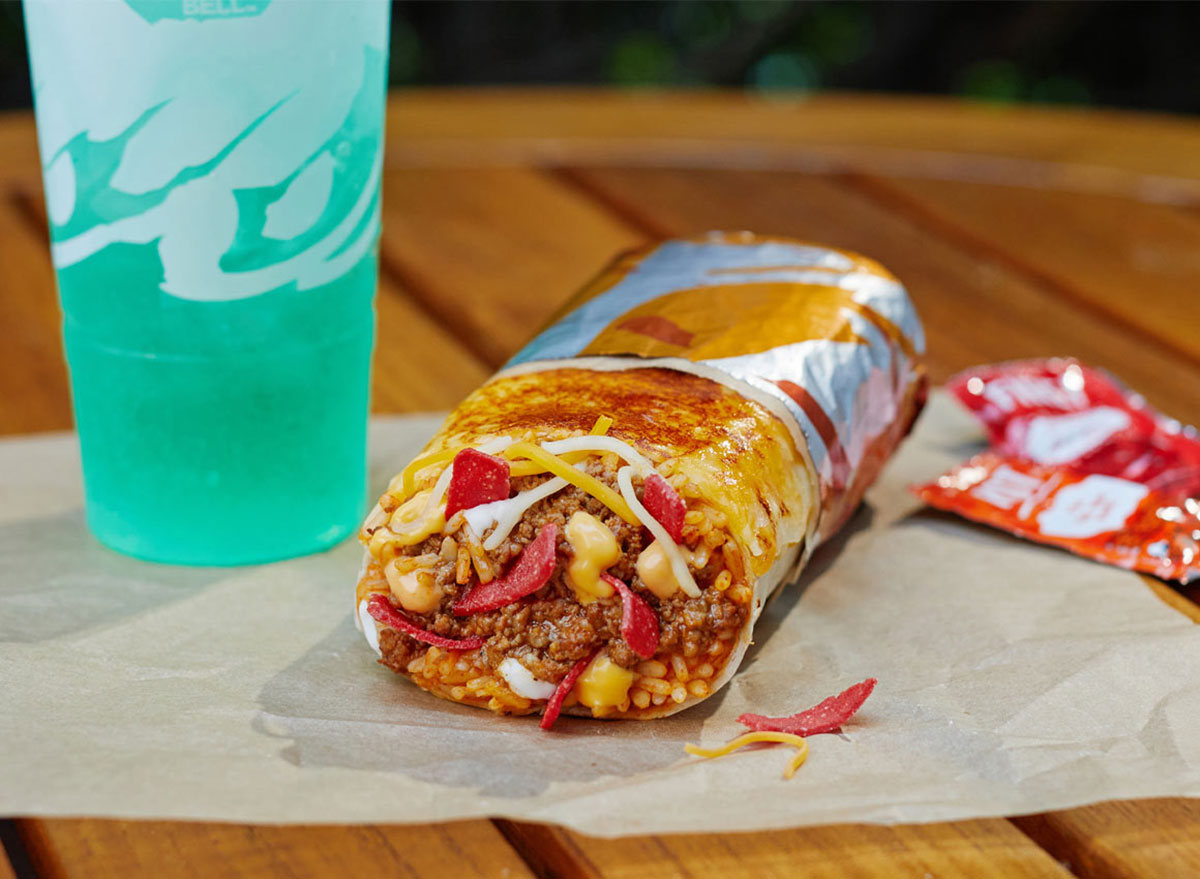 710 calories, 39g fat (15g saturated fat), 1,490mg sodium, 64g carbs (7g fiber, 4g sugar), 26g protein
While the idea of a grilled cheese and a burrito rolled into one melty meal sounds like the best of both worlds, McGrane recommends passing on this item. With beef, rice, nacho cheese sauce, a three cheese blend, chipotle sauce, reduced-fat sour cream, and red strips, the fat content is higher than other new menu items. Even making it vegetarian—aka removing the meat or replacing it with beans—only saves about 20 calories.
McGrane says this burrito is one of the worst choices on the new menu, and for the worst choices on the full menu, here are The Best & Worst Menu Items at Taco Bell.
Toasted Cheddar Chalupa Box
1,110 calories, 48g fat (14g saturated fat), 1,190mg sodium, 146g carbs (8g fiber, 90g sugar), 26g protein
For only $5, this box comes with everything you'd normally need for a meal. A Toasted Cheddar Chalupa and a Crunchy Taco are paired with a Mountain Dew Baja Blast to quench your thirst and Cinnamon Twists for dessert. In total, though, this meal contains a whopping 1,110 calories, 48 grams of fat, and 146 grams of carbohydrates.
"But what really puts it over the edge is the 90 grams of sugar—as much as 9 glazed donuts," McGrane says. "As most of the sugar is added sugar from the soda and cinnamon twists, this box contains approximately 3 times more added sugar than the American Heart Association recommends having in a day." (For men, this is 36 grams, and for women, it's 25.)
For more information about the healthiest options at your favorite fast-food chains, sign up for our daily newsletter!
Amanda McDonald
Amanda has a master's degree in journalism from Northwestern University and a bachelor's degree in digital journalism from Loyola University Chicago.
Read more about Amanda