11 Beloved Menu Items from Taco Bell That Have Vanished Forever
These Tex-Mex treats still hold a special spot in our hearts.
Nothing hits the spot like fast Tex-Mex grub. Whether you have been out all night and crave a quick bite or need an afternoon pick-me-up, Taco Bell has found the perfect formula for getting us tacos, burritos, and a slew of other south-of-the-border favorites any time of day. Despite having a consistent menu over the years, some Taco Bell menu items disappeared over the years, and we can't help but reminisce.
Twists on classic tacos, burritos with novel texture combinations, and even varieties of sauces won our hearts over, only to break them later when they would disappear forever. The search for these items have inspired food bloggers and enthusiasts alike to hunt down single franchise locations that might still serve these items, but alas, we can only reminisce about these menu offerings that made us excited for a trip to our local Taco Bell.
Nothing made Tex-Mex more fun than wrapping up crunchy-shelled tacos in a billowy soft tortilla. The Double Decker Taco encapsulated the brand's mouth-watering standard taco, filled with ground beef, cheese, and lettuce, inside a plush tortilla outer layer glued together with melted cheese and refried beans. If you wanted to experience the feeling of taco luxury, this Taco Bell item was your go-to choice before the company pulled it from menus in September 2019. The recipe doesn't take much and many home cooks have reconstructed the taco from memory, but nothing compares to the luxury of ordering a few of these for the ultimate Taco Bell experience.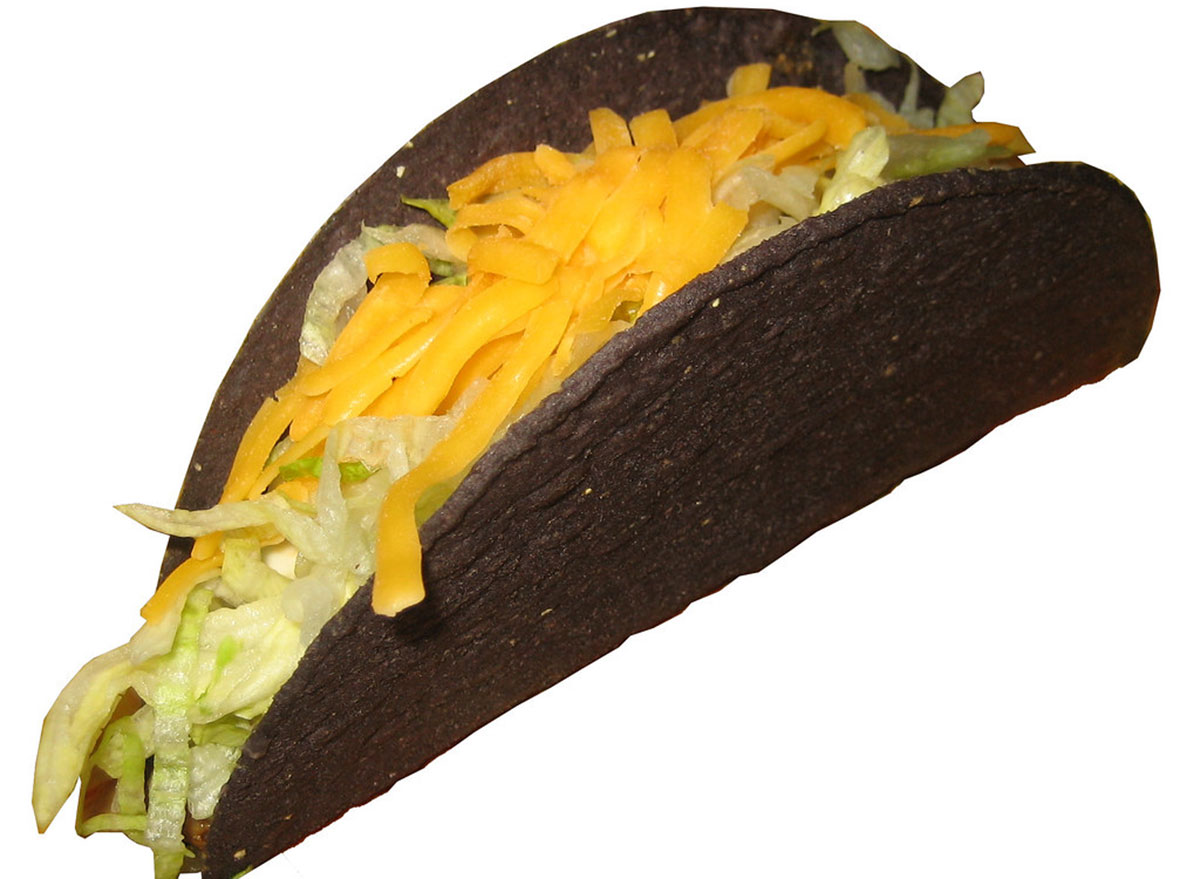 The early 2000's saw a wave of amazing fast food that left our lives too soon, and the Black Jack Taco sadly came as one of these casualties. This 2009 Halloween-themed taco gained notability for its distinct black shell and tangy Baja sauce alongside the standard fixings of ground beef, lettuce, and shredded cheese. As far as promotions go, this taco provided some variety to the menu and we still hope for a return this Halloween.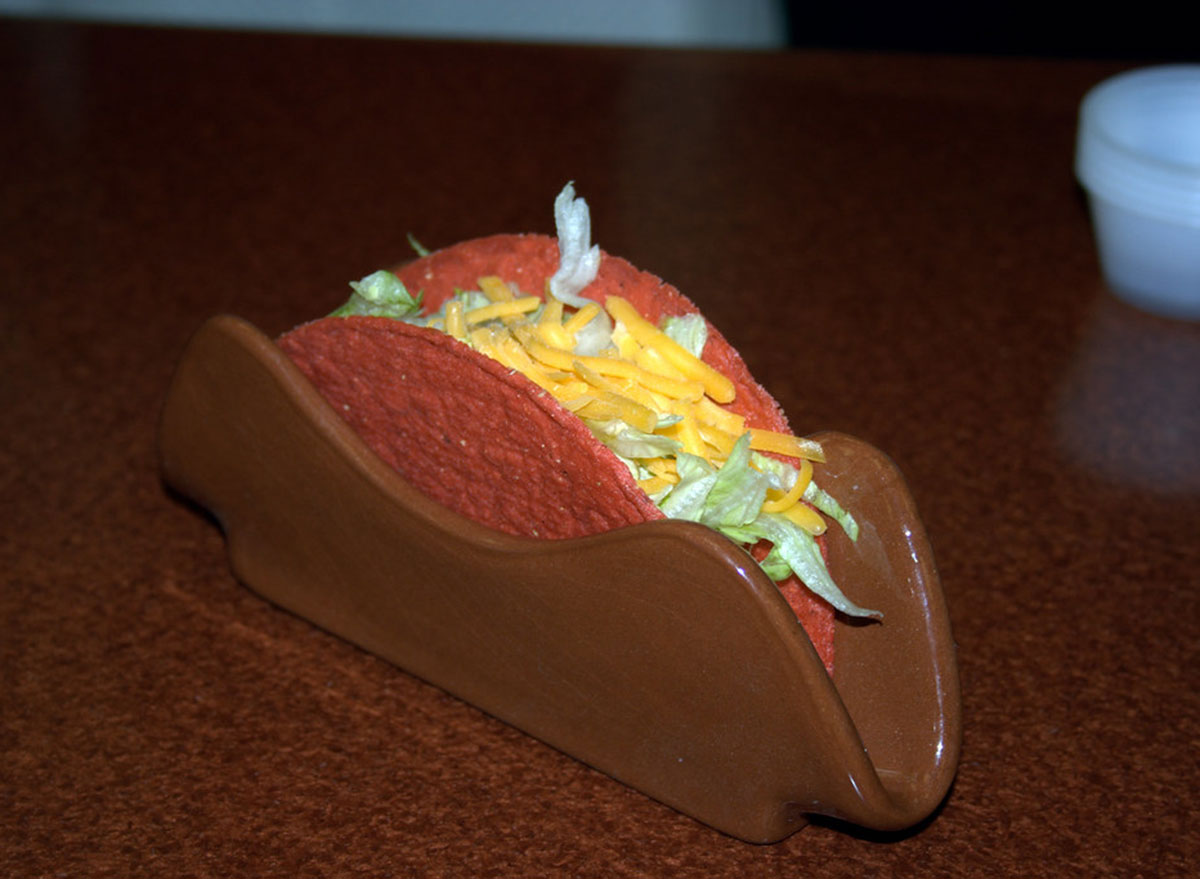 Taco Bell can please a crowd with its spicy food. The Volcano Taco stood at the pinnacle of the chain's spicy menu and if you had any doubts as to what you were getting yourself into, the red shell should have given you some warning. Marketed as Taco Bell's spiciest taco ever, this beef taco also came loaded with the classic volcano sauce, proving to be a fan favorite for years to come. Even if diners have been able to live without the taco, the signature sauce was another story. The products fell off menus in 2013, but Taco Bell revived the hot sauce two years later due to a campaign on social media. Sadly in 2016, the sauce vanished again and left us without the spicy kicks we crave.
Nacho Crunch Grilled Stuft Burrito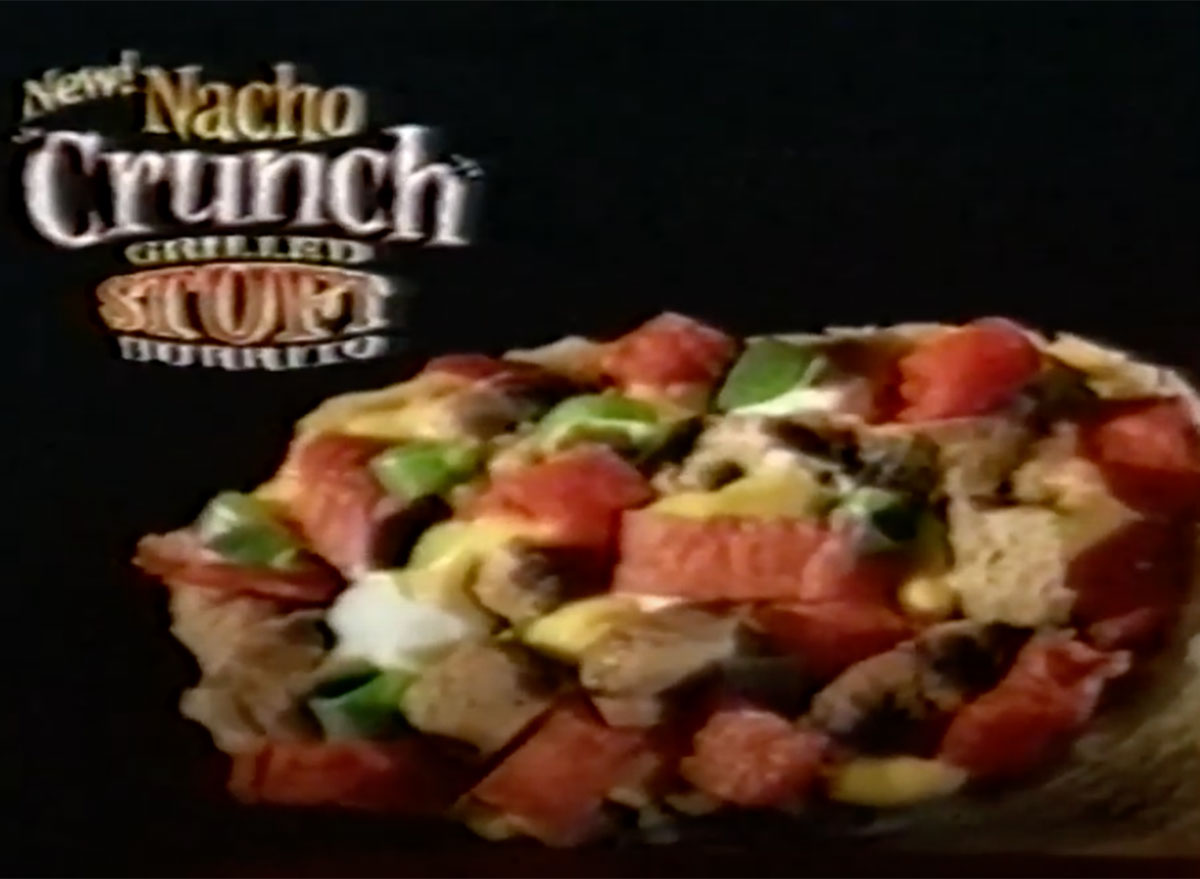 2005 saw some great menu shakeups at Taco Bell, including the introduction of the people-pleasing Nacho Crunch Grilled Stuft Burrito. This fan-favorite consisted of two portions of beef or chicken, nacho cheese, beans, tomatoes, green onions, sour cream, and red tortilla chip strips, all wrapped up in a soft burrito. Its flavors and texture combination quickly won crowds over. Some might even say that the menu item influenced future soft-crunchy menu items like the iconic Crunchwrap Supreme that became standard menu fare in 2006.
When you think of Taco Bell, your mind probably doesn't immediately jump to the thought of french fries. Despite this preconception, the fast-food chain has a solid selection of Mexican-inspired fries, and every once in a while, a new take on french fries makes our proverbial ears perk up. Nacho Fries serves as one fine example that entered menus in January 2018. These french fries came coated with a tangy seasoning and served alongside a warm nacho cheese sauce for dipping. They fell off the menu shortly after their appearance, only to reappear in June 2019 before they once again disappeared.6254a4d1642c605c54bf1cab17d50f1e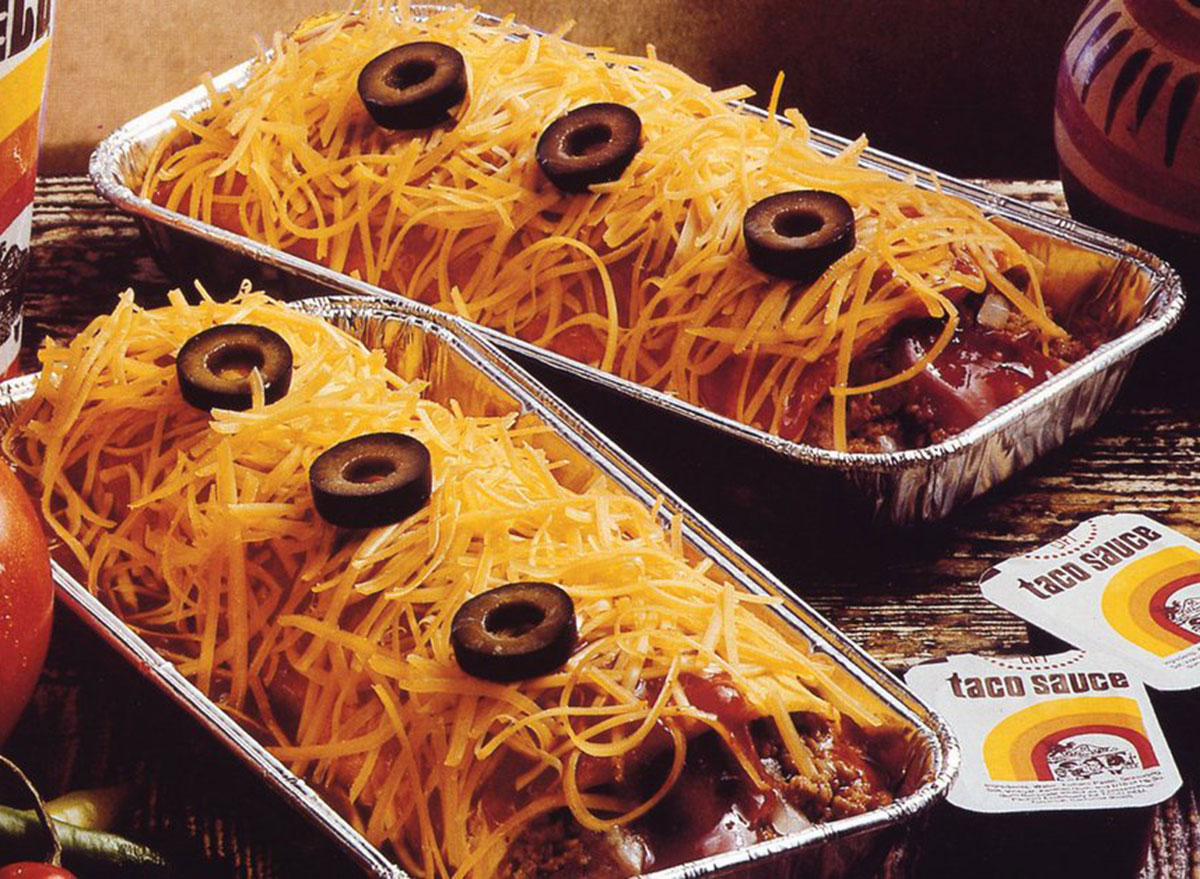 Half burrito, half enchilada, all delicious—this iconic Frankenstein of a menu item had the crowds drooling over its distinct flavor combinations. The creation featured a tortilla filled with beef, beans, cheese, and onions, topped off with a red enchilada sauce and melted cheese. If you had followed the chain since it hit mainstream America in the 1960's you would remember this item had been a staple of the chain since its inception. This Taco Bell menu item disappeared in 1993, made a comeback in 2000, but sadly fell to the wayside again in 2013.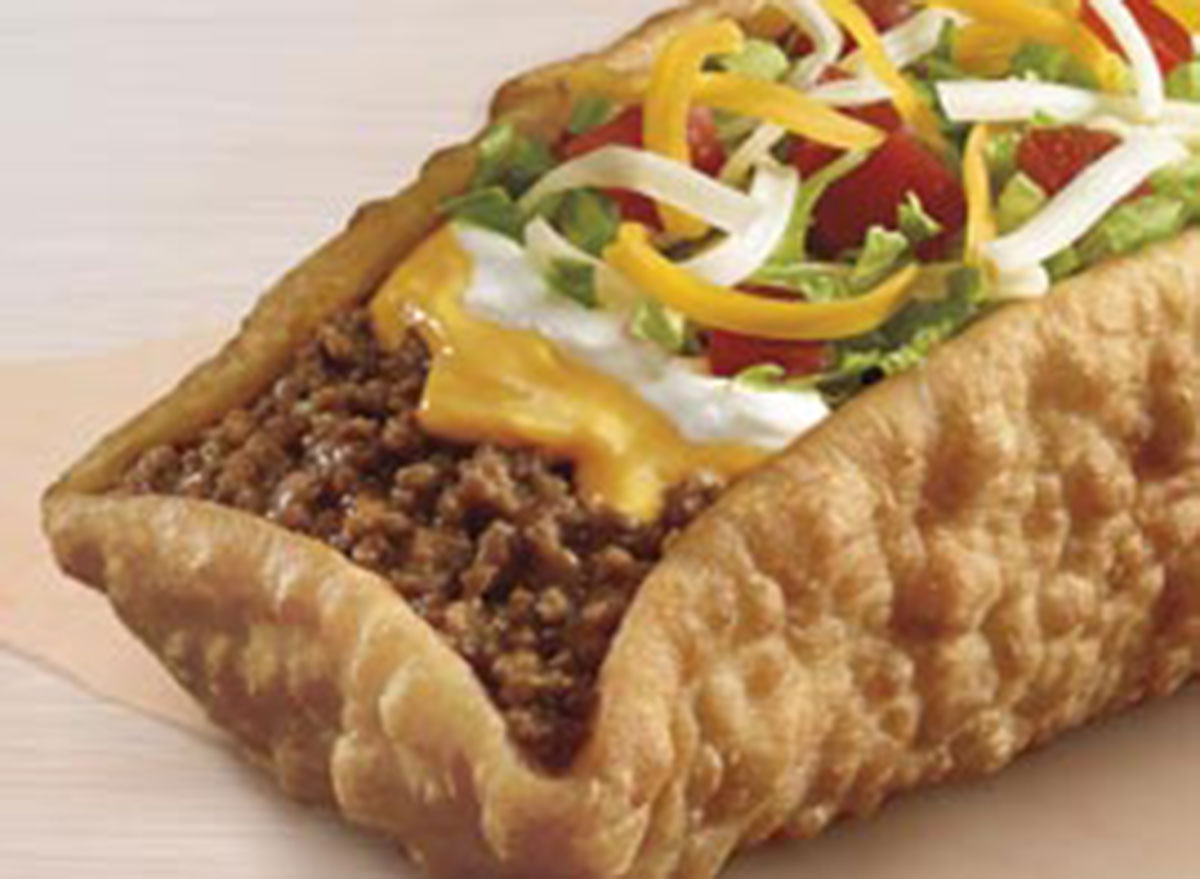 Chalupas have become synonymous with Taco Bell. This popular Taco Bell menu item that disappeared takes its inspiration from the traditional chalupas of south-central Mexico and featured a thick fried masa shell loaded with beef, lettuce, cheese, tomatoes, and sour cream. How could you make this item better? Well, by introducing the Double Chalupa, Taco Bell proved that people wanted this same cheesy goodness with double the proportions. This chalupa contained the same ingredients as the regular-sized chalupa, with the only difference being that it was literally double the size. This super-sized chalupa has vanished from menus for now, but it has come and gone more times than we can count. If history can teach us anything, it's that it's only a matter of time before we see the return of this beast of a chalupa.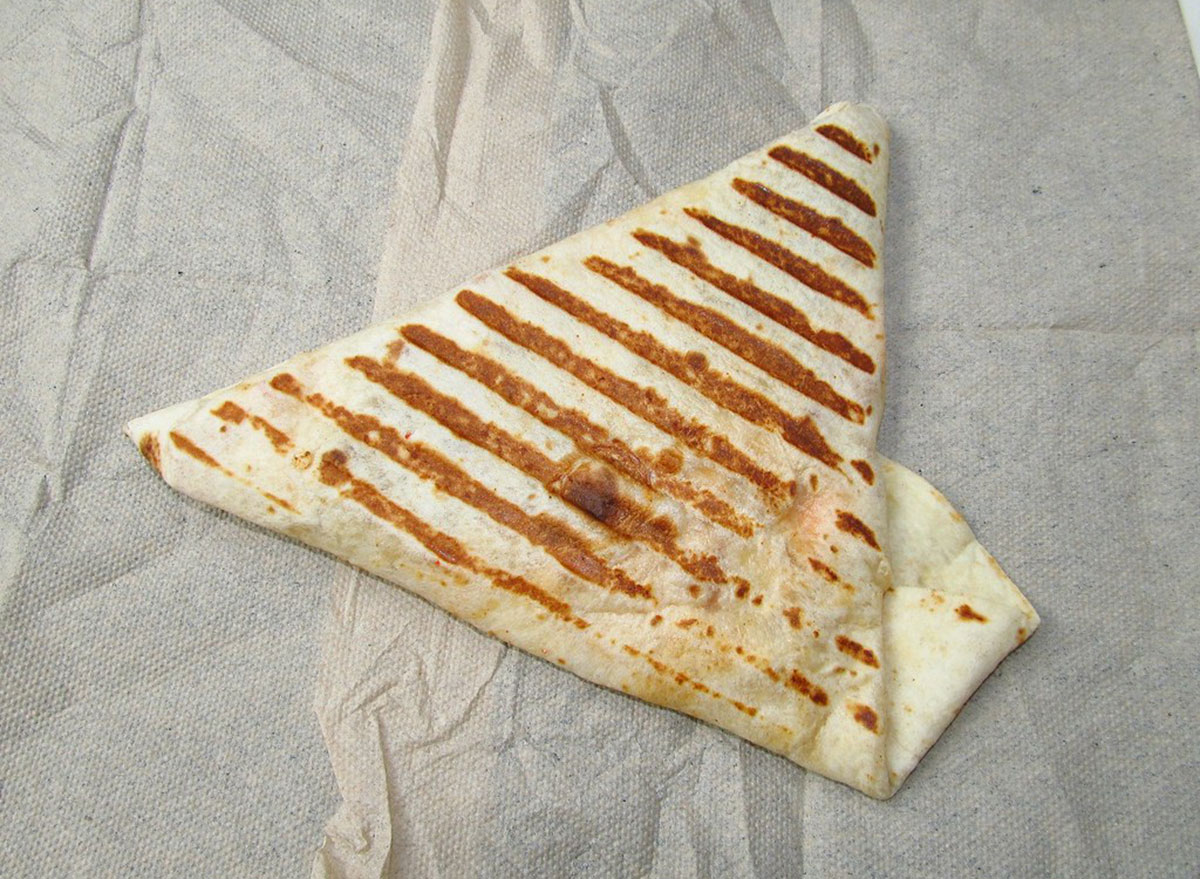 Taco Bell corners the market when it comes to making any Tex-Mex food portable, and nachos are no exception. The 2013 introduction of the Grilled Stuffed Nacho changed the way we see nachos—a grilled, triangle-shaped tortilla came stuffed full of ground beef, red tortilla strips, and nacho cheese and we never looked back until Taco Bell whisked the item away well before its time. It combined everything we love about simple nachos in one easy-to-eat package, making it sorely missed by all.
When you think of spicy Taco Bell food, your mind might go to Volcano Sauce, but for those of us who remember, the Firecracker Burrito was the end-all when it came for a spicy meal at the chain. At first, the burrito seemed relatively harmless—it seemed to just come with beef, nacho cheese, rice, and a spicy sauce. Once you took a bite, you would feel small explosions in your mouth due to tiny, spicy, pop-rock style crystals. For those of us who loved novelty, nothing else compared to this rollercoaster of a burrito. Many customers didn't feel the same way, causing Taco Bell to drop the burrito in 2017.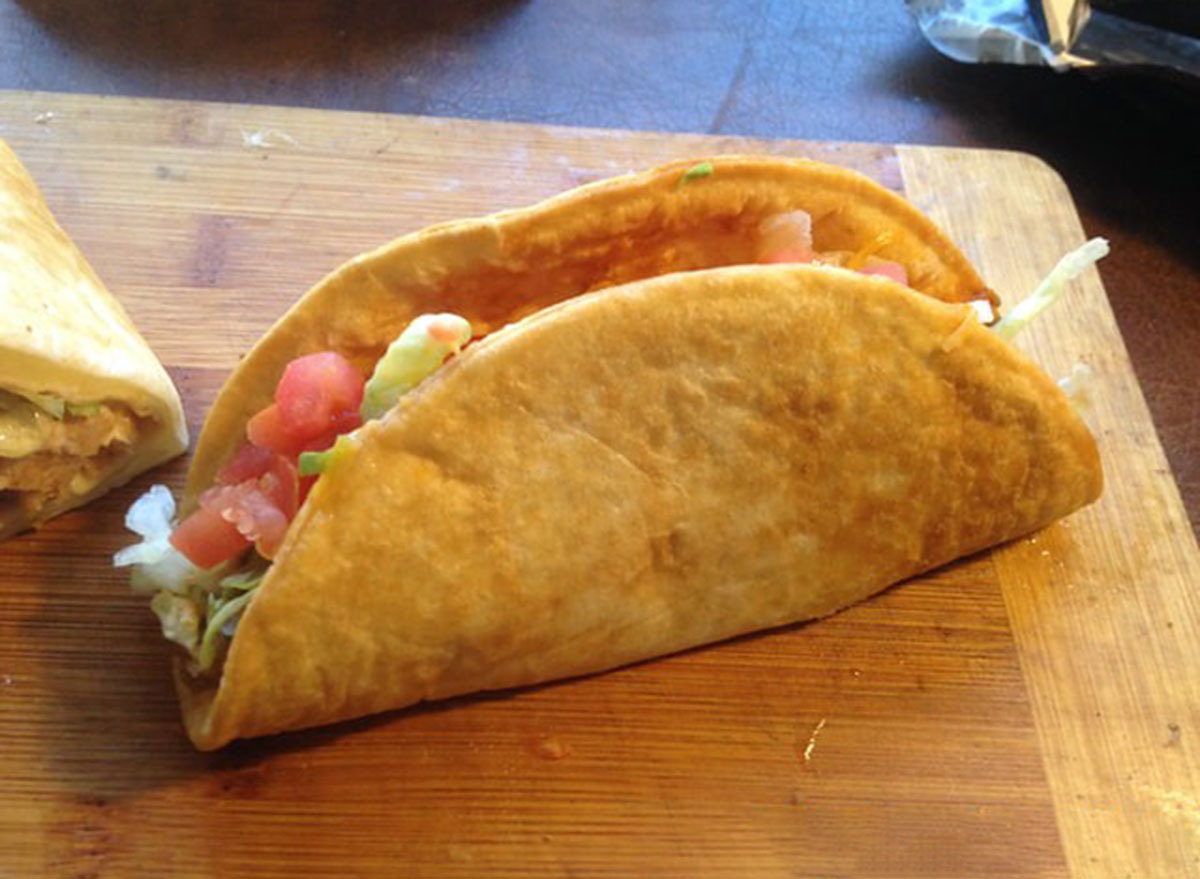 Everyone loves a chalupa and everyone loves quesadillas, so why not create the perfect combo by sticking them together to form a Quesalupa? This 2016 invention brought together two fried tortillas formed into a taco, which was then filled with pepper jack cheese. Despite our affection, the Quesalupa got pulled in 2019 and even now, multiple petitions strive to bring this fan-favorite back. If history has proven anything, we can only hope that this item, like many other favorites, makes a full comeback on the menu soon!
Even though the chili cheese burrito is no longer on the Taco Bell menu, it's still one of the most popular Taco Bell menu items that disappeared. So much so that this item developed a cult following that uses a website to track other restaurants that make similar-styled chili cheese burritos. But don't worry, if you don't live near one of those clever taco shops that sell a copycat chili-cheese burrito, we have our own chili-cheese burrito recipe you can use!