The Most Outrageously Huge Fast-Food Burgers of All Time
If you thought the Big Mac was big, wait until you see these beefy behemoths.
If you're going to eat a burger, go big or go home. At least that's the philosophy that many fast-food lovers embrace. Of course, the biggest burger you can possibly find doesn't exist on a typical menu, but rather through the option available at many restaurant chains to concoct custom burgers with any number of patties and toppings. This DIY route allows ambitious fast-food enthusiasts to create Frankensteinian burger towers with belt-breaking calorie counts. If you're wondering how out-of-hand that gets, take a look at In-n-Out's secret menu monstrosities, the 4×4 burger, and the mythical 100×100 burger.
These burgers are undoubtedly impressive, and their sizes and calorie counts are the stuff of legend and lore. If you're wondering where to find the biggest burgers, feast your eyes on these beefy behemoths from your favorite fast-food chains. Then, go ahead and take a trip down memory lane with the 15 Classic American Desserts That Deserve a Comeback.
McDonald's Double Quarter Pounder with Cheese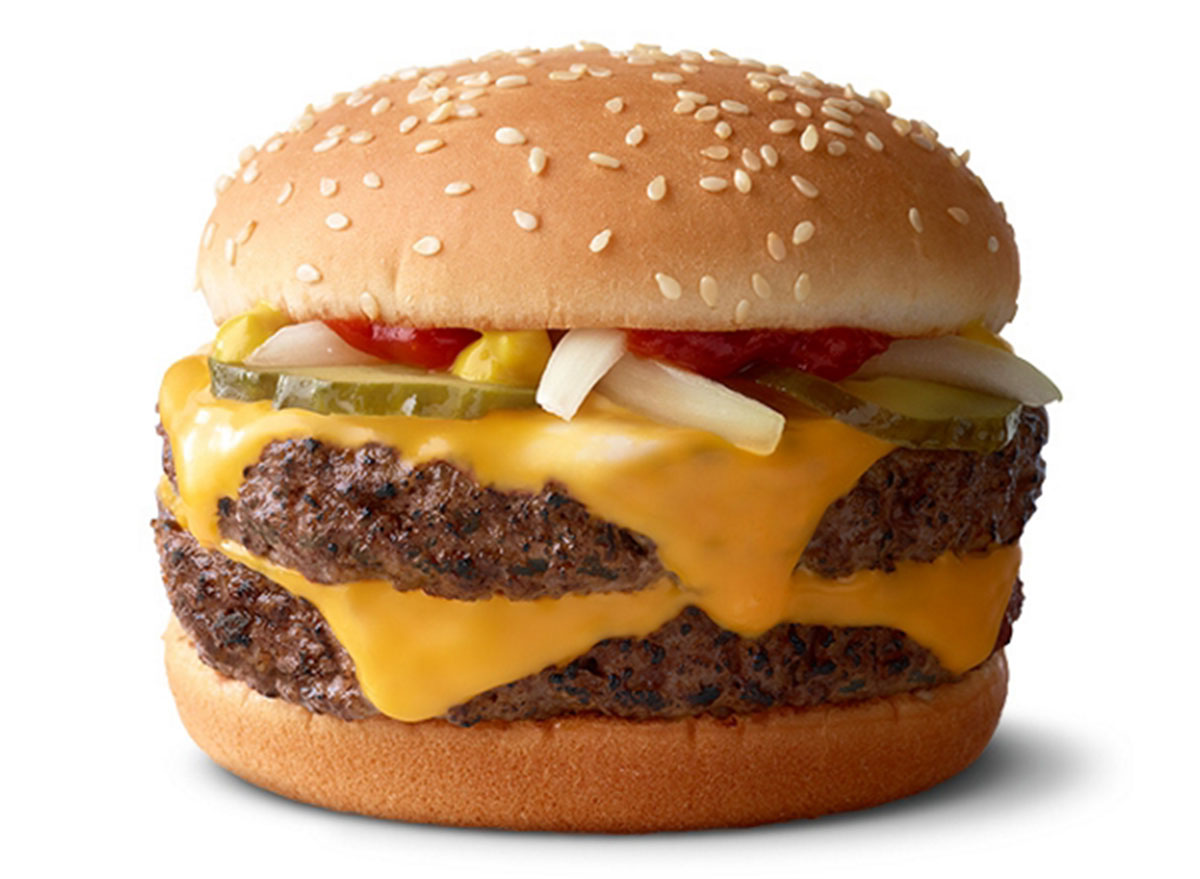 740 calories, 42 g fat (20 g saturated fat, 2.5 g trans fat), 1,360 mg sodium, 43 g carbs (2 g fiber, 10 g sugar), 48 g protein
Despite the hype around the iconic Big Mac, the biggest burger by weight at McDonald's is actually the Double Quarter Pounder with Cheese. This menu mainstay features a gut-busting 1/2 pound of meat between its two buns! And when you want a healthier option from the Golden Arches, turn to our list of The Best & Worst Menu Items at McDonald's, According to RDs.6254a4d1642c605c54bf1cab17d50f1e
Wendy's Pretzel Bacon Pub Triple
1,520 calories, 106 g fat (45 g saturated fat, 5 g trans fat), 1,940 mg sodium, 54 g carbs (4 g fiber, 6 g sugar), 89 g protein
Wendy's unleashed this beast of a burger into the world in 2020. Three-quarters of a pound of beef are topped in a warm beer cheese sauce, Applewood smoked bacon, smoky honey mustard, crispy fried onions, pickles, and a slice of muenster cheese, all on an extra soft pretzel bun. Talk about overload!
Burger King Triple Whopper with Cheese
Nutrition
: 1,299 calories, 89 g fat (36 g saturated fat, 1.6 g trans fat), 1,829 mg sodium, 51 g carbs (2 g fiber, 11 g sugar), 75 g protein
At Burger King, the Triple Whopper with Cheese is the big monster on the menu. This burger costs you about two-thirds of your daily allotment of calories, about a day and a half's worth of saturated fat, and over half of your daily need of sodium.
Fatburger XXXL (Triple Kingburger)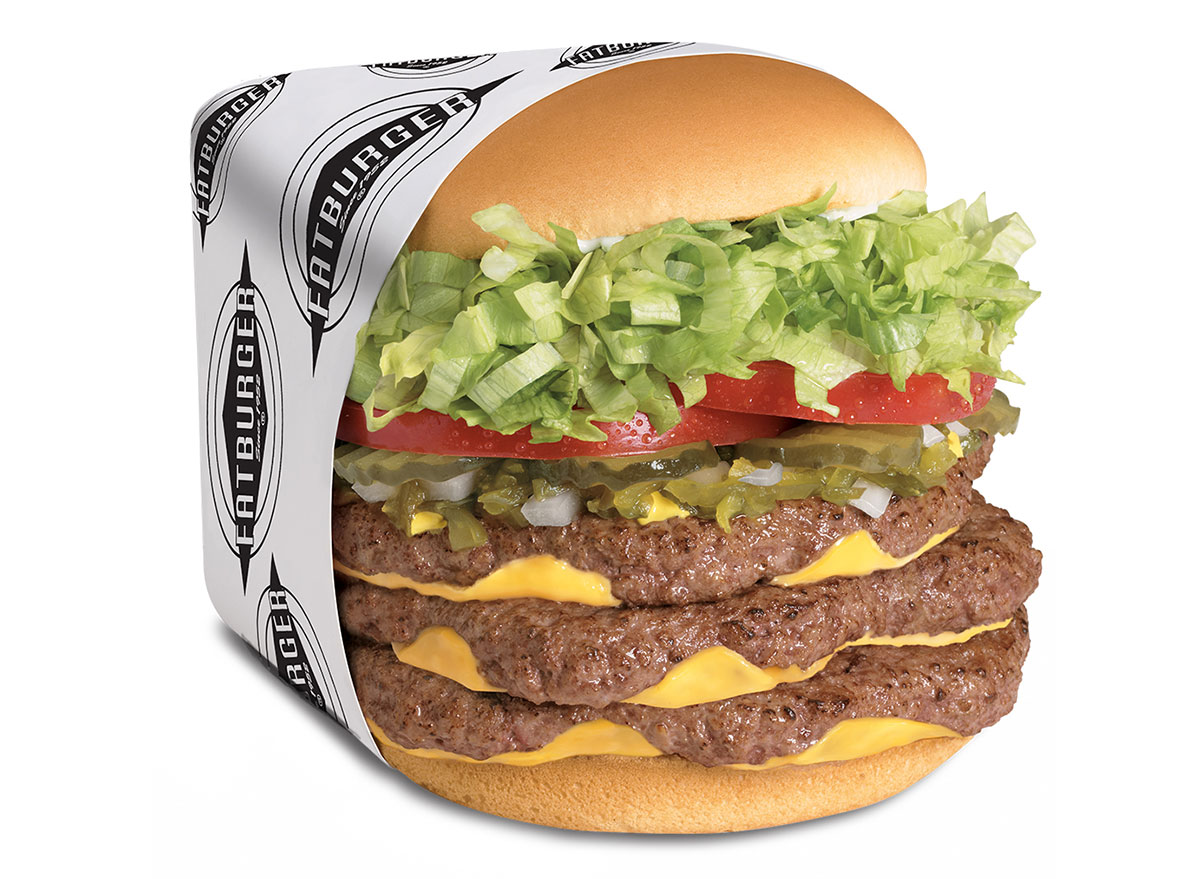 1,686 calories, 96.5 g fat (33.5 g saturated fat, 6.5 g trans fat), 2,179 mg sodium, 69 g carbs (4 g fiber, 12 g sugar), 129.5 g protein
Typically "challenge" burgers like the XXXL are restricted to secret menus or one-off food competition events, but this 1.5-pound behemoth—comprised of 3 towering 1/2 pound burger patties and toppings—can be ordered straight from the menu. It would take quite a few people to finish this bad boy, that's for sure!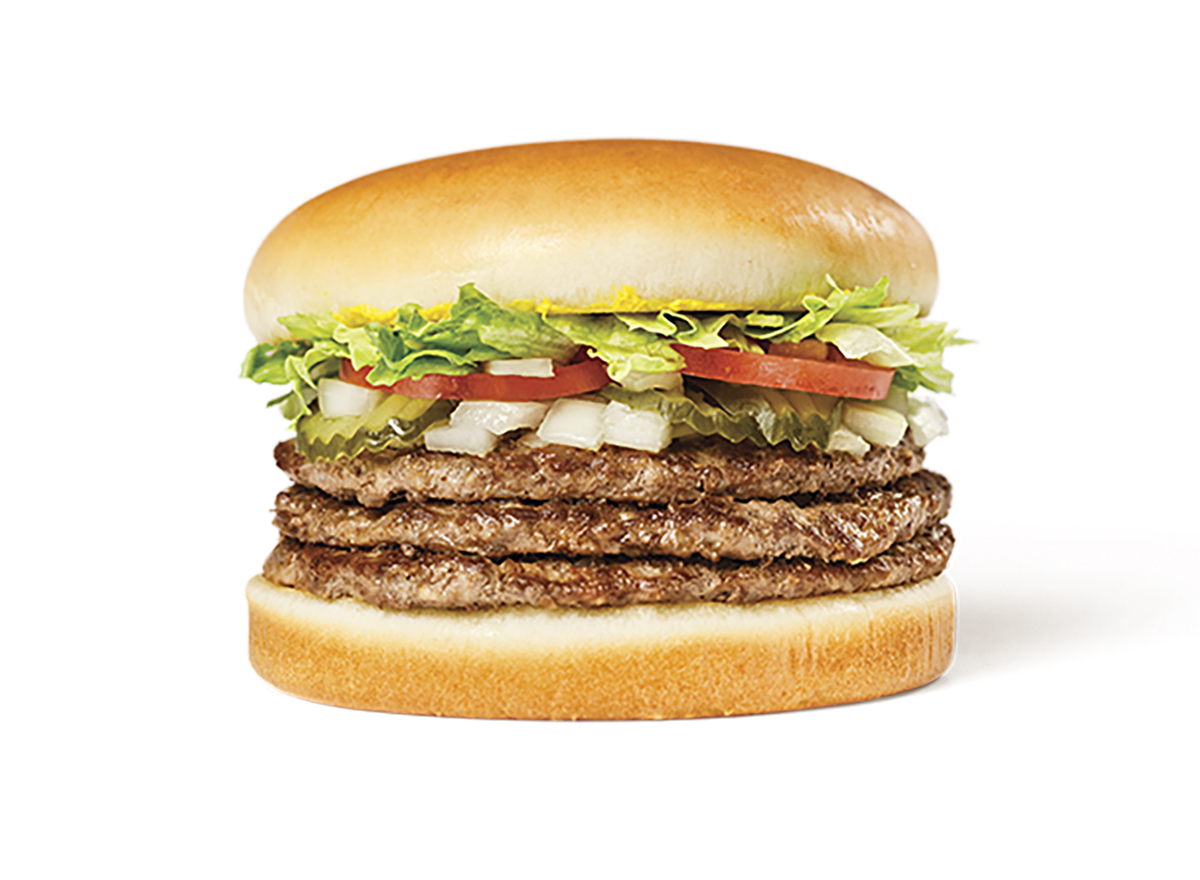 1,080 calories, 63 g fat (21 g saturated fat, 3 g trans fat), 1,720 mg sodium, 62 g carbs (4 g fiber, 12 g sugar), 65 g protein
While other massive burgers proudly tout their weight as their defining feature, the Triple Meat flies under the radar and blends in with its third- and half-pound competitors. At 1,080 calories, the total weight listed on its nutritional information is 484 grams, or just over a pound, and it's not the lettuce that's tipping the scales.
SuperSONIC Bacon Double Cheeseburger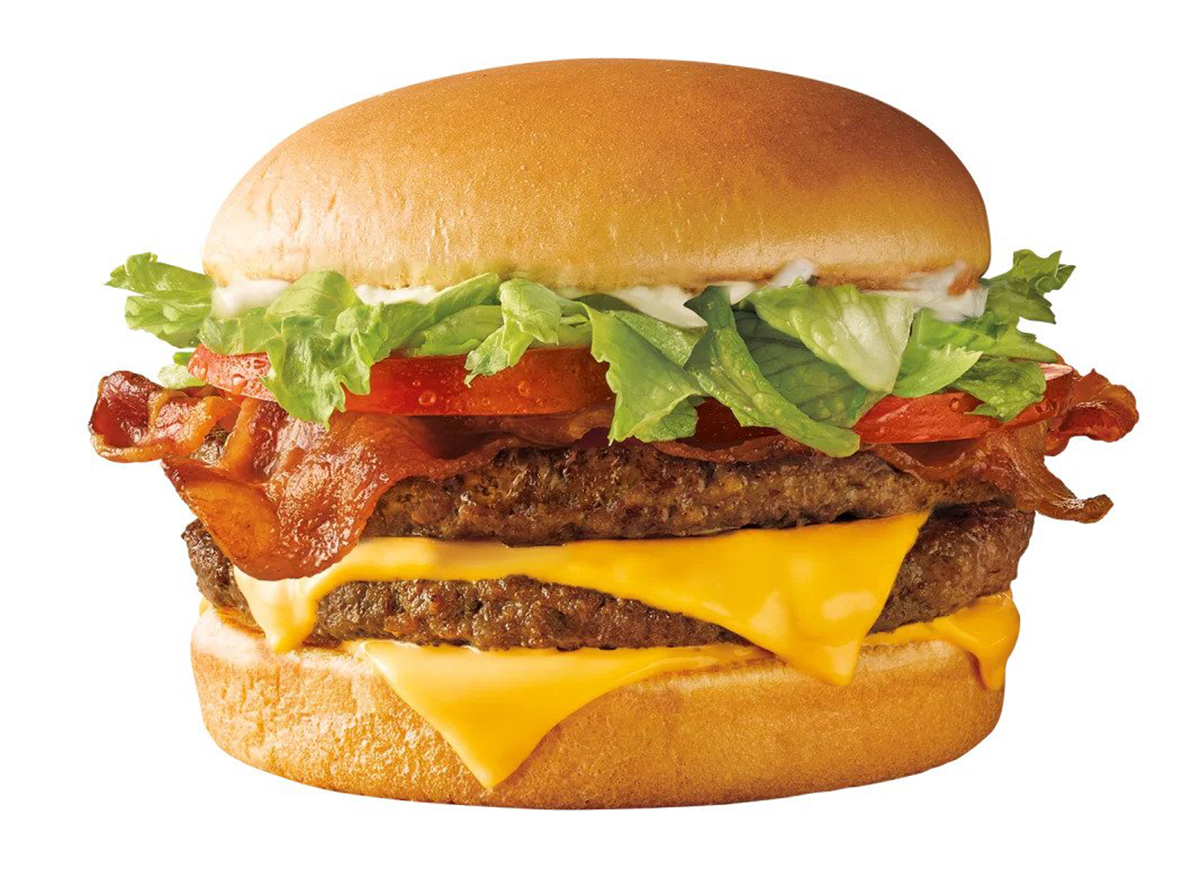 1,030 calories, 58 g fat (23 g saturated fat, 2 g trans fat), 1,880 mg sodium, 54 g carbs (3 g fiber, 12 g sugar), 58 g protein
Its neat and tidy presentation might give a customer the impression that this burger from SuperSONIC is somehow less indulgent than its competitors. But don't be fooled—each of its patties weighs a substantial quarter pound, and the total calorie count after including the bacon, cheese, and mayo is an impressive 1,030.
Fuddruckers 1lb Original Burger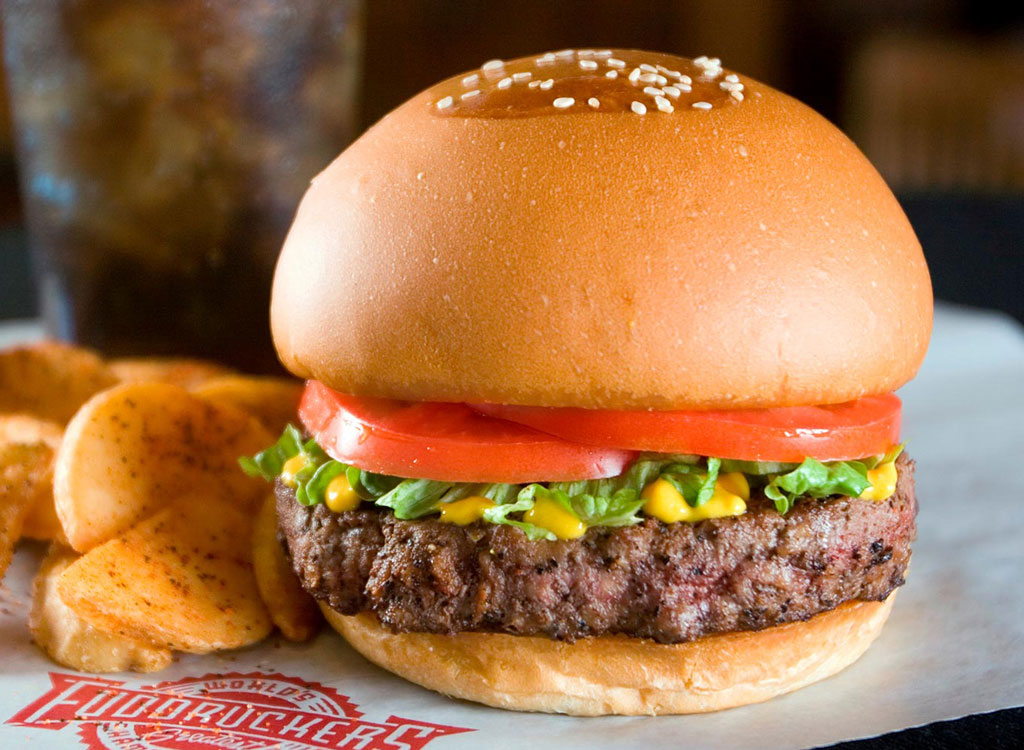 1,390 calories, 26 g saturated fat, 1,190 mg sodium, 72 g carbs
The most gluttonous thing on the Fuddruckers menu also sounds the most innocent: the Original Burger. The trick here is selecting the diet-busting one-pound option. The concept at Fuddruckers is to dress your own burger at their produce bar, but given that a burger and a bun alone will run you 1,387 calories, this is far from the innocuous meal that its name suggests.
Looking for more tips? Your ultimate restaurant and supermarket survival guide is here!
Checkers and Rally's Smoky BBQ Buford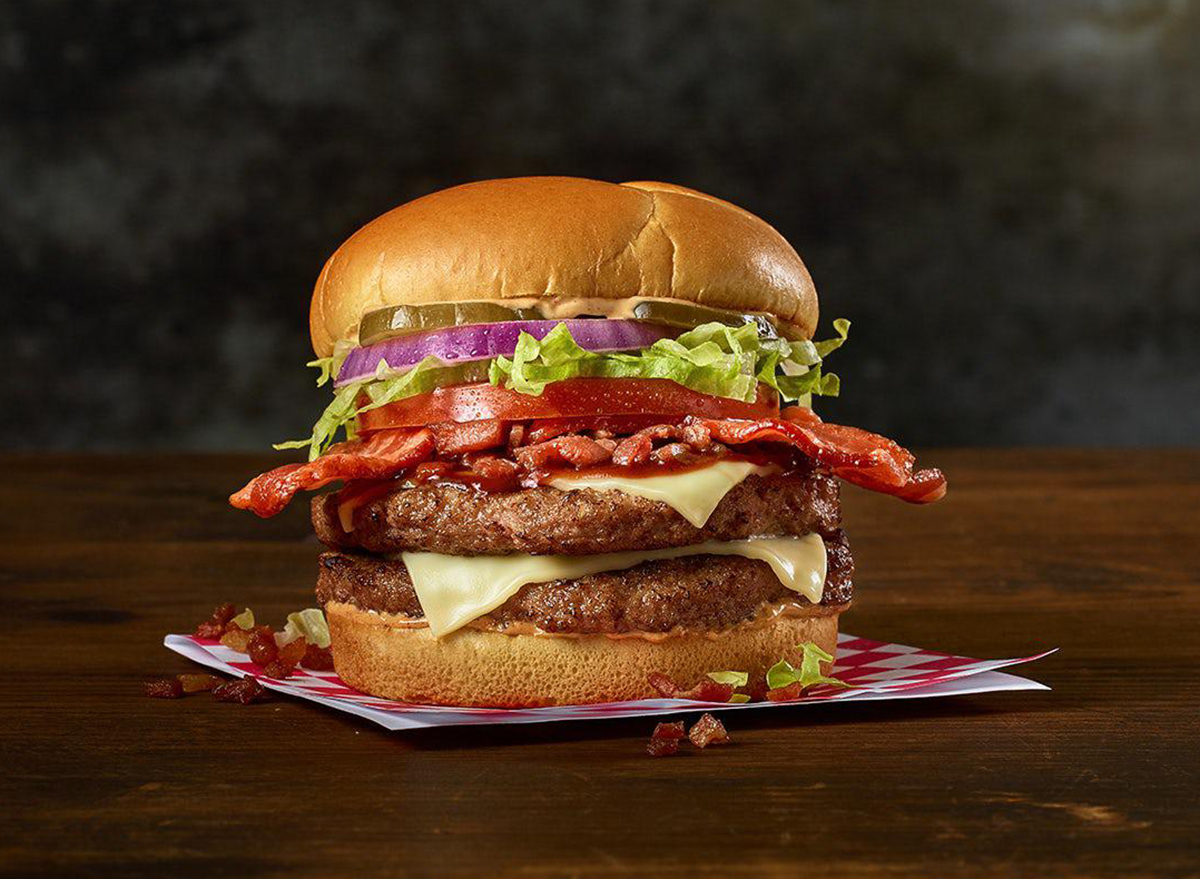 The new Smoky BBQ Bacon Buford at Checkers and Rally's features two 100% beef hand-seasoned patties that are topped with Swiss cheese, two slices of smoked bacon, lettuce, tomato, pickles, onions, sweet and smoky BBQ sauce, smoky mayo, and even more bits chopped up bacon. It's said to be bigger and bolder, and it's safe to say it lives up to that title.
Carl's Jr. Triple Fiery Famous Star
1,150 calories
At Carl's Jr, you'll see this mountainous triple cheeseburger now on the menu. Three charbroiled all-beef patties are topped with the chain's new Fiery Sauce, pepper Jack cheese, jalapeños, sliced onions, tomato, and lettuce, all on a toasted seeded bun.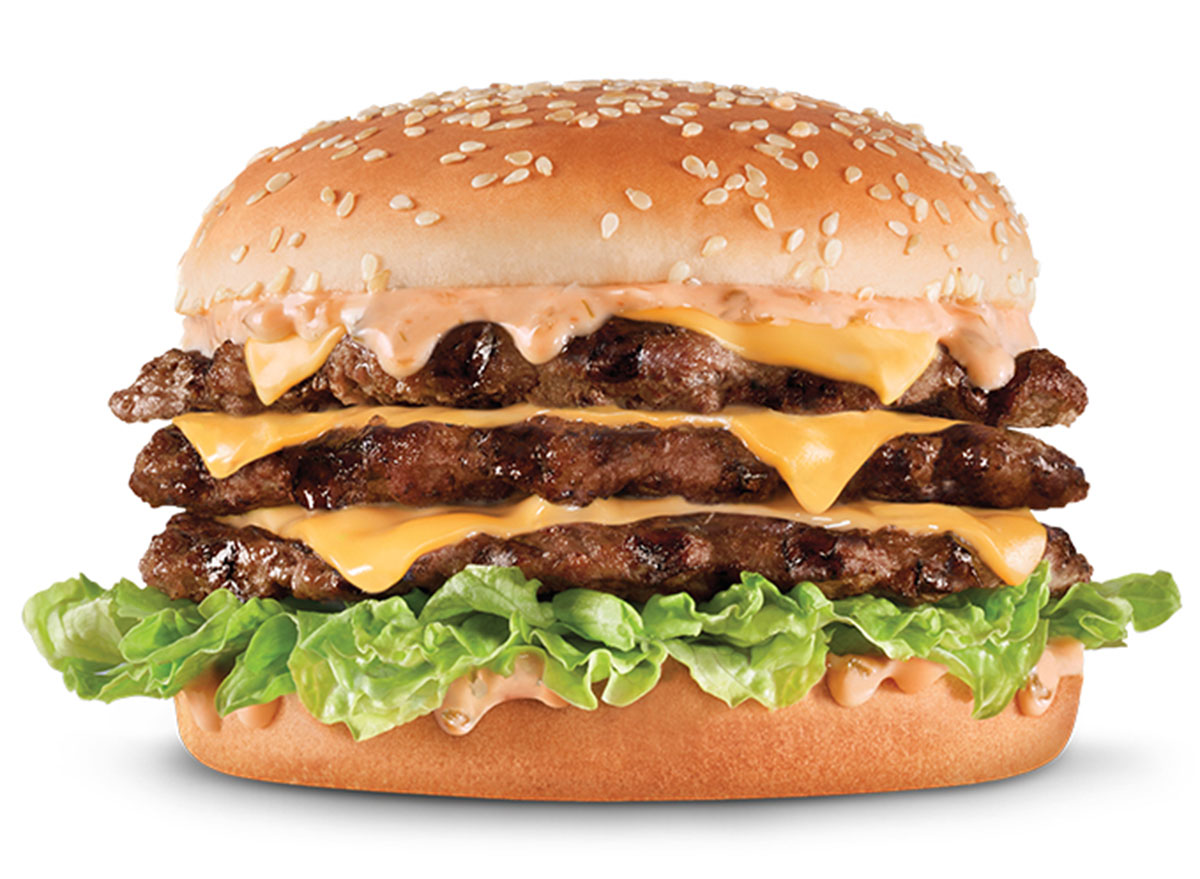 1,170 calories, 58 g fat (23 g saturated fat, 2 g trans fat), 1,380 mg sodium, 55 g carbs (0 g fiber, 12 g sugar), 47 g protein
The Really Big Hardee is another all-new menu option that includes three charbroiled all-beef patties, American cheese, lettuce, and Classic Sauce. Perhaps three patties is a bit much…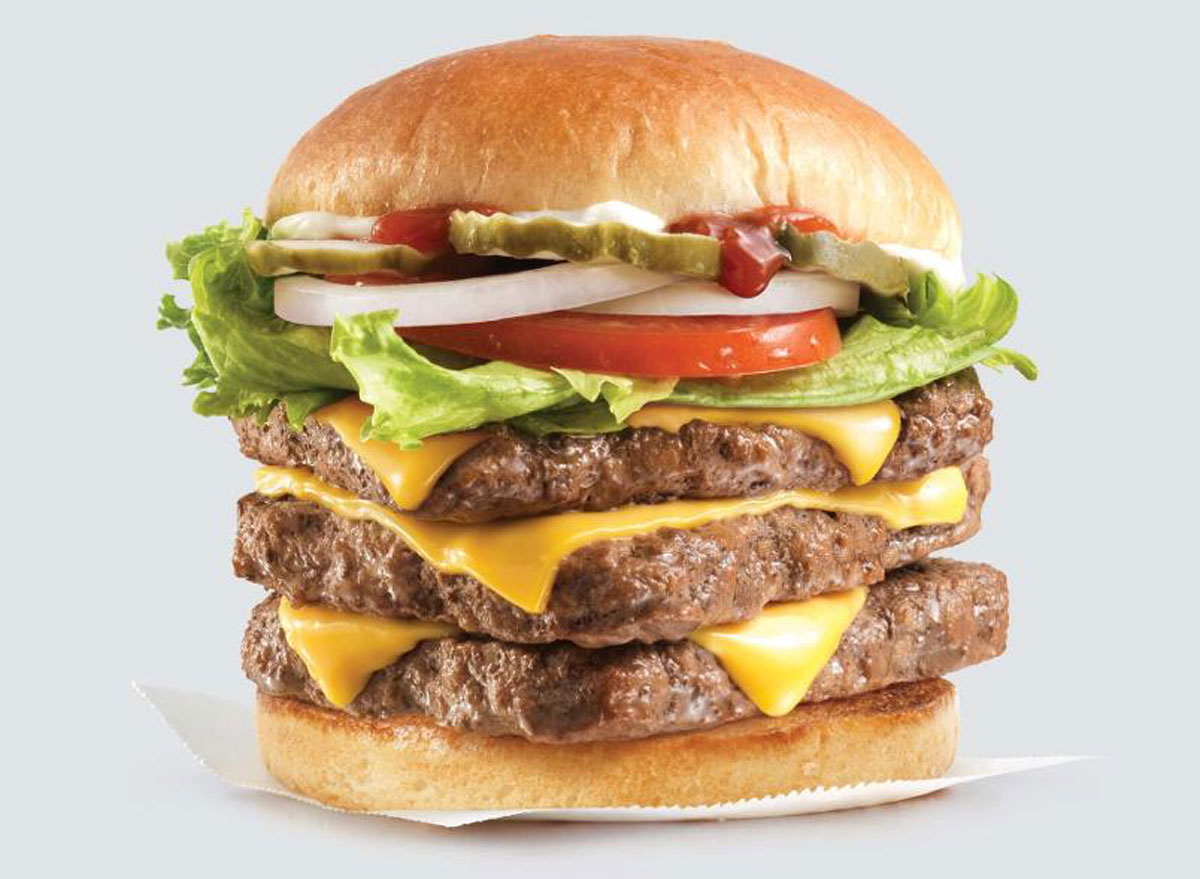 1,160 calories, 81 g fat (34 g saturated fat, 4.5 g trans fat), 1,570 mg sodium, 38 g carbs (2 g fiber, 8 g sugar), 70 g protein
This mammoth 1,160 calorie Wendy's triple cheeseburger features three quarter-pound patties, topped with standard fast-food toppings like cheese, lettuce, tomato, pickles, onions, and mayo. It really won't leave you hungry, that's for sure.
Wayback's Triple Triple Burger
1,780 calories, 108 g fat (42 g saturated fat, 0 g trans fat), 700 mg sodium, 30 g carbs (2 g fiber, 5 g sugar), 162 g protein
Wayback may be a lesser-known fast-food chain, but if you should happen to come across one of these, you're in luck. Once upon a time, Wayback offered up the Triple Triple burger, which might've just been the largest burger on a major chain's standard menu. It included nine beef patties and nine slices of American cheese with a whopping calorie count of 1,780. It's no longer on the menu, but we couldn't resist looking back at this monstrous burger that once was.