15 Healthy Recipes for Black-Eyed Peas
Change things up with these darlings of the Southern cuisine.
Black-eyed peas are more than just the best hip hop group from the 2000s. They're a legume that's a staple of Southern and African culinary traditions and known for bringing good luck.
Although they're best known for their love affair with rice and collard greens, they also make an excellent cowboy caviar and even hummus. Wherever beans are welcome, black-eyed peas are welcome too. And they bring with them a great amount of protein, vitamin B9, folate, zinc, fiber, and iron, which is particularly useful for people following a vegetarian diet.
Get started with these 15 healthy black-eyed pea–centric recipes, and you might find yourself with a new go-to bean.
Rainbow Power Greens Salad with Black-Eyed Peas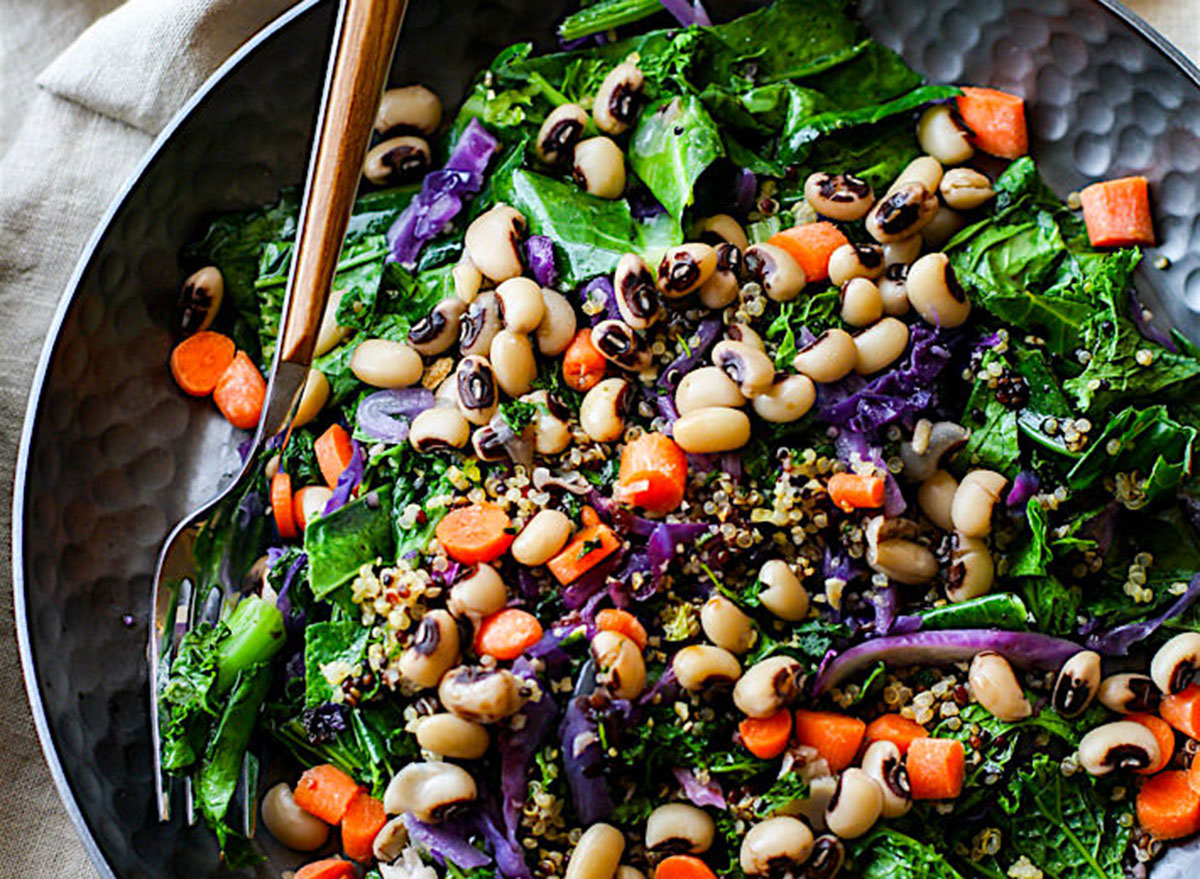 In their natural state, black-eyed peas are more of an earth tone ingredient. But when you combine them with purple cabbage, shredded carrots, and vitamin K–rich greens, you get a colorful (and nutrient-packed) salad that will leave you feeling supercharged for the rest of the day.
Get the recipe from Cotter Crunch.
Hoppin' John is a traditional New Year's food, most recently from South Carolina but with deeper roots in West African cuisine. It's said to bring about luck and prosperity for the year ahead, as the beans are supposed to bring coins to mind. In fact, it's a great meal no matter the time of year, and this skillet recipe will show you the ways of this classic black-eyed pea, ham, and rice dish.
Get the recipe from Diethood.
Pasta with Garlic Scape Pesto, Bacon, and Black-Eyed Peas
For food lovers, a groundhog's prediction isn't the true sign of spring. The real seasonal changeover happens when garlic scapes, the long, thin tendrils that grow out of garlic heads, pop up in farmers' markets. Use them to make a pesto that's a delightful match for a pasta dish filled with black-eyed peas, bits of bacon, and plenty of Parmesan.
Get the recipe from Love and Olive Oil.
When you've had enough spinach artichoke dip and guacamole to last you for the year, Texas caviar is the way to go. It's a combination of canned beans, corn, and fresh herbs that definitely counts as a salad.
Get the recipe from Little Spice Jar.
BBQ Tofu Bowl with Collard Greens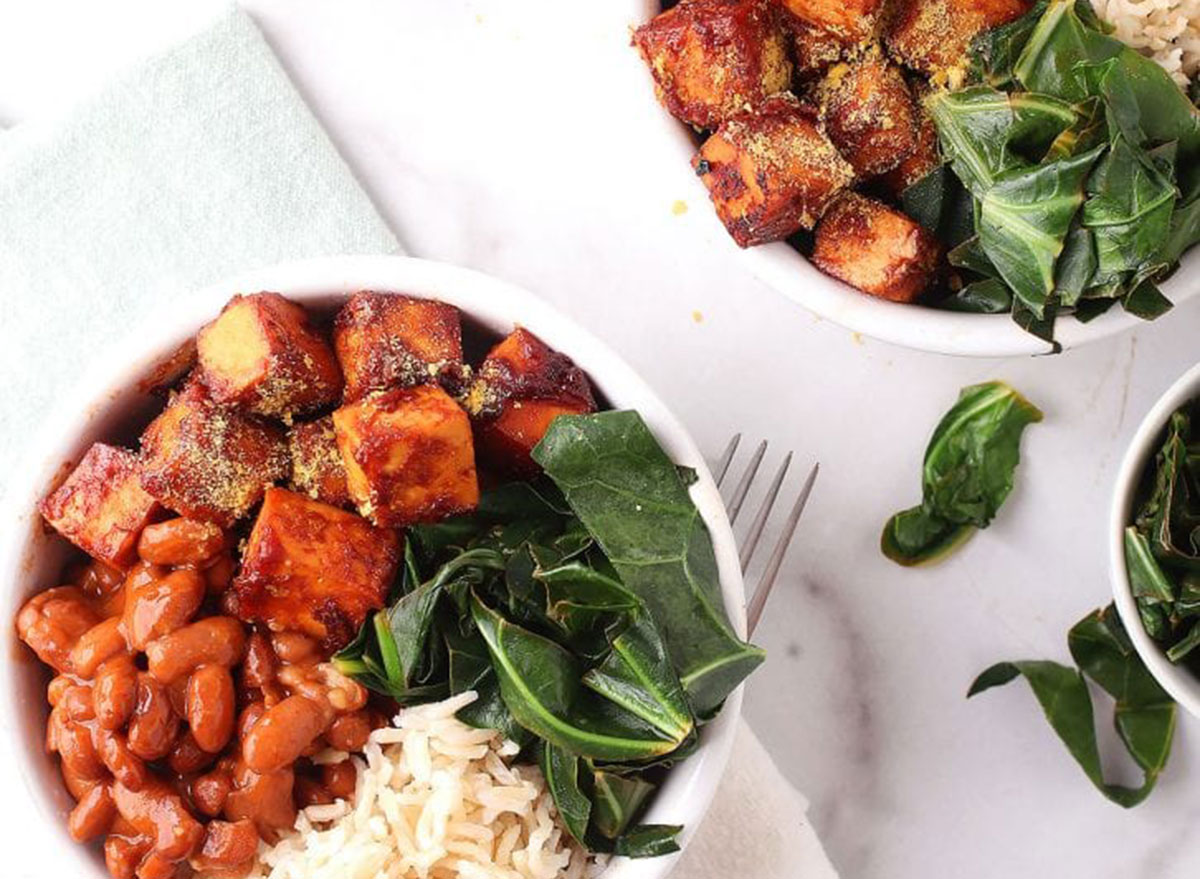 If you put the South in a bowl and made it both vegan and gluten-free, this is what you'd get. It's a combination of smoky barbecue-marinated tofu, steamed collard greens, cooked rice, and beans whose deep flavor belies the small amount of time and effort involved. The side serving of ranch dressing is "optional," but we think you'll welcome it as a creamy anecdote to the bold dish.6254a4d1642c605c54bf1cab17d50f1e
Get the recipe from My Darling Vegan.
Greek Black-Eyed Pea Salad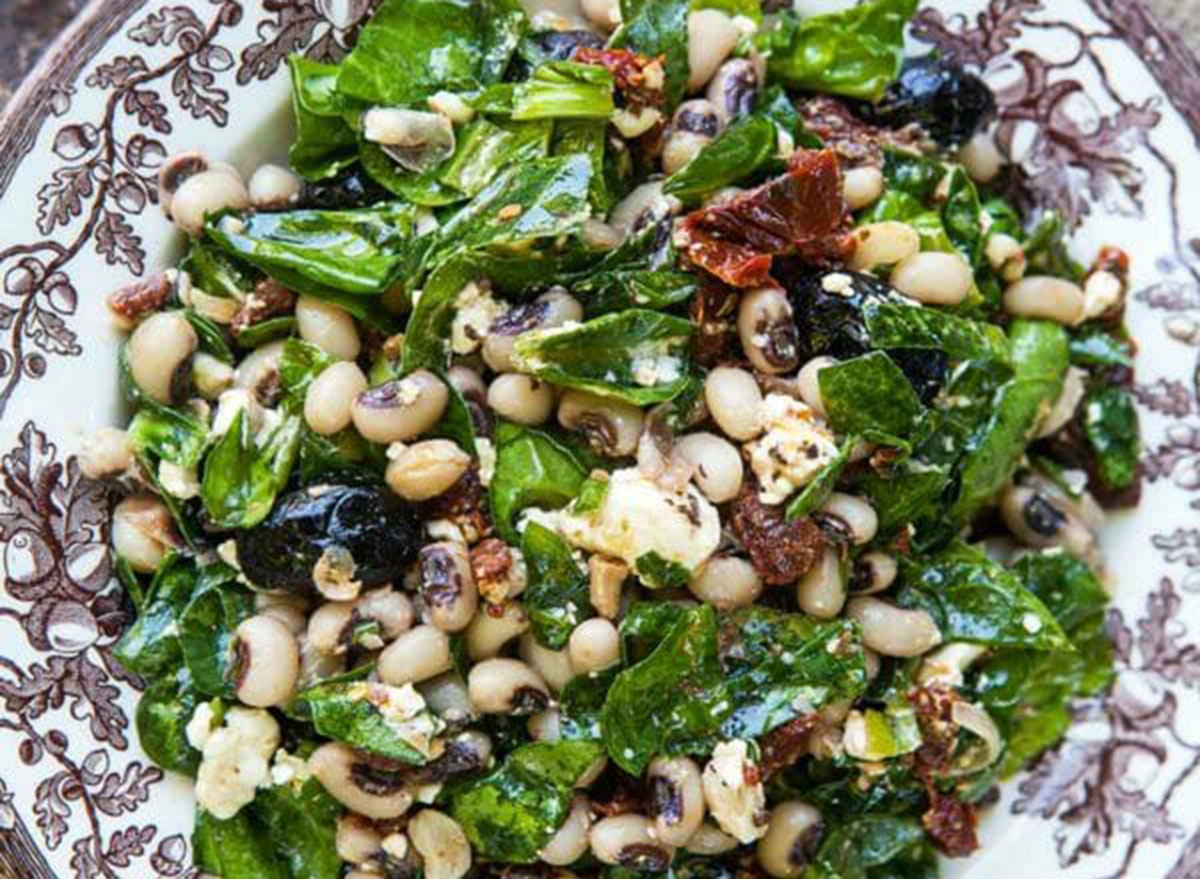 Go Greek for lunch with this lemon-dressed salad. Sun-dried tomatoes, feta, and Kalamata olives give the dish serious Mediterranian vibes—plus, you'll learn a method for cooking the black-eyed peas that'll result in perfectly tender (and not mushy) beans.
Get the recipe from Simply Recipes.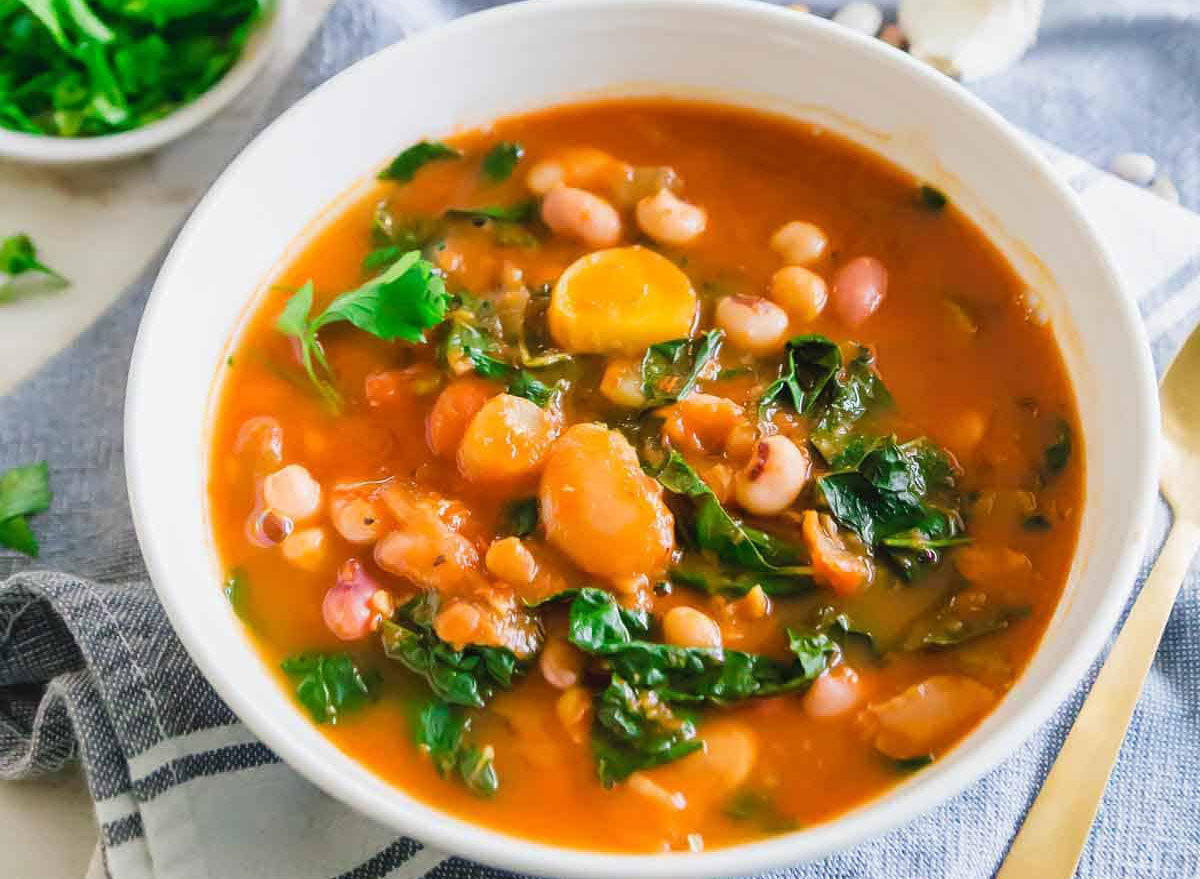 There are 13 types of beans in this soup recipe. If that sounds overwhelming, you can get by with just a few different types, but we're partial to the inclusion of black-eyed peas, which go well with the tuscan kale and tomatoes that round out the main flavor profile. Soak the beans the night before for quicker cooking when you're ready to make the soup.
Get the recipe from Running to the Kitchen.
Vegan Black-Eyed Peas Deep Dish Pizza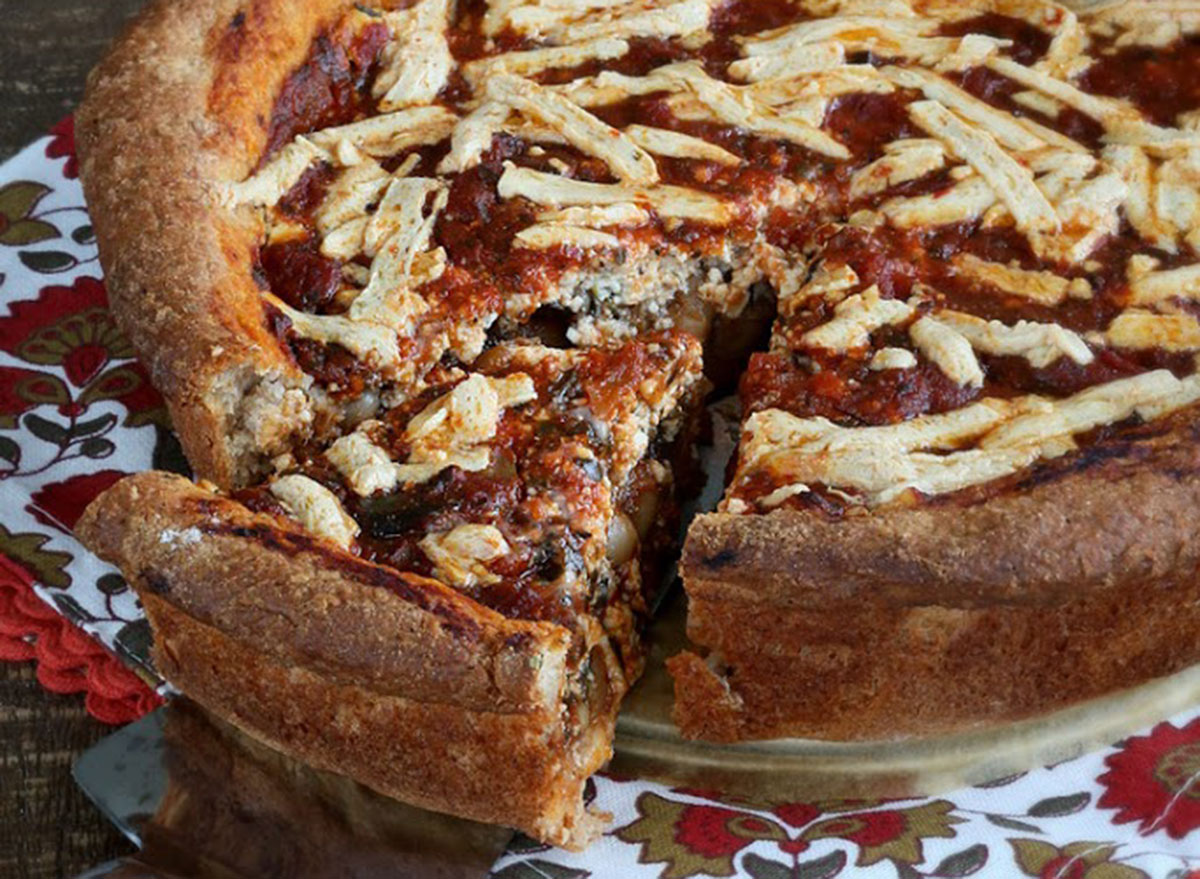 Lasagna, Hoppin' John, and a deep dish pizza walk into a bar . . . and the punchline is this recipe. With thyme tofu ricotta, multiple layers, and a crispy crust, it's the best of all possible worlds—executed in an all-vegan way, no less.
Get the recipe from Vegan Richa.
One Pot Turkey and Rice Bowl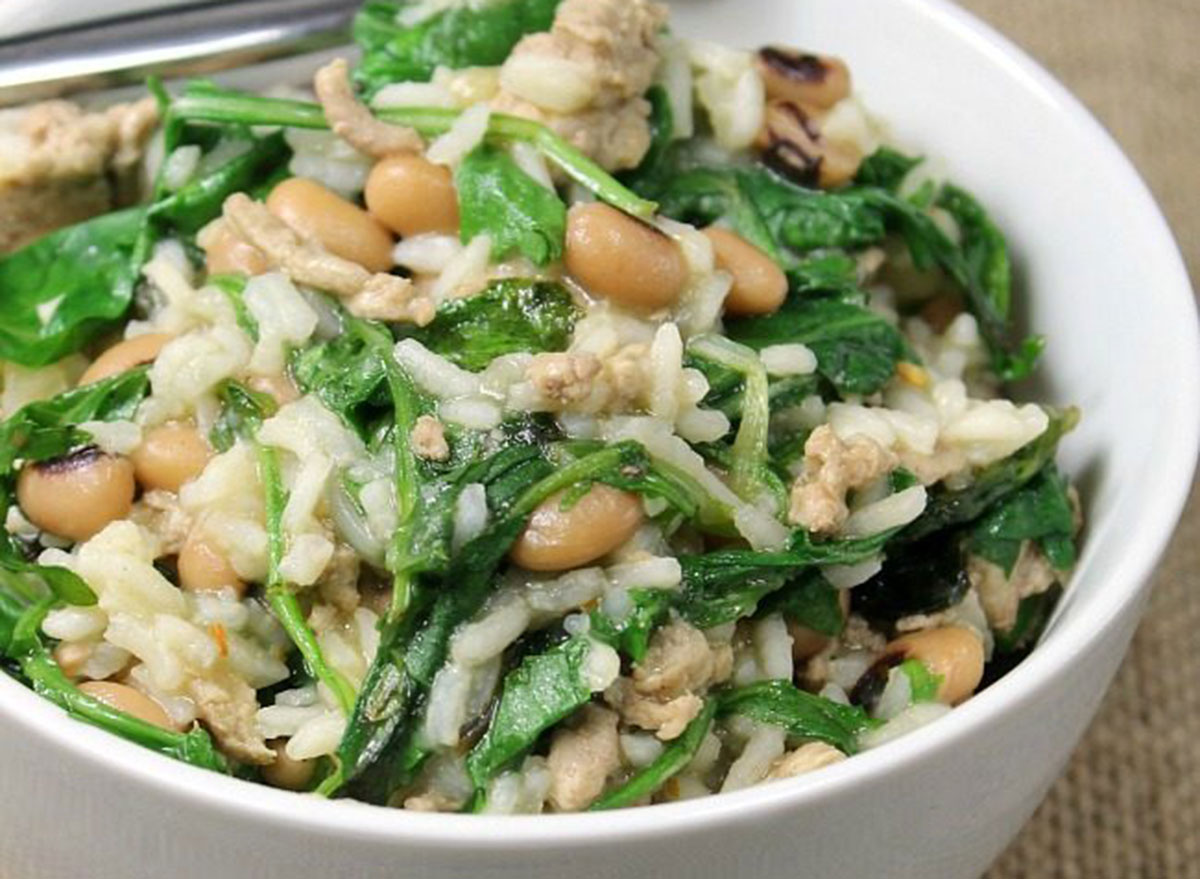 This recipe calls for only a handful of ingredients, and is perfect for those "need food now" weeknights when just can't be bothered to cook. All you have to do is brown the turkey, add the rice, broth, peas, and seasoning, and let it go for 20 minutes while you decompress with a glass of wine.
Get the recipe from Foody Schmoody.
African Black-Eyed Pea Salad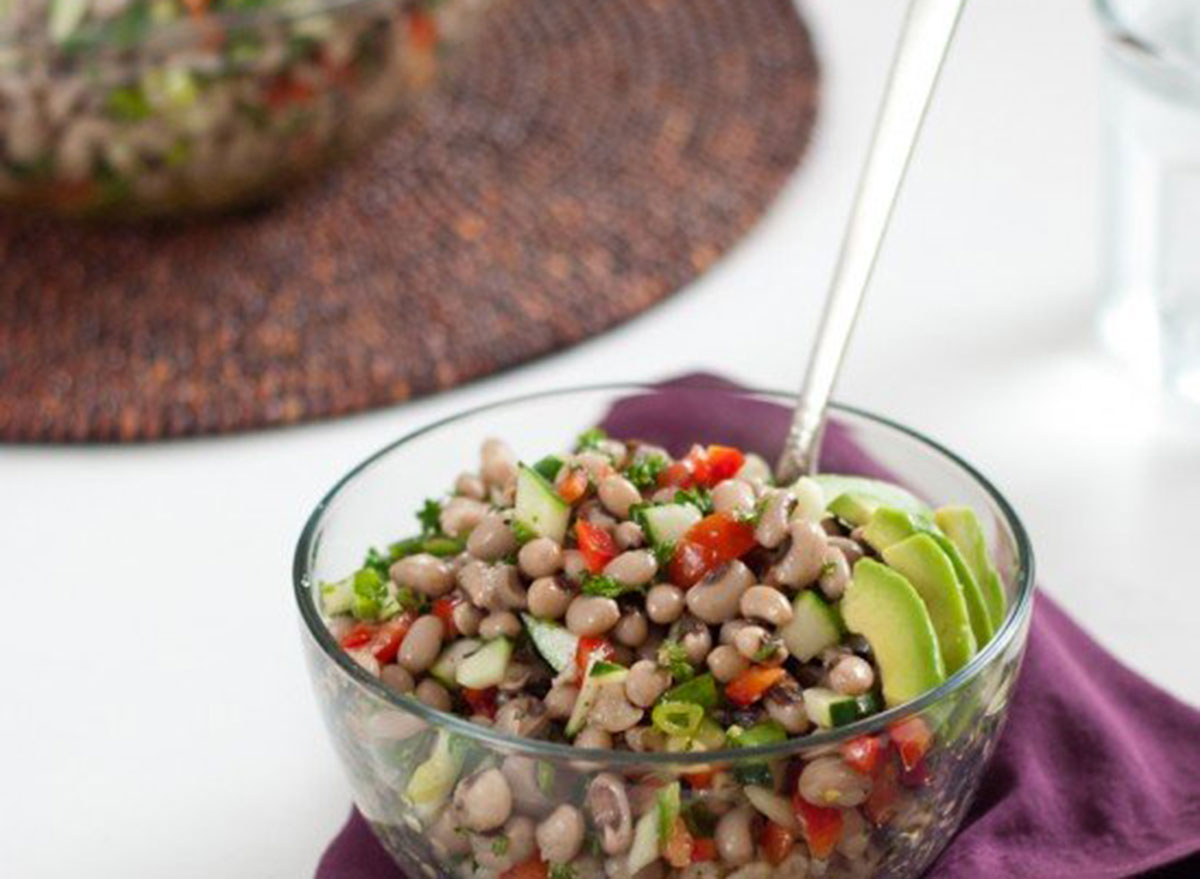 Black-eyed peas are a prominent ingredient in African cooking, and this Senegal-inspired dish is a shining example as to why. Refreshing fresh herbs and lime juice tie together the black-eyed peas, peppers, tomatoes, and cucumber for a picnic- or potluck-ready dish that will guarantee you at least five texts asking for the recipe.
Get the recipe from Cookie + Kate.
Super Easy Black-Eyed Peas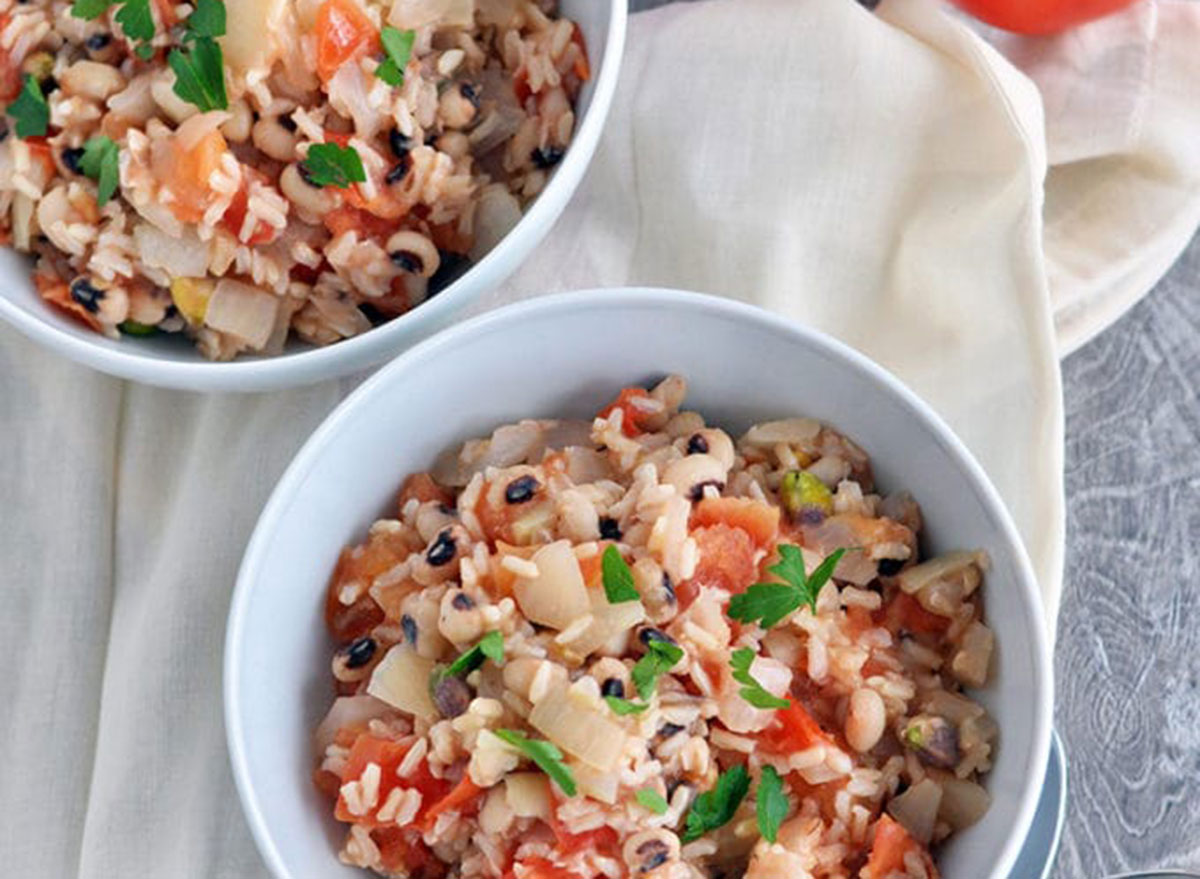 When you're looking for a 15-minute weeknight meal or a simple side dish, this recipe has your back. Most of the ingredients can likely be found in your pantry right this minute (rice, coconut oil, beans) so all you have to do is grab an onion and a couple of tomatoes on your way home to complete the deal.
Get the recipe from My Whole Food Life.
This version of the lucky dish uses smoked paprika in place of pork, ensuring that vegetarians can partake. It also uses brown rice instead of white, and swaps quick-cooking kale for the collard greens, resulting in a well-rounded version of the classic that makes a great weeknight meal.
Get the recipe from Well Plated.
Chipotle Black-Eyed Peas Hummus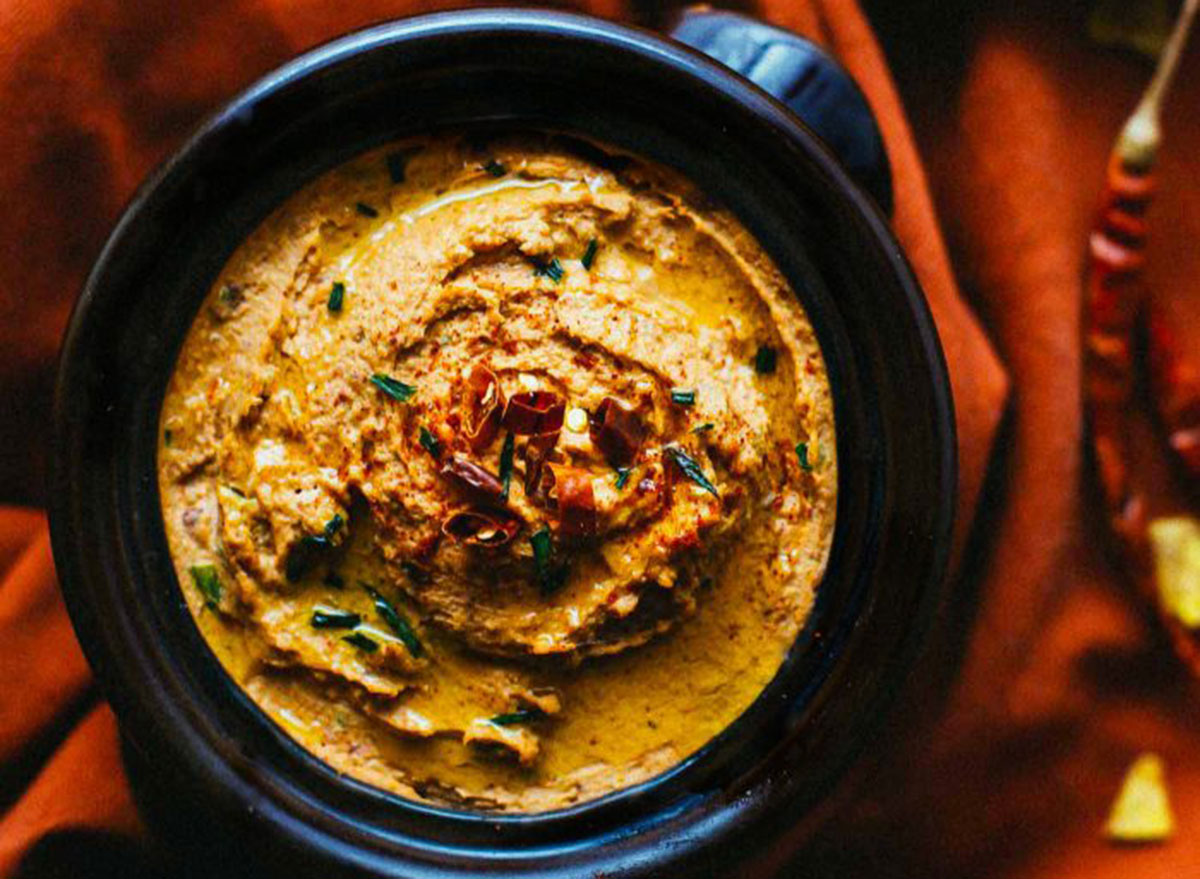 If you can turn garbanzo beans into hummus, then why not try the same with black-eyed peas? Feature the Southern ingredient in a new way by blending it with chipotle peppers, tahini, onion, garlic, olive oil, and spices for an orange-hued dip that'll spice up any party table spread.
Get the recipe from Cotter Crunch.
Vegan Black-Eyed Peas with Tomatoes and Greens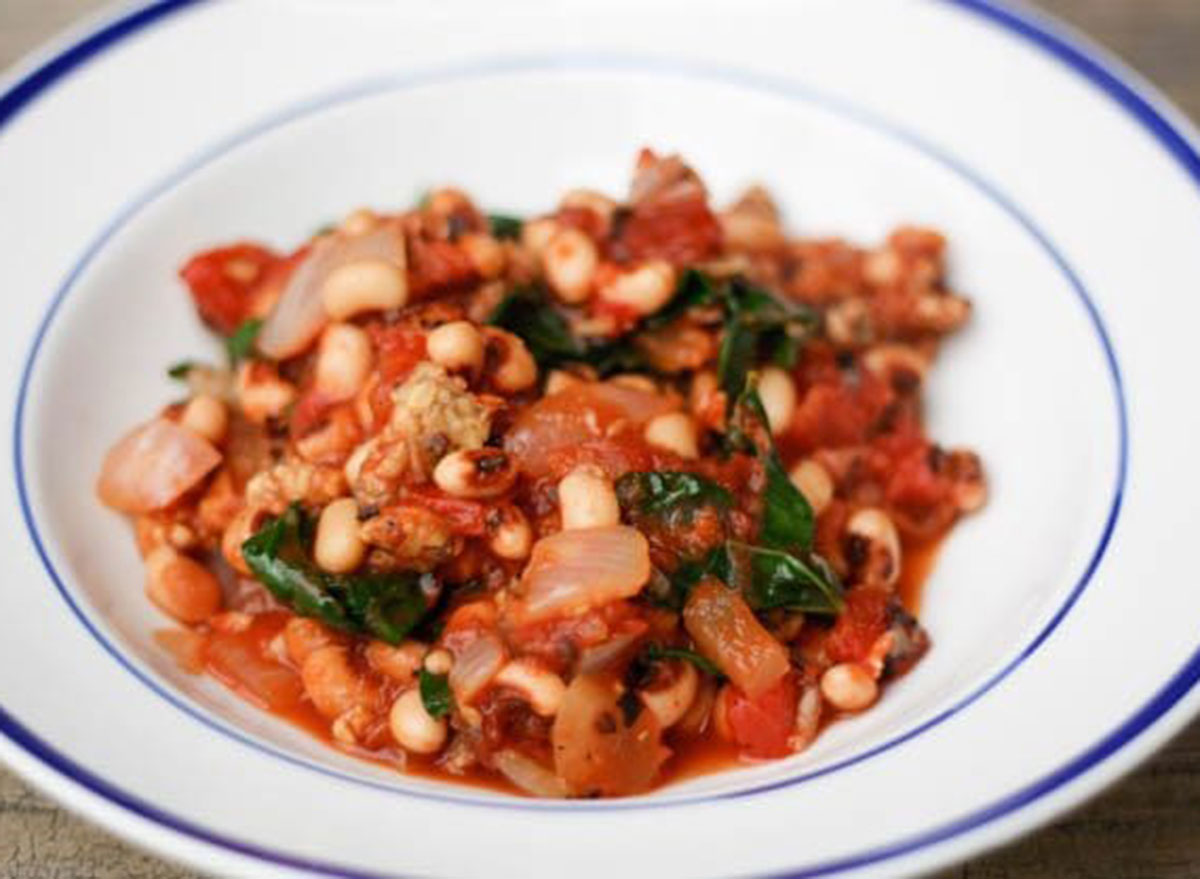 Another part of the good luck theory surrounding black-eyed peas is that they should be consumed with greens (such as kale or collard greens) because they're the color of money. That's as good a reason as any to eat your greens, which are featured in this stovetop recipe.
Get the recipe from Eating Bird Food.
Edamame and Black-Eyed Peas Citrus Salad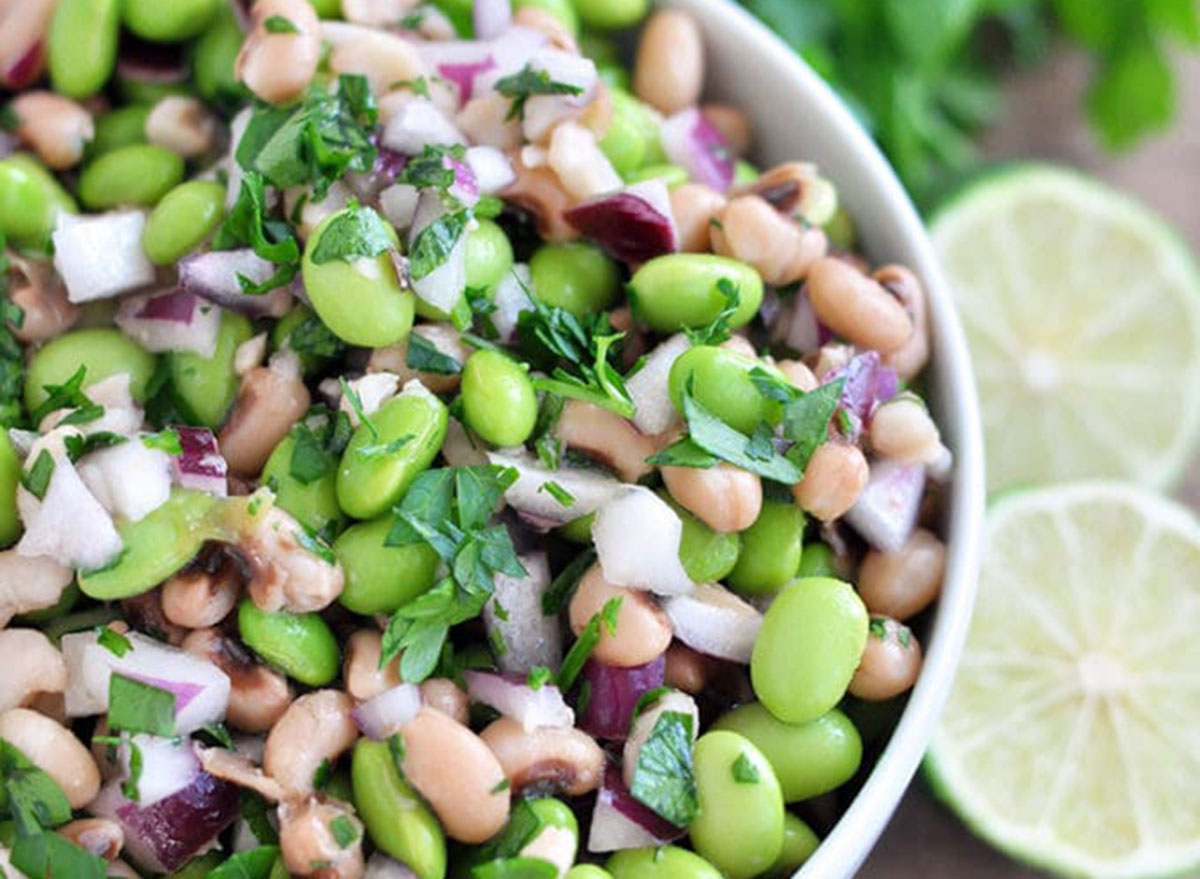 It's a protein party wherever this salad goes, thanks to the power couple of edamame and black-eyed peas. The salad gets a citrus punch from both orange and lime juice, plus chopped parsley to balance the acid with refreshing herbs.
Get the recipe from My Whole Food Life.
Abby Reisner
Abby is a food writer, editor, cook, and digital strategist living in Brooklyn.
Read more about Abby