14 High-Protein Beans—Ranked!
Stock up on the magical fruit in many forms for major metabolism benefits.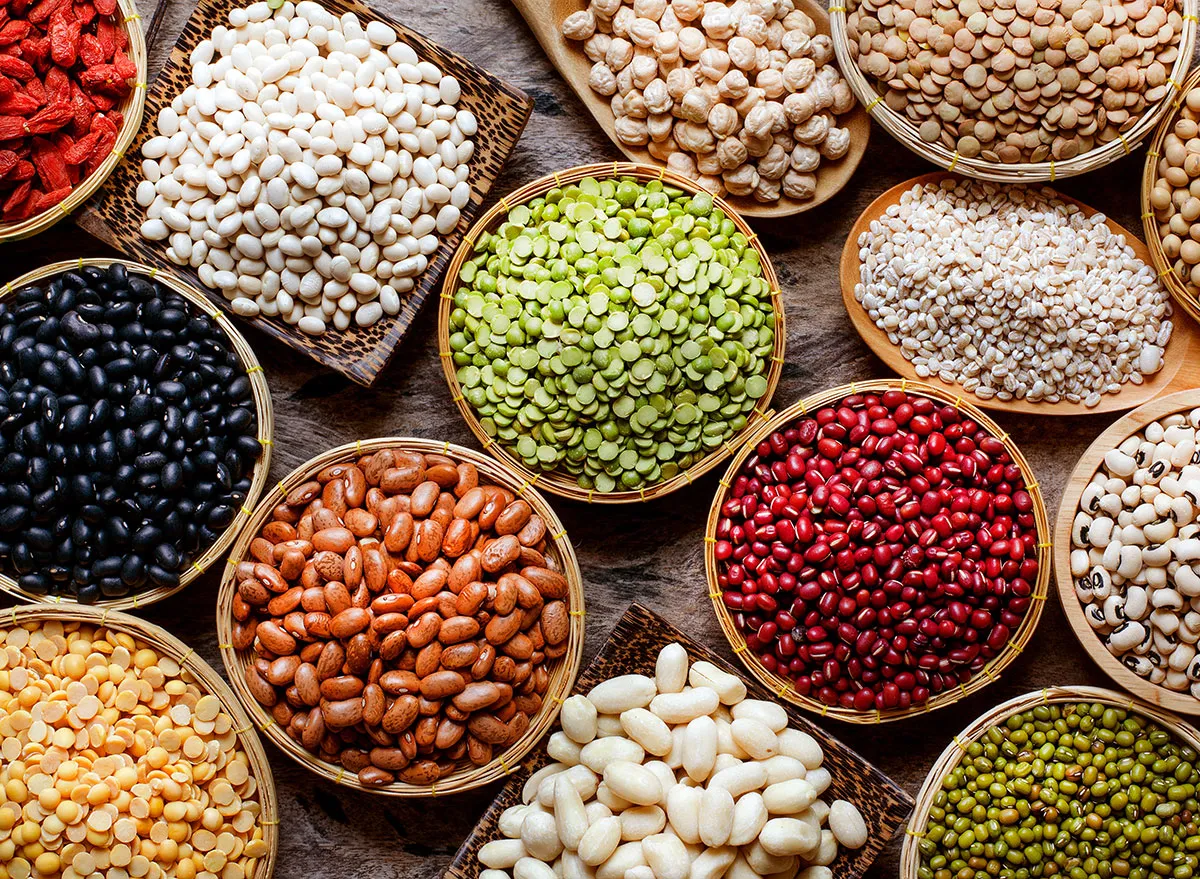 Those unassuming cans of beans are like Clark Kent hiding in your kitchen. Concealed within an unassuming aluminum (and hopefully BPA-free) lining lies one of nature's healthiest sources of protein. That's right, we're talking about high protein beans. No cholesterol, rich in fiber, immensely versatile, incredibly convenient, and very affordable, beans are an oft-overlooked source of protein.
While they may not hold a candle to the amount of protein per gram of animal meat, cooked beans are still great sources of protein. A half-cup serving can deliver upwards of 10 grams of protein—but that's only if you choose the right kind of bean.
We break down the health benefits of getting your protein from beans and then rank the 14 top high-protein bean varieties. (Plus, check out 17 Delicious Recipes Featuring a Simple Can of Beans.)
What are the health benefits of a plant-based protein like beans?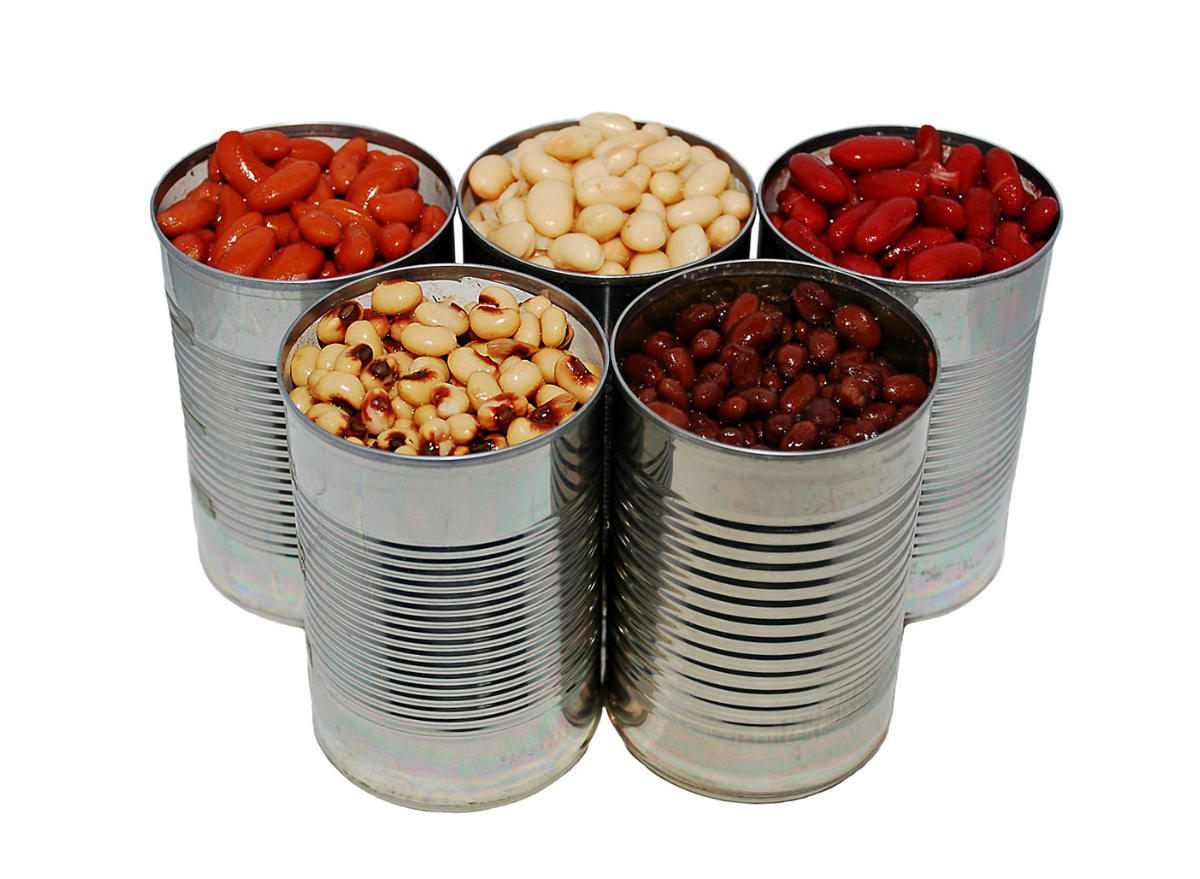 "Beans and legumes are the often unsung heroes of the plant-based world," says Katherine Brooking, MS, RD, a registered dietitian in San Francisco, and the co-founder of the nutrition news company Appetite for Health. "They are rich in protein and high in minerals and fiber, without the saturated fat found in some animal proteins. A diet that includes beans and legumes may also help improve your blood cholesterol, a leading cause of heart disease, and improve digestion, research has proven." (That gut health factor is likely related to the fact that beans are rich in prebiotics, too!)
And that dream team of fiber and protein help keep you full longer, making it easier to lose weight or maintain weight loss.
"Including just a half-cup to full cup of legumes daily is all you need to reach these benefits," says Samantha Previte, RD, a registered dietitian with Dietitians of Palm Valley in Ponte Vedra Beach, Florida.
Why are beans such a good source of protein?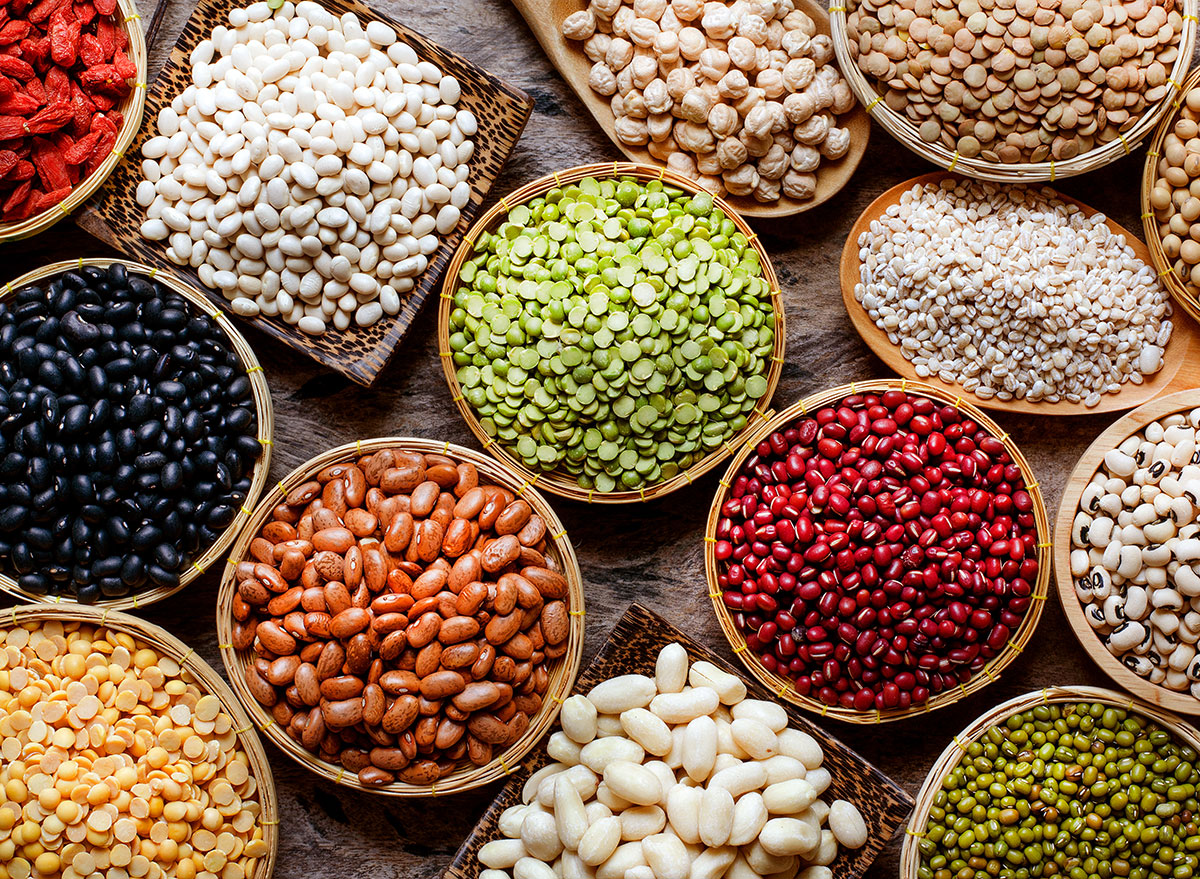 Beans contain between 21 to 25 percent protein by weight, which is much higher than other sources of vegetable protein.
"Most beans have approximately 6 to 9 grams per half-cup serving, which equals two egg whites, one egg, or a bit over one ounce of chicken, beef, or fish," says Lauren Harris-Pincus, MS, RDN, founder of Nutrition Starring YOU and author of The Protein-Packed Breakfast Club. And some legumes provide even more protein than that. (More on that later.)
"While meat packs in more protein than beans, it also tends to have more saturated fat—and zero fiber. A half-cup of cooked beans or lentils packs in about 7 to 9 grams of fiber per cup," Rania Batayneh, MPH, owner of Essential Nutrition For You and author of The One One One Diet: The Simple 1:1:1 Formula for Fast and Sustained Weight Loss. "Per serving size, beans and lentils are one of the top plant-based proteins, coming up just behind tofu and tempeh in terms of protein content but ahead of nuts, seeds, quinoa, and vegetables."
Plus, unlike lean meat, "beans are super-economical so it can be an inexpensive way to get nutrient-dense, high-protein options in your diet," Previte adds.
Stock up on these affordable, amazingly healthy beans below. We've ranked them from highest to lowest in protein, and asked the RDs to dish about their favorite ways to put each to delicious use.
Green Peas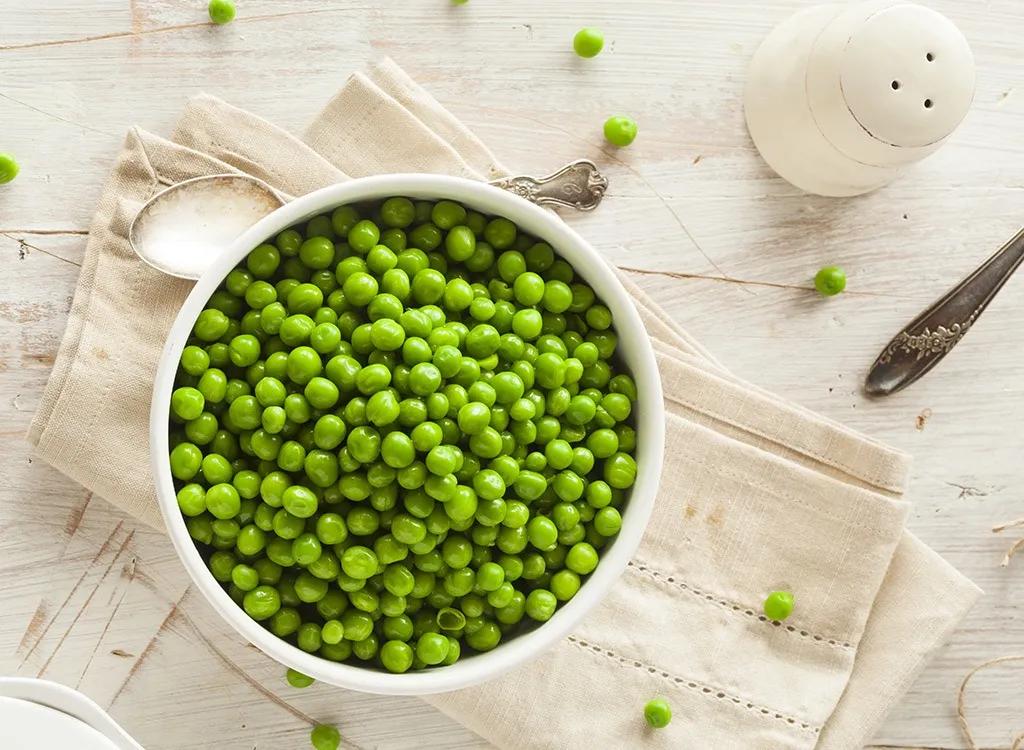 Protein in peas, per 1/2 cup: 4.3 grams
Besides four grams of protein, a half-cup serving of green peas also packs in 4 grams of satiating fiber—equivalent to 14 percent DV—for only 67 calories. As more people explore plant-based eating, there are now protein powders made from these pulses.
"Pea protein is a popular choice for alternative milks and yogurts, as it doesn't contain any of the eight most common allergens," Batayneh says.
Add half a cup of frozen peas to pesto pasta, stir-fry, or saute them with carrots and a bit of butter as a side for a roasted chicken dinner.
Soy Beans (aka Edamame)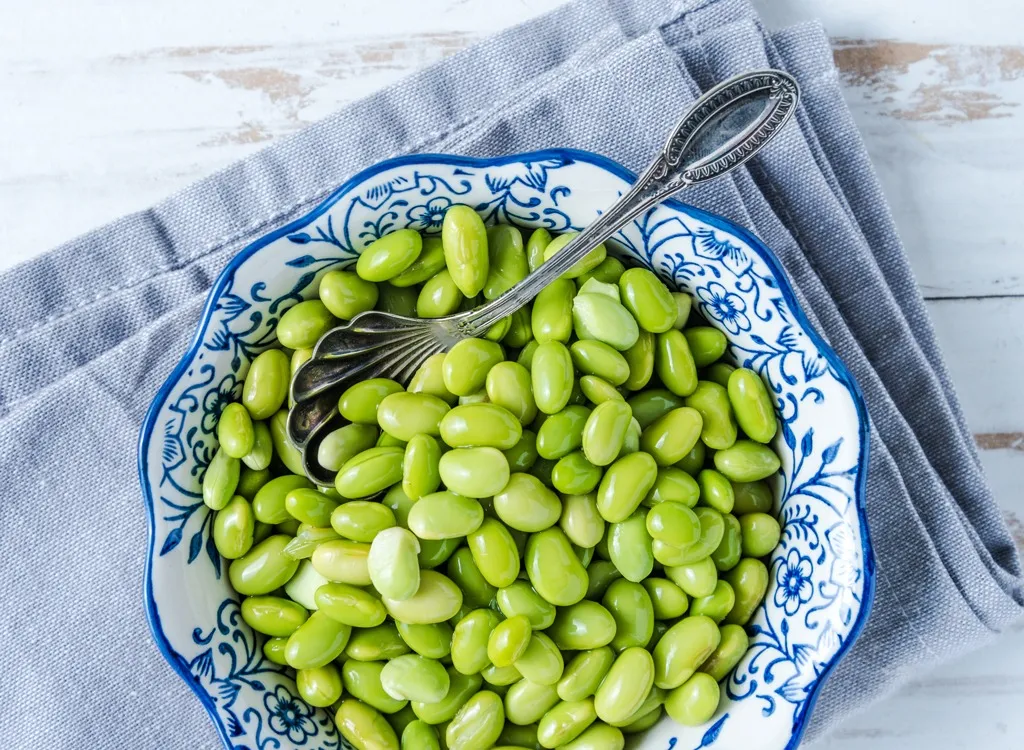 Protein in edamame, per 1/2 cup: 5.6 grams
Edamame, or immature soybeans, are not only good sources of protein, but they're also high in calcium, vitamin C, vitamin K, iron and folate, Harris-Pincus explains.
"They're delicious on their own as a snack, either in the pod—just don't eat the outside!—or the shelled version which comes frozen and is easily microwavable. Edamame is often found in Asian-themed grain bowls, poke bowls, or in stir-fry dishes," she says.
Lima Beans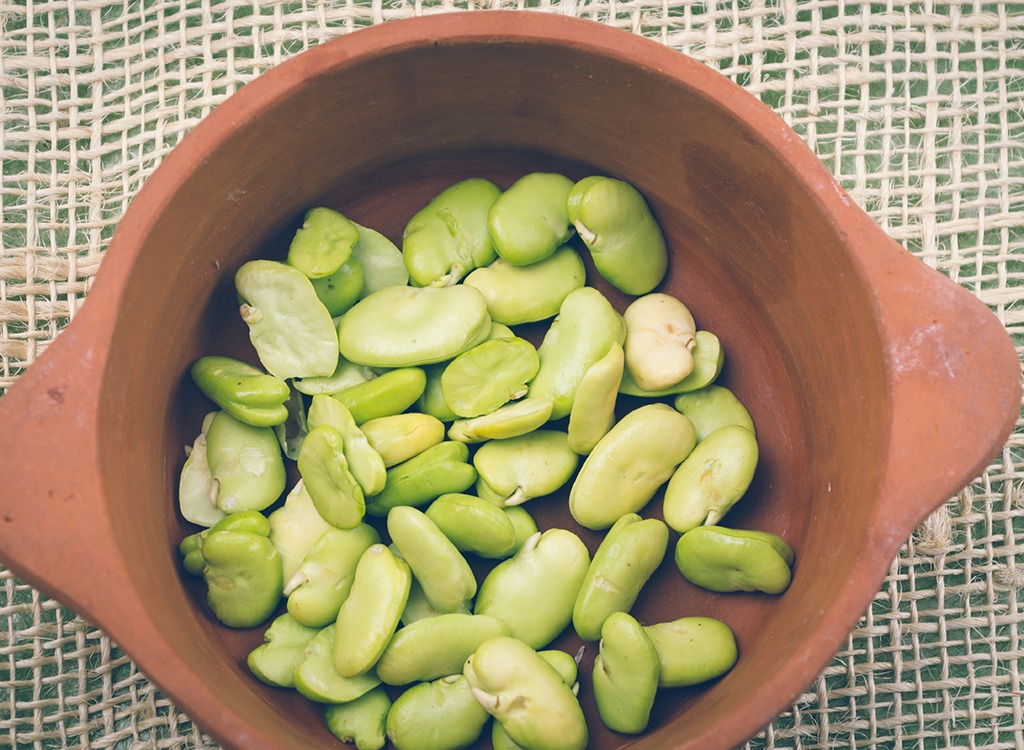 Protein in lima beans, per 1/2 cup: 6 grams
Also called "butter beans," limas are an excellent source of the trace mineral, which helps the body detoxify sulfites that are found in prepared foods," Previte says.
Saute with olive oil, onion, garlic, and a couple of your favorite fresh herbs for one of Brooking's favorite dinner side dishes.
Cannellini Beans
Protein in cannellini beans, per 1/2 cup: 6.2 grams
With a pleasant earthy flavor and a quarter of your daily fiber per serving (6 grams), the texture of these beans allows them to flex and fit into recipes as wide-ranging as mashed potatoes, stews, pastas, and more.
"You can also make them the star of the dish," Batayneh says. "Combine them with wilted spinach and sausage for a quick weekday dinner," or try them in this spinach saute that pairs perfectly with seared scallops.
Garbanzo Beans (aka Chickpeas)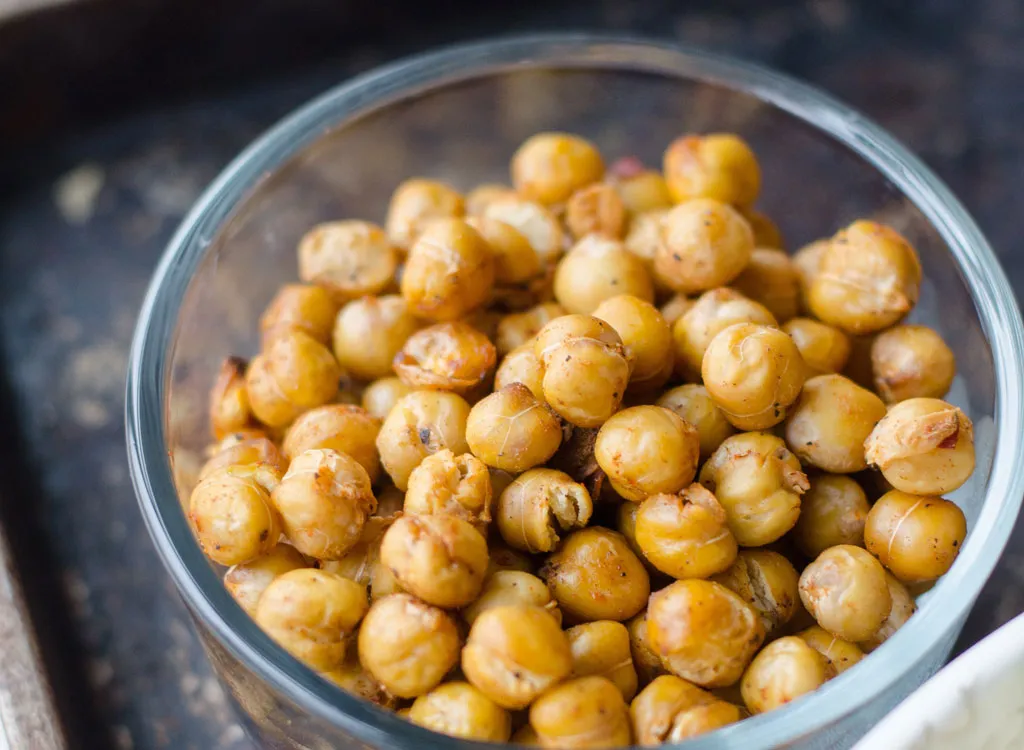 Protein in chickpeas, per 1/2 cup: 6.3 grams
One of the easiest legumes to consume because of their multitasking abilities (try them in everything from creamy hummus to falafel to roasted and sprinkled atop salads), these magnesium and potassium stars are great for heart health, according to Previte.
"They're particularly beneficial in improving insulin sensitivity, blood cholesterol levels, and gut health," Batayneh adds.
Red Kidney Beans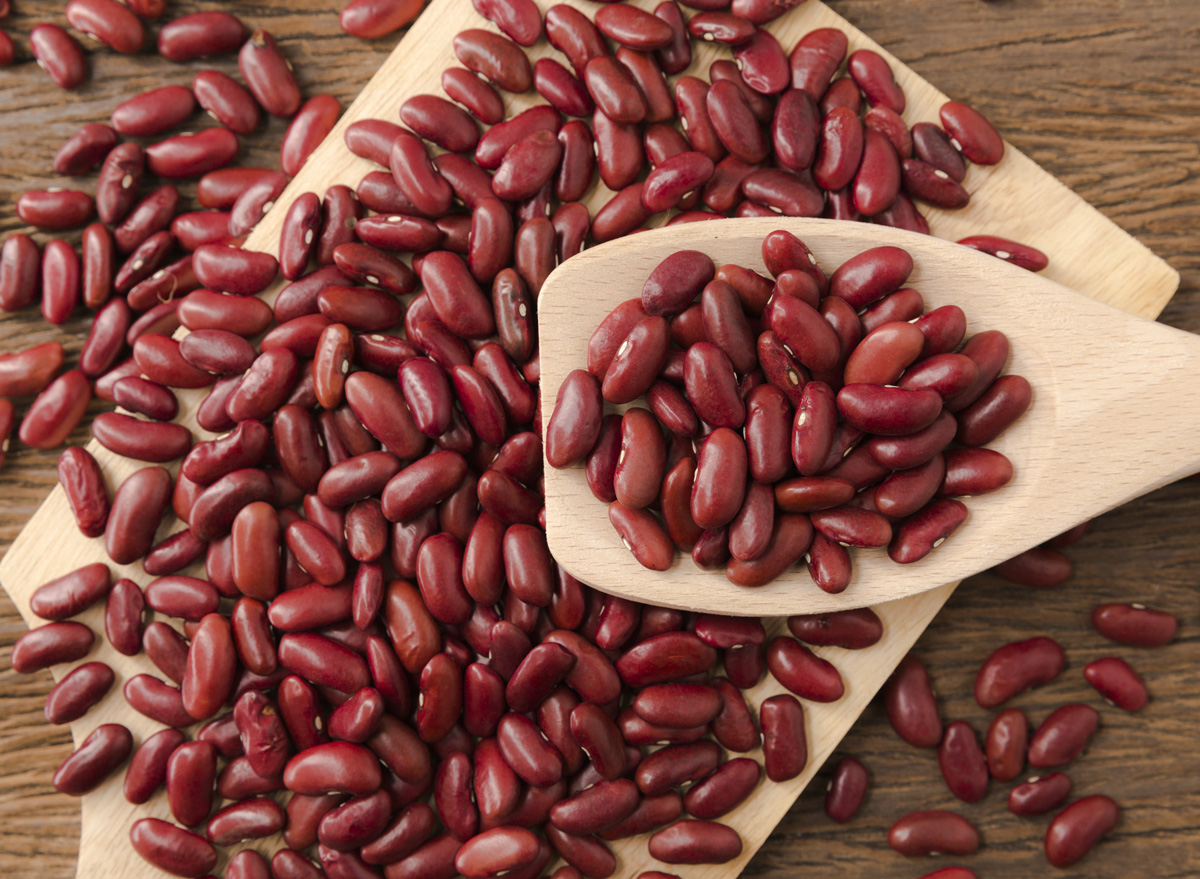 Protein in kidney beans, per 1/2 cup: 7.2 grams
Named after the organ it resembles, these beans are potassium rockstars and a half cup supplies 21 percent of your iron needs.
"I love getting a triple-dose of beans in this slow-cooker chili recipe that calls for red kidney beans, chickpeas, and black beans in one bowl. If you're vegetarian, try it without the turkey," Brooking recommends.
Cranberry (aka Roman) Beans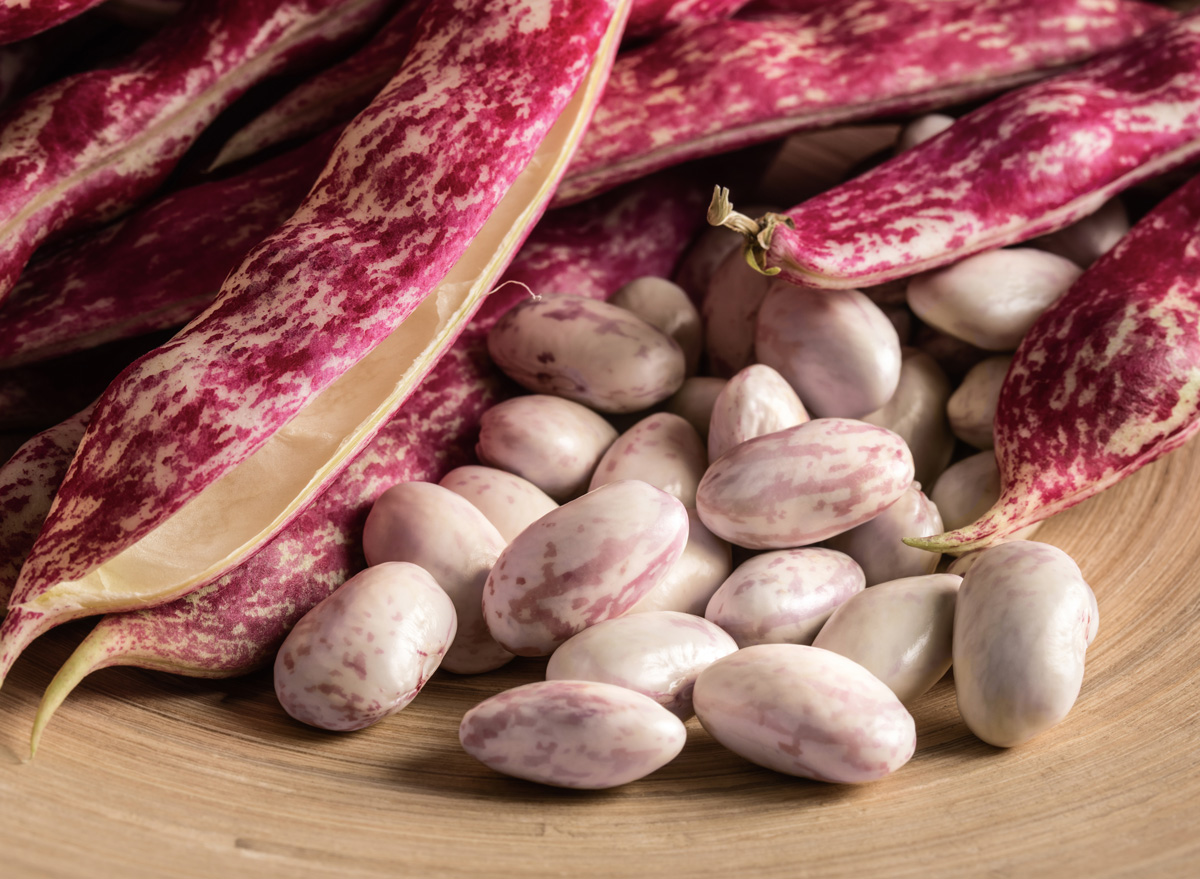 Protein in cranberry beans, per 1/2 cup: 7.2 grams
Haven't tried these speckled, chestnutty beans yet? Start now for an ample dose of protein, calcium, and potassium. When a pasta fagioli soup calls for beans, try these for a rich-flavored fix.
Pinto Beans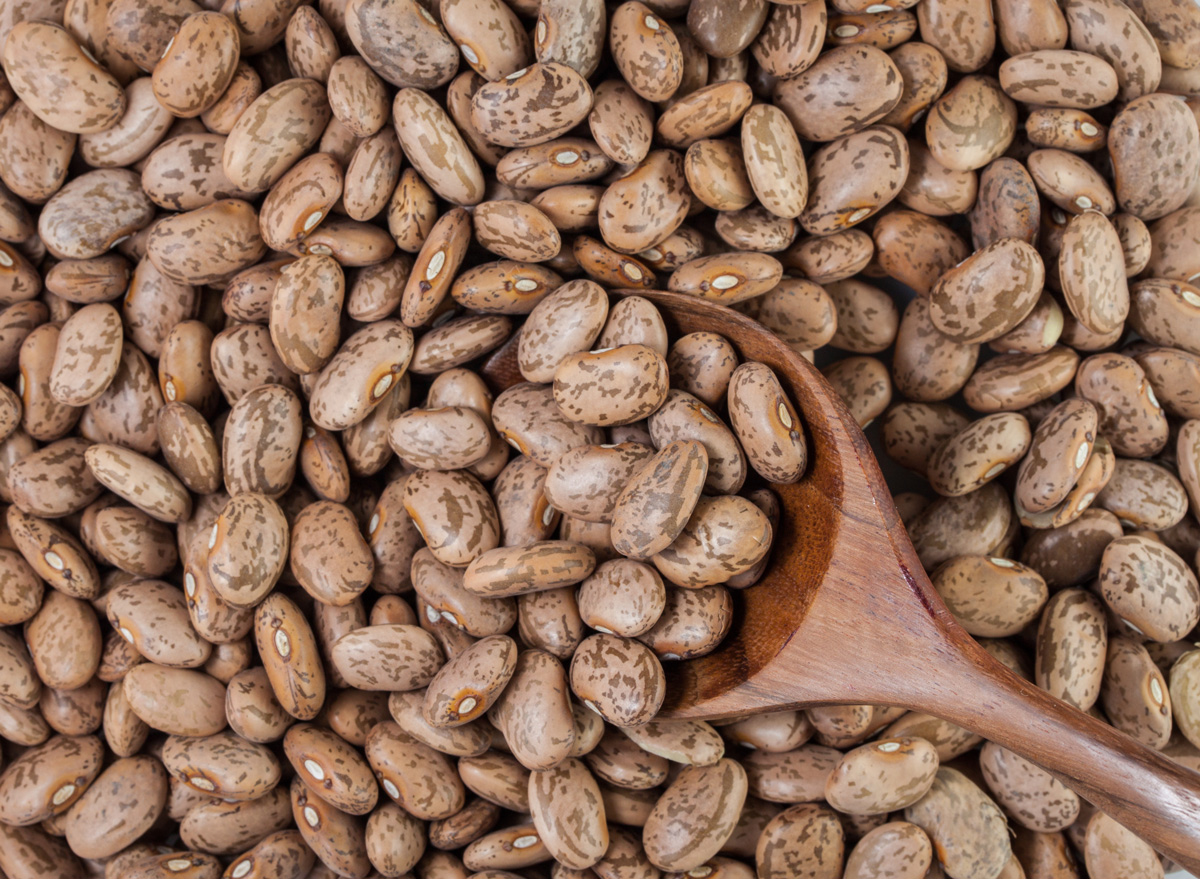 Protein, per 1/2 cup: 7.2 grams
"Pinto beans are one of the most popular beans worldwide," Previte says. Great news, because "they are particularly rich in kaempferol, a flavonoid associated with impressive health benefits."
A staple in many Mexican cuisine creations, these red-orange beans have a nutty, earthy flavor and are often found as the base of refried bean recipes. Try them whole or mashed—we dig 'em as the "sauce" for a Mexican tortilla pizza topped with roasted veggies and cheese.
Navy Beans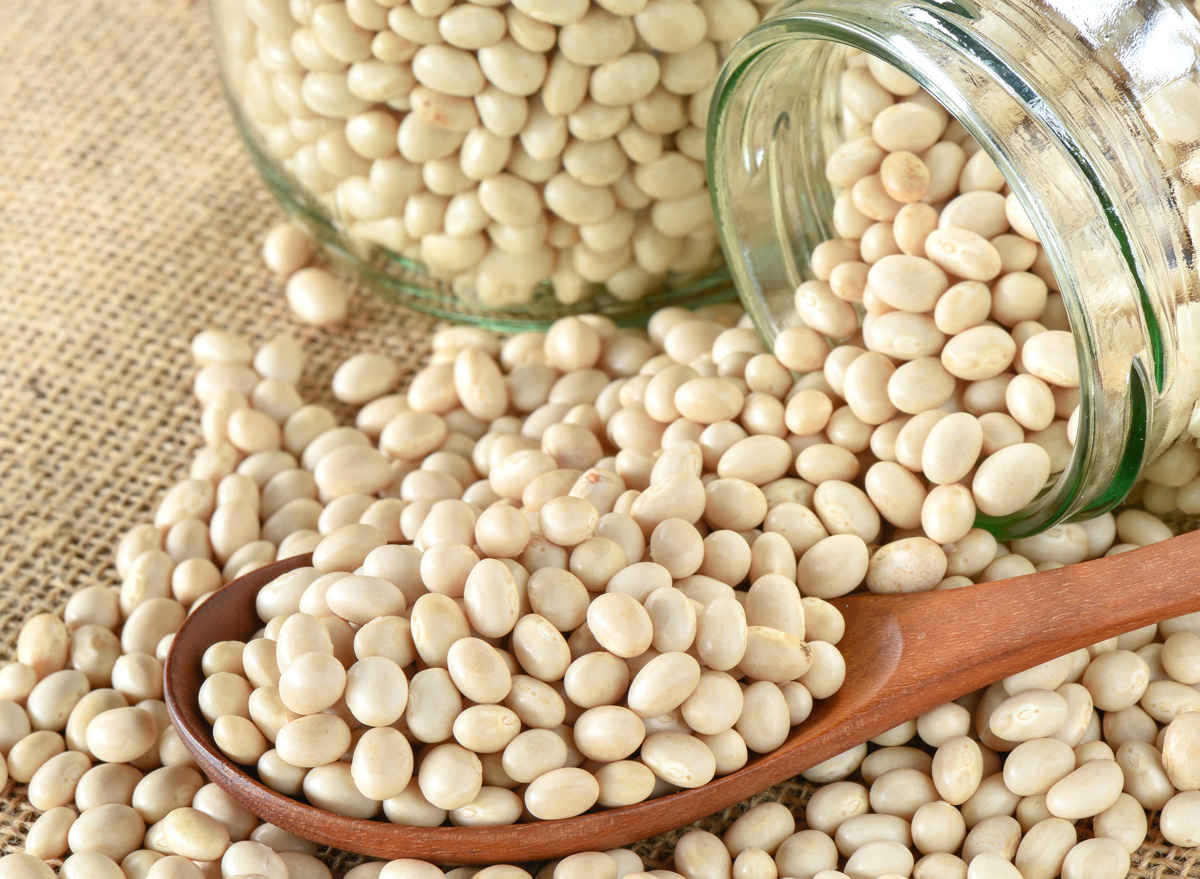 Protein in navy beans, per 1/2 cup: 7.5 grams
The slightly smaller cousin of great northern beans, these creamy legumes are mild, versatile, and packed with manganese, copper, and thiamine, Previte says. Incorporate them into bean and ham soup or toss a few handfuls into tomato sauce for a satisfying spaghetti topping.
Black-Eyed Peas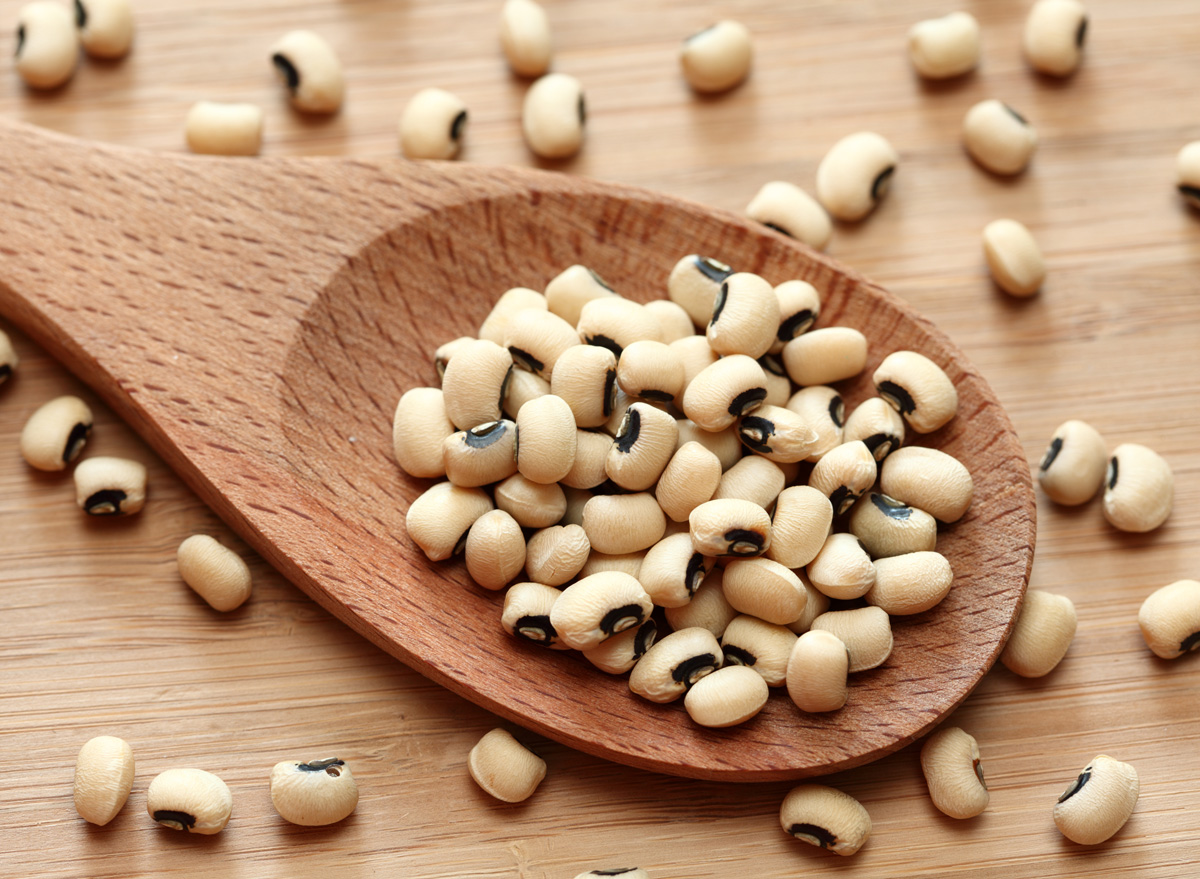 Protein in black-eyed peas, per 1/2 cup: 7.5 grams
Usually associated with southern cuisine or New Year's Day (eat them for good luck to start the year!), "black-eyed peas are a great source of iron, vitamin B9 and folate," Previte says.
Simmer them with a bit of bacon, broth, and diced aromatic veggies like onion and bell pepper for some next-level, high-protein baked beans.
Black Beans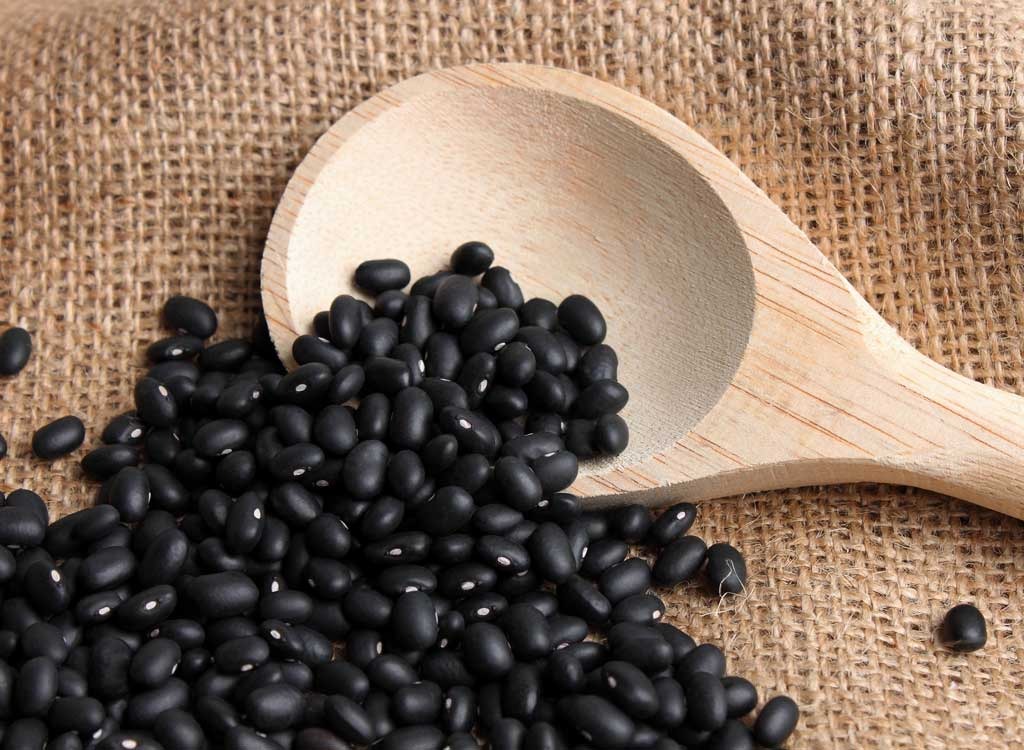 Protein in black beans, per 1/2 cup: 7.6 grams
Next time someone asks you "black or pinto beans?" you'll know how to answer if you're looking to get as much protein as possible: black. "Like other beans, black beans contain resistant starch, a type of starch that is not broken down like other carbohydrates and thus does not raise your blood sugar as much," Batayneh says.
Add black beans to quesadillas or tacos for a fiber and protein boost, fill omelets with black beans and cheese, or blend them into bean-based dips.
Split Peas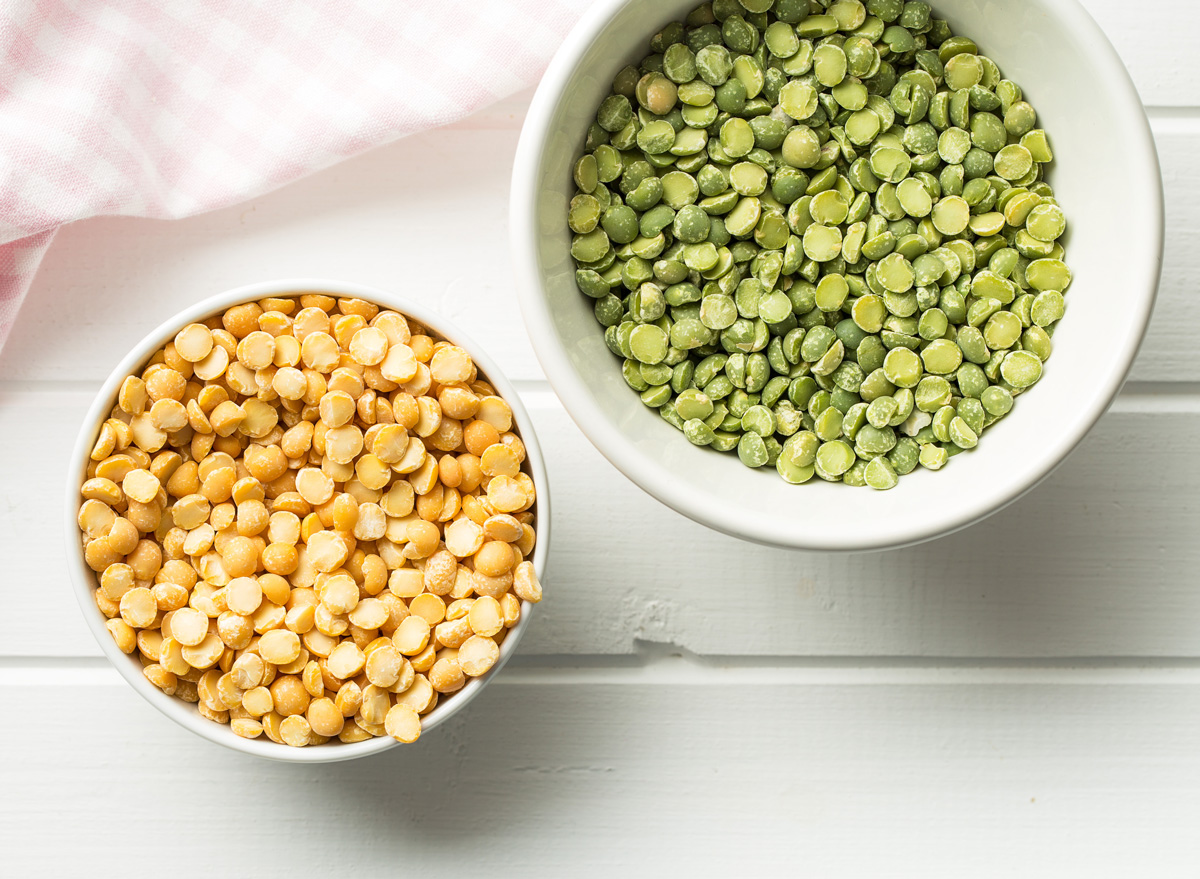 Protein in split peas, per 1/2 cup: 8.2 grams
Fun fact: Split peas and green peas come from the exact same plant—the difference comes with the processing. Green peas get peeled, dried, and skinned, and that skin-removal step promotes a natural split in the pea. Since they're more compact than their full, green siblings, they offer even more protein per ounce. Simmer them in Split Pea Soup or stir them into Indian bean-based dishes like dal.
Lentils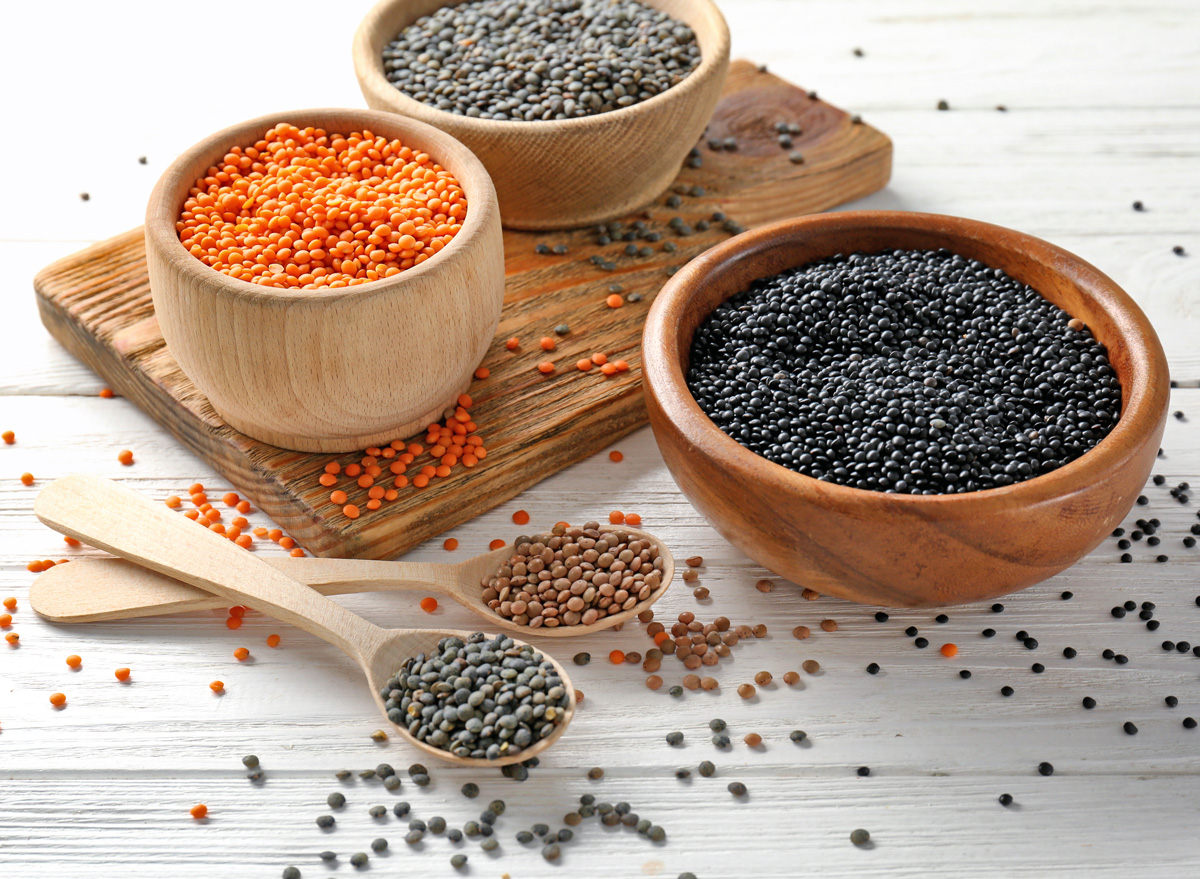 Protein in lentils, per 1/2 cup: 9 grams6254a4d1642c605c54bf1cab17d50f1e
Particularly filling due to almost 8 grams of fiber per half cup, "studies have found that consuming lentils may regulate blood sugar levels and improve gut health. Lentils are great in soups or salads, but you can also add bulk and fiber to classically meaty dishes like meatballs and meatloaf," Batayneh says. Or follow the lead of Harris-Pincus and trade them for beef in tacos and sloppy joes.
Great Northern Beans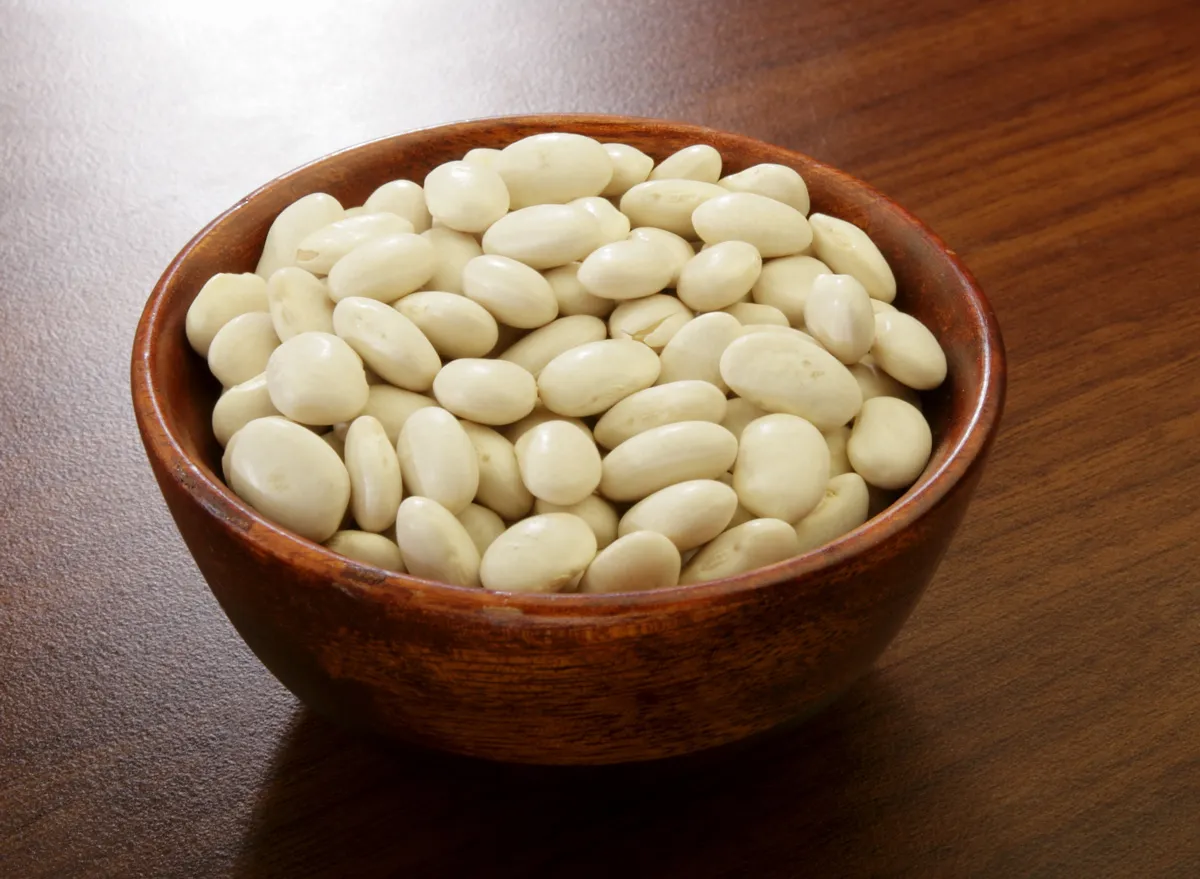 Protein, per 1/2 cup: 9.7 grams
Small in size and big in metabolism-boosting protein, these white beans are uber-versatile. And if you're prone to cramping, listen up: A half-cup has more potassium than a medium banana.
"I love them in bean salads, white chili, and even smoothies. You can also puree them to use as a thickener for soups," Harris-Pincus suggests.
Get more cozy recipes for fall:
45+ Best Soups and Chilis to Make With Rotisserie Chicken
23 Cozy Soup Recipes That Are Perfect For Fall
Karla Walsh
Karla Walsh is a freelance writer, editor and restaurant brand manager based in Des Moines, Iowa, where she reports on fitness trends, wellness research, psychology, and healthy recipes.
Read more about Karla