Blackberry Cucumber Collins Mocktail Recipe
A mocktail in hand is the perfect way to kick off warmer weather.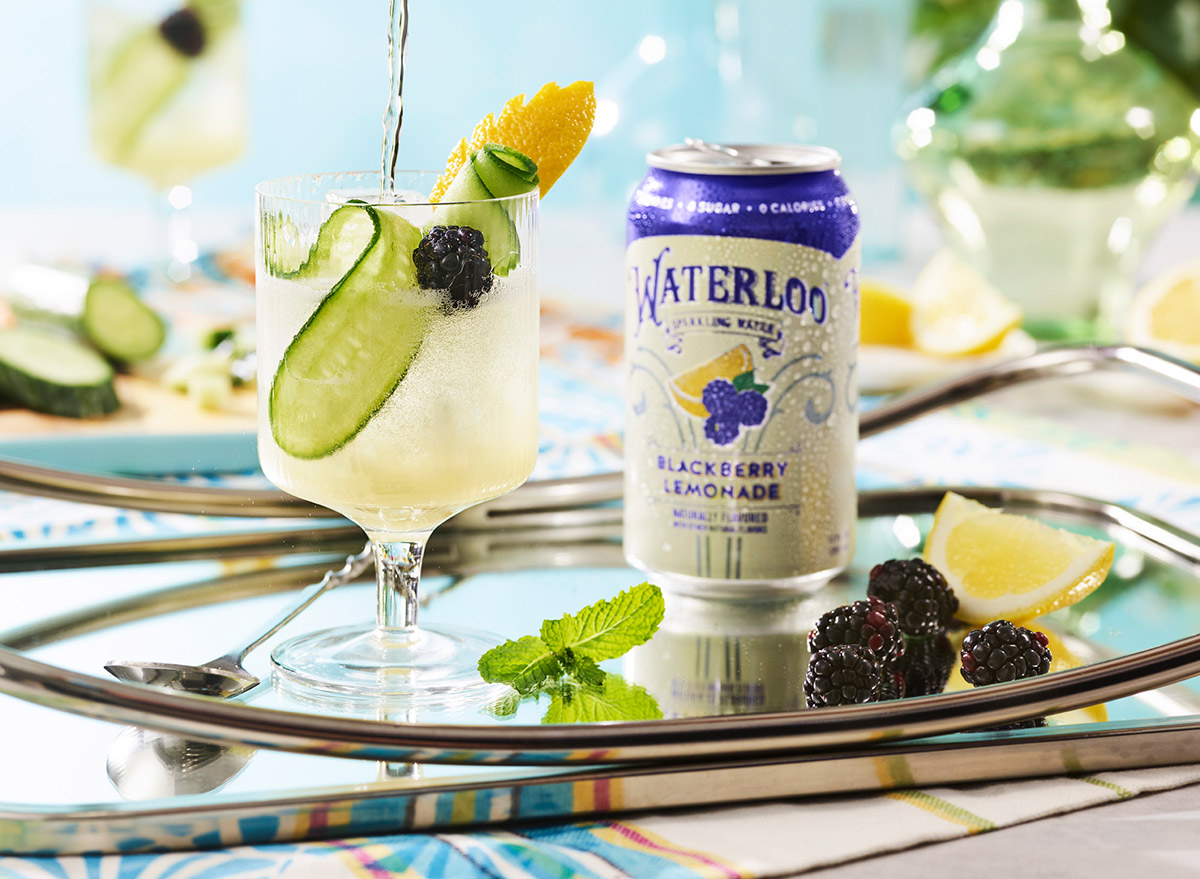 A warm, sunny day calls for a light, refreshing drink. A classic cucumber collins is easy to create, typically using gin, lime, simple syrup, mint, and of course cucumbers. However, this mocktail recipe pulls out all the stops, using blackberries to enhance the fresh flavors and removing the gin, eliminating extra calories. When you're done with the drink, you've got yourself a healthy snack of cucumbers and berries that tastes just as cool and crisp as the mocktail.
Whether you're enjoying a reviving mocktail under a summer breeze or, even curled up next to a toasty fire, this drink will be sure to quench your thirst while not letting you miss the alcohol. However, if you're looking to make this a low-sugar cocktail, just shake in 1 1/2 ounces of your favorite gin.
This recipe is courtesy of Waterloo Sparkling Water.
You'll Need
Waterloo Blackberry Lemonade Sparkling Water
¼ cup Diced Cucumber
½ oz Fresh Lime Juice
Splash of simple syrup (optional)
2 Mint Leaves
Cucumber Slice
Fresh Mint Sprig
Lemon Twist
Blackberries
How to Make It
In a cocktail shaker muddle diced cucumber, lime juice, and mint leaves; strain into a collins glass.

Add ice to glass and top with Waterloo Blackberry Lemonade. Give it a good stir and finish with a cucumber slice, mint sprig, lemon twist, and blackberries for garnish.
Looking for more ways to enjoy a mocktail? Try Healthy Mocktail Recipes That Prove You Don't Need Alcohol to Have Fun.
Eat This, Not That!
Inspired by The New York Times best-selling book series, Eat This, Not That! is a brand that's comprised of an award-winning team of journalists and board-certified experts, doctors, nutritionists, chefs, personal trainers, and dietitians who work together to bring you accurate, timely, informative, and actionable content on food, nutrition, dieting, weight loss, health, wellness, and more.
Read more about Eat This