Healthy Mocktail Ideas That Prove You Don't Need Alcohol to Have Fun
If you're looking for a tasty, booze-free drink that doesn't pack in any extra sugar, we've got you covered.
Zero proof drinks, or mocktails, have been popping up on bar menus around the country in recent years. Not only do people want to eat healthier, but they want to drink healthier, too. There's also a growing awareness that alcohol doesn't play well with mental health, so it makes sense that more people are opting for booze-less drinks, even if they aren't giving up booze completely.
So that virgin piña colada must be a healthier alternative to the rum-soaked version, right? Not so fast: just because these drinks lack alcohol, doesn't mean they're necessarily better for you. Take the classic Shirley Temple, for instance. The simple combination of ginger ale, lemon-lime soda, and grenadine can pack about 44 grams of sugar. Yikes—that's more sugar than two whole Kit Kat bars, which is eight pieces of chocolate.
But don't despair. With a few savvy swaps at home or at the bar, you'll be sipping a mocktail that's healthier (and just as refreshing) in no time.
Fruit Forward
When whipping up a drink at home, start with seasonal fruit. Marisa Moore, a registered dietitian and nutritionist, says, "In general, fruit provides lots of natural sweetness. They also provide natural juices, so it's a great start." Freeze your favorite fruit—think berries, stone fruit, and grapes—and blitz them in a blender with ice and a base of your choice, like club soda. In a matter of seconds, you'll have a drink that's effervescent and lightly sweet. Bonus points for those fruity antioxidants and nutrients.
It's easy to sometimes equate sweetness with flavor, especially if you have a sweet tooth. If you're worried about how palatable a drink with less sugar will be, rely on herbs and spices to add a flavor boost. Moore suggests using ingredients like mint and basil, which add pizzazz without the calories. She also likes ginger, saying "it adds a hint of spice, but also just a bit of flavor, so you're getting the flavor, not a ton of calories."
Get Creative
You can get creative with your drink bases, too. Club soda is great if you want some bubbles, but don't forget about coconut water, tea, and coffee. Coconut water gives you a hint of tropical flavor, while boosting your electrolytes and replenishing your magnesium. Tea is also a nutrient powerhouse with polyphenols and antioxidants.
It may be tempting to use a pre-batched mixer — many cocktail mixers can be used for mocktails, just leave out the spirit—but be careful. Moore says, "Skip those, because you don't have much control over what's in them. Try to make [your drinks] from scratch if at all possible. Not only are these mixers typically high in sugar, many are made with ingredients you'd probably rather not have in your drink (i.e. high fructose corn syrup).
Order Wisely
Things get a little trickier when you're out at a restaurant or bar. Many menus now include a nonalcoholic cocktail section, but the drinks on it can still be heavy on the sugar with syrups and sodas. In this case, try to build your own. Nic Vaughn, who works with Atlanta-based 18.21 Bitters, says, "I think the key is looking at the cocktail menu and seeing what ingredients are in the cocktails, and then being able to pull components out of there." For example, if you like that a cocktail uses ginger and grapefruit, a skilled bartender will be able to use those elements in a mocktail.
The shrub, a drinking vinegar made with fruit, is a zero-proof drink lifesaver. Shrubs, tangy and lightly sweet, blend easily with club soda for an easy-to-drink mocktail. And it's not hard to find at bars and retailers either, depending on where you want to enjoy it.
Most importantly though, heed Moore's words of wisdom: "The last thing that I recommend when people are trying to reduce the sugar content is to just actually reduce the sugar. Because sometimes drinks are just too sweet." Don't be afraid to cut back on the amount of simple syrup in a recipe—you may be surprised by how sweet it still is.
And now, here are four mocktail recipes you'll want to sip on and enjoy.
Pepper Keenan Mocktail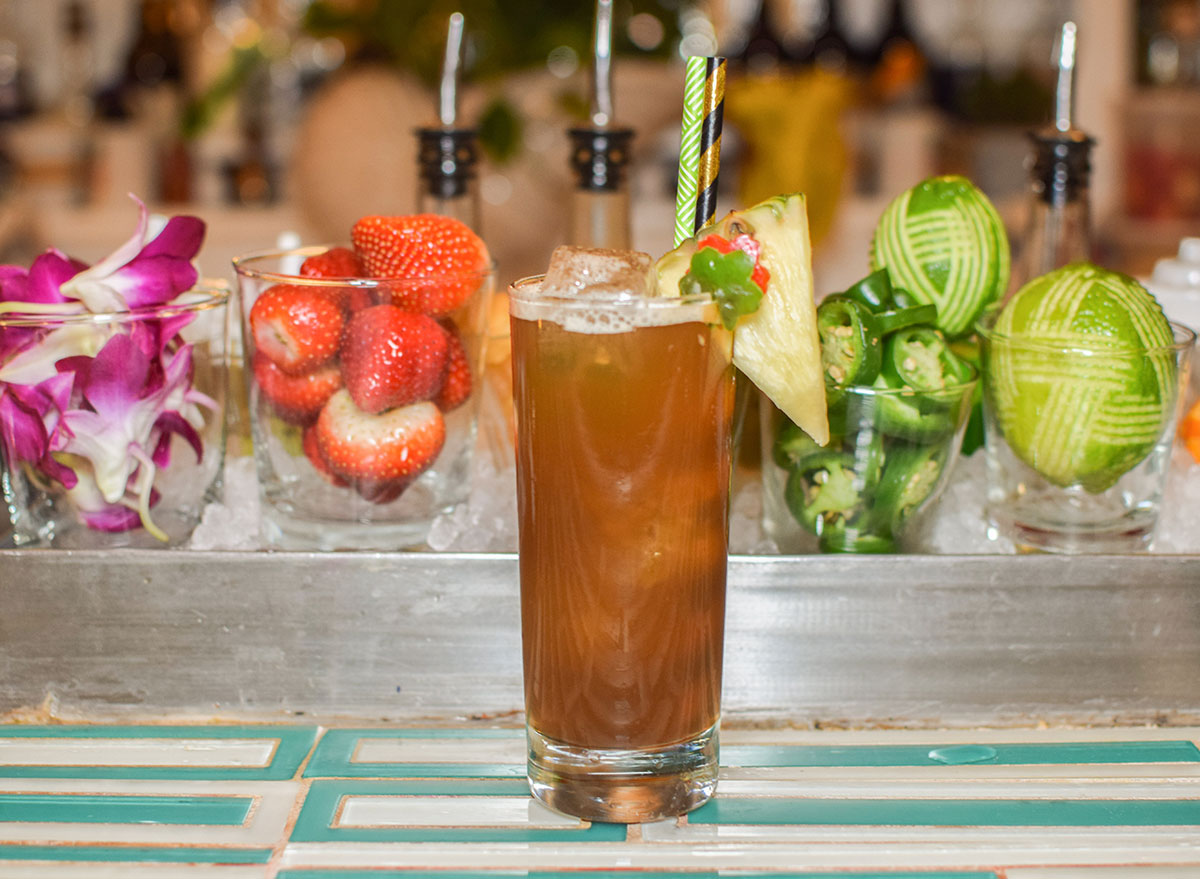 From Mother of Pearl, NYC6254a4d1642c605c54bf1cab17d50f1e
Ingredients
2 jalapeños
3 green bell pepper
1/2 oz pomegranate molasses
1/2 oz agave nectar
1 lime
2 1/2 oz pineapple juice
Directions
Muddle the jalapeños and bell peppers.
Blend ingredients with crushed ice until frothy and smooth.
Serve with ice and a splash of soda. Garnish with a pineapple wedge on the edge of the glass.
Kiss Of Steel Mocktail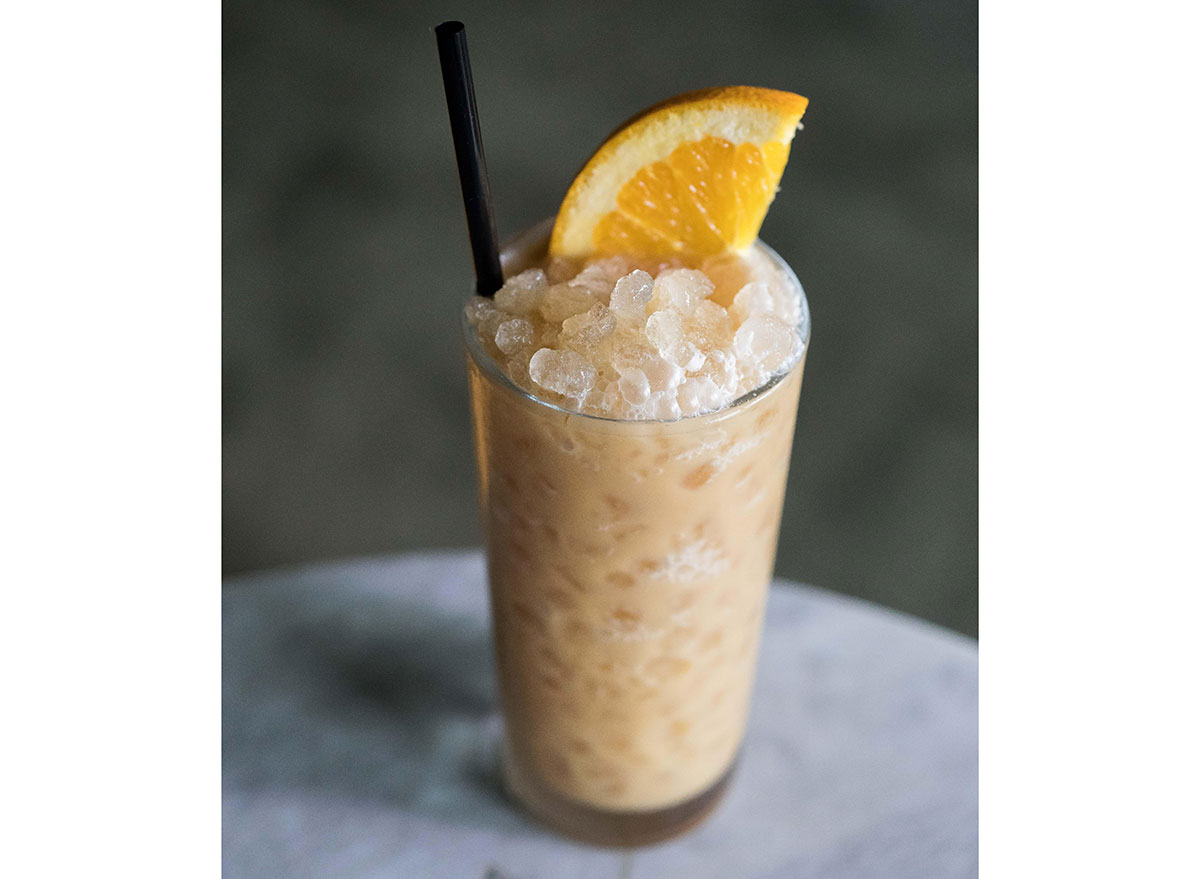 From David Kinsey, Bar Manager of Kindred, San Diego
Ingredients
2 oz cold brew coffee
1 oz vanilla almond milk
3/4 oz cinnamon bark syrup* (recipe below)
Directions
Shake ingredients and strain into a Collins glass.
*For Cinnamon Bark Syrup:
Ingredients
2 oz cinnamon bark
6 cups sugar
6 cups water
Directions
Grind cinnamon bark in a coffee grinder.
Add all ingredients in a pot and bring to a boil.
Simmer for 5 minutes.
Cover and let sit overnight, then strain.
Carrot Mocktail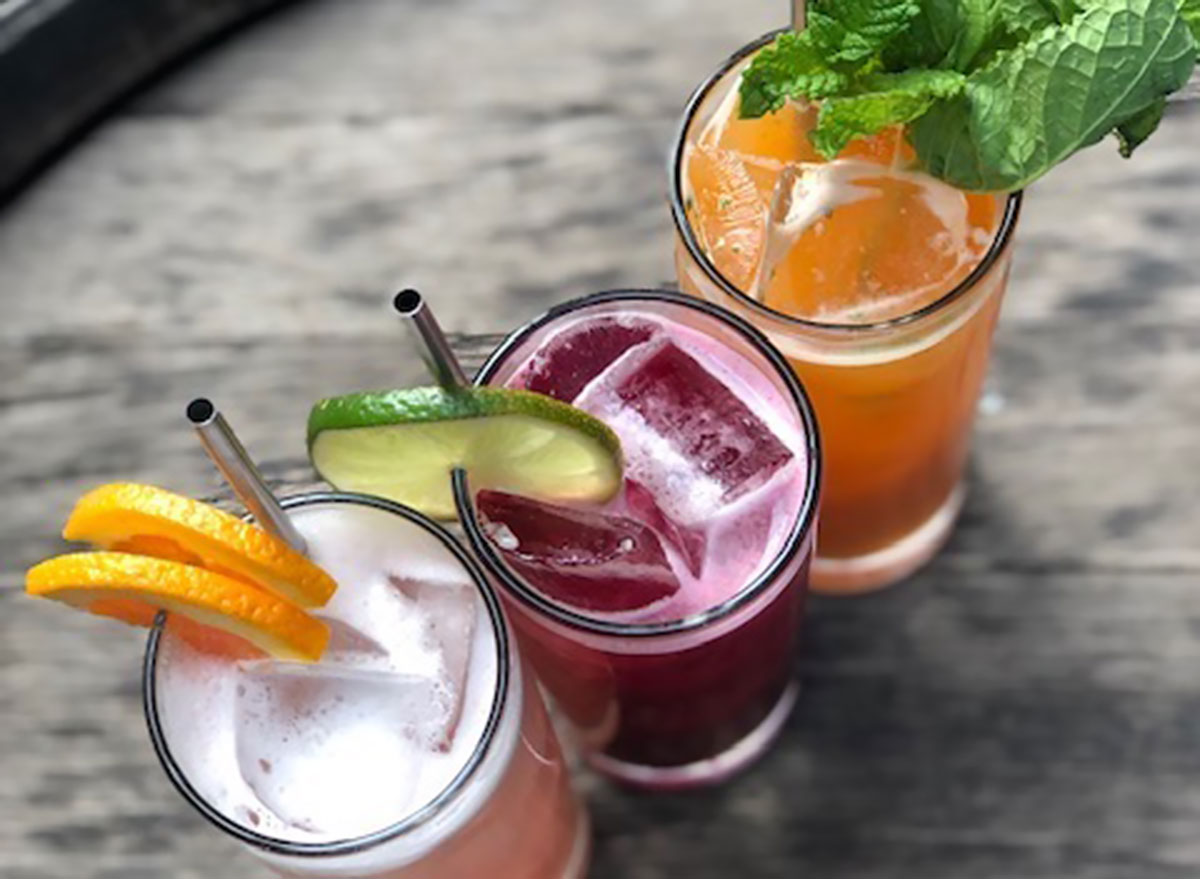 Alan Beasey, Beverage Director at The Purple Pig, Chicago
Ingredients
1 1/2 oz carrot juice
3/4 oz honey
3/4 oz lemon juice
1 oz ginger beer (use diet ginger beer for less sugar)
4 mint leaves
Directions
Stir carrot juice, honey, and lemon juice in a Collins glass with ice.
Top with ginger beer and garnish with mint leaves.
Oakwood Sunrise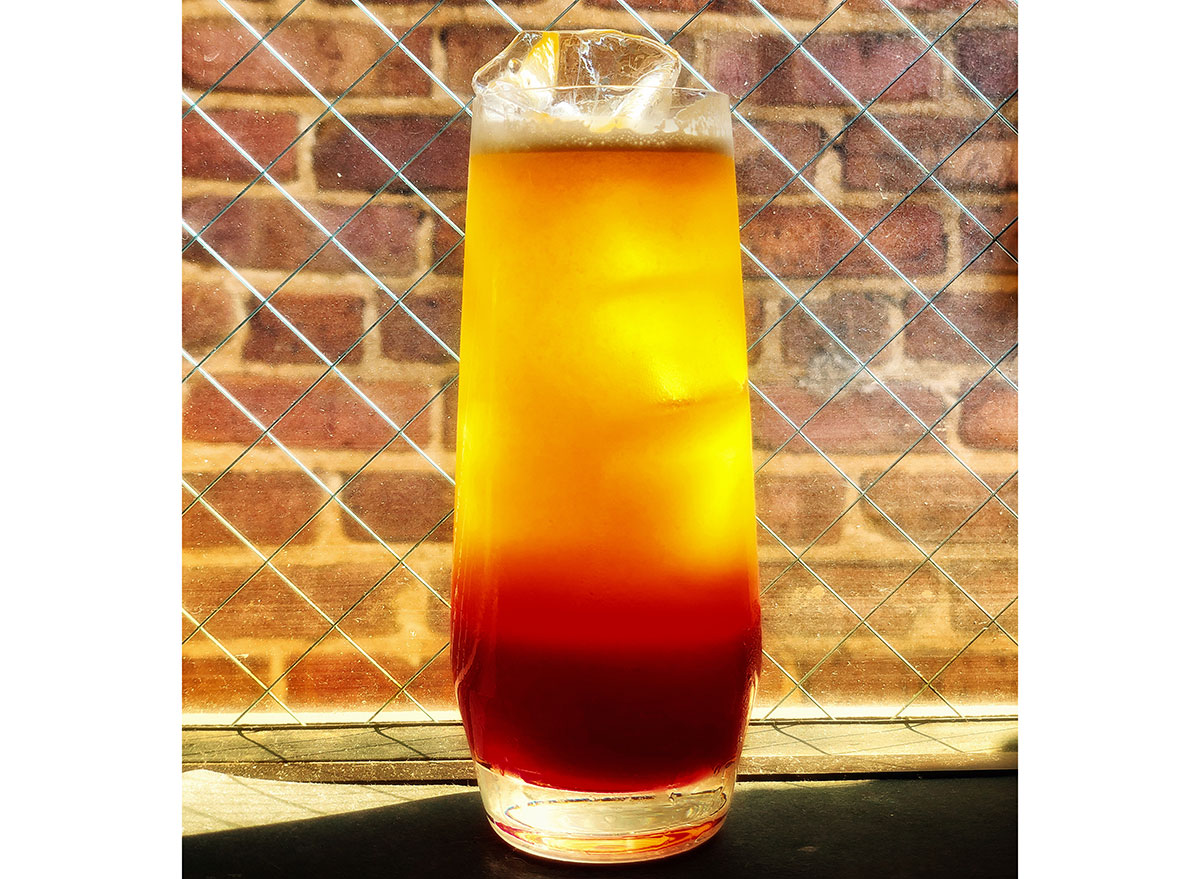 From Zack Thomas, Bartender at Crawford & Son, Raleigh
This drink is reminiscent of a Tequila Sunrise. It requires more arm work to create a foam, but the result is worth it!
Ingredients
1 oz hibiscus tea syrup* (recipe below)
1 oz fresh lemon juice
4 oz chilled fresh orange juice
0.5 oz chickpea brine (aquafaba)
Directions
Combine hibiscus tea syrup and lemon juice in the bottom of an ice-filled Collins glass and stir.
In a shaker, combine the orange juice and chickpea brine with an ice cube and shake vigorously. It's important that the orange juice be chilled to create a fluffy texture.
Pour the now "Fluffy" orange juice over the hibiscus-lemon mixture.
Present the drink with the layers separated, but encourage your guest to mix the ingredients before drinking.
*For hibiscus tea syrup:
Ingredients
1 cup dried hibiscus flowers (found at international food stores or on Amazon)
1 cup hot water
1 cup sugar
Directions
Steep the flowers in hot water for 5 minutes and strain.
Combine with sugar, bottle, and store for up to 2 weeks.
Lia Picard
Lia Picard lives in Atlanta where she writes about all things lifestyle.
Read more about Lia