A Perfectly Blackened Tilapia With Garlic-Lime Butter Recipe
And with some squeezed lemon over the top, there really is no better way of cooking up fish.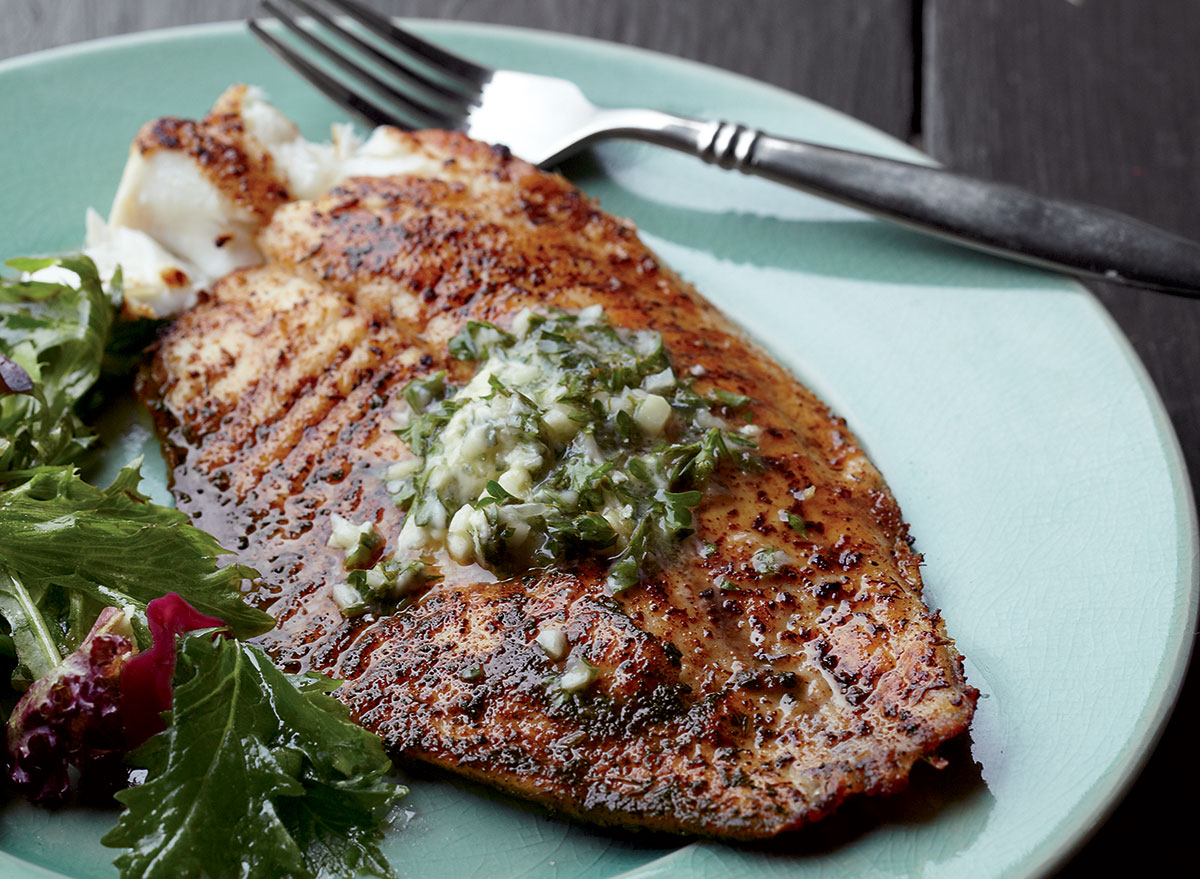 Ever eaten any blackened food that wasn't delicious (besides those steaks your dad scorches every year at the Fourth of July barbecue)? Neither have we. Consider it a bonus that blackening is actually an incredibly healthy way of cooking, giving the fish or meat a body armor of potent disease-fighting antioxidants in the form of tantalizing spices. Truth be told, the flavored butter here is the icing on the cake in this blackened tilapia recipe; if you have a great fresh piece of fish, just coat it with a bit of blackening spice, follow the cooking instructions, and maybe squeeze a lemon over the top.
Nutrition: 300 calories, 14 g fat (6 g saturated), 510 mg sodium
Serves 4
You'll Need
2 Tbsp butter, softened at room temperature
2 Tbsp chopped fresh cilantro
2 cloves garlic, finely minced
1 tsp lime zest, plus juice of 1 lime
1 Tbsp canola oil
4 tilapia fillets (6 oz each)
1 Tbsp Magic Blackening Rub6254a4d1642c605c54bf1cab17d50f1e
How to Make It
Combine the butter, cilantro, garlic, lime zest, and lime juice in a small mixing bowl and stir to thoroughly blend. Set aside.
Heat the oil in a large cast-iron skillet or sauté pan over high heat. Rub the tilapia all over with the blackening rub.
When the oil in the pan lightly smokes, add the fish and cook, undisturbed, for 3 to 4 minutes on the first side, until the spice rub becomes dark and crusty.
Flip and continue cooking for 1 to 2 minutes, until the fillets flake with gentle pressure from your finger.
Transfer the fish to 4 serving plates and immediately top each with a bit of the flavored butter.
Eat This Tip
The Master Technique: Blackening
The best way to get the full sear you want is in a scorching-hot cast-iron skillet. Heat a thin film of oil in the skillet over the highest possible heat (and turn on the kitchen fan). When wisps of smoke begin to rise from the oil, carefully add the fish or meat. Don't touch it for at least 2 minutes; you want a dark crust to set in over the protein, and fiddling with the food will prevent this from happening. Cook for 75 percent of the time on one side, then flip and finish on the other.
This recipe (and hundreds more!) came from one of our Cook This, Not That! books. For more easy cooking ideas, you can also buy the book!